Onam sadya recipes – collection of 27 recipes that can be made for onam sadya. In malayalam language sadya means a banquet. It is basically a vegetarian feast that is served during festivals, religious occasions and weddings.
I have had the opportunity of having a full fledged sadya meal a couple of times. In this collection I have shared recipes that are made for onam sadhya. I will be adding more recipes eventually and will also update this collection post.
Preparing all the dishes for any sadya takes a lot of time. so you can start the day before and chop the veggies required for the various dishes and keep them in the fridge. Grate coconut and keep in the freezer. In some of the recipes ground paste of coconut, cumin and green chilies is used. So you can grind this together and then use it in parts for the required recipe.
If possible do take help when making a sadya meal as making it takes a lot of time. Also make small portions if you are a family of 3 to 4 people as there will be leftovers the next day.
Note: in a few recipes I have used onion and garlic, so you can skip them. 
Collection of 27 onam sadya recipes
1. Kootu curry recipe – kootu curry also known as kootu kari is a thick curry based dish made with a few veggies and legumes. The veggies that are added are yam, ash gourd, carrots, snake gourd, pumpkin or plantains. The legumes added are black chickpeas (kala chana) or bengal gram (chana dal). Kootu kari is one of the important dishes of onam sadhya.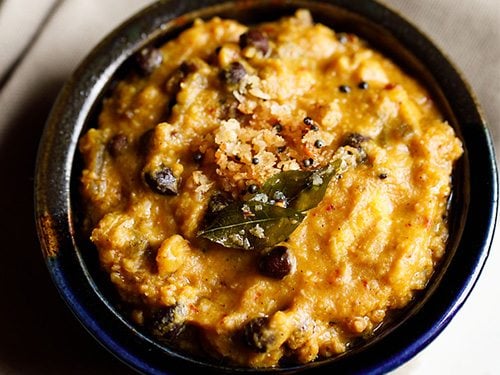 2. Parippu curry recipe – one of the dishes that is made during onam sadya is parippu curry. Basically its moong dal made with coconut and other spices. you can either use moong dal or tuvar dal to make the recipe. In the recipe onions are used, you can skip them.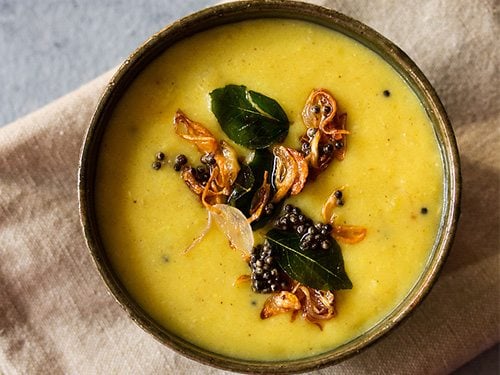 3. Olan recipe – olan is a delicious curry made with white pumpkin (ash gourd or kumbalanga), cowpeas (red lobia or chawli) and coconut milk. Since olan is a coconut milk based curry, thus it pairs very well with steamed rice. If possible you can serve it with Kerala red rice (matta rice).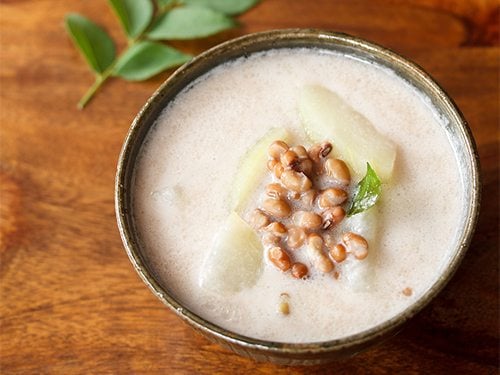 4. Kalan recipe – kalan is a sour tasting gravy made with curd or buttermilk and veggies like yam and plantain. Ground coconut is also added which balances the sour taste of the curd.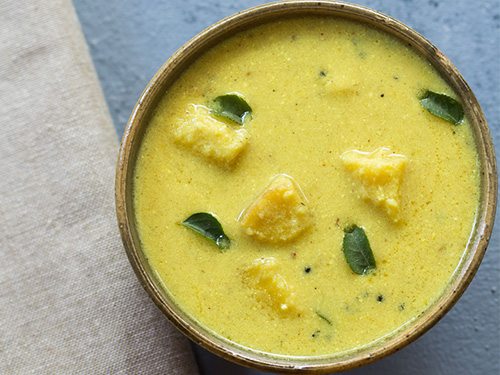 5. Cabbage thoran recipe – cabbage thoran or cabbage stir fry is a dry vegetable dish made in Kerala cuisine. Thoran is basically finely chopped or grated vegetables cooked with shallots, chilies, fresh grated coconut and spices. Skip shallots if you want.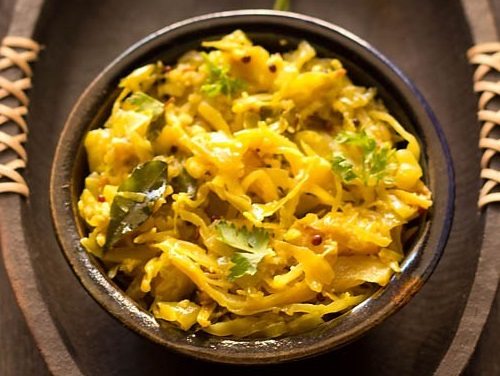 6. Varutharacha sambar recipe – Kerala varutharacha sambar is a delicious variety of sambar made with mix veggies, lentils, roasted spices & coconut. Roasted coconut is one of the highlight of this sambar recipe. Hence varutharacha sambar tastes different than the regular variety of sambar which is made with Sambar powder.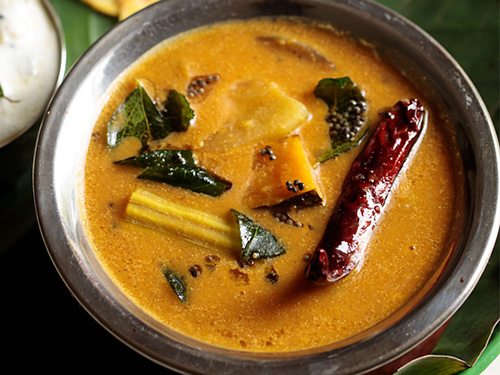 7. Kerala sambar recipe – a delicious tasting sambar made with mix veggies, lentils and roasted coconut+spice paste. Best served with steamed rice.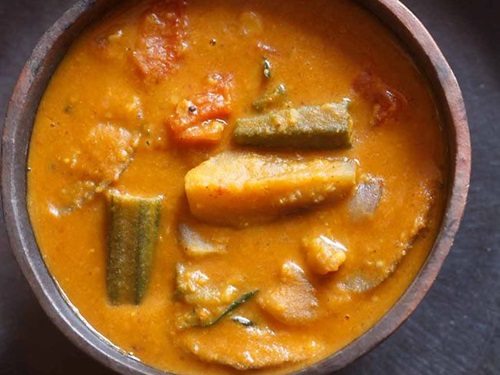 8. Avial recipe – avial is a traditional recipe of Kerala and an essential dish of sadya. this avial recipe is not a semi-dry version but a curry version from the thrissur district of Kerala.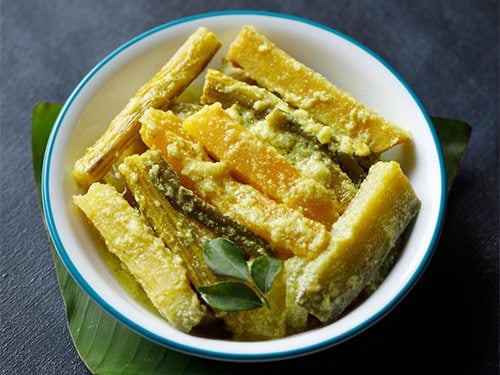 9. Ulli theeyal recipe – one more delicious gravy based dish that is served in onam sadya. ulli theeyal has a sour and spiced taste with complex flavors. ulli theeyal curry has flavors of roasted coconut and spices. Ulli or pearl onions also add a lot of flavor in the dish with sour notes coming from the tamarind.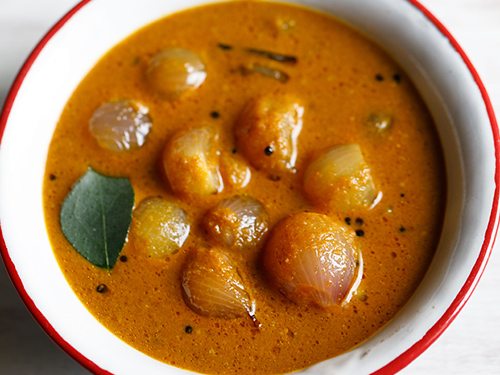 10. Pumpkin erissery recipe – pumpkin erissery or mathanga erissery is one of the essential dishes that is served during onam sadya. this dish is also known as elisseri in some parts of Kerala. This is a mild and tempered curry with light sweet tones made with pumpkin, cowpeas & coconut.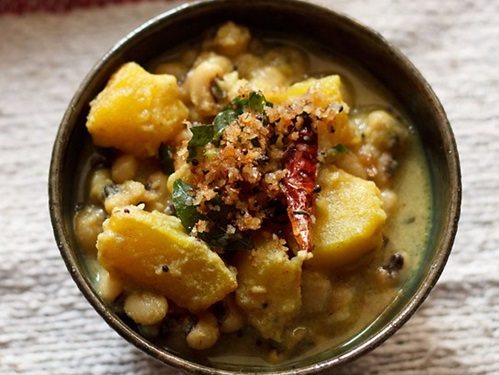 11. Koorka stir fry recipe – easy and simple Chinese potato stir fry. this is a simple recipe and uses less ingredients so that the flavor of the koorka comes through. Skip shallots if you want.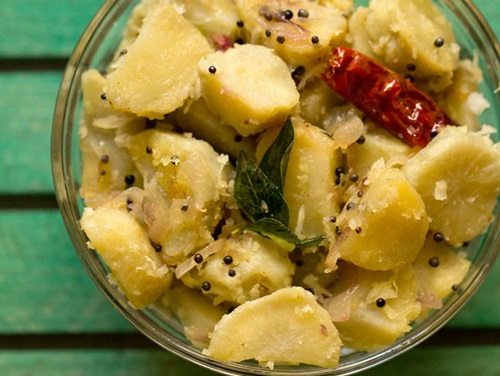 12. Beetroot thoran recipe – a dry and delectable mildly spiced dish made with beetroots having sweet notes from the beetroot as well as the coconut.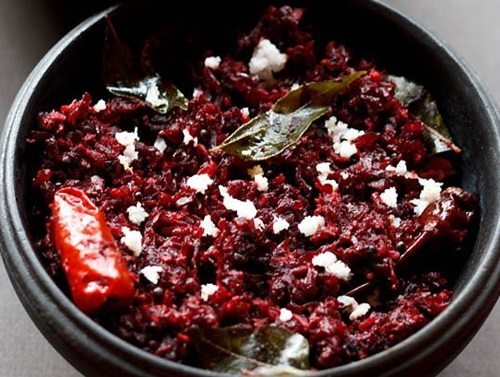 13. Raw banana stir fry recipe – simple homely side dish prepared with raw unripe banana or plantains. the recipe is a basically a simple Kerala style stir fry made with raw bananas.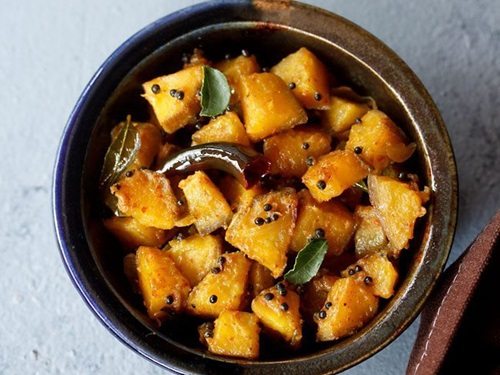 14. Ash gourd thoran recipe – easy to prepare thoran made with ash gourd or white pumpkin.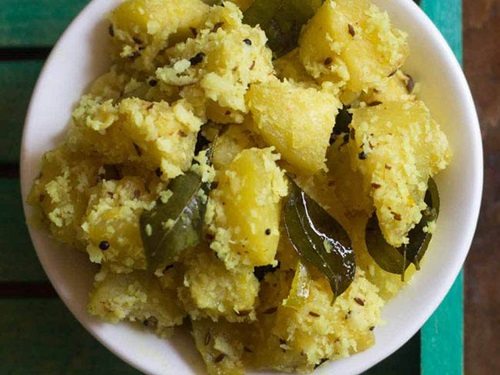 15. Instant mango pickle recipe – this instant mango pickle recipe is quick and easy to make. The pickle is prepared with raw unripe mangoes, mustard seeds, curry leaves and some spice powders. best part of this pickle recipe is that it can be made in less than 15 minutes.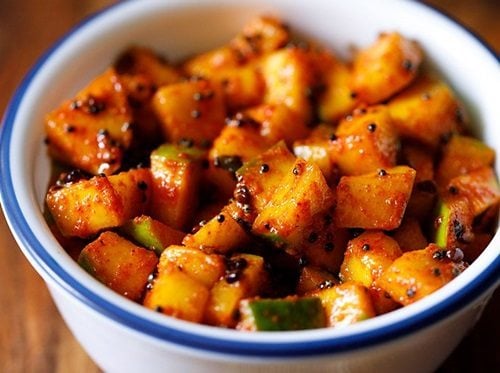 16. Naranga achar recipe – a tangy and spiced Kerala style pickle made with lemons. this Kerala lemon pickle is kind of an instant pickle – it is instant and quick to make, but to serve you need to wait for a few days. The recipe is very easy. You also do not need sunlight to make this lemon pickle.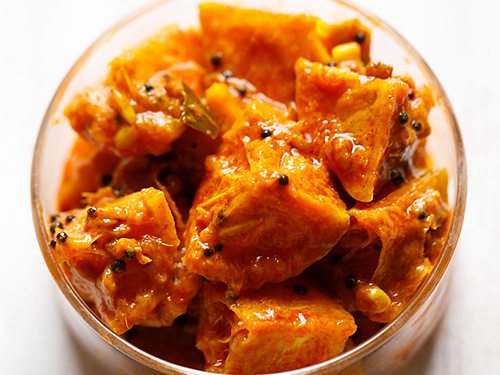 17. Cucumber pachadi recipe– cucumber pachadi is a simple but very delicious Kerala style raita made with coconut, mustard seeds and curd. The taste is very different from the North Indian version of Cucumber raita and goes extremely well as a side dish with Sambar-rice or Parippu-rice.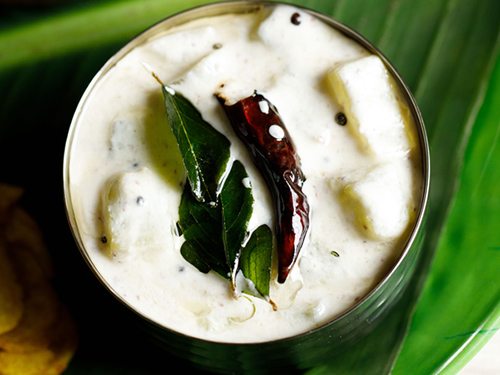 18. Banana appams recipe – sweet appams or paniyarams made with ripe bananas, rice flour and jaggery.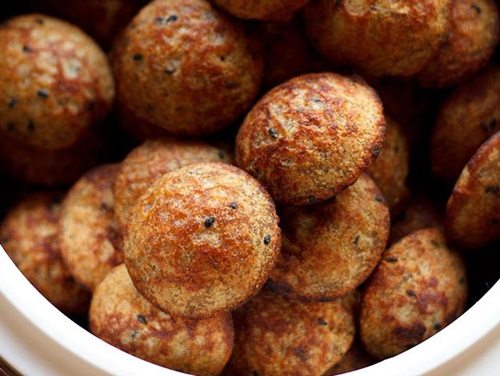 19. Whole wheat appam recipe – quick sweet appams made with whole wheat flour, bananas and jaggery. Serve the instant whole wheat appams, hot or warm or at room temperature.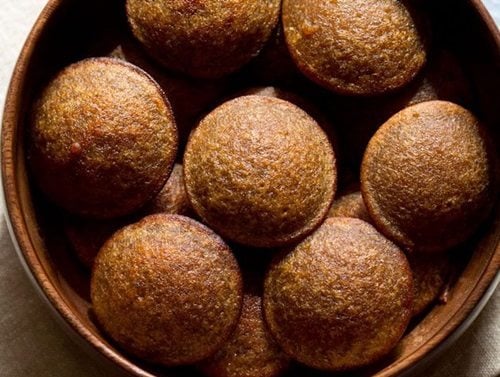 20. Unniyappam recipe – unniyappam are sweet fritters made with rice, banana, a few spices and coconut. Unniyappam is one of those special sweets snacks from Kerala and are also served in the onam sadya. Unniyappam are also offered as prasad in some temples in Kerala.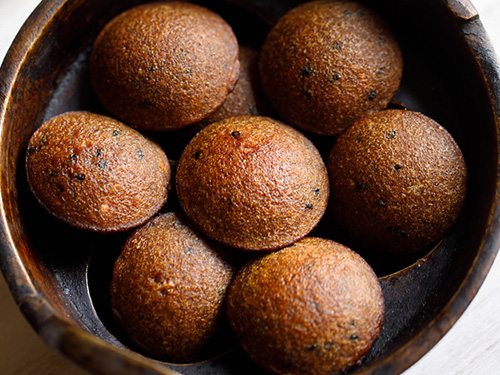 21. Kerala banana chips recipe – Kerala banana chips are crispy and tasty banana chips made with unripe nendran bananas and coconut oil. Its the frying in coconut oil and the firm texture of the nendran bananas that sets these crispy chips apart from the regular Fried banana chips.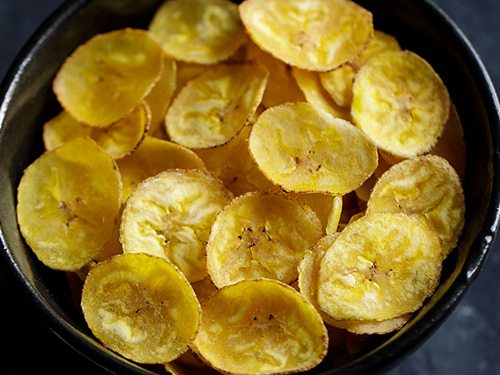 Onam sadya sweets
22. Paal payasam recipe – this is the simplest payasam recipe. Only four ingredients go in the payasam – rice, milk, sugar and ghee.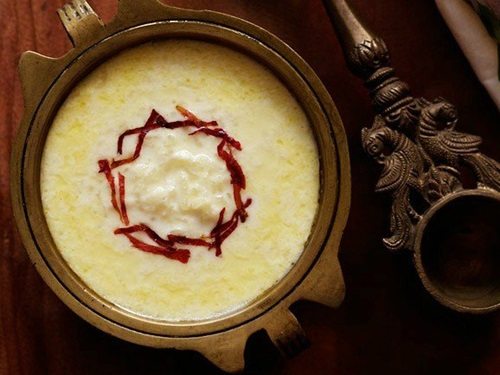 23. Moong dal payasam recipe – creamy and a delicious payasam made with yellow mung lentils, jaggery and coconut milk. i have kept the moong dal payasam recipe simple and easy for everyone to follow.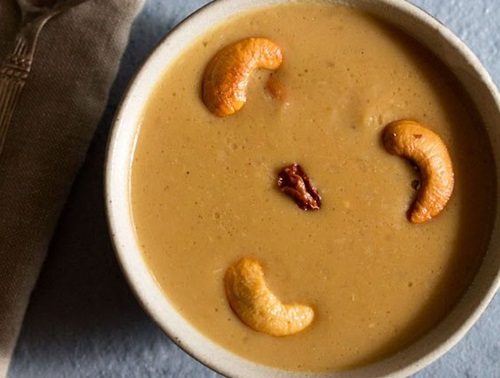 24. Aval payasam recipe – delicious poha payasam made with flattened rice, ghee and milk. in the recipe I have used thick poha, but you can also use thin poha. Even red poha can be used.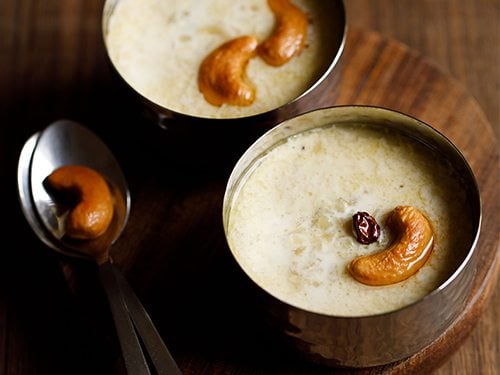 25. Chana dal payasam recipe – this chana dal payasam also known as kadalai paruppu payasam is a delicious payasam variety made with coconut milk, chana dal, jaggery and cardamom powder.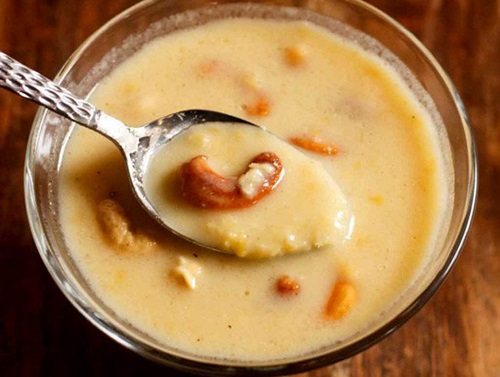 26. Semiya payasam recipe – one of the easiest sweets that can be made for any festive occasion is semiya payasam. making semiya payasam does not take much time and the entire dish can be brought together in a matter of about 20 to 25 minutes.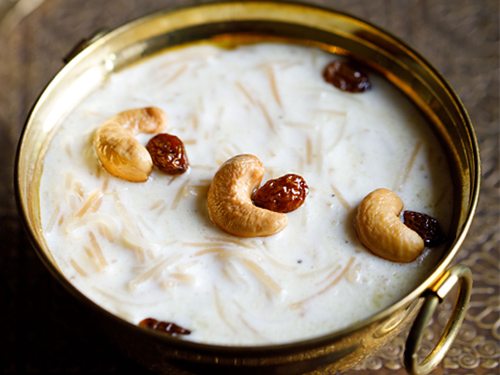 27. Pineapple payasam recipe – South Indian payasam made with pineapple, coconut milk and jaggery. the fruity pineapple flavor, the earthy flavor and taste of jaggery and the aroma of Coconut milk, makes this dessert pretty unique. Jaggery which is used as a sweetener in the recipe, can also be replaced by sugar. However, the flavors are better with jaggery.