Fig jam recipe with step by step photos – This easy, delicious and healthy jam is made with fresh figs and powdered jaggery. In the absence of jaggery, you can use sugar though. Gluten-Free and Vegan Recipe.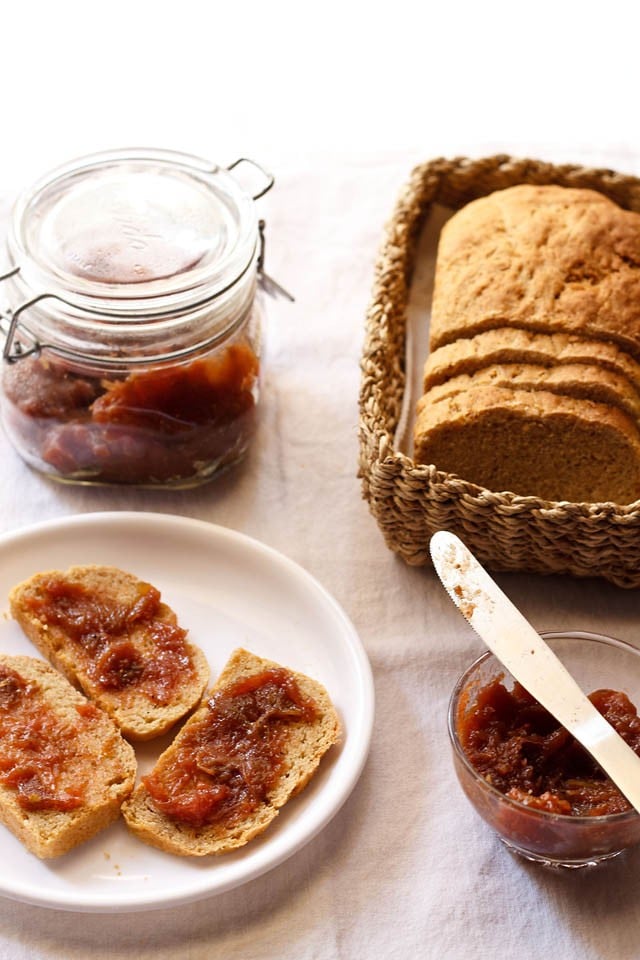 The jam is made without any artificial preservatives or additives. I have not even added pectin to the jam.
When the figs were in season I had made this fig jam. I had got these fresh figs from the market, only to make a fig jam. I do prepare jams with seasonal fruits and they never get to the blog. This time I was like… At least a few jam recipes should be posted on the blog.
There is no better way to preserve seasonal fruits and their goodness in the form of preserves, jams and marmalades.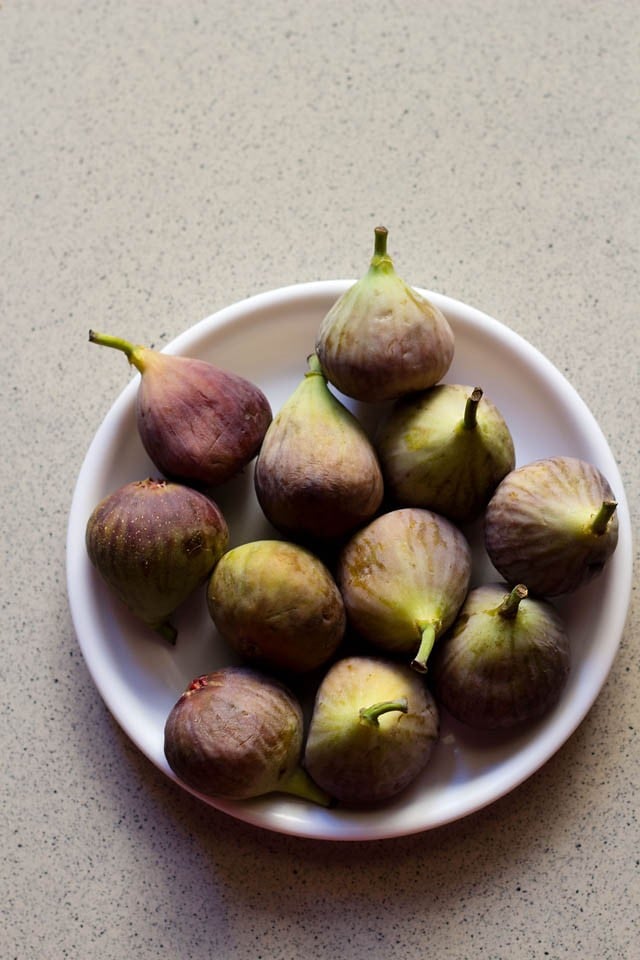 Just a small jar is enough to suffice for a week. the first few spoonfuls of the jam we had with homemade whole wheat bread. The rest I used to make a fig jam bread roll.
This delicious fig jam can also be used as a topping on muffins, cakes, custards and ice creams. I have used my friend anamika's recipe.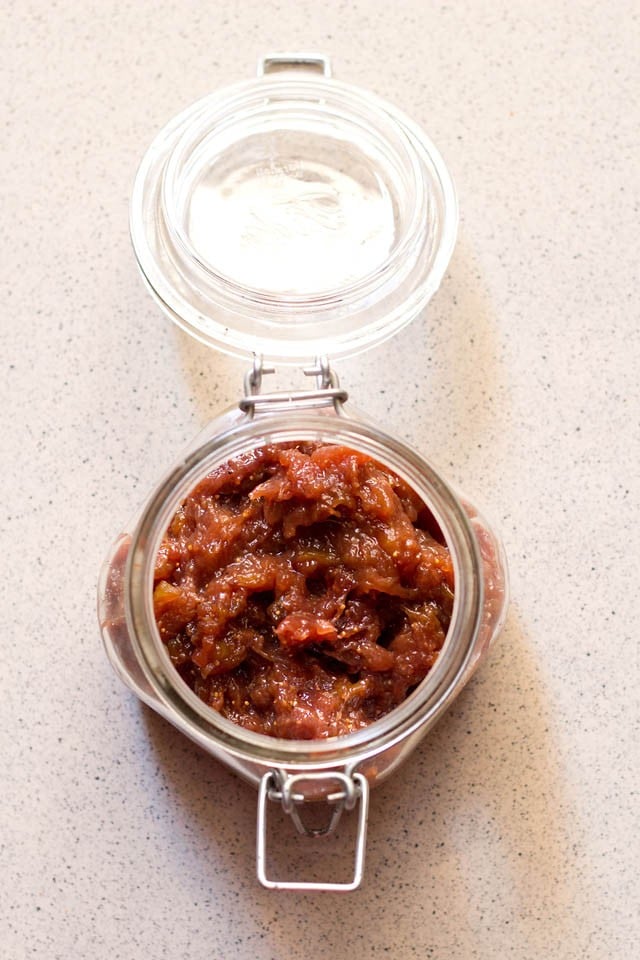 Tips for making fig jam or any jam
Making jams or preserves are easy. Care has to be taken about hygiene. Whenever I make jams that will last long for months, I always sterilize the glass jar in hot boiling water. for this recipe, since its a small quantity, you don't need to sterilize the jar. Use a clean jar and keep the jam jar in the fridge.
Use good quality and fresh fruits.
The fruits have to be rinsed well and then dried with a clean kitchen towel.
When the jam is done, no water or moisture should fall in the jam. Hence cover the pan with a kitchen towel and not with a lid so that no condensation happens on the lid. The shelf life reduces if there is moisture or water in the jam. The jam can also get spoiled easily.
Lemon juice is a natural preservative along with jaggery/sugar.
The spices added to the jam or preserve not only makes the jam flavorsome but also acts as a preservative.
How to make fig jam
1: rinse and dry the figs. chop the figs. You can even mash them.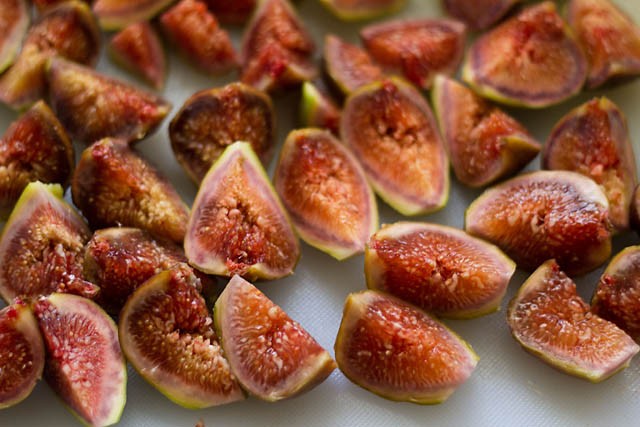 2: in a pan, add the chopped figs and 1 cup water.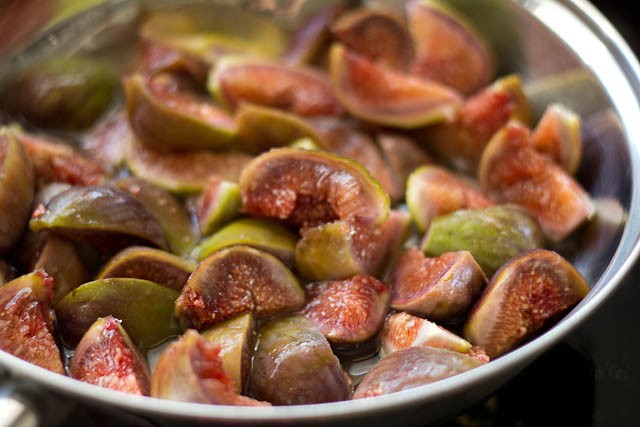 3: keep the pan on fire and let the figs cook. After 4-5 minutes add the powdered jaggery or sugar.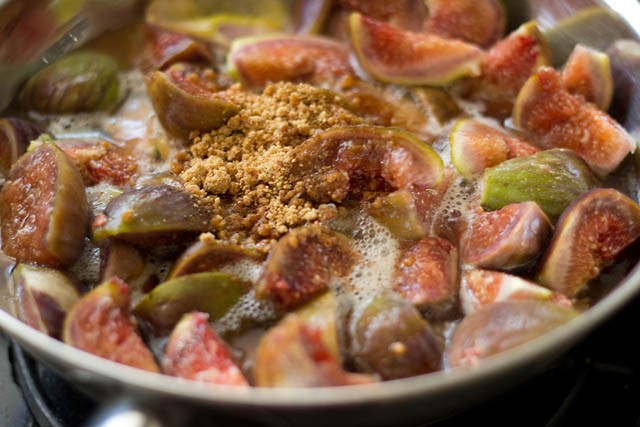 4: stir and let the fig jam mixture cook slowly on a low flame. After 9 minutes.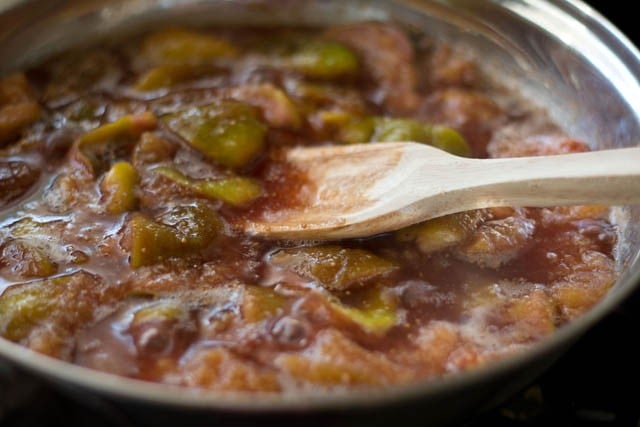 5 : the mixture will begin to thicken slowly. Keep stirring and mash the cooked figs whilst stirring. after 8 minutes…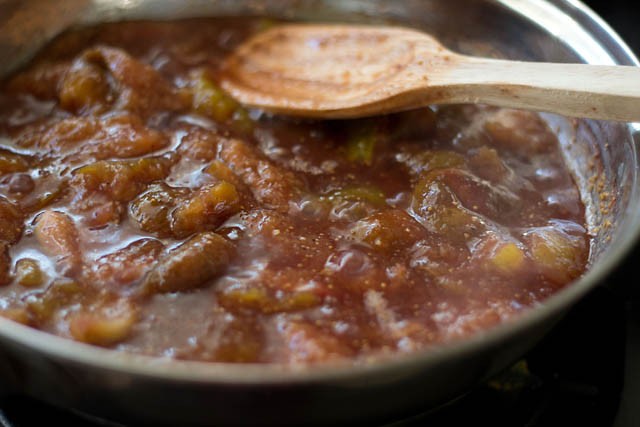 6: fig jam mixture after 7 minutes…
7:  once the mixture has begun thickening, keep an eye. It will begin to thicken quickly and if you don't keep an eye you might end up with a thick gelatinous mass. After 3 minutes…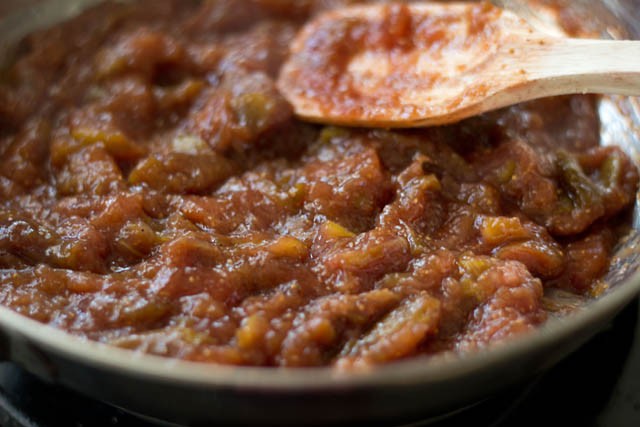 8: lastly after 5 minutes. the whole cooking of the fig jam On a low flame has taken about 40 minutes. This is the consistency of the jam we want. When the mixture starts to leave the sides of the pan, it means its done. Other ways to check the consistency and doneness is by doing two tests.
A: Plate test – Take a spoonful of fig jam on a plate and let it cool. If it sets on cooling and there is no water separation, this means the jam is done.
B: Sheeting – Another test is to take the fig jam in a spoon and allow it to fall. If the jam falls in the form of sheet, it is done and ready to be bottled. Also toward the end add the cinnamon powder and lemon juice. Stir and mix well.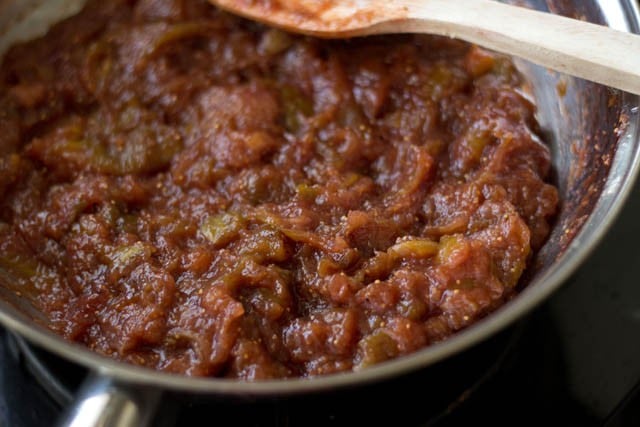 11: cover the pan with a clean kitchen towel and let the jam cool. Once cooled, fill a bottle with the jam. Keep in the fridge. This Fig jam won't stay long since its so good, it will get over fast.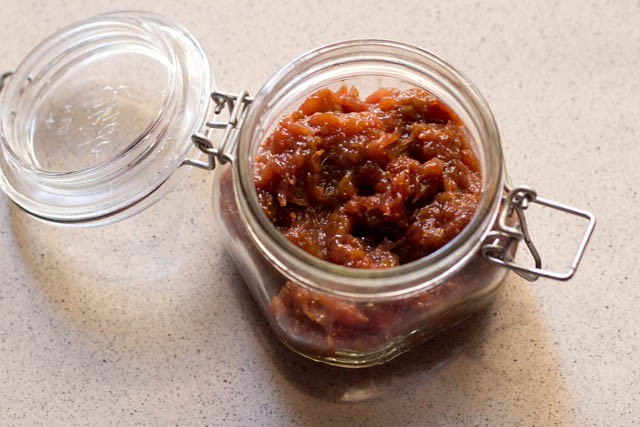 Few more tasty recipes for you!
Please be sure to rate this recipe in the recipe card below if you have made it. For more vegetarian inspirations, Sign Up for my emails or follow me on Instagram, Youtube, Facebook, Pinterest or Twitter.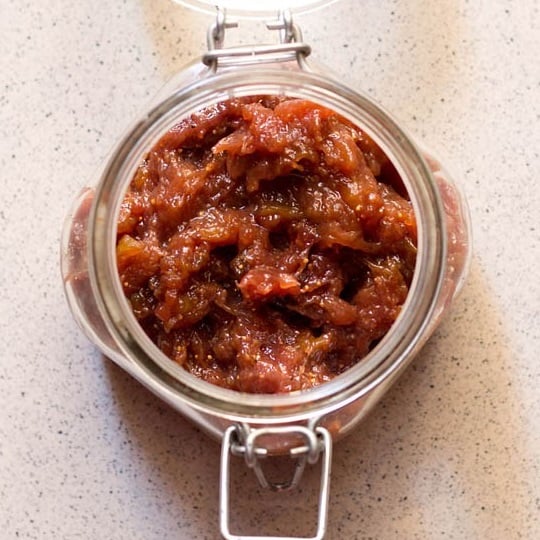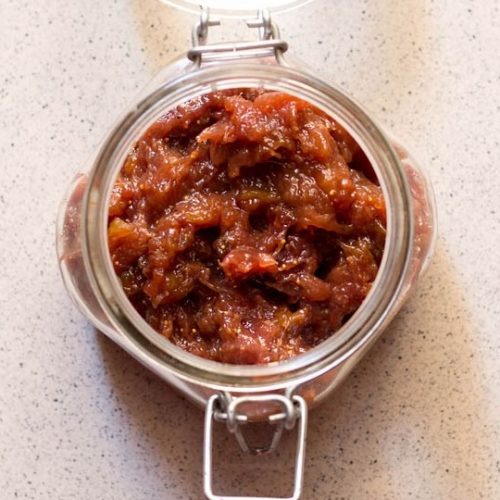 Fig Jam
Easy and healthy Fig Jam recipe made from fresh figs and powdered jaggery.
12 to 15

fresh figs

(anjeer)

¼

cup

organic powdered jaggery

or sugar (add more if required. also depends on the sweetness of the figs)

2 to 3

pinch of cinnamon powder

1

teaspoon

lemon juice

1

cup

water
Instructions
Rinse the fresh figs well, let them dry naturally or dry with a kitchen towel.

Chop the figs.

In a thick bottomed pan, add the chopped figs and water.

On low heat, cook the figs.

After 4 to 5 minutes, add the powdered jaggery.

Continue to cook the fig mixture on low heat for a good 35 to 40 minutes, stirring frequently.

If the mixture looks dry to you, then add some tablespoon or about ¼ cup hot water.

Check for doneness of the jam as mentioned in the step-by-step guide above.

Lastly, add the cinnamon powder and lemon juice. Mix well.

Cover the pan loosely with a kitchen towel and allow the jam to cool.

When the Fig Jam is completely cooled, pour into a clean glass jar.

Keep the Fig Jam in refrigerator.

Fig Jam stays good for 10 to 12 days.
Notes
The approximate nutrition info is for 1 small jar of Fig Jam.
Nutrition Info
(Approximate values)
Nutrition Facts
Fig Jam
Amount Per Serving
Calories 674
Calories from Fat 18
% Daily Value*
Fat 2g3%
Sodium 19mg1%
Potassium 1427mg41%
Carbohydrates 172g57%
Protein 5g10%
Vitamin A 873IU17%
Vitamin B1 (Thiamine) 1mg67%
Vitamin B2 (Riboflavin) 1mg59%
Vitamin B3 (Niacin) 2mg10%
Vitamin B6 1mg50%
Vitamin C 14mg17%
Vitamin E 1mg7%
Vitamin K 30µg29%
Calcium 304mg30%
Vitamin B9 (Folate) 37µg9%
Iron 3mg17%
Magnesium 109mg27%
Phosphorus 89mg9%
Zinc 1mg7%
* Percent Daily Values are based on a 2000 calorie diet.