How to make coconut milk at home from scratch – since I make coconut milk often, here is a step by step post, which I thought would help many of you.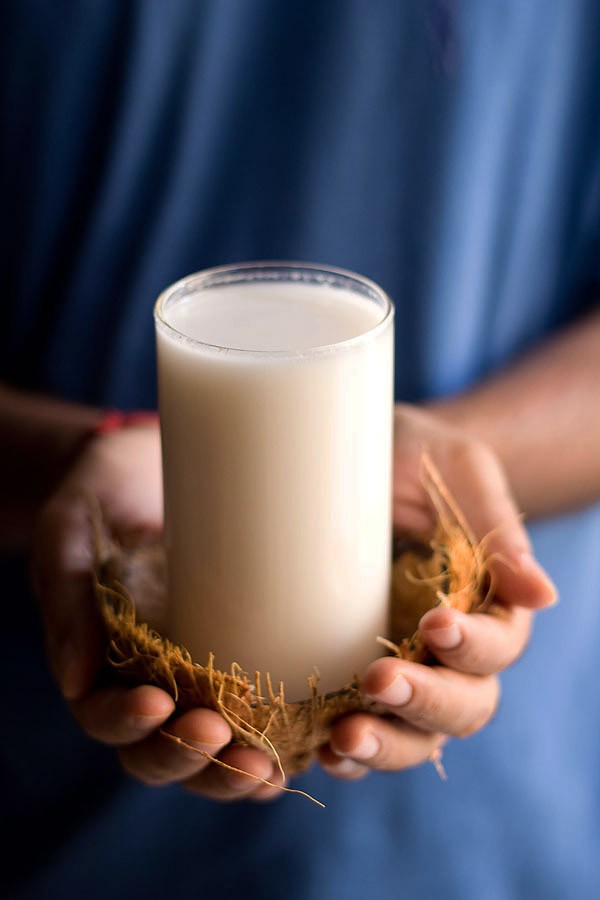 This post has been in the pipeline for 6 months. It has taken me so long to write something as simple and basic as preparing coconut milk, which I often use in my cooking. Apart from adding it to the South Indian curry recipes and payasams, I also make banana milkshake with thin coconut milk. And the milkshakes are really refreshing and light. I have also shared recipes of Vegan yogurt and Almond milk.
I always use fresh coconut to prepare coconut milk. the method is very easy. I always prepare 3 extracts. The last two extracts of thin coconut milk goes into curries or making payasams like moong dal payasam, paal payasam and sometimes into milkshakes. The first thick extract is added towards the end in curries or payasams.
Keep in mind, the 2nd or 3rd extract can be boiled or simmered, the 1st extract cannot be boiled. If you boil the 1st thick coconut milk, it will curdle.
So before you get confused into 1st or 2nd extract let me take you through the process of preparing coconut milk.
How to make coconut milk
1: take a fresh mature coconut and break it open. Collect the water in a glass and grate the white flesh with a hand grater. In India we also have a manual grater which has a seat and is used traditionally. Here I have grated the white meat with a hand held grater.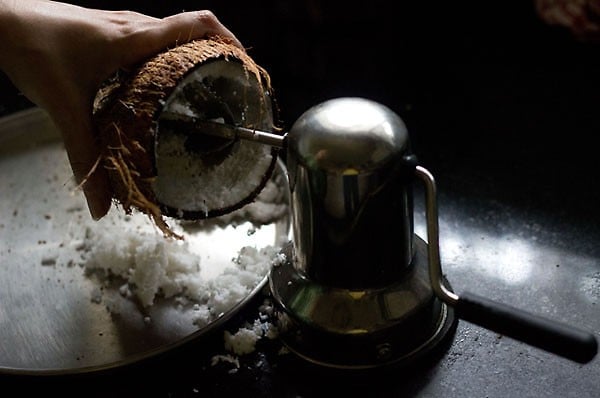 2: take the coconut grating in a blender jar. Add 1 cup water and blend till the coconut is ground well for a couple of minutes.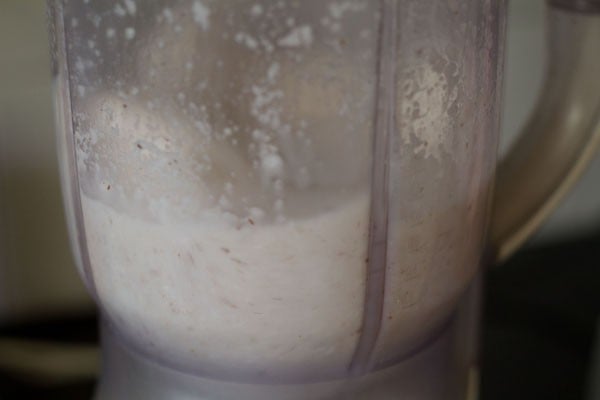 3: pour the contents in a bowl or pan lined with a thin muslin or fine strainer.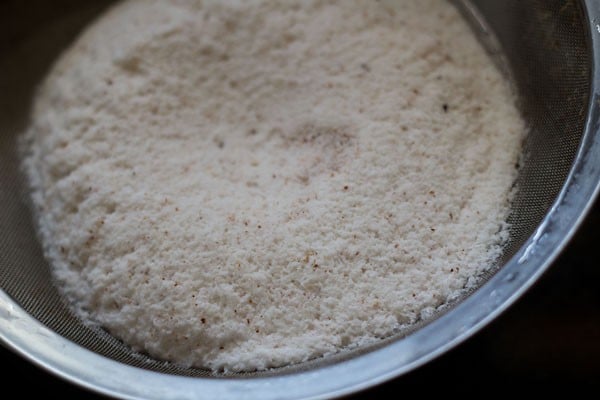 4: the coconut milk will be strained. Press with a spoon on the coconut shreds so that all the milk is strained away.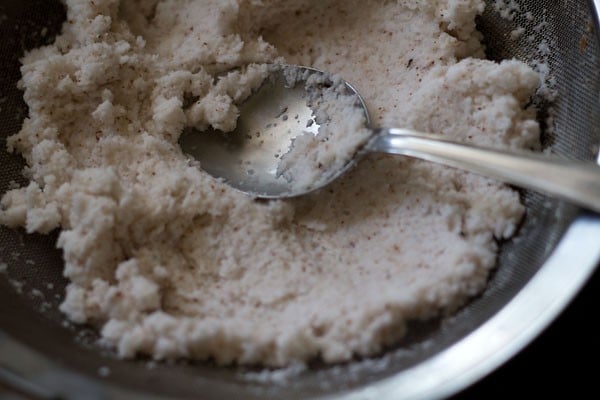 5: what you get now is the Thick coconut milk or the 1st extract. I used this in chole biryani recipe.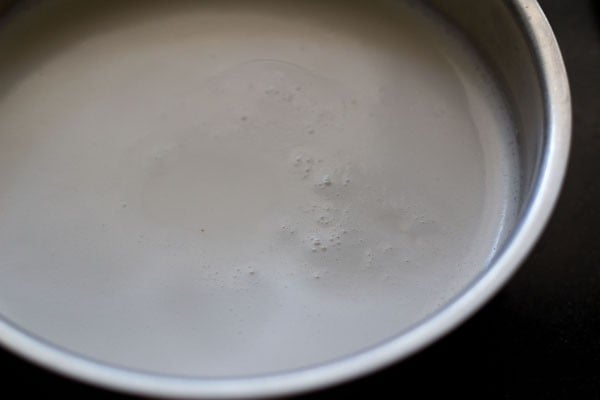 6: put back the coconut shreds in the blender again. Add 1 to 1.5 cups water and blend again. Again strain the content in a different bowl or pan using the same strainer or muslin. Press with a spoon on the shreds again.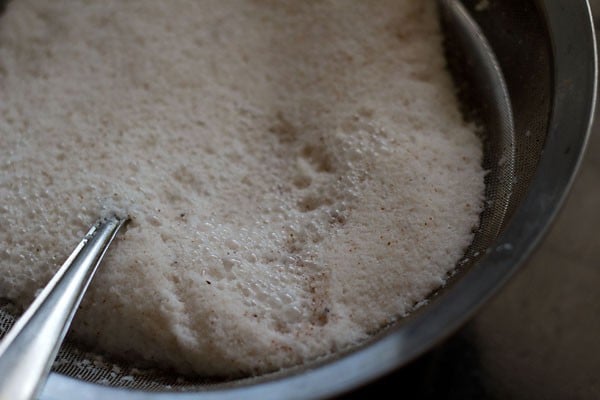 7: this is the Thin coconut milk or the 2nd extract.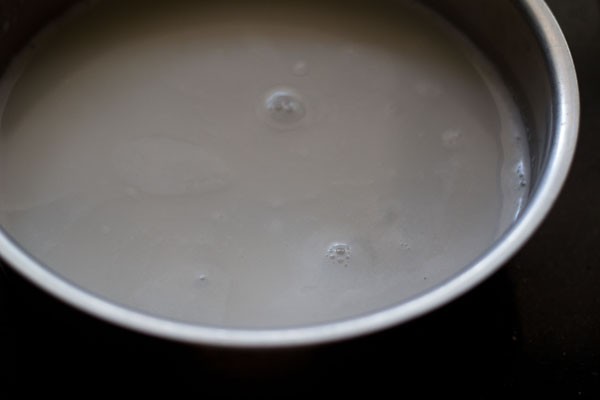 8: you can stop here or continue to get the 3rd extract. Proceed in the same way as for getting the 2nd extract. You can keep the 2nd and 3rd extract separate or mix them up. Mostly when making curries, I mix the 2nd and 3rd extracts.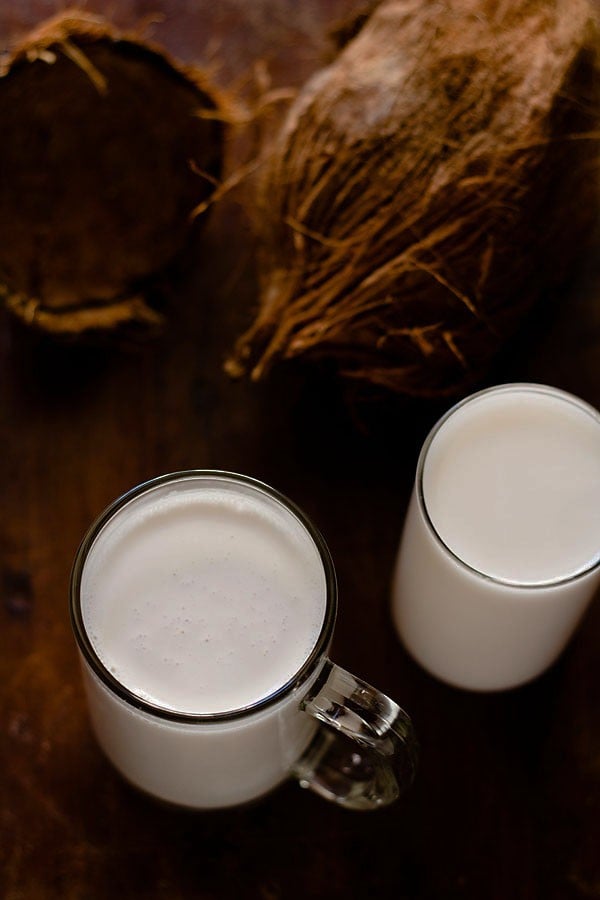 So now you have fresh homemade coconut milk ready which you can use in your cooking or baking. You can also keep the coconut milk in the fridge. It stays good for 3-4 days. You can add this coconut milk to mango milkshake or banana milkshake also.
The leftover coconut residue can be roasted in an oven or a pan. Then ground to a flour when cooled to give coconut flour. This coconut flour can be added while making cakes, cookies or breads.
Please be sure to rate this recipe in the recipe card below if you have made it. For more vegetarian inspirations, Sign Up for my emails or follow me on Instagram, Youtube, Facebook, Pinterest or Twitter.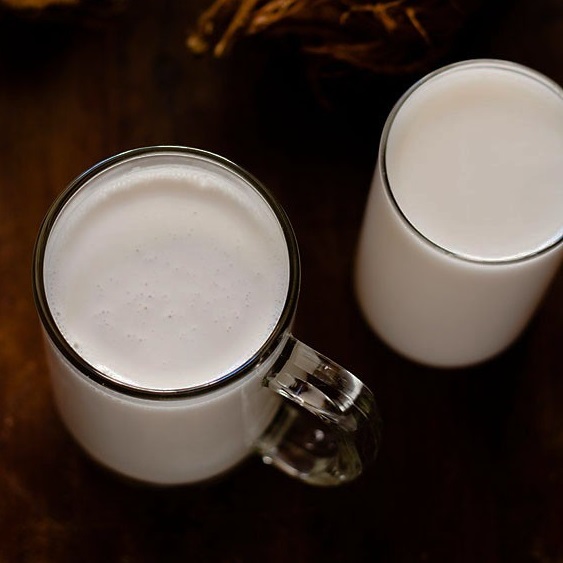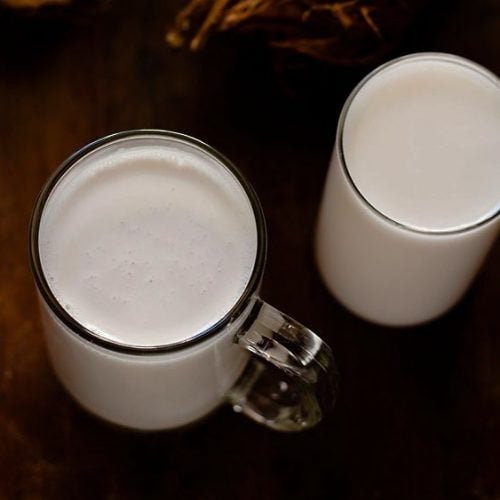 coconut milk
How to make coconut milk - preparing homemade coconut milk from scratch with fresh mature coconut
2.5

cups

grated fresh coconut

or unsweetened shredded coconut - see notes below

3 to 4

cups

water at room temperature
Instructions
Take all the grated coconut in a blender jar.

Add the 1 cup water and blend on high till the coconut is ground well.

Strain in a cheesecloth/muslin or a fine sieve and collect the first extract in a bowl or pan.

This is the thick coconut milk or the first extract.

Then collect and put back the coconut residue into the blender.

Add 1 to 1.5 cups water and blend again.

Strain and collect this coconut milk in another bowl.

This is the thin coconut milk or the second extract.

Put back the coconut gratings again in the blender.

Add 1 to 1.5 cups water and blend again.

This is thinnest coconut milk or the third extract.

Strain for the third time and collect the third coconut milk in the bowl in which the second thin coconut milk is extracted.

You can also keep the third extract separate.

So the fresh coconut milk is ready. Use it fresh in your cooking.

You can also refrigerate and use the coconut milk later.
Notes
If using unsweetened shredded coconut, then preferable to soak the coconut in warm water for a few hours and then blend.