'Kalpavriksha' or the Divine Tree is what the coconut tree is known in Sanskrit. The reason being it is really the 'tree of life,' as every part of this tree – from the husky covering, shell, leaves and kernel to the flesh, water, oil and milk – is useful to human beings. In this post of mine, I've shared the steps on How To Make Coconut Milk at home in the most easy way. Coconut Milk is quite the magical extract from the coconut fruit, which is a healthy and organic plant based milk alternative. Try it.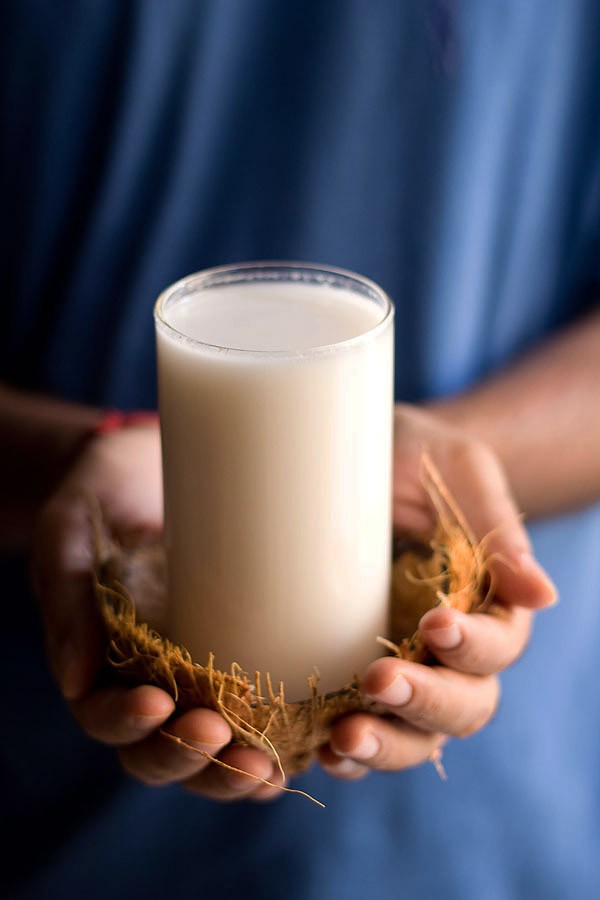 What is Coconut Milk
Coconut Milk is simply the white, milky extract from the tender white flesh of the mature, brown coconut fruit from the coconut tree.
Usually, whenever the question of How To Make Coconut Milk at home arises, the answer is simple. You grate the white flesh or meat of the coconut, blend it with some water and strain to get the milk.
With this procedure, you can get about 1 to 3 rich and creamy extracts of the Coconut Milk, which range from the thickest to the thinnest. Then, you can use these individually or in combination, for culinary purposes as and how a recipe demands for it.
Coconut Milk is one of the best natural by-products of a fruit, that can be used as a substitute for dairy milk. Thus, makes for an awesome vegan-friendly ingredient too.
It is usually used to thicken as well as bring in some sweetness, both in savory and sweet dishes. Homemade Coconut Milk is always better as it is free from any fillers, preservatives or additives.
Other than this, it is also brimming with health benefits and is great for the human body as well. So, look no further, and check out this post on How To Make Coconut Milk for a homemade batch that you can easily use to make delicious dishes.
More on Homemade Coconut Milk
The procedure that I have demonstrated in this post of How To Make Coconut Milk is really simple, and will definitely not give you sleepless nights! The maximum effort that you will have to put in this method is to grate the coconut flesh. That's it.
Post which, you just need a blender, some water and a muslin cloth/nut milk bag/cheese cloth or a fine strainer to get your desired consistency of this vegan milk.
Having said that, it did take me quite a while to create a post, as basic and easy as How To Make Coconut Milk, even after me using it in my cooking so often. But it is here now, and you can make full use of it.
Apart from adding it to South Indian curries and sweets, I also make a light and refreshing Banana Milkshake with the thin extract of this milk.
I always use fresh coconut to prepare Coconut Milk and mostly prepare 3 extracts. The last 2 thin extracts usually go in making rice based dishes, some gravies and sometimes into milkshakes. The 1st thick extract is added towards the end in curries or sweets like this Moong Dal Payasam.
One important thing you must keep in mind is that the 1st extract cannot be boiled, as it curdles or splits if done so. However, the 2nd and 3rd extracts can be gently boiled or simmered.
Also, if you are using unsweetened dry shredded coconut, then it is preferable to soak the coconut in warm water for a few hours and then blend.
How To Make Coconut Milk
1. Take a fresh mature coconut and break it open. Collect the water in a glass and grate the white flesh with a hand grater.
In India, we have a manual grater which has a seat and is used traditionally. Here, I have grated the white meat with a hand held grater.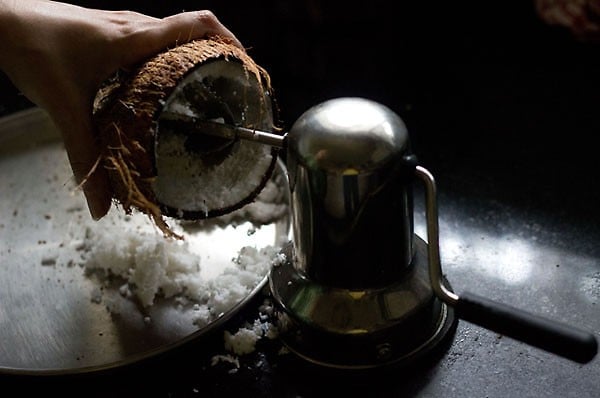 2. Take the grated coconut in a high-speed blender jar. Add 1 cup water and blend for a couple of minutes or till the coconut is ground well.
Note that I make three separate extracts having thick to thin consistencies – which require blending three times. If this is not what you prefer, blend only once adding 3 cups of water.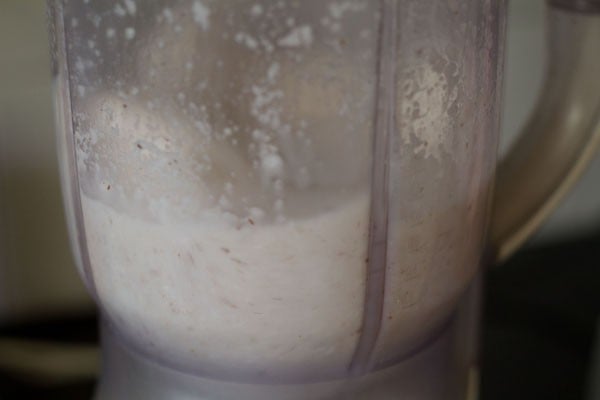 3. Pour the contents in a bowl or pan lined with a thin muslin or fine strainer. You could also use a cheese cloth or a nut milk bag to extract the milk.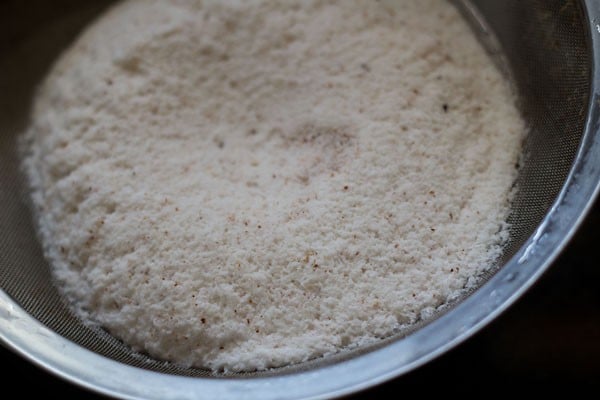 4. Press with a spoon on the coconut shreds so that all the milk is strained. This way you can strain the Coconut Milk.
You could also opt to press the coconut grates with clean fingers and extract the coconut milk.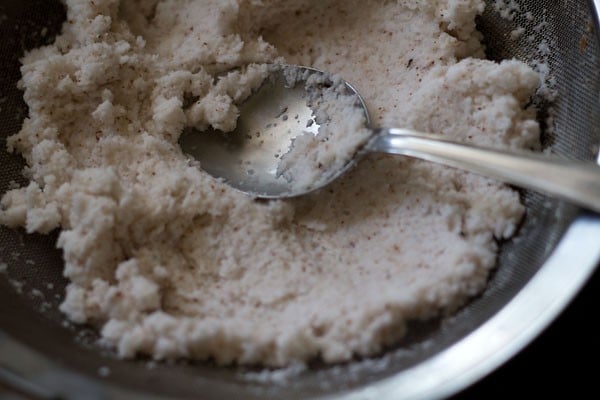 5. What you get now is the thick Coconut Milk or the 1st extract.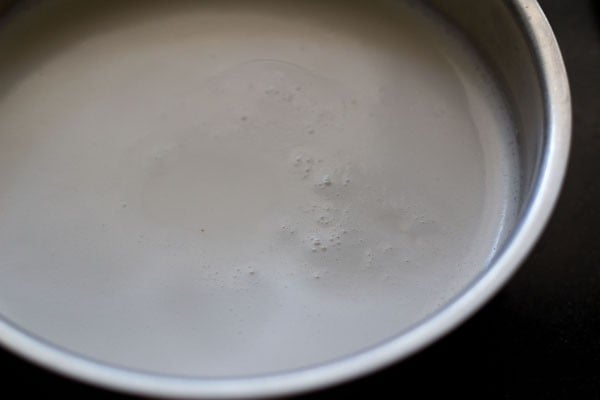 6. Put back the coconut shreds in the blender. Add 1 to 1.5 cups water and blend again.
Again strain the contents in a different bowl or pan using the same strainer or muslin. Press with a spoon on the shreds again.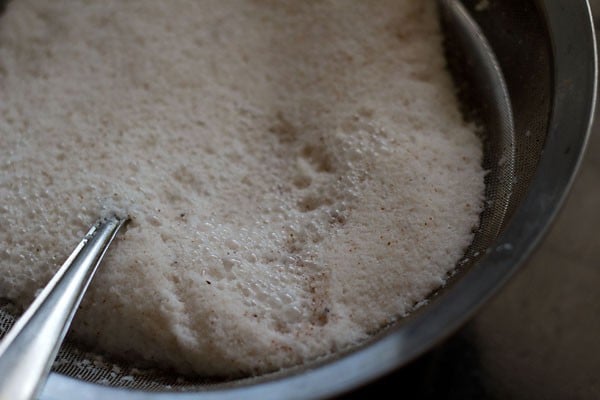 7. This is the thin Coconut Milk or the 2nd extract.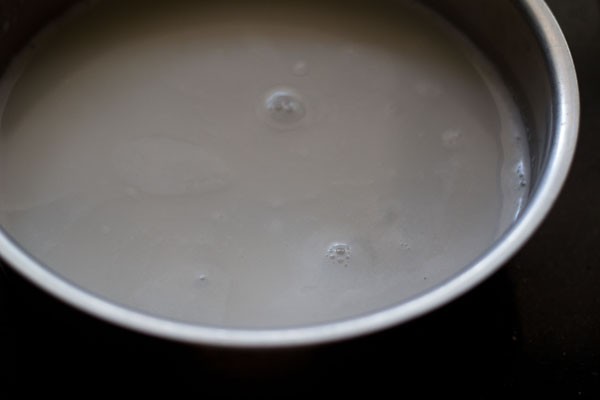 8. You can stop here or continue to get the 3rd extract. Proceed in the same way as for getting the 2nd extract.
You can keep the 2nd and 3rd extracts separate or mix them. Mostly when making curries, I mix the 2nd and 3rd extracts.
So now you have your fresh homemade coconut milk ready that you can use in your everyday cooking or baking.
Keep the coconut milk in the refrigerator if you don't plan to use it straight away. When refrigerated, it keeps well for 3 to 4 days.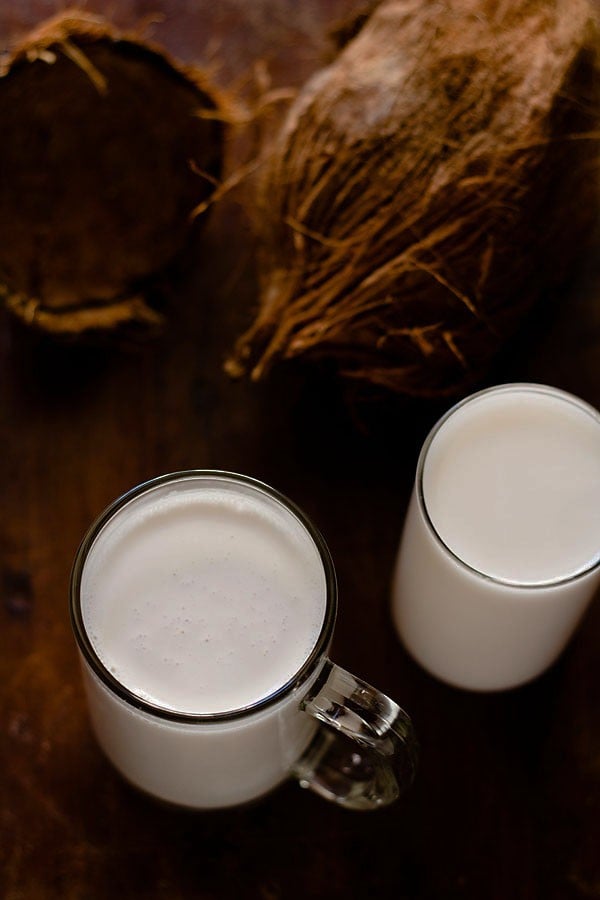 Coconut Milk Uses
Once you have the fresh homemade Coconut Milk ready, you can use it in your cooking or baking as well. Just like me, you can add it to your fruit based Milkshakes, smoothies or protein shakes too. This plant-based milk even stays good for 3 to 4 days in the refrigerator.
More ways to consume it include adding it in your cereal bowls or make Chia Pudding. Use it as a replacement for dairy milk in your coffee or just have a bit of it with some fresh berries.
In addition to these, traditional Indian dishes like chutneys, Coconut Milk Rice, various Indian curries and even smooth, rich Thai curries like Red Curry or Green Curry can also be made with it.
The leftover coconut residue can be roasted in an oven or a pan. Then, cooled and ground to a flour which will give you a nice healthy, homemade coconut flour. You can use this coconut flour to make your cakes, cookies and even breads.
Expert Tips
Adding Sweeteners: In India, when we extract coconut milk, we do not add any sweeteners, as the milk is mainly used to make creamy, thick curries and sometimes while preparing sweets. But do feel free to add sweeteners of your choice. You could also blend the grated coconut and water with some dates, dried figs or any preferred dried fruits or berries.
Extracts: I usually make three extracts of coconut milk and this means blending three times. According to your preferences, opt to blend the coconut and water once only adding 3 cups water. Strain and extract the milk.
Coconut Type: Since fresh mature coconut is easily available in India, we usually do not make coconut milk from desiccated coconut. But you can prepare coconut milk from unsweetened desiccated coconut. Also keep in mind that the milk extracted from fresh coconut tastes different than from the dry shredded or desiccated coconut.
Coconut Milk Benefits
Researchers have approved of the many significant health benefits that Coconut Milk has in store. Here are some that you must go through, to try and include it more often in your diets:
This plant milk is a calorie-rich food because of the high amount of saturated fats and electrolytes in it. Thus, making it good for increasing the stamina in your body and replenishing loss of fluids that may occur during strenuous workouts. Thus, helps to reduce fatigue and build muscles too. It also has some vitamins, minerals and fiber.
Coconut Milk has a good number of antioxidants which help in protecting the body from certain types of cancers, heart, and other diseases. It is also known to boost the immunity in our body.
Since it is rich in certain types of good fats, it helps to keep the body full for a longer time. In turn, helping to reduce and keep a control on the weight.
Reference Links:
https://www.healthline.com/
Please be sure to rate the recipe in the recipe card or leave a comment below if you have made it. For more vegetarian inspirations, Sign Up for my emails or follow me on Instagram, Youtube, Facebook, Pinterest or Twitter.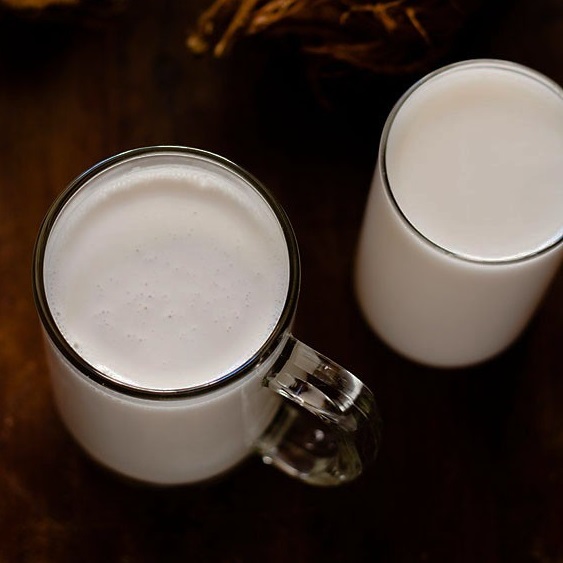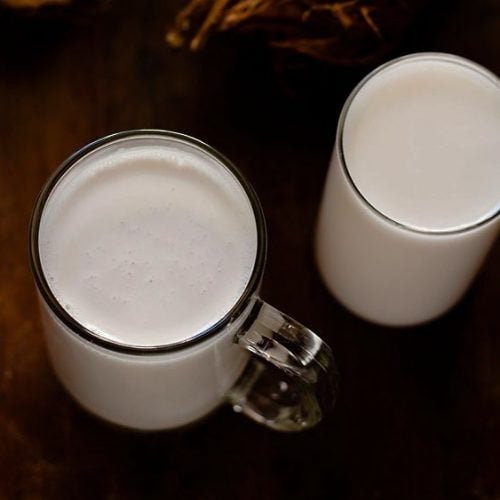 Coconut Milk Recipe | How to make Coconut Milk
Learn How to make Coconut milk from scratch with fresh mature coconut. I share making homemade Coconut Milk which is a healthy and organic plant based milk alternative.
2.5

cups

grated fresh coconut

or unsweetened shredded coconut – see notes below

3 to 4

cups

water

– at room temperature
Instructions
Take all the grated fresh coconut in a high-speed blender jar.

Add the 1 cup water and blend on high for 2 to 3 minutes or until the coconut is ground well.

Strain in a cheesecloth/muslin/nut milk bag or a fine sieve/strainer and collect the first coconut milk extract in a bowl or pan.

This is the thick coconut milk or the first extract.

Then collect and put back the coconut grates from the strainer/muslin/nut milk bag back into the blender.

Add 1 to 1.5 cups water and blend again.

Strain and collect this coconut milk in another bowl.

This is the thin coconut milk or the second extract.

Put back the coconut gratings again in the blender.

Add 1 to 1.5 cups water and blend again.

This is thinnest coconut milk or the third extract.

Strain for the third time and collect the third coconut milk in the bowl in which the second thin coconut milk is extracted.

You can also keep the third extract separate.

So the fresh coconut milk is ready. Use it fresh in your cooking.

You can also refrigerate and use the coconut milk later. It keeps well for 3 to 4 days in the fridge.
Notes
If using unsweetened dry shredded coconut, then it is preferable to soak the coconut in warm water for a few hours and then blend.
You could also make the entire lot of coconut milk in one go, instead of blending three times. Simply blend the coconut with 3 to 4 cups water for a few minutes. Strain and extract the milk.
The coconut milk extracted from fresh coconut meat tastes different than when extracted from dried shredded coconut.
Nutrition Info (Approximate Values)
Nutrition Facts
Coconut Milk Recipe | How to make Coconut Milk
Amount Per Serving
Calories 177
Calories from Fat 153
% Daily Value*
Fat 17g26%
Sodium 19mg1%
Potassium 178mg5%
Carbohydrates 8g3%
Protein 2g4%
Vitamin B1 (Thiamine) 0.03mg2%
Vitamin B2 (Riboflavin) 0.01mg1%
Vitamin B3 (Niacin) 0.3mg2%
Vitamin B6 0.03mg2%
Vitamin C 2mg2%
Vitamin E 0.1mg1%
Vitamin K 0.1µg0%
Calcium 12mg1%
Vitamin B9 (Folate) 13µg3%
Iron 1mg6%
Magnesium 18mg5%
Phosphorus 57mg6%
Zinc 1mg7%
* Percent Daily Values are based on a 2000 calorie diet.
This How to make Coconut Milk post from the archives first published on September 2013 has been republished and updated on November 2022.