Collection of 30 Lohri Festival recipes. Lohri is the harvest festival celebrated in North India specially in the state of Punjab. People gather together in the night and have a bonfire. They also offer rewdi sweet (sesame brittles), Gajak, popcorn and peanuts to the sacred fire. The fire is worshipped and one cannot eat the rewdi, peanuts, popcorn without first offering it to the fire deity.
People sing traditional songs and the story of Dulha Bhatti is also sung. Dulha Bhatti was kind of a Robinhood figure who helped poor people. Specially the story of two girls Sundri and Mundri who were helped by Dulha Bhatti is often sung during the occasion of Lohri.
It is a joyous and positive time. People dance, sing songs and exchange gifts. Lohri also signifies the end of winter and beginning of spring. Usually it is assumed that after Lohri the cold will reduce. This year Lohri festival is on 14 Jan, 2023.
Here in this post, I am sharing a collection of 30 North Indian recipes that can be made during the Lohri festival.
Lohri Festival Recipes
1. Sarson ka saag – It is one of the most popular Punjabi recipe made during winters. Sarson ka saag topped with homemade butter and served with makki di roti is not only comforting but also warms up the palate as well as the body. Other variations of saag varieties on blog are:
2. Makki di Roti – Popular North Indian maize flour bread. The bread is unleavened and cooked in ghee. The combo of makki di roti with sarson ka saag topped with white butter is too good.
If you visit Punjab during winters then don't miss this combo of makki di roti with sarson ka saag. It not only taste delicious but also very warming during winters.
3. Pindi Chole – This is one of the easiest chana recipe to make. As no grinding, no long frying or sautéing is required and no making or powdering the chole masala.
All you need is readymade chole masala. And the rest everything is easy and quick. Other popular chole varieties on blog are:
4. Atta Ladoo – Easy and quick to prepare delicious ladoos made with whole wheat flour, ghee and sugar. They are filling and tastes also too good.
5. Besan Ladoo – One of the popular ladoos often made during festive occasions. Besan ladoo is easy and healthy sweet that is made all over India. You can also check this recipe of Besan Halwa.
6. Mooli Paratha – Whole wheat flatbreads stuffed with spiced grated radish. These parathas are often made as breakfast in Punjabi homes. Few more popular Paratha recipes made are:
7. Gobi Pakora – Crispy fried marinated cauliflower fritters made with gram flour. Pakoras are relished during winters or in monsoons. Other popular pakoras in North India are:
8. Peanut Chikki or Gajak – Winter special sweet of crisp and crunchy peanut brittle. They are easy to make and you only need two key ingredients! Grab some jaggery and peanuts and make this delicious sweet in less than 30 minutes.
9. Matar Paneer – Spiced and creamy curry with green peas and Indian cottage cheese. A family recipe that is easy and simple to prepare. You can also check this Methi Paneer.
10. Chole Recipe – This Punjabi chole masala recipe gives a good balance of spiciness, taste and flavor.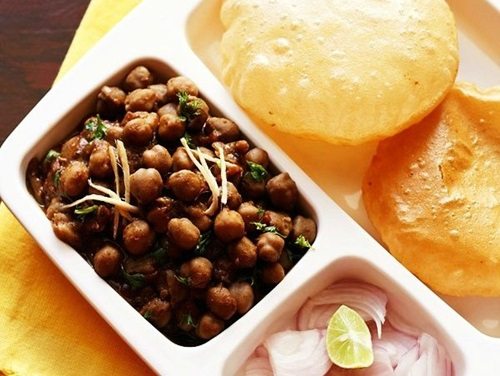 11. Dal Makhani – It is one of the most popular Punjabi lentil based recipe. Dal makhani is made with whole black gram & kidney beans.
You could see dal makhani being served in marriages, engagements and almost any parties in India. The more slow-cooked dal makhani is, the better it tastes.
12. Palak Paneer – Again one of the most popular Indian dish made with succulent paneer cubes (Indian cottage cheese) in a smooth and creamy spinach sauce.
I share two ways to make this healthy dish – a homestyle version and a restaurant style version with a charcoal smoking method
13. Panjiri Recipe – A traditional Punjabi sweet made with whole wheat flour or atta. Panjiri is a dry sweet in which whole wheat flour is roasted in ghee and then powdered sugar is added to this mix.
Generally we add khand or khandsari, which is desi raw sugar to it. You can also add organic unrefined cane sugar if you do not get desi khand.
14. Jaggery Rice (Gud wale Chawal) – This orangish amber colored jaggery rice recipe is a sweet and delectable one. Generally, you just have it plain. But it also tastes nice, when you take a little milk, mix it with the warm jaggery rice and eat it.
15. Gajar ka Halwa – Carrot halwa is one of the most popular halwa recipe that is made with grated carrots. Recipe shared here is a traditional slow cooked recipe of carrot halwa with just carrots, milk, ghee, sugar and some dry fruits.
16. Til ke Ladoo – Simple recipe of ladoos prepared with sesame seeds, jaggery, peanuts and desiccated coconut. 
In this till ladoo recipe, I have cooked the jaggery syrup to a soft ball stage. So this gives the ladoos a soft and chewy texture. You can also cook the jaggery syrup to hard ball stage and you will get firm and dense ladoos.
17. Rice Kheer – This traditional Indian rice pudding made with basmati rice, whole milk, sugar, nuts, saffron and cardamom is slow-cooked to perfection making for a rich, creamy kheer.
Kheer varieties are often made during festive occasions in North India. You can also check this Phirni Recipe. Another popular kheer variety that is made in Punjabi homes is this Seviyan Kheer.
18. Rajma Recipe – Lightly spiced, creamy and a popular Punjabi curry made with kidney beans. The combo of rajma chawal is very popular. Rajma masala also goes very well with phulka or roti.
19. Paneer Butter Masala – This is an easy and quick to make restaurant style paneer butter masala recipe. Within minutes you can prepare delicious paneer butter masala. it has a slight sweet taste and very mildly spiced.
20. Khoya Matar Makhana – Rich Punjabi style curry made with green peas, makhana (fox nuts) and khoya (mawa or evaporated milk solids). Other recipes with makhana which you can make for Lohri festival are:
21. Bhindi Masala – Easy to make and lightly spiced North Indian dry curry made with okra. It goes well with soft rotis or phulkas or plain parathas.
You can also check this Ladies Finger Curry. Another popular crispy okra dish posted on the blog is this Kurkuri Bhindi.
22. Aloo Gobi – Aloo gobi is a zesty and comforting Indian side or main dish made with fresh cauliflower and tender potatoes.
Here I share with you step-by-step instructions and photos for two different but equally delicious aloo gobi recipes: A rich and creamy restaurant style version, and a slightly lighter dry sabji variation.
23. Dry Fruits Burfi – A simple and easy recipe to make dry fruit burfi. In this recipe, apart from mixed dry fruits I have also used sesame seeds and desiccated coconut.
Since made of dry fruits, this barfi is warming in nature and hence good for cold seasons. You can also check this Dry Fruits Laddu.
24. Kadhi Recipe – Kadhi Pakora is very popular in Punjabi households and often made during weekends or for main course. Fried onion pakoras in a creamy and sour yogurt sauce. Kadhi goes well with rotis, rice or jeera rice.
25. Kadai Paneer – It is a vibrant, tangy, deeply spiced paneer recipe that is perfect for enjoying all year round. Made with Indian pantry staples like onions, tomatoes, capsicum and Indian spices, this bright dish comes together in 30 minutes.
I share 2 ways to make this curry – a semi dry restaurant style version and a spicy home style gravy.
26. Makhana ki Kheer – Popular and delicious kheer made with phool makhana. This is simple kheer recipe and fuss free too.
27. Gur ki Roti – Jaggery roti or meethi roti is an easy to prepare tasty roti variety. Basically these are small and slightly thick flatbreads made with jaggery and whole wheat flour.
28. Dahi Bhalla – It is a popular snack in North India, particularly in Delhi and Punjab. The method to make dahi bhalla is same as preparing Dahi Vada. 
In dahi bhalle, papdis (fried flour crispies), boiled potato cubes & cooked chickpeas are added which are not added in dahi vada.
29. Bajra Khichdi – A warming and nutritious khichdi made during winters. In this bajra khichdi recipe only bajra and moong dal is used along with a few spices and herbs. Bajra is the Hindi word for pearl millet.
30. Suji ka Halwa – A quick, easy and delicious halwa made with rava or semolina. This easy melt-in-the-mouth halwa recipe comes together in about 15 minutes.
The recipe I share is a family heirloom recipe that we have been making for decades during family get-togethers, special occasions and festivals..
This Lohri Festival Recipes collection from the archives, originally published in January 2017 has been updated and republished on January 2023.