From being a superfood loaded with health benefits, a popular ingredient during vrat (Hindu fasting) season, an auspicious offering to Gods and Goddesses, a healthy snack option and more – makhana/phool makhana is truly a marvelous food. The Roasted Makhana is the easiest way in which you can consume this nutritious edible part of the prickly water lily plant. Follow the steps of this Roasted Makhana recipe (Phool Makhana recipe) and enjoy it with your family and friends.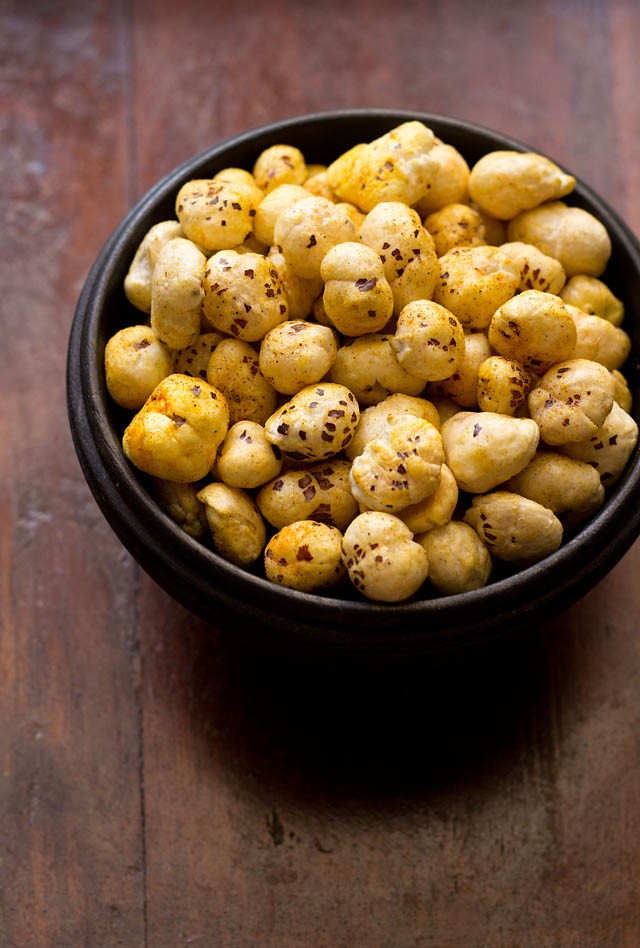 What is Makhana
Makhana commonly referred to as phool makhana, foxnuts or gorgon nuts are the puffed edible seeds of the Euryale ferox plant or prickly water lily.
A native to eastern Asia, the home of these plants are the marshy waters of ponds/wetlands where they grow and flourish the best.
There is no use of any pesticides or fertilizers in its cultivation. Thus, making these seeds completely organic in nature.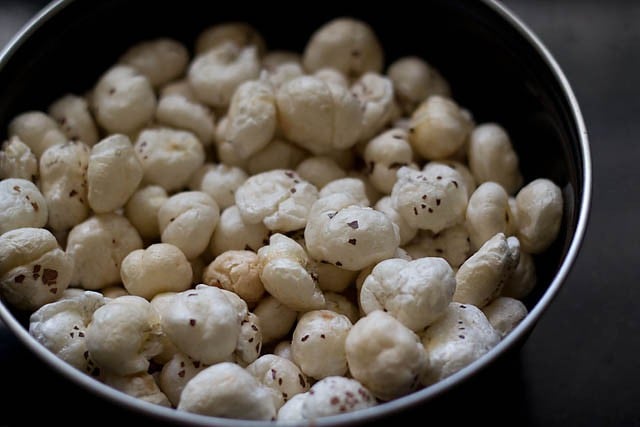 Makhana, lotus seeds or foxnuts are an excellent source of proteins, calcium, carbohydrates, iron, phosphorous, zinc and thiamine. Because of its neutral taste and the ability to absorb flavours, it can be spiced up according to personal choices.
This Roasted Makhana recipe of Phool Makhana recipe gives you an easy way to do so. You can also just roast the seeds and once they are cool, store them in an air-tight container.
Pop them whenever you want to snack lightly and in a healthy way. Is a great choice for your movie marathons or Netflix binge-watching sessions as well. Better than that tub of popcorn!
Makhana, phool makhana or foxnuts have been considered as an important food item in the ancient science of Ayurveda and in traditional Chinese medicine too for 3000 years.
The Bihar state in India, is majorly responsible for cultivating Makhana. It is from here that makhana traveled to other parts of India and now has reached countries like Canada, Pakistan, Malaysia, Bangladesh, etc.
Makhana also called as 'black diamond,' has been given the Geographical Indication (GI) Tag by the government of India.
About Roasted Makhana
I have been a fan of makhana since the time I've tasted the Makhana Kheer and also the Roasted Makhana (Masala Makhana) that is regularly made at my home.
I also make other savory dishes with this wonder ingredient and all of them are supreme in taste.
This Roasted Makhana makes for a good in-between lunch snack or evening snack that's high on nutrition. You can enjoy it guilt-free with your chai or coffee.
As far as spicing this Roasted Makhana recipe is concerned, I have been using our Indian spices and the all-time favorite chaat masala till now. But I am looking forward to trying a combination of other western herbs/spices in the coming days.
Some of the other makhana recipes that I would recommend you to try are Matar Makhana Curry and Makhana Raita.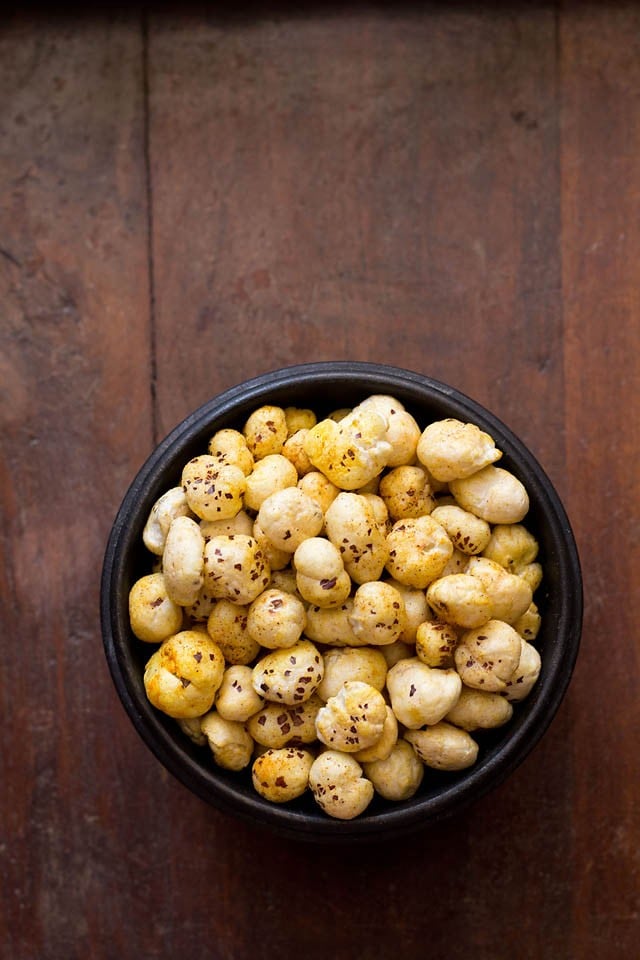 In India, makhana is also served during many religious functions and festivals as a 'prashad.' The difference between this and other preparations is that the prashad has makhana which is soft, unlike the crisp ones when roasted.
Makhana is also a great option for preparing and consuming food during vrat or fasts. Contrary to its humble and uninteresting look, the taste and texture that it imparts to any dish is really commendable.
It is nutritiously light on the stomach, yet filling too. So, go ahead give your fasting food a delectable makeover with makhana.
Storage Tips
Make sure to store makhana in an airtight container and away from any moisture. It gets spoiled if exposed to even little moisture. You can even refrigerate them. Wrapping the makhana in kitchen paper and then putting in a poly zip bag also keeps makhana fresh and edible for a good time.
To maintain the shelf life of makhana, you must also avoid storing it in a damp place. Instead, store it in a dry place to increase the shelf life.
Ensure that your hands are wiped completely dry while removing makhanas out of the container. The slightest of moisture can spoil them.
Incase you have a large quantity of makhana, make sure to keep the makhana container in direct sunlight once a while. This will eliminate the moisture in them and keep them fresh for a longer time.
Roasted Makhana Variations
You can make a sweet version of this Roasted Makhana recipe or Phool Makhana recipe. Add jaggery, dried coconut shavings, raisins, etc. instead of the spice powders and salt. You could also make a caramel makhana.
You could endless flavor combinations – make it tangy, spicy, cheesy or herby. But remember to use dry herbs, spices and seasonings.
If not making for fasting, use regular salt to season. You could also use black salt or pink salt.
You can also use coconut oil instead or ghee or regular oil to roast the makhana and elevate the flavor. Adding nuts like almonds, peanuts or cashews also bring in more crunch and makes it a fancier version.
FAQs
Can I store this Roasted Makhana for long?
The best way to relish this Roasted Makhana is to prepare it and consume it within a week. However, if stored properly in an airtight container, it stays good for about 10 to 15 days.
How long should I roast the makhana for the perfect crunch?
You should roast the makhana for about 10 to 12 minutes on low heat. This way you will have perfectly crisp makhanas.
What is the best way to store makhana?
Makhana should be kept away from any moisture. So, the best way to store it is in an airtight container and in a dry place or the refrigerator.
I stored the Roasted Makhana in an airtight container but still it got soggy. What could be the reason?
Avoid putting the makhana in the airtight container immediately after it is roasted. Make sure the Roasted Makhana is cooled to room temperature first and then stored in the airtight container to prevent it from getting soggy.
Can I make this Phool Makhana recipe with ghee?
Yes, you can.
More Fasting Recipes To Try!
Navratri & Fasting Recipes
Please be sure to rate the recipe in the recipe card or leave a comment below if you have made it. For more vegetarian inspirations, Sign Up for my emails or follow me on Instagram, Youtube, Facebook, Pinterest or Twitter.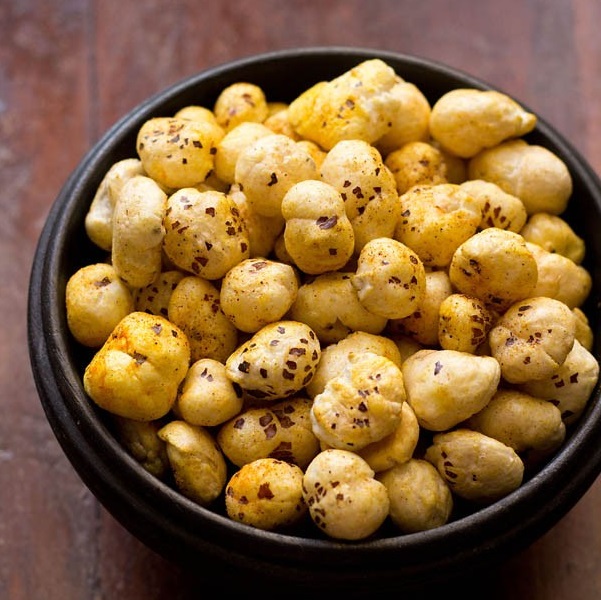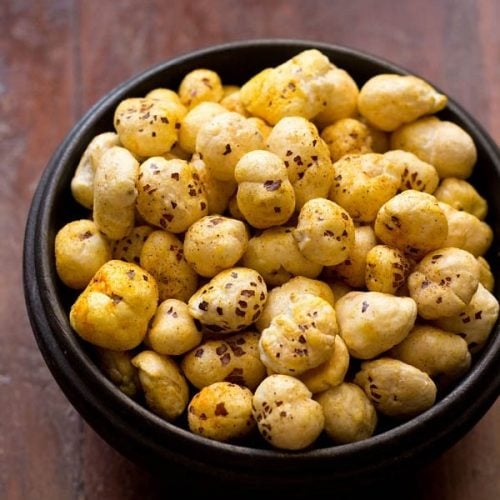 Roasted Makhana Recipe
Roasted Makhana is a healthy snack that is made with slow roasting/toasting phool makhana or foxnuts with spices and seasonings.
3

cup

foxnuts

(makhana or phool makhana)

¼

teaspoon

turmeric powder

½

teaspoon

red chili powder

or cayenne pepper, add as required

1

teaspoon

chaat masala powder

or add as required

rock salt

(edible and food grade), add as required

2 to 3

teaspoons

oil

or ghee
Instructions
Making roasted makhana recipe
Heat oil in a heavy wok or kadai.

Add the makhana and roast for a good 10 to 12 minutes on low heat, till they become crisp. Keep on stirring in between.

Next, add all the spice powders and rock salt, except chaat masala.

Turn off the heat as you don't want the spice powders to get burnt.

Stir the whole mixture well.

Lastly, sprinkle the chaat masala powder and again mix well.

Serve Roasted Makhana when they become lukewarm or cool at room temperature.

Remember that once they cool down, store in an air-tight container.
Notes
You could easily roast large quantities of makhana and later store them for your everyday snacks.
Make the recipe your own by adding your favorite seasonings and spices. Use only dry spices and herbs.
This Roasted Makhana recipe post from the blog archives first published in April 2013 has been updated and republished on December 2022.