Palak saag recipe with step by step photos – this palak saag recipe is exactly the same way I make Sarson da saag. I do not get Sarson in goa, so I have made the Saag with spinach and radish. And spinach is very good for you and your family.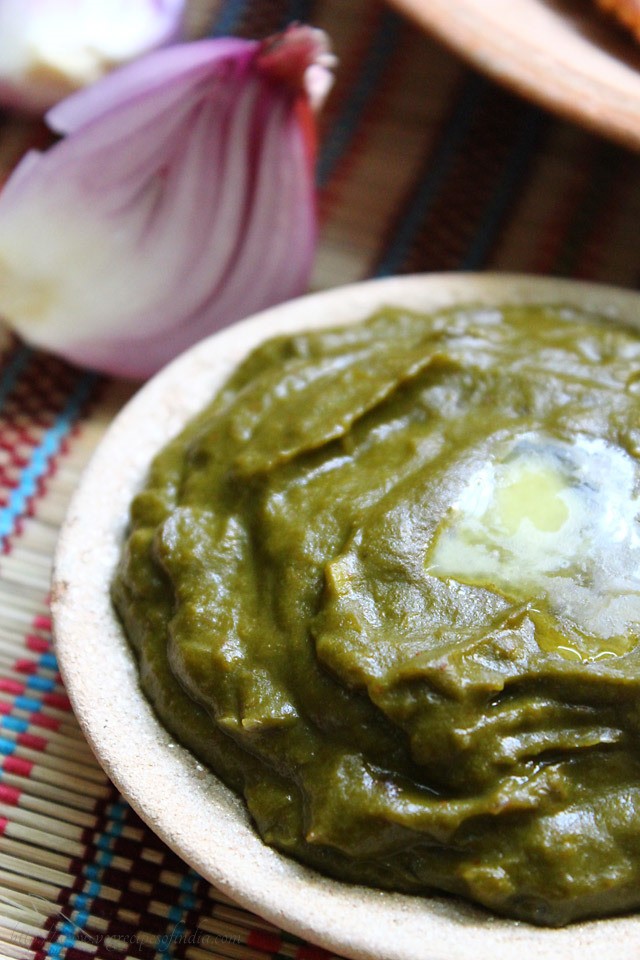 One Punjabi delicacy combination I love in the winters is Sarson da saag (Mustard greens) and Makki di roti (Flat maize flour  bread).
Whilst our stay in Delhi in the winters, we used to make both Sarson da saag and makki di roti almost once a week at home. And it would be awesome, with white butter on top of both the roti and the saag.
I was not much of a lover of Punjabi food. I preferred my Goan and South Indian food always over Punjabi food. But after getting married to a Punjabi man, I started to make, relish and savor Punjabi cuisine.
Initially, I was actually shocked to see how much of ghee goes over the parathas and then to top it up with butter and then finish of with lassi. Too much for me to handle :-0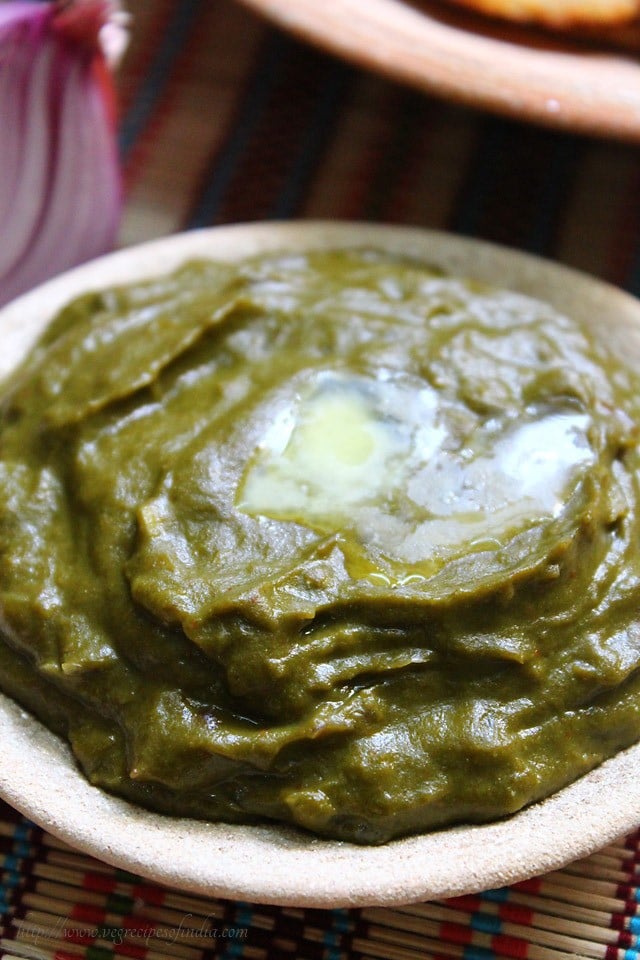 You can make the saag with any greens of your choice. A combination of spinach and fenugreek leaves/Methi is also good. If you can get mustard leaves, then make the same recipe with mustard leaves, spinach and bathua leaves (also known as chenopodium/goosefoot/fat hen in english).
Two more variations of saag you can make are: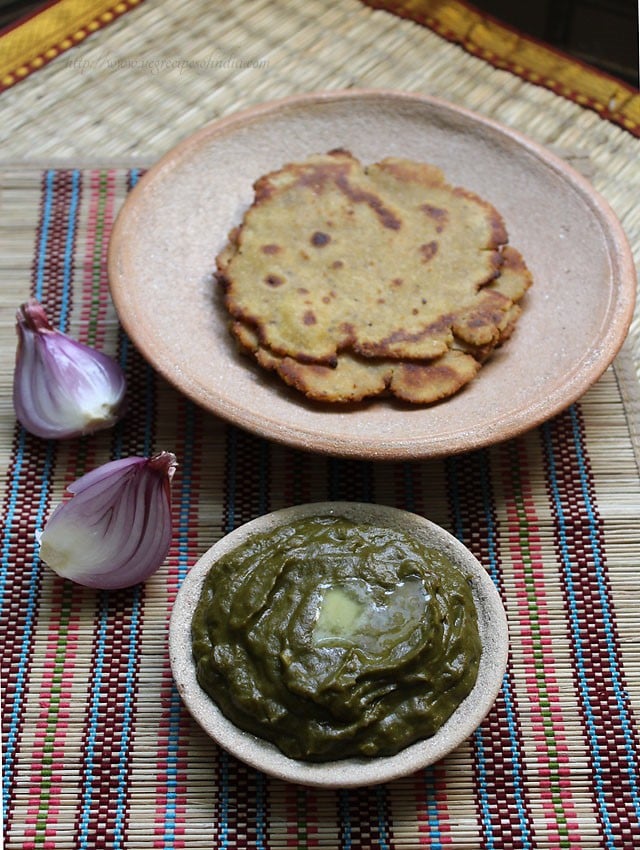 I have also made the saag in microwave as we ran out of cooking gas. in the step by step post I will write  the microwave method and in the notes section below I have mentioned the usual cooking method for palak saag.
Also remember to use fresh and tender greens. You don't want the saag to be fibrous. If you do not eat onions and garlic, you can skip the garlic and onions entirely. For the tempering, fry some ginger with the ghee and then add the saag to it.
We usually make saag at home and then keep it for 3-4 days in the refrigerator. Before serving, we temper the saag and then serve it with the rotis. In fact the saag always tastes better the next day.
How to make Palak Saag
1. Wash and chop the spinach leaves.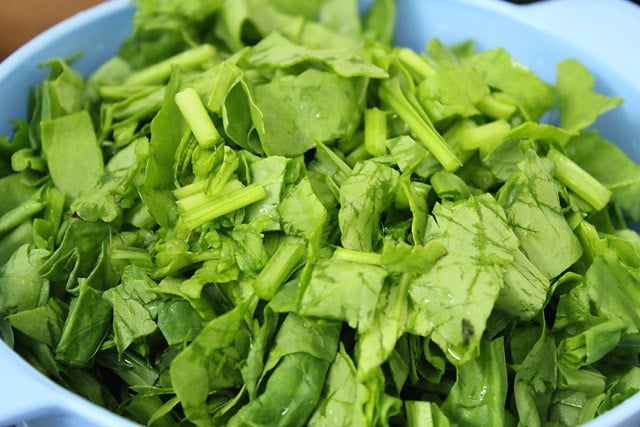 2. Do the same with radish leaves. Use fresh and tender radish greens. Also peel the radish roots, chop them and add to the spinach.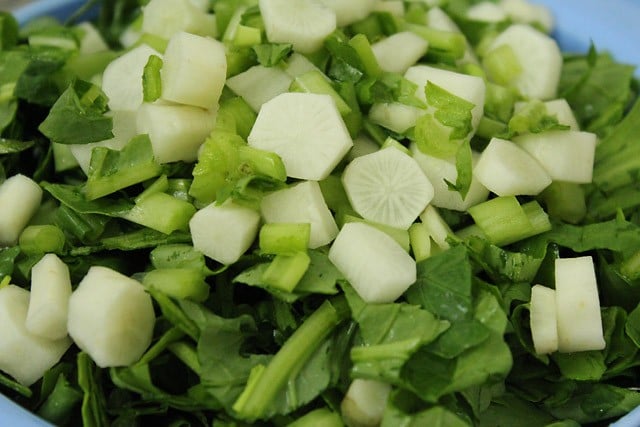 3. Now add chopped onions, tomatoes, ginger, garlic, green chili with 1/2 cup water.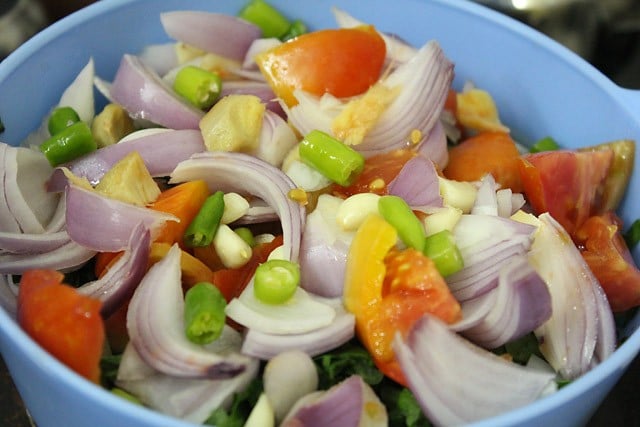 4. And microwave for 7-8 minutes on full power. After this add maize flour, red chili powder, butter and salt. Note that these ingredients can also be added later on to the pureed mixture. Mix well.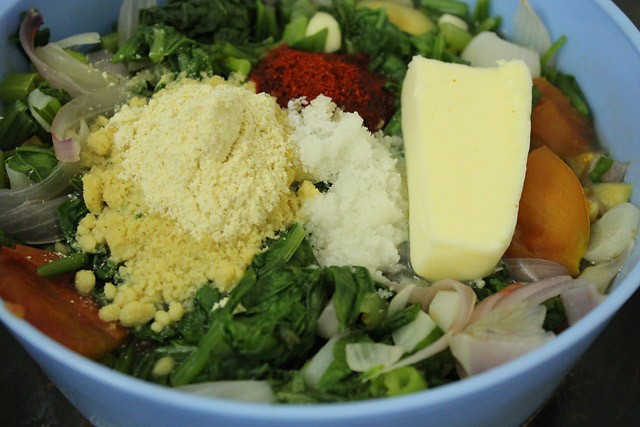 5. Again microwave for 5 minutes more.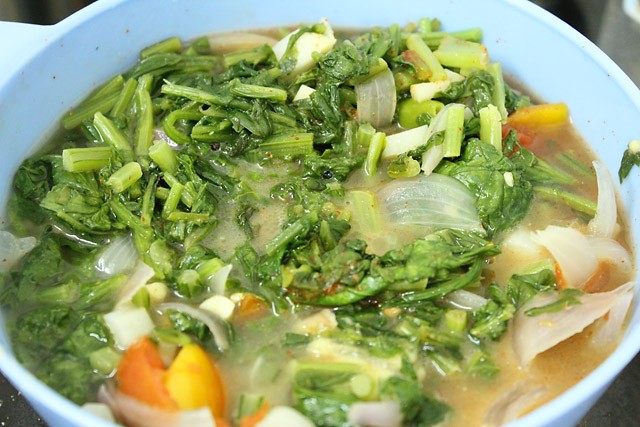 6. I felt the need to microwave more, so again I microwaved the greens on medium power for 5 minutes.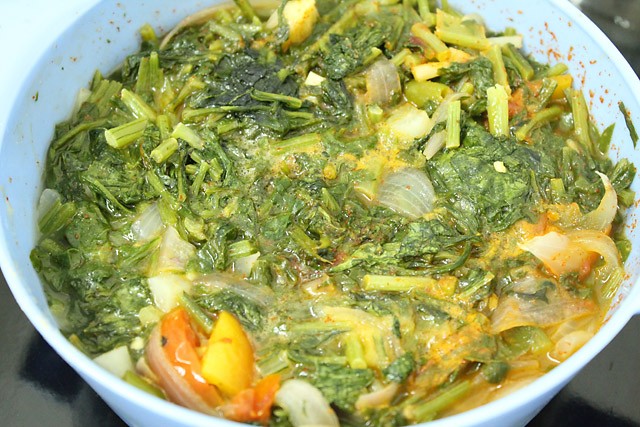 7. And yet still I felt I have to microwave more…. You will see how much liquids the greens and other veggies have released.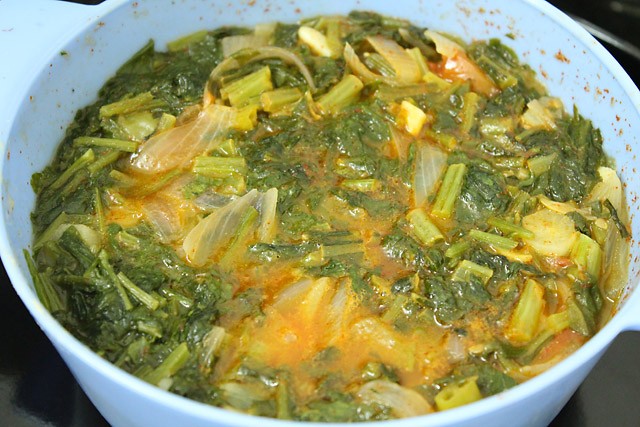 8. Let the whole mixture be cooled, and then blend everything in a mixer or blender either coarsely or smoothly, without adding any water.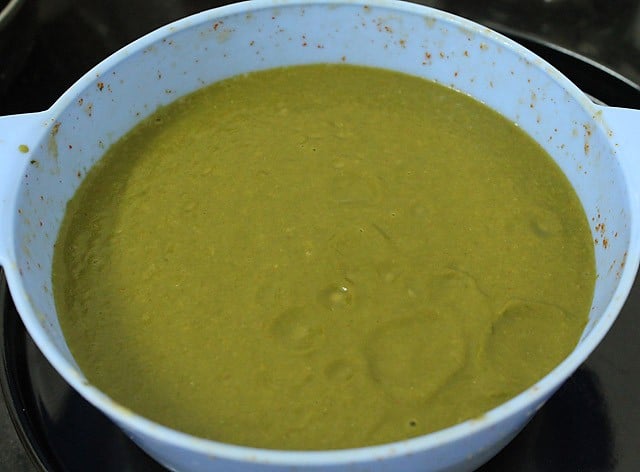 9. Now microwave again for 4-5 minutes… See the difference below. The saag has thickened…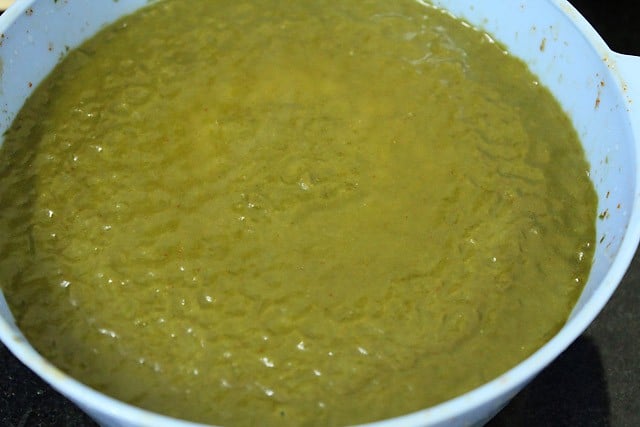 10. For the tempering melt the ghee in a microwave safe bowl on full power for 1 minute. Add the chopped onions .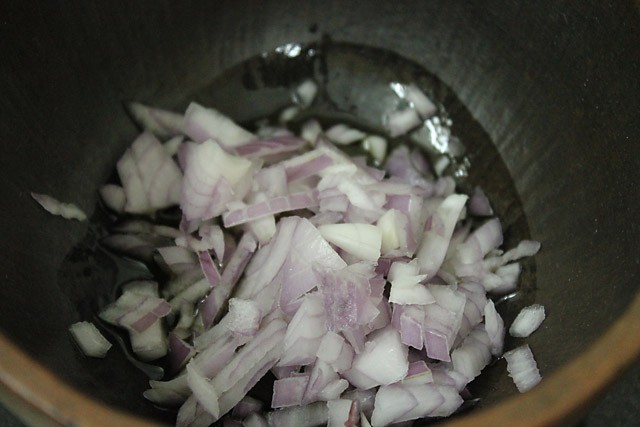 11. Microwave for 7-8 minutes till the onions turn a light brown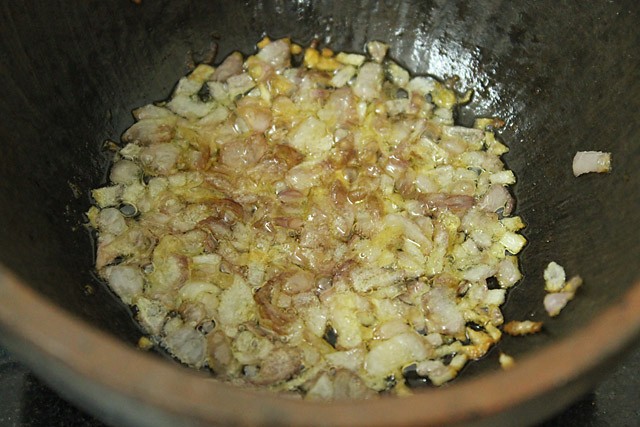 12. Add the amount of saag that you are going to serve. microwave for 2 or 3 minutes more.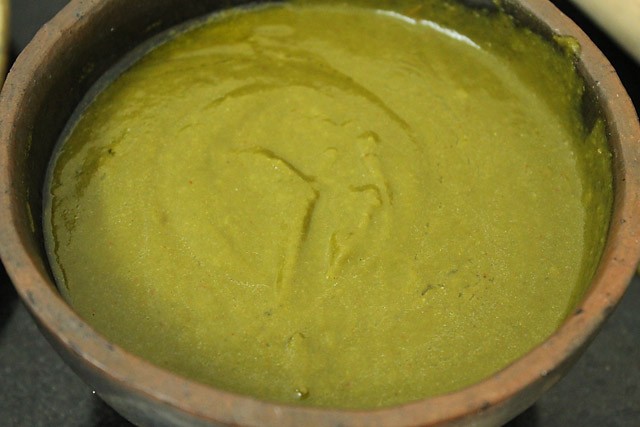 Top up the serving bowls of saag with some homemade white butter and serve palak saag with Makki di roti and some onions and green chilies.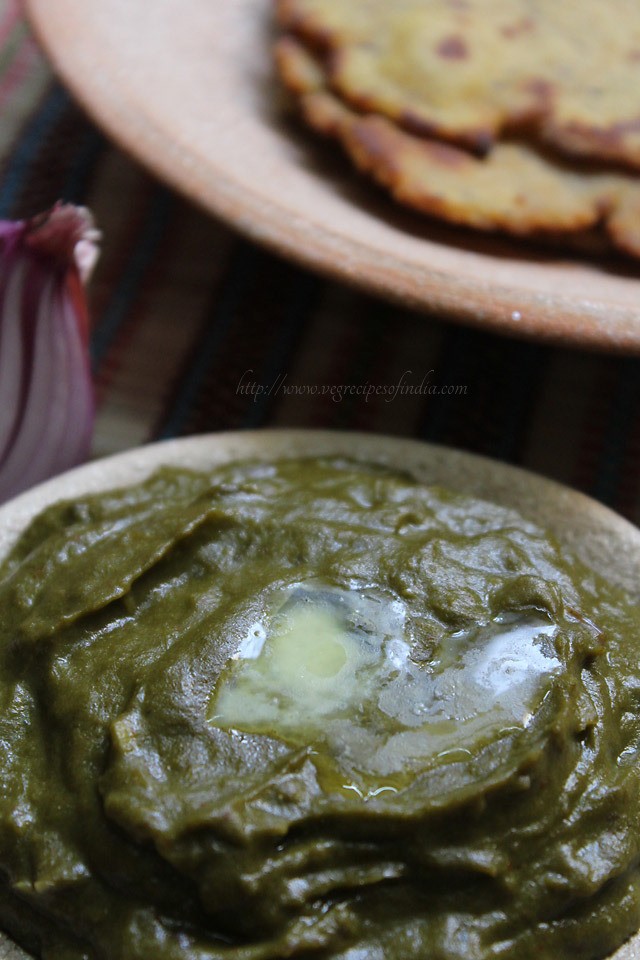 Few more curry recipes for you!
Please be sure to rate the recipe in the recipe card or leave a comment below if you have made it. For more vegetarian inspirations, Sign Up for my emails or follow me on Instagram, Youtube, Facebook, Pinterest or Twitter.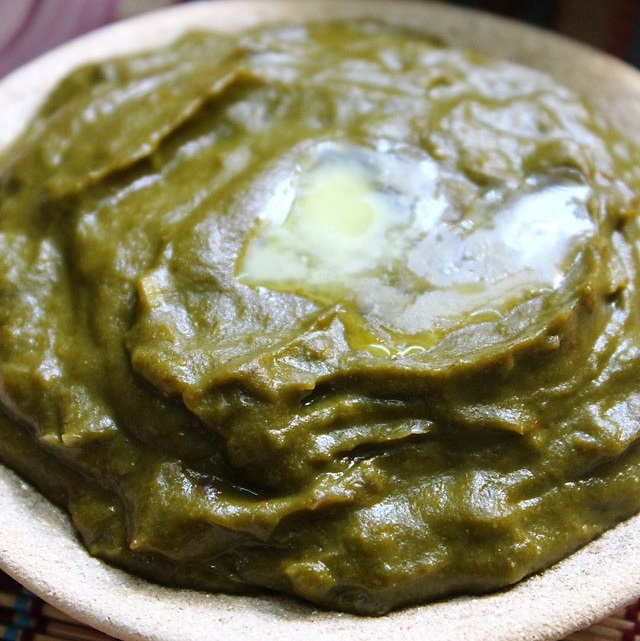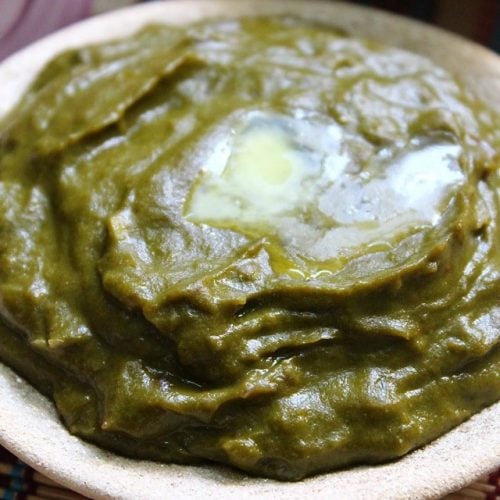 palak saag
This is an authentic Punjabi palak saag recipe made in microwave oven and in cooking gas
for the saag:
2

bunch of spinach

(palak), chopped

2 to 3

radish with tender leaves

(mooli), chopped

1

large onion,

chopped

2 to 3

medium size tomatoes,

chopped

1

green chili,

chopped

1

inch

ginger

, chopped

5 to 6

small to medium garlic cloves

, chopped

1

teaspoon

red chili powder

2 to 3

tablespoons

Butter

1

tablespoon

maize flour

(makki ka atta)

½

cup

water

salt as required
for tempering the saag for 2-3 servings
1

medium sized onion,

finely chopped enough for saag meant for 2 people

1

small green chili,

chopped (optional)

1

teaspoon

chopped ginger,

optional

1 to 2

tablespoons

Ghee

(clarified butter)
Instructions
Preparing the Saag:
Combine all the greens, onions, tomatoes, ginger-garlic-chili with water in a microwave safe bowl and microwave for 7-8 minutes on high power.

Add the butter, maize flour, salt and chili powder.

Microwave again on medium power for 12-15 minutes.

When cooled, blend the whole mixture coarsely or smoothly… Whatever you prefer.

Microwave the pureed mixture for 4-5 minutes on medium power.
Preparing the Tempering for 2-3 servings:
In another microwave safe bowl, take some ghee and microwave for 1-2 minutes.

Add the onions and microwave for 7-8 minutes till they get light browned.

Add the 2-3 small bowls of saag to the browned onions and microwave for some 2-3 minutes more.

Top the spinach saag with homemade butter and serve with makki di roti.
Notes
For cooking palak saag on fire, follow this method:
Add all the greens, onions, tomatoes, ginger, garlic, green chilies with salt and water in a deep pan or a pressure cooker. Add around 1 cup water to the veggies.
Cook the whole lot in the pan for 7-10 minutes or in a pressure cooker for 3 to 4 minutes. Also add maize flour and butter. 
Once cooled blend into a smooth or coarse paste. Add the saag in another pan and simmer for 7-10 minutes till it thickens a little bit.
For the tempering:
Brown the onions in ghee and then add the saag to it.
Simmer for 3-4 minutes.
For a saag serving 2-3 people, 1 medium sized onion is enough with 2 tbsp ghee for the tempering. The remaining saag you can refrigerate and use as when required.