makki di roti recipe with step by step photos – makki di roti are popular punjabi flatbreads. the combo of makki di roti with sarson ka saag topped with white butter is quite famous. although saag goes well with parathas too, but nothing can beat makki di roti. makki ki roti goes well with any saag, be it palak saag or bathua saag or chane ka saag.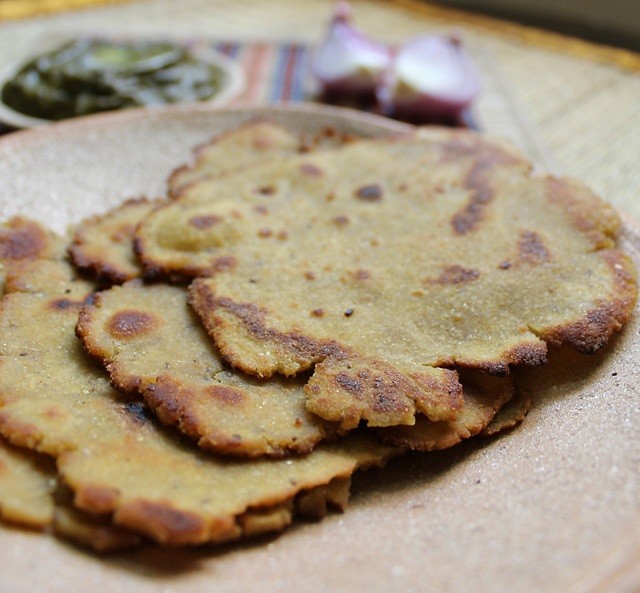 makki di roti is the punjabi term for the famous north indian maize flour bread. the bread is unleavened and cooked in ghee. the rotis are made from maize flour which is different from corn flour. corn flour is corn starch and is white in color. maize flour or corn meal has a light yellow color.
in fact, makki di roti, can also be had just plain with chai. you can also add some chopped greens like methi, spinach or bathua to the maize flour and make parathas. i usually make this for breakfast in the winters.
i was looking for maize flour here, but just could not find it in any grocery store. somehow a chance visit to fabindia… and i was so thrilled to find maize flour in their outlet. without any thought, i picked up the maize flour and was looking forward to make the rotis at home.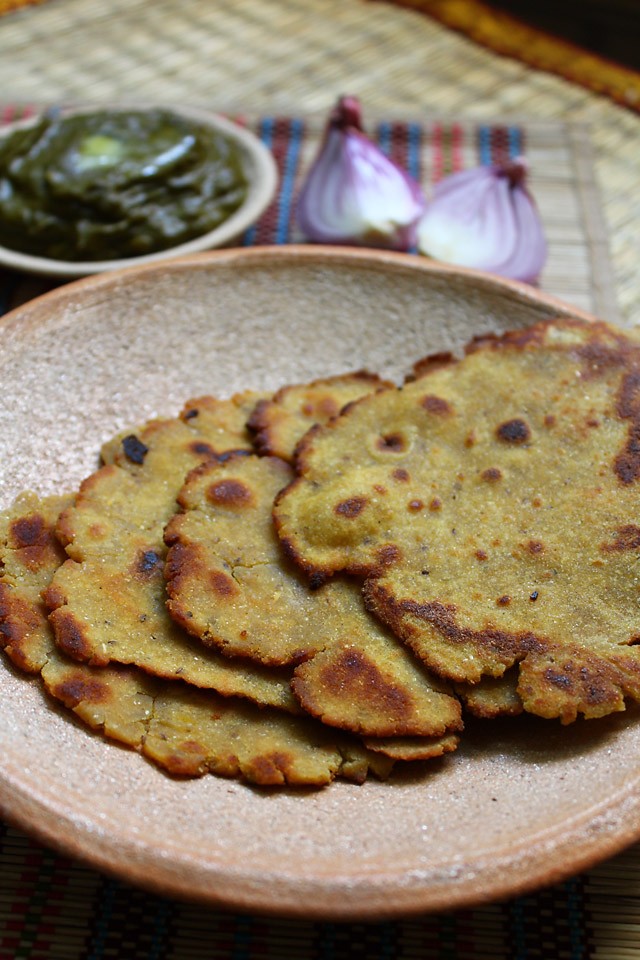 makki di rotis are a bit heavy on the stomach, if you eat them too much. so we add ajwain/carom seeds to help in the digestion. also they have to be cooked properly, or else you stomach might be in a problem 😉
the rotis are also not so easy to roll. they break so easily. so one has to be very careful while rolling and lifting the rotis. you will need some practice and patience to make them at home.
begin with making small rotis that are easier to handle and then slowly, slowly you can increase the size of the rotis. if you are experienced in making the rotis with the palms of your hands together, like how our grandmothers and great grandmothers used to do, then you can make the rotis this way too.
if you love punjabi food then you might like to check punjabi chole, amritsari chole, punjabi aloo paratha, chole bhature, matar kulcha and sweet lassi.
makki di roti recipe details below: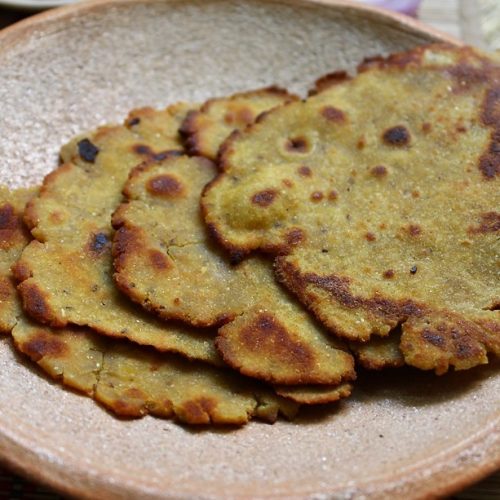 makki di roti recipe
makki di roti recipe - famous north indian maize flour bread. the bread is unleaveaned and cooked in ghee.
ingredients (1 cup = 250 ml)
2

cups

maize flour

(corn meal)

½

cup

water

½

tsp

ajwain

(carom seeds)

ghee

as required for roasting

salt

as required
how to make recipe
mix all the dry ingredients in a bowl.

add half of the water and knead. add more water if required.

knead into a firm dough.

form medium sized balls of the dough.

using a ziplock bag, roll the dough.

roast the makki di rotis on a tava/griddle with 2 to 3 tsp of ghee till well browned and cooked.

top the makki di roti with butter and serve hot with saag.
lets start step by step makki di roti recipe:
take the maize flour, salt and carom seeds in a bowl. mix them together.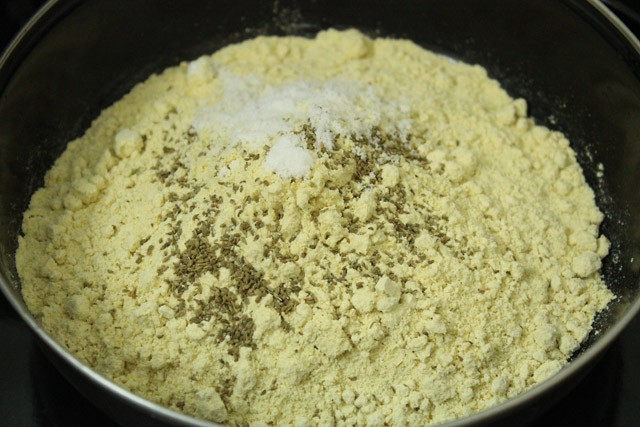 add warm water little by little and keep on kneading. don't add too much of water. make a firm dough. if the dough falls apart and it will, add a little water. but… but… don't make the dough sticky.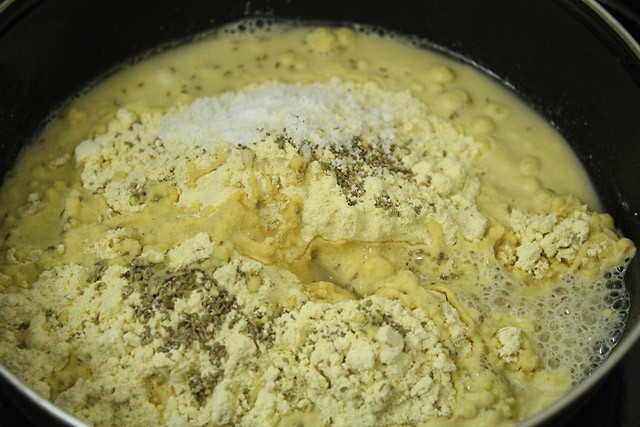 so now you have the dough ready… the cracks will be there…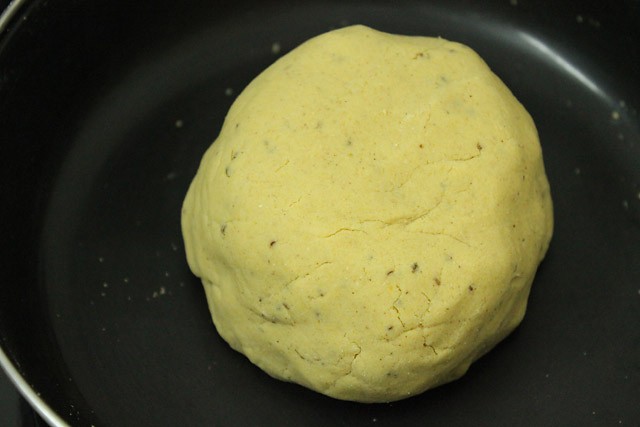 make medium sized balls of the dough.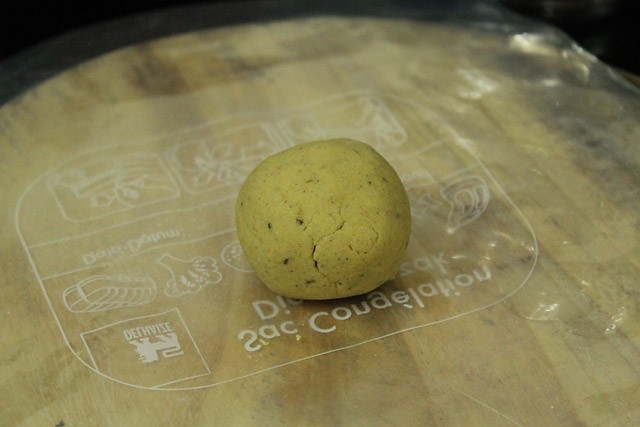 now comes the most difficult part…. rolling the makki di rotis. you can do this directly also on the rolling board… personally its easy for me to do it in a ziplock bag. the rotis don't break if you handle them carefully. this is what i do. keep the bag on the rolling board or on a plate or on a surface which you can move. place the dough ball in the bag. press it slightly with your hands. now with the rolling pin, slowly roll… move the rolling board and roll again. this is to ensure that all the sides of the roti are evenly rolled. make into the size of a phulka or chapati… not very thin, but a little thick like parathas.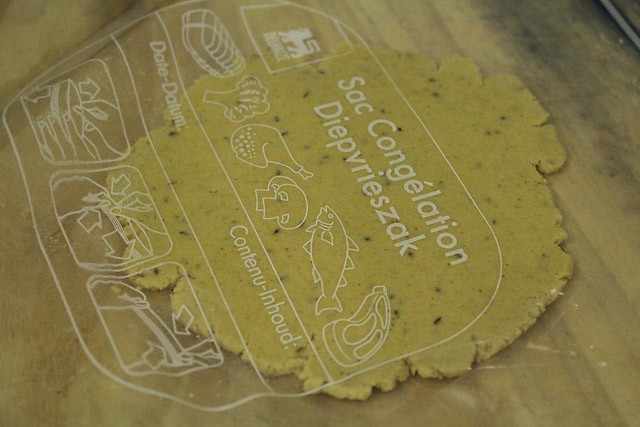 below is a baking tray with three rotis on it… this means that these rotis will go in the oven…. this is what i did… i baked the rotis in the oven… no… don't get me wrong… not for health reasons… but coz we did not have cooking gas… and it was a huge disaster….
so please don't ever bake makki ki rotis in the oven… you will have to throw them all away… as one bite and your teeth and gums will all start hurting… don't you believe me? the rotis become so hard that you have to really bite into them… and a little bit of exaggeration is ok, friends 😉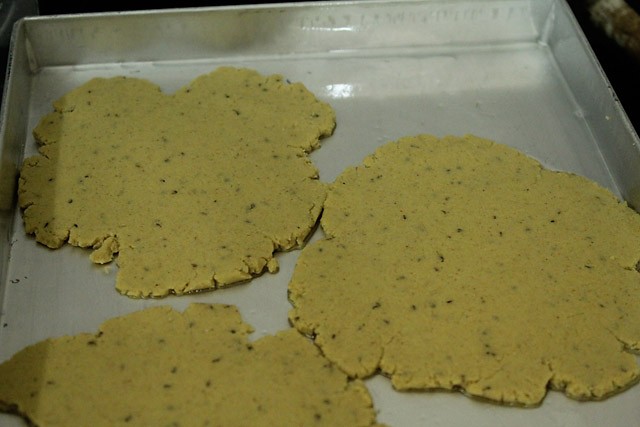 the best way is to roast the rotis in ghee on a tava. heat some ghee.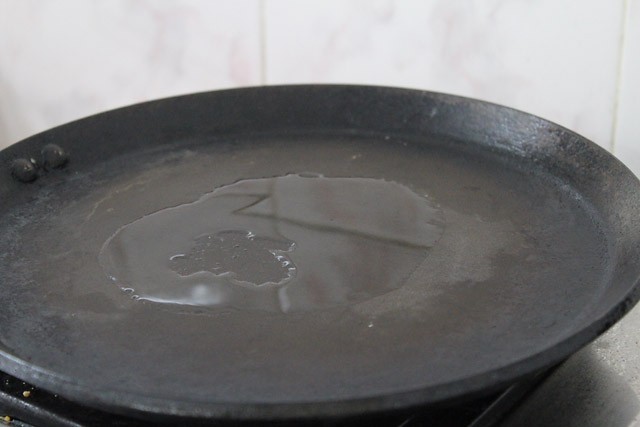 gently remove the makki di roti from the ziplock bag without breaking it. put it on the tava. if there is a crack on the roti, then gently pat that portion with a few drops of water.
when one side is a little browned, flip the rotis with the help of a spatula.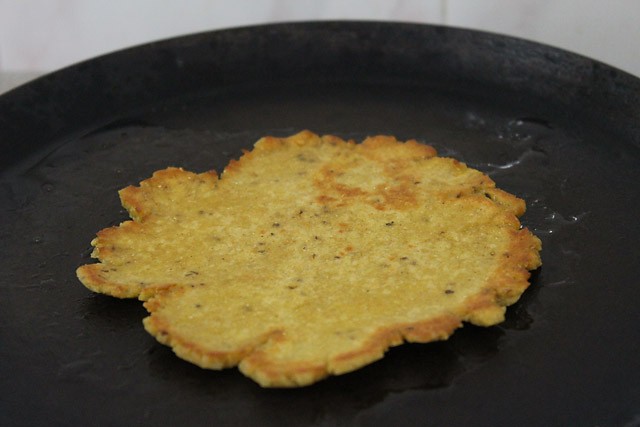 when the other side gets browned, flip again and cook till the makki di rotis are well browned and cooked from all sides. pour some ghee on the sides whilst cooking the rotis.  if the dough is kneaded very well, the roti will start puffing up also or you can see puff coming up at some spots.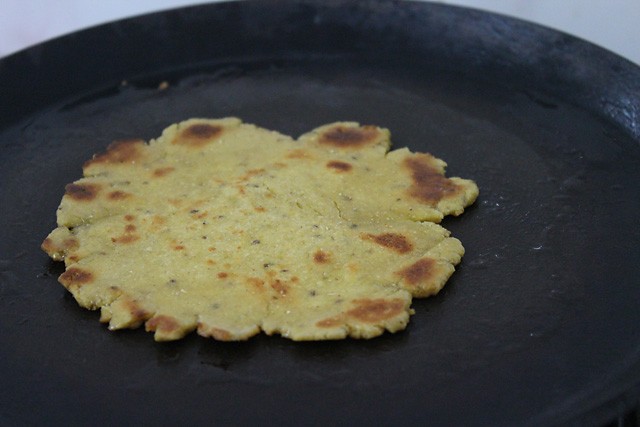 serve the makki di roti hot with saag. if you don't mind than you can add some butter on top of the makki di roti while serving them hot and thats how they are relished and served in punjabi families.