sarson ka saag recipe with step by step photos – one of the indian recipe that is a labor of love, time and patience. sarson is the hindi/punjabi word for mustard and saag means greens.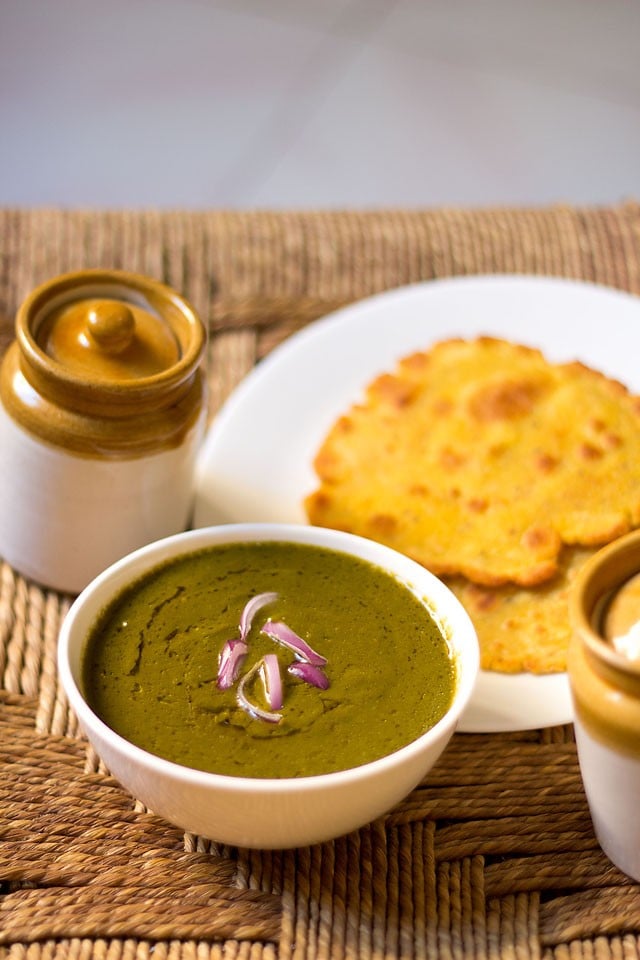 saag is a punjabi term which means greens. so the english translations is mustard greens. so you will have palak saag or bathua saag or chane ka saag and so on.
there is no shortcut method in making sarson ka saag. sorting the greens, washing them, chopping and then cooking them… blending them and again cooking them is a time intensive method.
and in today's world of curry in a hurry, if you really want to savor the taste of an authentic sarson ka saag, then you do have to invest some time in preparing it.
the sarson ka saag recipe is very easy, it is just the preparation and the method that takes time. usually, i clean the greens one day before and keep them in the fridge in air tight containers. so half of the work is over. the next day then, it is easy to prepare the saag.
at home, we generally use 5 green leafy vegetables to make the saag. they are mustard, bathua (also known as chenopodium in english), spinach, radish and fenugreek. in the pic below all the greens can be seen except for fenugreek.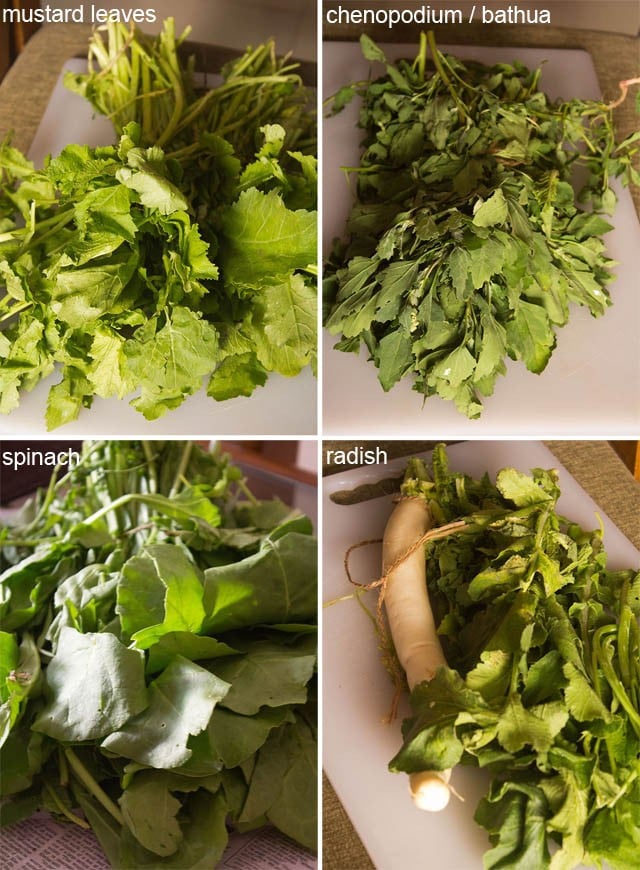 the flavor and taste in the saag, comes predominantly from mustard greens. the saag has bitter and pungent notes of the mustard which are subdued by the presence of bathua and radish.
after all the cooking and simmering what you get in the end is a creamy, green saag bursting with mellowness & flavors from all the greens. a bowl full of antioxidants and health.
winter is the time when the mustard and bathua are available in india. hence during this season, sarson ka saag is always made in the homes and hearths of north india, especially in punjab from where this traditional recipe comes from.
the sarson ka saag topped with homemade butter and served with makki ki roti (flat breads from maize flour) is not only comforting but also warms up the palate as well as the body. this is a winter meal you see. so that extra topping of butter is alright. also the saag is served with an accompaniment of sliced or chopped onions and some green chilies.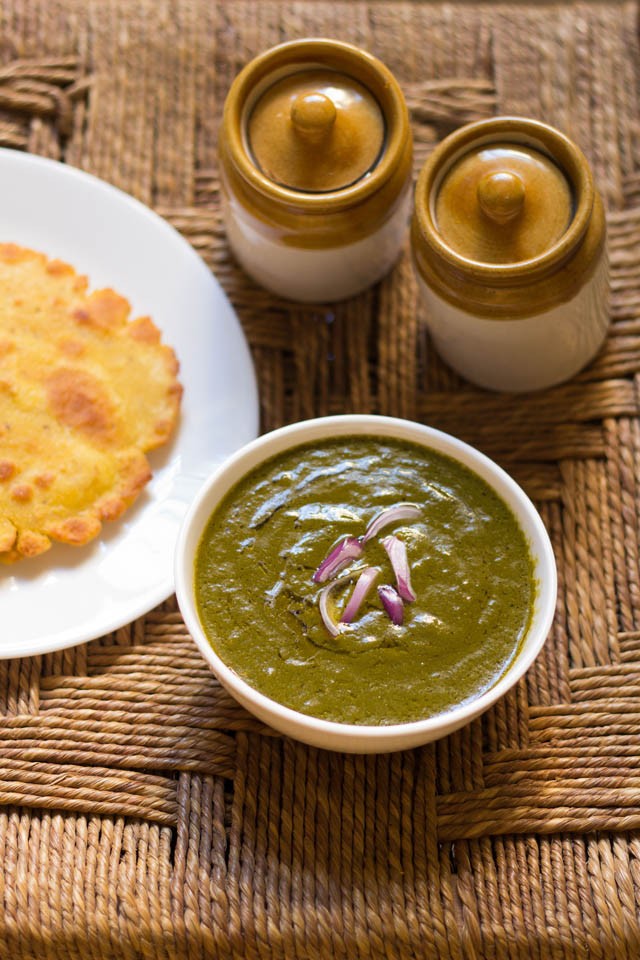 i always make sarson ka saag in bulk and keep in the fridge. when i need to serve, i temper the saag and then serve it.
from what i have observed is that the taste of the saag improves in a day and as it ages. mine usually does not last for more than 4-5 days. you can also freeze the saag. before tempering, thaw the saag.
the recipe i present here is the traditional way we make saag at home. the proportion of bathua to spinach to mustard that we use is 1:1:2. eg if you are using 1 whole bunch of mustard leaves then use 1/2 bunch of bathua and spinach in approximation. or for 1 kg of mustard leaves, use 1/2 kg of bathua leaves and spinach.
the other two greens, ie. radish and fenugreek are also added by the indian method of andaz meaning estimation. fenugreek is optional though.
this sarson ka saag recipe works well for 8-9 serving portions and can be easily halved or doubled.
few more curry recipes you may like are:
sarson ka saag
Servings (change the number to scale):
7
-8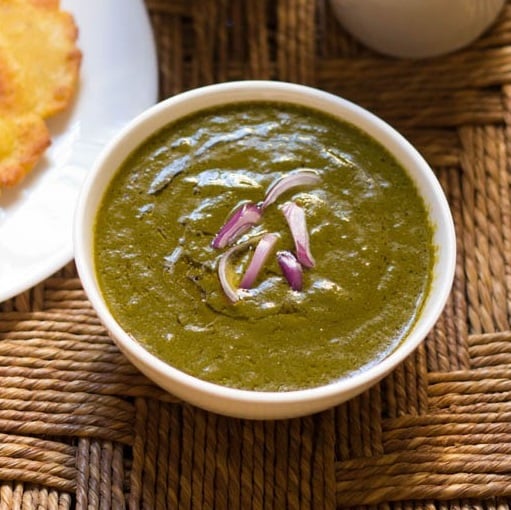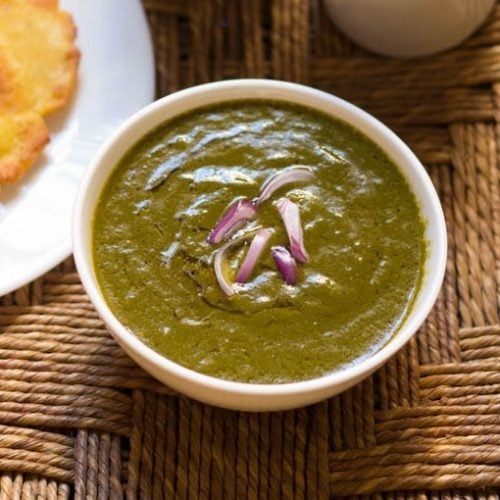 the combo of sarson ka saag topped with butter and served with makki ki roti taste too good and is a winter staple in north india.

INGREDIENTS FOR
sarson ka saag
(1 CUP = 250 ML)
for sarson ka saag
1

bunch mustard leaves

(sarson)

½

bunch bathua leaves

(chenopodium)

½

bunch spinach leaves

(palak)

1

cup

chopped tender radish leaves

(mooli ke patte)

2 to 3

inches

white radish root

(mooli)

1

cup

fenugreek leaves,

chopped (methi leaves)

2

medium sized onions,

chopped

3

medium sized tomatoes,

chopped

2

inch

ginger,

chopped (adrak)

2

green chilies,

chopped (hari mirch)

7 to 8

garlic,

chopped (lahsun)

½

teaspoon

red chili powder

(lal mirch powder)

1 to 2

pinch

asafoetida

or ¼ teaspoon asafoetida powder (hing)

2 to 3

cups

water

2

tablespoon

maize flour

salt as required
tempering for 3 sarson ka saag servings
1

medium sized onion,

finely chopped

1 to 2

tablespoon

oil

3

bowls of cooked saag
HOW TO MAKE
sarson ka saag
making sarson ka saag
firstly clean and chop all the greens. then wash the greens well.

in a pressure cooker or pan add all the ingredients listed under saag except for maize flour.

cover the pressure cook and cook for 6-7 minutes or more.

if cooking in a pan, then cover and let the greens cook till done. do check occasionally.

pour the greens along with the stock and maize flour in a blender. blend till smooth.

in another pan, pour the pureed greens.

simmer for a good 25-30 minutes.
tempering for sarson ka saag
in another small pan, heat oil or ghee

add the chopped onions and fry them till light brown.

add the prepared saag. stir and simmer for a couple of minutes.

stir ocaasionally.

serve sarson ka saag hot with some chopped onions, whole green chilies and a dollop of butter on the saag with makki di roti
GOOD KARMA
all our content & photos are copyright protected. a lot of time and effort is spent in researching, developing, testing and photographing recipes. please do not copy. as a blogger, if you you want to adapt this recipe or make a youtube video, then please write the recipe in your own words and give a clickable link back to the recipe on this url.
TRIED THIS RECIPE ?
i would love to hear from you. if you have made this recipe then rate the recipe or leave a comment below. if you like this recipe then do share the recipe link on facebook, twitter & pinterest. for instagram mention @vegrecipesofindia or tag #vegrecipesofindia
preparation to make sarson ka saag
1: chop and clean all the greens.chop off the lower end of the mustard seems just a few centimeters from the base. the mustard stems can be tough. in this case you can discard the stems or keep them. if you keep them, then they have to be cooked really well so that they become soft. luckily, i had tender stems in the mustard bunch. all the greens, sorted and nicely laid on the table… all going in the fridge for the saag to be made the next day.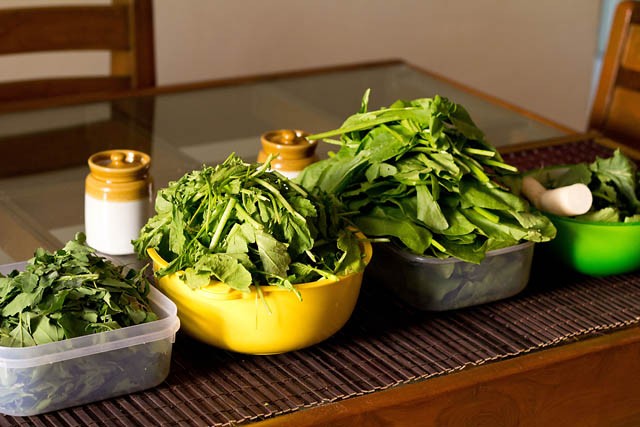 2: washing the greens. this is the tough part. you have to really wash the greens, especially the mustard greens well to get rid of the mud or soil clinging to the stems. i did this task in batches.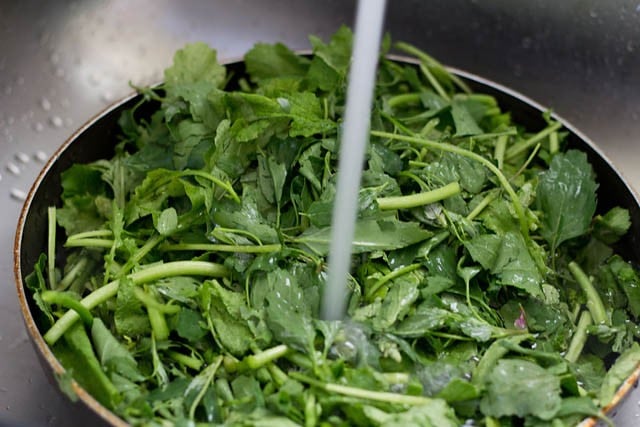 making sarson ka saag
3: add the washed greens in the pressure cooker.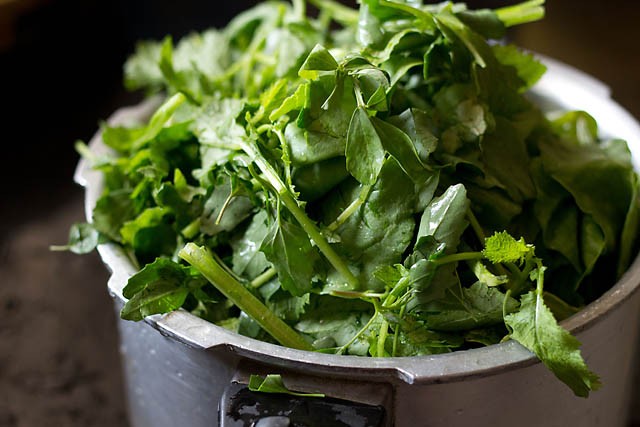 4: then add other veggies – radish, onion, tomatoes, ginger and garlic.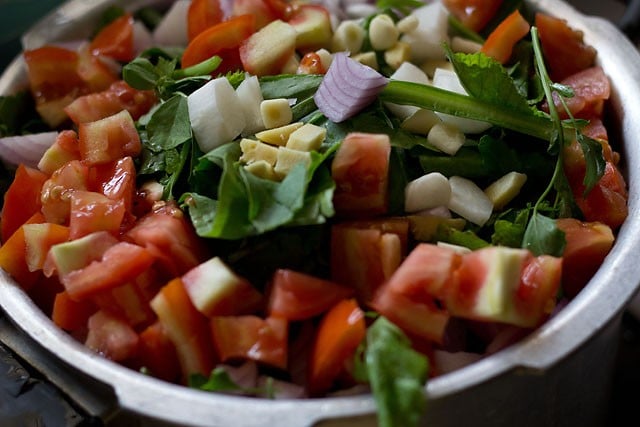 5: now adding some spice & salt – green chilies, red chili powder, asafoetida & salt. the saag is midly spiced and yet tastes so good.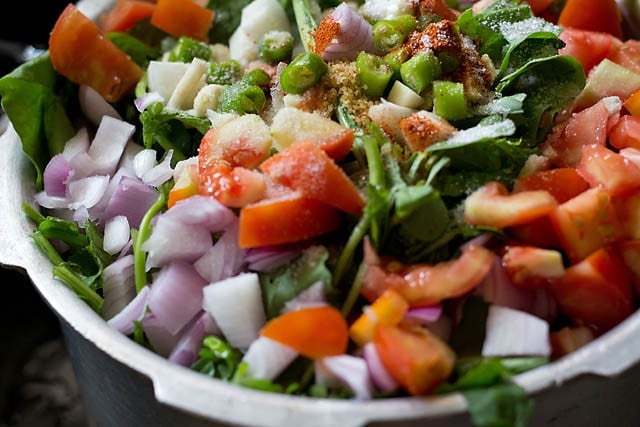 6: pour water.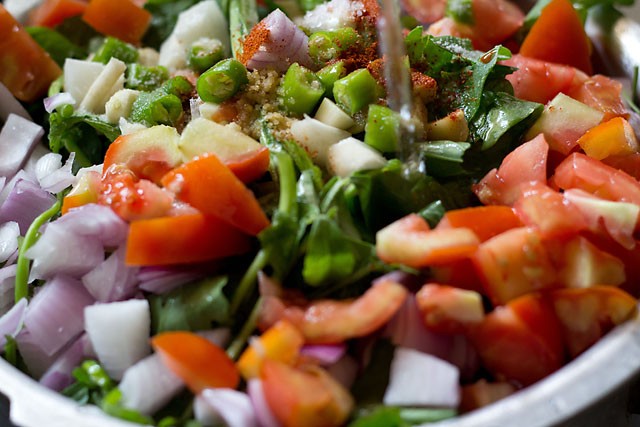 7: cover and pressure cook for 6-7 minutes or more till the greens become soft. you can also cook in a pan. cover and let the greens cook till they become soft.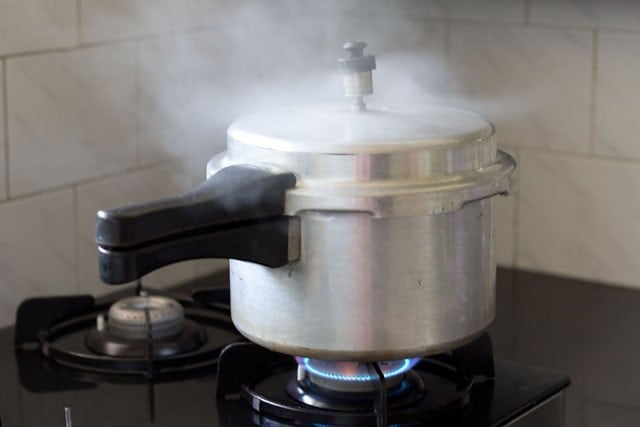 8: now let the pressure settle in the cooker. open the lid… you see the greens, onions, tomatoes et all… all cooked well. let the green mixture warm or cool down.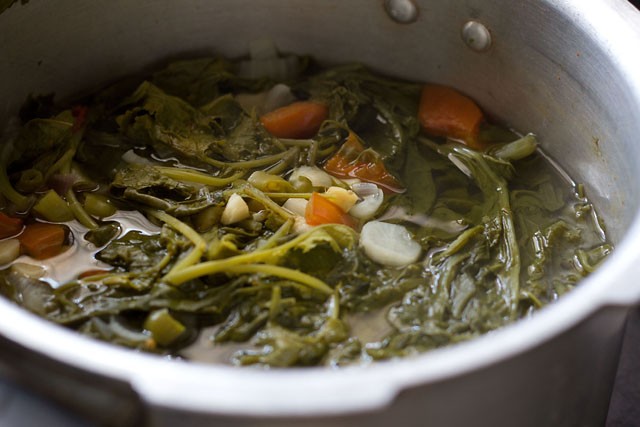 9: then in a blender take some of the greens.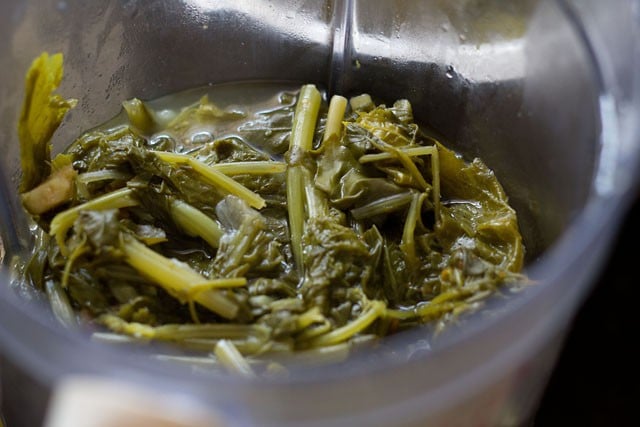 10: add maize flour. the maize flour helps in making the saag smooth as well as thickening it and does imparts its flavor to the saag.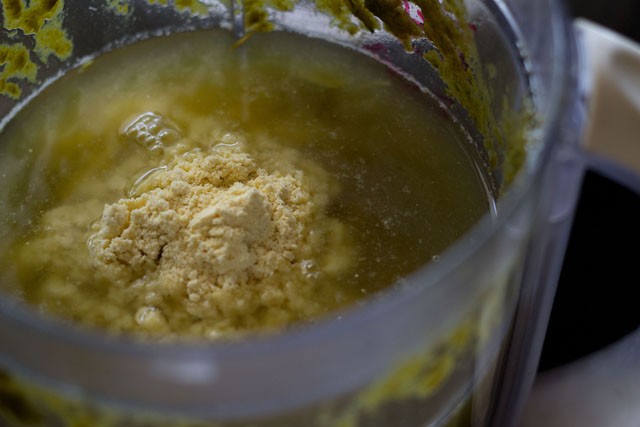 11: blend till smooth. i usually make a smooth puree. some folks like a coarse texture. so you decide how you want your saag. i blended in batches. you can also use a hand blender for the same and blend in the cooker itself. if doing this then chop the greens before you pressure cook them. it is easier to blend with a hand blender then. the traditional way is to use a madani (the indian hand blender) to blend the greens.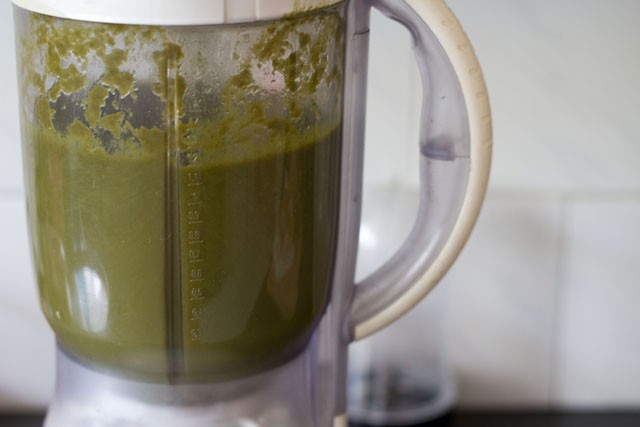 12: now pour the greens puree in a pan. i used the pressure cooker as while simmering the saag, it bubbles and splutters. so be careful and use a deep pan.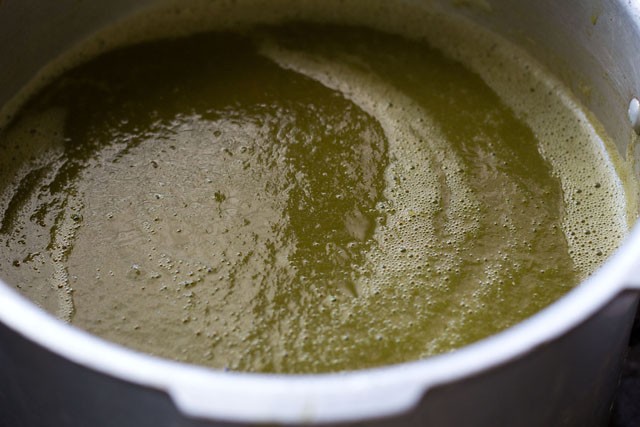 13: simmer and simmer for a good 25-30 minutes. stir occasionally so that the saag does not stick to the bottom of the pan. check the seasoning and add more salt if required. once cooled, the saag can be kept in an airtight container in the fridge.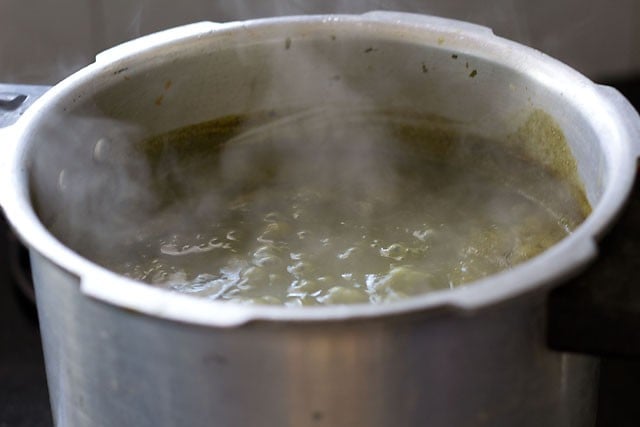 tempering for sarson da saag
14: so now after this comes the final touch… the saag is not ready to be served yet. we have to temper the saag. we always temper the saag with onions, but you can temper with some ginger, green chilies and tomatoes too along with the onions. heat oil or ghee and add chopped onions. the amount of oil/ghee and onions to be added depends on the portions of saag you will be serving. so for 3 servings, 1 to 2 tbsp oil with 1 medium sized onion is alright.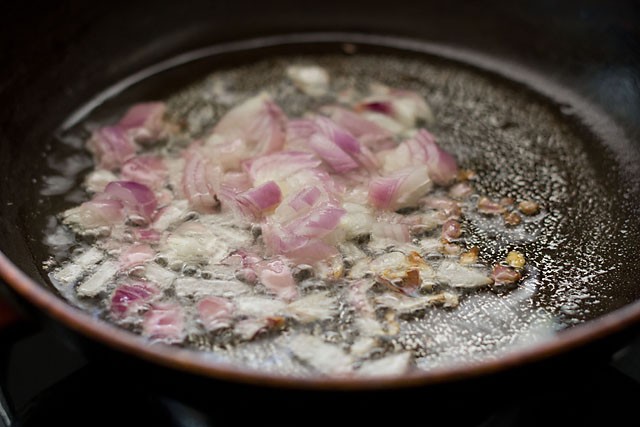 15: lightly brown the onions.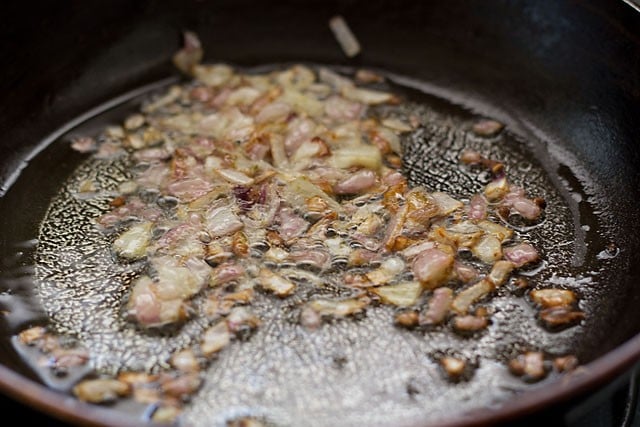 16: add the cooked sarson ka saag. simmer.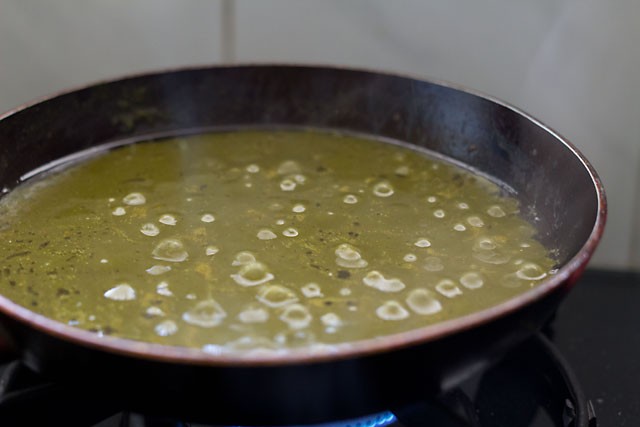 17: serve the hot sarson ka saag saag straight away with makki di roti. the best is to serve with makki di roti. nothing beats this combination. but you can also serve sarson ka saag with parathas and steamed rice.