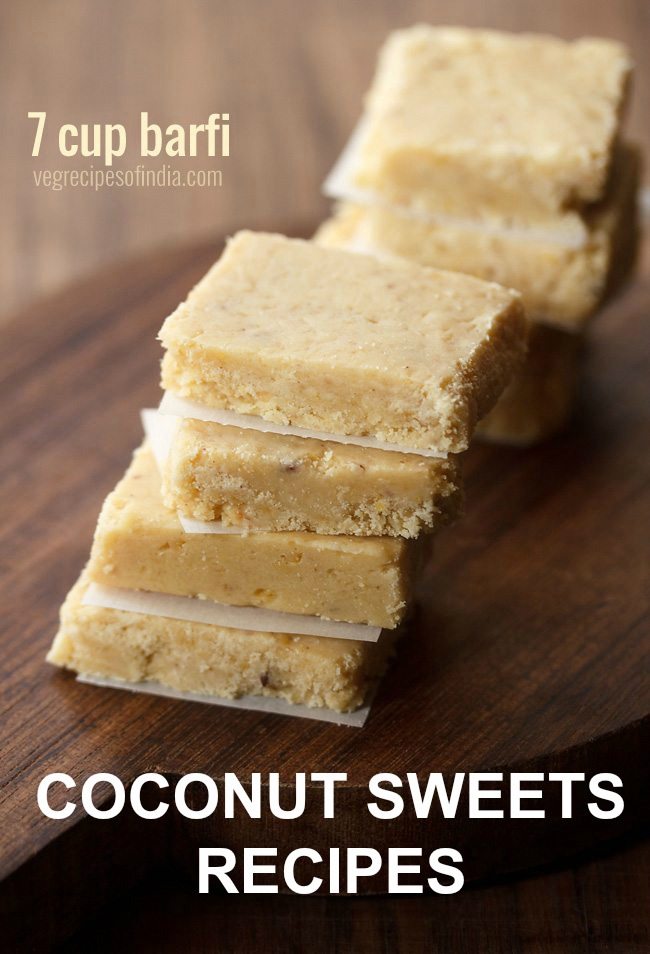 collection of 18 coconut sweets recipes – this collection list has indian sweets that have coconut as its main ingredient. it also includes a few recipes that has coconut as one of its ingredients.
sweets recipes made with both fresh coconut and desiccated coconut are included in this collection. some of the recipes are quick to prepare and can be made in less than 15 to 20 minutes.
both fresh coconut and desiccated coconut can be substituted for each other in most recipes. if using fresh coconut for any sweet in place of desiccated coconut, then you can roast the coconut in a bit of ghee or oil, till the moisture dries. if using desiccated coconut, then for some recipes, you can soak the desiccated coconut in some warm milk or water, till they get some moisture. as i add more coconut based recipes, i will update this collection too.
coconut sweets recipes:
(coconut ladoo recipes – 5 varieties)
1. coconut ladoo recipe with khoya – a quick, easy and delicious ladoos made with fresh coconut, ghee, sugar and khoya. these coconut ladoos just melt in your mouth. since they are so good, they can be quite addictive.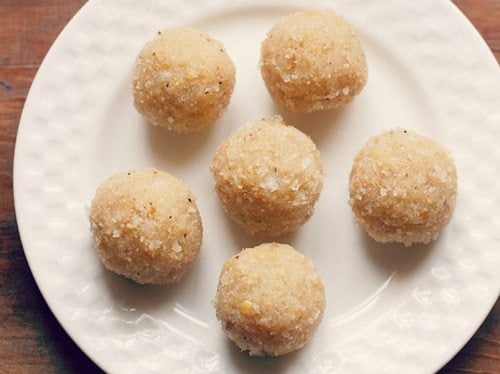 2. coconut ladoo recipe – melt in the mouth delicious coconut ladoos made with desiccated coconut. just a three ingredient recipe and one which does not take a lot of time to make.
3. coconut ladoo recipe with condensed milk – three ingredient coconut ladoos made with fresh coconut, condensed milk and cardamom powder.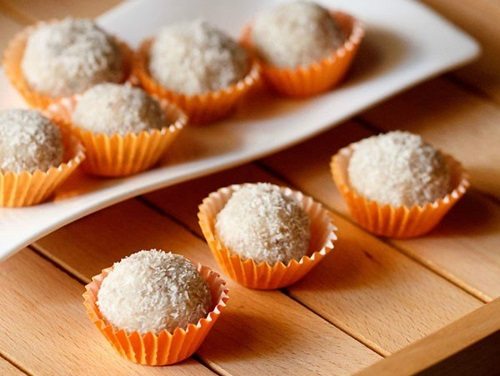 4. instant coconut ladoo recipe – video recipe of 2 ingredient delicious ladoos that are pretty quick to make. the 2 main ingredients are sweetened condensed milk and desiccated coconut.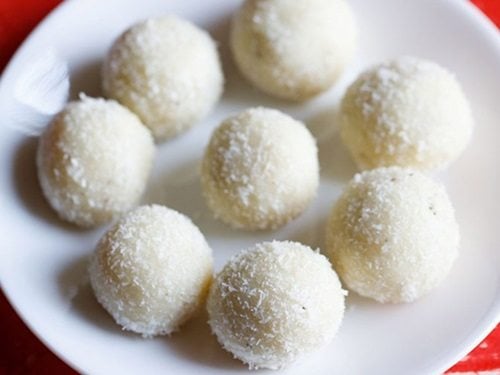 5. narkel naru recipe – narkel naru are delicious coconut ladoos from the bengali cuisine. narkel naru can be made with sugar or jaggery. this recipe of narkel naru is made with jaggery. for the jaggery you can use the jaggery made from sugarcane juice or palm jaggery.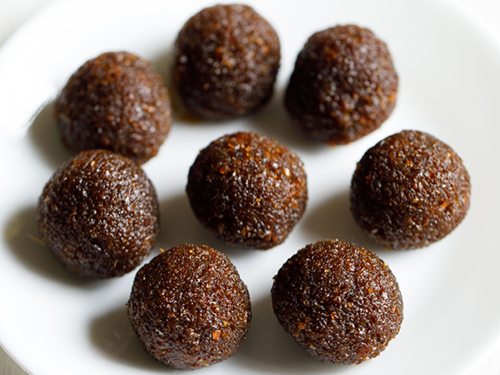 (coconut barfi recipes – 3 varieties)

1. 7 cup barfi recipe –  easy and delicious south indian sweet that can be made for any festive or religious occasion. 7 cup barfi includes 7 cups or 7 measures of ingredients namely – gram flour (besan), fresh coconut, ghee, milk and sugar. few more sweets which you can make with besan are: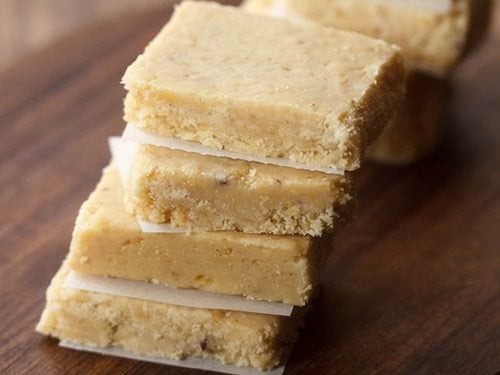 2. coconut barfi recipe with khoya – a delicious, soft barfi made from fresh coconut, khoya, milk, ghee, cardamom powder and sugar. a quick barfi recipe made in less than 30 minutes. few more sweets recipes which you can make with khoya are: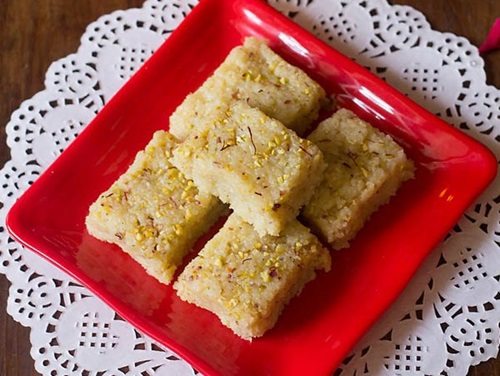 3. coconut barfi recipe (with unsweetened desiccated coconut) – this delicious coconut barfi made with sweetened condensed milk has a melt in the mouth soft texture. you can also make coconut ladoos with the same mixture.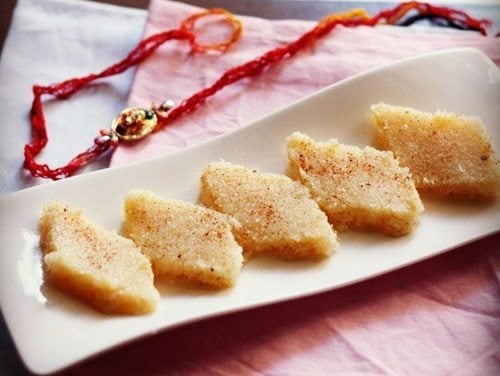 sweet snacks recipes made with coconut:
1. coconut rava cake recipe – simple, easy one bowl recipe of goan coconut and rava cake. this is one of the simplest and easy cakes that one can prepare. even someone who does not have experience in cooking or baking, can make this cake. this recipe uses fresh coconut, but you can also use desiccated coconut. for more delicious rava recipes you can check this collection of 26 rava recipes.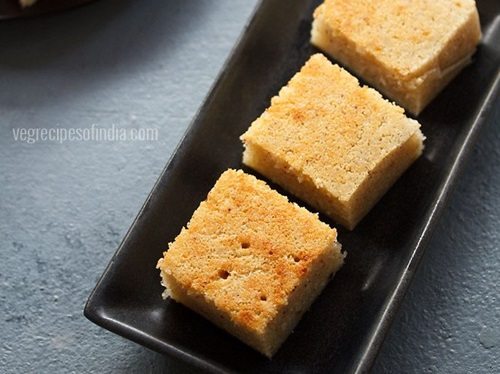 2. eggless coconut macaroons recipe – quick three ingredient 30 minute recipe (baking time included) of coconut macaroons made without eggs. in the recipe sweetened condensed milk is used as substitute for eggs. few more sweets recipes you can make with condensed milk are: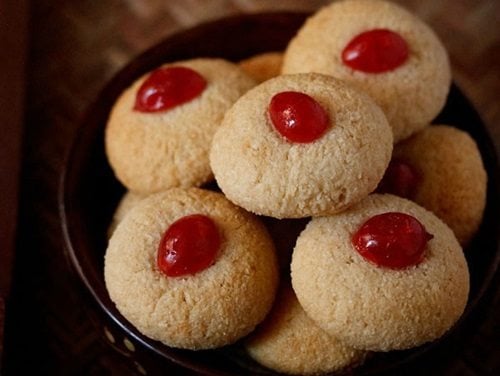 3. eggless coconut cookies recipe – easy eggless coconut cookies made with whole wheat flour, jaggery and desiccated coconut. these coconut cookies are slightly chewy from outside with a soft texture from within. few more cookies recipes you can make are: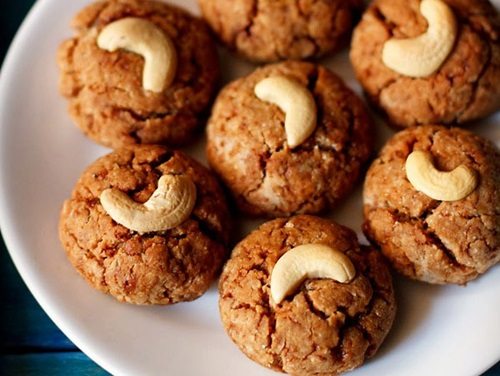 4. karanji recipe – a sweet savory snack often made for festive occasions like diwali and ganesh chaturthi. a well made karanji has an outer crisp & flaky cover. its melt in the mouth with a sweet coconut based stuffing inside. few more recipes which are made during festive occasions are: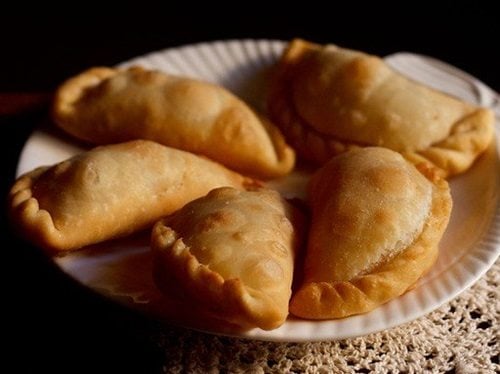 5. nevris recipe – deep fried pastries made with whole wheat flour and stuffed with grated coconut, jaggery and dry fruits. nevri is the goan version of the maharashtrian karanji and the north indian gujiya. both karanjis and gujiyas have different fillings and so the taste changes.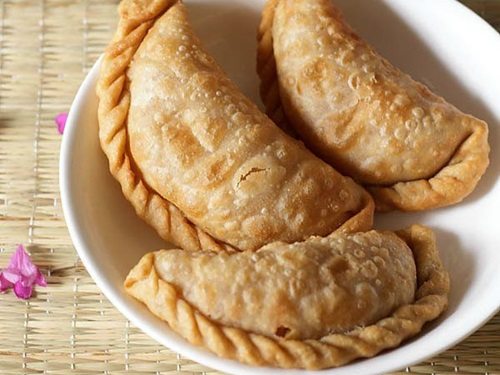 modak varieties:
1. ukadiche modak recipe – the traditional maharashtrian recipe of modakm which is offered to lord ganesha on the occasion of ganesh chaturthi festival. ukadiche modak is one of the most popular modak variety made during ganesh chaturthi festival in maharashtra and goa.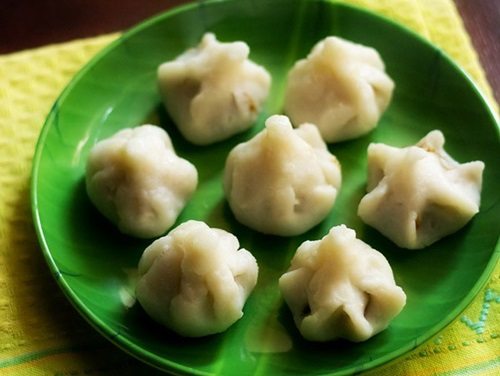 2. fried modak recipe – a variation of modak where the modaks are fried rather than steamed. the outer covering of these fried modaks is made from whole wheat flour and hence it is a bit dense as compared to the ones made from all purpose flour (maida).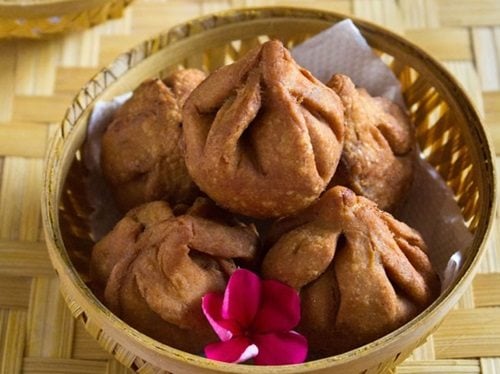 3. sweet kozhukattai recipe – south indian recipe variation of modaks stuffed with a filling of chana dal, coconut and jaggery. the process and method to make these modaks or kozhukattai is the same as the regular modak. only the stuffing is different.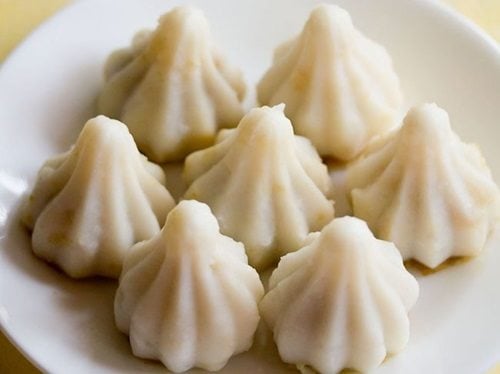 4. rava modak recipe – modaks made with semolina (rava or sooji) and stuffed with coconut jaggery filling. this easy method of making modak which takes less time, but effort is there. less time, since  no steaming or frying is needed.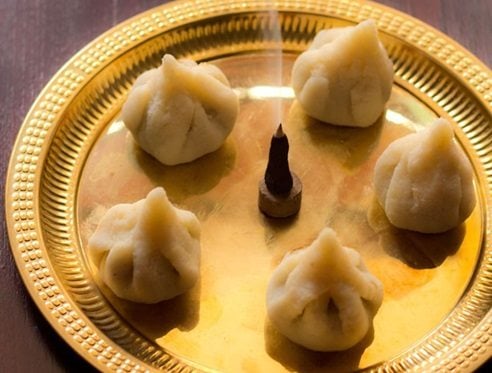 5. dry fruits modak recipe – modaks made from rice flour and stuffed with mixture of mawa, poppy seeds, coconut and dry fruits.