Collection of 45 South Indian Navratri recipes – Navratri is one of the most important Indian festivals dedicated to the Goddess. It is celebrated all over India in different ways but with a lot of devotion and festivity.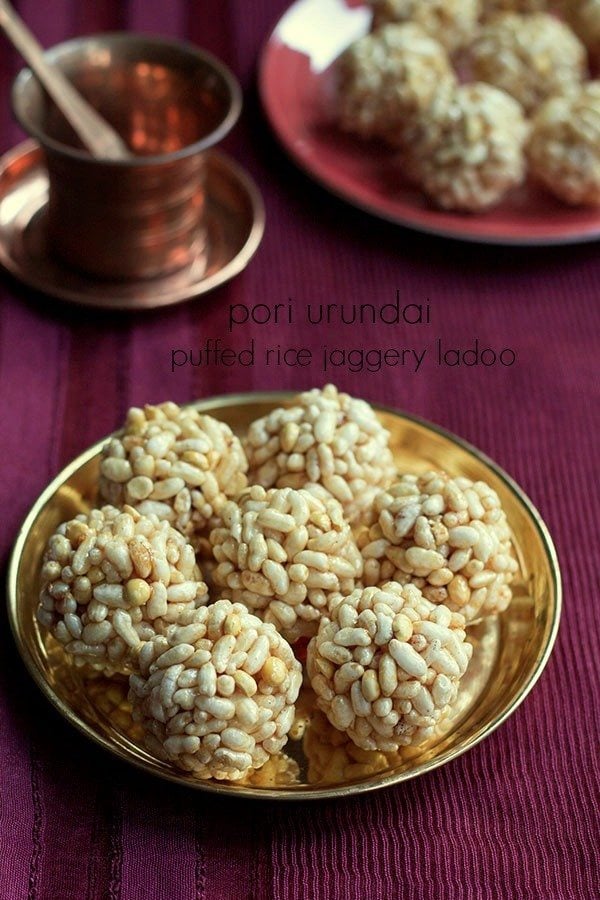 E.g. In North India, usually people keep fast or vrat during these nine days and do not consume rice, legumes, onion, garlic etc. But in South India, people have vegetarian meals without onion and garlic.
Whereas in Bengal where Durga pooja is one of the main festivals, some non-vegetarian dishes are also made. It all depends on what form of goddess you are worshiping. As I said before, the Navratri celebration varies from region to region in India.
Navratri means nine nights which are devoted to the nine forms of the goddess. each day is dedicated to one form and there is special pooja and offering meant for each day. The 10th day is Dussehra which is another popular festival and signifies the victory of truth over false or good over evil.
The Dussehra of Mysore and Kullu region is quite famous. These 10 days are quite important for a spiritual sadhak or for someone who wants to walk on the path of righteousness and truth or wants to have the blessings of mother goddess. This year Sharad Navratri begins on 7 October 2021 and ends on 15 October 2021.
Coming back to Navratri, If you follow the North Indian Navratri where fasting is done then kindly check this collection of 71 Navratri fasting recipes and also this handy guide to Navratri vrat rules that also shares the navratri pooja vidhi and other important facts and details.
This post is for the South Indian way of Navratri festival where its more of a celebration unlike fasting which is observed in North India. I won't go into much detail and would now like to share the collection of Navratri recipes which are often made in South Indian homes. Kindly skip adding onion and garlic, if present in any of the below recipe.
South Indian Navratri recipes
Sundal recipes: Sundal is basically a dry legume-lentil preparation spiced, tempered along with fresh coconut. Various sundals can be made with different legumes or lentils like black eyed peas, sweet corn, moong beans, bengal gram, peanuts. More or less the method to prepare sundal is the same with minor variations here and there.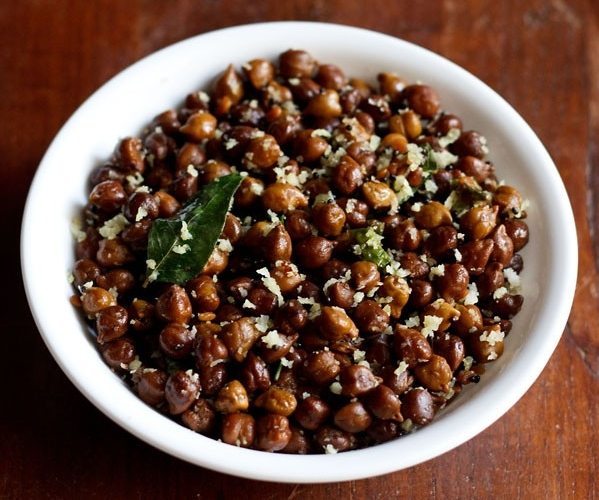 1. Kala chana sundal – made with black chickpeas.
2. Safed chana sundal – made with white chickpeas.
3. Rajma sundal – made with kidney beans.
4. Green peas sundal – made with dry green peas.
5. Sweet corn sundal – made with corn or makai.
6. Kadalai paruppu sundal – made with chana dal sundal.

Rice recipes for Navratri festival
These rice recipes are not only made during Navratri festival but also made during Diwali or festive occasions. A few of the below-mentioned rice recipes are also served in temples like curd rice, sweet pongal etc.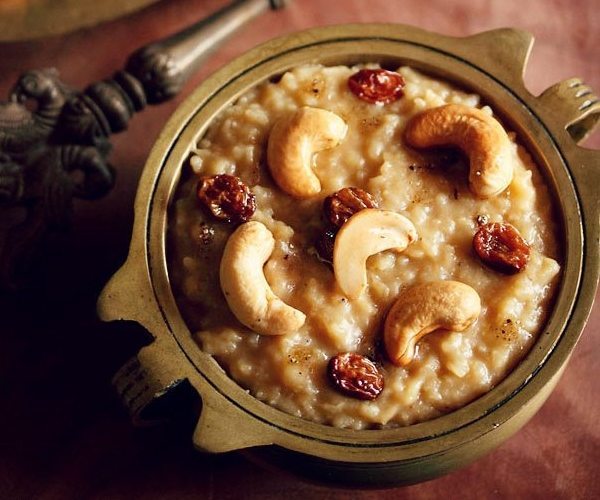 1. Curd rice – It is a popular South Indian rice variety that is served with a South Indian meal or South Indian thali. A healthy rice dish and also the last food that is consumed when you have lunch in South Indian homes.
2. Tamarind rice – popular South Indian recipe of sour and spiced rice. This dish is also called as puliyodharai. In most South Indian temples, tamarind rice is also served as prasadam along with sweet Pongal and curd rice.
3. Sweet Pongal – It is a popular sweet festive dish made with rice and mung lentils, flavored with cardamoms, dry fruits & ghee.
4. Ven Pongal – It is a delicious South Indian porridge made with rice and yellow moong lentils. This Ven Pongal is laced with the wonderful flavors of cumin, asafetida, curry leaves, ginger and black pepper. Not to forget the lovely aroma of ghee, in it.
5. Coconut rice – light, mild South Indian coconut rice recipe made with fresh grated coconut.
6. Lemon rice – Crunchy, flavorful and sour rice recipe from South India. Lemon juice, fried nuts, aromatic herbs and spices combine perfectly to give this steamed rice an amazing spicy, tangy and nutty flavor. 
Ladoo recipes for Navratri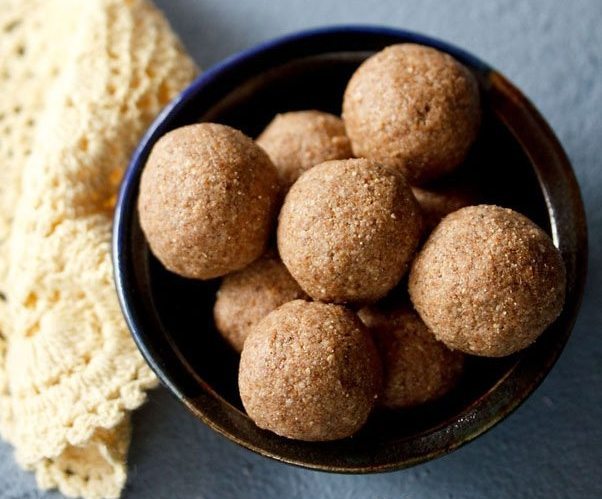 1. Urad dal ladoo – tasty and delicious ladoos made with urad dal (black gram), ghee and sugar.
2. Til ladoo – easy recipe of delicious ladoos made with sesame seeds, peanuts, desiccated coconut and jaggery. This is one of those healthy ladoos that not only has sesame seeds, but also has peanuts and desiccated coconut. A very easy recipe and within half an hour the ladoos will be ready.
3. Moong dal laddu -easy recipe of delicious ladoos made with moong lentils, ghee and sugar.
4. Badam laddu – quick and easy ladoos made with almonds, jaggery and raisins. This recipe of badam laddu is made with just 4 ingredients and within 20 minutes.
5. Peanut laddu – easy two ingredient recipe of ladoos made with roasted peanuts and jaggery.
6. Poha ladoo – quick and delicious ladoo made with thick poha (flattened rice or parched rice), jaggery and ghee.
7. Dry fruits ladoo – no sugar, no fat ladoos made with dry fruits. A vegan recipe.
8. Coconut ladoo – three ingredient coconut ladoos made with fresh coconut, condensed milk and cardamom powder.
9. Maa ladoo – quick South Indian ladoo made from roasted gram or roasted chana dal.
10. Rava ladoo – quick and easy recipe of rava ladoo made with semolina, khoya (evaporated milk solids) and desiccated coconut. Gets done in 20 minutes.
11. Besan ladoo – a popular ladoo made from gram flour, powdered sugar and ghee.
12. Pori urundai – a crunchy, crisp, light, delicious, easy ladoo recipe which gets ready in minutes made with puffed rice. Also known as murmura ladoo and puri unde.
Halwa, payasam & sweets recipes for Navratri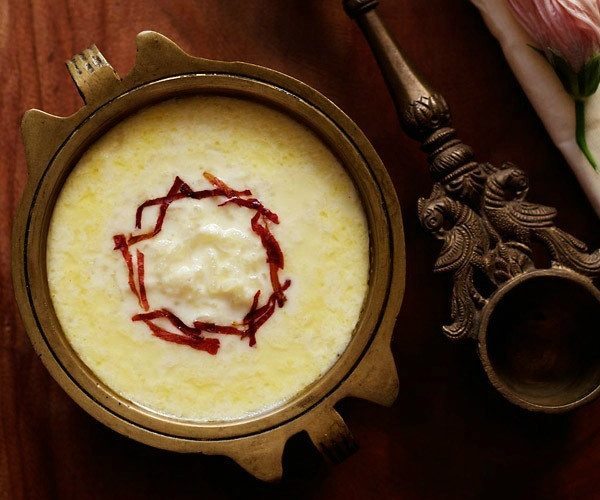 1. Rice payasam – sweet, creamy South Indian kheer or pudding made with milk and rice. Also known as paal payasam.
2. Carrot payasam – creamy and smooth payasam made with carrots, jaggery and coconut milk.
3. Moong dal payasam – delicious creamy moong dal payasam made with yellow moong lentils, jaggery and coconut milk.
4. Rava kesari – sweet South Indian dessert made with semolina, ghee, dry fruits and saffron.
5. Sooji halwa – Suji ka halwa is your classic everyday delicious North Indian sweet made with fine semolina or cream of wheat (farina), sugar, ghee, nuts and flavored with cardamom powder.
6. Banana sheera – banana semolina pudding. Often made during religious pooja as it is served as prasad.
7. Sabudana kheer – A sweet pudding made with sago, milk and sugar. It is a popular Indian sweet made on Hindu fasting days. budana and milk.
8. Pumpkin kheer – a flavorsome, easy to prepare, traditional Navratri sweet dish with pumpkin.
9. Milk kesari – this version of rava kesari is made with milk and not water. So it is more rich.
10. Fruit kesari – rich South Indian sweet made with cream of wheat, mixed fruits and dry fruits.
11.  Pineapple kesari – melt in the mouth South Indian sweet made with cream of wheat, ghee, sugar & pineapple cubes.
12. Seviyan kesari – delicious sweet made with semiya, dry fruits and ghee.
13. Sweet kozhukattai – South Indian recipe variation of modaks made with a stuffing of chana dal, coconut and jaggery.
14. Banana appam – sweet appams or paniyarams made with ripe bananas, rice flour and jaggery.
15. Whole wheat appam – instant appams made with whole wheat flour, jaggery and bananas.
16. Yereyappa or rice appams – a Karnataka special traditional navrathri sweet dish
Snacks recipes for Navratri
1. Ulundu vada – These crisp and tasty fried black grams donuts shaped fritters are made without onion and garlic.
2. Veg bonda – deep fried snack of stuffed mix veggies coated with gram flour batter.
3. Mysore bonda – A popular South Indian snack food made with lentils, chopped fresh coconut, fresh herbs and vibrant spices. The ingredients are combined to create a thick batter, and are then deep fried to make crisp, soft and fluffy fritters
4. Sabudana vada – crisp fried patties made with tapioca pearls, peanuts and mashed potatoes. Slightly sweet and spiced to taste.
5. Aloo bonda – fried tea time snack from the South Indian cuisine. Made with gram flour & rice flour batter & stuffed with spiced mashed potato filling.
6. Chakli – deep fried snack made from rice flour, gram flour, wheat flour or a mixture of lentil flours. They are also known as murukku in south.
7. Rava Pongal – healthy breakfast recipe of Pongal made with rava and moong dal.
This South Indian Navratri Recipes post from the archives (October 2016) has been republished and updated on 7 October 2021.