46 delicious mango recipes : the king of fruits – mangoes are in season again. the mango period lasts from mid march to may end.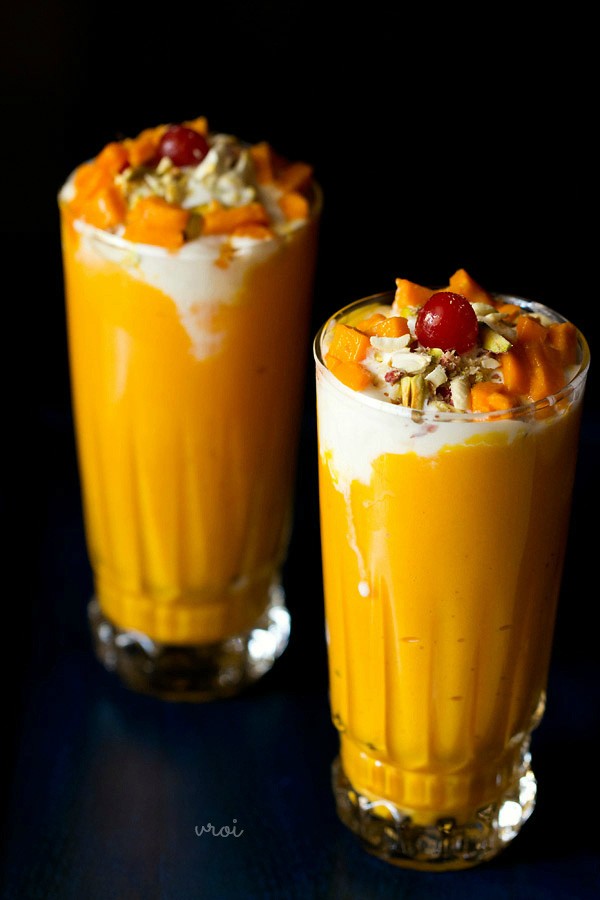 although one can easily get mangoes in the market in the month of june and july and even in august. but many people avoid eating mangoes once rains start pouring because they get spoiled easily. so you have to quickly eat as many mangoes as possible in this two months time !!!
there are many varieties of mangoes available in india but the best mangoes are of alphonso variety and they are the most juicy, delicious and also the most expensive. mostly they are exported. they are grown in maharashta, gujarat and konkan belt. so you must look for and try alphonso mangoes whenever you make a sweet mango recipe !!!
one can make endless dishes using mangoes. the famous mango recipes are: mango pickle, aamras, aam paana, mango lassi, amrakhand and mango chutney.
here i am listing mango recipes from my blog which are made from ripe as well as unripe mangoes. i hope you will like them.
46 mango recipes:
mango kulfi
step by step mango kulfi recipe
vegan – made using almond milk
you can use cow's milk too.
punjabi mango pickle
step by step recipe
for making punjabi mango pickle
pickle stays good for a year.
mango ice cream
creamy & soft
without an ice cream maker.
step by step recipe… used vanilla
aam panna
cooling traditional summer drink
made by roasting the
raw unripe mangoes
green mango chutney
made using raw mangoes
and coconut or dessicated coconut
the taste is sour.
sweet ripe mango chutneysouth indian chutney
made from sweet ripe mangoes
along with coconut.
mango shrikhand or amrakhand
step by step recipe
of mango shrikhand or amrakhand
mango lassi
refreshing mango lassi
to keep you cool this summer.
mango mousse
quick and easy mango mousse
eggless and a vegetarian one
no gelatin & no agar agar used


aam ka panna
made from raw mangoes
both tangy & sweet to taste
step by step recipe
mango dal
mango dal which has
the sourness of mangoes
& a hint of sweetness
from the drumsticks and coconut
aamras
thick mango pulp/juice
spiced with cardamom & saffron
traditionally had with pooris
a delicacy in maharashta & gujarat
mango kesari
smooth, silky and a really good
recipe of mango kesari.
mango raita
sweet mango raita
made using ripe mangoes
sweet and sour mango pickle

made with jaggery, nigella seeds
and fenugreek seeds. no oil.
step by step recipe, punjabi style.
 mango panna cotta
creamy and smooth italian dessert
made with mangoes, cream and milk
mango milkshake
refreshing mango milkshake
flavored with saffron
easy mango ice cream
delicious mango ice cream made
with condensed milk & cream.
mango banana figs smoothie
sweet and crunchy smoothie
mango banana papaya smoothie
goodness of all three favorite
tropical fruits in a glass.
mango iced tea
refreshing summer tea
with flavors of mangoes and tea.
mango mastani
thick mango milk shake
with ice cream.
no cook mango kulfi
quick easy and a cheat's version
of making mango kulfi.
mango falooda
quick and easy mango falooda recipe
with fresh mango puree,
chopped mangoes & mango ice cream.
eggless mango cheesecake
no bake vegetarian mango cheese cake
made without eggs and gelatin.
eggless mango cake
easy whole wheat mango cake
raw mango salad
sour, spiced and mildly sweet salad
made with unripe mangoes,
chopped onions and spices.

raw mango pickle
instant mango pickle recipe
which is very easy to make.
raw mango chaat
tangy and spicy chaat
made with raw mangoes,
puffed rice & other ingredients.
raw mango rice
spiced, tempered and tangy rice
made from raw mangoes.
aam chunda
spicy, sour & sweet mango preserve
made with raw unripe mangoes & spices
aam ka murabba
sweet, tangy preserve made from
raw unripe green mangoes.
mango salsa


mango muffins

mango oats smoothie


 mango phirni

mango banana milkshake

 amchur powder


easy mango chutney


mango almond smoothie


easy mango raita
easy mango raita
a 10 minute quick dessert

mango pudding
smooth, velvety and soft
thai style mango pudding
made with coconut milk
mango pickle
this avakaya pickle is a
spicy, robust mango pickle
from the andhra cuisine
mango rasayana
mango shikran is mango pulp
and its juice mixed with
cardamom powder, jaggery & milk
mango milkshake
thick and creamy
delicious mango milkshake recipe.


mango modak
delicious melt in the mouth modak
made with mangoes & khoya