mango pickle recipe with step by step photos – here is a sour, spiced and tasty aam ka achar recipe made the punjabi way. another one from my mil's punjabi recipes collection.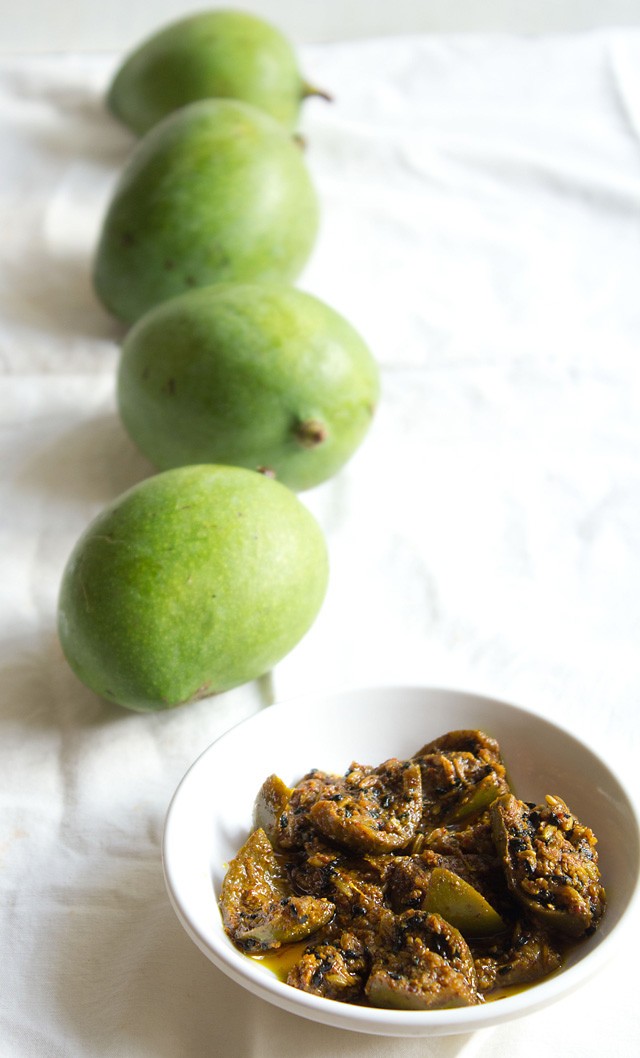 this punjabi mango pickle is really good. if you are a pickle lover like me, you are going to love this pickle. i am such a fan of pickles that i have pickles with everything from dal, sabzis, to even with the punjabi kadhi. there are many varieties of mango pickles made all over india. each mango pickle variety has a different taste, flavor and method of making.
few more mango pickles recipes are
kerala style mango pickle (south indian instant mango pickle recipe)
gujarati mango pickle (does not require sunlight. easy & quick mango pickle to make.)
mango avakaya (popular mango pickle from andhra pradesh).
khatta meetha aam ka achar (sweet and sour punjabi mango pickle)
in north india we have the mango pickle with aloo paratha, paneer paratha or any paratha for that matter. my hubby tells me of his childhood school days where he would take parathas with aam ka achar in his tiffin box.
i think now what goes in the tiffin box must have changed over a period of time. it also depends in which part of india you live or what is the type of cuisine the family cooks.
4 main spices used in this mango pickle are
fenugreek seeds (methi seeds)
fennel seeds (saunf)
mustard seeds (sarson – yellow)
nigella seeds (kalonji)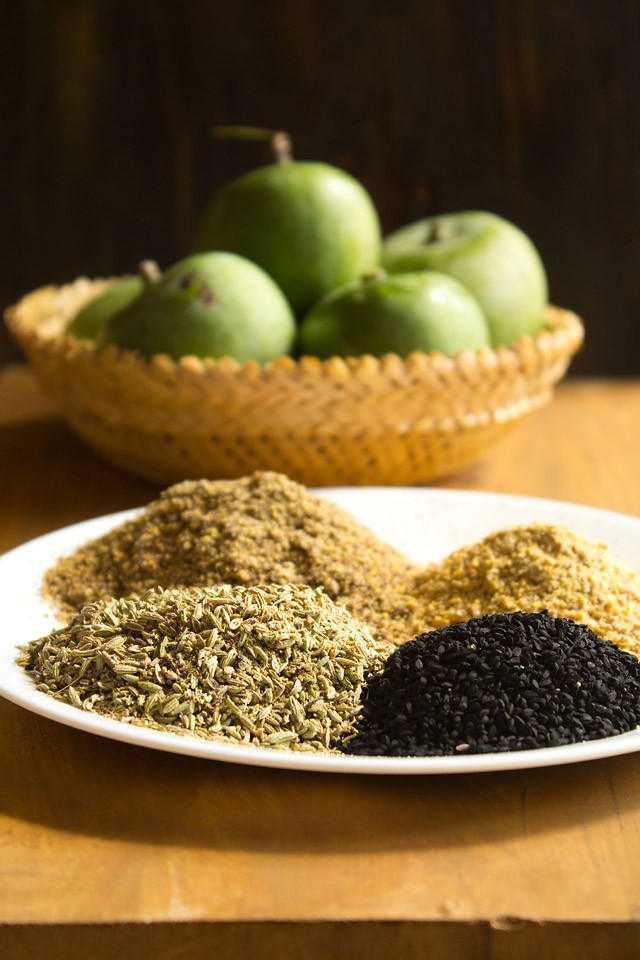 well, just a bit of variation i did to this mango pickle recipe was by adding split mustard seeds. i had just scribbled everything in a book and all the time i was thinking that mustard seeds go in the recipe. now again when looking at it carefully, i saw that mustard seeds are not added. sometimes the mind and the thought processes overpower everything.
tips for making mango pickle
some folks even add black peppercorns.
i have coarsely ground the mustard seeds and fenugreek seeds as i do not get the split mustard seeds as well as split fenugreek seeds here. even the fennel i have ground it coarsely. you can keep it whole.

here

i

get raw mangoes with really tender skin,

so i

don't peel the skin off. but if you get raw mangoes with tough skin, then

do

peel off the skin.

you can choose to add more red chili powder if you want a hot and spicy mango pickle.
remember there should be no water or moisture in your jar

in which you will keep the mango pickle. the jar has to be clean. you can sterilize the jar if you want. hygiene and cleanliness are very important when you are making pickles. remember this point when you make edibles like jams, sauces, preserves or pickles and for that matter when you make any food.
i wanted the traditional small bharni to keep the mango pickle. went to the market to buy it, but all they had were big bharnis. finally i had to store the aam ka achar in a plastic jar 🙁
mango pickle recipe
punjabi mango pickle recipe - punjabi mango pickle made with mustard oil and spices.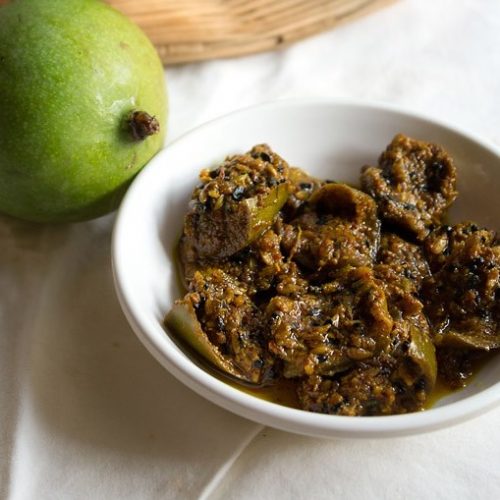 Ingredients (1 cup = 250 ml)
5

to 6

small or medium sized raw mangoes

1.5

tablespoon

split fenugreek seeds

(methi dana)

1.5 to 2

tablespoon

split yellow mustard seeds

(rai dana), optional

2

tablespoon

fennel seed,

whole or coarsely ground

1.5

tablespoon

nigella seeds

(kalonji)

1 or 1.5

tablespoon

turmeric

(haldi)

1.5 to 2

tablespoon

red chili powder

(lal mirch powder)

salt as required

mustard oil as required
How to Make Recipe
preparation for making mango pickle
rinse and wipe dry the mangoes.

dice the mangoes. discard the seeds. if you have a garden you can plant the seeds.

mix all the spices, spice powders and salt with the diced mangoes.

mix well so that the spices get evenly coated on the mangoes.
keeping mango pickle mixture in sun
keep this spiced mango mixture in sunlight for 3-4 days.

cover with a thin muslin to protect from dust.

after 3-4 days, add the mangoes to a jar.

pour mustard oil till it just about covers the rim of the mangoes up to 1/2 inch or 1 inch.

stir and mix well.

store the mango pickle in a dry and cool place for 3 to 4 days.

after 3 to 4 days you can start having the mango pickle.

serve the mango pickle with your dal-rice, curd-rice, parathas & veggie dishes.
Notes
you can choose to add more red chili powder if you want a spicy and hot pickle.
keep the jar and the plates everything clean.
how to make mango pickle without sun
just mix everything and pour the mixed mango-spice powders in a jar.
in this case you heat the mustard oil till it start smoking and then when it become cool, you add it to the spiced mango pieces.
cover with a 1 inch layer of mustard oil. always keep the mango pickle covered with a layer of mustard oil.
store mango pickle in a dry place for 2-3 days. but there will be moisture in the mango pieces as they are not dried in sun.
GOOD KARMA
all our content & photos are copyright protected. as a blogger, if you you want to use this recipe or make a youtube video, then please write the recipe in your own words and give a clickable link back to the recipe on this url.
TRIED THIS RECIPE ?
i would love to hear from you if have made this recipe. rate the recipe and leave a comment below OR tag us at Instagram @vegrecipesofindia
how to make mango pickle or aam ka achar
1: rinse and wipe the mangoes well with a kitchen towel. chop the mangoes and add them in a bowl.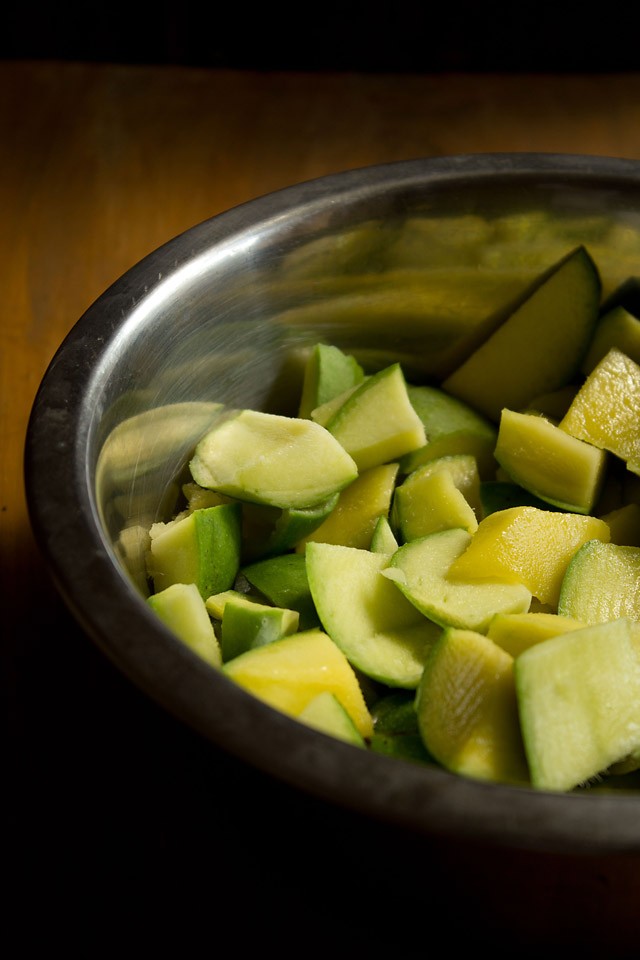 2: add all the spices, spice powders and salt.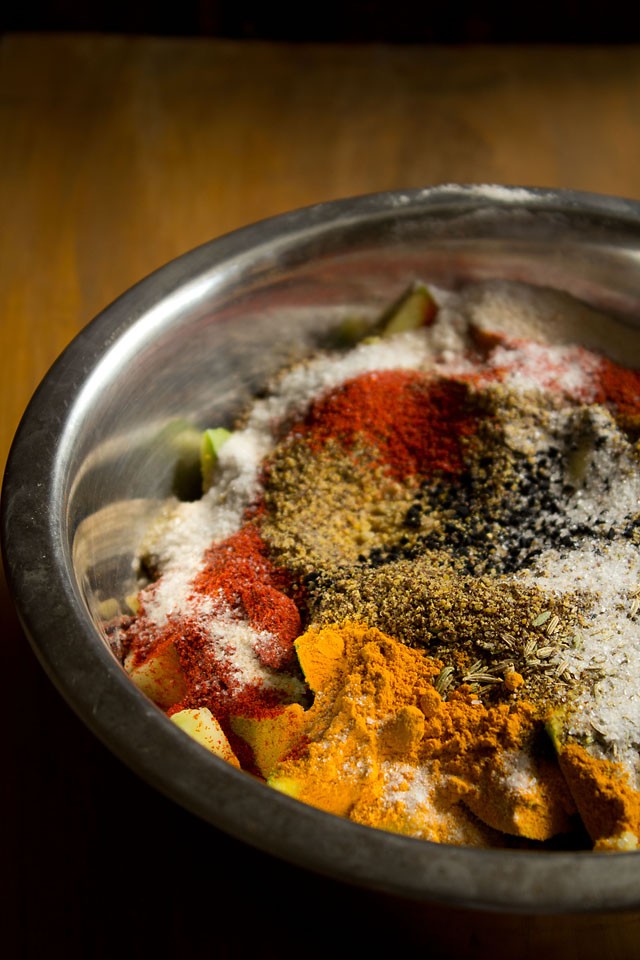 3: mix well so that the spices uniformly coat the mango pieces.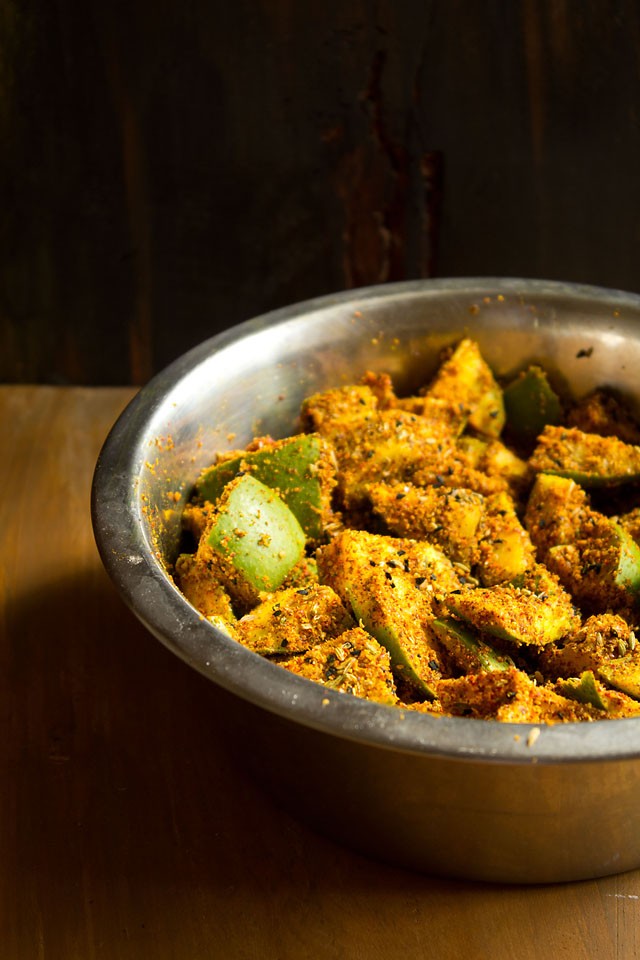 keeping mango pickle mixture in sun
4: on a thali or in the same bowl, keep in the sun for 3-4 days. you can cover the thali with a fine seive or a thin muslin cloth, so that dust etc does not fall on the pickle.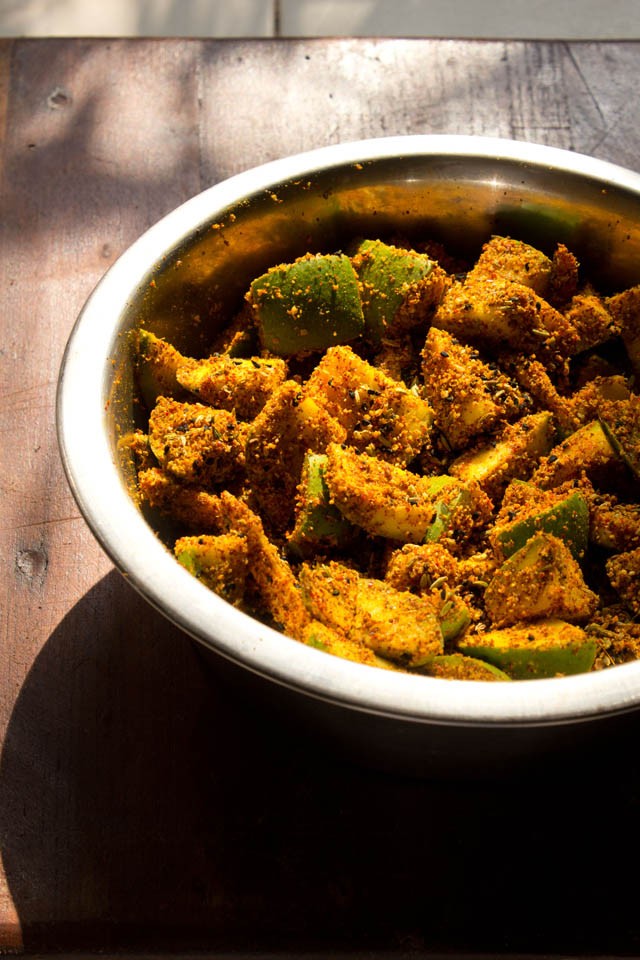 5: the below pic is of the mango pickle on 6th day. i had to keep 2 days extra as for 2 full days we did not get sunlight here. it was cloudy all the time.
6: pour the entire mango mixture in a jar.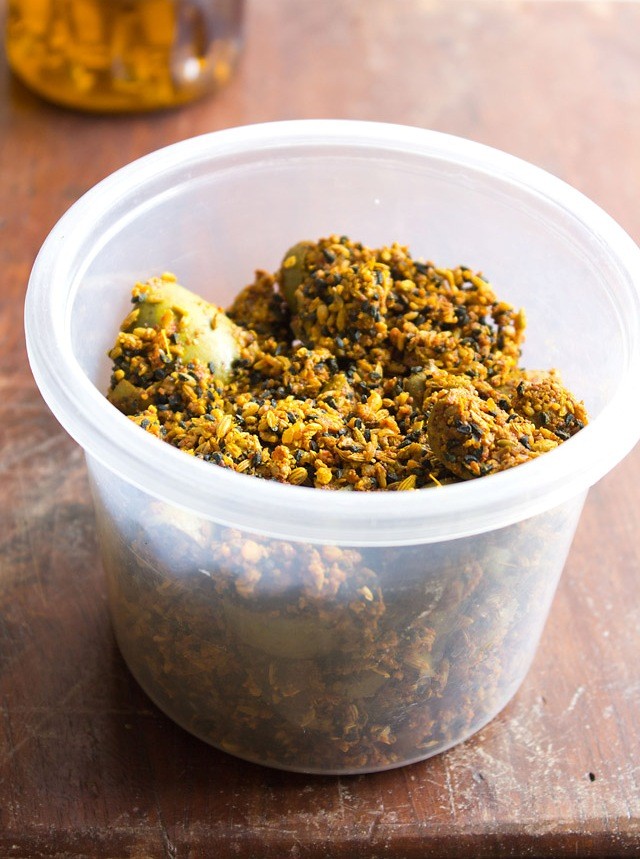 7: add mustard oil to the spiced mangoes. now i really like the strong and intense flavor of mustard oil in the mango pickle. hence i have not warmed nor heated the mustard oil. if you want less pungent flavor & taste to your mango pickle then warm or heat the mustard oil. heating reduces the pungency in the mustard oil and makes it sweet.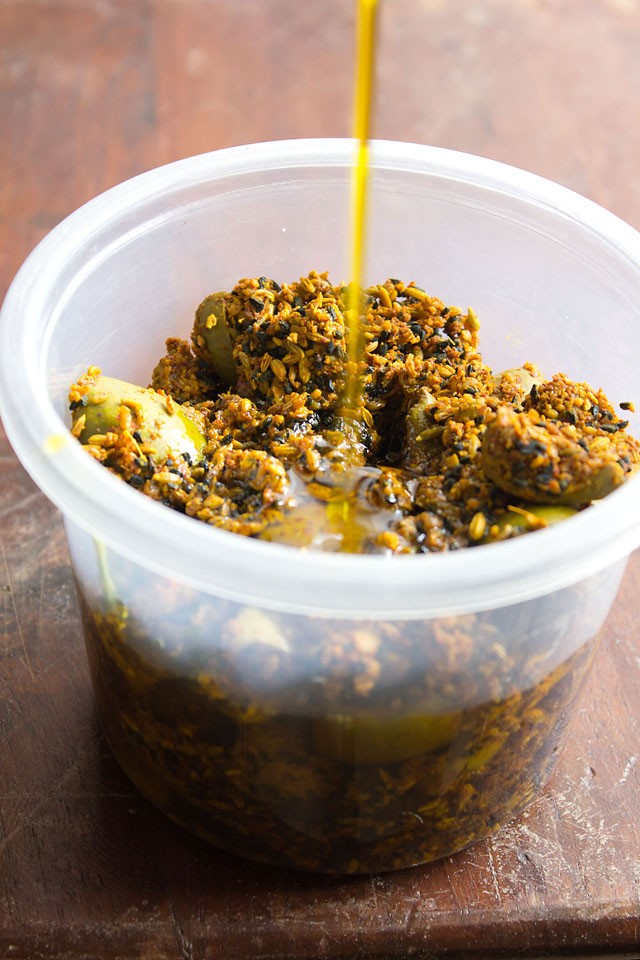 8: just add enough mustard oil which covers the rim up to half or one inch above the mango pickle. always remember to keep the oil floating above the pickle.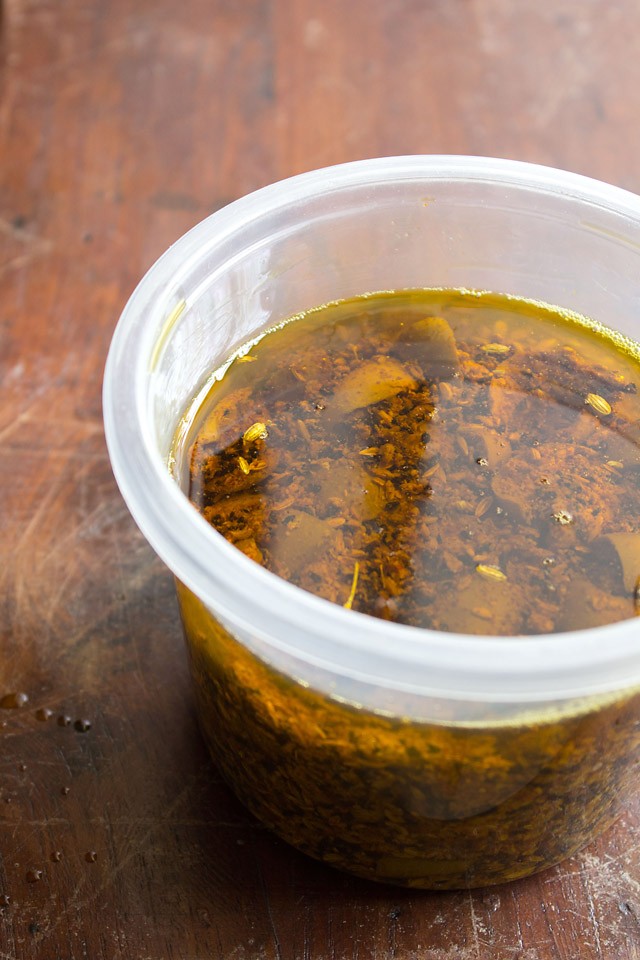 9: close and keep in a cool dry place for 4 days till everything gets mellowed and pickled 🙂 enjoy this punjabi mango pickle plain or with any indian dish. the mango pickle stays good for a year even without refrigeration. but it will get over soon and won't last for a year 🙂