While learning to dance the salsa may be difficult, this fresh Mango Salsa Recipe is anything but! It also happens to be sweet, tangy, spicy, vegan, low-fat, AND gluten-free. Featuring fresh mango, red bell pepper, onions, and a handful of spices, this salsa is an easy condiment that you're sure to love.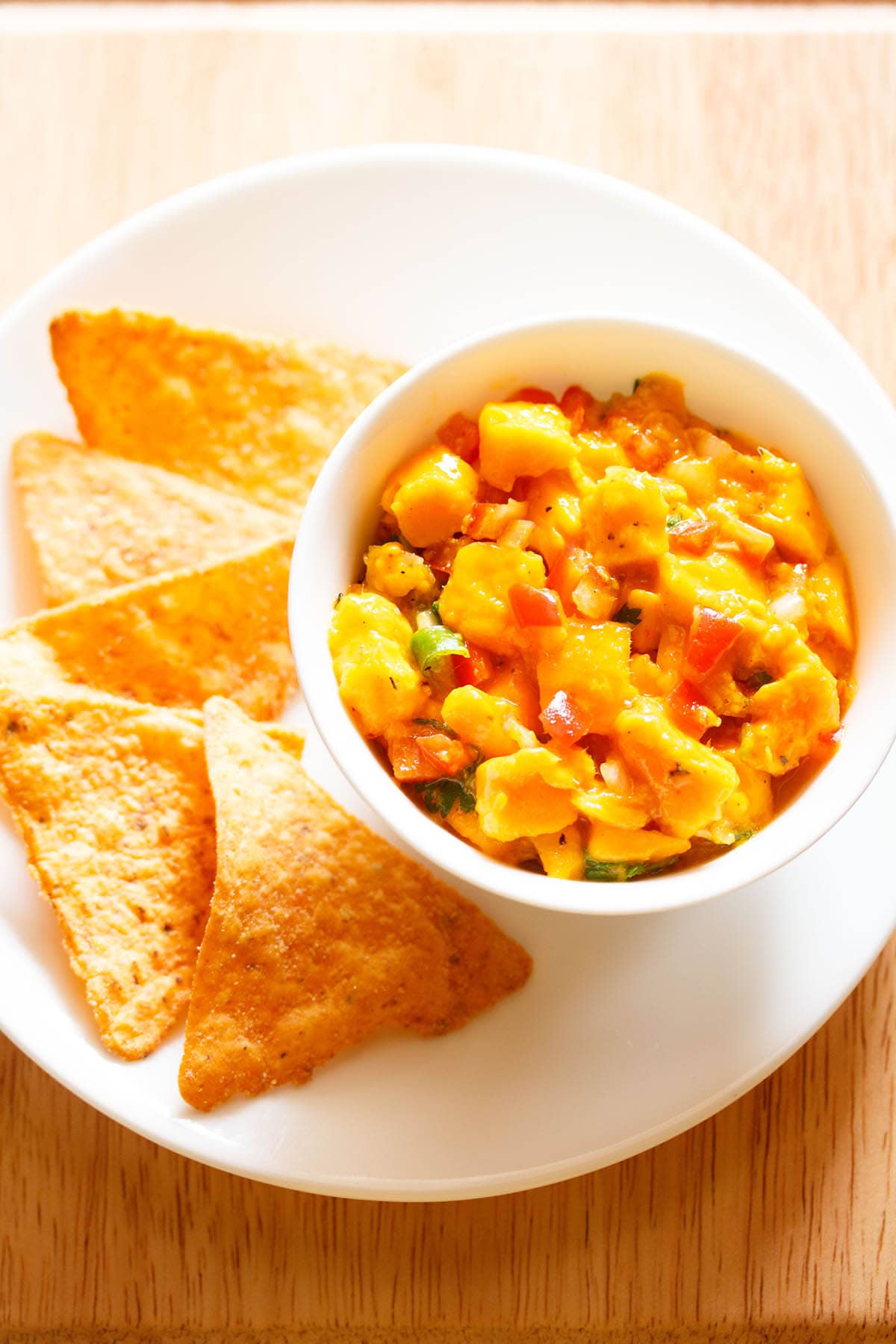 What is Salsa
'Salsa' technically means 'sauce' in Spanish, but the category as a whole refers to raw or cooked Mexican sauces, dips or condiments in general. It is interesting to know that salsa and tortilla chips is an ideal combination popular in Mexican-American restaurants, but not in Mexico.
The origin of Salsa can be traced back to the Aztecs in the 1500s, but it wasn't until the 1980s when it was popularized as a table dip at many Mexican restaurants in the US. Initially, these were only tomato based. But later, up till the modern times, salsas can be made with other fruits (like this Mango Salsa), beans, or even Corn.
Types of Salsa
While this Mango Salsa recipe is a personal creation of mine, there are three primary types of salsa:
Salsa Cruda is a salsa made with fresh ingredients and is uncooked. Hence, a 'raw sauce.' Under this category you'll find Salsa Fresca (a.k.a pico de gallo or salsa bandera). The ingredients of this and salsa roja are same – tomatoes, onion, chilies, cilantro, lemon. It's just that the pico uses chopped or fairly large chunks and the regular salsa has a smooth liquid with small bits of ingredients. My mango salsa would also be considered a form of salsa cruda since it is made with exclusively fresh ingredients.
Salsa Roja made with cooked tomatoes, chilies, garlic, onion and coriander. Also referred to as 'red sauce.'
Salsa Verde or a spicy green sauce made with cooked tomatillos and green chili peppers.
About This Mango Salsa
I would be lying if I deny that this Mango Salsa is one of my most favorite ways of enjoying mangoes. So much so that I can finish one bowl all by myself! The flavors and textures of this Mexican style salsa are very similar to our Indian chaat dishes. It is utterly bingeworthy.
This tasty Mexican-inspired recipe is:
Quick & Easy. It'll be ready for eating in just 15 minutes.
Nutritious. Made with just fresh fruit, veggies, herbs and spices, this is basically a farmer's market in a bowl!
Versatile. You can have this salsa as an appetizer with chips, as a side or salad, or spoon it over your meals.
NOTE: This Mango Salsa recipe is sufficient to serve 1 or 2 people, but can be increased in quantity as per your needs. When doing so, make sure to level the spices accordingly.
How To Make Mango Salsa
1. Chop 1 large, ripe, sweet mango for about ¾ to 1 cup chopped mangoes. Add the chopped mango in a mixing bowl.
You can use any variety of sweet-tasting fleshy mangoes. I used Alphonso mangoes.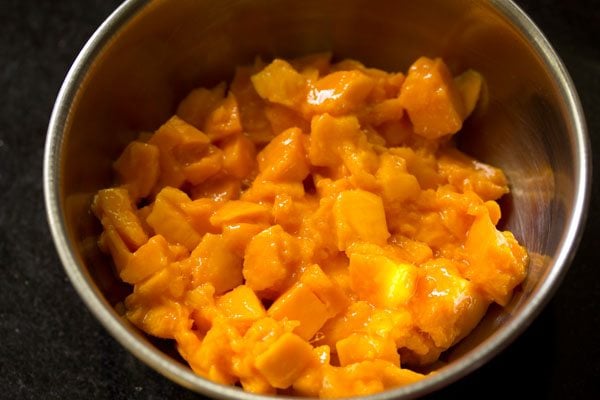 2. To the same bowl, add the following aromatics:
¼ cup finely chopped onions
¼ cup finely chopped red bell peppers (red capsicum)
½ to 1 teaspoon finely chopped green chili or jalapeño or thai green chili
2 to 3 tablespoons chopped coriander leaves (cilantro)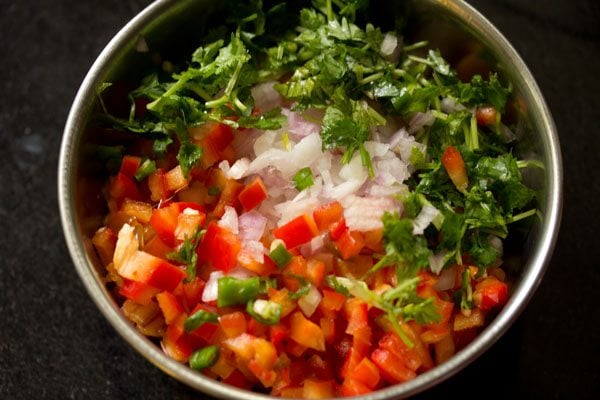 3. Add the following ground spices:
½ teaspoon crushed black pepper
¼ teaspoon ground cumin (cumin powder)
⅛ teaspoon cayenne pepper or paprika or red chili powder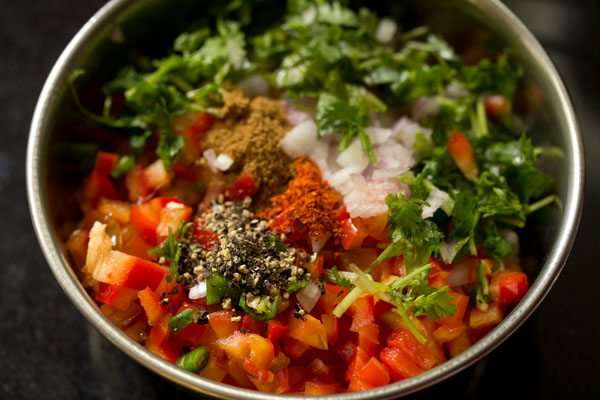 4. Now, add 2 teaspoons lemon juice, or to taste. You can also use lime juice if you prefer.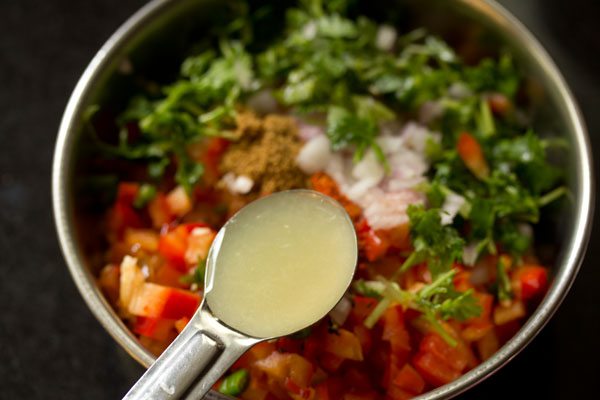 5. Lastly, season with salt as needed.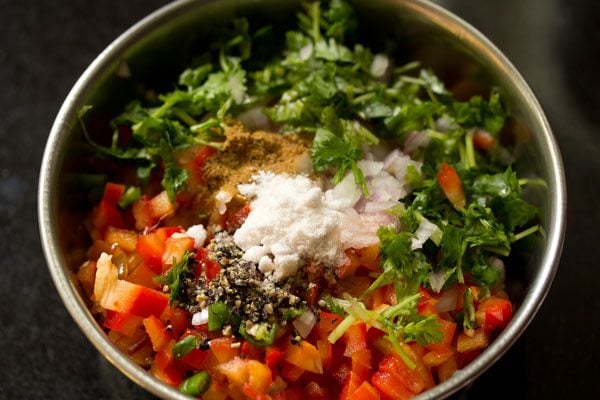 6. Mix everything very well.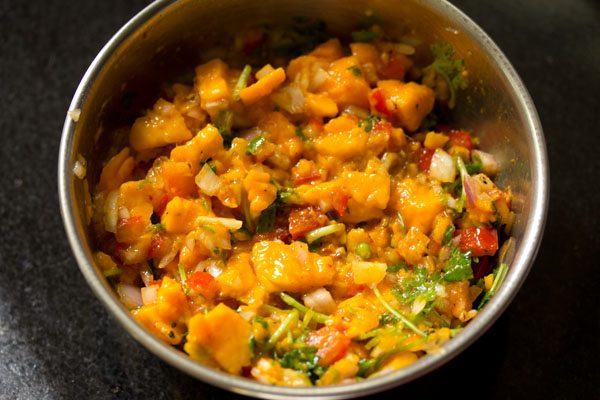 7. Serve and enjoy! You can also refrigerate it and have it later. It will keep for 1 day in the refrigerator.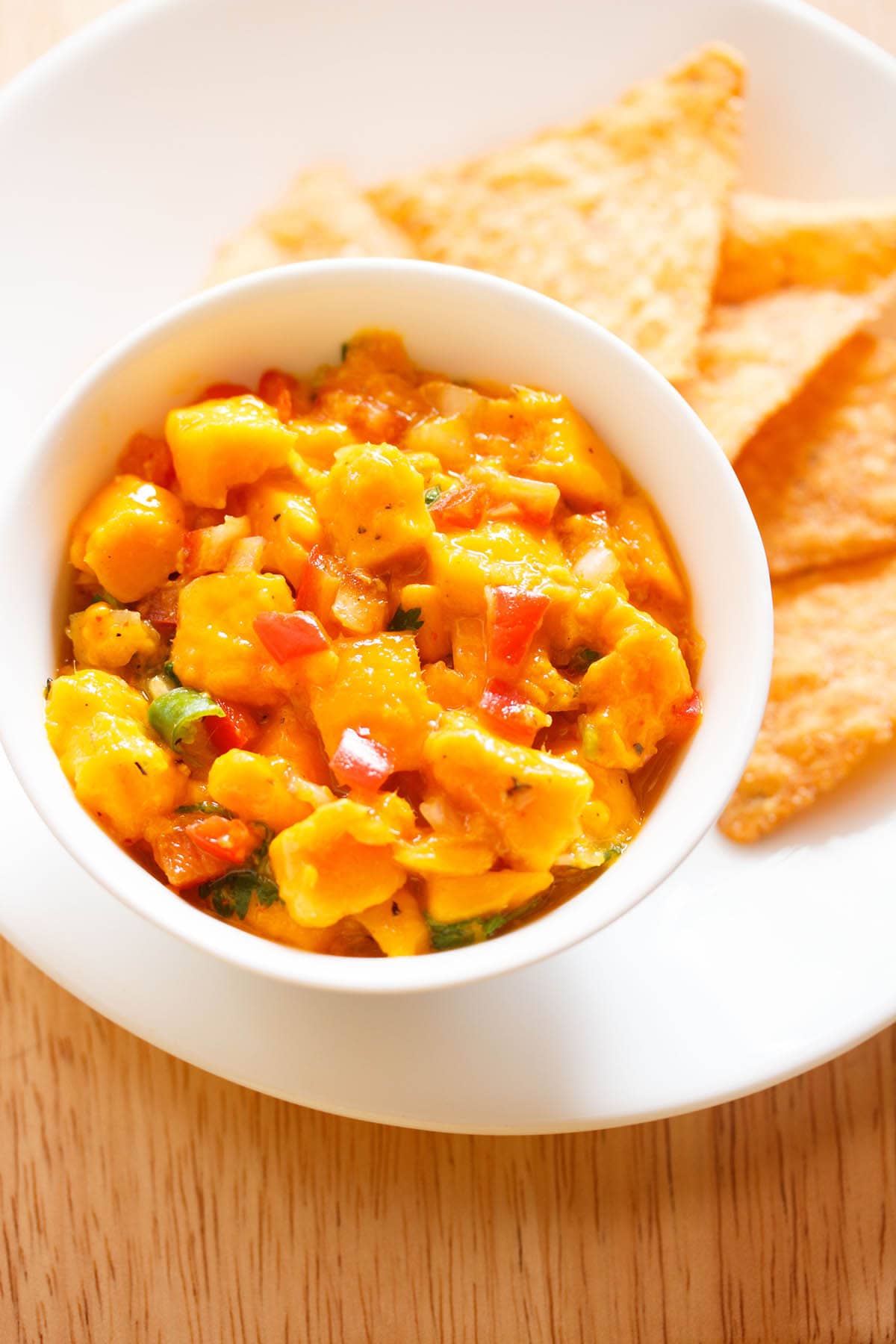 Serving Suggestions
Serve this Mango Salsa plain or with Potato Chips, tortilla chips, or pita crackers. You can also stuff it in a Taco or Burrito for a sweet tangy filling paired with other toppings like Refried Beans, Guacamole, sour cream, etc.
You can just bake some nachos with shredded cheddar cheese, serve it with this salsa and other toppings.
You can also relish this lovely Mango Salsa recipe as a zesty topping for Chimichanga, Quesadilla, enchilada, and other similar Mexican dishes.
Variations
Choose to add more color and nutrition to your mango salsa by including the following fruits.
Avocado – Make the salsa more richer by adding some creaminess and a buttery texture by using one ripe avocado. Avocado and mango do pair well so you can try this pairing while making the recipe.
Pineapple – Add more tropical flavors to your salsa with sweet ripe juicy pineapple chunks. While fresh pineapples taste amazing here, in a pinch you can opt to use canned pineapples.
Peach – Tangy, sweet peaches are another excellent option to add in your mango salsa. You will be surprised to know that peaches and mangoes are so good together and make the salsa taste awesome.
Make it spicier or milder. I used extremely hot green chilies in this Mango Salsa recipe so I added just one. If you plan to use green chilies with a lower score on the Scoville Heat Scale, you can increase the quantity. Even fresh jalapeños would be great for this recipe.
Expert Tips
To make this salsa, use any fresh ripe and sweet variety of mango. My personal favorite is the Alphonso. Perfectly ripe mangoes should yield to a gentle squeeze, but shouldn't feel mushy. They should also smell aromatic.
Add more or less green chilies and mangoes to balance the heat and sweet levels in the salsa.
Increase or decrease quantities of the ground spices and seasonings per your palate preference.
Scale the recipe by doubling or tripling the quantity of ingredients.
Not able to finish the salsa at once? Keep in the refrigerator and finish within 1 day.
FAQs
What is this Mango Salsa made of?
This Mango Salsa is made of fresh ripe mangoes, onions, capsicum or bell pepper, green chili/fresh jalapeno, coriander leaves and lemon. Use spices as per your choice.
How can I serve this Mango Salsa?
Serve it with tortilla chips, crackers, nachos, or add in burritos, enchiladas, tacos and other Mexican dishes.
Can I skip the cilantro and add something else in its place?
Yes, you can. In place of cilantro or coriander, you can use fresh mint leaves, basil leaves, parsley, dill, chives etc.
How long can I store this salsa?
You can refrigerate the Mango Salsa for 1 day.
Please be sure to rate the recipe in the recipe card or leave a comment below if you have made it. For more vegetarian inspirations, Sign Up for my emails or follow me on Instagram, Youtube, Facebook, Pinterest or Twitter.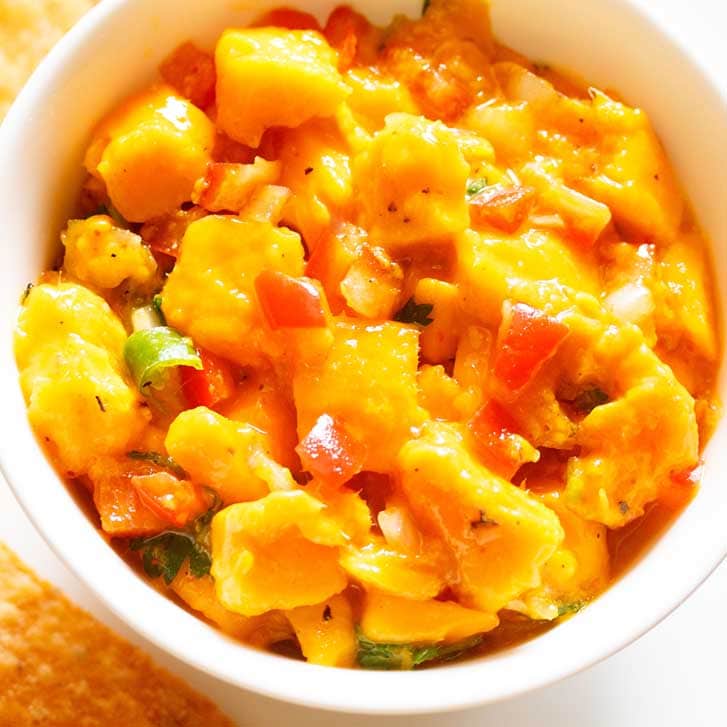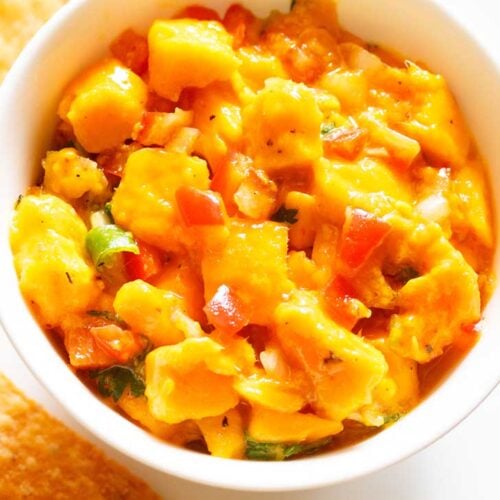 Mango Salsa Recipe
This sweet, spicy and tangy Mango salsa is made with fresh ripe mangoes, red bell pepper, onion, herbs and spices. An easy condiment that is lovely all by itself as well as when paired with others.
¾ to 1

cup

chopped mangoes

– 250 grams or 1 large mango

¼

cup

finely chopped onions

– 30 grams onion or 1 small onion

¼

cup

finely chopped red bell pepper

or 1 small red bell pepper

¼

teaspoon

black pepper

– crushed or ½ teaspoon crushed black pepper

¼

teaspoon

ground cumin

(cumin powder)

⅛

teaspoon

cayenne pepper

or paprika or red chili powder

½ to 1

teaspoon

finely chopped green chillies

or thai green chili peppers or jalapeño

2 to 3

tablespoons

coriander leaves

(cilantro) – chopped, can swap with fresh parsley instead

2

teaspoons

lemon juice

or add as required

salt

as required
Instructions
Preparation
Peel and chop the mango in small cubes. You should be able to get ¾ to 1 cup chopped mangoes.

Use ripe and sweet mangoes. You can use any variety of sweet and fleshy mangoes.

Finely chop onion and red bell pepper. Also, chop green chili pepper and coriander leaves. Set aside
Making mango salsa
Add the chopped mangoes in a mixing bowl.

Next add in the finely chopped onions, finely chopped red bell pepper (red capsicum), chopped green chilies and chopped coriander leaves.

Add crushed black pepper, ground cumin, red chili powder or cayenne pepper.

Add lemon juice. You can add more lemon juice if you prefer.

Lastly, season with salt.

Mix everything very well. Check the taste. If the salsa is not spicy, then you can add some more green chilies. If it is too spicy, then add some more mangoes.

Serve Mango Salsa plain or with some nachos, crackers or tacos.
Notes
Use mangoes that are fresh, ripe, sweet with a firm flesh.
According to your taste preferences, add less or more of the ground spices, lemon juice and green chillies.
Add tomatoes if you prefer.
Choose to add avocado or pineapple or peach to your mango salsa for a healthier, tasty and colorful variation.
Scale the recipe up to make for potlucks or small parties.
Nutrition Info (Approximate Values)
Nutrition Facts
Mango Salsa Recipe
Amount Per Serving
Calories 106
Calories from Fat 9
% Daily Value*
Fat 1g2%
Sodium 595mg26%
Potassium 351mg10%
Carbohydrates 26g9%
Protein 2g4%
Vitamin A 2022IU40%
Vitamin B1 (Thiamine) 1mg67%
Vitamin B2 (Riboflavin) 1mg59%
Vitamin B3 (Niacin) 1mg5%
Vitamin B6 1mg50%
Vitamin C 76mg92%
Vitamin E 1mg7%
Vitamin K 9µg9%
Calcium 34mg3%
Vitamin B9 (Folate) 74µg19%
Iron 1mg6%
Magnesium 23mg6%
Phosphorus 41mg4%
Zinc 1mg7%
* Percent Daily Values are based on a 2000 calorie diet.
This Mango Salsa recipe from the blog archives first published in June 2016 has been republished and updated on 4 Jun 2022.