One of the most celebrated dishes in Marathi and Gujarati cuisine, Shrikhand is not just another dessert. As simple as its preparation may seem, this smooth, creamy and delectable sweet dish is also refreshing as the main ingredient in it is curd (yogurt). This Amrakhand recipe is lovelier with the addition of mangoes. This Mango Shrikhand recipe is definitely going to woo you!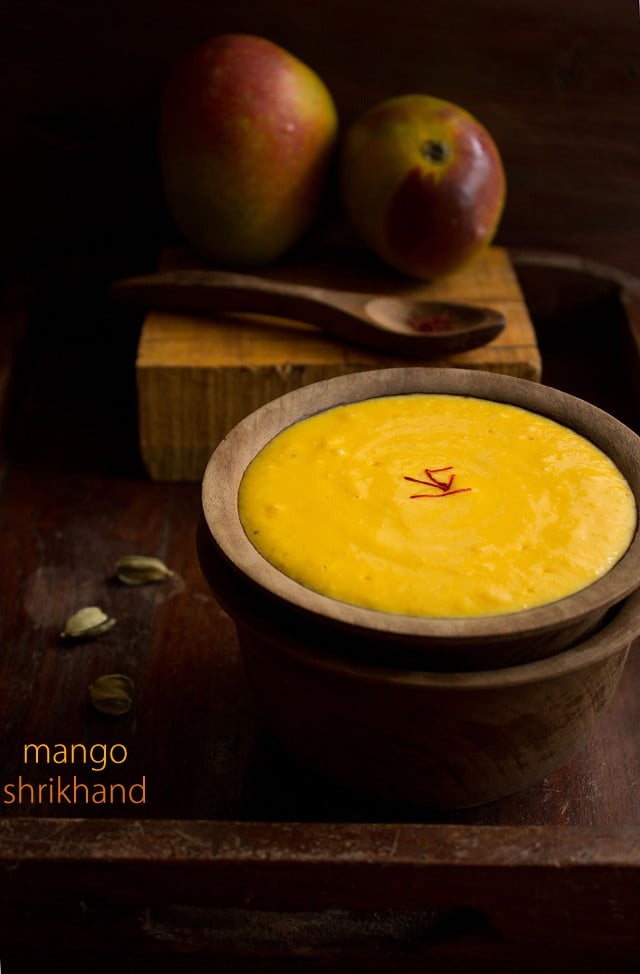 About Mango Shrikhand
This Mango Shrikhand recipe or Amrakhand recipe is very easy to make, provided you have all the ingredients in place. To begin with, it is best to use Homemade Curd (yogurt) to make the hung curd that is the main ingredient in this shrikhand.
When we talk about the flavoring, what best way can fresh ripe mangoes of the season be used than being added to this shrikhand. The 'king of fruits' literally imparts its royalty to this Mango Shrikhand and turns it all the more decadent.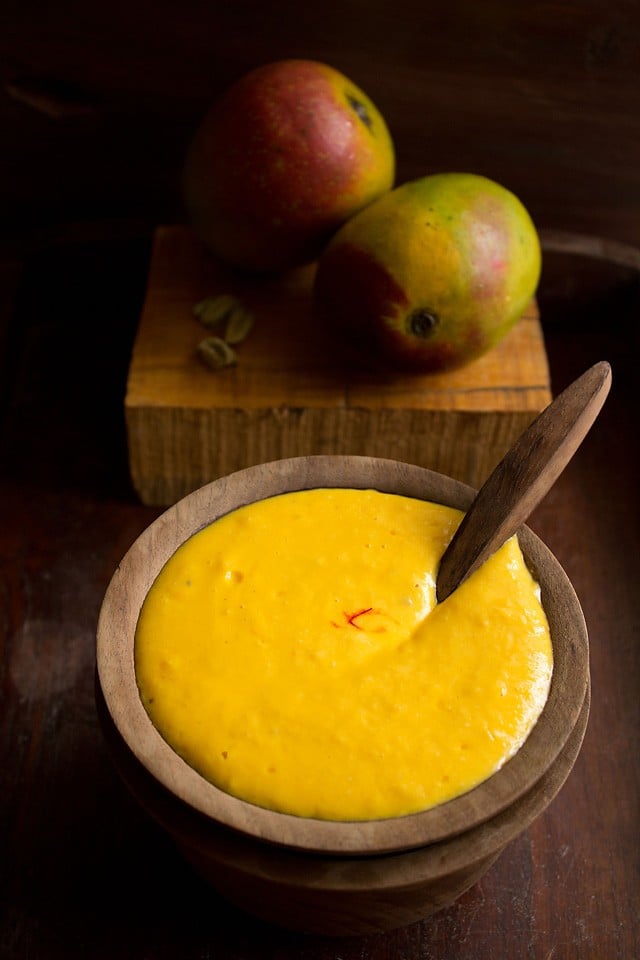 I have used double the quantity of mangoes for this Amrakhand recipe. Hence, this shrikhand is not thick like the store brought ones. In case you don't have the fresh fruit, you can also use canned mangoes or mango pulp. I also haven't used any artificial color or flavoring in this Mango Shrikhand.
Flavorings in this Mango Shrikhand recipe also include crushed green cardamom seeds and saffron. The quantity of sugar can be adjusted according to the sweetness of the mangoes.
As far as the variety of mango is concerned, I have made this recipe with the local Goan mangoes and also alphonso mangoes. You can choose any other sweet and pulpy variety of mangoes. Alphonso mangoes will yield a thicker consistency.
Mango Shrikhand with Greek Yogurt
Greek yogurt is thicker as compared to the homemade curd, as the whey has been already removed during its making. Thus, this Mango Shrikhand recipe with Greek yogurt saves you the additional time spent in hanging the curd to remove the whey. I have included the proportions and method for greek yogurt in the steps below.
All you need is about 10 to 15 minutes to prepare a yummylicious Amrakhand from Greek yogurt. Just refrigerate for half to one hour and it is ready to be served. So, when you are short of time or expecting sudden guests, make this version of Mango Shrikhand using Greek yogurt.
The traditional way of making a shrikhand in Maharashtrian homes is by blending and sieving the hung curd through 'puran yantra,' an equipment similar to the American 'food mill.' I have used an electric beater to make things super quick.
You can also beat with a wired whisk, but it takes a lot of time and an elbow grease to get things to the right consistency for this shrikhand.
How to make Amrakhand
Make Hung Yogurt
1. First, take 3 to 3.5 cups curd or yogurt in a muslin or cheese cloth or a cotton kitchen napkin.
Note: If you plan to use greek yogurt move on to step 5.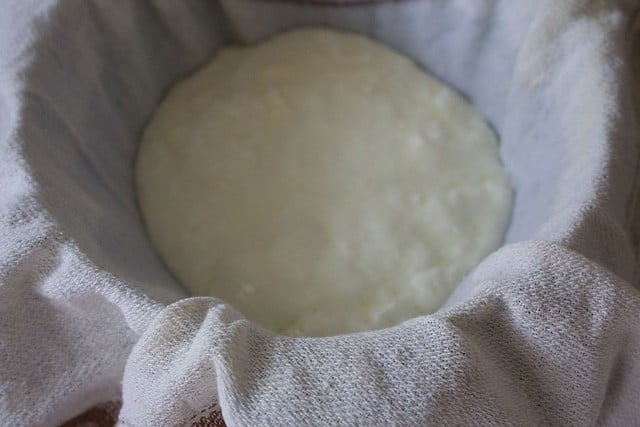 2. Now tie the cloth tightly and hang the curd for 3 to 4 hours. You can choose to hang the cloth under a faucet in the kitchen wash basin. You can also hang the curd in the fridge.
The whey will drip, so keep a bowl or pan below to collect the whey. You can also choose to keep for more time like 5 to 6 hours.
For a more detailed method, you can check this post on How to make Hung Curd.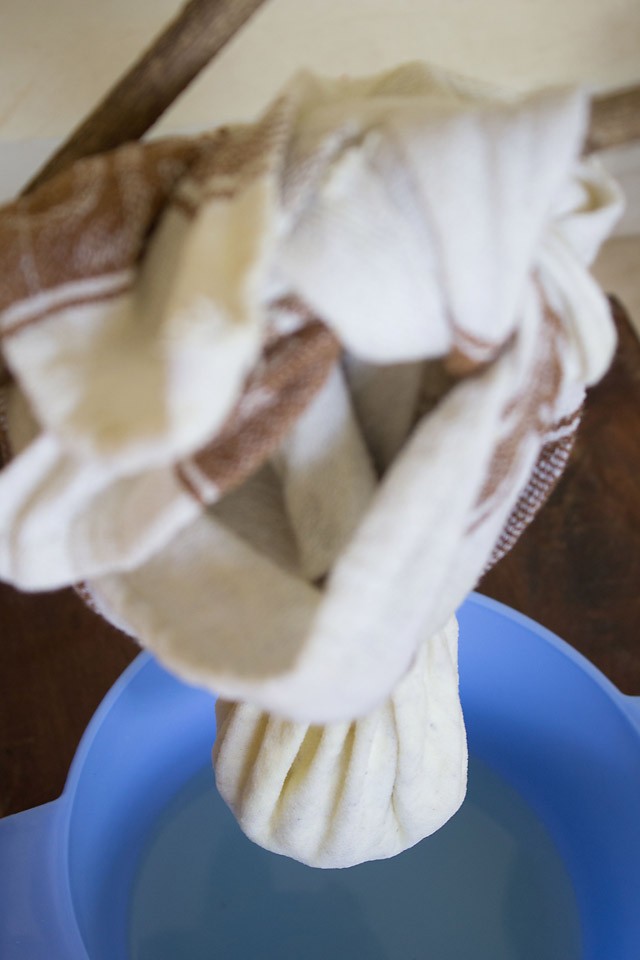 3. After 3 to 4 hours you will get a thick curd.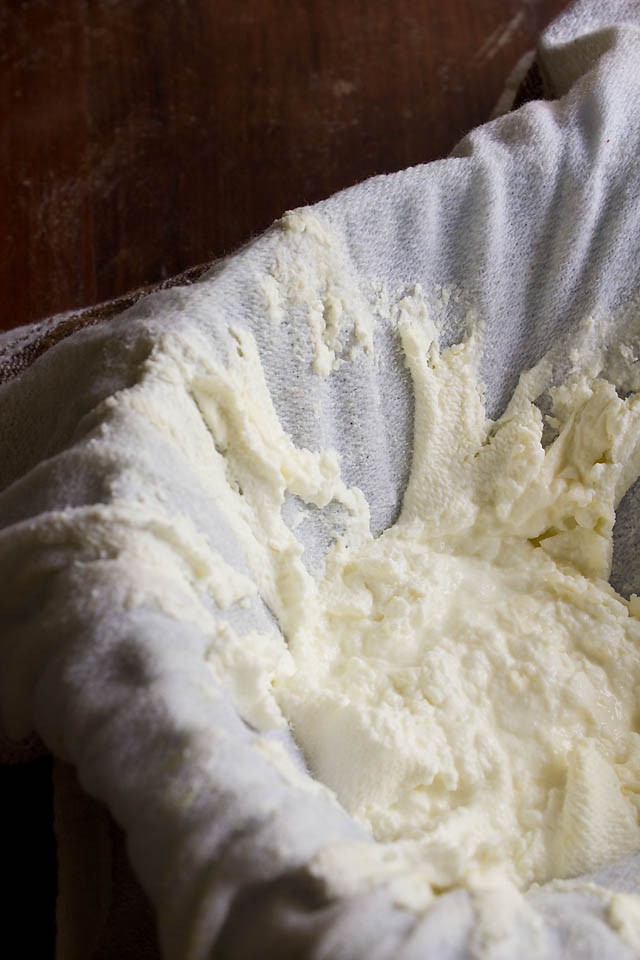 Make Mango Puree
4. Peel and chop 2 medium-sized mangoes and puree them in a blender. I have collected the puree in a bowl just for the photo.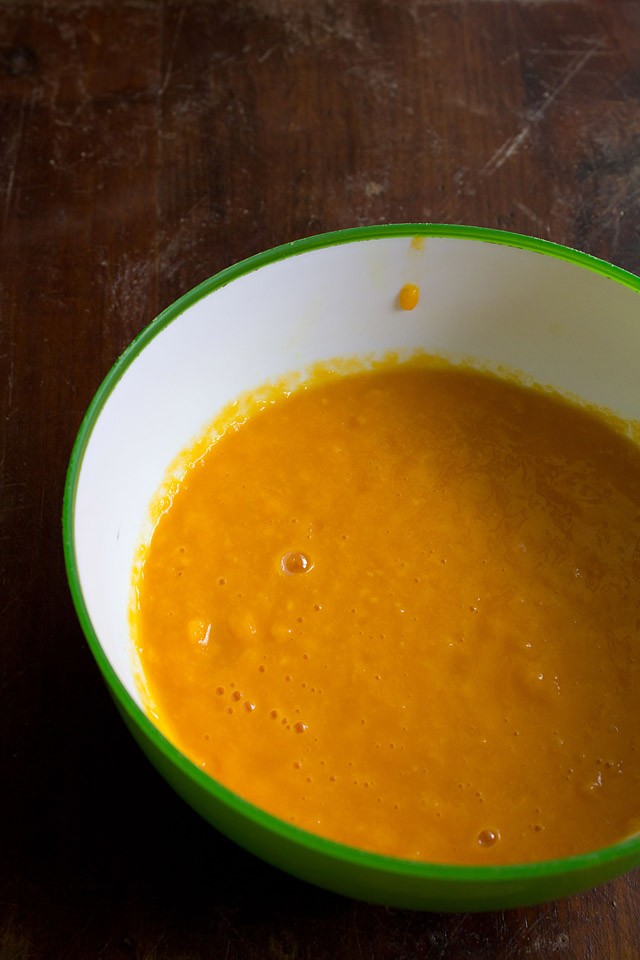 5. In the same blender with the mango puree in it, add the thick hung curd. Also add, ½ cup raw sugar, 4 to 5 crushed green cardamoms seeds and 8 to 10 saffron strands.
Tip: If using greek yogurt, add about 1 to 1.25 cups of it to the mango puree and flavorings. Blend till smooth.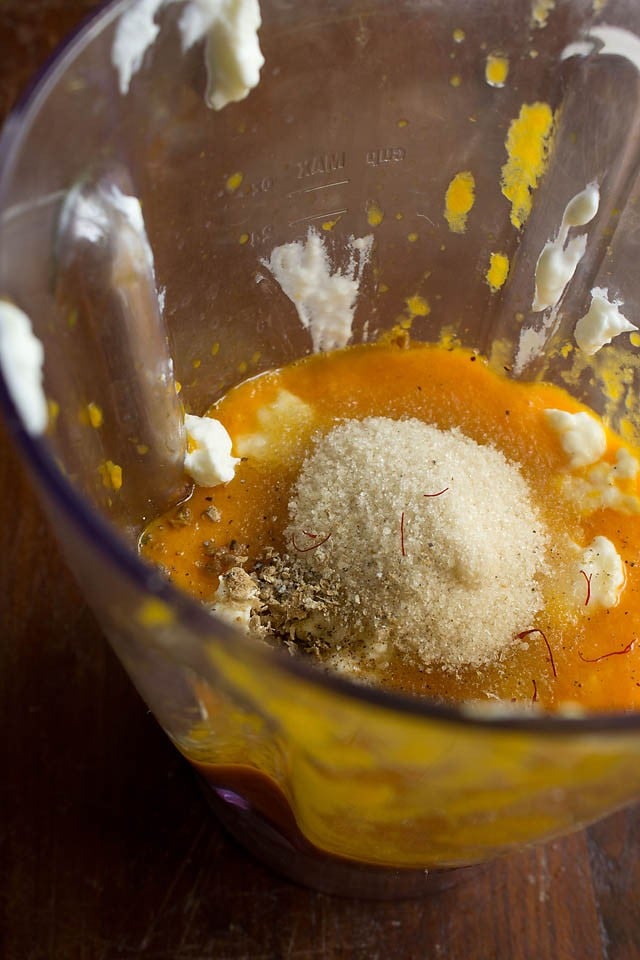 Make Mango Shrikhand
6. Blend till the mixture is smooth and even.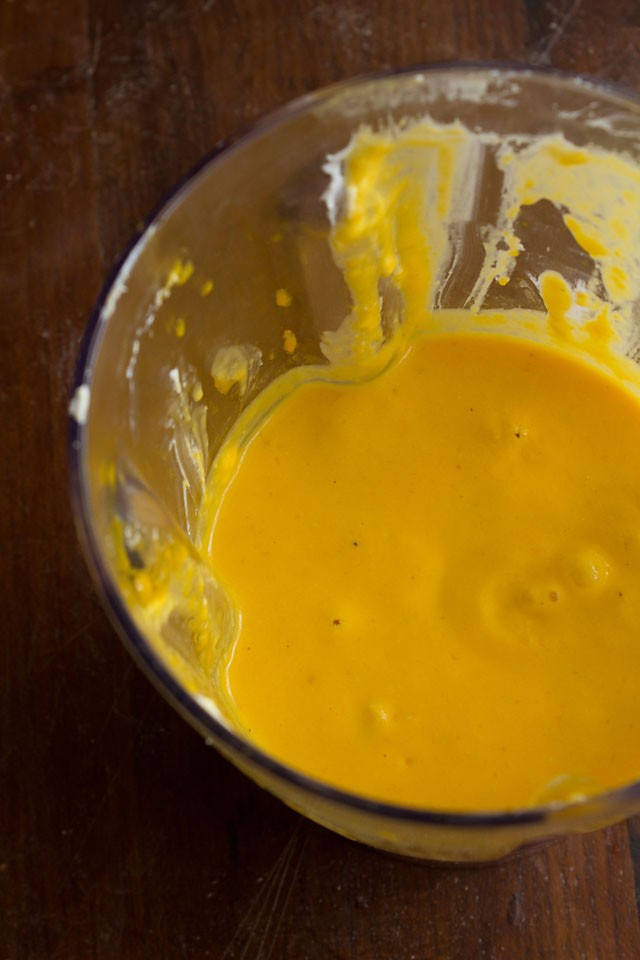 7. Chill the Mango Shrikhand in the refrigerator and serve in bowls. You can also serve the Amrakhand directly with Poori or have it as a dessert. You could add some chopped nuts as a garnish while serving.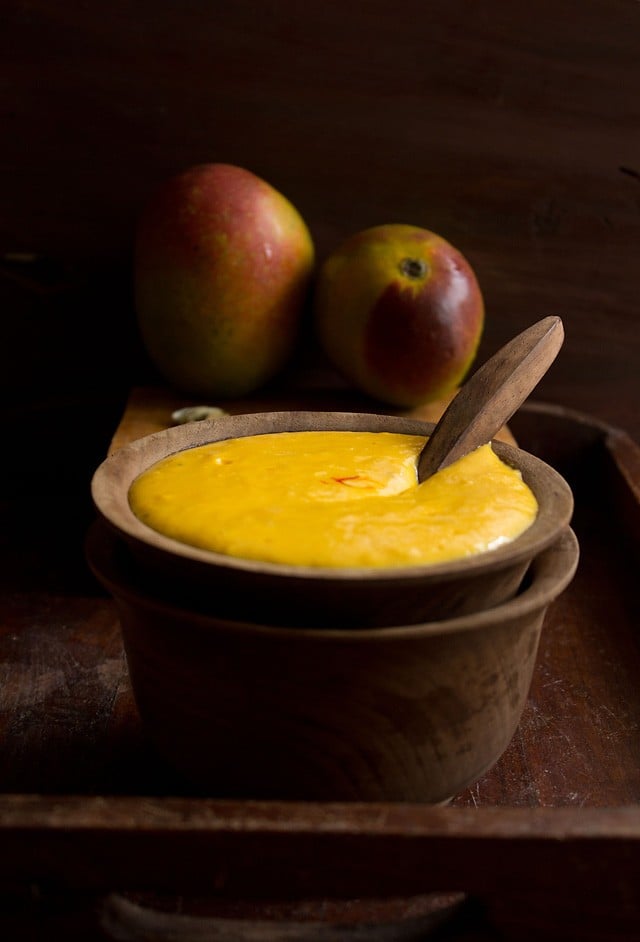 Expert Tips
Hung curd (yogurt): Use fresh curd, not the one that has gone sour. While hanging the curd, choose a large bowl so that the bottom of the muslin or cloth doesn't come in contact with the bottom of the bowl. Make sure to refrigerate the hung curd in a lidded bowl if you are not using it right away.
Whey: Use the collected whey in preparing your everyday foods like roti, curries, rice dishes, lentils, etc. The whey is nutrient-rich and adds a lovely tangy flavor.
Substitutes: You can swap hung curd with store bought Greek yogurt, labna (a thick Middle Eastern yogurt), skyr (a thick, creamy Icelandic yogurt) or sour cream. You can use powdered sugar or castor sugar instead of regular sugar. Tinned mangoes or mango pulp can be used instead of mango fruit.
Variations: You can make a vegan Shrikhand by substituting your dairy milk with coconut milk yogurt, non-dairy Greek yogurt or any plant-based milk yogurt. You can add dry fruits of your choice in this shrikhand. You can also make this shrikhand with other flavorings.
Storage: Store shrikhand in a covered container or box for a week in the refrigerator. You can also make a large batch and freeze for 1 to 2 months.
Scaling: This shrikhand recipe is scalable. If you want to reduce the servings, prepare less hung curd or use less Greek yogurt. Adjust sugar and the flavorings accordingly.
More Mango Recipes To Try!
Please be sure to rate the recipe in the recipe card or leave a comment below if you have made it. For more vegetarian inspirations, Sign Up for my emails or follow me on Instagram, Youtube, Facebook, Pinterest or Twitter.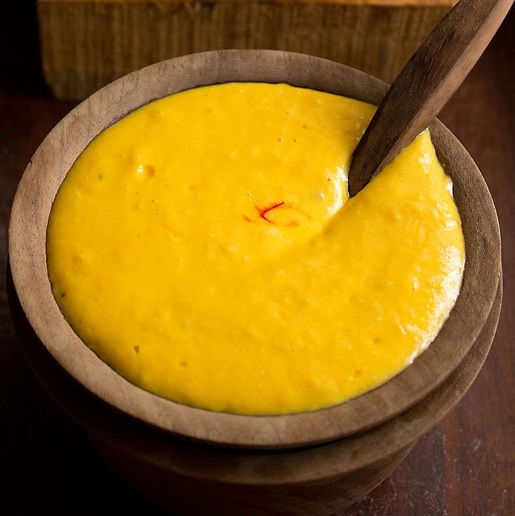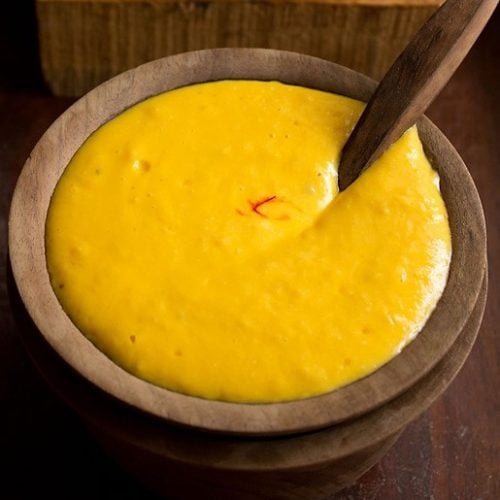 Mango Shrikhand (Amrakhand)
Mango Shrikhand or Amrakhand is a lovely fruity dessert made with yogurt and ripe sweet mangoes. This recipe has no artificial colors or flavorings. Enjoy as a dessert or serve amrakhand with poori.
Prep Time
4

hours
15

minutes
Total Time
4

hours
15

minutes
3 to 3.5

cups

Curd

or yogurt made from half a liter of milk

2

mangoes

medium-sized, peeled and chopped

4 to 5

green cardamoms

– seeds removed and lightly crushed in mortar-pestle

8 to 10

saffron strands

½

cup

raw sugar

or add as required – can also use white sugar or powdered sugar (confectioner's sugar).
Instructions
Hang the curd in a muslin, cheese cloth or kitchen cotton napkin for 3 to 4 hours. Place a bowl beneath for the whey to collect.

Alternatively you can make hung curd using bowls and mesh strainers – check this detailed Hung Curd post to know how and also to strain the curd in the fridge.

Puree the mangoes in a blender.

Add the thick hung curd to the blender along with crushed cardamom seeds, saffron and sugar.

Blend till even and smooth.

Pour Mango Shrikhand or Amrakhand in individual serving bowls.

Refrigerate for a few hours. Serve cold or serve as it is or with Poori.
Notes
For greek yogurt, simply blend 1 to 1.25 cups greek yogurt with the prepared mango puree. Add sugar and flavorings while blending. Feel free to add your choice of flavorings like a pinch of nutmeg, or ground cinnamon or vanilla extract.
Even nuts and dry fruits of your choice can be added to this shrikhand.
You can also use tinned mangoes or canned mango pulp.
Make sure to prepare the amrakhand with fresh homemade curd and ensure that the curd or yogurt is not very sour.
Nutrition Info (Approximate Values)
Nutrition Facts
Mango Shrikhand (Amrakhand)
Amount Per Serving
Calories 374
Calories from Fat 81
% Daily Value*
Fat 9g14%
Cholesterol 32mg11%
Sodium 116mg5%
Potassium 653mg19%
Carbohydrates 67g22%
Protein 10g20%
Vitamin A 1736IU35%
Vitamin B1 (Thiamine) 1mg67%
Vitamin B2 (Riboflavin) 1mg59%
Vitamin B3 (Niacin) 1mg5%
Vitamin B6 1mg50%
Vitamin B12 1µg17%
Vitamin C 52mg63%
Vitamin D 1µg7%
Vitamin E 1mg7%
Vitamin K 6µg6%
Calcium 326mg33%
Vitamin B9 (Folate) 77µg19%
Iron 1mg6%
Magnesium 50mg13%
Phosphorus 257mg26%
Zinc 2mg13%
* Percent Daily Values are based on a 2000 calorie diet.
This Mango Shrikhand (Amrakhand) post from the blog archives first published in April 2012 has been republished and updated on 21 April 2022.