Collection of 24 tasty sweet corn recipes – a ready list of recipes made from sweet corn.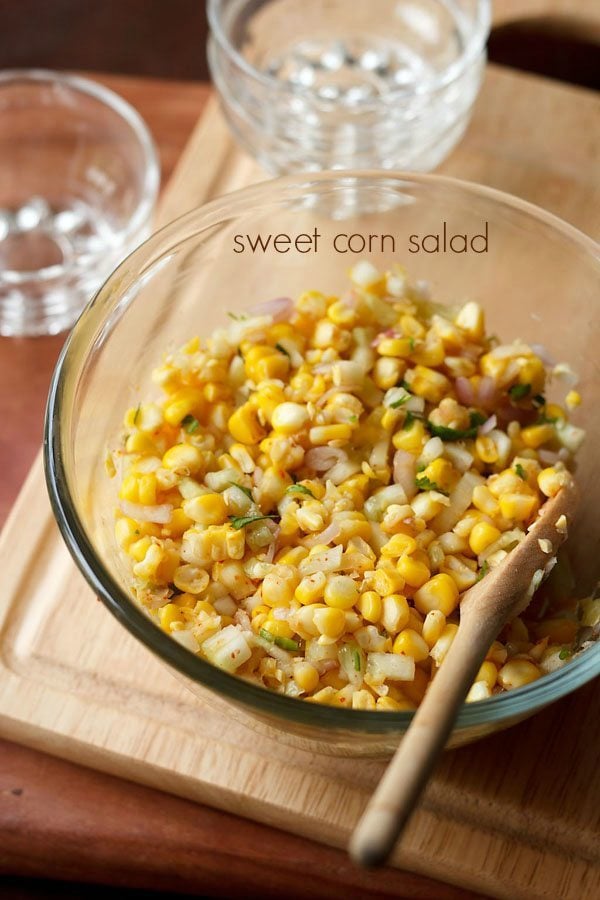 The collection includes mostly Indian and some international corn recipes. Both sweet corn and the desi corn can be used in these recipes. As I add more new corn recipes, I will also update this collection.
Collection of corn recipes:
1. Corn soup recipe – a creamy sweet corn soup made from fresh American sweet corn. this is one soup which I have been making since ages right from my teens. A fool proof recipe. For more soup recipes, you can check this Collection of 21 soup recipes.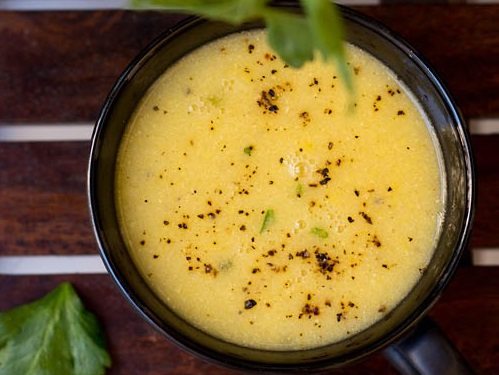 2. Corn pulao recipe – this recipe of corn pulao is slightly different than the pulao recipes I have posted. Here a green chutney paste is made and this makes the pulao slightly spicy and delicious. So you get the spiced flavors along with the hints of sweetness coming from the sweet corn.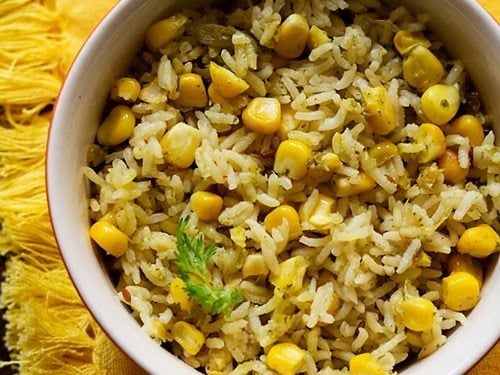 3. Sweet corn fried rice recipe – homely and simple fried rice made with sweet corn, spring onions, capsicum and herbs+spices. the recipe is adaptable to your spice preferences and tastes. You can even add a schezwan sauce or some tomato ketchup to the rice or spice up with your favorite herbs. Another similar popular recipe in this Veg fried rice recipe.
4. Corn cheese balls recipe – easy and a no fail recipe of corn cheese balls. Both baked and fried versions included. Another similar recipe you can try is this Cheese balls recipe.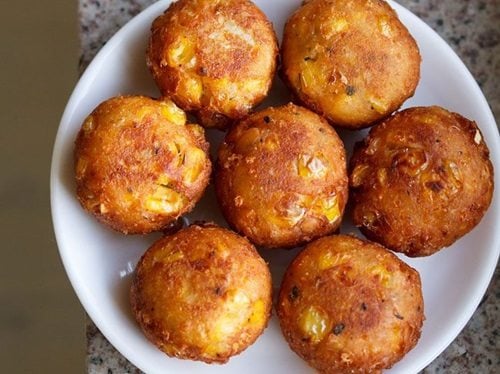 5. Palak corn recipe – a lightly spiced, smooth, creamy and nutritious curry. The recipe can also be made for kids who are usually not fond of spinach. Instead of sweet corn, regular corn or even fresh green peas can be added.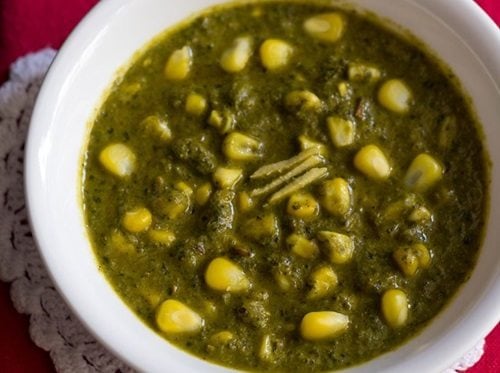 6. Corn chaat recipe – this spicy corn chaat is an easy snack which you can prepare quickly or whenever you are short of time. Even bachelors can make it as it does not require any cooking expertise. For more chaat recipes, you can check this post – 30 chaat recipes.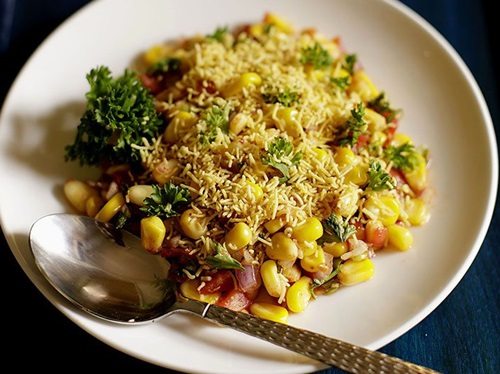 7. Bhutte ka kees recipe – bhutte ka kees is a popular as well as delicious street food snack from Indore. Bhutte ke kees is a filling snack.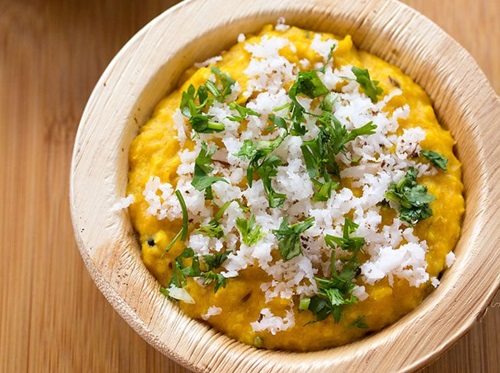 8. Masala corn recipe – masala corn is a favorite with kids and most of us. You can always add your choice of spices or add less or more and make a lot of variations in the recipe.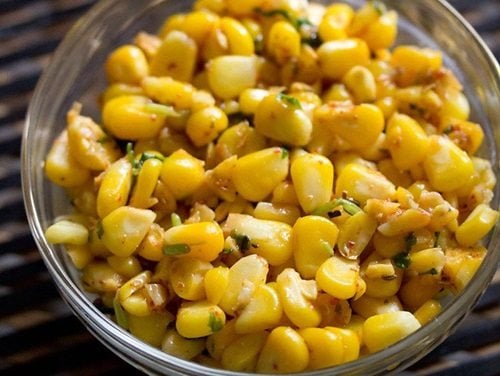 9. Makai ka shorba recipe – a light and easy to prepare delicious Indian style corn soup. the shorba has the aroma of garam masala and tej patta complimenting the flavors of sweet corn. I have kept the spicing minimal and light. So this is a delicately flavored corn soup, which is comforting in cold weathers.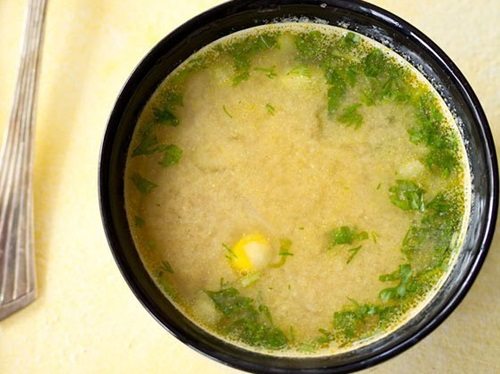 10. Corn pakora recipe – crisp fried corn fritters made with besan or gram flour, sweet corn and spices-herbs. If you like having pakoras, then have a look at this post of 35 pakora varieties.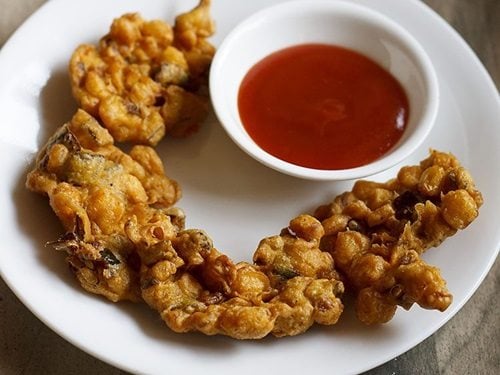 11. Veg sweet corn soup recipe – sweet, creamy soup made with fresh sweet corn and vegetables. the creaminess and sweetness comes from the corn kernels. You can also make this soup from tinned corn kernels. But fresh corn is the best.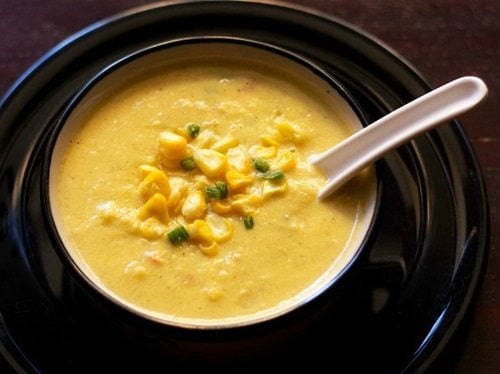 12. Corn salad recipe – easy recipe of salad made with sweet corn, cucumber, onion and spices + herbs. i have used fresh sweet corn. Though even tinned corn be used. But I do suggest using fresh corn as the taste is better with fresh corn.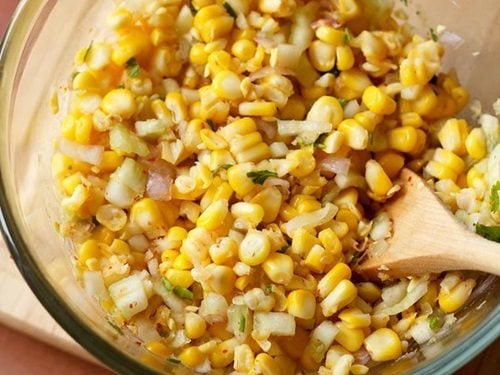 13. Corn patties recipe – crisp melt in the mouth corn patties made with mashed potatoes and stuffed with a spicy corn filling. For more tikki recipes, you can check this Collection of 16 tikki recipes.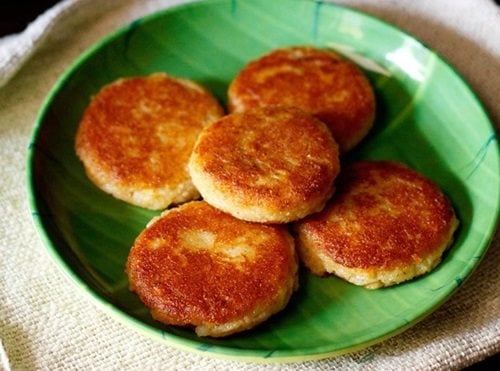 14. Buttered corn recipe – easy buttered corn made with corn kernels and seasoned with herbs. its a delicious snack which you can have at any time of the day. Children are specially going to love it.
15. Corn sandwich recipe – the filling for this corn sandwich is Italian inspired with tomatoes, garlic and fresh basil. These corn sandwiches are a bit spicy. Reduce the amount of black pepper and red chili flakes to make these less hot and spicy.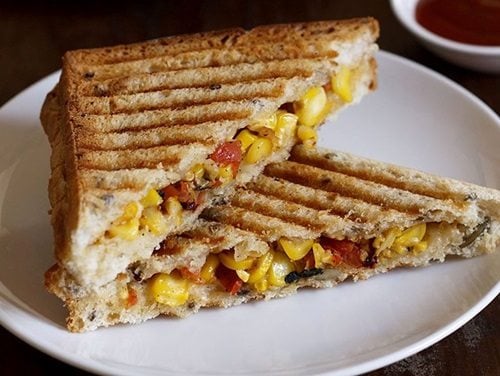 16. Corn spinach recipe – easy to prepare cheesy corn spinach recipe. the corn palak can be had plain or can also be stuffed in Sandwiches or wraps. We just had the dish plain with a side vegetable soup and toasted bread.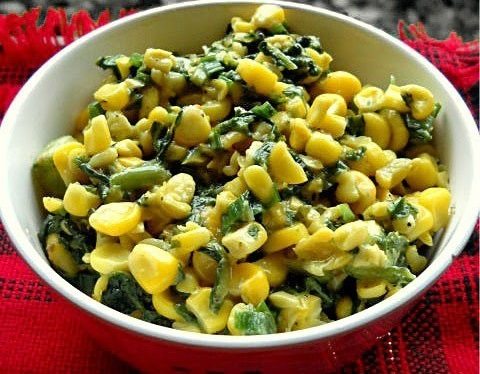 17. Sweet corn kheer recipe – this is a simple kheer recipe that is made with grinding corn kernels and then cooking them with milk. You can make the kheer thin or thick as you prefer. Simple, easy and flavorful. For more delicious kheer recipes, you can check this collection of 24 Kheer recipes.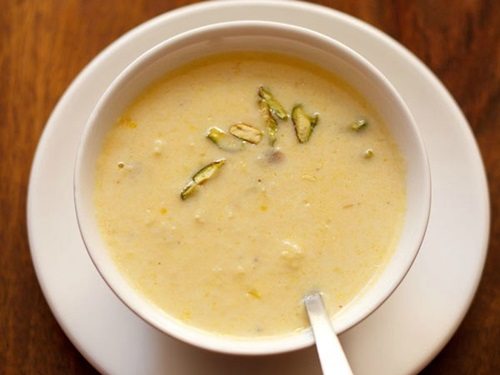 18. Corn capsicum sandwich recipe – easy recipe of a grilled corn capsicum sandwich. The main ingredient you need to make this sandwich are some steamed corn.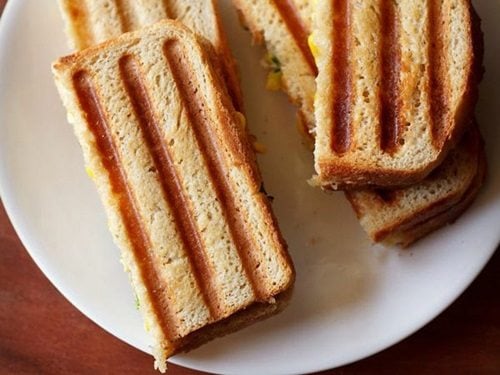 19. Corn schezwan fried rice recipe – spicy schezwan corn fried rice made with sweet corn.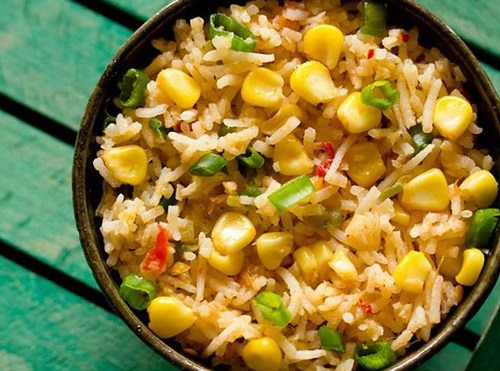 20. Corn cheese toast recipe – a simple and easy toast sandwich stuffed with corn which has been seasoned with herbs and cheese.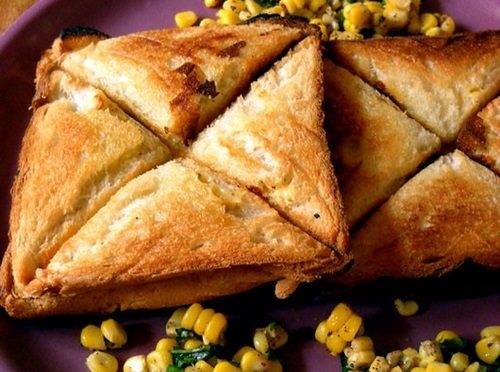 21. Corn spinach pulao recipe – easy recipe of a mild and lightly spiced pulao made with spinach and corn.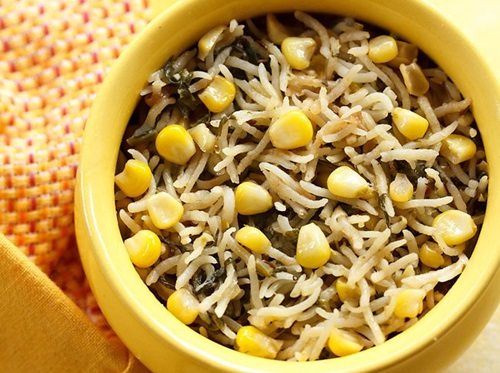 22. Sweet corn sundal recipe – sundals are South Indian based dishes made with a variety of legumes and is prepared during Ganesh Chaturthi or Navratri.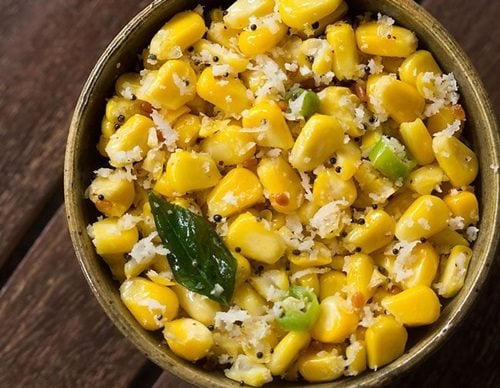 23. Corn salsa recipe – tasty, tangy and spicy salsa made with sweet corn. salsa is one of the easiest dishes one can prepare for a quick snack or starter option.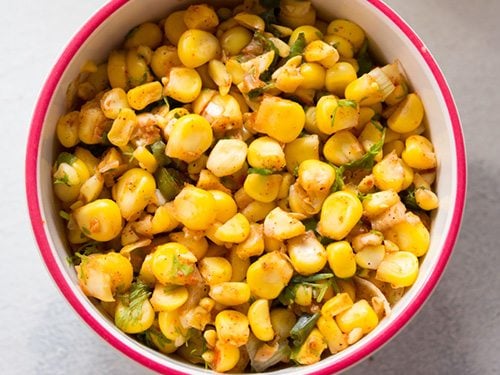 24. Sweet corn kebab recipe – this crispy and tasty corn kabab is an easy to make snack. with this kabab recipe you can also make corn cutlets.