Collection of 26 delicious chocolate recipes – chocolate is one ingredient that is loved by many folks including kids. In this post, I am sharing a collection of chocolate recipes that I have added on blog. As I add more recipes, I will update this collection.
The collection mainly consists of eggless cakes along with some desserts, smoothie and a sandwich. If you are a chocolate lover, then do try these chocolate recipes. For more sweets recipes you can also check these below collections:
Get My Secrets to Great Indian Food
Sign up for my FREE Beginners Guide to Delicious Indian Cooking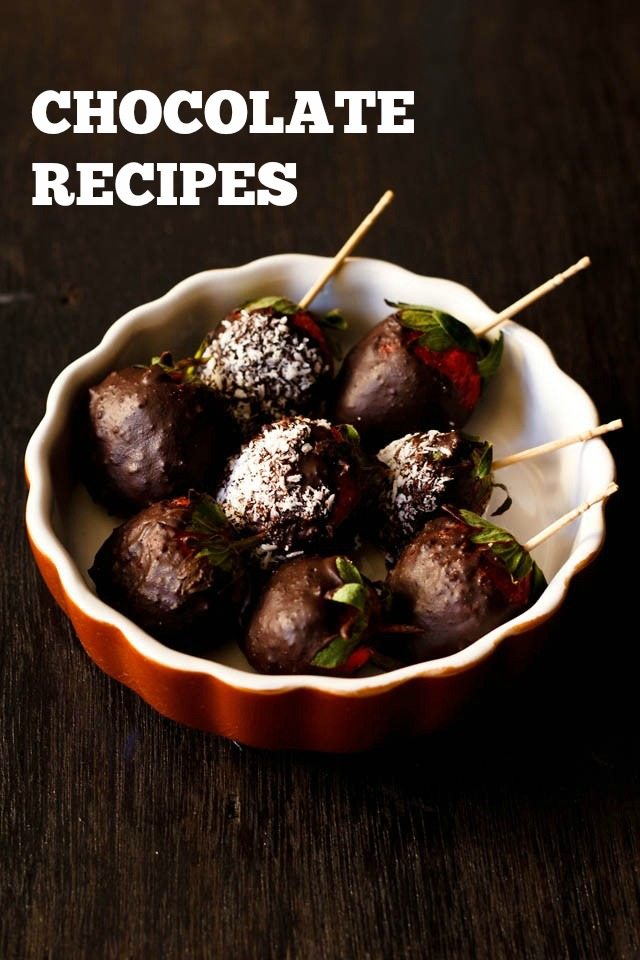 Collection of 26 delicious chocolate recipes
1. Eggless chocolate cake recipe – tasty chocolate cake recipe made with whole wheat flour (atta). The cake is soft and moist and can be used a base cake for various chocolate frostings.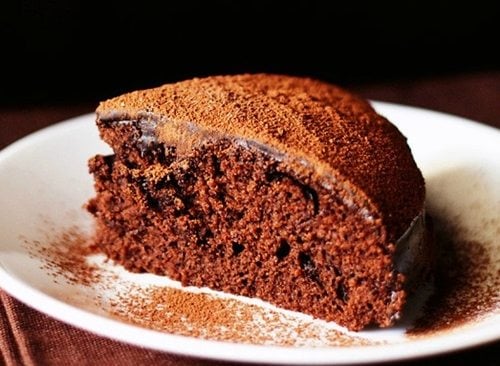 2. Black forest cake recipe – an eggless recipe of the classic black forest cake. To make this cake, you need an basic chocolate cake or a chocolate sponge cake. You can get the cake from outside or make your own at home. I have used my basic eggless chocolate cake made from whole wheat flour as a base for this black forest cake.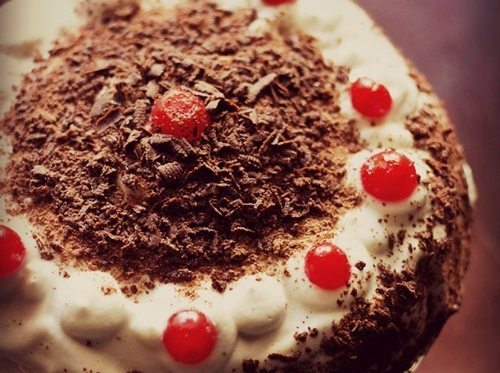 3. Eggless chocolate ice cream recipe – easy recipe of a creamy and smooth chocolate ice cream. Does not need any ice cream maker and also you do not have to beat ice cream twice or thrice. Just make once, freeze and then enjoy.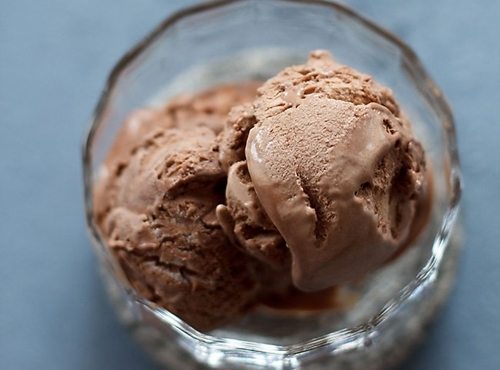 4. Eggless chocolate brownie recipe – an easy recipe of chocolate brownie made with whole wheat flour (atta used for making chapatis), sugar, cocoa powder, baking powder and oil.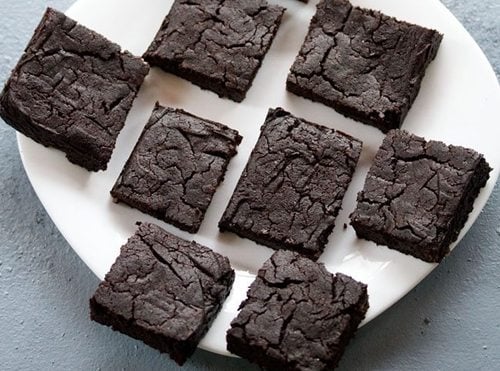 5. Eggless chocolate cake recipe in pressure cooker – the chocolate cake is soft, moist and light and tastes like dutch truffle cake. For more Recipes you can make in pressure cooker are Pav bhaji, Veg biryani, Ladi pav, Sponge cake, Gajar halwa and Veg pulao recipe.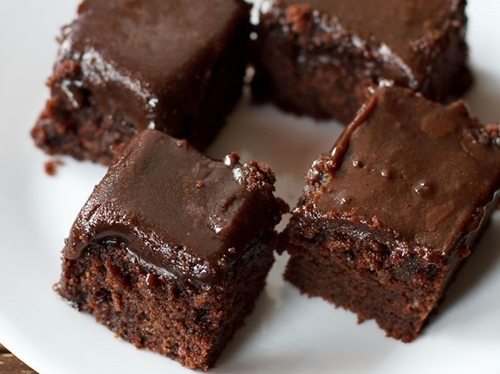 6. Eggless doughnut recipe – healthy version of donuts made with whole wheat flour (atta) and are baked. in the post, I have shared chocolate glaze as well as the cinnamon+sugar sprinkle recipes too. You can choose to glaze these doughnuts with your favorite glaze recipe. In the recipe I have used ingredients which are easily available in most Indian cities and towns.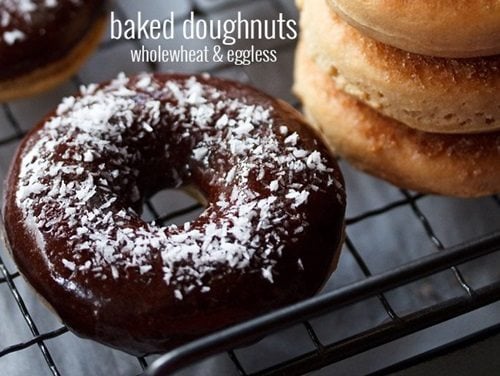 7. Eggless choco lava cake recipe – easy recipe of preparing delicious eggless choco lava cake. The recipe is very simple and makes use of whole wheat flour and cocoa powder.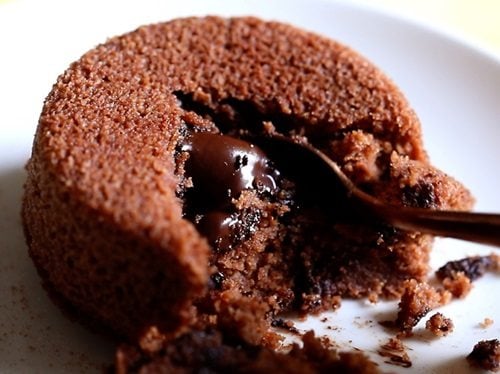 8. Eggless choco chip ice cream – easy recipe of a creamy, smooth choco chip ice cream. there is no ice crystal formation in this ice cream. You can make this ice cream any time and serve it whenever required.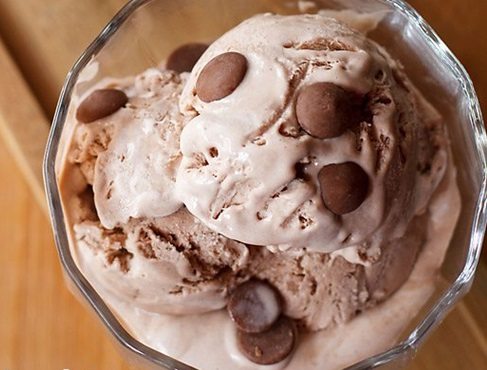 9. Chocolate chips muffins recipe – easy eggless choc chip muffins made with whole wheat flour (atta). the crumb and texture is soft, light and so good, that no one will come to know that the muffins are eggless and made from whole wheat flour.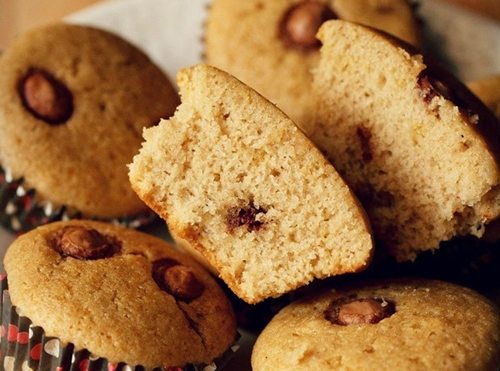 10. Eggless chocolate chip cookies recipe – soft textured and a slight chewy chocolate chip cookies made without eggs. These cookies are made from whole wheat flour or atta. The flour which we use for making rotis.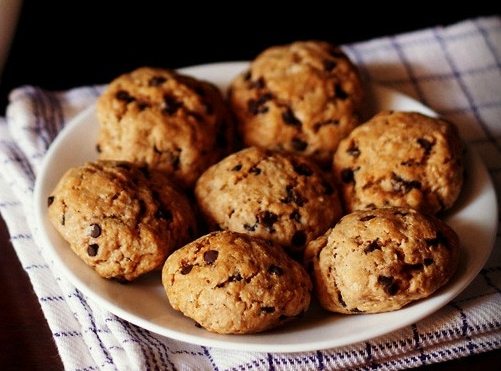 11. Eggless chocolate fuge recipe – quick and easy recipe of chocolate fudge with just 3 ingredients – chocolate, condensed milk and butter.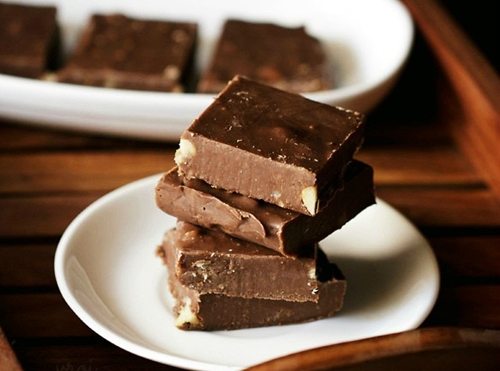 12. Chocolate sandwich recipe – crisp and sweet sandwiches made with choco chips. This chocolate sandwich is a quick and easy to prepare sweet snack, which gets done in no time. For more sandwich recipes, you can check this Collection of 32 sandwich recipes.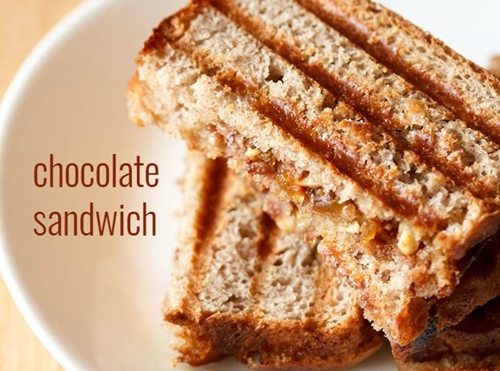 13. Eggless chocolate mousse recipe – this mousse recipe is completely vegetarian as it also does not use any gelatine. Few more mousse recipes on blog are Mango mousse, Pomegranate mousse and Banana mousse recipe.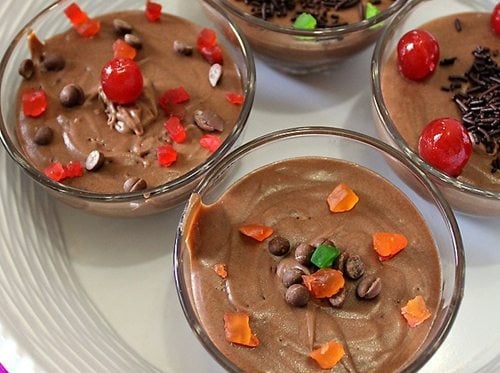 14. Chocolate cake recipe in pressure cooker – the chocolate cake was soft, spongy, moist and had a lovely texture to it. As a substitute for eggs, I have added flaxseed paste.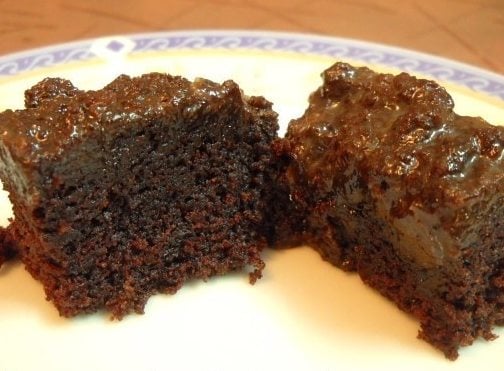 15. Chocolate milkshake recipe – easy and quick recipe to prepare delicious chocolate milkshake with cocoa powder. To get the best taste, I would suggest to use a good quality cocoa powder. Both Ice cream and ice cubes are optional and you can skip them. If you want to check more milkshake recipes, then you can check this Collection of 10 best milkshake recipes.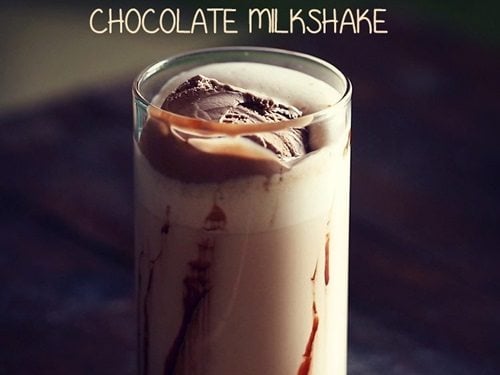 16. Chocolate marzipan recipe – soft, melt in the mouth marzipan with cashew, chocolate and coconut goodness. If you love chocolates and cashews then try these delicious chocolate marzipan.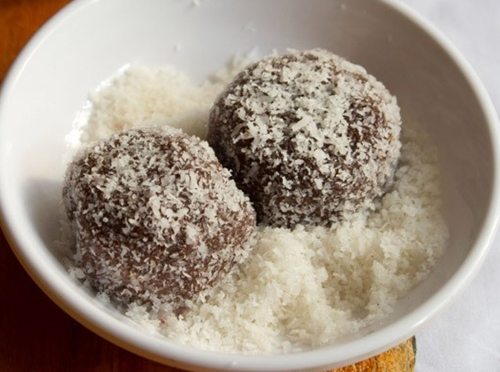 17. Eggless banana chocolate cake recipe – delicious, soft, crumbly and a little dense eggless banana chocolate cake. Few more Popular cake recipes on blog are Banana cake, Vanilla cake, Mawa cake and Whole wheat cake recipe.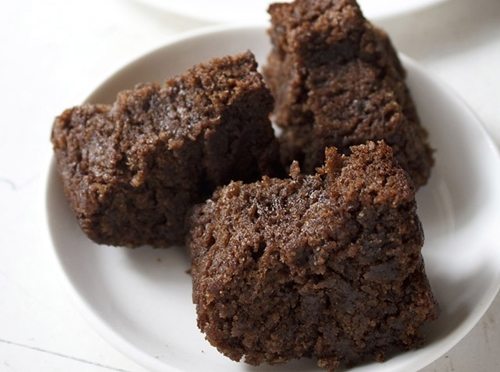 18. Banana chocolate mousse recipe – creamy and smooth eggless mousse made with bananas and chocolate.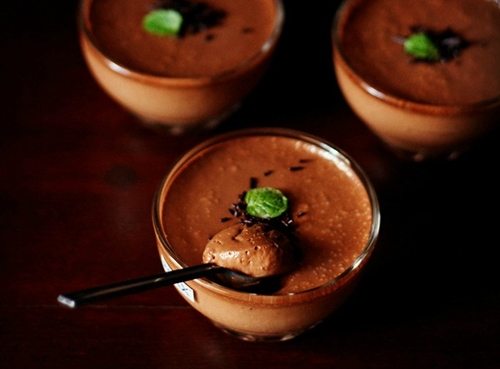 19. Chocolate avocado mousse recipe – a healthy eggless and vegan mousse recipe. This quick to make mousse gets done in 10 minutes.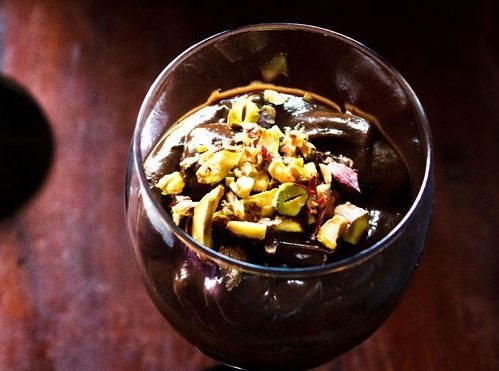 20. Chocolate sandesh recipe – a chocolate based variation of the popular cottage cheese sweet fudge from bengal. You can also check Sandesh recipe.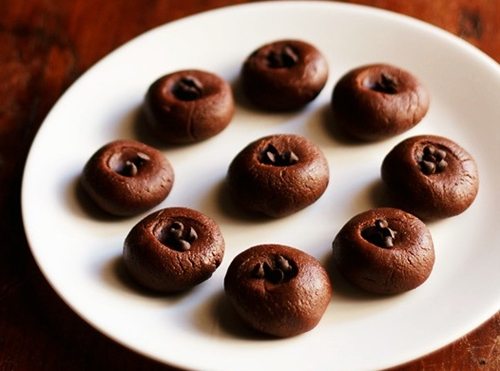 21. Chocolate modak recipe – these modaks are prepared mainly from 3 ingredients chocolate, mawa (khoya or evaporated milk solids) and sugar. This modak recipe takes less than 30 mins to make and is simple to make during festive seasons. It is similar to the recipe of Mawa modak.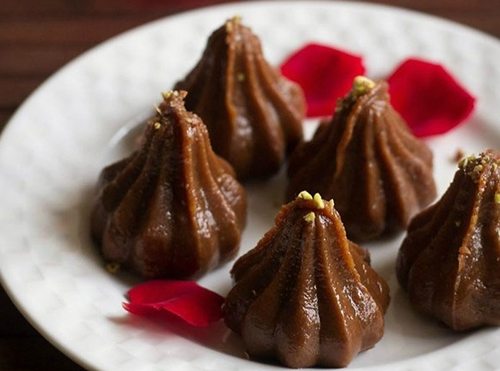 22. Eggless chocolate banana carrot cake – a dense, moist and healthy cake made from bananas, carrot and chocolate. Eggless and dairy free recipe.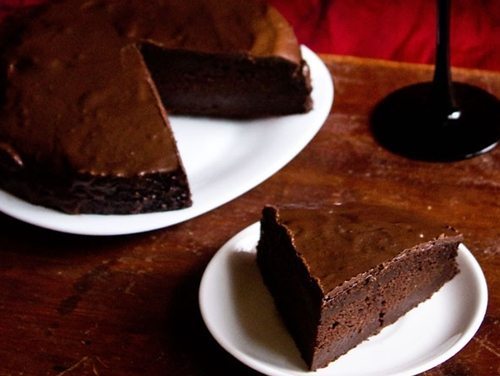 23. Chocolate covered strawberries recipe – this is one dessert that you can make at home and you don't need to spend a lot on buying such chocolate desserts from out. You can even dip roasted dry fruits like almonds, cashews and pistachios with chocolate.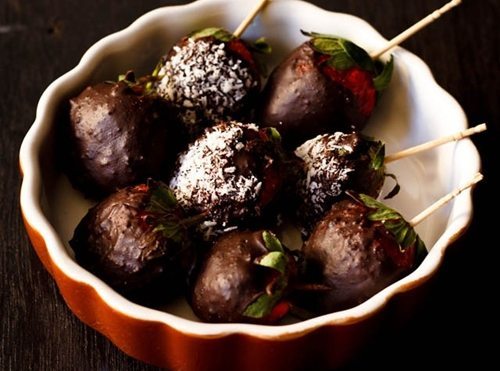 24. Chocolate banana smoothie recipe – vegan chocolate banana smoothie with Thai basil.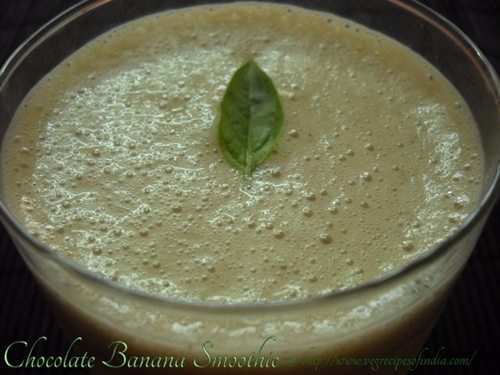 25. Eggless chocolate pudding recipe – this is a 15 minute delicious chocolate pudding made with 4 ingredients. Yes, this pudding can be made very quickly. The 15 minute times includes getting the ingredients together and cooking the pudding mixture.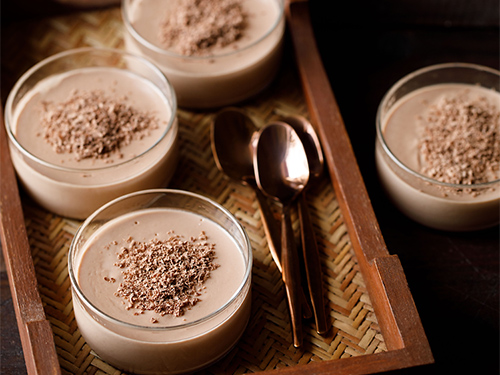 26. No bake chocolate biscuit cake – biscuit cake is one of the easiest and yummy cake recipe one can make. This no bake biscuit cake has chocolate in it and tastes too good.