I have made this viral & super trending Korean Dalgona Coffee or Whipped Coffee many times. Few readers had also requested to share the recipe. It was time I shared the recipe which has different proportions than the actual one. In sharing the recipe, I am actually late but better late than never.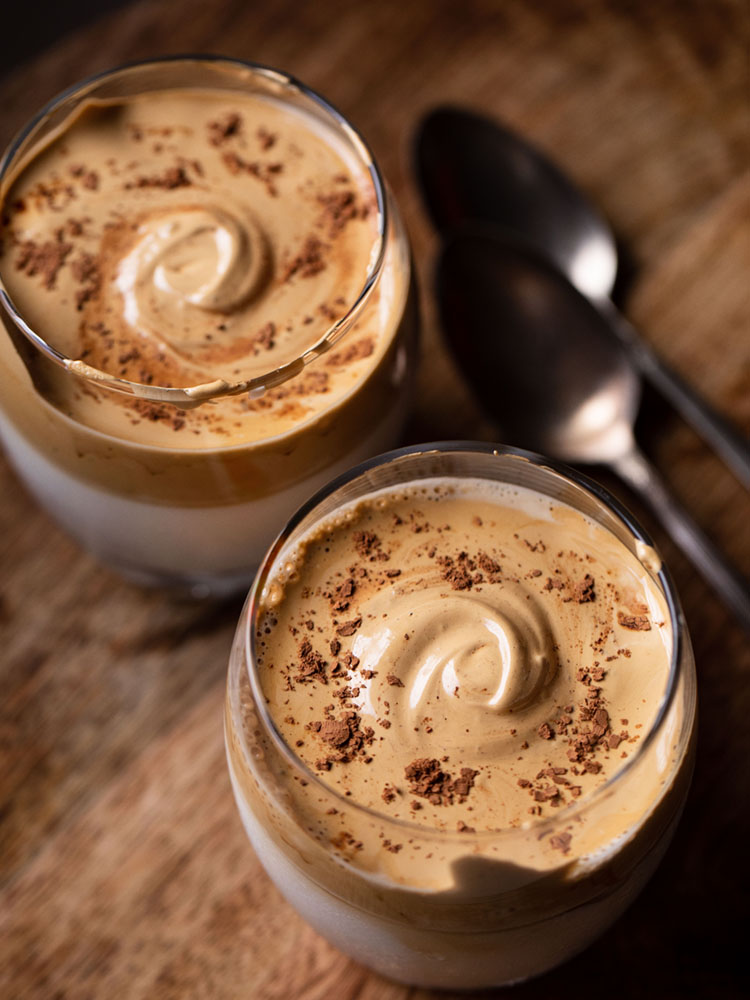 Dalgona Coffee is from South Korea and became one of the most trended recipes during this time. When I first saw the method, I was amazed as it the same as making the Indian Beaten Coffee.
Just that in the Indian Beaten Coffee we do not whip the coffee mixture so much. Whereas in Dalgona Coffee, the mixture is whipped or beaten to an extent of getting a foamy, smooth, creamy consistency much like whipped cream. Yes this coffee cream is a bomb full of flavors of coffee and only coffee.
Ingredient Proportions
You see, my recipe ingredient proportions are totally different than the usual dalgona coffee recipe proportions – which are equal measure of coffee, sugar and hot water.
When I made the coffee for the first time I found it too strong, acidic and bitter for my taste. Later I experimented with the proportions of sugar, water and coffee. What worked best for us what toning down the coffee and increasing the sugar.
Following my recipe proportions you will get a perfect whipped coffee which is not too bitter or too strong.
The recipe proportions for instant coffee, water and sugar and 1:2:3 respectively. This 1:2:3 proportion is very easy to follow and remember. Listed below are the proportions (with tablespoon measures).
1 tablespoon instant coffee
2 tablespoons hot boiling water
3 tablespoons sugar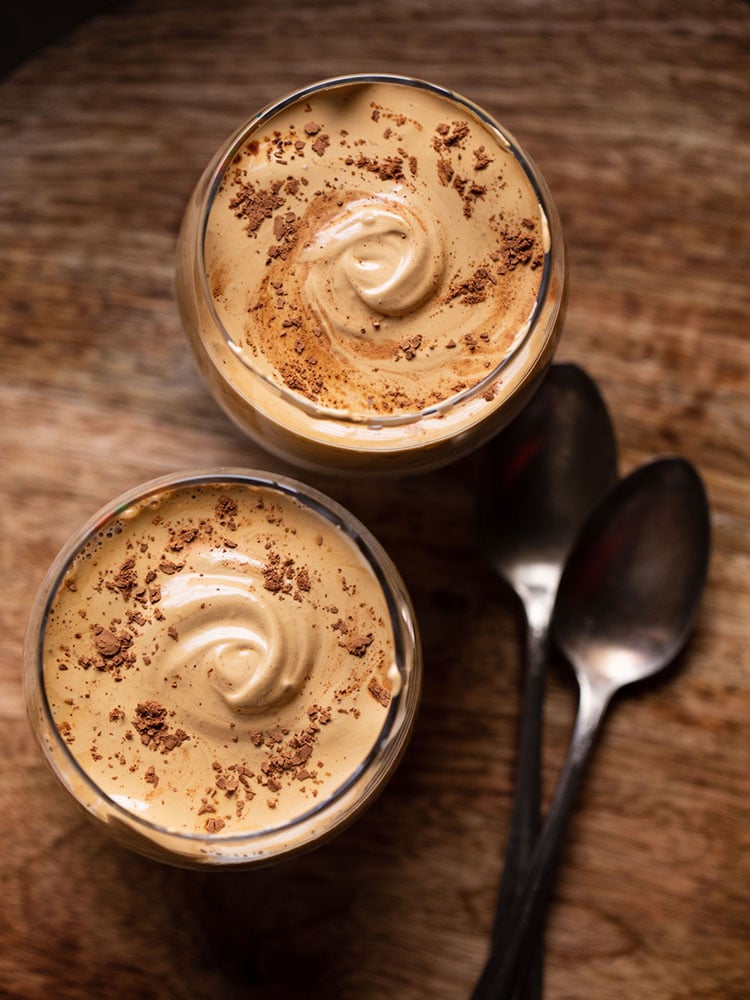 Tips to make Dalgona Coffee
Coffee Foam: To get that foamy and creamy consistency, do not reduce the sugar in the recipe. You can add more if you want. It is actually the sugar that helps in getting that creaminess.
Hot water: Do add hot water when whipping the coffee. The water has to be very hot. If the water is not hot, then you won't get that creamy consistency. Add the amount of water as mentioned in the recipe. Do not add more.
Sugar: Use any granulated sugar. It can be white sugar or unrefined cane sugar. But do not use powdered sugars or sweeteners like maple syrup, honey, coconut sugar or dates syrup. Only granulated sugar works.
Coffee: Use only Instant Coffee and not other types of coffee.
Whipping the Coffee: When beating the coffee mixture, use two kinds of beating. First beat clockwise and then use vertical zig-zag motions. Alternate between the two.
Vegan options: Add almond milk instead. I have made dalgona coffee with almond milk and it was good You can even try with cashew milk, soy milk (GMO Free) and oats milk.
Hot or Cold Coffee: You can make either hot coffee or cold coffee. I have mentioned the cold coffee version here. For a hot coffee, just add hot milk instead of chilled milk.
Making Korean Dalgona Coffee is super easy. All you need is a bowl and a wired whisk. You can even use a hand mixer which we use while making cake batter or whipping cream. A mixer-grinder or a small blender will also do.
When mixing with the whisk, you have to beat continuously for 10 to 12 minutes and yes that is a good arm exercise. So let's begin.
How to make Dalgona Coffee
Beating method with a whisk
1. In a small to medium sized mixing bowl, take 1 tablespoon instant coffee and 3 tablespoons sugar.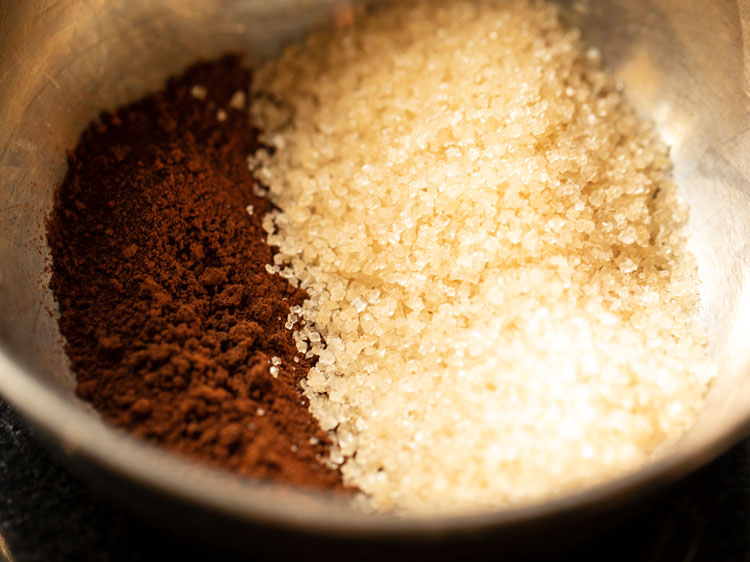 2. Pour 2 tablespoons of hot boiling water.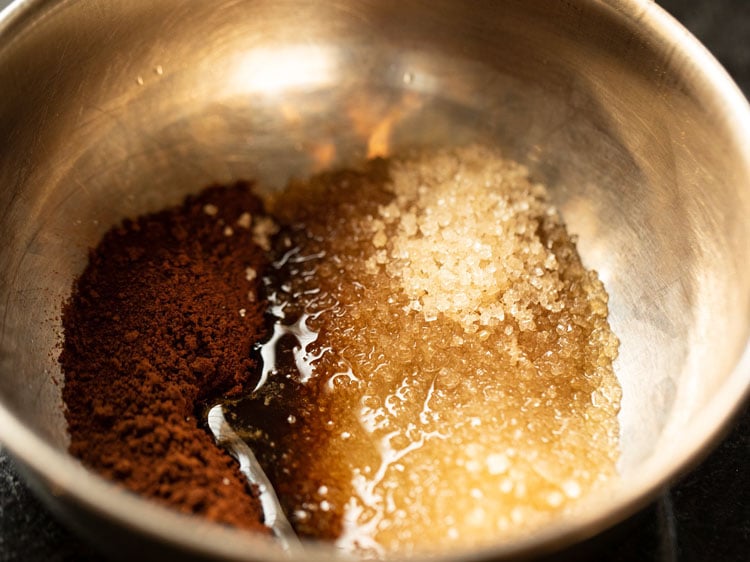 3. Mix and then begin to beat the coffee.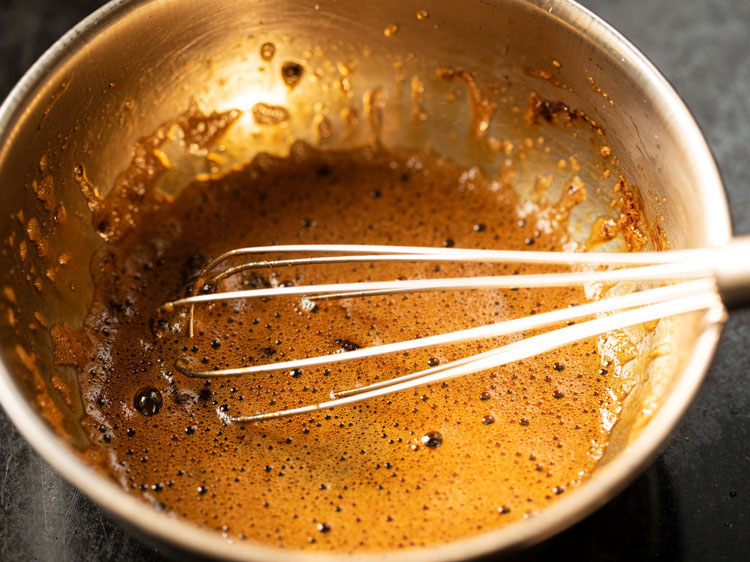 4. Use two ways of beating the coffee. First beat clockwise and then use vertical zig-zag motions. Alternate between the two. If the bowl is small, then slightly tilt the bowl and beat.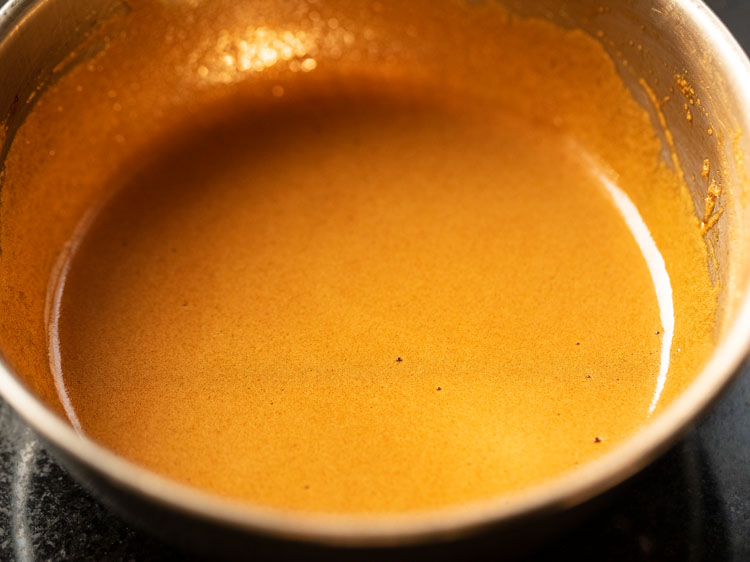 5. The coffee consistency after a total of 5 minutes.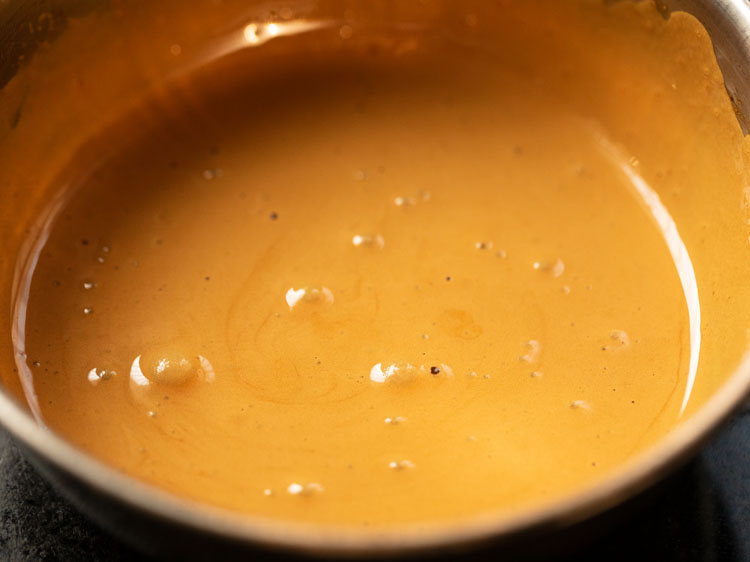 6. After continuing to beat for further 3 minutes, this is the coffee consistency.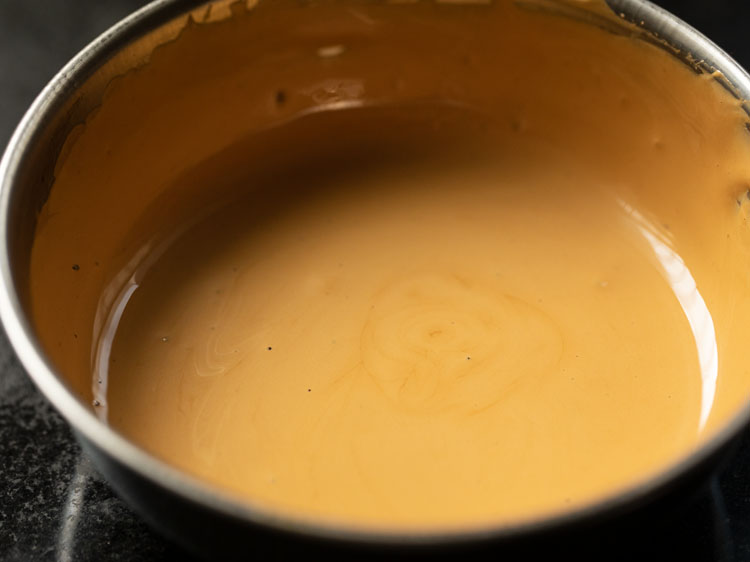 7. The final consistency after further 5 minutes which is like whipped cream. You will see that the color has also lightened. So get this foamy whipped consistency, beat for a total of 10 to 12 minutes.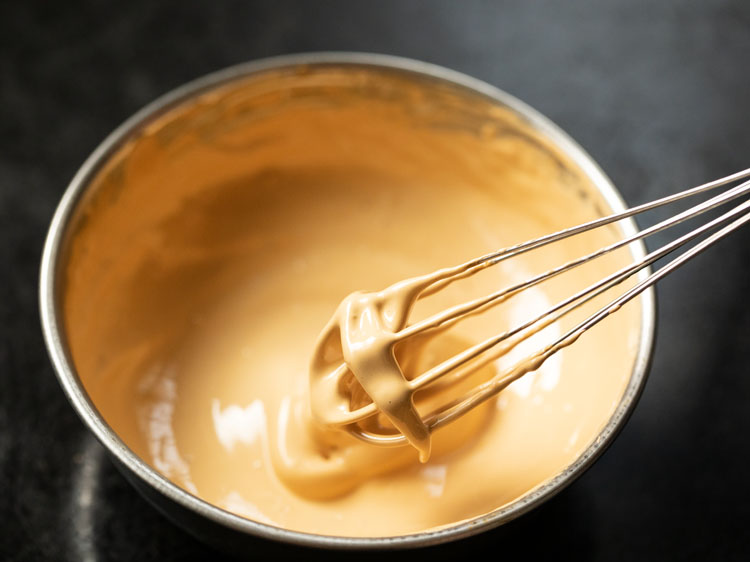 Whipping in a Mixer or Blender
8. For a quicker option, add the coffee, hot water and sugar in a small mixer-grinder or a small blender jar. Blend till you get a creamy consistency.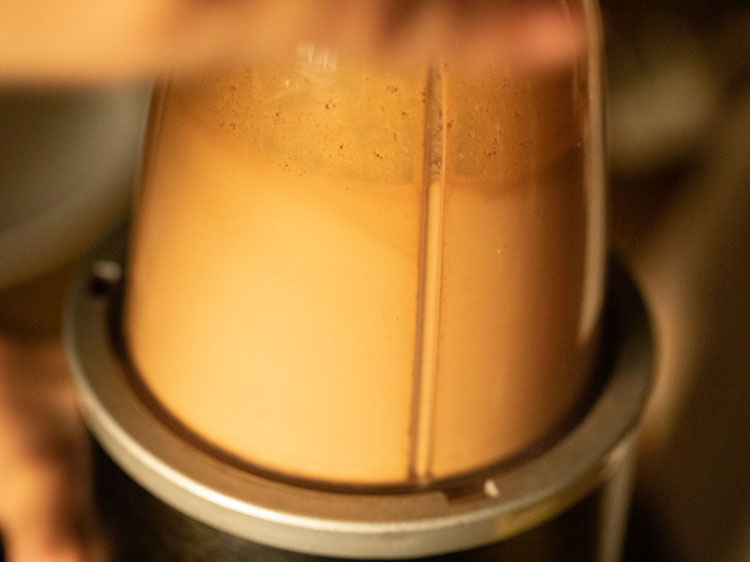 Making Dalgona Coffee
9. Take 2 to 3 ice cubes (optional) in two mugs or glasses. Divide 1.5 milk between both the glasses. Ice cubes can be skipped if you use chilled cold milk.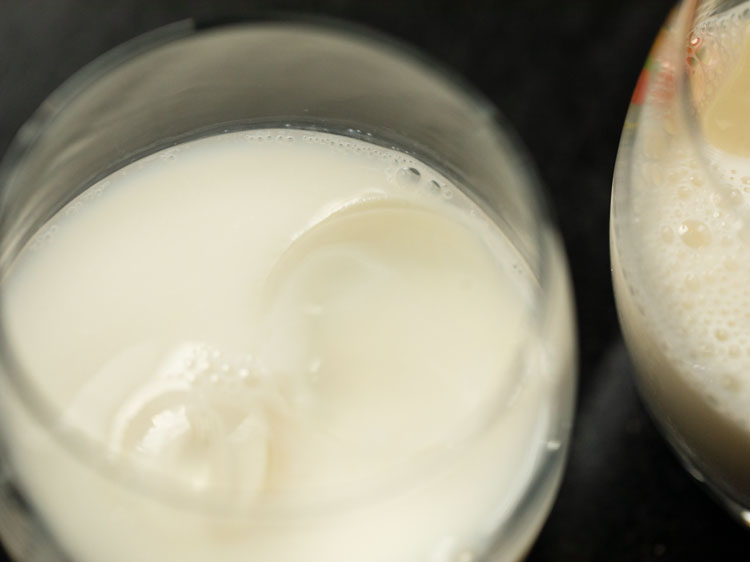 10. Spoon the creamy whipped coffee on top.
11. Sprinkle some cocoa powder on top. Serve. Stir and then sip. Enjoy !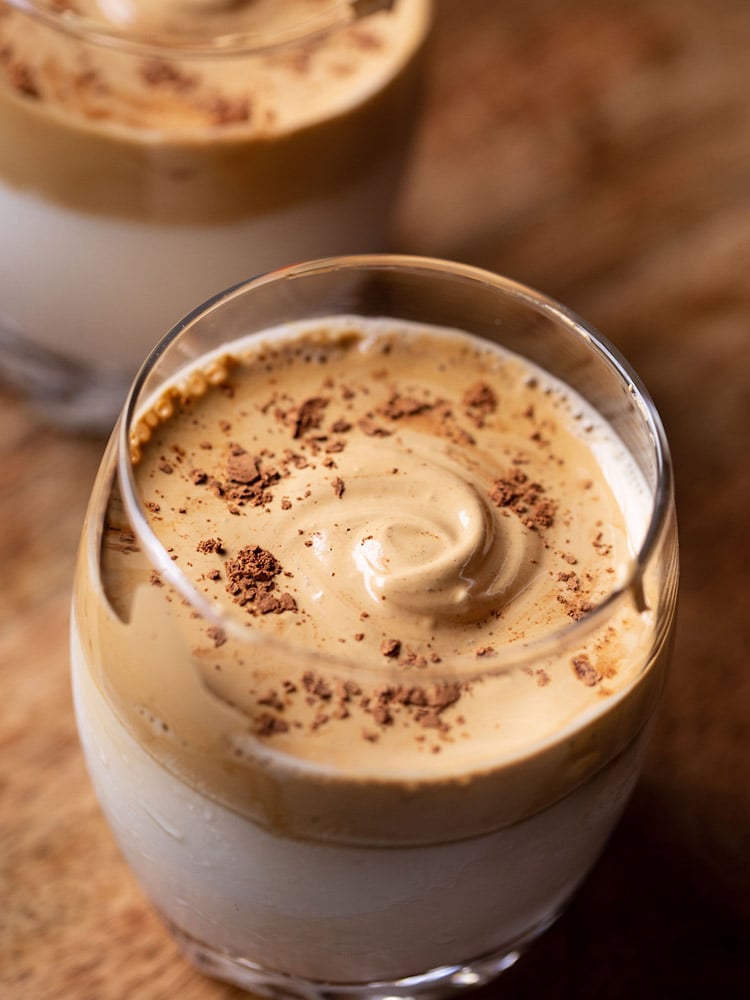 If you made this recipe, please be sure to rate it in the recipe card below. Sign Up for my email newsletter or you can follow me on Instagram, Facebook, Youtube, Pinterest or Twitter for more vegetarian inspirations.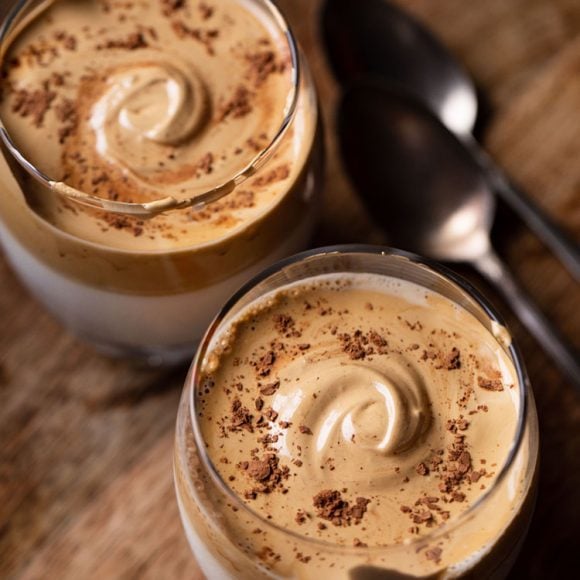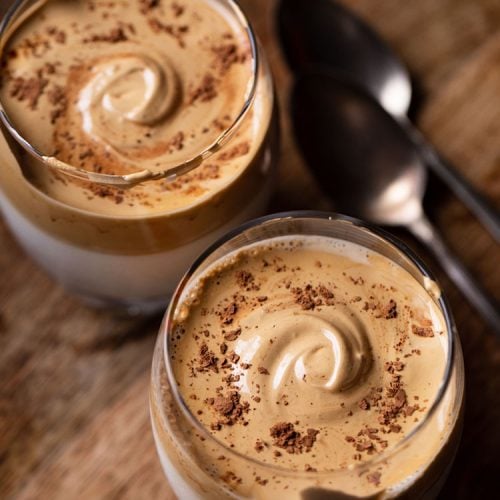 Whipped Coffee | Korean Dalgona Coffee
The super trending Dalgona Coffee made better with different ingredient proportions.
---
---
Ingredients
For whipping
1

tablespoon

instant coffee

3

tablespoons

sugar

2

tablespoons

hot boiling water.
Other Ingredients
1.5

cups

milk

(at room temperature or chilled)

ice cubes

- as required, optional
For topping
¼

teaspoon

cocoa powder

- optional
Instructions
Whipping Coffee Mixture
Take coffee, sugar and hot boiling water in a mixing bowl.

Using a small whisk begin to whip & beat till the mixture is creamy and thick.

Use two ways of beating the coffee. First beat clockwise and then use vertical zig-zag motions. Alternate between the two. If the bowl is small, then slightly tilt the bowl and beat.

To whip, can also use a small blender or mixer-grinder or a hand-held mixer (which is used for whipping cream or making cake batter).
Making Dalgona Coffee
Add 2 to 3 ice cubes in a mug or glass.

Divide 1.5 milk between both the glasses.

Now divide the whipped coffee equally in the two glasses.

Sprinkle some cocoa powder on the coffee (optional). Serve.
Nutrition Info
Approximate values
Nutrition Facts
Whipped Coffee | Korean Dalgona Coffee
Amount Per Serving
Calories 192
Calories from Fat 54
% Daily Value*
Fat 6g9%
Cholesterol 18mg6%
Sodium 81mg4%
Potassium 330mg9%
Carbohydrates 29g10%
Protein 6g12%
Vitamin A 296IU6%
Vitamin B1 (Thiamine) 1mg67%
Vitamin B2 (Riboflavin) 1mg59%
Vitamin B3 (Niacin) 1mg5%
Vitamin B6 1mg50%
Vitamin B12 1µg17%
Vitamin D 2µg13%
Vitamin E 1mg7%
Vitamin K 1µg1%
Calcium 207mg21%
Vitamin B9 (Folate) 9µg2%
Iron 1mg6%
Magnesium 26mg7%
Phosphorus 161mg16%
Zinc 1mg7%
* Percent Daily Values are based on a 2000 calorie diet.
Like our videos? Then do follow and subscribe to us on youtube to get the latest Recipe Video updates.
Tried this recipe?
If you have made the recipe and liked it then do share the recipe link on facebook, twitter & pinterest. For instagram mention @dassanasvegrecipes and tag #dassanasvegrecipes!
All our content & photos are copyright protected. Please do not copy. As a blogger, if you you want to adapt this recipe or make a youtube video, then please write the recipe in your own words and give a clickable link back to the recipe on this url.