Hot chocolate is a must-have winter beverage and treat. And a great hot chocolate recipe should create deep, rich chocolatey goodness in every warm sip! Here I share the secrets for how to make truly luxurious and creamy hot chocolate – with foolproof instructions and step-by-step photos.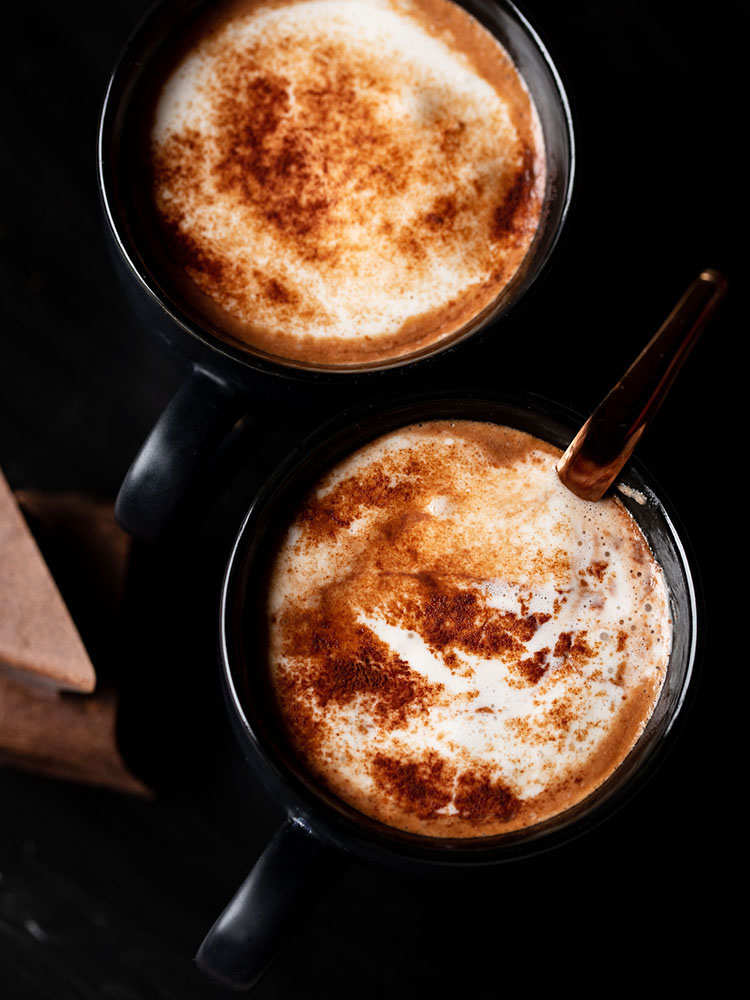 About Hot Chocolate
There is nothing more delightful than wrapping your hands around a mug of rich and luscious hot chocolate on a cold winter night. Or day!
And when I need something to really uplift my mood, I turn to this homemade hot cocoa recipe. In fact, there's always a block of chocolate in the kitchen for whenever a need arises – no matter what the weather.
Making a delicious, satisfying mug of this chocolate drink is as easy as 1-2-3! You simply:
Melt the chocolate.
Add the melted chocolate to hot milk (not boiling).
Stir and enjoy!
Hot Chocolate vs Hot Cocoa
Most of us are familiar with powdered hot cocoa mix, either in packets or tins. Sure these will work well in a pinch. However, the consistency tends to be rather grainy without any creaminess, even when the powder is blended with milk. And what you are making is Hot Cocoa and not Hot Chocolate.
Hot chocolate features real chocolate and not cocoa powder. Hot cocoa is much lighter and less richer. It simply made with milk, cocoa powder and sweeteners like sugar or maple syrup.
For a truly enjoyable hot chocolate drink, using real quality chocolate is the key. In this recipe I use a couverture chocolate bar.
The term "couverture" simply refers to any high-quality chocolate confection that contains at least 31% cocoa butter; and it's the cocoa butter than gives the beverage that perfectly creamy and smooth texture with an amazingly decadent taste.
But there are a few differences in the kinds of solid chocolate you can use.
Which Chocolate To Use?
Type of Chocolate: As mentioned above, I prefer couverture chocolate for its creaminess and depth of flavor. You can choose to use this or compound chocolate – which includes vegetable oil additives instead of cocoa butter. Or, you can use both couverture chocolate and compound chocolate.
Percentage of Cacao: There are several degrees of cacao percentages in different kinds of chocolate, ranging from more to less bitter/sweet. The higher the percentage of cacao the more bitter the confection will be. Use your choice of semi-sweet or bittersweet chocolate, milk chocolate, or even dark chocolate if you like.
Chocolate Chips: Chocolate chips or callets work just as well as chocolate bars to make hot cocoa!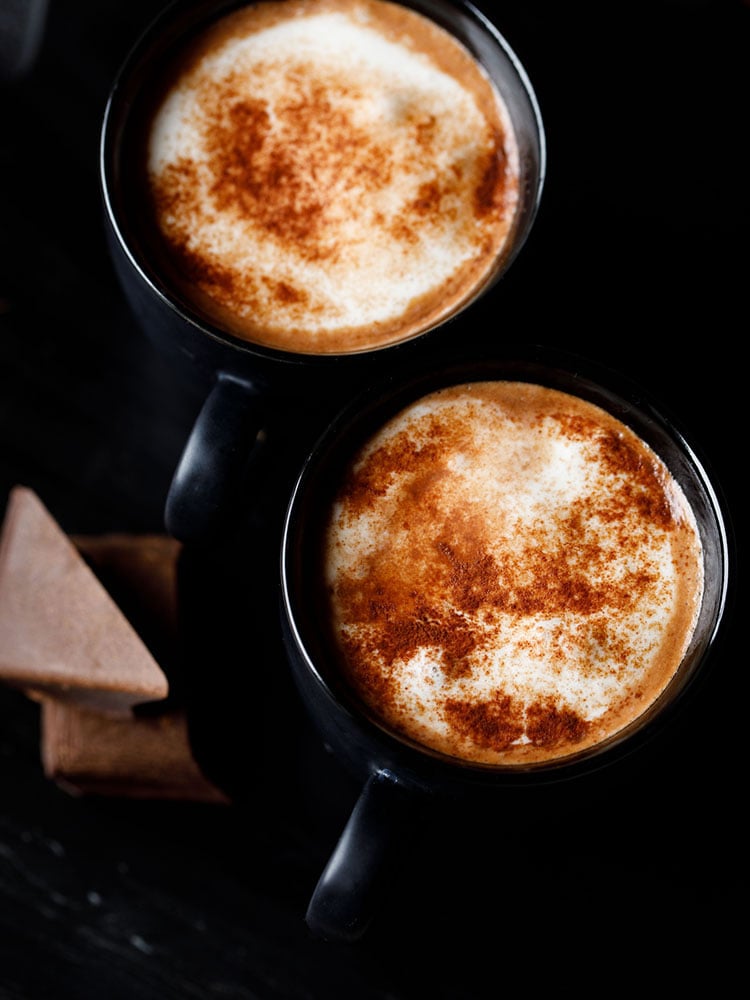 How to Make Hot Chocolate
Prep Chocolate and Heat Milk
1. First, chop 50 grams (1.76 ounces) of semi-sweet chocolate or other chocolate of choice. You will need 6 to 7 tablespoons of chopped chocolate (at room temperature).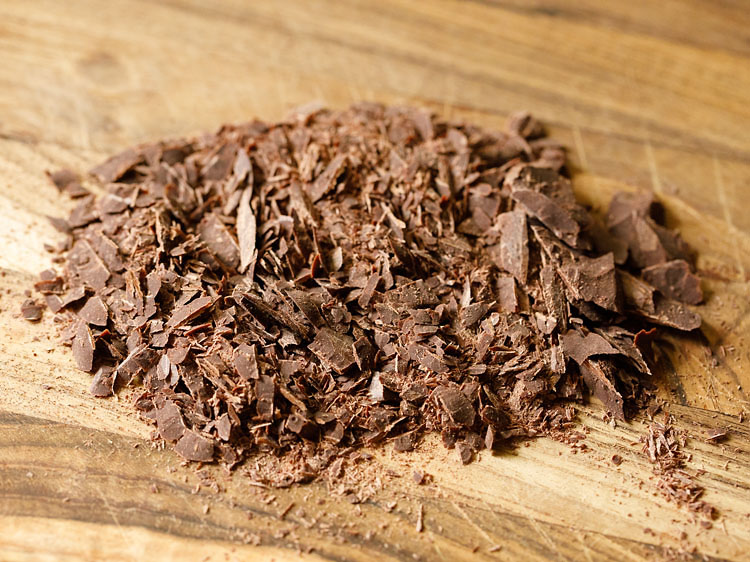 2. Add the chopped chocolate to a small mixing bowl. Set aside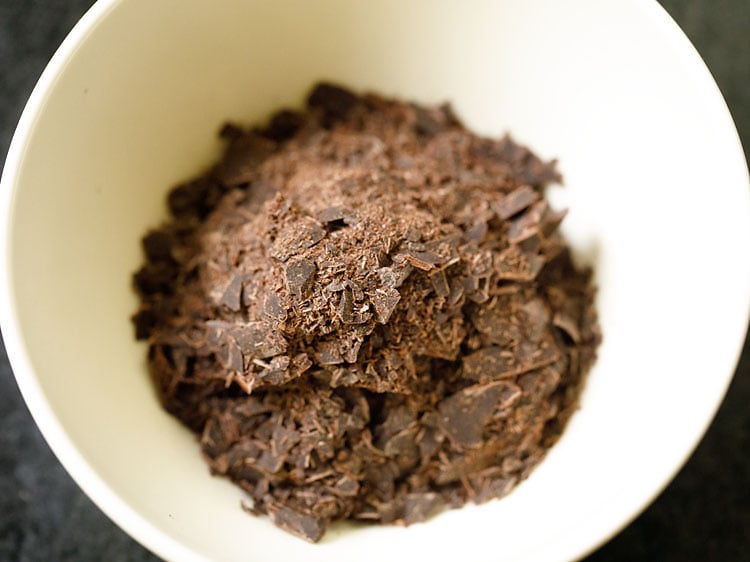 3. Now add 2 cups of full-fat milk or whole milk in a saucepan.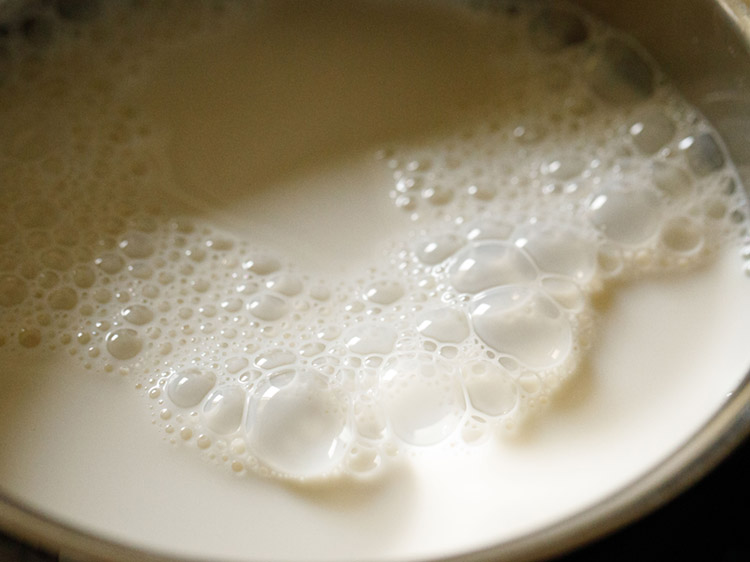 4. Add 2 tablespoons unrefined raw sugar, white granulate sugar, or maple syrup. Depending on the type of chocolate you use and how sweet it is, you can add less or more sugar.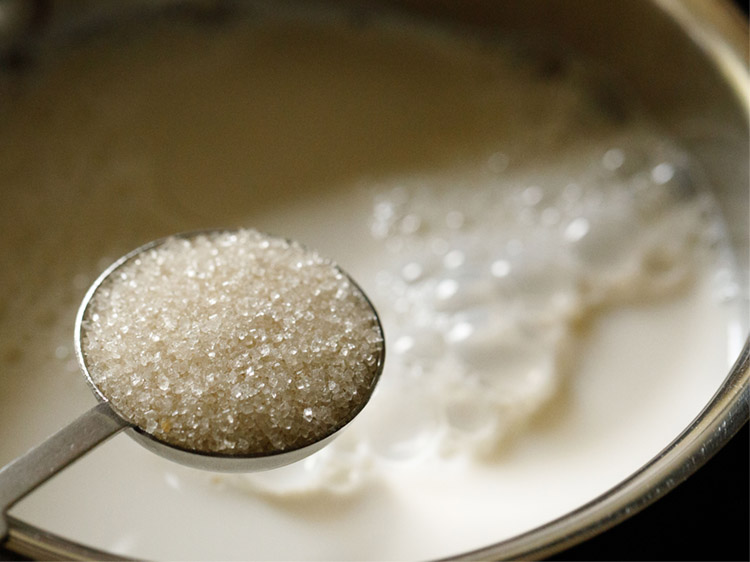 5. Turn the heat to medium-low and begin to heat the milk. Stir frequently, so that the sugar gets dissolved.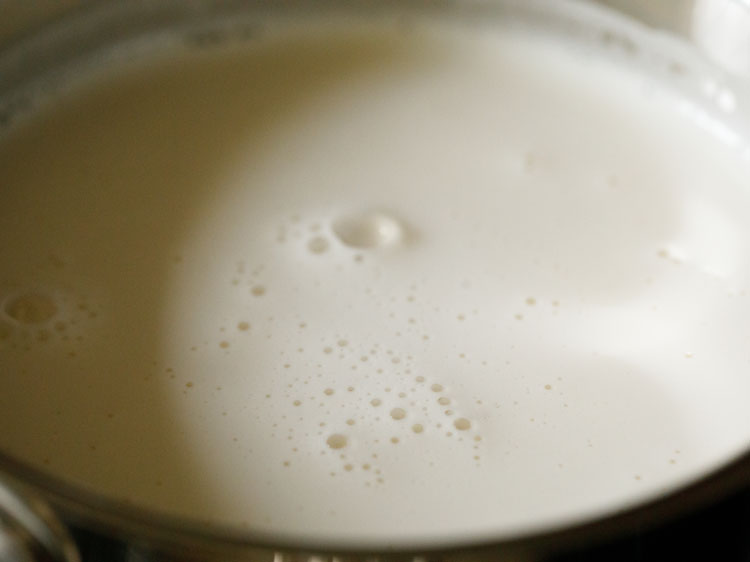 6. As soon as the milk reaches a low simmer or gentle boil, turn off the heat and remove the pan from the stove.
Place the pan on the countertop. You do not want the milk to heavily boil or scorch on the bottom.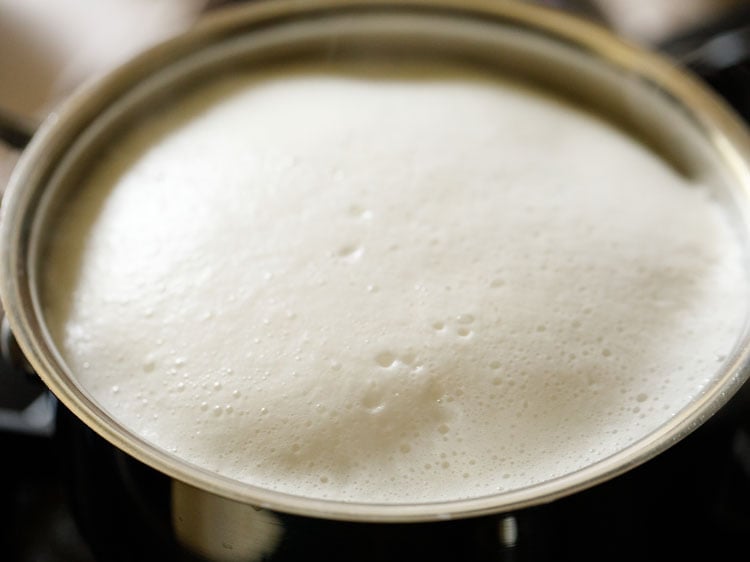 Melt Chocolate
7. Then add 2 to 3 tablespoons of the hot milk to the bowl containing chopped chocolate.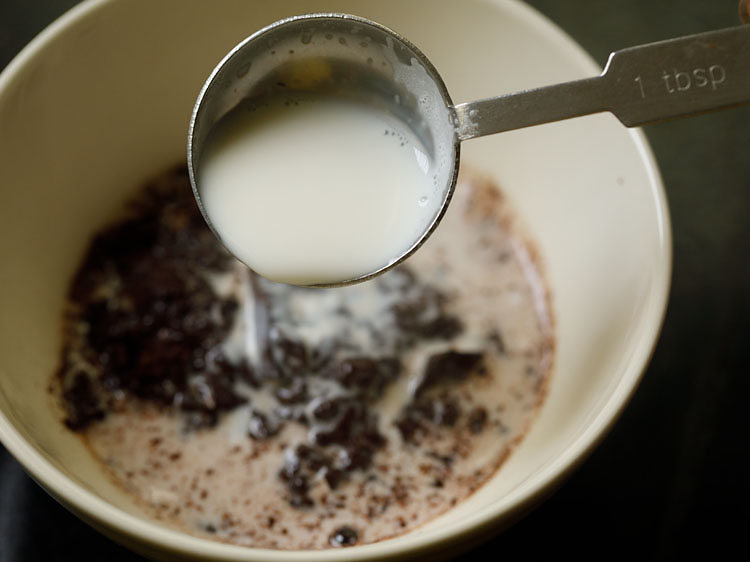 8. Whisk well to melt the chocolate.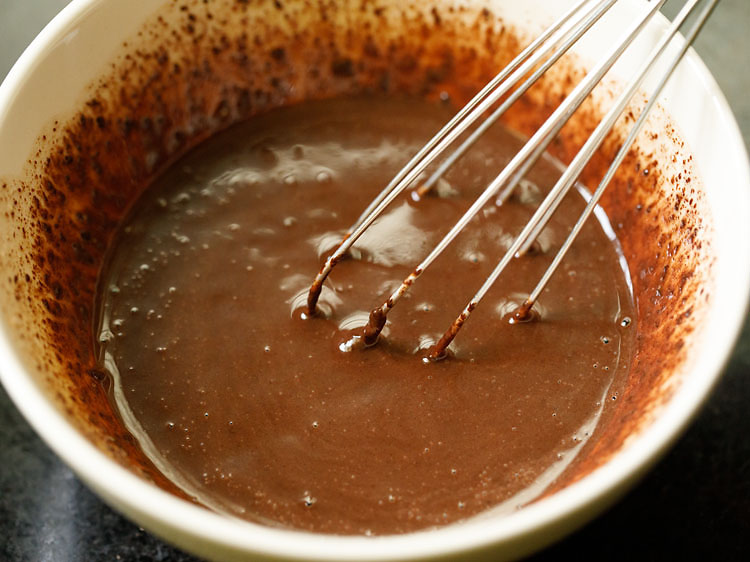 9. It should be completely smooth, like in the picture below. If the melted chocolate mixture looks grainy it means that the milk was very hot.
Make Hot Chocolate
10. Now pour this melted chocolate into the hot milk in the saucepan. Note that the saucepan is kept on the countertop and not on the burner.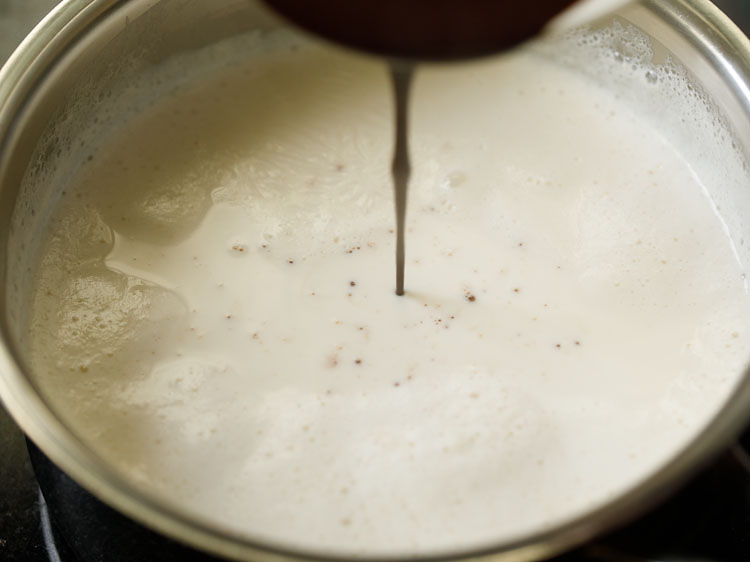 11. Mix very well with the whisk.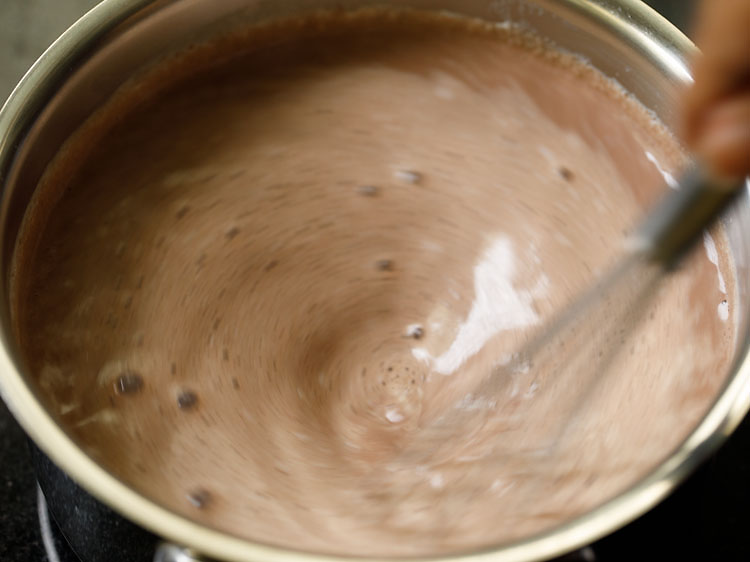 12. Add 1 teaspoon vanilla extract. Stir and mix again.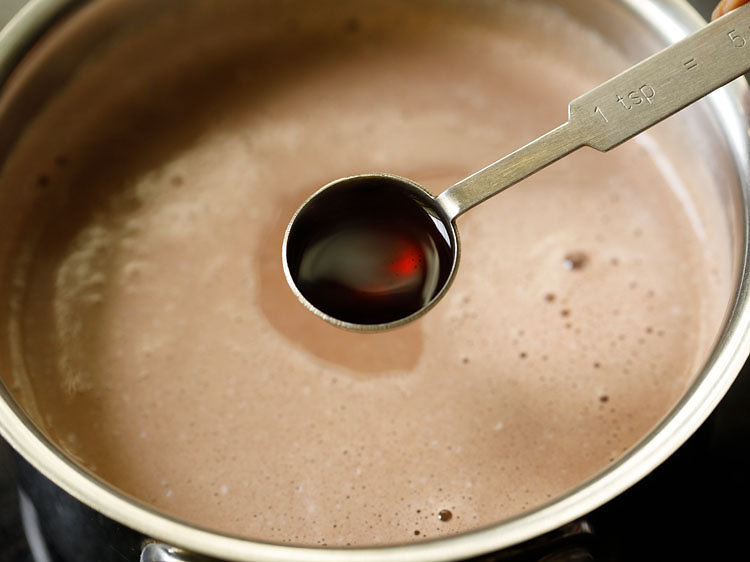 13. Pour hot chocolate in mugs or cups.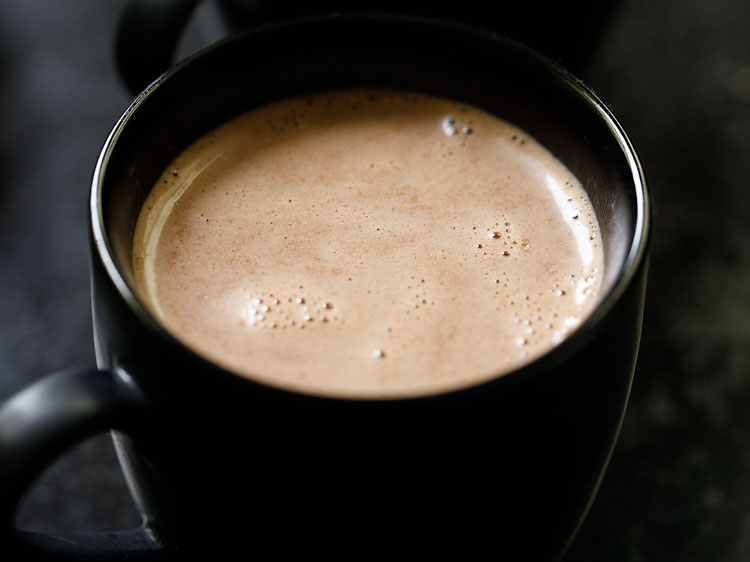 Garnish and Serving Suggestions
14. If you like, top each mug with 1 to 2 tablespoons of whipped cream (or whipping cream) or heavy cream.
If you have pre-made or canned whipped cream, use it or simply add either heavy or whipping cream.
Tip: Have the whipped cream ready to use at room temperature, not cold. If the cream is chilled it will quickly make the hot chocolate lukewarm.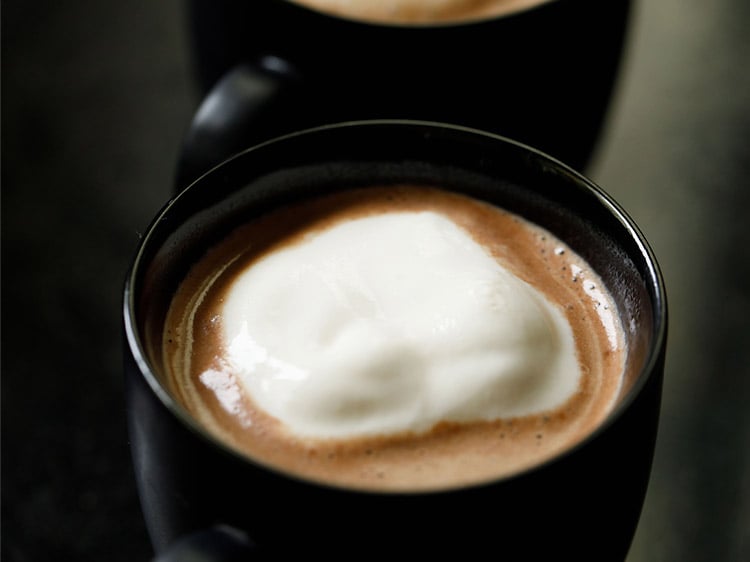 15. Sprinkle some cocoa powder, chocolate shavings or gratings on top. You can also top with 1 to 2 vegetarian marshmallows or chocolate sauce or caramel sauce or chocolate sprinkles.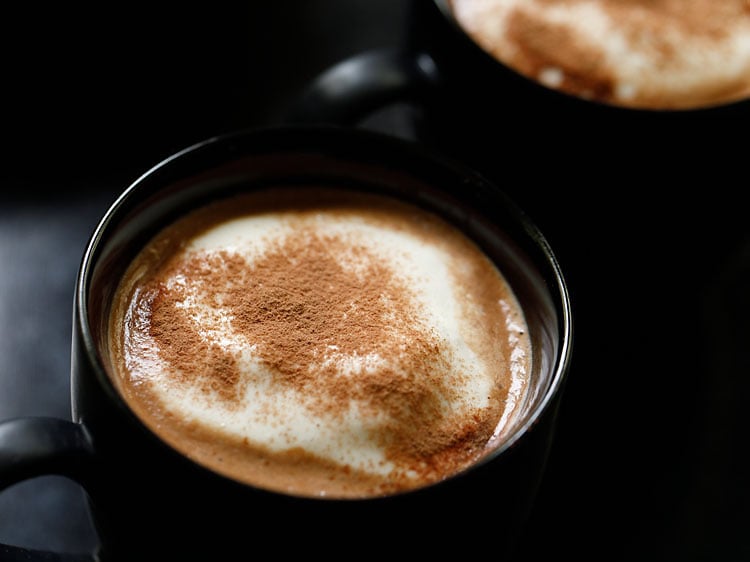 16. Serve Hot Chocolate immediately while hot or warm.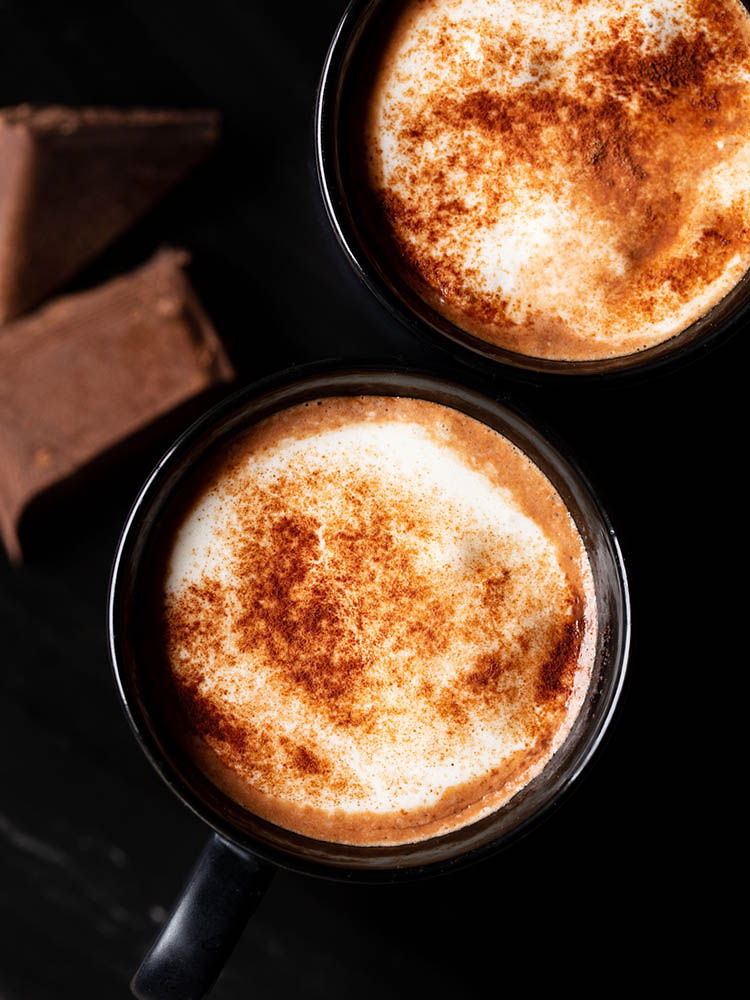 FAQs
How can I make this a dairy-free vegan hot chocolate recipe?
Use your favorite plant-based chocolate bar and non-dairy beverage to make a delicious DF drink. Oat milk and almond milk tend to be the creamiest alternatives.
What other toppings can I add to homemade hot chocolate?
There are nearly endless types of goodies you can add to this recipe! Top your mug of hot cocoa with vegetarian mini marshmallows or 1 or 2 full sized marshmallows.

You can also add a drizzle of chocolate sauce or caramel sauce, or candy sprinkles to the whipped cream on top!
What snacks go well with a mug of hot cocoa?
While hot chocolate does pair well with dessert-type treats, because it is already a sweet beverage I suggest you enjoy with non-chocolate snacks.

A few of my favorite winter delights include Gingerbread Cookies and Butter Cookies, and Gingerbread Cake.
How long does hot chocolate last?
Hot cocoa tastes best when freshly made and enjoyed warm. However, you can let the drink cool completely (without adding cream) then store in a sealed container in the fridge for a few days.

Reheat slowly on the stovetop in a small saucepan – take care to not boil or burn the hot chocolate! Or reheat in the microwave in short 20 second bursts, stirring in between, until warmed.
More Tasty Warming Drinks To Try!
Please be sure to rate the recipe in the recipe card or leave a comment below if you have made it. For more vegetarian inspirations, Sign Up for my emails or follow me on Instagram, Youtube, Facebook, Pinterest or Twitter.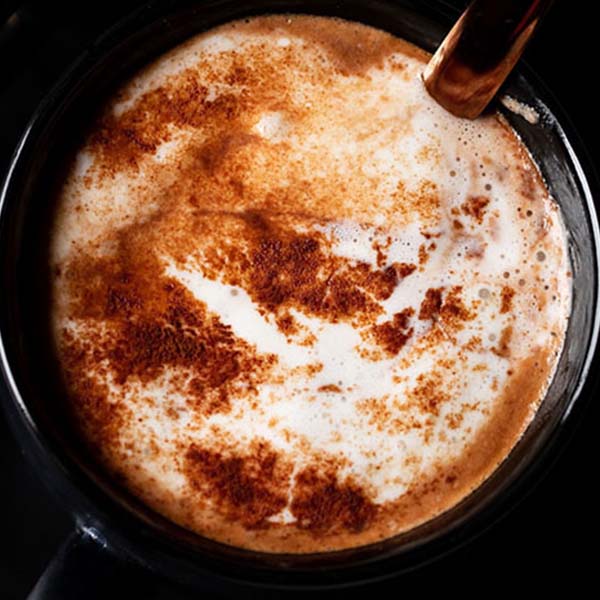 Hot Chocolate Recipe
Creamy and thick homemade Hot Chocolate for a rich chocolatey goodness in every warm sip. The recipe is made with cooking (baking) chocolate, milk and cream for a warming and luxurious beverage.
6 to 7

tablespoons

chopped semi-sweet chocolate

(or grated) – 50 grams, at room temperature

2

cups

whole milk

2

tablespoons

raw sugar

or white sugar, add as required

1

teaspoon

vanilla extract

or ¼ to ½ teaspoon vanilla essence

2 to 4

tablespoons

whipped cream

or whipping cream or heavy cream, add as required – optional
Instructions
Prepping Chocolate
Chop or grate the semi-sweet chocolate. You will need 6 to 7 tablespoons of chopped chocolate.

Take the chopped chocolate in a small mixing bowl. Set the bowl aside.
Heating Milk
In a saucepan add milk and sugar.

Begin to heat the milk until it comes to a simmer and begins to gently boil. When you keep the milk on the stove-top, stir so that the sugar dissolves.

Switch off the heat and place saucepan on the countertop.
Melting Chocolate
Then take 2 to 3 tablespoons milk from the hot milk in the saucepan and add to the bowl containing chopped chocolate.

With a whisk mix the hot milk with the chocolate to a smooth consistency.
Mixing
Now pour this melted chocolate and vanilla extract in the hot milk in the saucepan which is placed on the kitchen countertop. Mix very well.

Pour hot chocolate in cups.

If you like top the hot chocolate with some whipped cream (or whipping cream) or heavy cream. If you have whipped cream, use it or simply add either heavy or whipping cream. You can also sprinkle some cocoa powder or chocolate shavings or gratings on top.

Serve homemade Hot Chocolate straightaway.
Notes
Milk: Use whole milk or full-fat milk. Skimmed milk or toned milk can curdle.
Chocolate: For best results use couverture chocolate. Make sure that the chocolate is at room temperature.
Melting Chocolate: Remember not to add overly boiling milk to the chopped chocolate as this can make the melted chocolate grainy or release fat from it.
Whipped cream: Adding cream is optional and can be skipped. Do note that the whipped cream should be not cold or chilled but at room temperature. If the whipping cream is chilled, the drink will become lukewarm. You can also add whipping cream or heavy cream.
Melting chocolate: The chopped chocolate can also be melted in a microwave or using the double boiler method.
Vegan options: You can substitute with almond milk. Simply heat the almond milk and do not boil it.
Sweeteners: You can add more or less of the sweeteners depending on the type of chocolate. Unrefined raw sugar, maple syrup or white sugar can be added.
Scaling: You can easily halve or double the recipe.
Nutrition Info (Approximate Values)
Nutrition Facts
Hot Chocolate Recipe
Amount Per Serving
Calories 578
Calories from Fat 324
% Daily Value*
Fat 36g55%
Cholesterol 58mg19%
Sodium 119mg5%
Potassium 620mg18%
Carbohydrates 53g18%
Protein 11g22%
Vitamin A 752IU15%
Vitamin B1 (Thiamine) 1mg67%
Vitamin B2 (Riboflavin) 1mg59%
Vitamin B3 (Niacin) 1mg5%
Vitamin B6 1mg50%
Vitamin B12 1µg17%
Vitamin D 3µg20%
Vitamin E 1mg7%
Vitamin K 5µg5%
Calcium 323mg32%
Vitamin B9 (Folate) 12µg3%
Iron 3mg17%
Magnesium 117mg29%
Phosphorus 355mg36%
Zinc 2mg13%
* Percent Daily Values are based on a 2000 calorie diet.
This Hot Chocolate recipe post from the archives, first published on Feb 2020 has been updated and republished on December 2021.