Cheese recipes – collection of 31 tasty recipes made with cheese. I get many requests of adding cheese based recipes. most of the recipes that I have posted here are after getting recipe requests for them.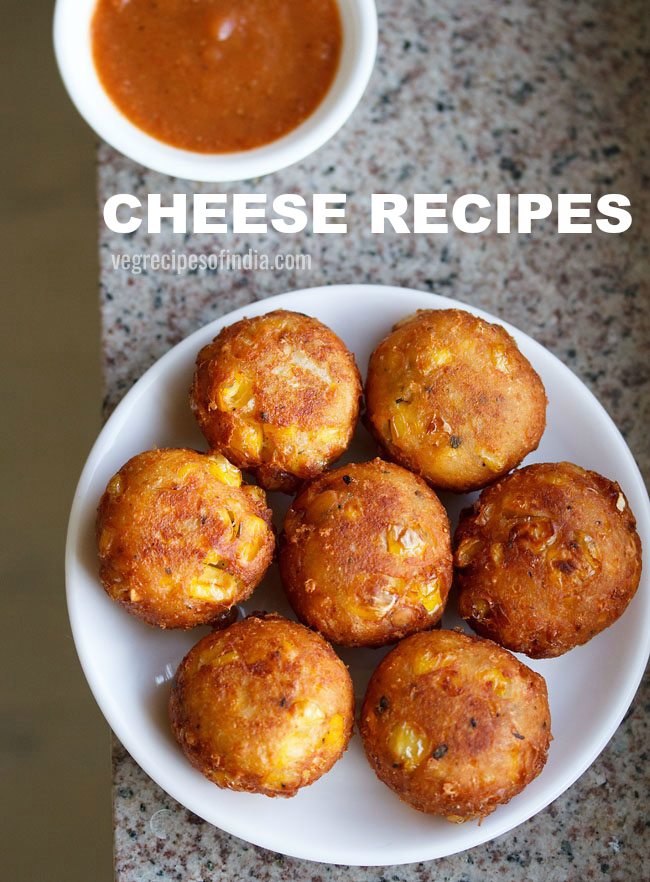 There are many varieties of cheese available in the market. So for most of the recipes listed below, you can easily use cheddar cheese or processed cheese.
You can also check these Similar recipes collections:
Collection of 31 cheese recipes
1. Cheese balls recipe – easy recipe of cheese balls made with potatoes, gram flour (besan) and cheese. for the type of cheese, you can use either cheddar cheese or processed cheese.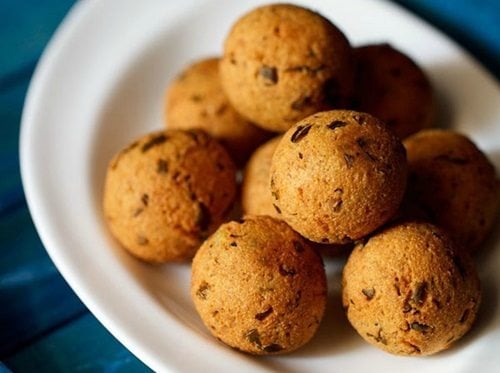 2. Corn cheese balls recipe – easy and a no fail recipe of corn cheese balls. i have shared both fried as well as baked version of cheese corn balls.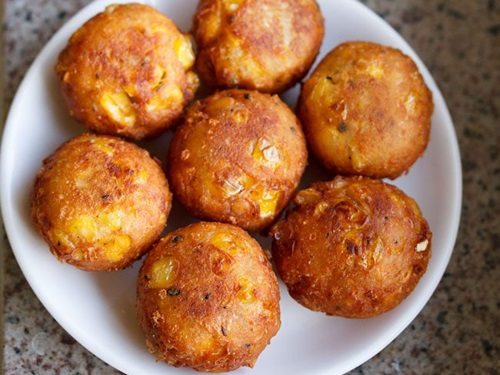 3. Cheese sandwich recipe – crisp cheesy grilled sandwiches with Indian spices. Instead of grilling these sandwiches can also be toasted in an electric toaster or a hand held stove top toaster.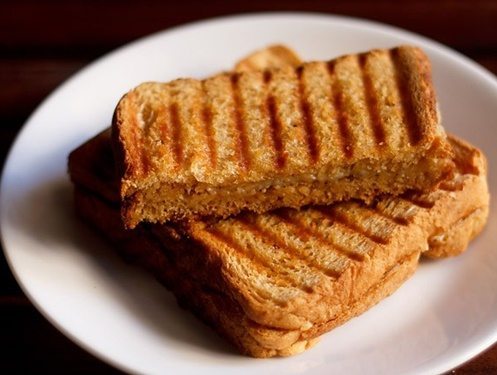 4. Cheese dosa recipe – this cheese dosa recipe works very well as an after school snack for kids or as a morning breakfast. All you need is some Dosa batter and cheese. The toppings on the dosa like veggies, herbs can be of your choice. If you like dosa then you can have a look at this collection of 28 dosa recipes.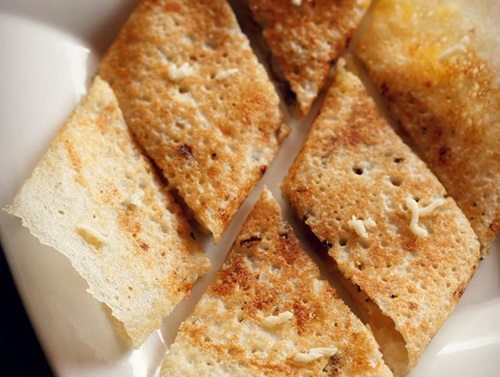 5. Cheese chili toast recipe – tasty cheese toast spiced with chilies and ginger. An easy breakfast to prepare and serve.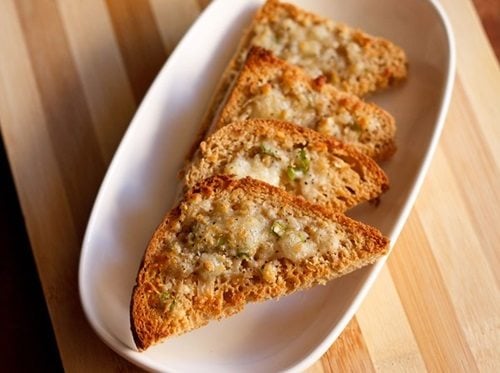 6. Cheese paratha recipe – easy to prepare whole wheat flat breads made with a spiced cheese stuffing. these cheese parathas are best served hot.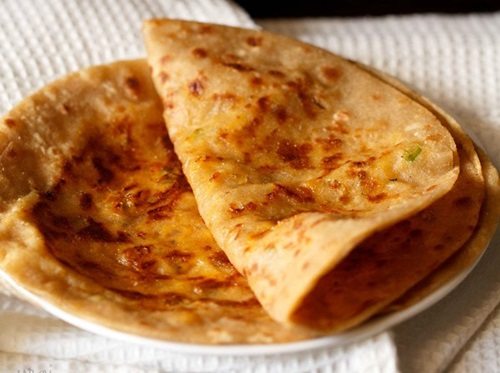 7. Eggless cheesecake recipe – creamy and soft baked eggless cheesecake. This recipe is a baked version and does need an oven.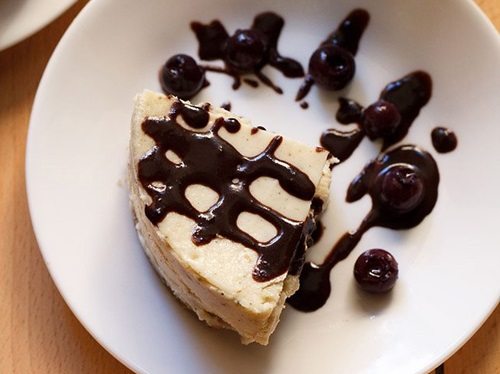 8. Cheese masala toast sandwich recipe – a popular variety of sandwich which is also a Mumbai street food. preparing these sandwiches are easy, but you do need to have Coriander chutney and prepare the potato masala.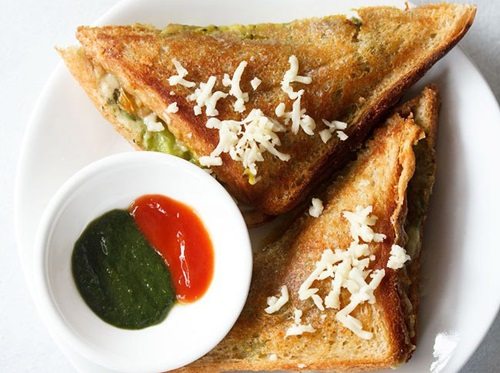 9. Mac and cheese recipe – creamy, cheese macaroni pasta. Macaroni and cheese is a classic American dish that is popular with everyone including kids.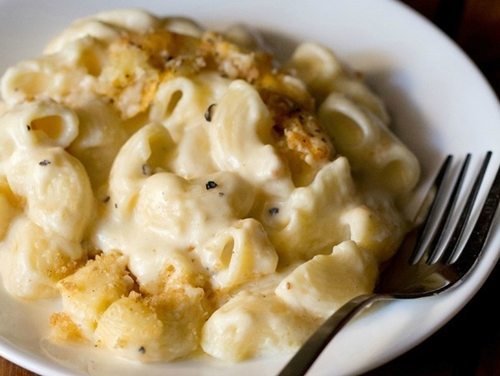 10. Mumbai style cheese chilli toast recipe – tasty toast sandwiches made with cheese, green chutney, green chilies and spices+herbs.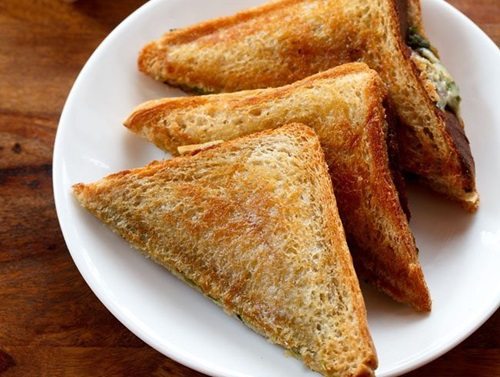 11. Cheese garlic bread recipe – easy to make quick 15 minute cheese garlic bread recipe for the those folks who want a quick breakfast or brunch. Use any bread and cheese of your choice.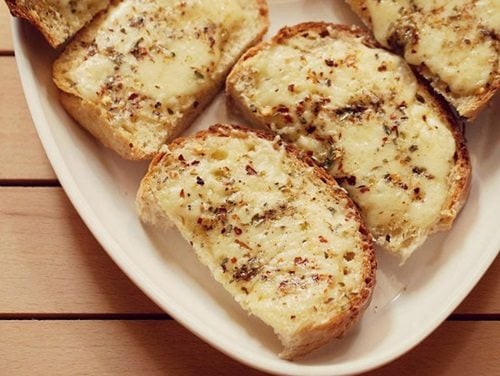 12. Eggless mango cheesecake recipe – no bake vegetarian mango cheese cake recipe made without eggs and gelatin.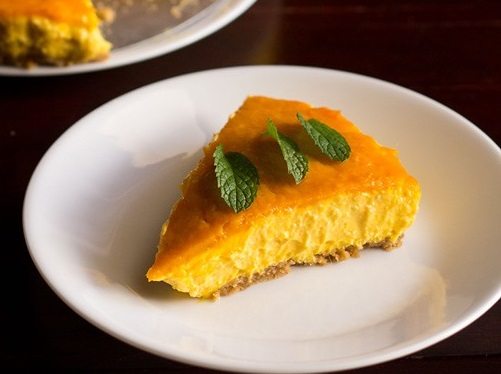 13. Cheese garlic naan recipe – no yeast cheese garlic naan recipe on tawa or skillet or stovetop. for the cheese, you can use cheddar cheese or a mix of cheddar cheese and mozzarella cheese. Apart from garlic, you can also add some herbs and red chili flakes to the cheese stuffing. If you like naan then you can also check these recipes of: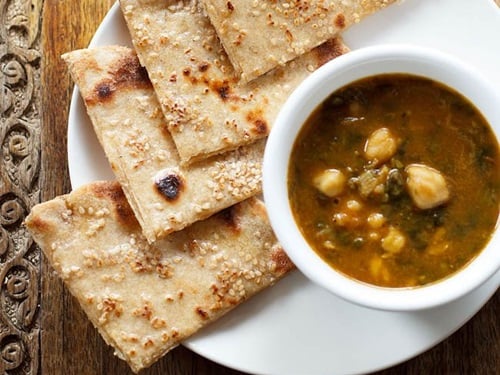 14. Cheese biscuits recipe – a delightful warm savory snack to be had with a hot mug of coffee or tea. These cheese biscuits have a crisp texture on the outside and are soft on the inside like bread. One of the best baked recipes, I have made.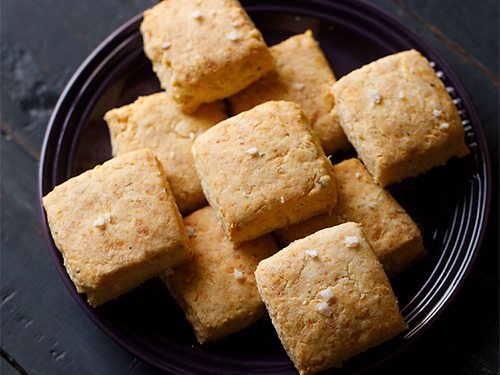 15. Cheese garlic toast recipe – easy and quick cheese garlic toast recipe made with freshly made garlic butter spread and cheese.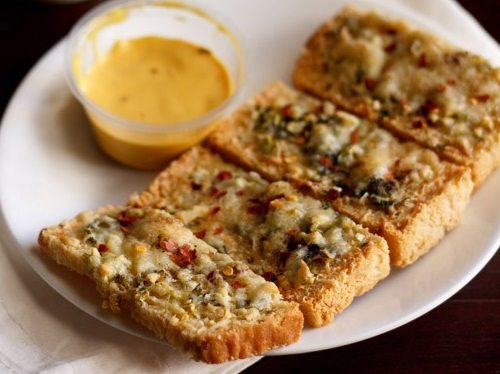 16. Cheese straws recipe – quick and easy to prepare crisp cheese straws. This snack can be had anytime. They are addictive and one can go munching on them.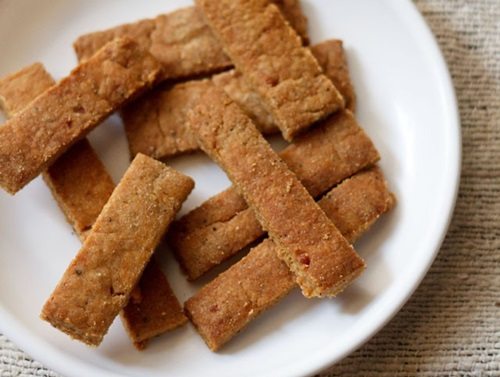 17. Cheese capsicum sandwich recipe – quick & easy cheese capsicum toast sandwich recipe. these sandwiches are not spicy and hence kid friendly. They are fairly easy to assemble and prepare.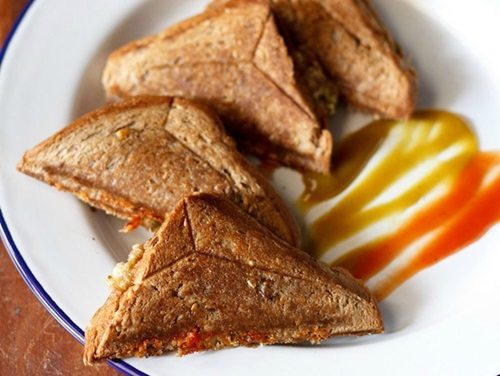 18. Cheese biscuits on tawa – soft cheese biscuits made on stove top on a tawa or skillet. these eggless cheese biscuits go very well as a starter or even nice snack with Tea or coffee.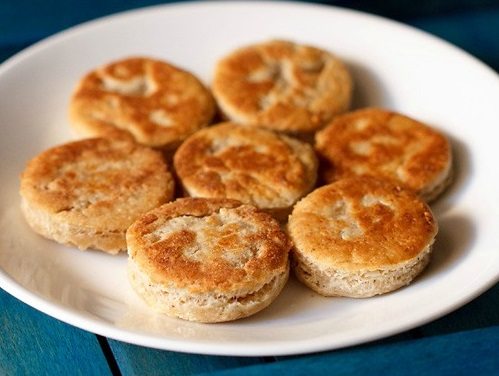 19. Cheese bread pakora recipe –  i have used cheese slices as a stuffing for the bread. You can also use the bread as it is without any filling. You can also have the combination of potatoes and cheese as the stuffing.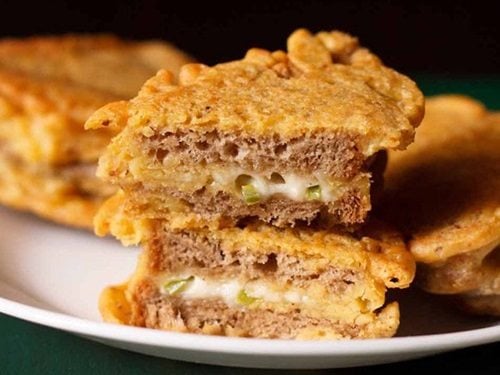 20. Veg cheese toast sandwich – Bombay style vegetable cheese toast sandwich. cheesy toast sandwiches.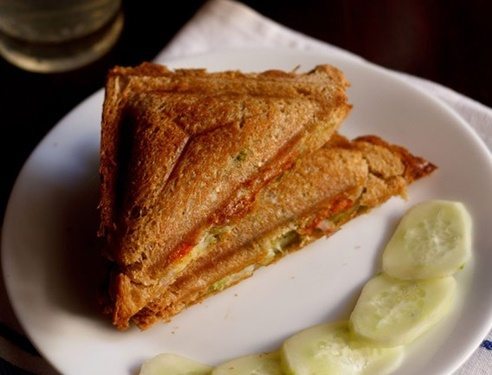 21. Cheddar cheese biscuits recipe – crisp, buttery and smooth whole wheat biscuits make a ideal option with tea or coffee.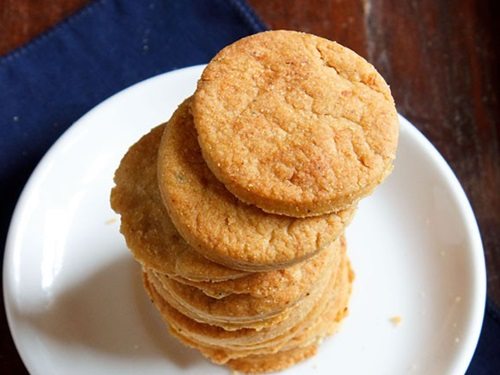 22. Corn cheese toast recipe – a simple and easy toast sandwich stuffed with corn which has been seasoned with herbs and cheese.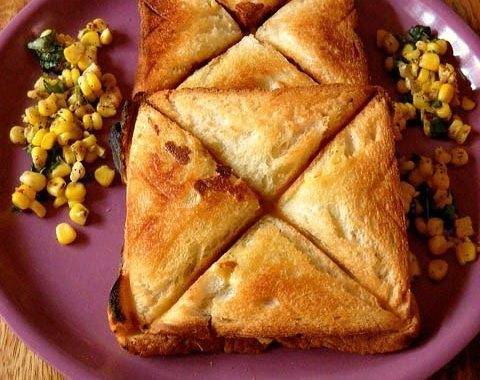 23. Cream cheese sandwich recipe – grilled cream cheese sandwiches made with mixed veggies. You can add your choice of veggies like boiled potato slices or beetroot slices or capsicum or grated carrots or steamed corn kernels. these grilled sandwiches can also be grilled or toasted in a pan or tawa.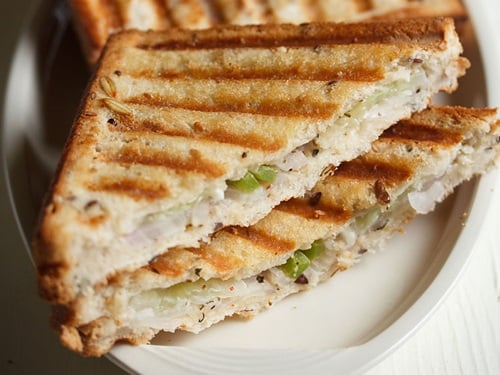 24. Tomato cheese sandwich recipe – these grilled tomato cheese sandwich can be easily made in a tawa or pan. Quick and simple recipe.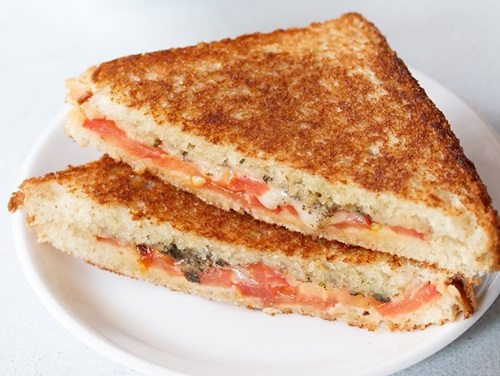 25. Paneer cheese cutlet recipe – crisp and tasty melt in the mouth cutlets made with paneer and mozzarella cheese. these paneer cutlets are minimally spiced and have a soft cheesy, gooey texture inside due to the melted mozzarella cheese.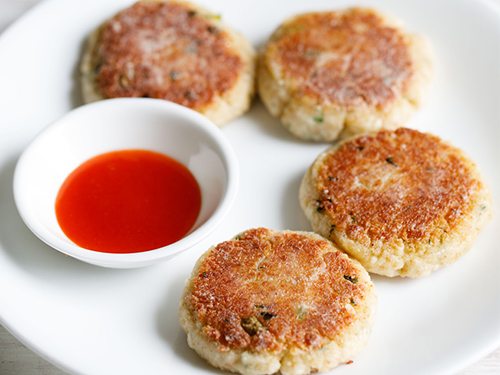 26. Cheese naan recipe – this delicious cheese naan recipe does not use yeast and can be easily made at home with readily available ingredients.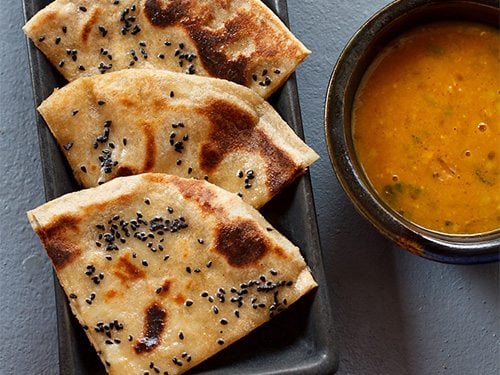 27. Paneer cheese toast recipe – an easy yet delicious toast sandwich that can be made are these cheesy, spiced paneer cheese toast recipe. The entire paneer cheese toast recipe is made on a tawa.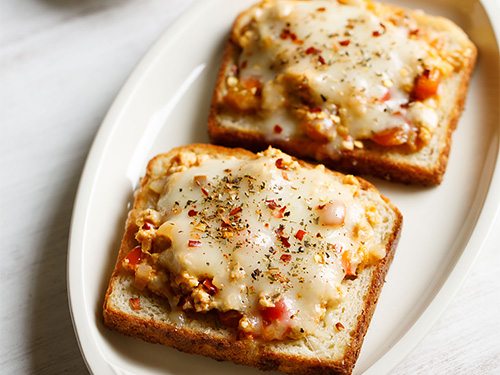 28. Cheese garlic bread sticks recipe – bread sticks are a tasty cheesy snack made popular by the pizza joints in India. Making cheese bread sticks at home is not difficult and with a good quality yeast, you can make bread sticks tasting better than the pizza joints.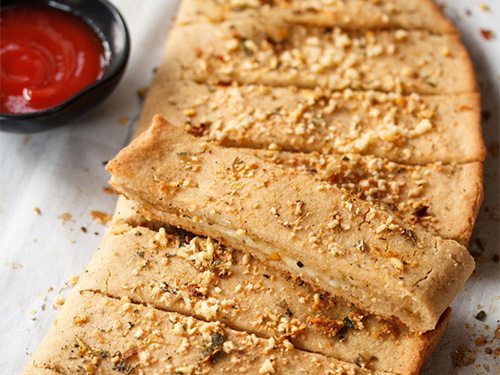 29. Cheese jini dosa recipe –  jini dosa is popular and delicious dosa variety from the Mumbai street food scene. in jini dosa a stuffing of mix veggies like cabbage, carrots, capsicum are semi cooked in schezwan sauce, chilli sauce, tomato ketchup and a few Indian spice blends. Grated cheese is also added. i have also shared few more dosa varieties which are popular as a street food snack in Mumbai like: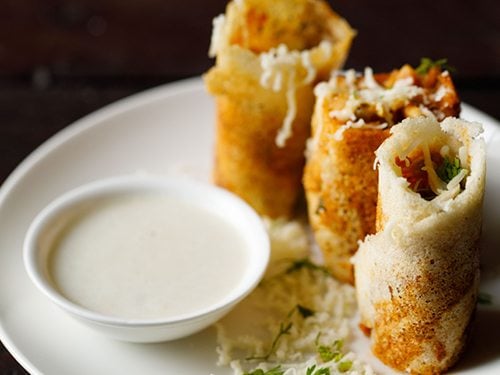 30. Cheese pakora recipe – a cheesy variation of pakoda are these tasty cheese pakodas. The crisp outer besan coating and the gooey cheesy melted cheese inside are contrasting textures in this recipe.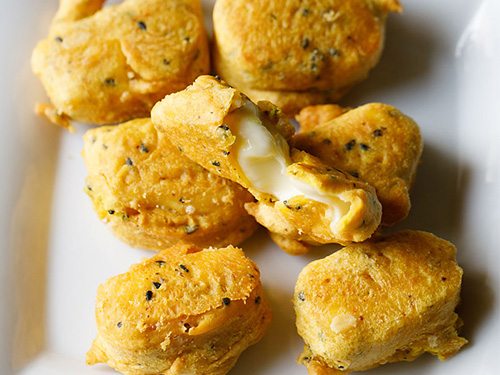 31. Potato kofta curry recipe – potato cheese koftas in a creamy, rich makhani style gravy. The gravy is not a simple homely one, but slightly rich and restaurant style. It tastes more like a makhani gravy.