Dhaba style aloo paratha recipe With step by step photos – a breakfast that I make often and for years now. Have becoming a sort of expert in making parathas. this aloo paratha recipe is the way They make parathas in the Punjabi dhabas/roadside eateries.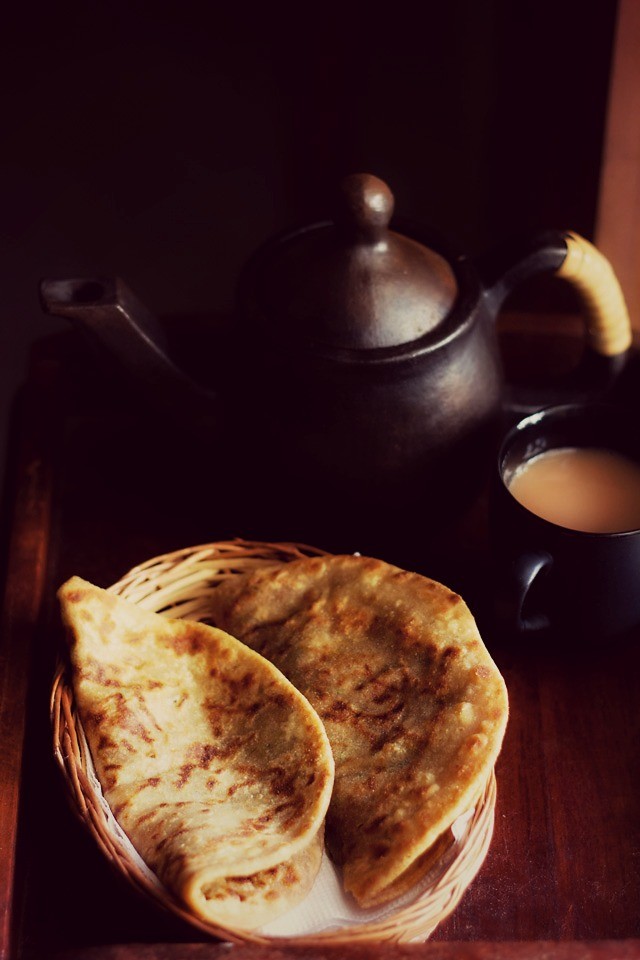 I have already shared the aloo paratha recipe of my mil. But this paratha tastes different than my mil recipe of Punjabi aloo paratha. in this recipe, the use of dry pomegranate seeds or Anardana and carom seeds or ajwain in the potato stuffing makes a big difference in the flavors and taste of the paratha. I also add chaat masala which perks up the flavor, however this is an optional ingredient.
The dhaba style aloo paratha taste slightly spicy, tangy and has a hint of sourness. If you have eaten food in Punjabi dhabas of jalandhar or amritsar (like my hubby who has studied there) then this paratha recipe will remind you of the food you have eaten there.
Tips to make dhaba style aloo paratha
To get the authentic taste, I would suggest adding dry pomegranate seeds. However as a substitute you can also add dry mango powder. A potato filling made with dry pomegranate seeds tastes different than the one made with mango powder.
This is a no onion no garlic aloo paratha

. if you like onions, then you can add some onions too. Some folks even add grated ginger.

When cooking any paratha,

they should always be fried properly.

I

have seen in many places the parathas being served partly cooked and the raw dough can also be tasted at times.

The griddle or

Tava

should be hot. You can regulate the fire from hot to medium while cooking. Smear enough oil or ghee when frying the parathas, so that the dough gets cooked well and you see crisp brown spots. An ideally cooked paratha would be evenly fried, well cooked with golden or dark brown crisp spots. When cooking, use a spatula, to press the paratha edges so that the edges are also cooked properly.
Aloo paratha is usually served with dal makhani, lots of butter, pickle or curd and if you are a real foodie then with a big glass of lassi. For me, the paratha itself is very heavy !!! so I usually have aloo paratha plain with pickle or just with masala chai or ginger tea.
 for more Paratha recipes for you!
Please be sure to rate this recipe in the recipe card below if you have made it. For more vegetarian inspirations, Sign Up for my emails or follow me on Instagram, Youtube, Facebook, Pinterest or Twitter.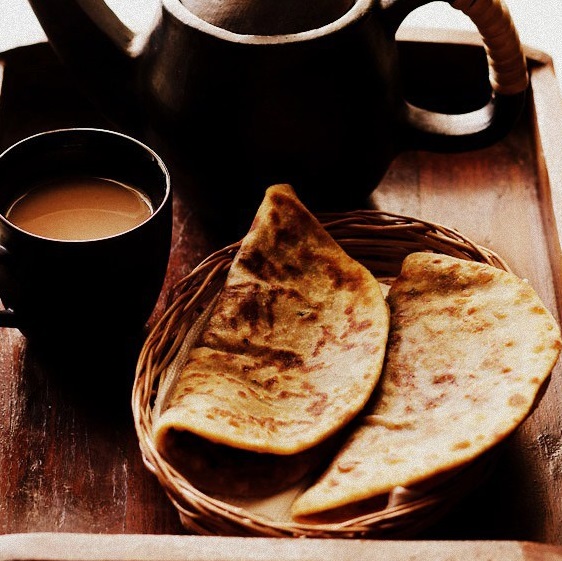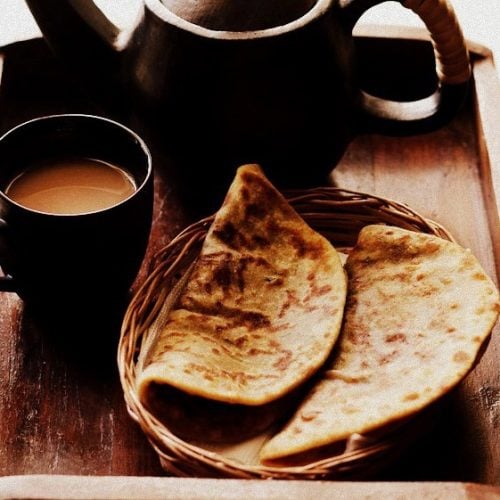 dhaba style aloo paratha
Dhaba style aloo paratha recipe - whole wheat flat breads stuffed with a spicy, tangy potato stuffing flavored with green chilies, dry pomegranate seeds and carom seeds.
for aloo paratha stuffing
1

extra large potato

or 2 medium potatoes (aloo)

1

green chili,

finely chopped (hari mirch)

1 to 2

tablespoons

chopped coriander leaves

½

teaspoon

ajwain

(carom seeds)

¼

teaspoon

Punjabi Garam Masala Powder

or regular garam masala powder

¼

teaspoon

red chili powder

or ½ teaspoon kashmiri red chili powder or deghi mirch

1

teaspoon

dry pomegranate seeds

(anardana)

½

teaspoon

chaat masala powder

(optional)

salt as required
for making paratha dough
2

cups

whole wheat flour

(atta)

¼

teaspoon

salt

½

teaspoon

oil

(optional)

water as required
Instructions
making dough and stuffing
First mix the flour with salt and oil.

Add water and knead to a smooth and soft dough.

Cover and let the dough rest for 15-20 minutes.

Boil the aloo or potato in a pressure cooker

When slightly hot or warm, peel and mash the aloo with a fork or masher.

Lightly, roast the pomegranate seeds on a tava or small pan.

Take these lightly roasted pomegranate seeds in a mortar-pestle and crush them to semi fine powder.

Add the pomegranate or anardana powder, garam masala, red chili powder, chaat masala, green chilies, coriander leaves and salt to the mashed potatoes.

Mix uniformly.

Taste the aloo stuffing and add more of the spices or salt if required.
rolling aloo paratha
Take two small or medium balls from the dough.

On a dusted floor, roll the balls into small circles.

Place a few tbsps of the filling on one of the dough circle.

Keep in mind that the filling should not be too less or too much.

Sprinkle some flour on the filling. This helps in absorbing the moisture and when rolling, the paratha does not break or tear.

Lightly sprinkle some wheat flour and roll the aloo paratha gently into a diameter of 6-8 inches.
making aloo paratha
Place the stuffed aloo paratha on a hot tava or griddle.

When one side has slightly browned, flip the paratha.

Spread or brush some oil on the browned side.

Flip again and brush oil on the other side.

Flip once or twice, till you see golden spots on the aloo paratha and they look crisp and well cooked.

Serve the aloo paratha hot with yogurt, mango pickle or lemon pickle topped with some butter.
Steps to make dhaba style aloo paratha
1. Take all the ingredients for the potato stuffing in a bowl and mix well.
2. Roll two small or medium sized balls into small rounds. Place the stuffing in the center keeping the edges free. Sprinkle some flour on the filling to absorb the extra moisture.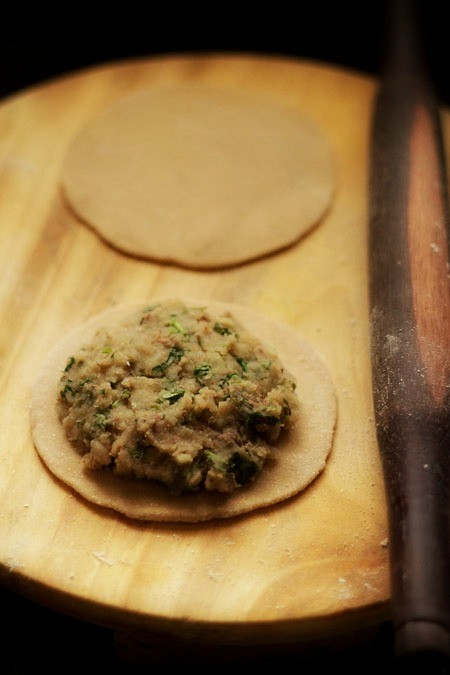 3. Place the second rolled circle on top the first one and join the edges.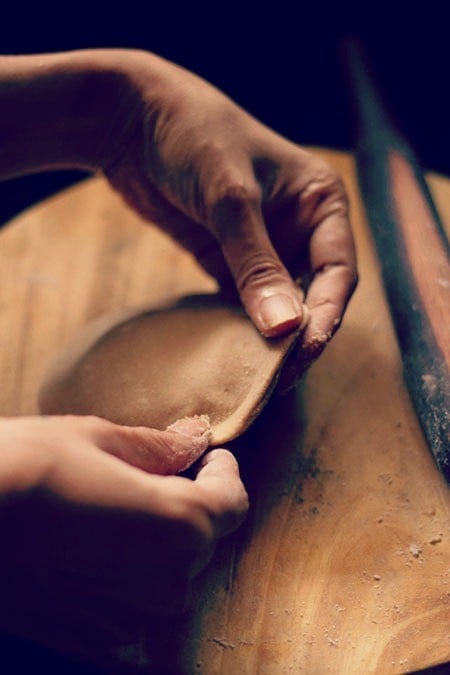 4. On a lightly dusted flour, roll the paratha gently to a 6-8 inch round in diameter. Don't make too thick or too thin.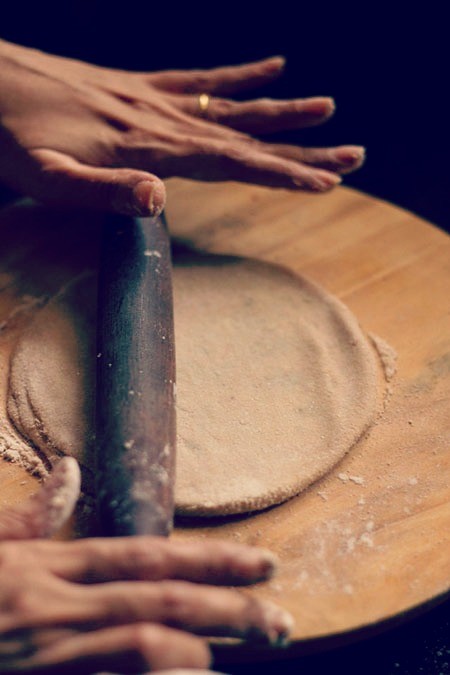 5. Fry the paratha on a hot griddle or tava.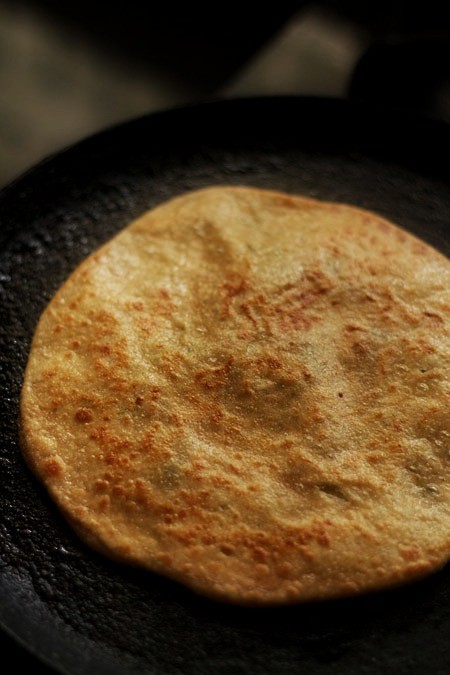 6. The aloo paratha would puff up when frying and you will see golden spots all over.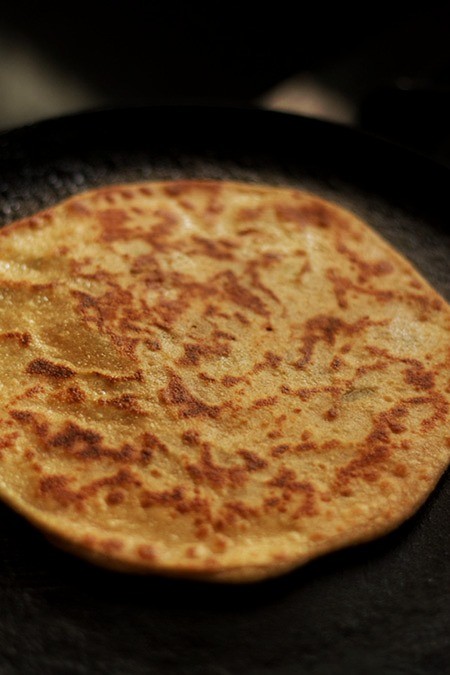 7. Remove and straight away Serve aloo parathas. Parathas are best had hot with Mango pickle or curd or butter or with dal makhani.
If you cannot serve aloo paratha hot straight from the griddle to the plate, then just place them in a roti basket or a casserole. Let the steam come out. And then cover the basket. Otherwise they will soften due to the steam.