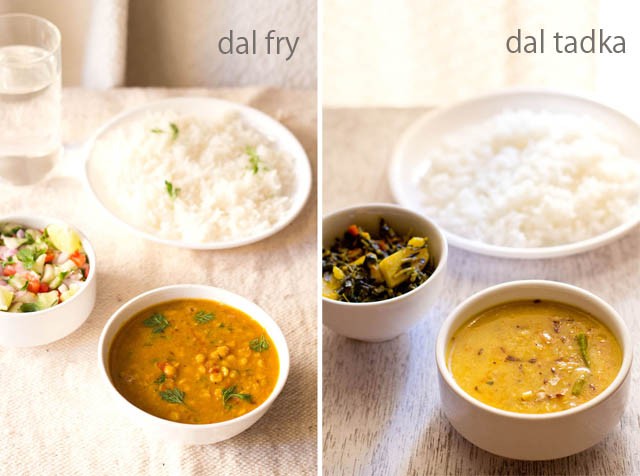 Dal Fry and Dal Tadka are two most popular Indian dal-lentils recipes and can be easily found on the menu of most Indian restaurants. Both the recipes are prepared differently. Due to their different methods of preparation, they both have unique flavors and tastes.
Dal Fry:
As I have mentioned earlier in my post about Dal Fry, that generally arhar dal is used to make it. Arhar dal is also known as tur, toovar or yellow lentils. However, one can also make dal fry using moong dal or chana dal and even masoor dal.
In Dal fry the dal is boiled first and cooked till soft. Then a base mixture of onions, tomatoes and spices is fried and sauted in oil or ghee. This fried mixture is added to the cooked and mashed dal and simmered further till the dal gets flavored more with the spices and herbs used in the base mixture.
Dal Tadka:
In Dal Tadka the dal is cooked till soft with onions, tomatoes and spices. A tempering/chaunk/tadka of spices like cumin seeds, mustard seeds, asafoetida, red chillies etc is prepared. This tempering is added to the cooked dal and the dal is served immediately. Tempering is very much a part of cooking Indian food. In fact we temper almost everything like dal, veggies dishes, chutneys.
Both the dal recipes have their own unique taste and flavour and can be had with phulka, chapati, paratha or steamed rice. Both these dals are specially famous in North Indian Dhabas. The taste of food served in North Indian Dhabas is totally different from the food that is made at home. The Dhaba food is more oily but at the same time more tasty as well as spicy. You can check my post on dhaba style dal that is made using 5 different types of dals. In dhabas, you might see many people having tandoori rotis, naan or garlic naan, aloo paratha or onion paratha either with moong dal tadka or with dal makhani.
The dal is usually accompanied with kachumber – indian veg salad, roasted papads, mango or lemon pickle or veg raita, boondi raita, onion-tomato raita or just plain curd with a side dry vegetable dish sometimes. This makes up for a wholesome, satisfying and comforting meal.