The glossary or list of legumes and lentils or pulses names used mainly in Indian Cuisine is presented here. Pulses and legumes are an excellent sources of plant based proteins. In India most of the vegetarian population consumes a variety of legumes, pulses and their flours. So we have hundreds of recipes made with them. We even have sweets and desserts made with lentils. e.g. moong dal halwa, besan ladoo, chana dal payasam etc.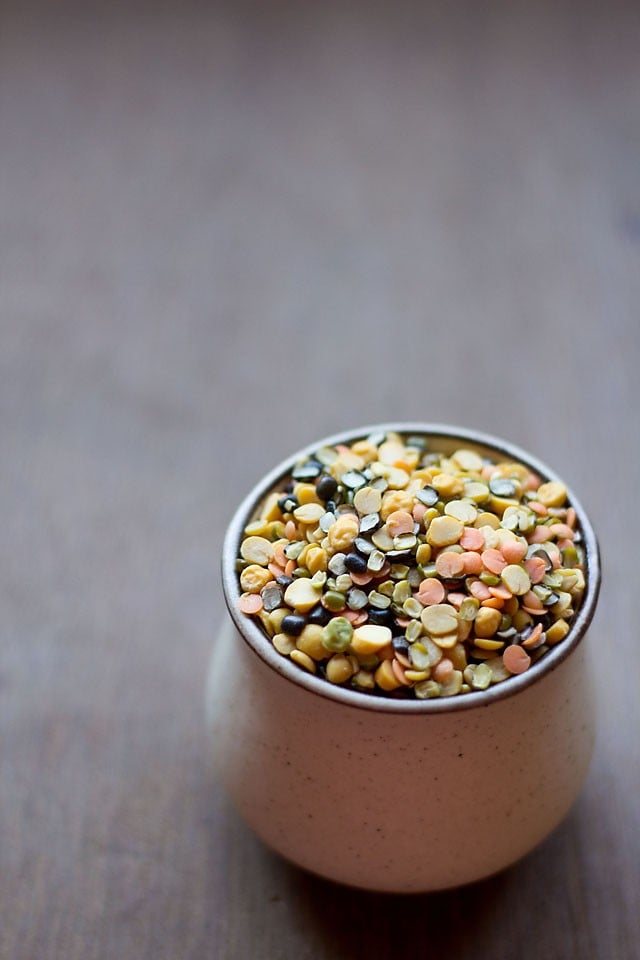 Just for your information:-
In Hindi, the word 'Sabut' is used for lentils which are whole.
The word 'Dal' or 'Dahl' is used for split lentils.
The word 'Dhuli' is used for split and husked/skinned lentils.
How to Cook, Buy and Store Lentils and Legumes
Soaking: Some people have difficulty digesting these due to the phytic acid present in them. To make them easily digestible soak the lentils like chana dal, tuvar dal, masoor dal in water for an hour and legumes like white chickpeas, kidney beans, black chickpeas for 8 to 9 hours or overnight.
Later drain all the water and rinse the lentils thoroughly in fresh water for a couple of times. This process helps to remove some of the phytic acid.
Cooking: Soaking the lentils and beans reduces their cooking time by 25%. Once they are soaked well, you have the options to cook them in a pressure cooker or pan or in an instant pot. While cooking lentils add double to triple the amount of water. When cooking beans, add 3 to 4 times water to one cup of dried beans.
In Indian cuisine, most of our lentil dishes contain many spices and herbs that help in the digestion. e.g. cumin, ginger, asafoetida, fennel seeds, carom seeds etc. They also add a ton of flavor and aroma in the dish. I suggest that in any Indian lentil or legume recipe don't change or omit the spices or herbs but you can change some other ingredients if they are not available to you.
Buying: While purchasing lentils and legumes make sure they are in their shelf period and not aged or old. Lentils that are old take a longer time to cook and also you don't get the best texture and flavor in them.
If possible buy organic or locally sourced pulses and legumes. Also, try to buy unpolished pulses or lentils as they have higher nutrition than the polished ones. Moreover, they also taste better.
Preserve: To preserve lentils or their flours for a longer time so that they don't get infested with insects, keep 1 to 2 tej patta (Indian bay leaf) or few cinnamon sticks or few pieces of cloves in the lentil jar. Keep in a cool dry place.
Note that this pulses names list is best viewed in a desktop or laptop browser. When viewing in a mobile phone or tablet, you will have to swipe the table from left to right.
The first column consists of the pulses names in English, whilst the second column consists of their names translated in Hindi, Tamil and Marathi languages. These names of the legumes, lentils are listed in alphabetical order.
Pulses Name List
English
Hindi
Tamil
Marathi
Bengal gram flour
Besan
Kadalai mavu
Bengal gram spilt and skinned
Chana dal, chane ki dal,
Booter dal
Kadalai paruppu
Harbaryachi dal,
Chanyachi dal
Bengal gram whole
Kala chana, chana
Harbhara
Black eyed beans, cow peas
Lobhiya, lobiya, chawli, chavli
Karamani
Black gram skinned
Urad dhuli
Ullutham paruppu
Black gram split
Urad chilka
Black gram whole
Urad sabut, urad saboot
Muzhu ulundhu
White chick peas,
Garbanzo beans
Kabuli channa,
Safed chole, chole
Kondai kadalai
Field bean,
Hyacinth bean, lablab
Val
Green gram dal
Moong dal
Payatham paruppu
Green gram split
Moong chilka
Mugachi dal
Green gram whole
Moong sabut, mung sabut
Payaru
Mug
Horse gram
Kulthi, kulith
Kollu
Lentil dal, pink lentil
Masoor dal, masar dal,
Masur dal
Moth bean
Moth, matki, mataki
Peas
Mutter, matar, mattar
Pattani
Dried green peas
Hara matar
Dried white peas
Safed matar
Black peas
Kala vatana
Peas spilt, green peas spilt
Matar dal, green matar dal
Pigeon peas spilt and skinned
Arhar, tuvar, toor, tur dal
Thuvarum paruppu
Red kidney beans
Rajma
Rajma
Soybean
Bhatma
Note – if you know the name of any legumes/lentils/pulses in any regional Indian language and want to update it in this post, then do leave it in the comment section and we will update the post. Thanks in advance for your information
If we have missed any legumes, then also you can let us know.
Related Culinary Posts
This lentils and pulses name list post from the blog archives (first published in September 2009) has been updated and republished on 26 June 2021.