The list or glossary of legumes and lentils or pulses used mainly in Indian Cuisine is presented here. The first column consists of their names in English, whilst the second column consists of their names translated in Hindi.The names of the legumes, lentils are listed in alphabetical order.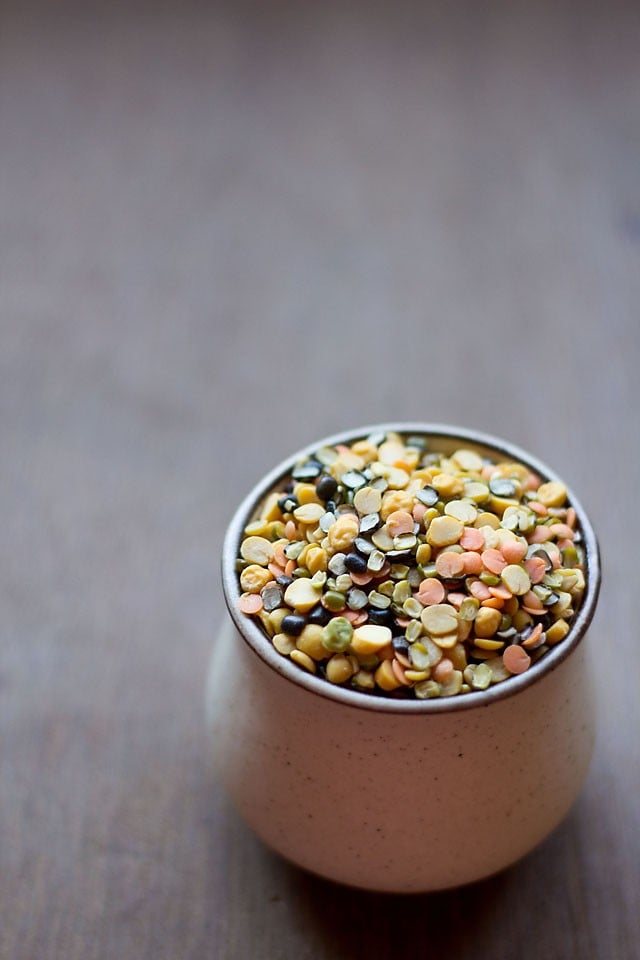 Just for your information:-
In Hindi, the word 'Sabut' is used for lentils which are whole.
The word 'Dal' is used for split lentils.
The word 'Dhuli' is used for split and husked/skinned lentils.
Pulses Names List
English
Hindi
Tamil
Marathi
Bengal gram flour
Besan
Kadalai mavu
Bengal gram spilt and skinned
Chana dal, chane ki dal,
Booter dal
Kadalai paruppu
Harbaryachi dal,
Chanyachi dal
Bengal gram whole
Kala chana, chana
Harbhara
Black eyed beans, cow peas
Lobhiya, lobiya, chawli, chavli
Karamani
Black gram skinned
Urad dhuli
Ullutham paruppu
Black gram split
Urad chilka
Black gram whole
Urad sabut, urad saboot
Muzhu ulundhu
White chick peas,
Garbanzo beans
Kabuli channa,
Safed chole, chole
Kondai kadalai
Field bean,
Hyacinth bean, lablab
Val
Green gram dal
Moong dal
Payatham paruppu
Green gram split
Moong chilka
Mugachi dal
Green gram whole
Moong sabut, mung sabut
Payaru
Mug
Horse gram
Kulthi, kulith
Kollu
Lentil dal, pink lentil
Masoor dal, masar dal,
Masur dal
Moth bean
Moth, matki, mataki
Peas
Mutter, matar, mattar
Pattani
Dried green peas
Hara matar
Dried white peas
Safed matar
Black peas
Kala vatana
Peas spilt, green peas spilt
Matar dal, green matar dal
Pigeon peas spilt and skinned
Arhar, tuvar, toor, tur dal
Thuvarum paruppu
Red kidney beans
Rajma
Rajma
Soybean
Bhatma
Note – if you know the name of any legumes/lentils/pulses in any regional Indian language and want to update it in this post, then do leave it in the comment section and we will update the post.
If we have missed any legumes, then also you can let us know. Thanks in advance.
Related Culinary Posts