The Parsi food culture is primarily a non-vegetarian one. Hence, I worked on a vegetarian version of one of their most popular recipes Dhansak, so that this rich and flavorful cuisine reaches one and all. This Dhansak recipe also features the Dhansak masala that gives this preparation that extra punch. It is a beautiful mélange of veggies and lentils, that you must try at home.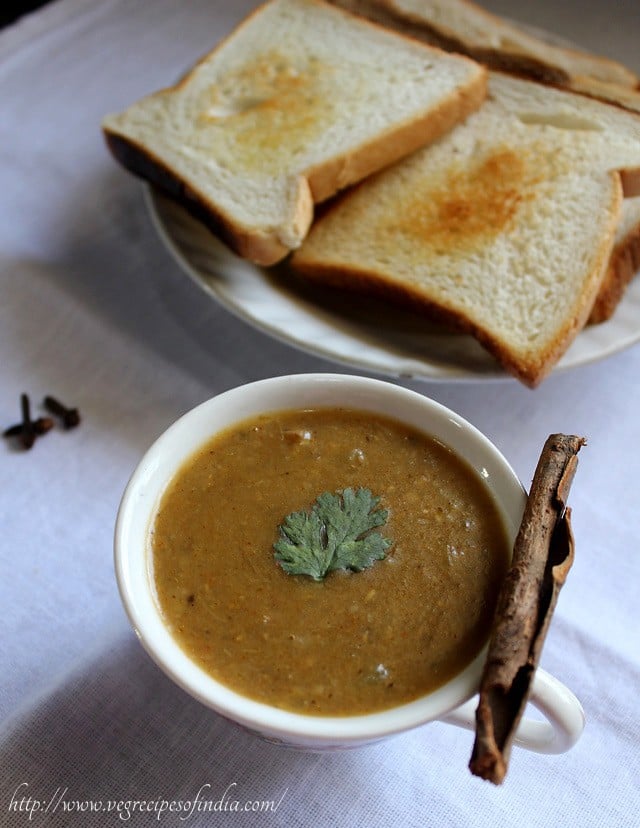 What is Dhansak
The Dhansak can be touted as the undefeated champion in Parsi comfort food. And why shouldn't it be? I feel any dish that has the usage of lentils/legumes and vegetables in it, automatically becomes comforting and nourishing.
Along with which, the traditional Dhansak also has meat with liberal use of spices (read: Dhansak masala) and herbs. This iconic medley of veggies, lentils and spices may sound celebratory.
On the flip-side, the Dhansak is not really one and never becomes a part of weddings, festivals and celebrations according to the Parsi community. However, these days, it is one of the most cooked dishes in a weekend feast at many Parsi households.
Mostly, Dhansak is prepared or cooked on the fourth day of mourning after the demise of a near, dear and close one. Since the first three days are supposed to be meatless and vegetarian, a Dhansak that usually consists of meat, is made on the fourth day to break this particular restraint.
Also, according to some tales, the word Dhansak, when divided into two, is 'dhan' meaning a cereal based food in Gujarati and 'sak' from the ubiquitous Gujarati term 'shaak' meaning cooked greens or veggies.
Dhansak Masala
It will really be wrong on my part if I even think about the Dhansak, and not think of the Dhansak masala that makes it so amazing. Just like many other spice mixes, this masala mix is also a special one, especially in this Dhansak recipe.
Dhansak masala may look similar to Garam Masala but is actually not. My recipe of Dhansak masala may differ from what may be the original version, but most of the times it is this way.
This distinct masala recipe may differ from one Parsi household to other. Many also guard it as the family secret recipe.
Today, this Dhansak masala is available in almost all major cities pan India, and can also be sourced through online platforms.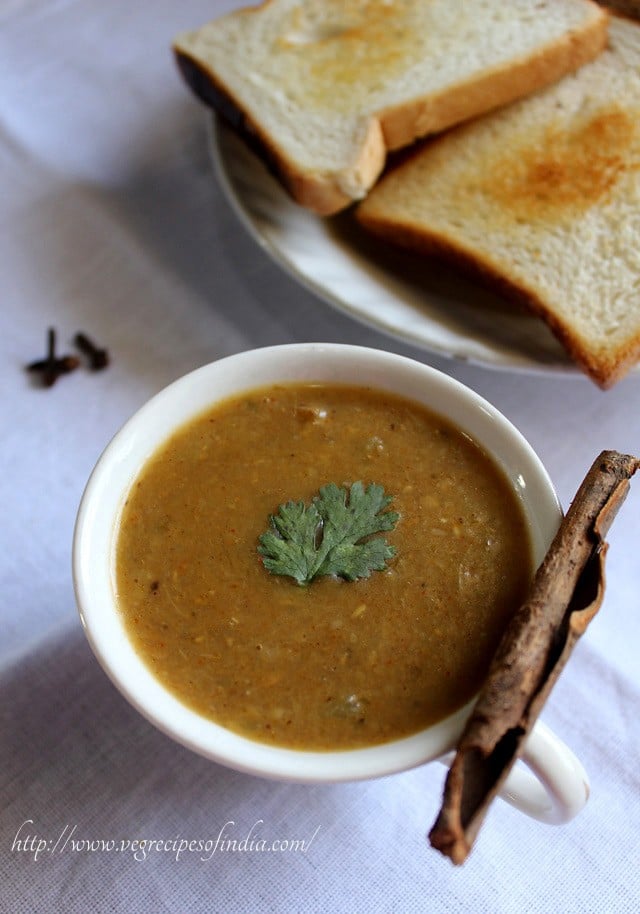 About Dhansak Recipe
The first time I had Dhansak was during my cooking school days and I must say I loved it at the first bite. So, it became quite mandatory for me to recreate an all-vegetarian Dhansak recipe since I am not a meat eater.
My association with Parsi cuisine was really minimal at that time. I had been to many Parsi weddings, but never really got to try any of their preparations as majorly all of it used to be non-vegetarian.
Most of my knowledge on this particular cuisine too was limited to Dhan Dar, Brown Rice, Patra ni Machchi and Lagan nu Custard. But I really couldn't let go of the Dhansak as it had touched my taste buds so much.
Since I am a vegetarian, I worked on a Dhansak recipe with a house style Dhansak masala plus an array of lentils and vegetables. This recipe results in a warm, spicy, nutritious Dhansak packed with flavors.
I have added vegetables like bottle gourd or opo squash (lauki), potatoes, brinjal (eggplant/aubergine) and fenugreek leaves. Pumpkin also goes really well in it. The choice of lentils is tuvar dal, moong dal and masoor dal.
The best way to enjoy it is to serve it with a beautiful caramelized brown rice and a side of a fresh salad or Kachumber and lemon wedges. Traditionally, Parsi families may also prepare meat or prawn kababs and serve with it.
How to make Dhansak
Prepare lentils and vegetables
1. In a 4 to 5 litre pressure cooker, take the following veggies, lentils and herbs:
2 medium size chopped potatoes
1 cup chopped bottle gourd (opo squash, lauki)
2 to 3 medium-sized chopped eggplants, optional
1 cup chopped pumpkin
4 to 5 medium-sized chopped tomatoes
1 cup pigeon pea lentils (arhar dal, tuvar dal)
¼ cup green gram lentils (moong dal)
¼ cup pink lentils (masoor dal)
1 tablespoon dried fenugreek leaves (or 4 tablespoons fresh fenugreek leaves).
Add 4 cups water and pressure cook for 5 to 6 minutes on medium to medium-high heat. I added a few scallions too.
2. When the pressure drops naturally in the cooker, then only open the lid. Below is the picture of cooked vegetables and lentils. The lentils and vegetables should be really softened and mushy.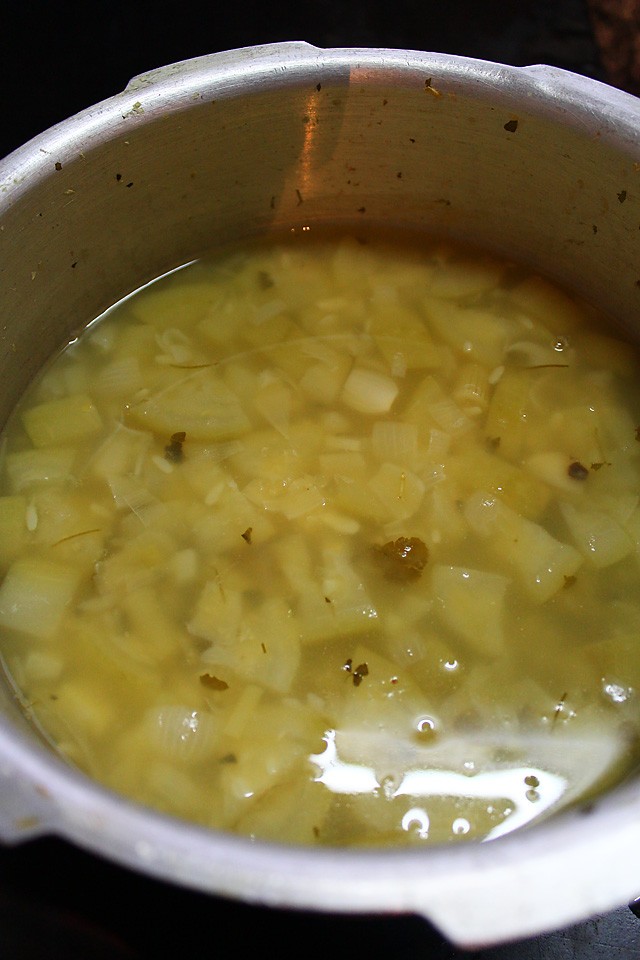 3. Now you could blend and mash the veggies and lentils together with the stock/cooked water, using a hand-held blender or an electric high-speed blender. If blending, make sure the mixture is not too hot. Let it become warm or cool and then blend.
I chose the conventional way of mashing the veggies, which you don't have to do. Opt to blend the lentils and veggies using modern gadgets instead. You could also use a potato masher or a vegetable masher.
Through a strainer or a sieve pass the lentils and vegetables and mash with the back of a spoon while doing so.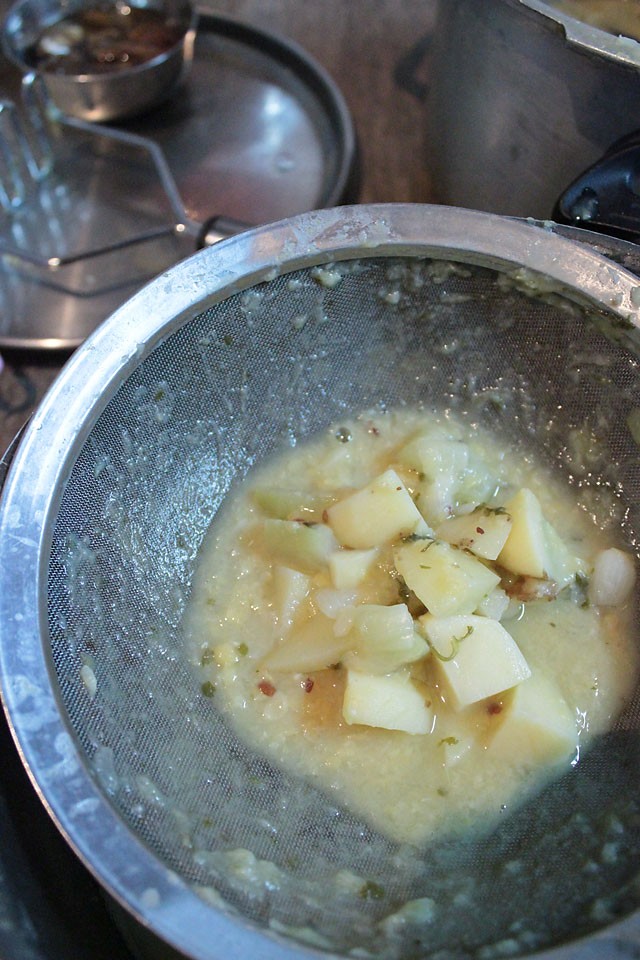 4. There should be no lumps at all. If using a fine strainer like the one I have, then the mashed vegetables won't be able to pass through it.
So, mash them with a wooden spoon and then add it to the stock mixture (the water in which the vegetables and lentils were cooked).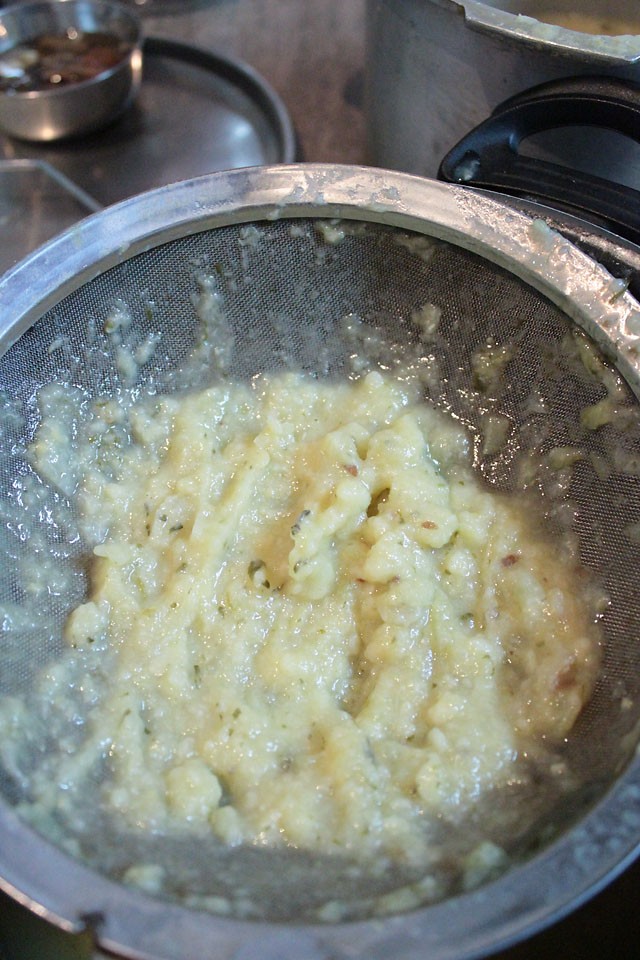 5. I went for a smooth mixture. But if you want, you can keep some chunky texture by not mashing the vegetables smoothly.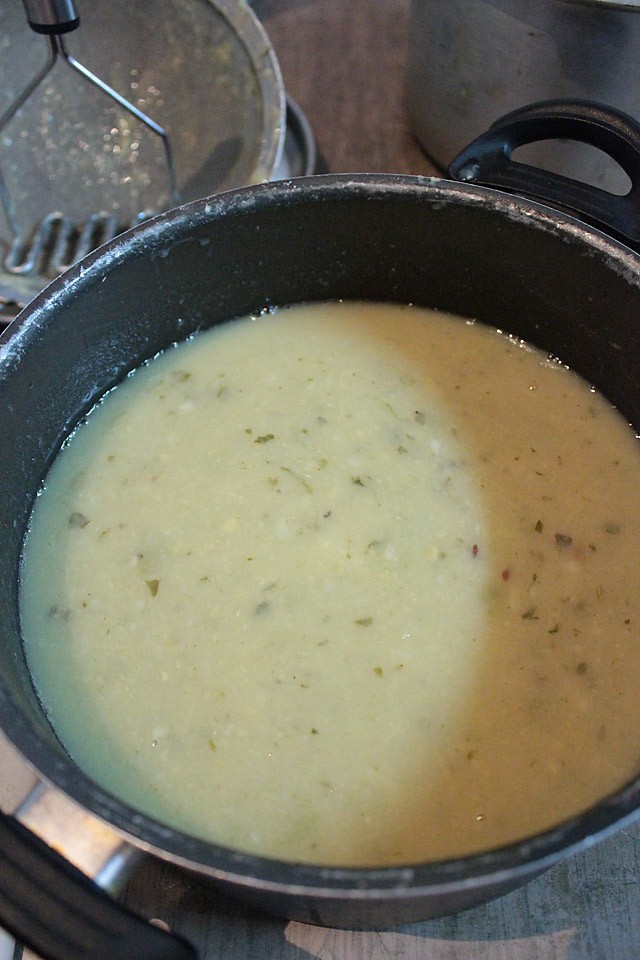 Prepare Dhansak masala
6. Below are the ingredients for the Dhansak masala:
12 garlic cloves (small to medium-sized)
1 inch ginger, peeled and roughly chopped
2 green chilies, roughly chopped
1 tablespoon coriander seeds
2 inches cinnamon stick
8 to 9 cloves
½ teaspoon cumin seeds
½ tablespoon red chili powder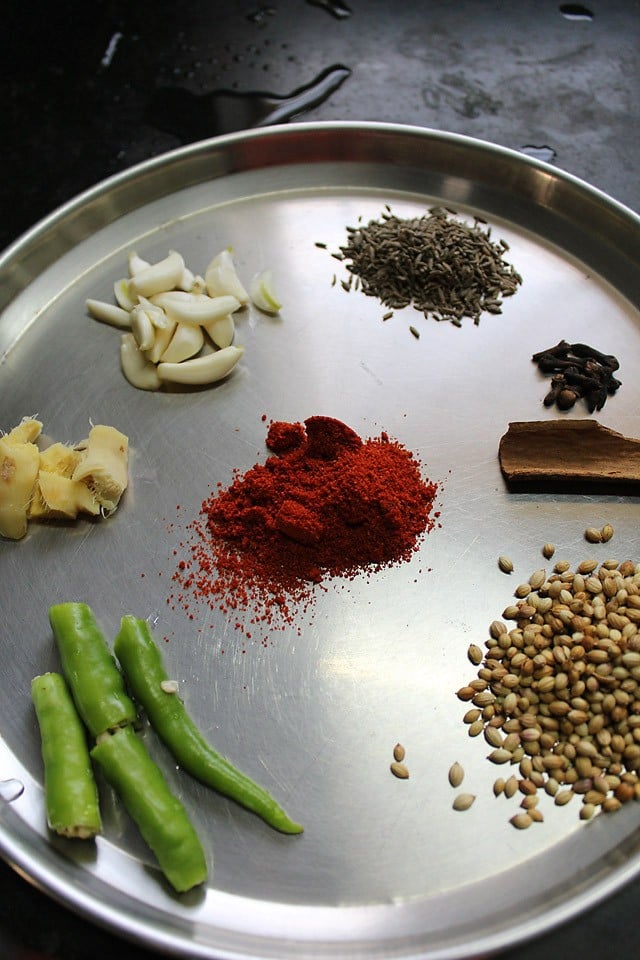 7. Take all these ingredients in a grinder, add some water and grind to a smooth paste. The freshness and aroma of this masala paste is wonderful.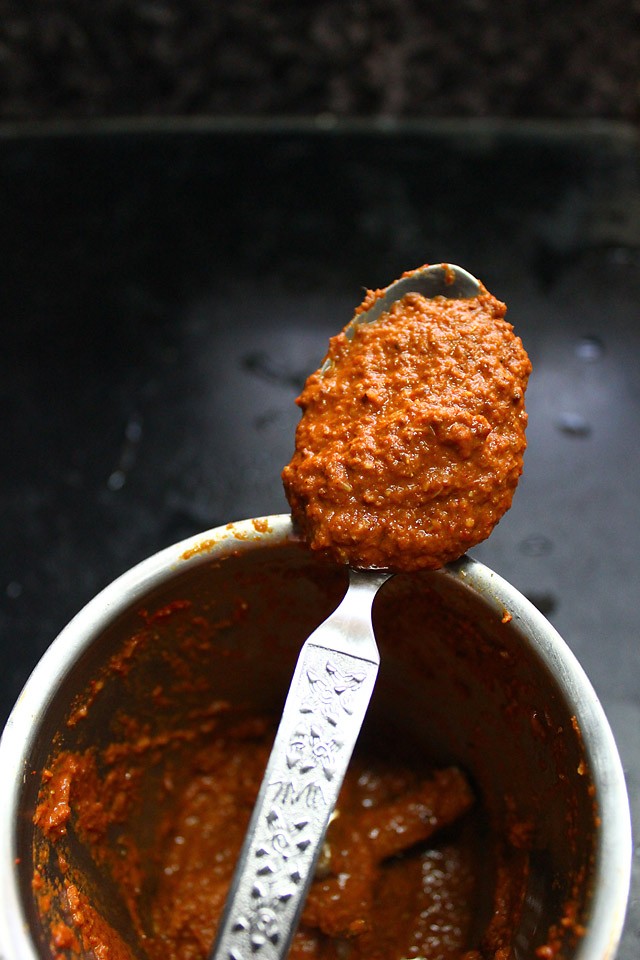 Make Dhansak
8. Now, heat 2 to 3 tablespoons ghee in the same pressure cooker or another pot or pan. Add 1 medium to large chopped onion (about ½ cup, chopped) and sauté until onions are softened.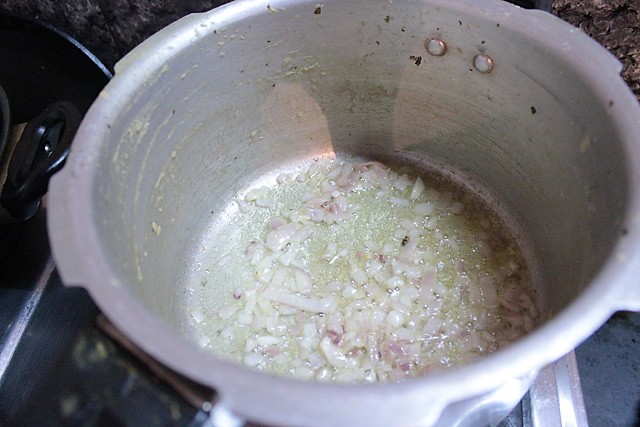 9. Add the prepared Dhansak masala and sauté stirring often till the raw aroma goes away. You should see the oil separating from the masala.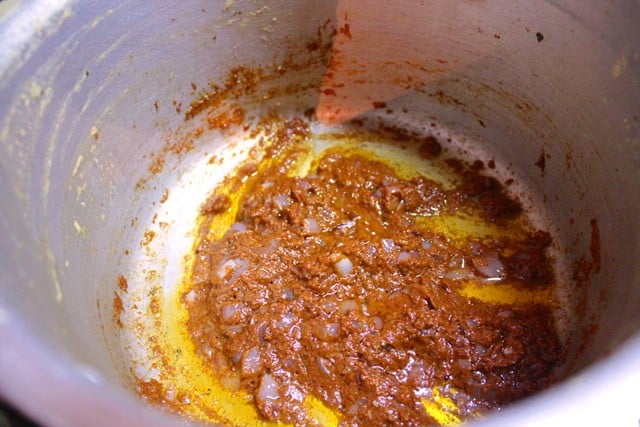 10. Add the mashed lentils-vegetable mixture to the cooker. Simmer for a few minutes.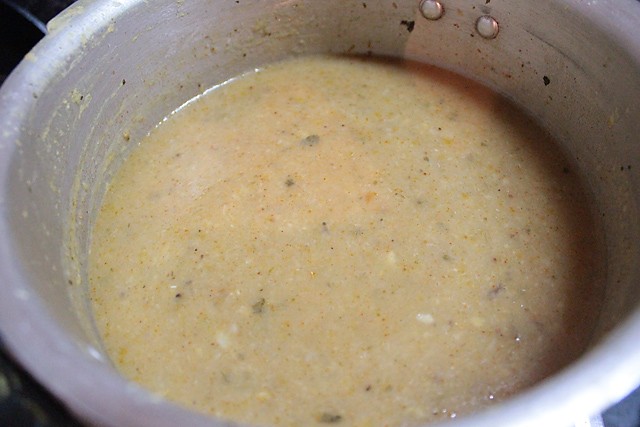 11. Finally, add 3 to 4 teaspoons tamarind pulp (or about ¼ teaspoon tamarind paste) and simmer for some more minutes until the raw flavor of tamarind goes away.
If you look very carefully you will see the dark tamarind pulp color almost off the center on the right hand side.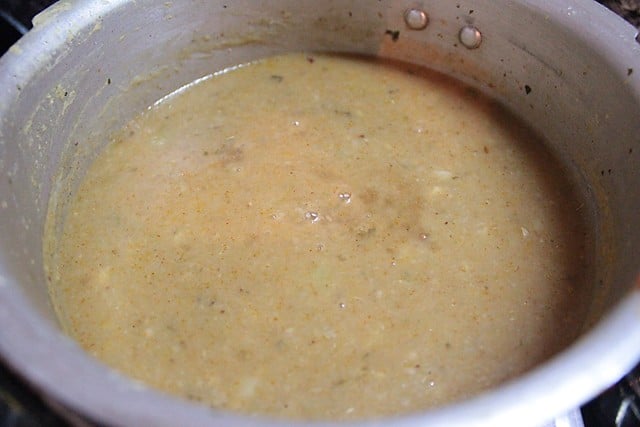 12. Serve the Veg Dhansak hot with Parsi Brown Rice or simple steamed Basmati Rice. You could also pair it with Vegetable Pulao, Ghee Rice or Jeera Rice.
You can also have it like a soup with some warm toasted bread or garlic bread. It tastes delightful with both rice and bread.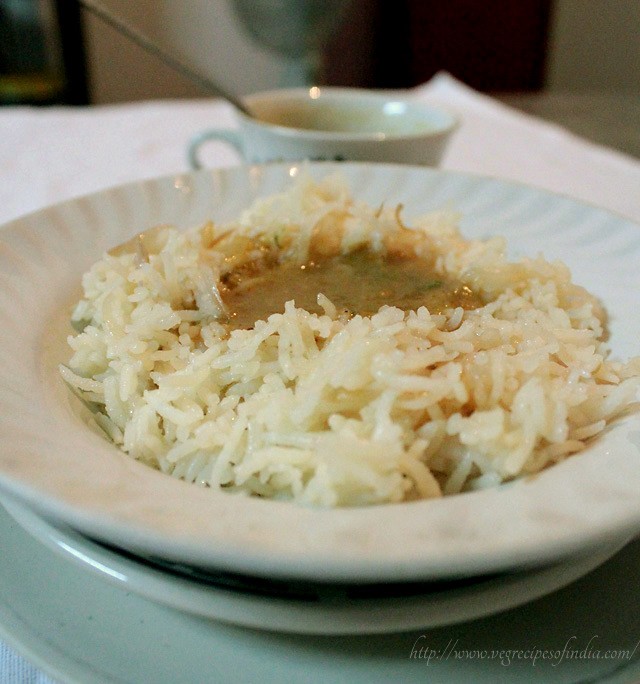 Expert Tips
I strongly suggest the use of pumpkin in this Dhansak recipe. It gives a remarkable flavor. Other than this, for an authentic taste, go for aubergine and bottle gourd.
Some of the traditional recipes use 5 types of lentils. I added 3, and you can settle for even just one type. Choose from either tuvar dal (pigeon pea lentils) or masoor dal (pink lentils). You can opt to use a mix of chana dal, tuvar dal, moong dal and masoor dal.
Another major ingredient for Dhansak is fenugreek leaves (methi) – use either fresh or dried. While making it at home, I did not have fresh methi. So, I added dried fenugreek leaves also known as kasuri methi.
You can serve it the way I've mentioned above. In case you don't want to go the extra mile, have a bowl of this Dhansak all by itself. It is tasty, filling and hearty.
You can even garnish the Dhansak with some browned or fried onions on top for an extra punch.
More Lentil Recipes To Try!
Please be sure to rate the recipe in the recipe card or leave a comment below if you have made it. For more vegetarian inspirations, Sign Up for my emails or follow me on Instagram, Youtube, Facebook, Pinterest or Twitter.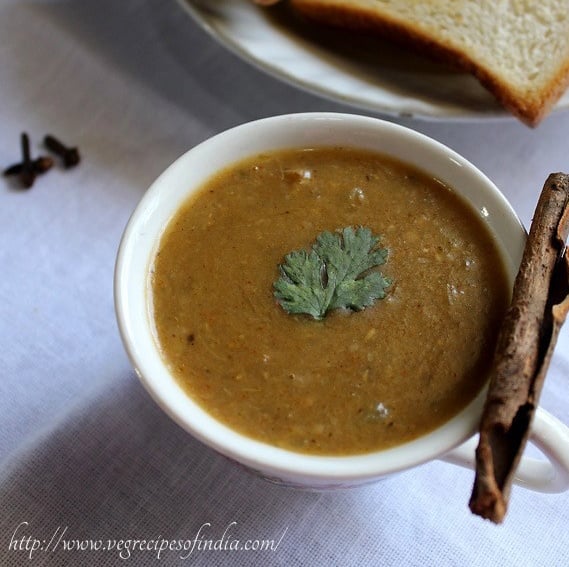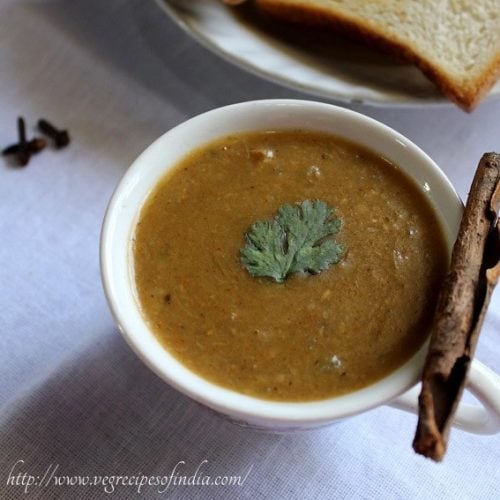 Dhansak Recipe
Dhansak is a hearty, healthy and delicious vegetable and lentil preparation. It is a traditional Parsi lentil dish. This Dhansak recipe also features the Dhansak masala that gives this preparation that extra punch.
For cooking lentils and veggies
1

cup

tuvar dal

(arhar dal, tur dal or pigeon pea lentils)

¼

cup

moong dal

(hulled and split green gram lentils)

¼

cup

masoor dal

(hulled and split pink lentils)

4 to 5

tomatoes

(medium-sized), chopped

2

potatoes

(medium-sized), chopped

2 to 3

eggplant

(medium-sized), baingan

1

cup

pumpkin

(peeled and chopped)

1

cup

bottlegourd

(peeled and chopped)

4

tablespoons

fenugreek leaves

(fresh) or 1 tablespoon dry fenugreek leaves (kasuri methi)

4

cups

water

salt

to taste
More Ingredients
2 to 3

tablespoons

Ghee

1

onion

(medium to large), chopped or ½ cup, chopped
For tamarind pulp
½

tablespoon

tamarind

2 to 3

tablespoons

water

– hot or warm
For the dhansak masala
12

garlic cloves

(small to medium-sized)

1

inch

ginger

– peeled and roughly chopped

1.5

teaspoon

cumin seeds

2

inches

cinnamon stick

1

tablespoon

coriander seeds

1 to 2

dry red chilies

(seeds and stem removed) or ½ tablespoon red chili powder

8 to 9

cloves

2

green chilies

water

as needed, to grind the masala ingredients
Instructions
Preparing the lentils and veggies
Pick and rinse the lentils first a few times in water.

Mix all the chopped veggies, tomatoes and lentils together in a 4 to 5 litre stovetop pressure cooker.

Add 4 cups water and pressure cook the lentils and veggies till they are tender and completely cooked.

When the pressure falls naturally in the cooker, then only open the lid. Let this mixture become warm or cool.

Then blend until fine using hand-held blender or in a high-speed blender or grinder.

You could also strain the lentils and veggie mixture through a strainer and mash as you pass them through the strainer.
Making the tamarind pulp
Take about ½ tablespoon of tamarind and soak it in 1 to 2 tablespoons of warm to hot water for 20 to 30 minutes.

When the tamarind becomes soft, your pulp is almost ready. Squeeze the tamarind with your palm and extract the juices in the same bowl.
Preparing the dhansak masala
Meanwhile when the veggies and lentils mixture is cooling, grind all the ingredients listed above, under the heading "For the dhansak masala" with some water to a fine and smooth paste.

Keep the dhansak masala paste aside.
Making Dhansak
Heat ghee in a pan or pot.

Add chopped onions and sauté them till they soften.

Add the ground dhansak masala paste and sauté it for 3 to 4 minutes or until the oil separates on low to medium-low heat.

Now add the mashed lentils and veggie mixture.

Simmer for a 5 to 6 minutes and then add the tamarind pulp.

For a slightly thinner consistency, you can add some hot water.

Simmer for some 5 minutes or more till the raw aroma and taste of the tamarind goes away.

Serve the Veg Dhansak hot with brown rice or steamed basmati rice or even with veg pulao, jeera rice or ghee rice.
Notes
Add veggies that you have in your kitchen, but do make sure to add pumpkin as it gives a wonderful flavor and taste. 
You could make dhansak with only one kind of lentil or a mix of three to five lentils. The lentils that can be used are: tuvar dal, chana dal, masoor dal and moong dal.
If you have Instant Pot or an electric pressure cooker, cook the lentils and vegetables in either adding water as needed.
The recipe cannot be scaled as is.
Nutrition Info (Approximate Values)
Nutrition Facts
Dhansak Recipe
Amount Per Serving
Calories 340
Calories from Fat 63
% Daily Value*
Fat 7g11%
Cholesterol 15mg5%
Sodium 327mg14%
Potassium 1453mg42%
Carbohydrates 60g20%
Protein 13g26%
Vitamin A 2900IU58%
Vitamin B1 (Thiamine) 0.4mg27%
Vitamin B2 (Riboflavin) 0.2mg12%
Vitamin B3 (Niacin) 4mg20%
Vitamin B6 1mg50%
Vitamin C 43mg52%
Vitamin E 1mg7%
Vitamin K 17µg16%
Calcium 120mg12%
Vitamin B9 (Folate) 158µg40%
Iron 4mg22%
Magnesium 112mg28%
Phosphorus 241mg24%
Zinc 2mg13%
* Percent Daily Values are based on a 2000 calorie diet.
This Dhansak recipe post from the archives first published on November 2011 has been republished and updated on December 2022.