Parsi veg dhansak recipe with step by step photos – I know many folks who love Dhansak. The first time I had Dhansak in my home science days and I must say that I loved it.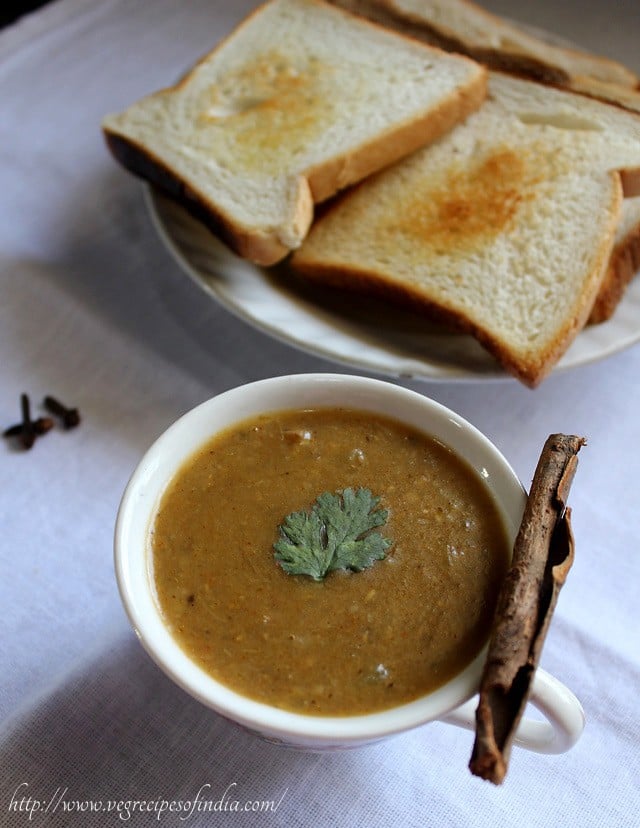 Dhansak is a traditional parsi recipe Usually served with brown rice. It is a medley of lentils, vegetables, spices and meat.
Being a vegetarian I cannot include meat, so have just made it with lentils, veggies and the spices. I know very very little about parsi food. I have been even to parsi weddings, but never had any of the parsi delicacies because all of them were non vegetarian.
Recently I got a request to post some parsi vegetarian recipes and this is the first one in this series. Besides dhansak, the other parsi recipes that I am familiar with are Brown rice, Dhan dar, patrani ni machchi (fish cooked in banana leaves) lagan nu custard (wedding custard). See… I already told you I know very very little.
I referred to five sources for the dhansak recipe, three cookbooks and two cyclostyled recipe sheets. One of mine and the other given to me by a friend.
I settled down for the recipe sheet given by the friend as it did not ask me for a readymade dhansak masala… Plus it was a totally Vegetarian dhansak recipe. I have adapted the recipe by not adding clove powder and instead using extra cloves while making the dhansak masala paste.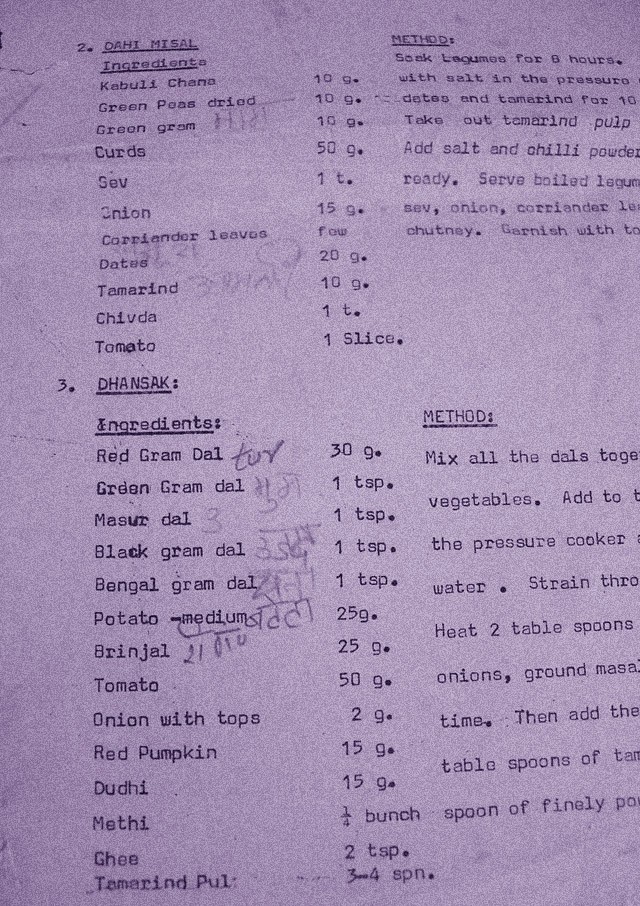 And the result was too good… A comforting, warm, spicy and nutritious Dhansak. the actual recipe involves adding veggies like aubergines and pumpkin. I did not have both, so I added an extra of bottle gourd/lauki. With the remaining of the lauki, I made lauki halwa.
Tips for making dhansak
I strongly suggest you to add pumpkin. It gives a remarkable flavor and taste to the dhansak. If possible then add all the veggies – aubergines, pumpkin and bottle gourd to get an authentic taste.
Also instead of adding five different lentils, I added 3 lentils. You could also just add one type of lentil, namely arhar dal/pigeon pea lentils or masoor dal/pink lentils.
Another important ingredient in dhansak is fenugreek leaves/methi. You could either use fresh or dry fenugreek leaves. I did not have fresh fenugreek leaves. So I added kasuri methi/dry fenugreek leaves.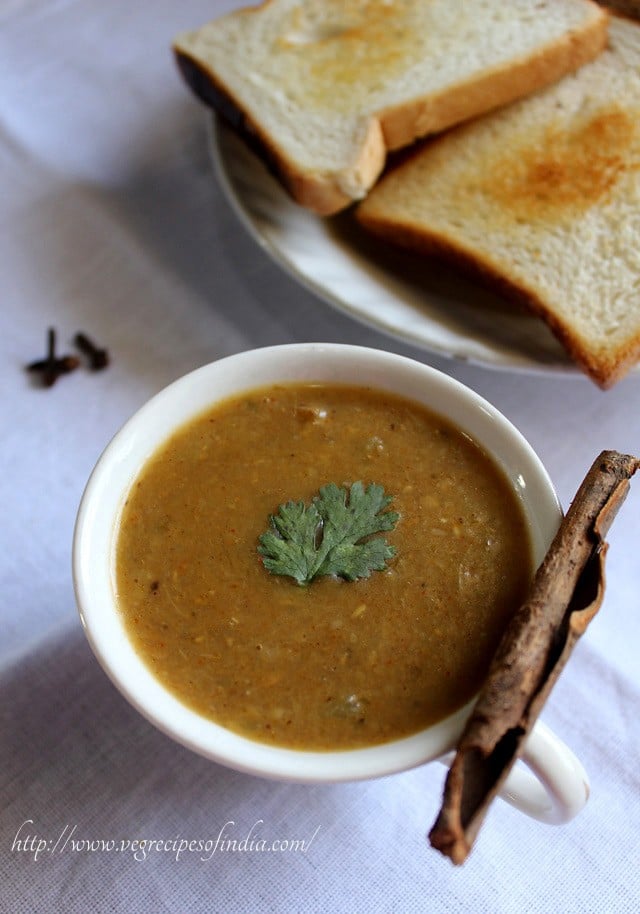 How to make Dhansak
1. In a pressure cooker, take all your veggies, tomatoes, lentils and fenugreek. Add water and pressure cook for 5-6 minutes. I also added a few scallions.
2. Below you see all the ingredients for the dhansak masala paste.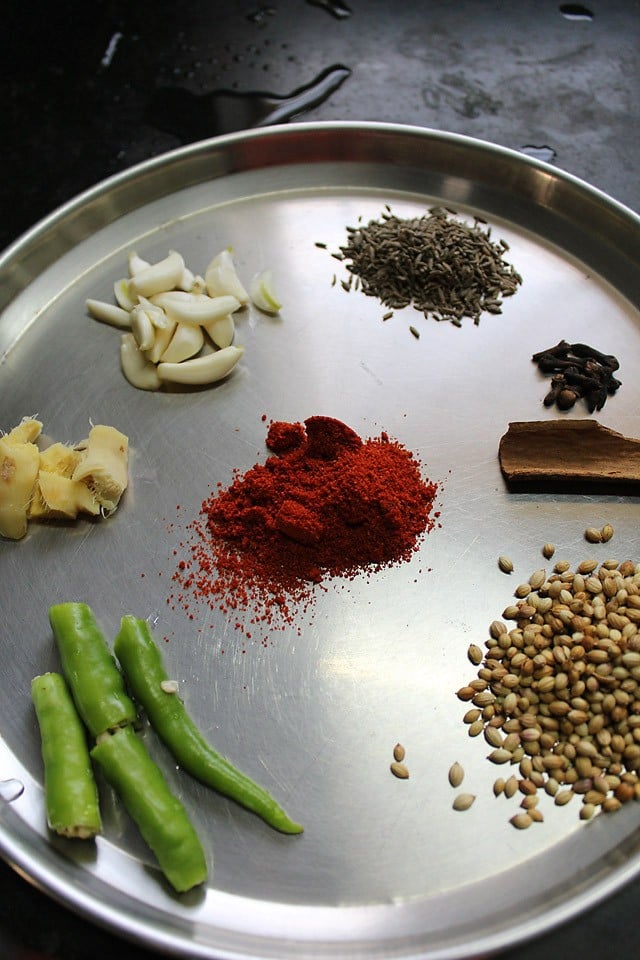 3. Take all of these in a grinder and with some water grind to a smooth paste. The freshness and aroma of this masala paste is wonderful.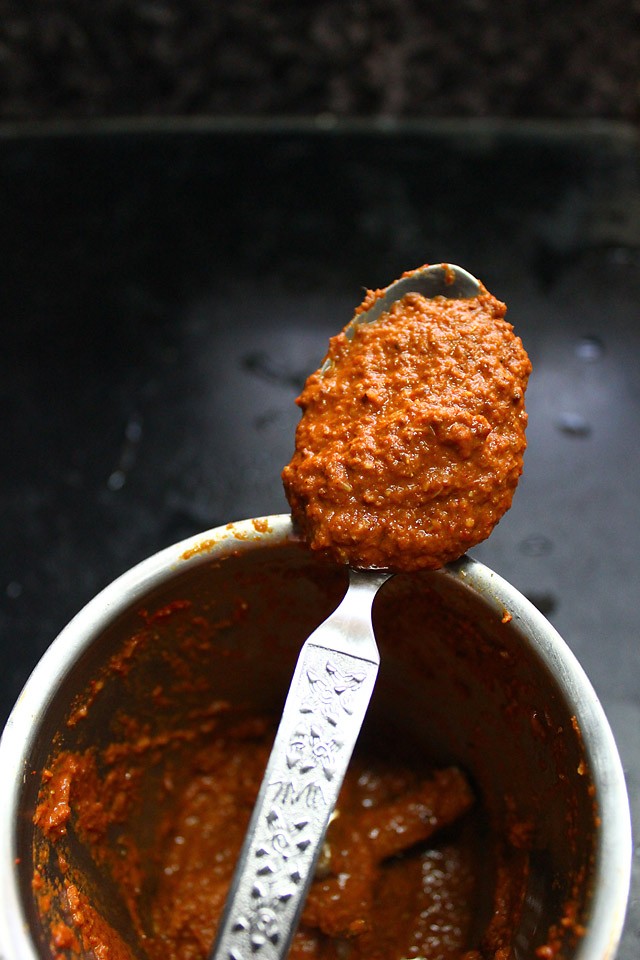 4. Now that the veggies and lentils are cooked.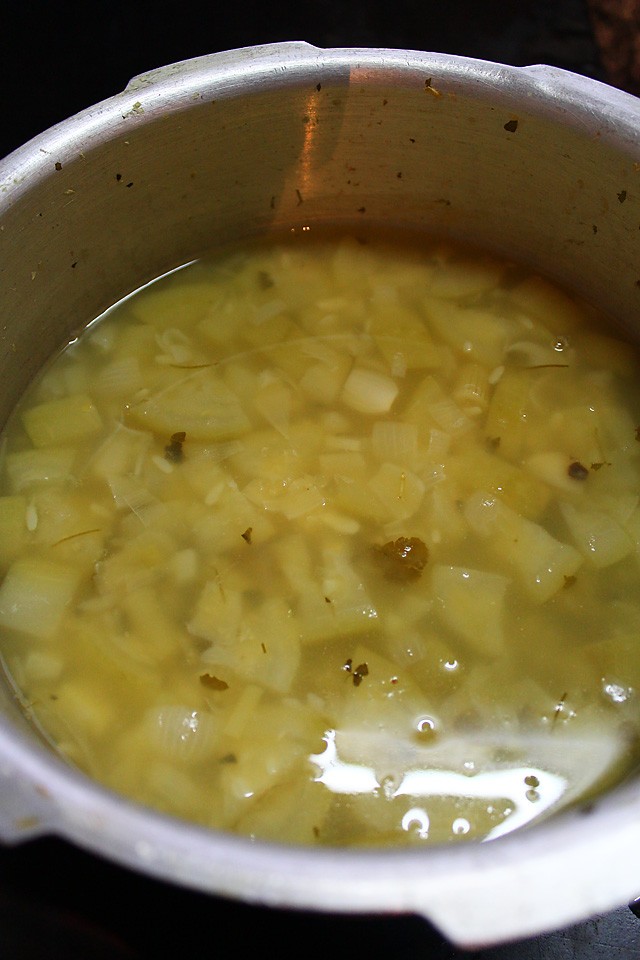 5. Through a strainer or sieve pass the lentils and veggies and mash with the back of a spoon while doing so.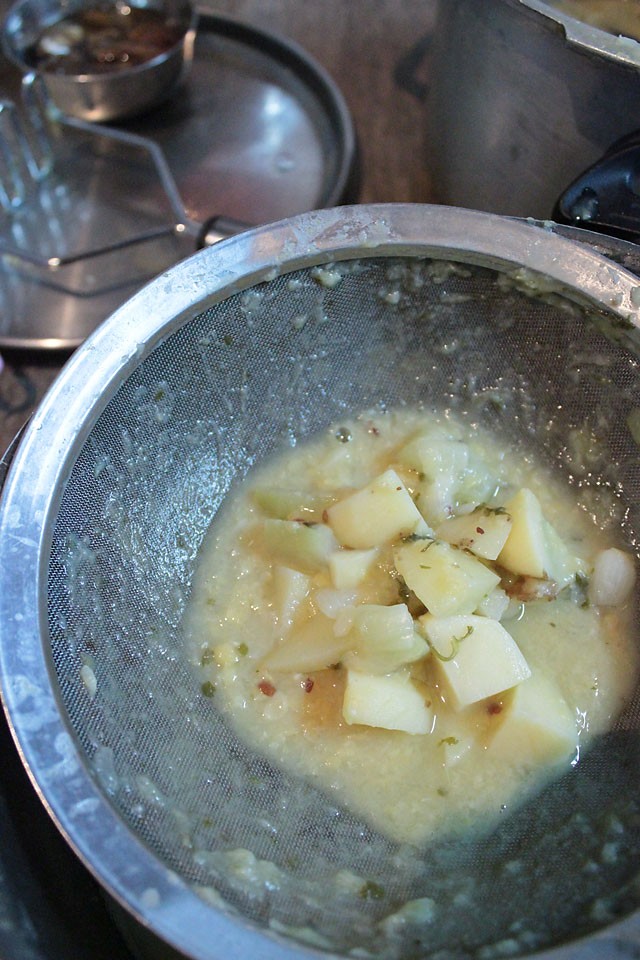 6. There should be lumps at all. If using a fine strainer like the one I have, then the mashed veggies won't be able to pass through it. So mash the veggies with a wooden spoon and then add it to the strained mixture.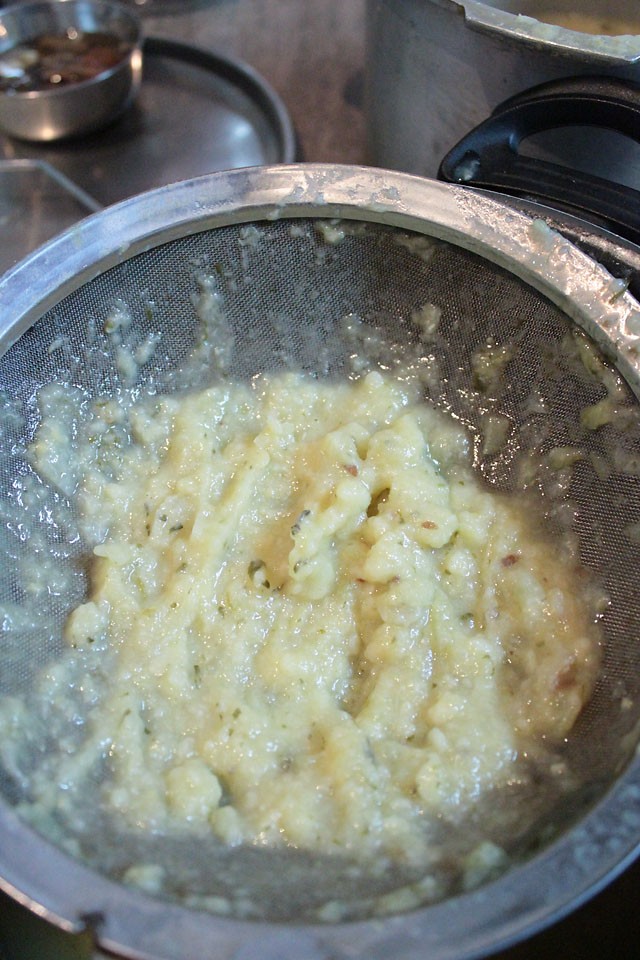 7. I went for a smooth mixture, but if you want you can keep some texture by not mashing the veggies smoothly.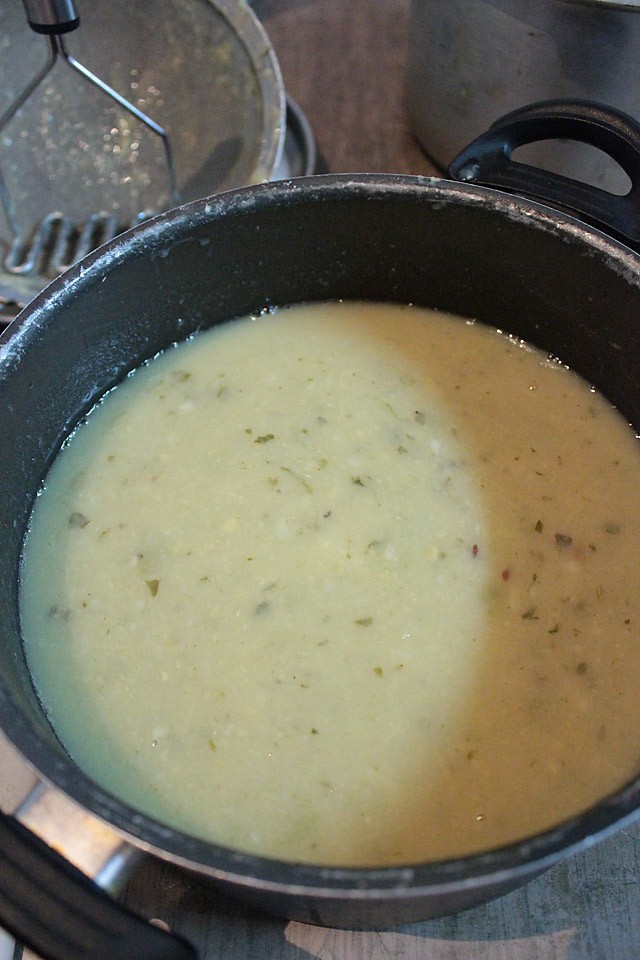 8. Now heat ghee. Add onions and saute them. I used the same pressure cooker. Did not want additional pans for washing 🙂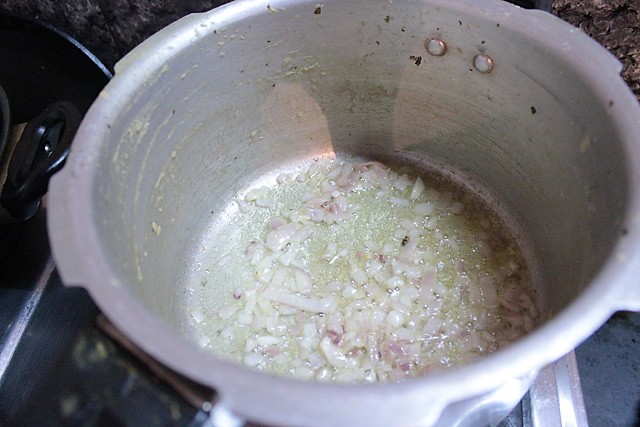 9. Add the dhansak masala paste and saute till the raw aroma goes away.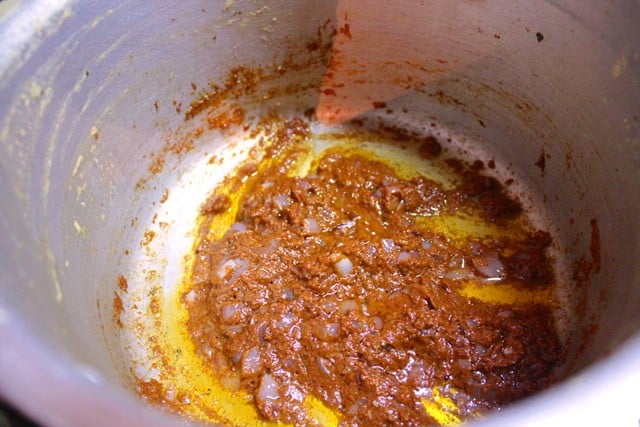 10. Add the strained and mashed lentils and veggie mixture to the masala paste. Simmer for some minutes.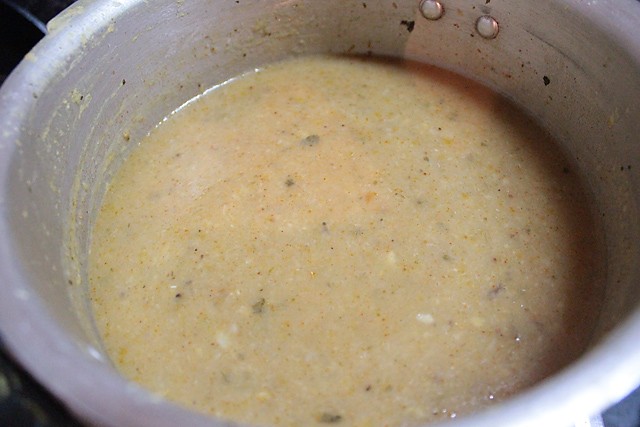 11. Finally add the tamarind juice and simmer for some more minutes. If you look very carefully you will see the dark tamarind juice color almost off the center on the right hand side.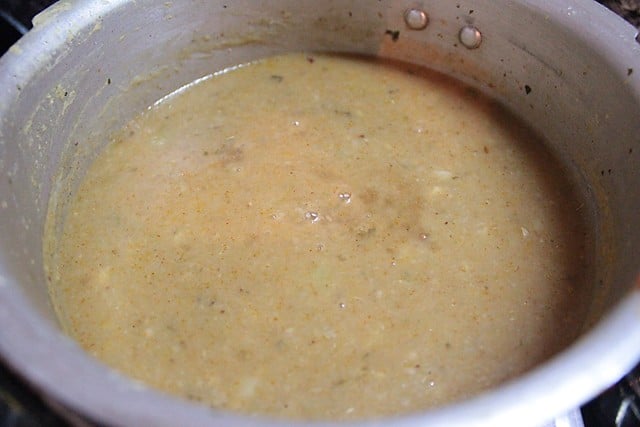 Serve the Dhansak, hot with brown rice. or You can also have it like a soup with some warm toasted bread or garlic bread. It also tastes awesome both with rice and bread.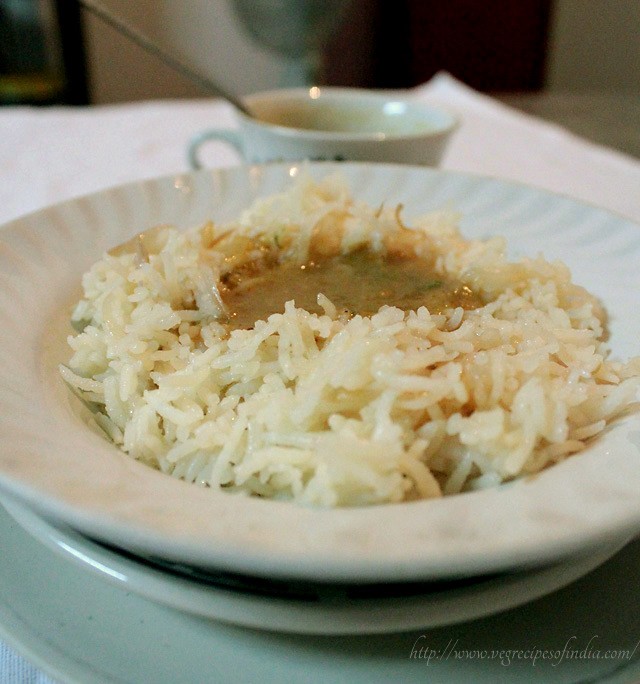 Few more tasty recipes for you!
Please be sure to rate this recipe in the recipe card below if you have made it. For more vegetarian inspirations, Sign Up for my emails or follow me on Instagram, Youtube, Facebook, Pinterest or Twitter.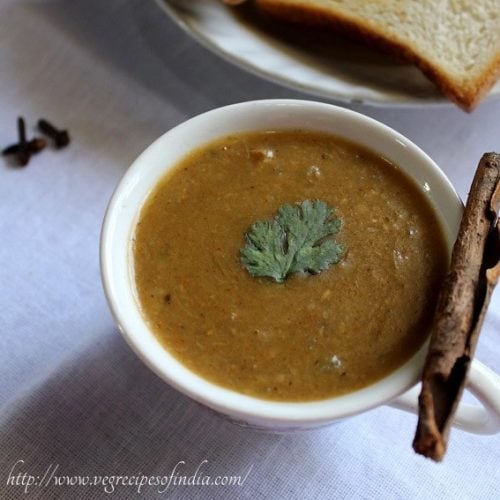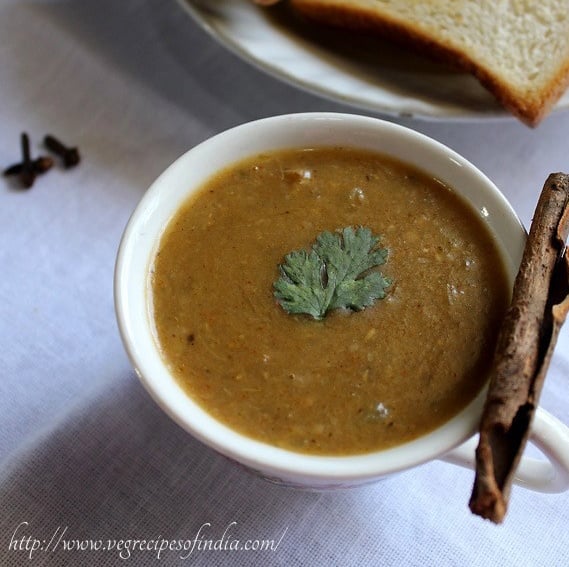 Dhansak Recipe
Dhansak is a vegetable and lentil preparation. Its a traditional parsi lentil recipe.
for the dhansak - lentils and veggies
1

cup

arhar dal

(tuvar dal or pigeon pea lentils)

¼

cup

moong dal

(green gram lentils)

¼

cup

masoor dal

(pink lentils)

1

large onion

- chopped

4 to 5

medium sized tomatoes

- chopped (optional)

2

medium size potatoes

- chopped

2 to 3 medium-size eggplant (baingan)

+ 1 cup chopped pumpkin + 1 cup chopped bottle gourd (lauki)

4

tablespoon

fresh fenugreek leaves

or 1 tablespoon dry fenugreek leaves (kasuri methi)

3 to 4

teaspoon

tamarind pulp

2 to 3

tablespoon

Ghee

4

cups

water

salt to taste
for the dhansak masala
12

garlic cloves

1

inch

ginger

1.5

teaspoon

cumin seeds

1

large cinnamon of 2 inches

or 2 to 3 smaller sized cinnamon

1

tablespoon

coriander seeds

1 to 2

dry red chilies

or ½ tablespoon red chili powder

8 to 9

cloves

2

green chilies
Instructions
Preparing the lentils and veggies
Pick and rinse the lentils.

Mix all the chopped veggies, tomatoes and lentils together in a pressure cooker.

Add 4 cups water and pressure cook the dals and veggies till they are done.

Strain the dals and veggie mixture through a strainer.
Preparing the dhansak masala
Grind all the ingredients for the masala with some water to a fine paste.

Keep the paste aside.
Making the tamarind pulp
Take a small marble sized tamarind and soak it in 2-3 tbsp warm water for 20-30 minutes.

When the tamarind becomes soft, your pulp is ready. Also squeeze the tamarind with your palm and extract the juices in the same bowl.
Making Dhansak
Heat ghee in a pan.

Add chopped onions and saute them till they become transparent.

Add the ground dhansak masala and saute it for 3-4 minutes.

Now add the lentils and veggie mixture.

Simmer for a 5-6 minutes and then add the tamarind pulp.

For a slightly thinner consistency, you can add some hot water.

Simmer for some 5 minutes or more till the raw aroma and taste of the tamarind goes away.

Serve the dhansak hot with brown rice.