As much as Indians take pride in their traditional and classic dishes, the arena of dishes made with leftover food is also reputed in the Indian cuisine scenario. In India, food is also considered divine. Hence, we try and not waste it. From parathas and rice dishes to sandwiches, chaats and everything in between – leftover food can be further used to create unique dishes. One such dish is this Idli Chaat, essentially made using leftover Idli. This Idli Chaat recipe is quick, filling, tasty and fun!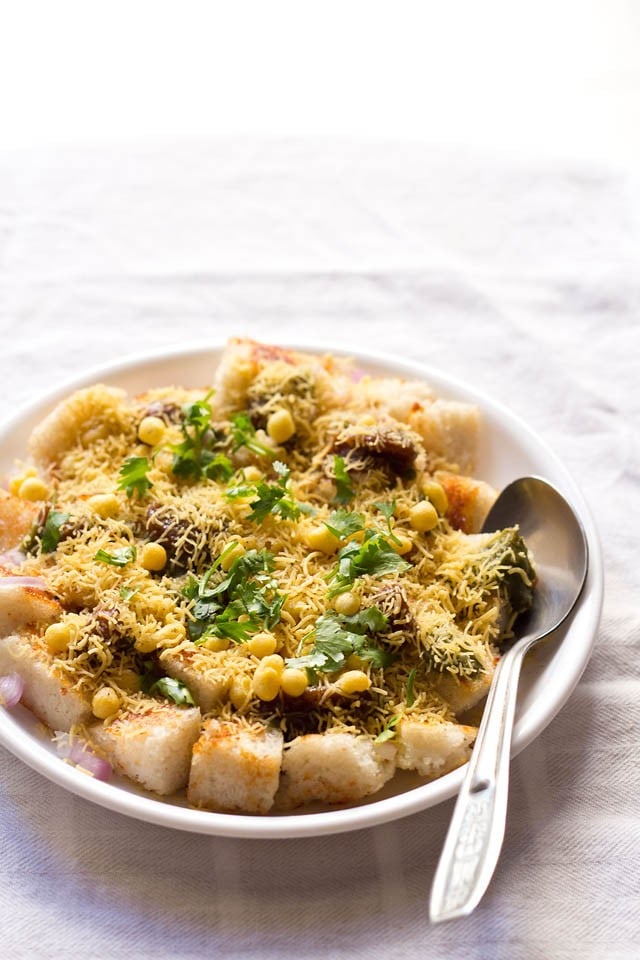 The Indian Leftover Food Culture
The concept of using leftover food to create many more scrumptious dishes is a common phenomenon in India. We Indians really consider food to be divine and nothing less than an emotion. It brings people together and is a world of joy in itself. So, how can something which is considered so sacred be wasted?
Over the years, many Indian recipes have been developed using leftover food. For instance, take the Masala Rice or Fried Rice with leftover rice, Stuffed Veg Rolls with leftover chapatis/rotis or even a variety of fritters or pakoda made with leftover curried lentils, phulka, etc. Here are some more Leftover Rice Recipes that you must give a try.
In Punjab, a very popular dish made with leftover chana dal is the chana dal paratha. I also make delicious and filling chana sandwich and this Aloo Tikki Chole chaat with the leftover Punjabi chole or chana masala at home.
The leftover bhaji of the Mumbai style Pav Bhaji can be used as a filling to make a yummy fusionized dosa. For this, even the leftover idli-dosa batter can be used. Other amazing creations from the leftover batter are Tamil Nadu specials Kuzhi Paniyaram or Sweet Paniyaram.
More on this Idli Chaat
If you have made Idli at home and are leftover with some, you can refer to this Idli Chaat recipe to make use of them. This is one preparation which will satisfy both the idli and chaat lover in you. Other lovely dishes to use these leftover idli include Masala Idli, Idli Upma, Idli Manchurian, Podi Idli or Idli Fry.
This Idli Chaat recipe is extremely simple, packs a punch of flavors and is filling without making you feel stuffy. The idli in this recipe are pan fried and topped in chaat style with tangy chutneys, crunchy onions, sev and more. If you like curd (dahi/yogurt), you can top the idli with that too. Adding curd will make the idli softer.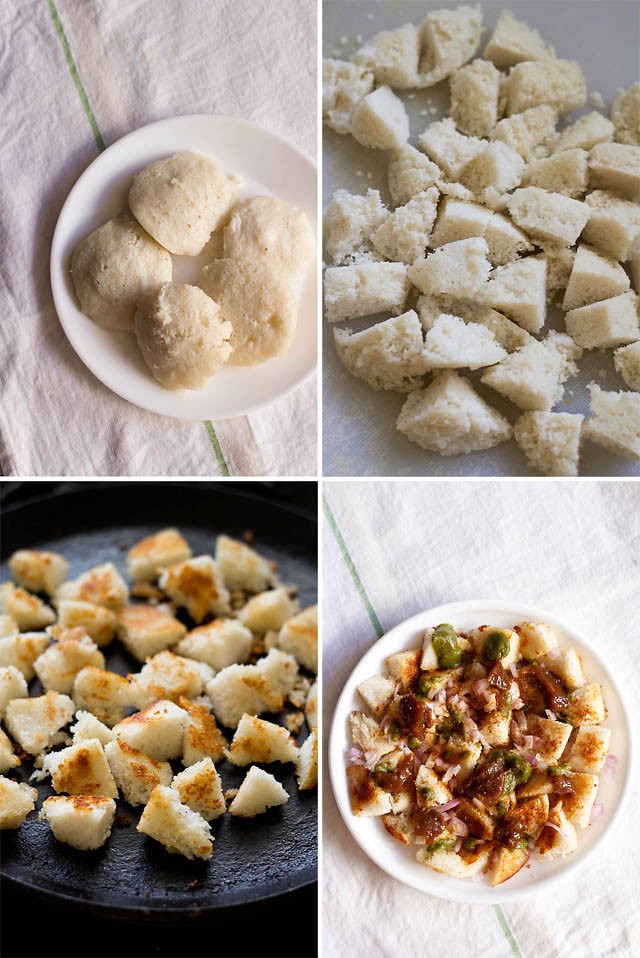 Personally, I like the crispy texture of fried idlis. So, I don't add the curd or yogurt. I also fry the idli in less oil. In case you are shallow frying them, make sure to drain the fried idli on kitchen towels first and then use them to assemble the chaat.
Take a snack break with this Idli Chaat or have it as a satisfying brunch meal. Whatever you decide to do, this recipe is always a great way of using this particular leftover food in a fancy and tasty way.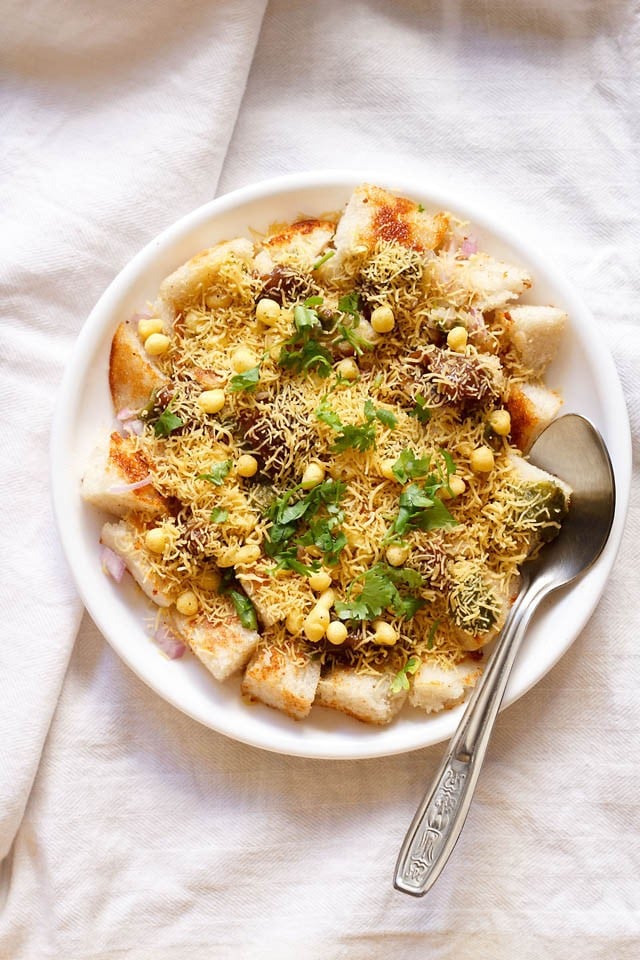 More Chaat Recipes To Try!
Please be sure to rate the recipe in the recipe card or leave a comment below if you have made it. For more vegetarian inspirations, Sign Up for my emails or follow me on Instagram, Youtube, Facebook, Pinterest or Twitter.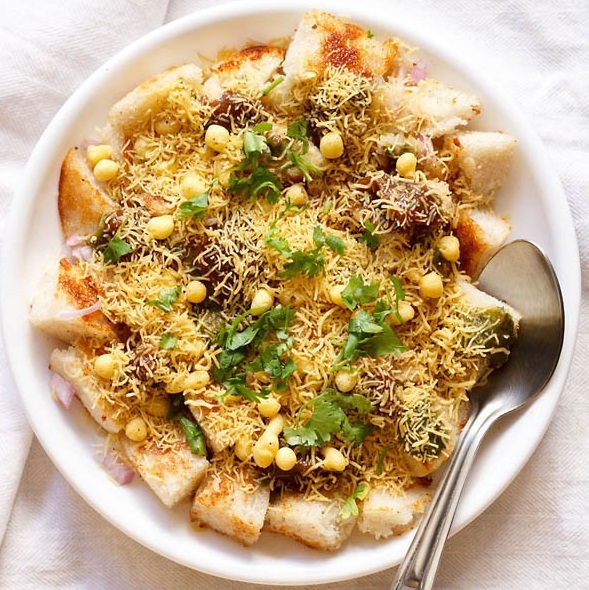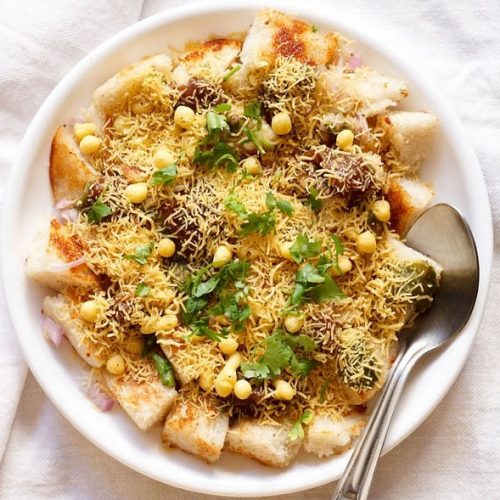 Idli Chaat
Idli Chaat is essentially made using leftover Idli where crispy pan fried idli are topped with tangy and sweet chutneys, onions, herbs, spices and sev. This Idli Chaat recipe is quick, filling, tasty and fun!
9 to 10

Idli

– regular sized

1 to 2

tablespoons

oil

or as required, for pan frying idli

1

onion

small-sized, finely chopped

1

tomato

small-sized, finely chopped – optional

3 to 4

tablespoons

Curd

(yogurt) – dairy or vegan, add as required and optional

3

tablespoons

Mint-Coriander Chutney or Coriander Chutney, or Green Chutney as required

3

tablespoons

Tamarind Chutney

or as required

3

tablespoons

boondi

(fried gram flour balls) – optional

¼ to ½

teaspoon

red chili powder

½ to 1

teaspoon

chaat masala

or add as required

½

teaspoon

roasted cumin powder

or add as required

2 to 3

tablespoons

sev

– finer thin variety, for garnish

black salt

or edible food grade rock salt or regular salt, add as required

2 to 3

tablespoons

chopped coriander leaves

– for garnish
Instructions
Cut the idli into small bite size pieces.

Add oil in a frying pan or skillet and spread it with a spatula or spoon.

Heat oil on a medium-low to medium-heat.

Place the idli pieces on the hot oil in the skillet.

Pan fry the idli pieces on medium heat, till they are golden brown and crisp, flipping them as needed.

If you have used too much oil for frying, then drain the pan fried idli on paper towels.

Divide the fried idlis on three to four small plates.

Add 2 to 3 teaspoons of finely chopped onions on top on each plate. If you want, you can also add finely chopped tomatoes too.

If you want to use curd, then spread a layer of curd on top of the fried idli pieces.

Add a few teaspoons of mint-coriander chutney and sweet tamarind chutney on top of it.

Sprinkle 2 to 3 tablespoons sev, 1 tablespoon boondi, a few pinches of black salt or regular salt, roasted cumin powder, red chilli powder and chaat masala on top on each plate.

Garnish with some chopped coriander leaves.

Serve the Idli Chaat immediately.
Notes
Alter the spices and chutneys according to your taste preferences.
While pan frying, ensure that the idli are not hot or warm. The idli can be at room temperature. 
Easily make a big batch of this recipe for small parties. You will need a good amount of leftover idli to make the chaat for small get togethers.
This Idli Chaat post from the blog archives first published in May 2013 has been republished and updated on 27 April 2022.