leftover rice recipes collection. there is some leftover rice we all have in our kitchens and we do wonder how to use it or what recipe to make with it. usually as a habit, i do not throw away leftover food and this also includes rice. at times i do have leftover rice from the previous night that i use up the next day. i refrigerate and use the rice next day. do not keep leftover rice for a long time. use it within a day or some hours.
in fact there are many delicious recipes you can make leftover cooked rice. they can be range from snacks to sweets or even a main course. in this post, i am sharing recipes that can be easily made with leftover rice.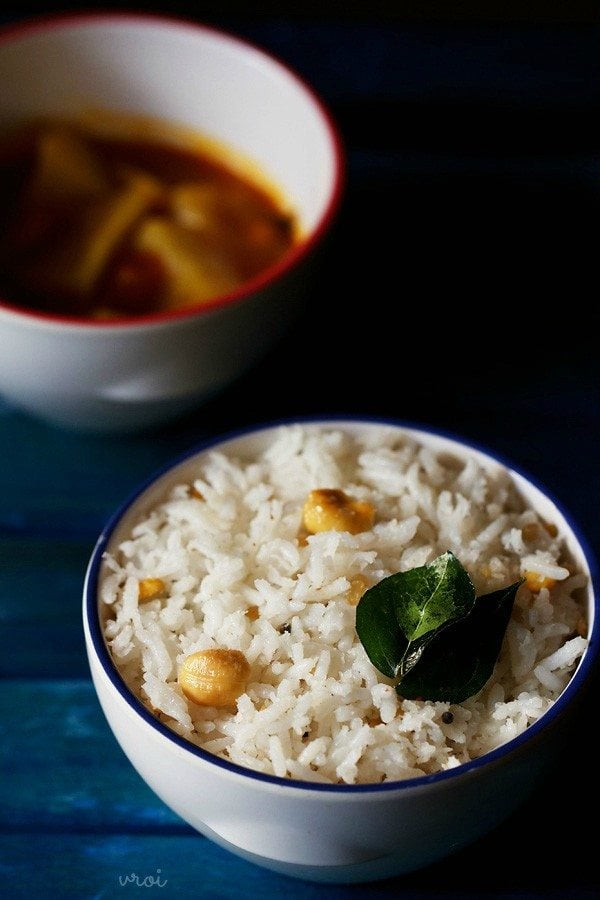 usually 1 cup of raw rice yields 3 to 3.5 cups of cooked rice. this does vary with the type of rice and can even be more.  depending on the quantity of rice you have you can increase or decrease the other ingredients accordingly. if the rice is lumpy, then just break the lumps with your hands and then add the rice in the dish.
5 recipes made with leftover cooked rice:
1. idli recipe from cooked rice – steamed cooked rice makes these idlis ultra soft, fluffy and very light. these idlis are much much softer than the usual idli recipe i follow with idli rava (cream of rice). to make these idlis, use leftover rice which is of the same day.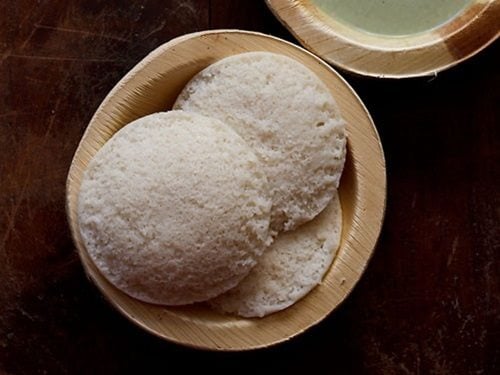 2. rice kheer recipe – creamy smooth and delicious kheer made with leftover cooked rice, milk and sugar. this kheer is flavored with ground cinnamon and cardamom. if you want to make kheer in the traditional way, then check this rice kheer recipe made from uncooked basmati rice or this phirni recipe.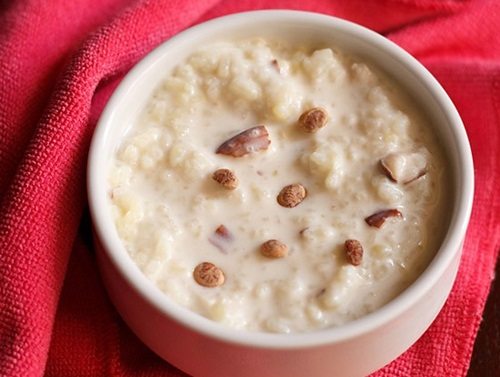 3. rice pakora recipe – crisp and soft pakoras made with leftover cooked rice. these rice pakoras have a crisp texture from out and are soft from within. they are so good, you won't come to know that these pakoras are made from rice.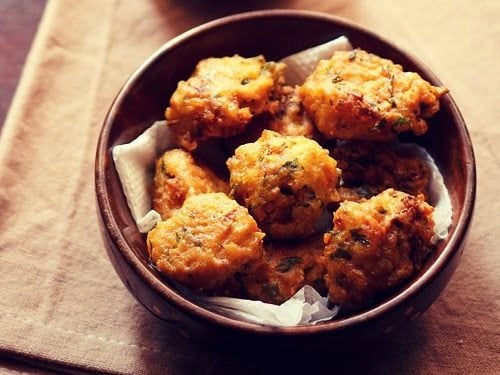 4. rice cutlet recipe – crisp and delicious rice cutlet. the rice cutlet recipe is very easy to prepare. you just need cooked rice along with some boiled potatoes. add your spices. mix everything and then shallow fry or pan fry the cutlets. serve rice cutlets with coriander chutney or tamarind chutney or mint coriander chutney or pudina chutney.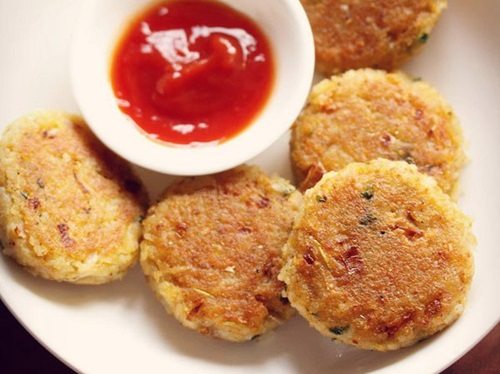 5. appam recipe without yeast – soft lacy hoppers or appams made with regular raw rice, cooked rice, husked black gram (urad dal) and coconut milk. this recipe is not the kerala style of making appams, but my own variation and one which i find easy to make with the ingredients available here. you can serve appam hot or warm with veg stew or coconut chutney or kadala curry.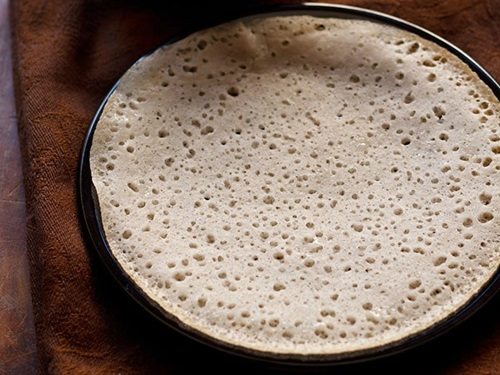 22 rice recipes made with leftover rice or cooked rice:
1. lemon rice recipe – crunchy, flavorful and tangy rice recipe from the south indian cuisine. this is one of the most popular and often made rice recipe from south india. you can make lemon rice with freshly cooked rice or even with leftover rice.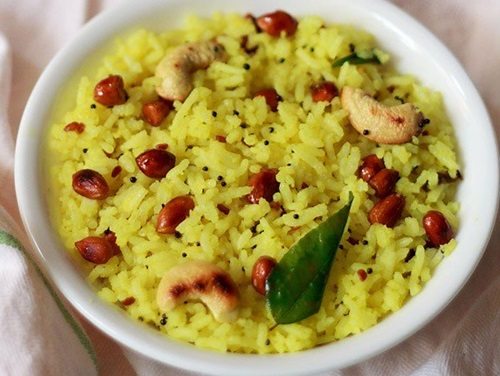 2. tamarind rice recipe – popular south indian recipe of sour and spiced rice made with tamarind pulp and spices. this dish is also called as puliyodharai in tamil language.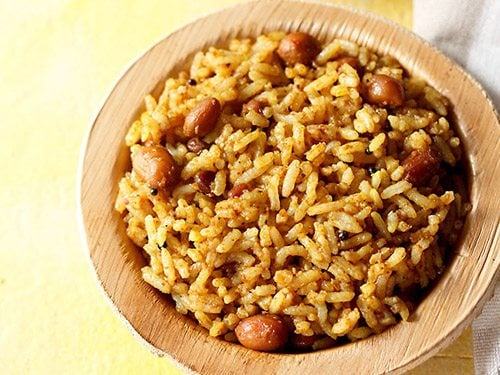 3. fried rice recipe – aromatic, flavorful and delicious vegetable fried rice recipe. one of the popular street foods in india. you can serve veg fried rice with any indo chinese gravy dish like veg manchurian or paneer manchurian or gobi manchurian or mushroom manchurian.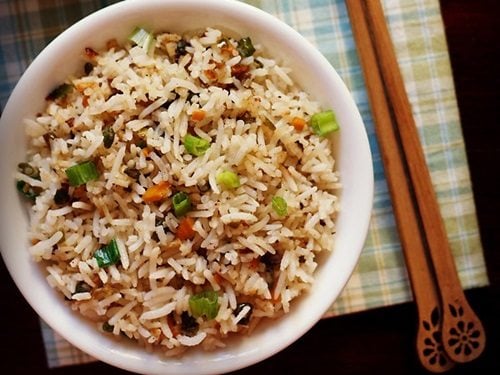 4. curd rice recipe – a popular south indian rice variety that is served with a south indian meal or south indian thali.
5. tawa pulao recipe – a popular mumbai street food of rice and vegetables sauted together with pav bhaji masala and other spices-herbs. the street side vendors use a huge tawa and they make pav bhaji, masala pav, tawa paneer masala and tawa pulao on this huge tawa. for home cooks, this recipe can be made in a frying pan or even in a kadai (wok).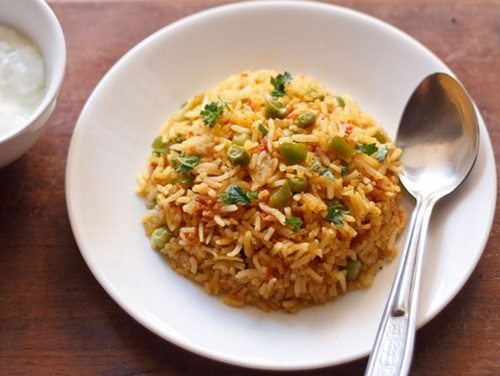 6. schezwan fried rice recipe – spicy and tasty indo chinese recipe of stir fried vegetables and rice in schezwan sauce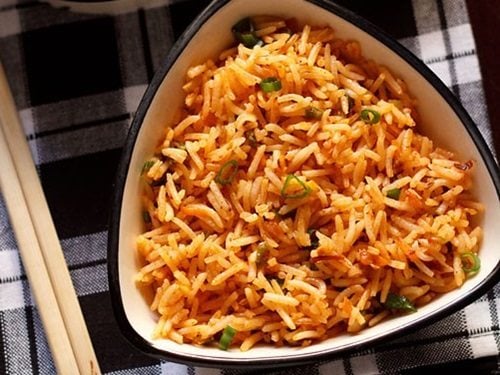 7. vangi bath recipe – homely delicious recipe of brinjal rice from the karnataka cuisine. karnataka style vangi bath recipe makes use of vangi bath masala powder and tamarind pulp as two of the main ingredients. whereas the maharashtrian vangi bhath recipe used goda masala and curd or tomatoes. few more popular recipes from karnataka cuisine are: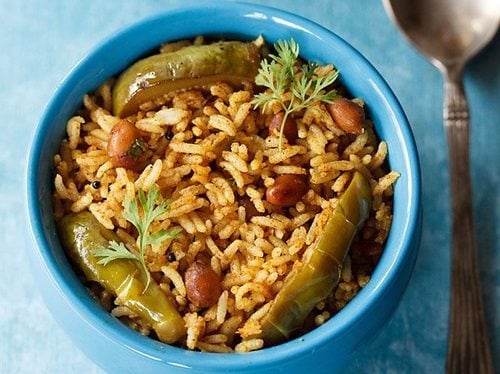 8. masala rice recipe – this masala rice recipe is quick & easy, especially when you have leftover rice. it makes for a filling brunch or lunch or dinner. you can have them plain or accompanied with raita or a bowl of curd or a side salad. boondi raita or cucumber raita goes very well with this spicy rice.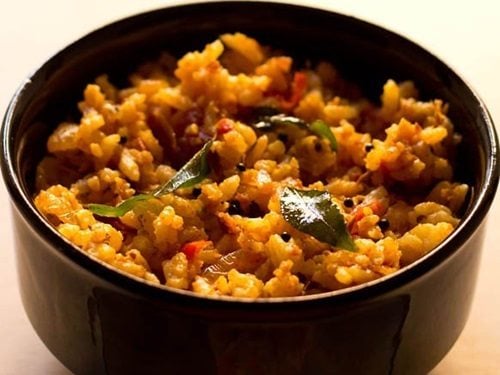 9. masala fried rice recipe – an indian version of the popular veg fried rice. you can make this dish with freshly made rice or even leftover rice. veggies of your choice can be added in the recipe.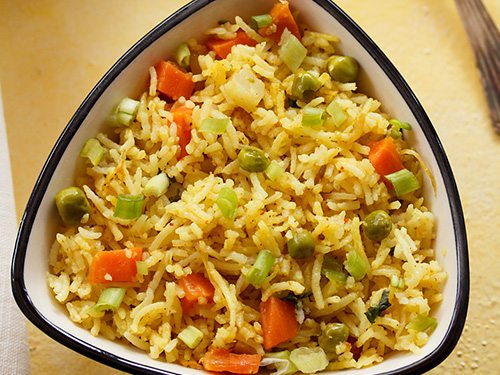 10. coconut rice recipe – light, mild south indian coconut rice recipe made with fresh grated coconut. also known as thengai sadam. you can serve coconut rice as it is or pair with a gravy or curry like veg kuzhambu, veg stew.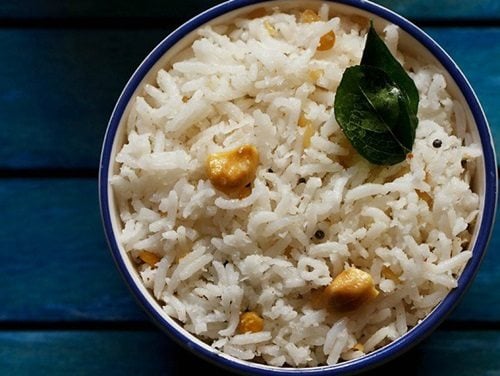 11. mango rice recipe – spiced, tempered and tangy rice made from raw mangoes. the tartness of the unripe mangoes, the subtle sweetness of fresh coconut and the heat of the red chilies balance very well in this dish.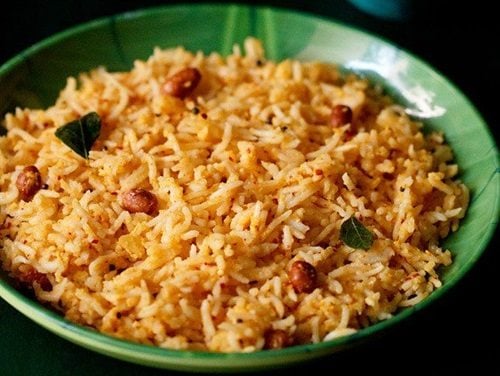 12. bhindi rice recipe – simple homely spiced okra rice recipe, where sauteed okra or bhindi is mixed with cooked rice. for more delicious bhindi recipes you can check this collection of 23 okra recipes.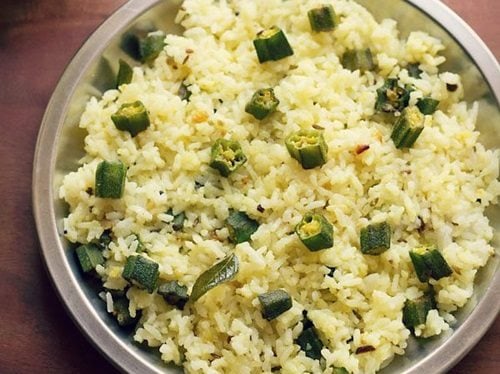 13. singapore fried rice recipe – one of the fusion rice varieties from the indo chinese cuisine is singapore fried rice. this veg fried rice recipe has got nothing to do with singapore. its a spicy rice variety that is a part of the menu of many indo chinese restaurants and even street food stalls in india.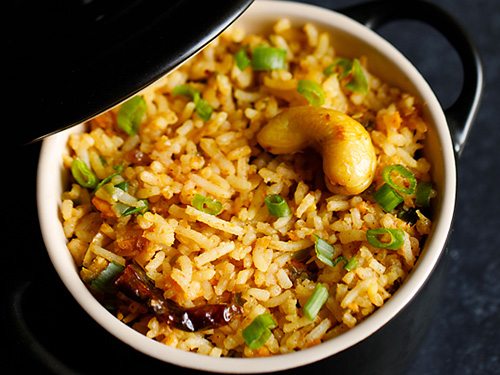 14. garam masala rice recipe – an aromatic rice recipe flavored with garam masala or whole spices. i make this rice on occasions to go with a dal tadka or dal fry or dal makhani or veg curries like veg handi, navratan korma, vegetable korma or paneer based gravies like matar paneer, shahi paneer, kadai paneer, paneer butter masala, palak paneer, paneer lababdar, paneer makhanwala etc.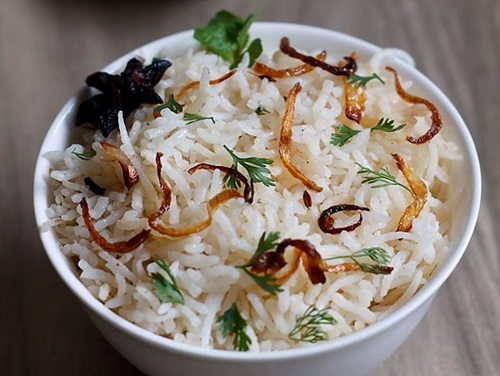 15. carrot rice recipe – lightly spiced and delicious carrot rice recipe. this is one of those rice recipes that can be made quickly. it also goes well as tiffin box lunch.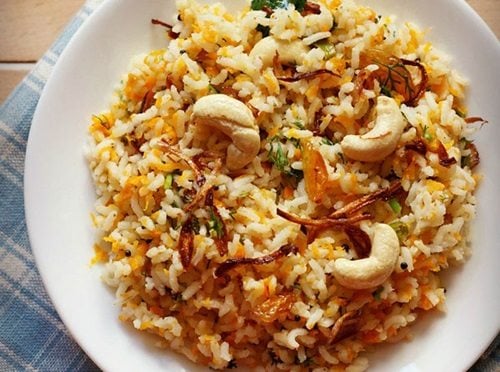 16. mushroom fried rice recipe – delicious indo chinese recipe of fried rice with mushrooms. easy to cook and too good to taste.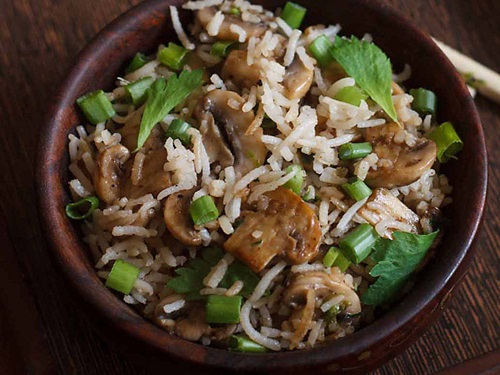 17. paneer fried rice recipe – indian inspired delicious recipe of a mildly spiced paneer fried rice with mixed veggies.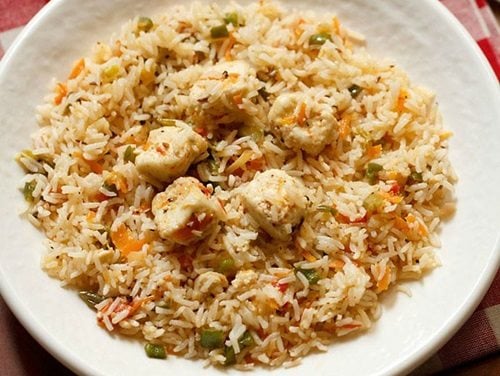 18. burnt garlic fried rice recipe – indo chinese recipe of burnt garlic fried rice. one of the popular variety of veg fried rice available in the chinese restaurants and stalls in india.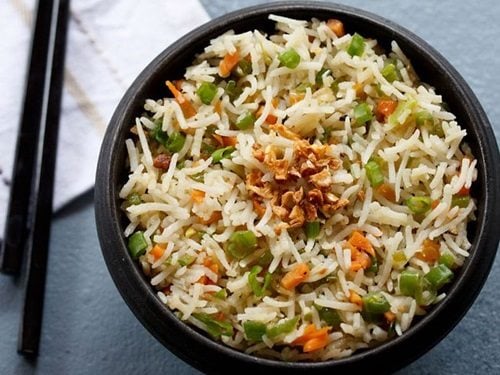 19. sweet corn fried rice recipe – homely, easy and delicious fried rice made with sweet corn, spring onions and herbs+spices.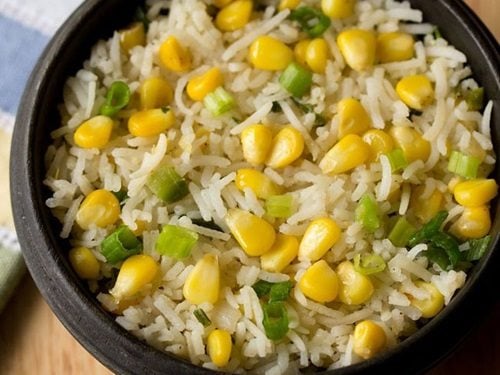 20. cabbage fried rice recipe – indian style fried rice made with cabbage, onions, tomatoes and spices.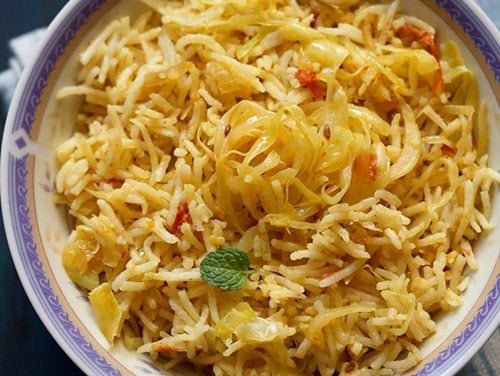 21. pineapple fried rice recipe – simple and delicious lightly spiced fried rice made with fresh pineapple.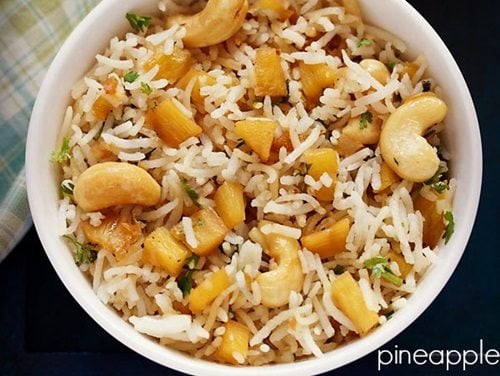 22. mushroom rice recipe – an easy and quick recipe of mushroom rice made in european style.  it is not an elaborate or complicated recipe. easy for bachelors, students and single people.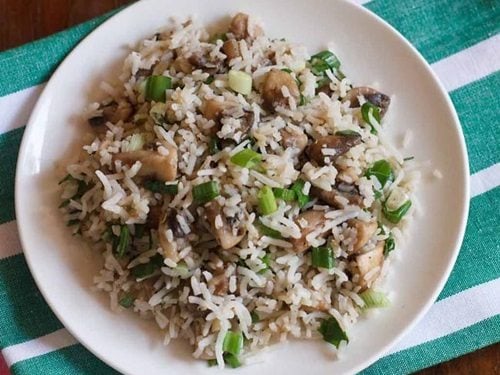 23. corn schezwan fried rice recipe – spicy schezwan rice recipe made with corn and capsicum. in the recipe sweet corn is added, thereby giving light sweet hints while having the spicy rice.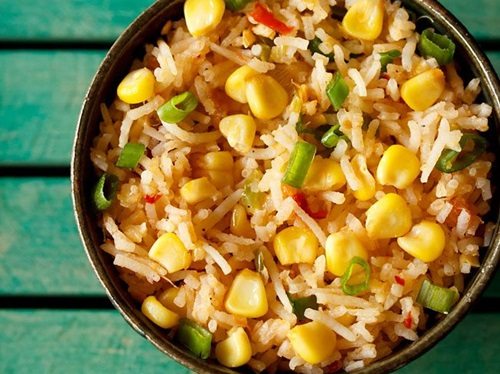 About
i started vegrecipesofindia.com in feb 2009. it is a pure vegetarian blog and shares recipes with step by step photos.

i am passionate about cooking from childhood and learnt cooking from my elders. a home science degree course further enhanced my cooking and baking skills professionally along with an internship in a five star hotel. i am trained both in mainstream indian as well as international cuisines.

all the 1800 recipes posted on blog are tried and tested and made healthy wherever possible. the recipes are detailed and with step by step pictures that will easily help you to make delicious and tasty vegetarian food.