Gajar recipes or carrot recipes – a list or collection of 38 Indian carrot recipes ranging from main course, sides and sweets. Carrot or gajar as we call in hindi, is a veggie which is always there in the fridge. If I do not include carrot in the food I prepare, I do serve them as a salad or just chop them up and serve as a side dish with any Indian meal.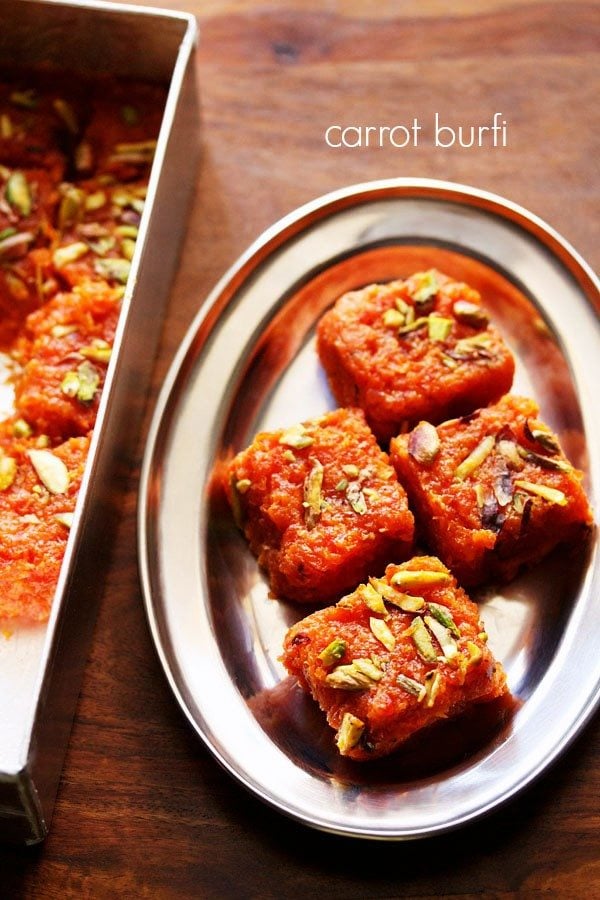 Apart from adding carrot in mix veggie dishes, you can also make recipes only from carrots. So in this collection I have shared recipes made exclusively with carrots and also where two to three veggies are included. Will be sharing a few more carrot recipes on website and this list will be updated. You can also check these Popular veggie recipes collections:
Collection of 37 gajar recipes:
1. Gajar halwa –  a traditional way of making delicious gajar halwa without any shortcuts or tweaks. this traditional recipe uses just full fat milk, ghee and sugar. We generally use red Delhi carrots to make the halwa as they are tender and juicy.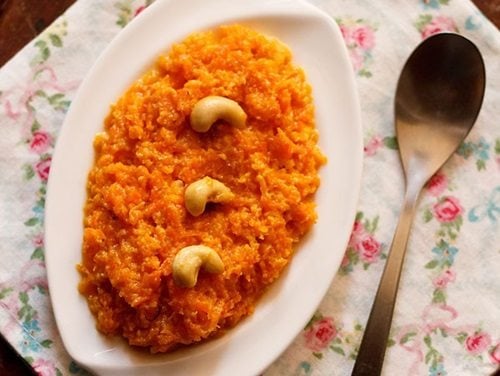 2. Condensed milk carrot halwa – this is a quick and easy version of carrot halwa recipe made with condensed milk.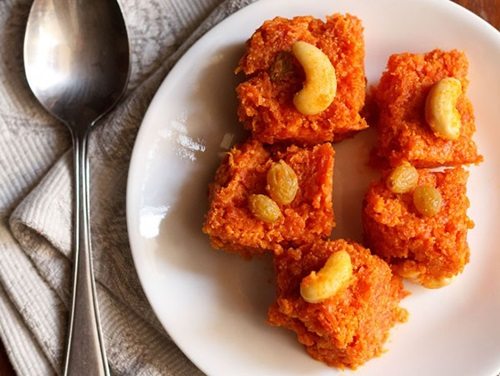 3. Aloo gajar – simple homely dry sabzi or veggie preparation with potatoes and carrots.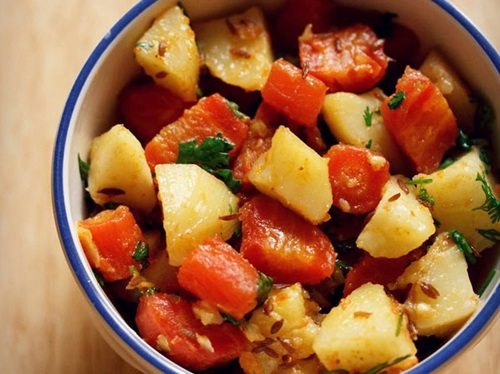 4. Carrot paratha – healthy and delicious whole wheat parathas made with carrots. These parathas are slightly crisp from outside and soft from within. If you like parathas then you can also check this collection of 33 Paratha recipes.
5. Carrot rice – lightly spiced carrot rice recipe. This is one of those rice recipes that can be made quickly. It also goes well as tiffin box lunch.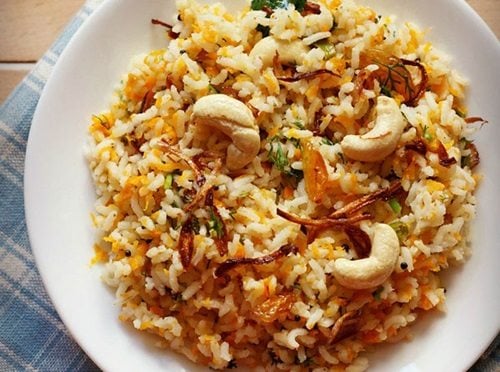 6. Carrot ginger soup – easy recipe of a comforting carrot and ginger soup. There is sweet taste in the soup coming from the carrots along with the warmth of ginger.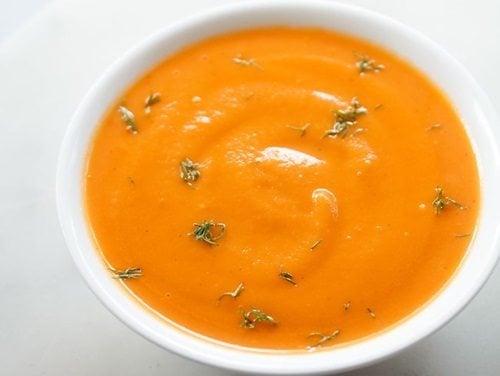 7. Carrot barfi – easy and quick recipe of carrot burfi made with 4 ingredients. the recipe of carrot burfi is similar to the way gajar halwa is made.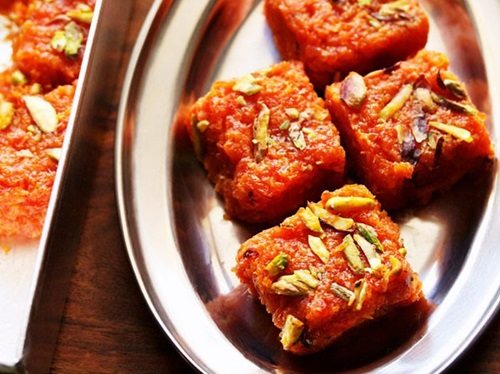 8. Aloo gajar matar – this is a Punjabi style dry veggie dish made from potatoes, carrots and peas. The entire dish is cooked in the pressure cooker, but you can also cook in a pan. If you like quick recipes made in pressure cooker then you can have a look at this collection of 17 Pressure cooker recipes.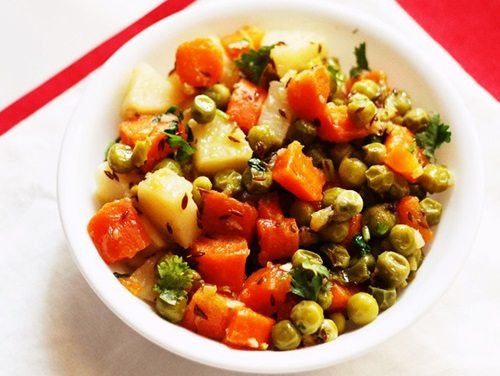 9. Carrot tomato soup – this is one of the most simplest and easy soup recipe to make. The soup has the sweetness of the carrots & onions, along with the slight tanginess of the tomatoes. Garlic in the soup gives a slight sharpness with the earthy flavors of cumin. For more soup recipes, here is this collection of 25 Soup recipes.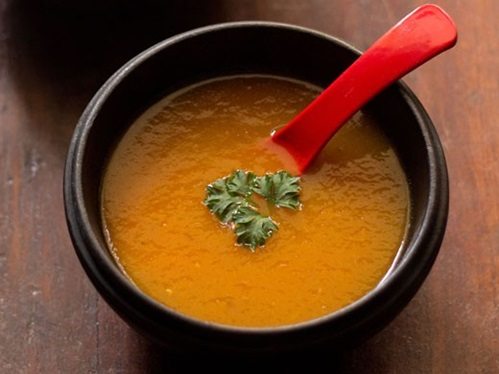 10. Carrot payasam – creamy and smooth payasam made with carrots, jaggery and coconut milk. in this carrot kheer recipe, the carrots are cooked first and blended to a puree. So you get a creamy and smooth payasam.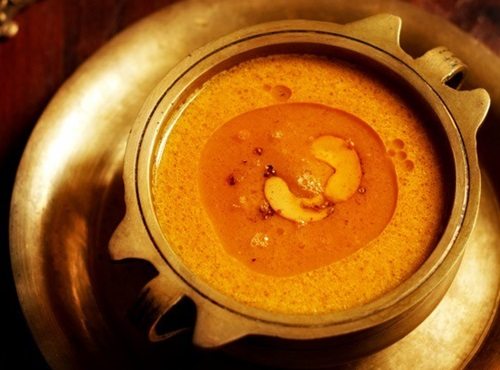 11. Gajar matar sabzi – delicious dry sauteed carrots and fresh green peas. A  dish that is a regular in my home.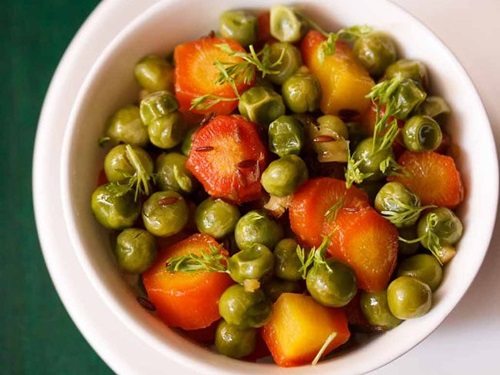 12. Carrot raita – simple and easy to prepare raita with an interesting tempering of asafoetida or hing added at the end. This tempering with ghee perks up the flavor of carrot raita. However the tempering is optional and you can skip it too.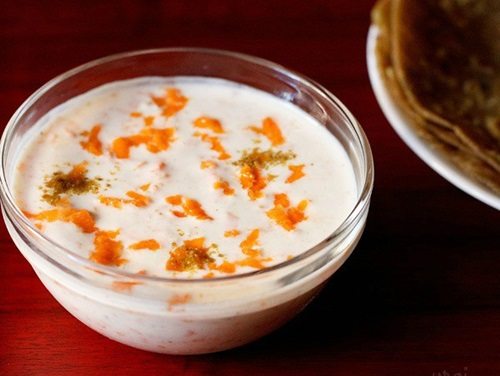 13. Pressure cooker gajar halwa – a less time taking recipe of preparing carrot halwa in pressure cooker.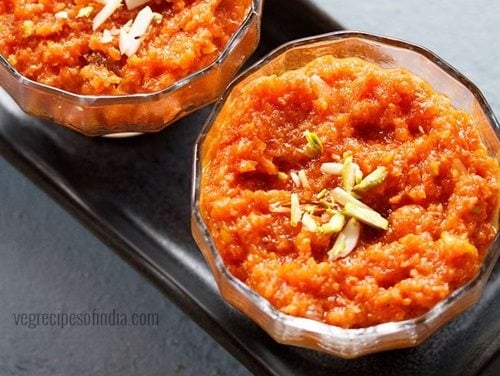 15. Carrot kanji – a fermented North Indian probiotic drink made from carrots, beetroot and ground mustard and water.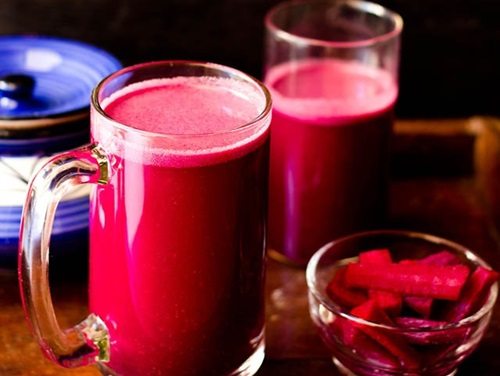 16. Gobi gajar shalgam achar – sweet and sour Punjabi winter special pickle made with cauliflower, carrots and turnips. For more pickle recipes, you can check this Collection of 12 pickle recipes.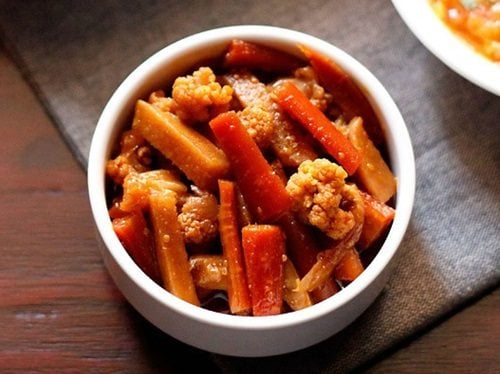 17. Gajar murabba – a juicy, syrupy, tender and soft carrots which taste too good. For making gajar murabba carrots are cooked in sugar syrup flavored with a few spices.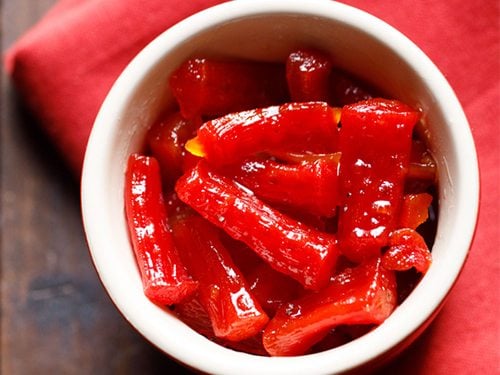 18. Vegan carrot pudding – a classic Indian dessert made with grated carrots and almond milk.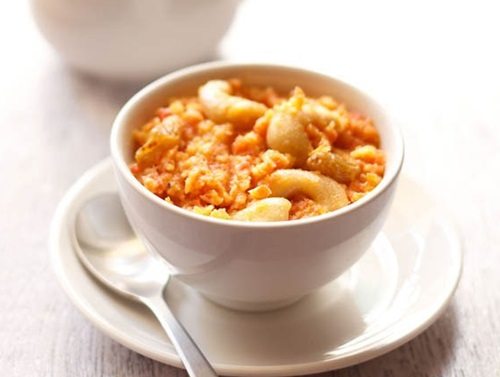 19. Carrot sambharo – a simple Gujarati carrot salad recipe. this is a stir fried salad where the carrots are sauted with mustard and green chilies. Green chilies add some heat and spice to the salad. The flavors of fried mustard seeds also enhances the taste.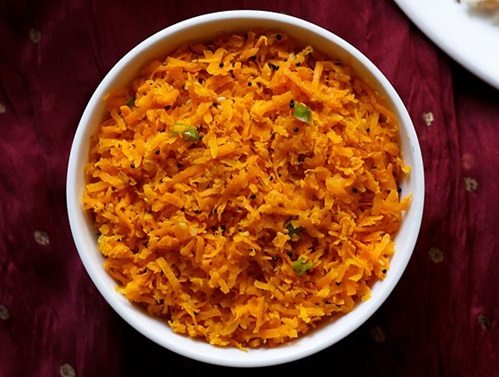 20. Beetroot carrot poriyal – a simple flavorful South Indian dish made with beetroots and carrot. Lightly spiced and topped with coconut.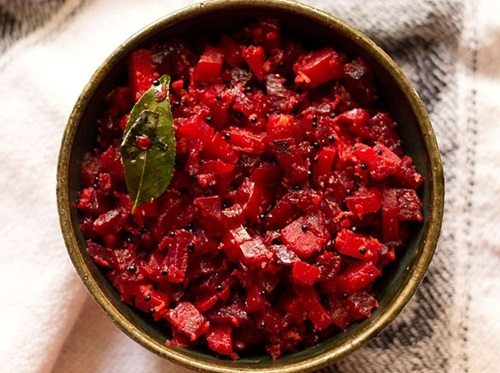 21. Beetroot carrot raita – healthy, nutritious and beautiful colored raita. i have also added some chopped capsicum and onions to the raita to give it a crunchiness. However this is optional.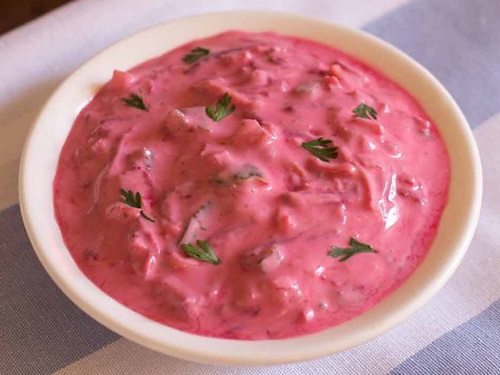 22. Veg chops – one of the popular street food in bengal. These are addictive and no one can just eat one. These fried crisp chops can be compared to croquettes or Veg cutlet and have a slight sweet taste due to the addition of beetroot, carrots and peanuts.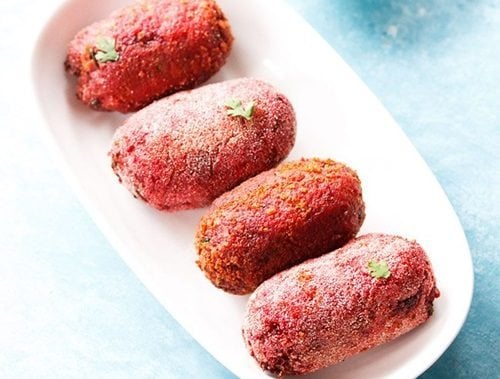 23. Carrot chutney – this quick and tasty carrot chutney goes well with idli or soft dosas like poha dosa, neer dosa, benne dosa or with rava idli, adai and even medu vada.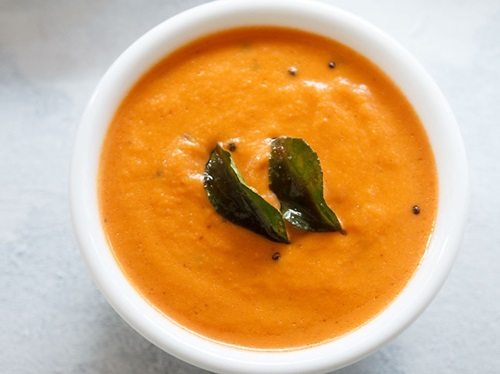 24. Carrot poriyal – simple and easy to prepare carrot poriyal recipe. Poriyal are veggies based dry dishes from the Tamil Nadu cuisine.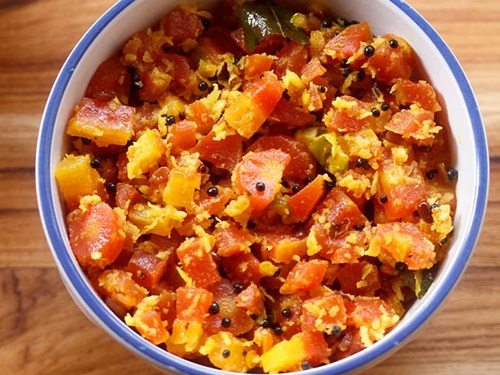 25. Veg chilli milli – spicy and tasty gravy made with mix veggies, tomatoes-cashew paste, green chilies and spices. usually cabbage, carrots, capsicum (green bell pepper) and green peas (matar) are added in this dish. Though, you can also use your choice of veggies.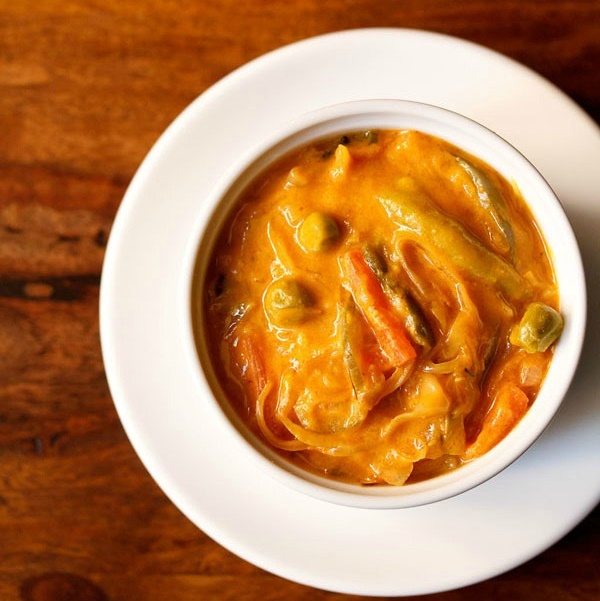 26. Veg shakuti recipe – veg xacuti is a delicious spicy coconut based curry with complex flavors. Xacuti recipe is a popular dish from the Goan cuisine. I have used mix vegetables to make xacuti.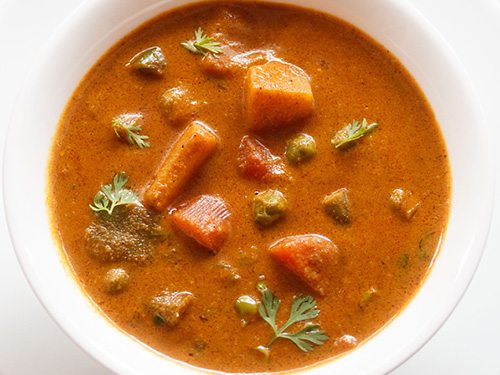 27. Jini dosa – popular and delicious variety of dosa from Mumbai. jini dosa is a yummy, crispy, cheesy dosa with spicy, sour, sweet taste along with the crunchiness of the veggies. The taste of cheese is distinctly felt in the dosa and goes very well with the vegetables.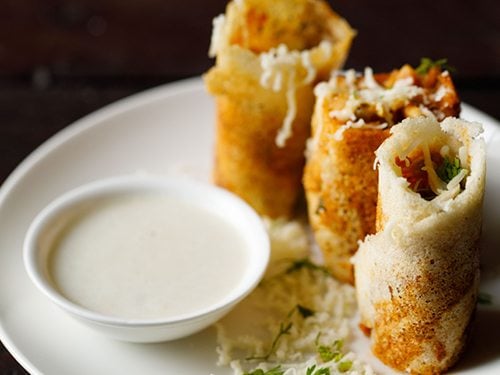 28. Cabbage manchurian – Chinese pakoda are crisp and spiced fried vegetable fritters. Chinese pakora is one of the inventions from Mumbai city and is popular there.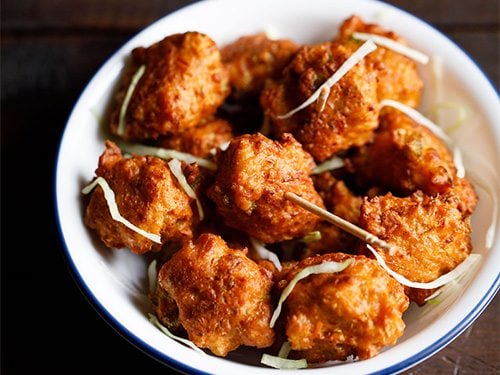 29. Vegetable lollipop – veg lollipop are crispy fried balls made with mix vegetable filling. veg lollipops make for a tasty vegetarian appetizer or a starter snack at get together and parties.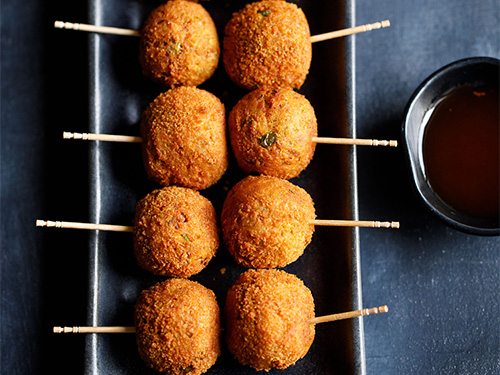 30. American chopsuey – one of the most popular fusion Chinese recipe that is made in India is veg American chopsuey. This crispy crunchy snack is popular with both kids and adults alike.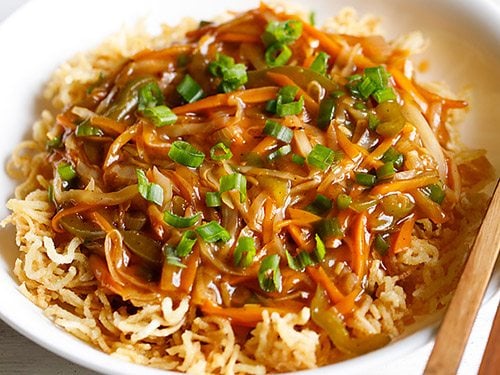 31. Korma – aromatic, delicious and lightly spiced curry made with mix vegetables. You can also check this hotel style Veg kurma. you can serve veg korma with pooris or rotis or neer dosa or poha dosa or set dosa or even with plain soft dosa. it can also be served with steamed rice or appam or lachha paratha or Kerala paratha.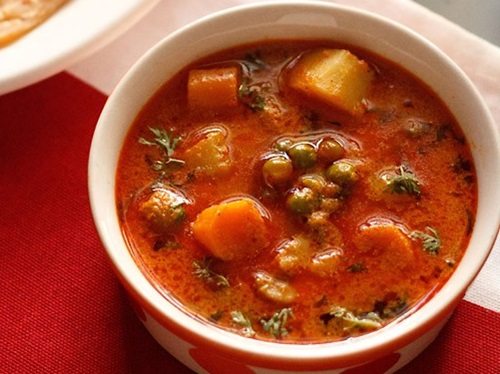 32. Mix veg – simple, homely and tasty recipe of mix vegetables made in North Indian Punjabi style.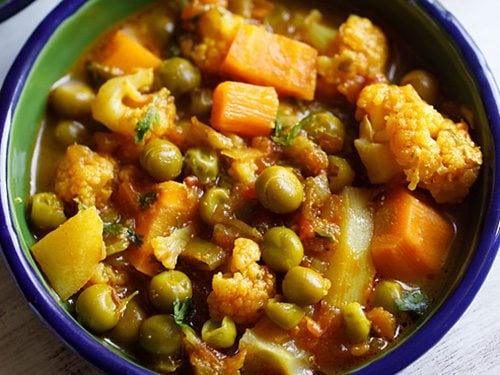 33. Veg sagu – creamy coconut+spices based delicious curry made with mix veggies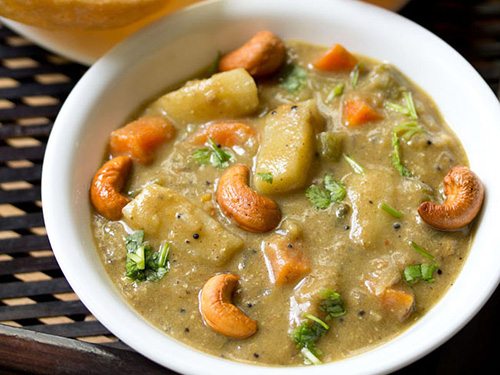 34. Punjabi fried mix veg sabzi – delicious and tasty North Indian style fried mix veg recipe. this mix veg recipe has the typical Punjabi flavor and taste to it. the recipe calls for frying the vegetables. Since the vegetables are fried and cream is used, the recipe becomes rich in calories.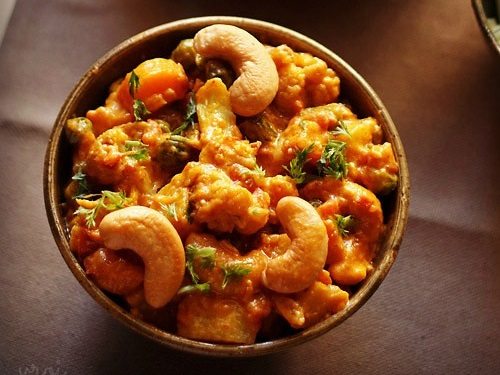 35. Veg handi – rich, creamy curry with mixed vegetables. Restaurant style recipe.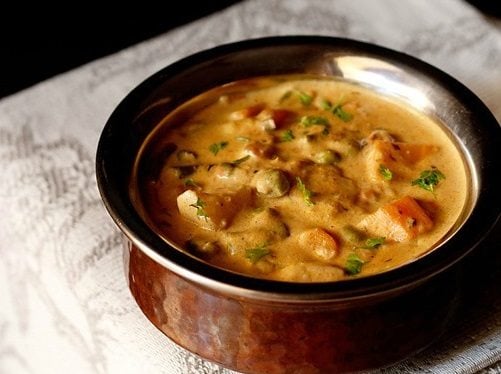 36. Veg Kolhapuri – spicy and tasty mix vegetable curry from Kolhapuri cuisine. vegetable Kolhapuri is best served with chapatis, bajra bhakri or jowar bhakri, phulkas and even parathas.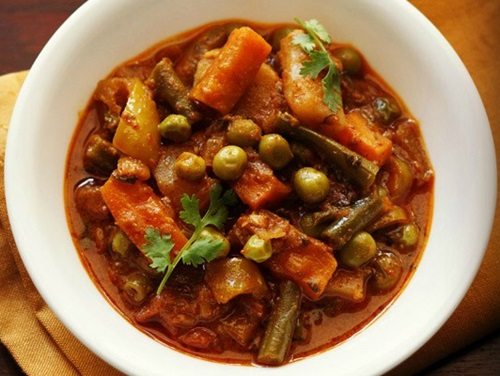 37. Carrot cake – decadent and delicious carrot cake made without eggs. like my most Cake recipes, this carrot cake is also made with whole wheat flour. Though you can also make it with all-purpose flour. The cake tastes good and is filling. There is a slight denseness in the cake due to whole wheat flour.