Beetroot recipes – collection of 15 Indian beetroot recipes which includes side dishes, sabzis and sweets. beetroots are rich in iron, calcium and minerals and there are various ways you can include them in your meals.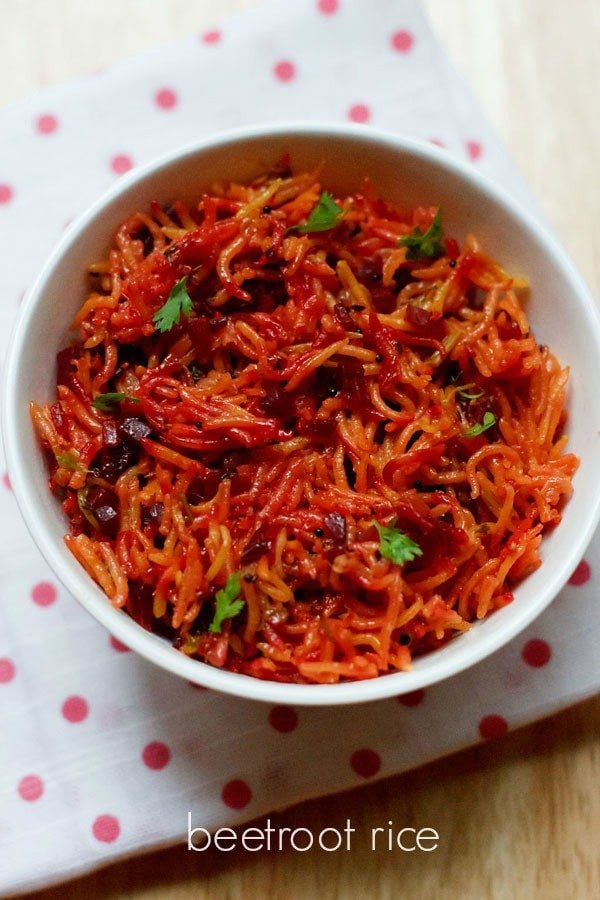 Carrots and beetroots often make an appearance in our menu. Apart from preparing the recipes listed below, I also add beetroots to Pulaos or mix veg dishes. With beetroots the color of the dish that you prepare changes to a nice pink to crimson red tone, depending on the ingredients used in the recipe. So the food looks very colorful and appealing to the eyes.
As I add more beetroot recipes, I will also update this collection. You can also check these popular veggie recipes collections:
Collection of 15 beetroot recipes
1. Beetroot halwa recipe – a slow cooked dessert recipe of halwa with grated beetroots, milk, sugar, cardamom and dry fruits. the halwa has a beautiful color and tastes good too.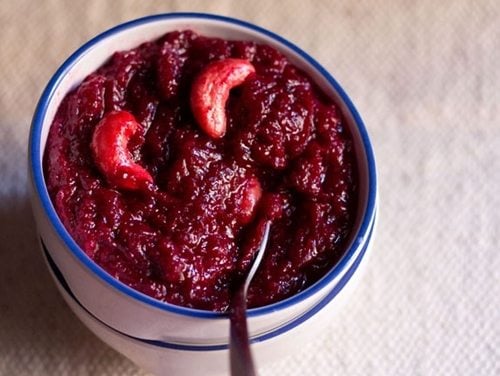 2. Beetroot paratha recipe – whole wheat parathas stuffed with a spiced beetroot filling. These parathas have a faint sweet taste coming from the beetroots.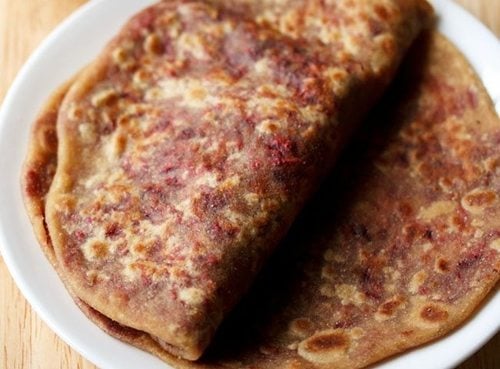 3. Beetroot poori recipe – lovely crimson coloured pooris made with beetroot. Not only the color is attractive but the taste is also good.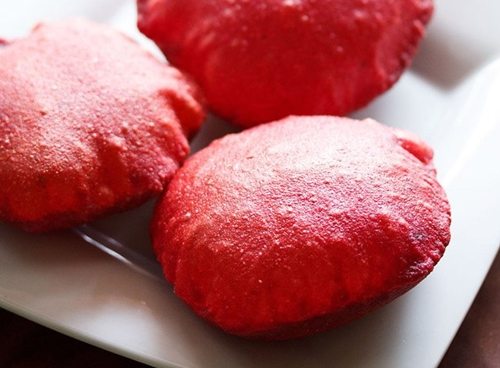 4. Beetroot bhaji recipe – simple, homely and healthy beetroot bhaji recipe prepared in South Indian style. This sabzi goes well as a side dish with Rasam-rice, dal-rice or even dishes like Khichdi. you can also serve it as a side dish with chapatis.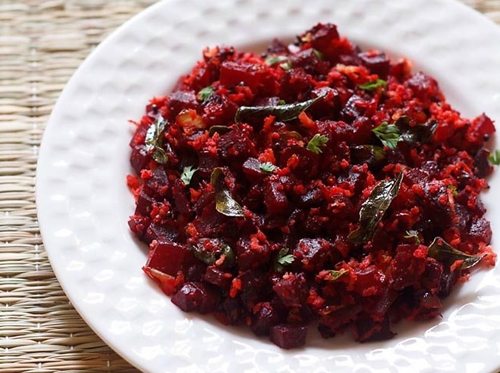 5. Beetroot rice recipe – this pulao is slightly spicy with the sweetness of beetroot coming through in the spiced rice. Kind of a complex flavored dish. The recipe can be made quickly in a pressure cooker.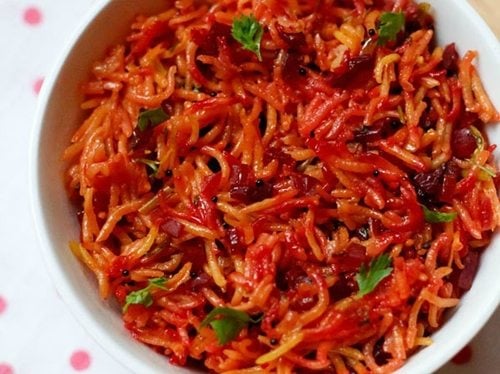 6. Veg chops recipe – one of the popular street food in bengal. These are addictive and no one can just eat one. These fried crisp chops can be compared to croquettes or Cutlets and have a slight sweet taste due to the addition of beetroot, carrot and peanuts.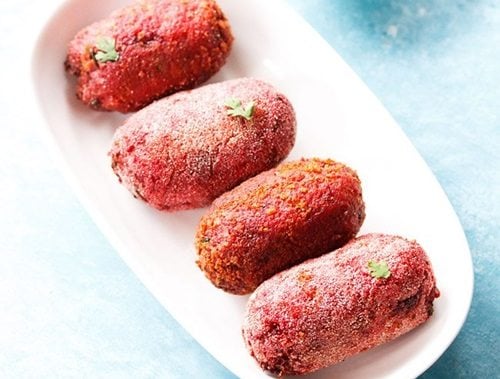 7. Quick beetroot halwa recipe – a quick version of beetroot halwa made with khoya or Mawa. if you taste the halwa, you won't get the beetroot flavor and the halwa tastes similar to Gajar halwa.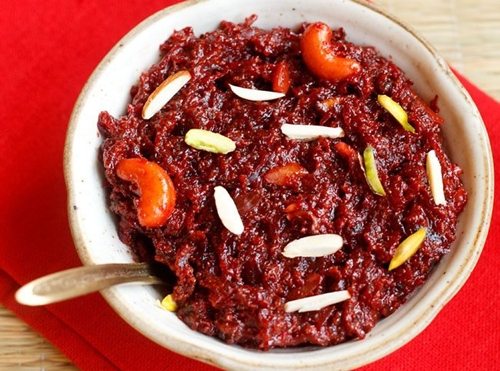 8. Beetroot chutney recipe – tasty chutney made with beetroot for Idli and Dosa. the chutney tastes sweet with some heat coming from the green chilies. Though the sweet taste is not like a sugary sweet taste, but a mellowed sweet taste.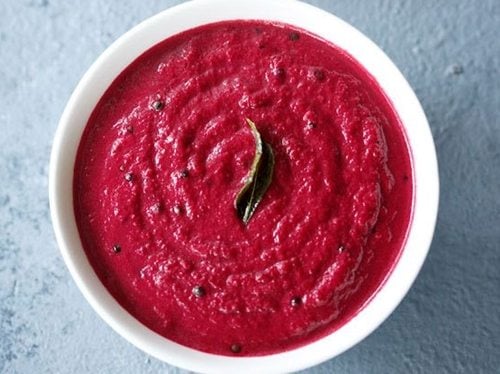 9. Beetroot poriyal recipe – poriyal is a preparation where the vegetables are sauted in spices and topped with grated coconut. poriyals can be served as a side vegetable dish with Sambar rice combo or Rasam rice combo or even can be had with chapatis.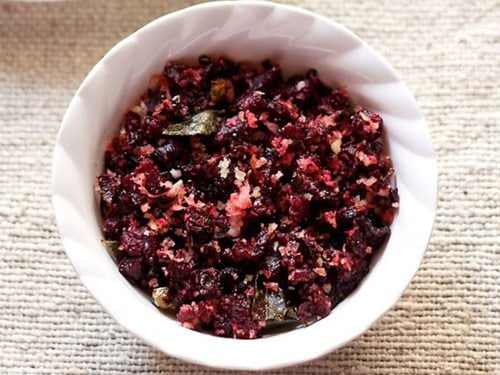 10. Beetroot thoran recipe – a dry and delectable mildly spiced dish made with beetroots having sweet notes from the beetroot as well as the coconut.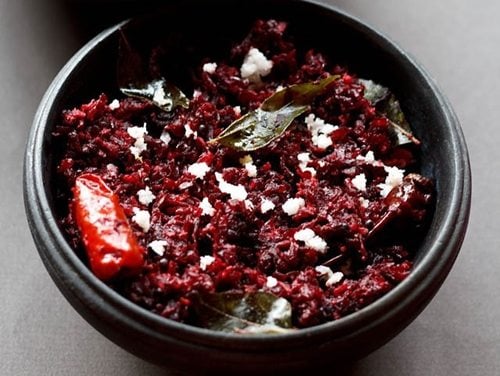 11. Beetroot tikki recipe – the beetroot tikkis are easy to make. Boiled and mashed beetroot plus potatoes and spices – mix them all and shape them into tikkis and fry.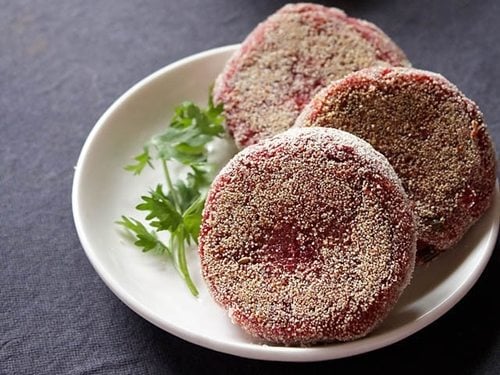 12. Beetroot carrot poriyal recipe – a simple flavorful South Indian dish made with beetroots and carrot. Lightly spiced and topped with coconut.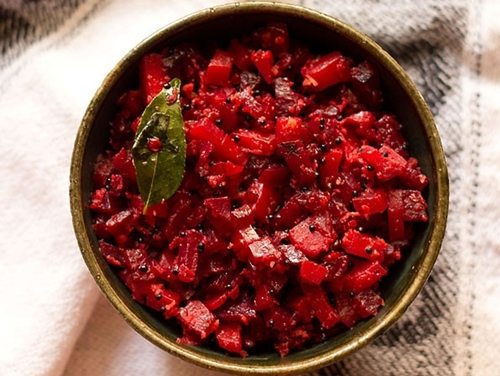 13. Beetroot carrot raita recipe – this is a healthy, nutritious and beautiful colored raita.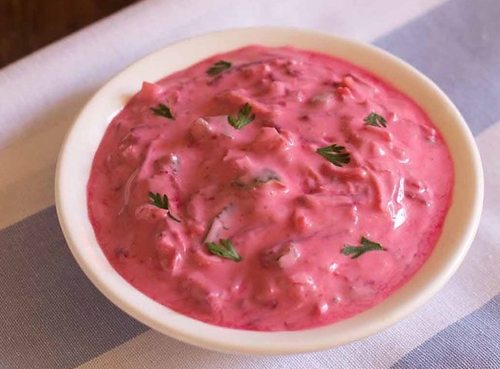 14. Carrot kanji – a fermented North Indian probiotic drink made from carrots, beetroot and ground mustard and water.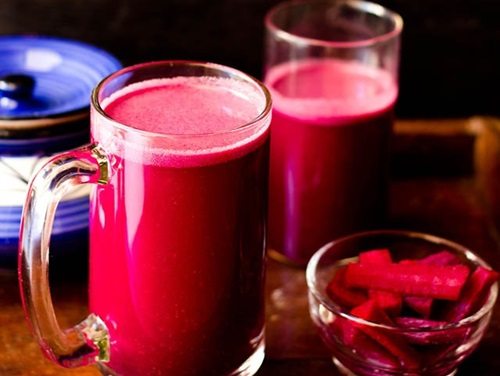 15. Beetroot rasam recipe – a spicy, tangy and delicious Rasam variety. beetroot rasam has light sweet tones of the beetroot blending beautifully with the sour taste of tamarind and the spiciness coming from the black peppers and dry red chilies.