The leaves of the betel vine, commonly known as 'paan' in Hindi, has been a very integral part of Indian cuisine. It has been used as a mukhwas (mouth freshener) and even a digestive aid after rich Indian meals since ages. However, in this post of mine, I have shared a unique recipe of Paan Shots which is drink made with Almond Milk. You can also call it Paan Milkshake. This is one of those quick and easy Beverages, which is super cooling and refreshing. Given the quality of paan or betel leaves and other ingredients used in the recipe.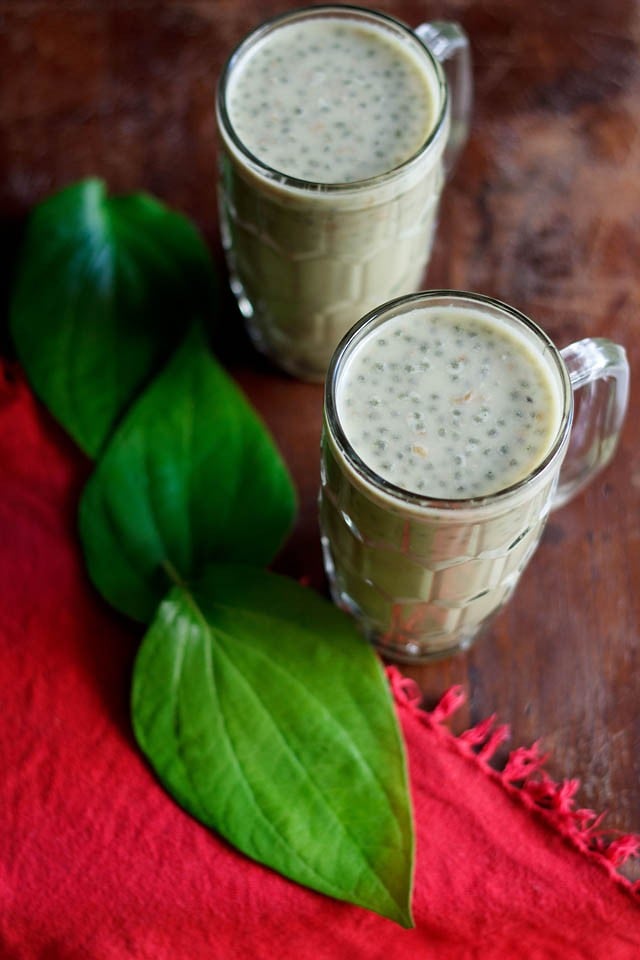 About Paan Shots
This Paan Shots recipe is a special from my mother's recipe book. The day she saw it on some TV channel, she made a note of it in her diary. Since then, she has made it so many times at home and even highly recommended me to try it.
Every time I used to meet or call her, she used to inquire on whether I had made it or no. For a long time, my answer used to be in the negative.
But one day, I eventually gave it a try. And I'm glad I did. I purchased fresh paan leaves from a flower shop near my place to make this Paan Milkshake.
The flavors were just mind-blowing. It was also really refreshing and had a certain calming effect too on the body.
So, as obvious by the name of the recipe, the Paan Shots are made from paan or betel leaves. In India, these are easily available at any flower market or paan shop.
Betel leaves have complex flavors. They have a hint of everything, at once – sweet, astringent, bitter, minty, lemony and so on. You really have to taste it to experience what I'm saying.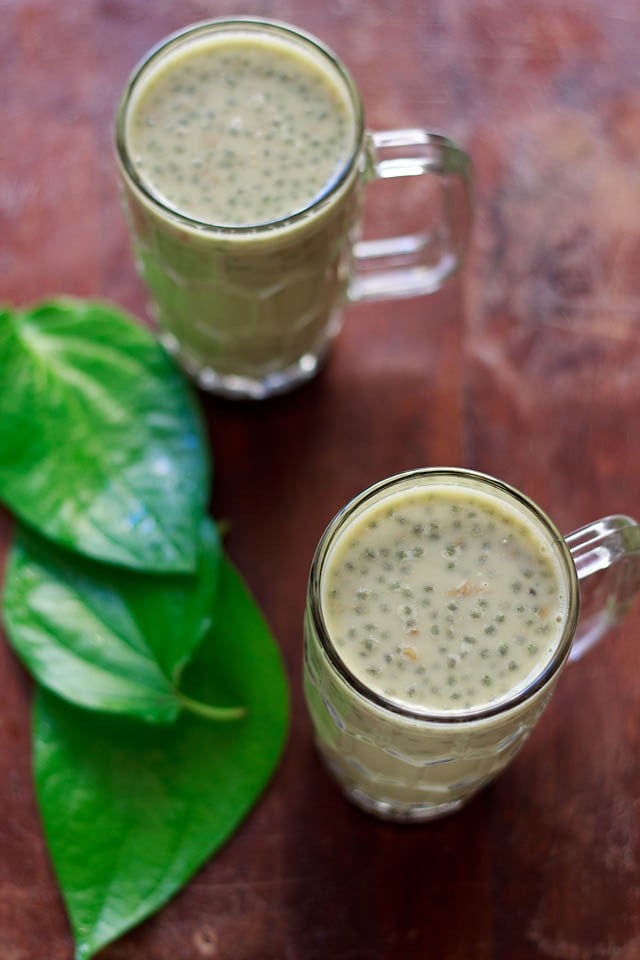 More on Paan Milkshake
For the preparation of Paan Milkshake, you have to puree the betel leaves. For the sweetener part, gulkand, which is a rose petal jam/preserve/compote, is used. You can use sugar or a good quality rose syrup in the absence of gulkand.
The gulkand is also a typical Indian culinary star, which is made of rose flower. It is highly recommended as a cooling ingredient and is an important plant-based preparation in Ayurvedic medicines as well.
In addition to 2 of these cooling ingredients, Sabja Seeds or basil seeds is the third cooling element in these Paan Shots.
These tiny seeds, when soaked in water, have the tendency to swell up. It can be then used in beverages, desserts or just had as a detox water, first thing in the morning.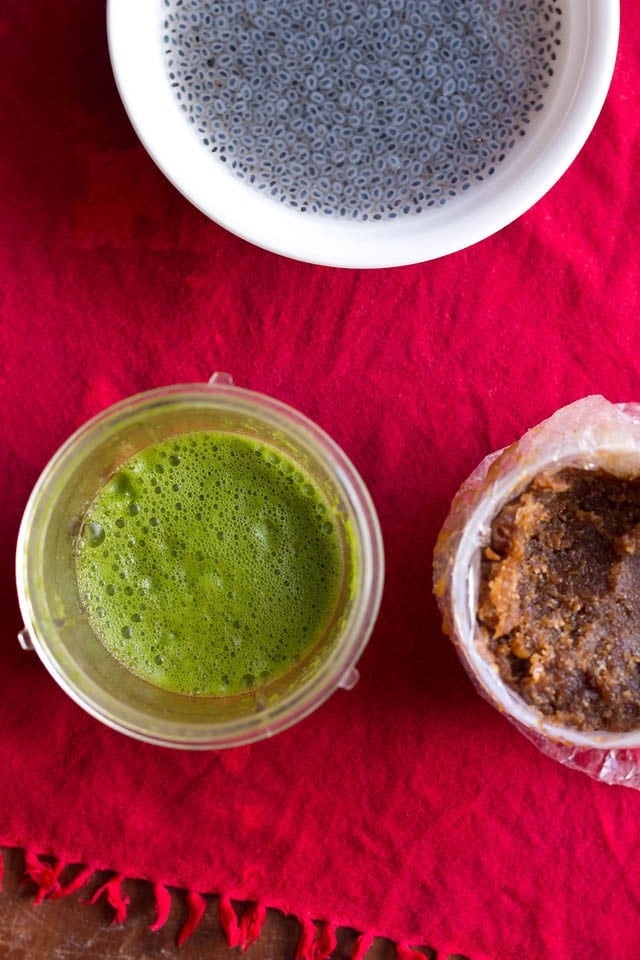 Some other recipes, in which I usually add sabja seeds, are Rose Milk, Kulfi Falooda, Mango Falooda and the quintessential Nimbu Pani.
For the final stage in the Paan Shots, milk is added. In this recipe, I have used almond milk. Because of all these amazing ingredients, this beverage is very cooling, relaxing and nutritious too.
It has a faint green color with myriad flavors of the paan leaves coupled with the rosy fragrance and taste. The drink also tastes a lot like the Falooda.
Why this recipe works
I had no idea that betel leaves can be used in such a way. I always knew that betel leaves were usually used in India to make the much-loved paan – a formulation with different ingredients, making it quite addictive. Sometimes, it also has the areca nut (supari) in it, which usually has adverse side-effects.
But since the time I've started using the paan leaves to make healthy beverages like these Paan Shots, I've come to know much more about it.
Mostly, the good part. It is true that betel leaves have many medicinal properties and have been used in South East Asian countries too, since the last 2000 years.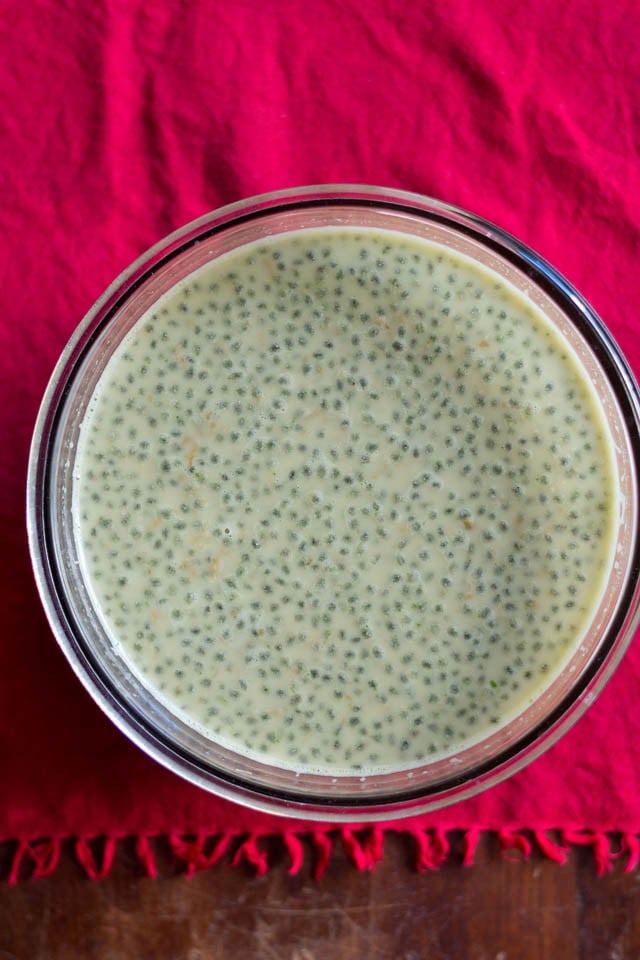 Make this Paan Milkshake or have it without the supari, with just some cloves, green cardamom and some gulkand wrapped in, as a mouth freshener – but make sure to include these leaves in your diet.
They help in curing bad breath and respiratory disorders like cough. They have diuretic properties and are great to treat headaches and constipation. Betel leaves also possess digestive and aromatic stimulant properties.
Overall, I would recommend you to try this drink, if you love experimenting and are open for new drinks with an acquired taste like that of Jaljeera.
Indians who have eaten paan will immediately recognize the familiar, yet unusual flavors in this drink. If you love eating paan, then I am sure you will like this beverage too.
Importance of paan, pan India
Paan, especially betel leaves have been a part of the Indian culture since times immemorial. It has been popular amongst every stratum of the society – from a king or queen to an 'aam aadmi' or the common Indian man, everybody has embraced its goodness and loved it.
The proof also lies in its mention in many of our film songs, the most popular being 'khai ke paan Banaraswala' from the cult movie Don.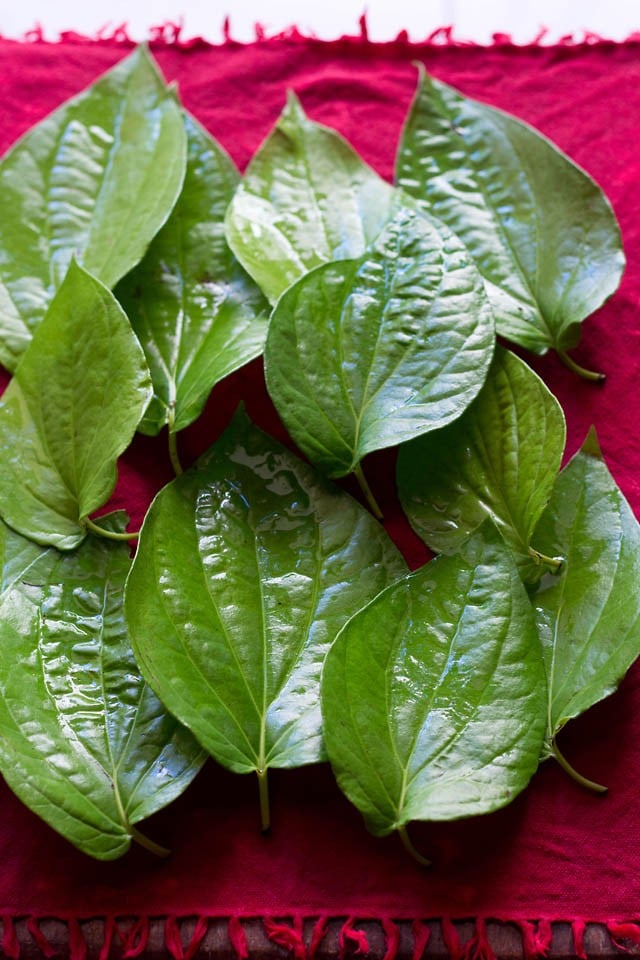 So, whether had in its most common form, that is as a mouth freshener to cut down on the fieriness of certain Indian curries and dishes or made into a fancy drink like these Paan Shots.
This natural, vegan produce has stood the test of time, and emerged as a winner with its strong usefulness apt till today.
Hence, it is quite right to say that just like Indians loves their curries and sweets, they loves their paan equally. Paan or betel leaf was, is and will always be an integral part of our lives.
Since the time rajas and maharajas used to possess extravagant 'paandans' (a traditional metal box to keep paan essentials) consisting of all the ingredients to make a lovely paan that would stain their mouths with a red hue.
Betel leaf varieties
The love for paan is quite real, almost an emotion for a lot of Indians. More so, for the people of North and Bengal in the East. Ask a paan lover from any of these 2 regions!
They wouldn't mind getting into a banter in defending their choice of paan variety and claiming which one is better – the Maghai, Banarasi or the Calcutta!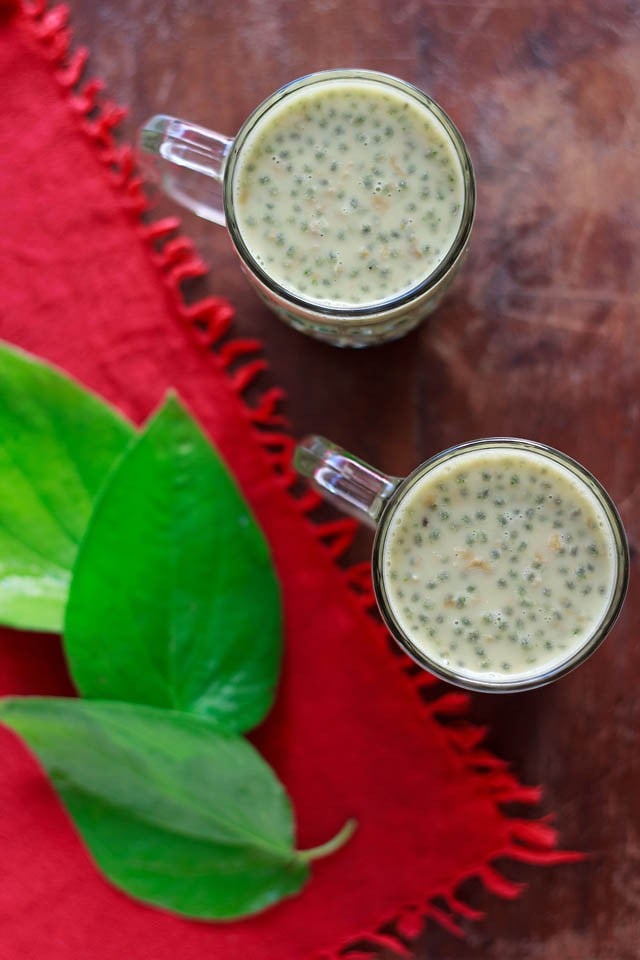 These are just a few, there's an entire train of varieties of betel leaves that are found through the length and breadth of India.
Each type is classified according to the size, shape, taste and the brittleness of the specific betel leaf. The 2 broad categories are pungent and non-pungent.
For this Paan Milkshake recipe, you may use whichever is available in your locality or region. Try this lovely recipe and I am sure you will like it.
More Indian Drinks To Try!
Please be sure to rate the recipe in the recipe card or leave a comment below if you have made it. For more vegetarian inspirations, Sign Up for my emails or follow me on Instagram, Youtube, Facebook, Pinterest or Twitter.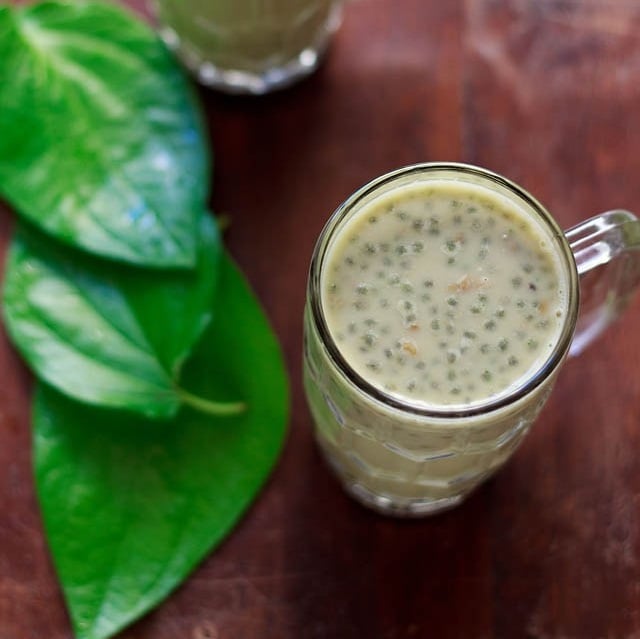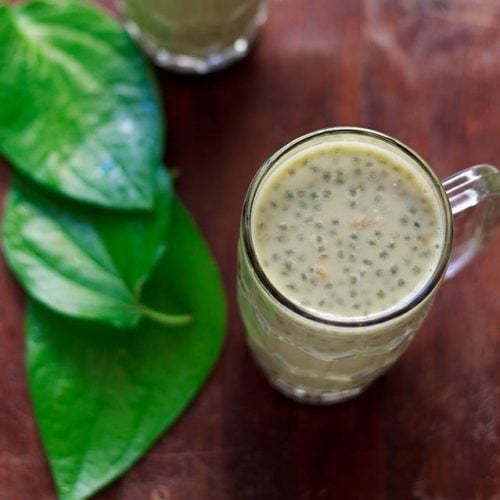 Paan Shots | Paan Milkshake
Paan Shots or Paan Milkshake is a lovely drink made with pureed betel leaves, gulkand (rose preserve) and almond milk along together with soaked basil seeds. This is one of those quick and easy drinks which is super cooling and refreshing.
6 to 7

betel leaves

(paan) – yields approx ⅓ or ½ cup of puree

4

cups

Almond Milk

or with preferred milk

½

tablespoon

sabja seeds

(basil seeds) soaked in enough water

1

tablespoon

rose syrup

or rooh afza, optional

4 to 5

tablespoons

gulkand

or as add required, can add sugar instead as needed

2 to 3

tablespoon

dry fruits

(chopped), almonds, pistachios, cashews, pine nuts, dry figs etc – optional
Instructions
Rinse the betel leaves well in water. Drain all of the water.

First soak sabja seeds (sweet basil seeds) in enough water for 20 to 30 minutes.

In a small blender, puree the betel leaves with 2 to 3 tablespoons water or as needed.

In a bowl or glass jar, mix the betel leaves puree and almond milk. Stir and combine well.

Now add the gulkand and stir well again. Make sure the gulkand is mixed evenly in the drink.

Drain all the water from the soaked sabja seeds using a fine strainer. Add the soaked sabja seeds in the jar.

Stir in the rose syrup or rooh afza. Mix thoroughly.

Add the chopped nuts or dry fruits.

Mix well and serve the Paan Shots drink in tall glasses.

You can also chill the drink and serve Paan Milkshake later.
Notes
Use betel leaves that are green, crisp and fresh.
Swap gulkand, with a rose preserve or compote. You could also opt to add sugar instead of gulkand.
Sabja seeds can be skipped if you do not have them.
Scale up the recipe easily to make for potlucks or small parties.
I have made the recipe with almond milk, but you can make it with your preferred plant based milk or add dairy milk.
Nutrition Info (Approximate Values)
Nutrition Facts
Paan Shots | Paan Milkshake
Amount Per Serving
Calories 161
Calories from Fat 72
% Daily Value*
Fat 8g12%
Sodium 435mg19%
Potassium 53mg2%
Carbohydrates 20g7%
Protein 3g6%
Vitamin A 2IU0%
Vitamin B1 (Thiamine) 0.03mg2%
Vitamin B2 (Riboflavin) 0.02mg1%
Vitamin B3 (Niacin) 1mg5%
Vitamin B6 0.02mg1%
Vitamin C 0.2mg0%
Vitamin E 0.01mg0%
Calcium 424mg42%
Vitamin B9 (Folate) 4µg1%
Iron 1mg6%
Magnesium 31mg8%
Phosphorus 47mg5%
Zinc 0.4mg3%
* Percent Daily Values are based on a 2000 calorie diet.
This Paan Shots recipe from the archives first published on May 2013 has been republished and updated on November 2022.