Paan shots or paan sharbat drink is a cooling and refreshing summer drink made from paan or betel leaves.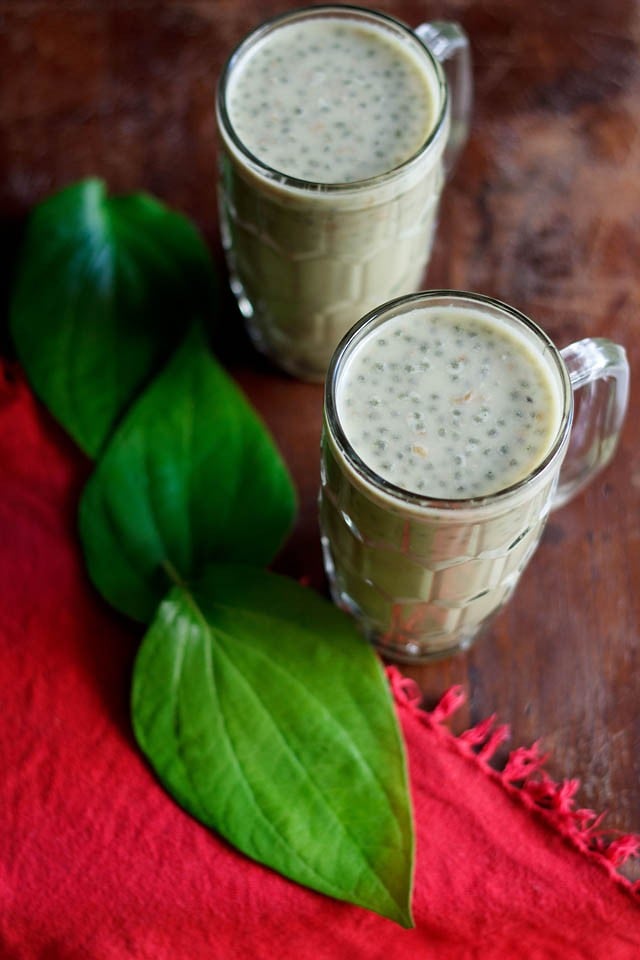 This paan shots recipe was shared by my mom. She had seen this drink on some tv channel. She has made it so many times since then and recommended me highly to make it. every time I met her or called her, she had to ask me whether I made this paan drink. I always said no.
Finally, I decided to make and glad I did. I brought the fresh paan leaves from a flower shop to make these. If you live in India, you can easily get these betel leaves from a paan shop or a flower market.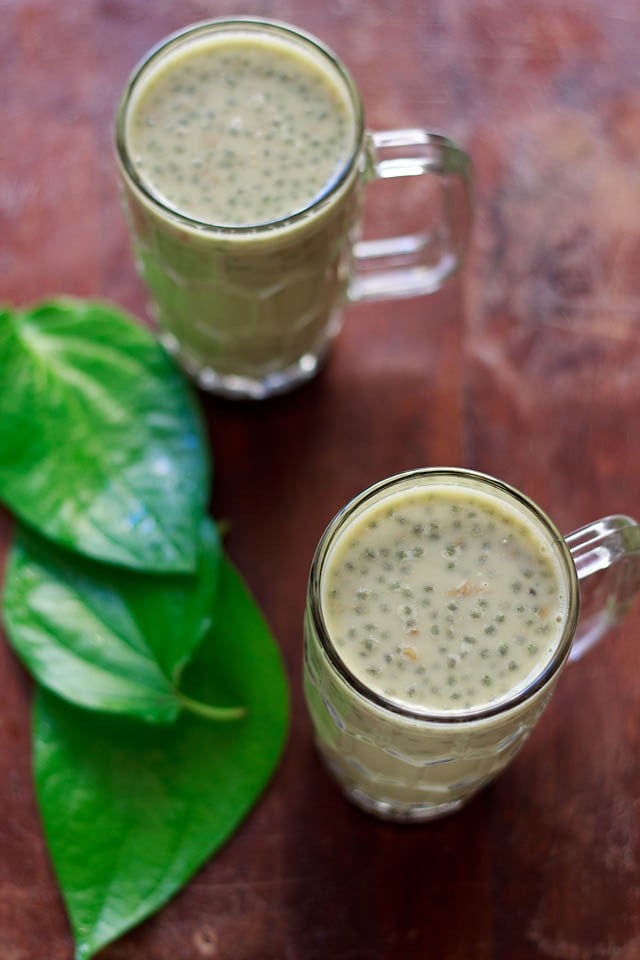 So as you see by the title, This paan shots drink is made from paan or betel leaves. the leaves are pureed. betel leaves have complex flavors. You have to taste it to experience what I am saying. They have a hint of everything… Sweet, bitter, astringent, lemony, minty and so many other flavors.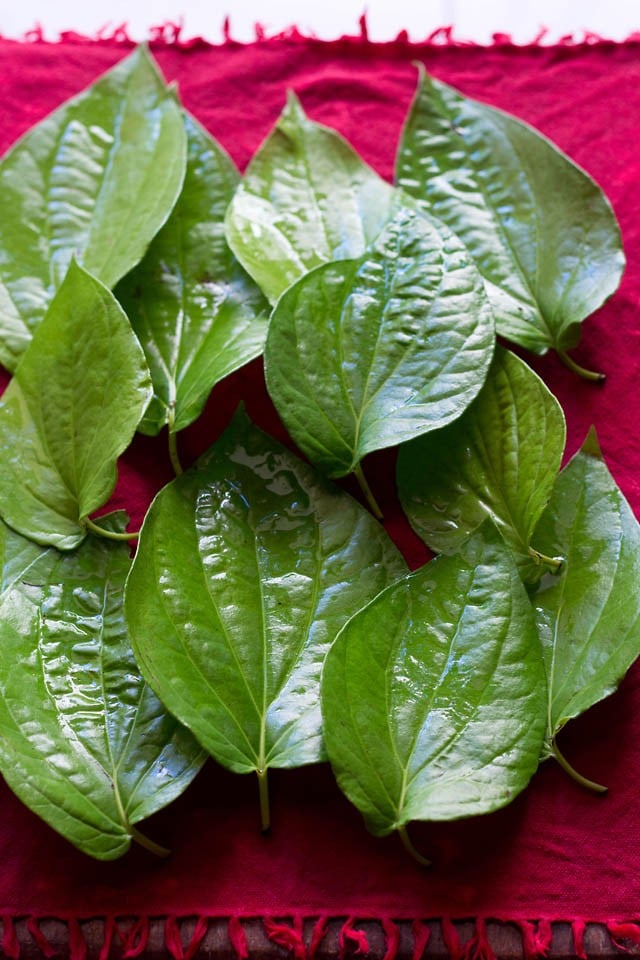 Here the sweetener used is Gulkand – rose petal preserve which is made in India. Gulkand is a cooling ingredient and is recommended as well as used in some ayurvedic medicines. Apart from these two cooling ingredients, the third cooling one is Sabza or basil seeds. Sabza is added in many Indian drinks like:
In the absence of Gulkand, use sugar and add some rose syrup. in the pic below you see the pureed betel leaves, the soaked basil seeds and the Gulkand. the Gulkand was removed from the fridge and was frozen.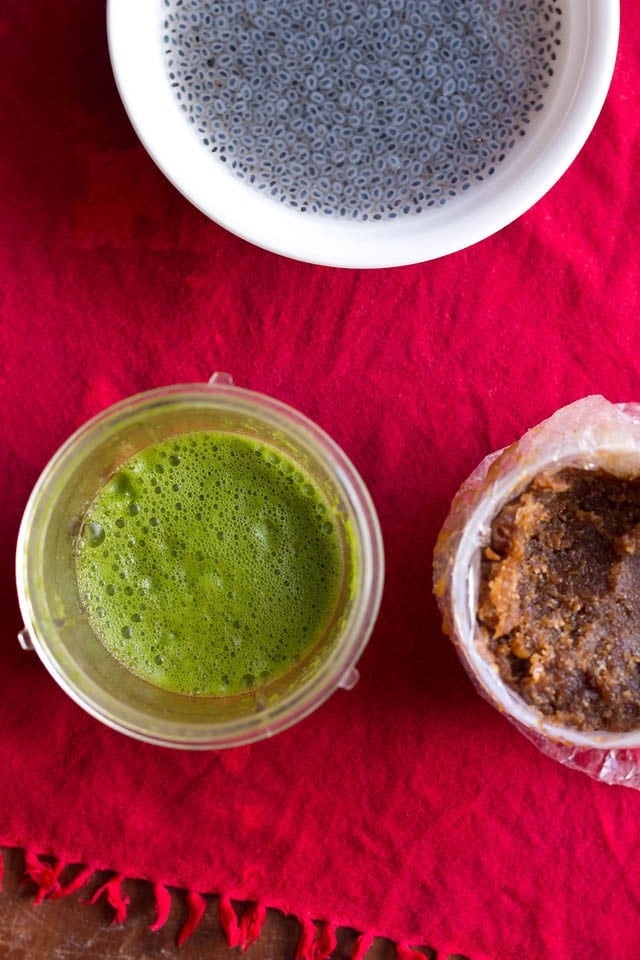 And lastly milk is added. I have used Almond milk. all these made this Paan sharbat super cooling and very refreshing. not to forget its healthy too. The drink tastes similar to Falooda. the drink has a faint green color with the myriad paan flavors coupled with rose fragrance & flavors.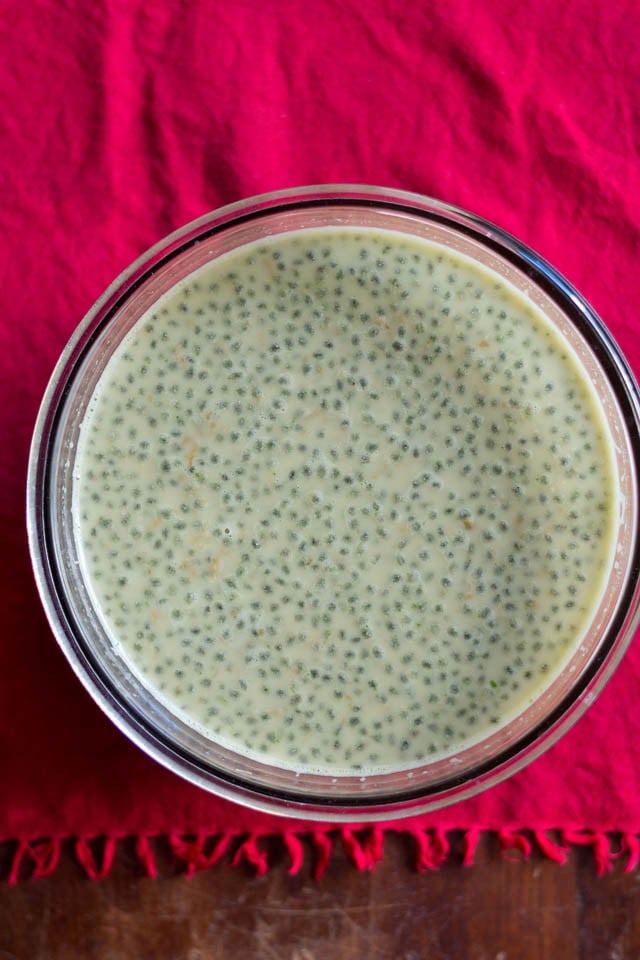 I had no idea that betel leaves can be used in such a way. I always know that betel leaves are usually used in India to make paan – a formulation with various stuff that makes these very addictive and with adverse health effects. The adverse side affects is mainly because of the addition of areca nut/Supari in the Paan.
Whereas, Betel leaves has got many medicinal properties and is used for last 2000 years in South East Asian countries. They helps in curing respiratory disorders like bad breath and cough. They also help during headaches and constipation and also have diuretic properties. Betal leaves are known for their aromatic stimulant properties.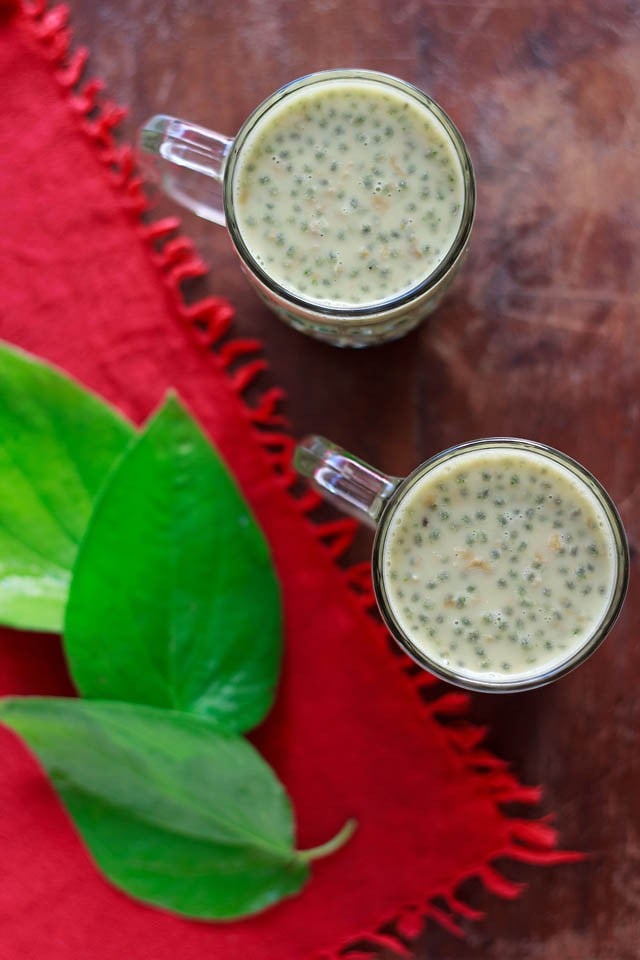 Overall, I would recommend you to try this paan sharbat, If you love experimenting and open for new drinks with an acquired taste like Jal jeera. it has a little unusual taste. Indians who have eaten paan will immediately recognize the paan taste in this drink. If you love eating paan then I am sure you will like this drink.
If you are looking for more Beverages then do check: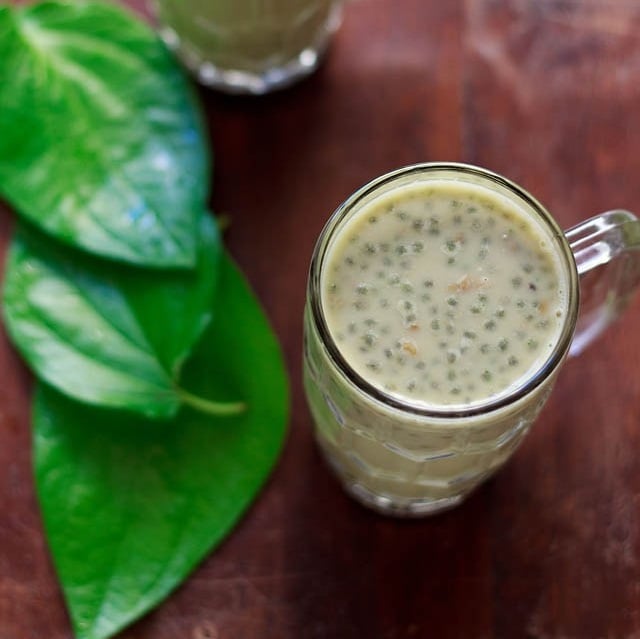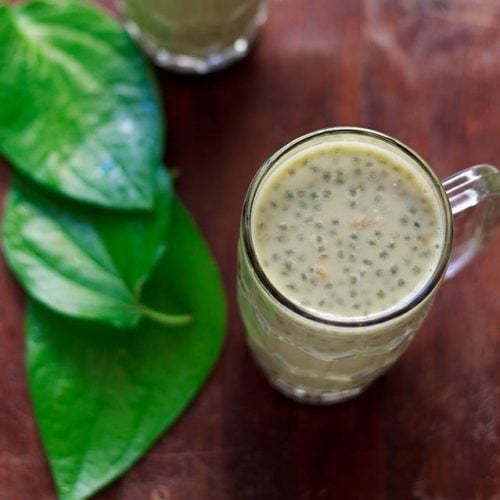 Paan Shots
Paan drink is a summer cooler made with pureed betel leaves, gulkand and almond milk along with basil seeds.
6 to 7

betel leaves

(paan) - gives approx ⅓ or ½ cup of puree

4

cups

chilled cow's milk

or almond milk or 3 cups of milk + 1 cup chilled water

½

tablespoon

sabza seeds

(basil seeds) soaked in enough water

1

tablespoon

rose syrup

or rooh afza (optional)

4 to 5

tablespoon

gulkand or as required

2 to 3

tablespoon

of chopped dry fruits

- almonds, pistachios, cashews, dry figs etc (optional)
Instructions
Rinse the betel leaves well in water.

In a small blender, puree the betel leaves with some water.

In a bowl or jar, mix the betel leaves puree and almond milk. Stir well.

Now add the gulkand and stir well again.

Strain the soaked sabza seeds and add these.

Stir in the rose syrup or rooh afza.

Add the chopped dry fruits.

Mix well and serve the paan shots drink in tall glasses.

You can also chill the drink and serve paan shots later.