Almond milk recipe from scratch – I have been using a lot of nuts milk (cashew and almond milk) and soy milk in my diet. The morning chai is made with soy milk or cashew milk. In the cakes or bread that I make I add these non-diary milk or water.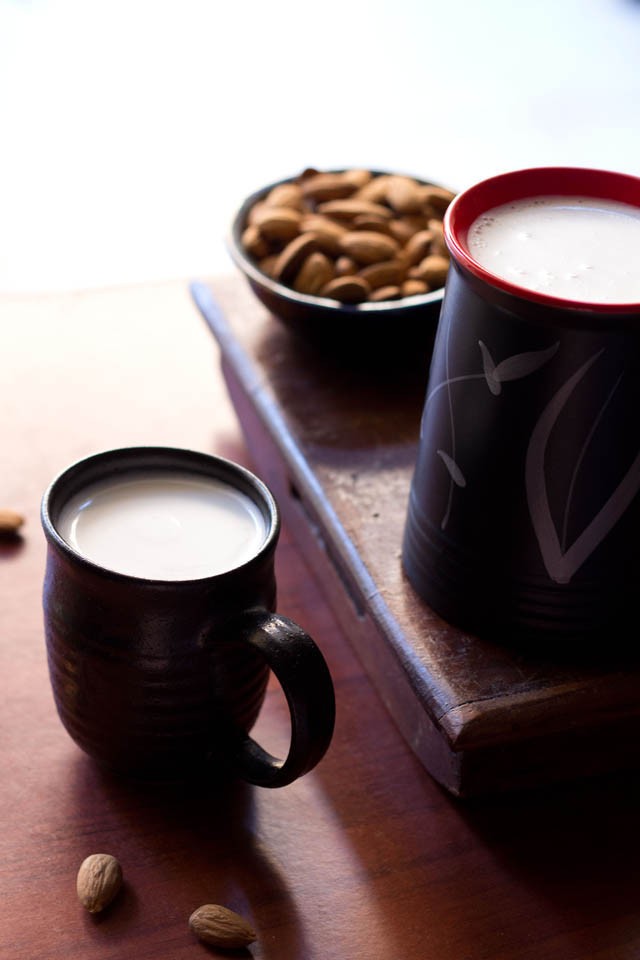 After having Almond milk a couple of times, I have got hooked on to it. Its so good. especially for a milk hater like me. I could never just have plain milk even with sugar. its easy on the tummy and there is no after milk smell in the palate. Its also good for kids who are allergic to milk or have lactose intolerance.
How to use almond milk
It can be had plain or sweetened with some sugar or jaggery or honey. If you like chocolate, then warm the milk and add some cocoa powder and you have a nice warm chocolate drink. You can even mix cereals or fruits with the milk.
We use almond milk not only as a beverage, but I also make my favorite desserts like vermicelli pudding, carrot halwa, mango kulfi and fruit custard with it. Recently I made strawberry falooda with almond milk and it was truly awesome. So after making a few Indian desserts with it, I have come to the conclusion that it substitutes very well with cow's milk in making Indian sweets. I also added it in milkshake likes strawberry almond milkshake and mango milkshake recipe.
The consistency of almond milk is similar to dairy milk but it has a refreshing taste & flavor unlike cow's milk. Again there are added health benefits of having almond milk every day. In the refrigerator it stays best for 3-4 days.
How to make almond milk
1: boil water and switch off the flame when the water becomes hot and starts boiling.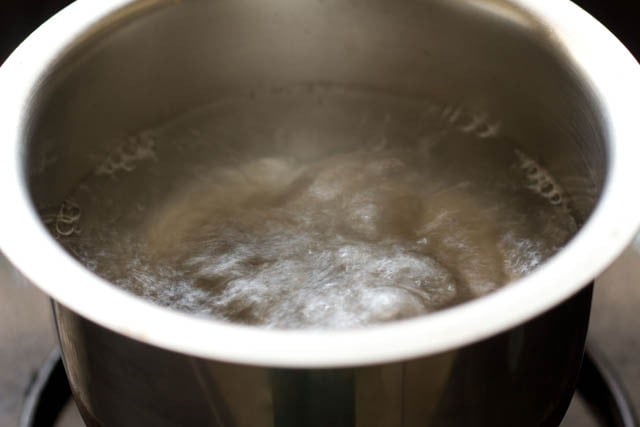 2: rinse the almonds and add these to the boiled water. Cover with a lid and let the almonds get blanched for 30-45 minutes. I blanch the almonds as its easier to remove the peel. You can also soak the almonds overnight. But I find peeling soaked almonds cumbersome. The peels just don't come off easily. You can keep the peels if you want. I remove them as they irritate our throats when they are ground.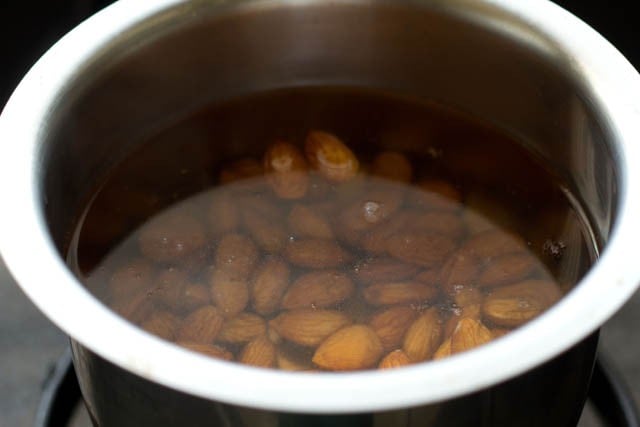 3: drain the water. This water you can cool and give it to your plants. Just press the peel of the almond between your thumb and forefinger and the peel comes off easily. Remove the peels of all the almonds this way.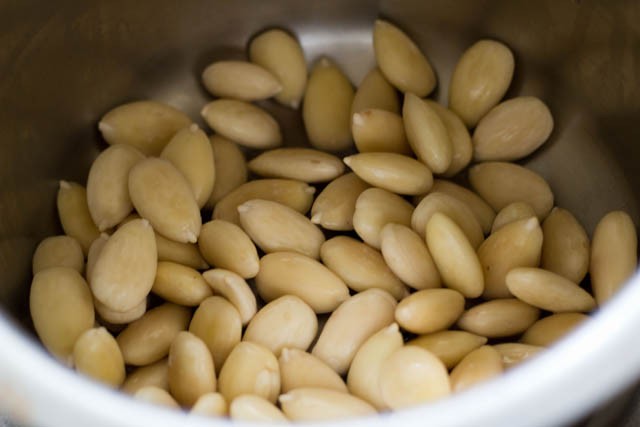 4: now add 3 cups water in the blender along with the almonds. Blend till smooth.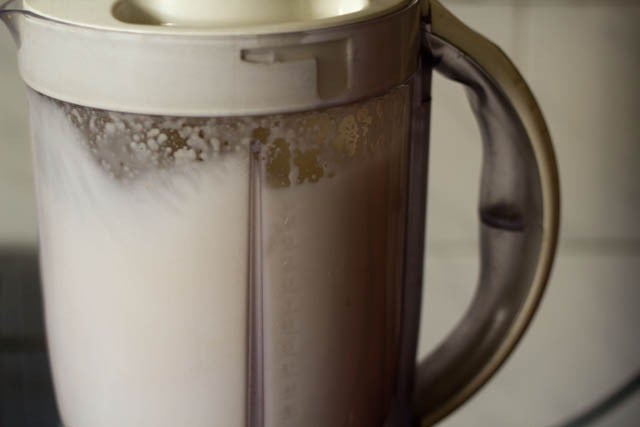 5: using a juice strainer/fine sieve/muslin/cheese cloth bag strain the milk keeping a large bowl or pan below.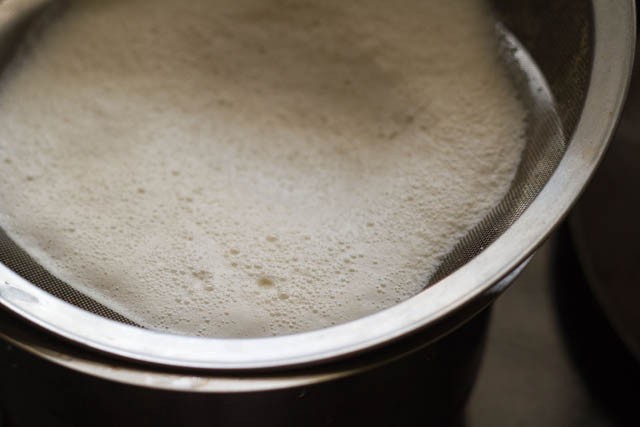 6: you will see the milk filtering down and the almond pulp on the strainer. Press the pulp with a wooden spoon or non-reactive metal spoon.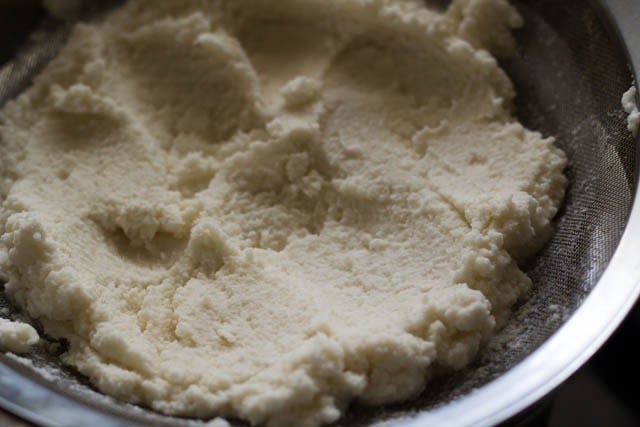 7: now take this pulp back into the blender and add 1 cup of water and blend again. This part is optional. You can just blend the almonds with 4 cups water and then strain the milk once. strain again.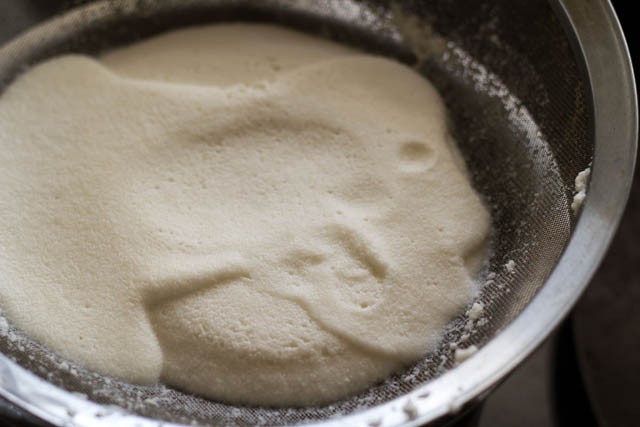 8: press with the spoon again so that all the milk is extracted from the pulp.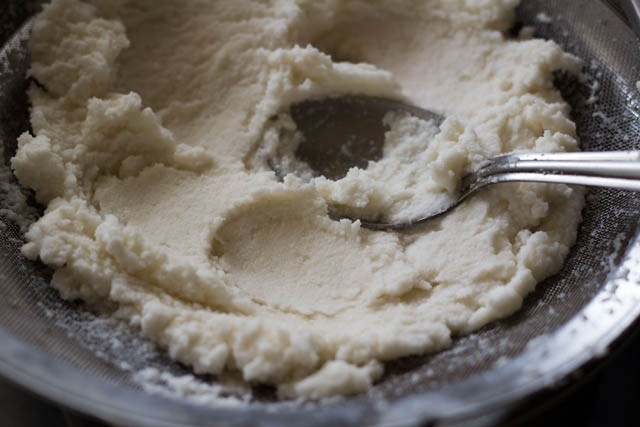 9: collect the leftover almond paste and freeze or refrigerate it. You can add this to your roti dough, bread dough and even sweets. Or just roast them in a pan till they become dry. Grind in a dry grinder and you have homemade almond flour which you can add to your tarts, cookies, cakes, breads etc making it excellent to make gluten-free goodies.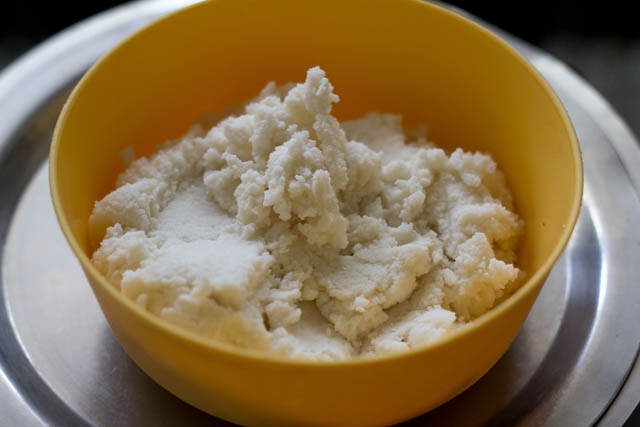 10: Collect the almond milk in a ceramic or glass jar or glass bottle. Keep the jar covered. Keep in the refrigerator.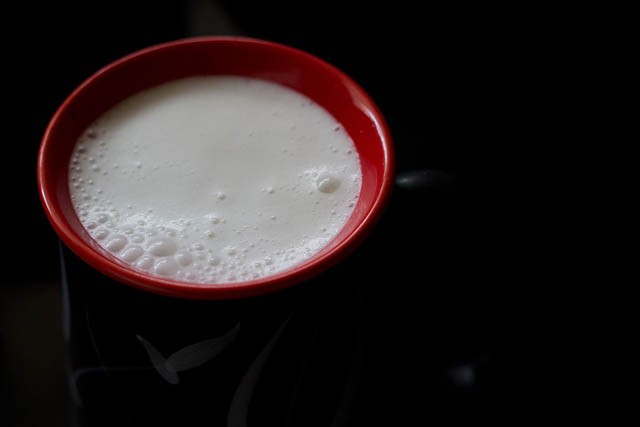 11: Use almond milk whenever required to make your favorite drink or just have it plain. Stir the jar or bottle before using the milk as the heavy particles settle down. For a warm drink, just warm the milk, don't boil.
Boiling or overheating will cause almond milk to separate and lose all its taste and flavor. Or just have the almond milk as it is.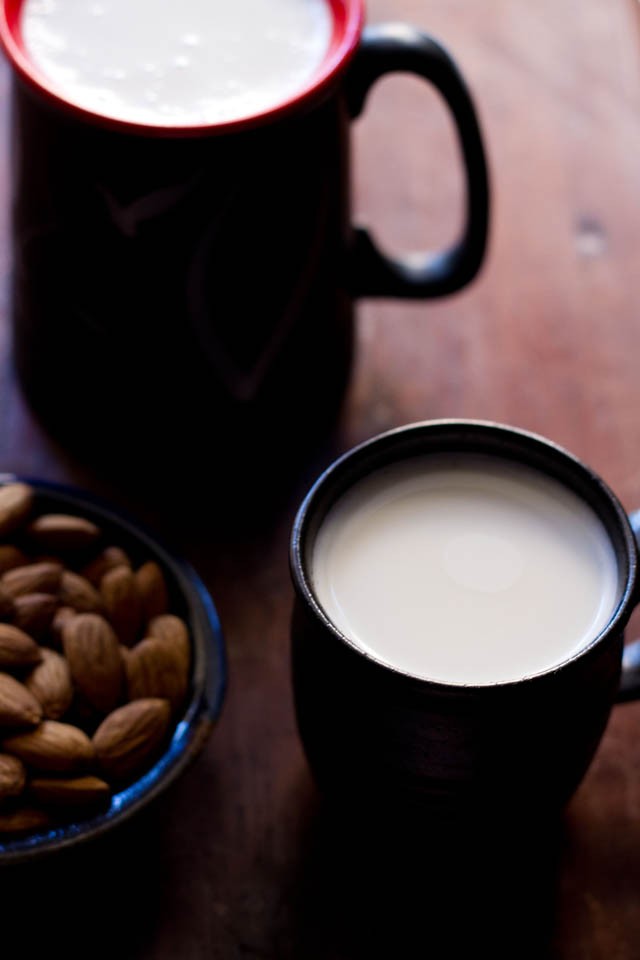 Few more how to recipes
Please be sure to rate this recipe in the recipe card below if you have made it. For more vegetarian inspirations, Sign Up for my emails or follow me on Instagram, Youtube, Facebook, Pinterest or Twitter.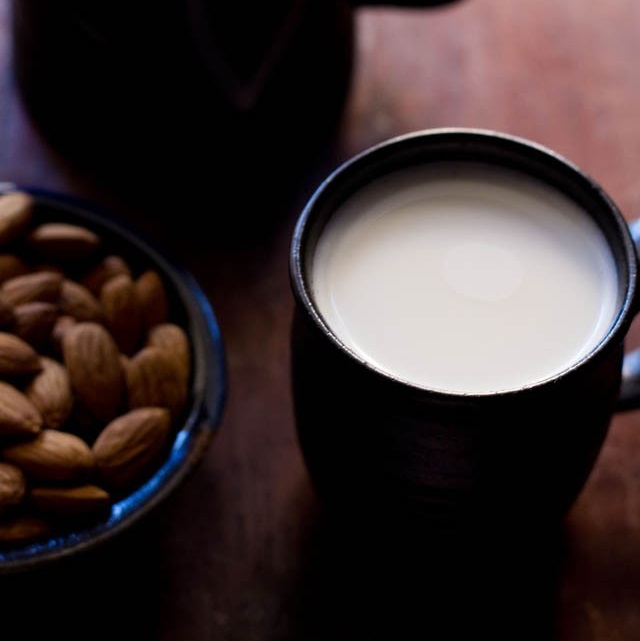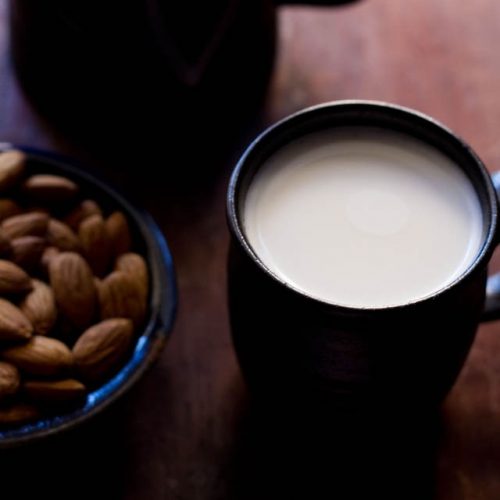 Almond Milk
Step-by-step method to make almond milk from scratch at home.
Servings
4
cups almond milk
Ingredients
1

cup

almonds

4

cups

water

for blending the almonds

3 to 4

cups

water

for blanching the almonds
Instructions
soaking almonds
Boil water. Add rinsed almonds.

Cover and blanch almonds for 30 to 45 minutes.

When the almonds are soaked well, drain the water.
making almond milk
Peel the almonds one by one.

Blend the peeled almonds with 3 or 4 cups of water in a blender. Strain once or twice.

Collect the almond milk in a bottle or jar. Keep it covered in the refrigerator.

It stays good for 3-4 days.

The leftover almond paste can be used in cakes, cookies or making breads.
Notes
The almonds can be soaked overnight also.
The Almond Milk can be strained in one go or twice or thrice. For thick milk, first blend the almonds with 1 or 2 cups of water and strain. Collect the pulp in the blender. Add 2 cups water and blend again. Strain and this will be the thin milk.
This Almond Milk stays best for 3-4 days in a refrigerator. So, make as per your need.
Nutritional info is for 1 cup of Almond Milk.
Nutrition Info
(Approximate values)
Nutrition Facts
Almond Milk
Amount Per Serving
Calories 206
Calories from Fat 162
% Daily Value*
Fat 18g28%
Sodium 22mg1%
Potassium 252mg7%
Carbohydrates 8g3%
Protein 8g16%
Vitamin B1 (Thiamine) 1mg67%
Vitamin B2 (Riboflavin) 1mg59%
Vitamin B3 (Niacin) 1mg5%
Vitamin B6 1mg50%
Vitamin E 9mg60%
Calcium 108mg11%
Vitamin B9 (Folate) 18µg5%
Iron 1mg6%
Magnesium 100mg25%
Phosphorus 173mg17%
Zinc 1mg7%
* Percent Daily Values are based on a 2000 calorie diet.