How to make curd or dahi or yogurt at home with tips and step by step photos. a couple of requests on how to make curd/dahi at home and How to make paneer. And thus this post on Making curd at home.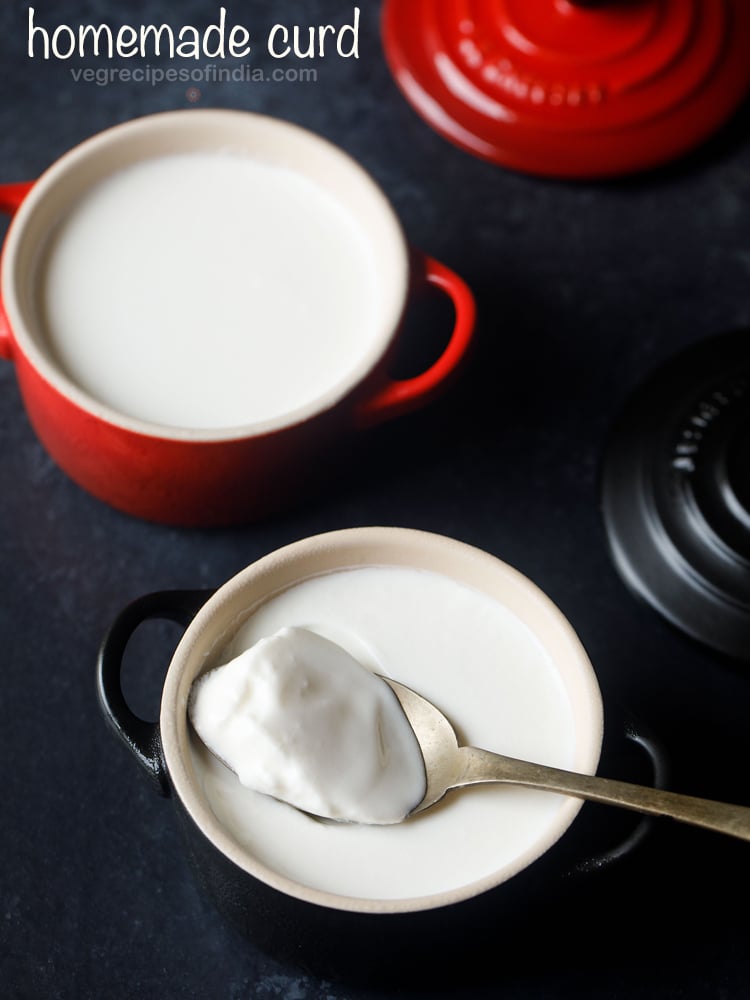 Summers are the best time to have curd (yogurt) just plain or sweetened or in biryani, kadhi, lassi, shrikhand, paneer tikka, aloo tikka or a simple raita. Yogurt based dishes are cooling and ideal for summers.
I won't be going into the food science of making curd and the fermentation process. Will just keep it simple with a few tips to keep in mind whilst making curd at home.
Tips to make thick curd or dahi at home
Use a good quality milk. Full cream milk yields a luscious and thick curd.
Always boil the milk before making the curd. This ensures that the milk does not spoil during the fermentation process.
The milk should not be hot. If its very hot the milk may coagulate and you might end up getting a grainy curd.
If its little hot then the curd does not become thick and is a bit runny with some whey in the curd.
If the milk is cold, then the curd won't be set at all.
The milk must be warm. Just dip your little finger in the milk and you should feel warm not hot.
It is very important to dissolve the curd culture uniformly in the milk. Whisk very well with a spoon or a whisker.
If you stay in a cold place or have cold temperatures, then cover the bowl or pan in which the curd mixture is with a warm towel or warm blanket and keep it in a warm place in your kitchen.
Also you could place the bowl in a big large jar of wheat flour and then cover the jar. this is how my mom-in-law would make curd in the Delhi winters.
In summers the curd will set faster than in the winters. So remember this point.
You could use any quantity of milk you want to make the thick curd.
For half a litre milk, 1 to 2 teaspoons of curd culture works fine. Increase proportionally for larger quantities of milk.
Once the curd is set, refrigerate the curd.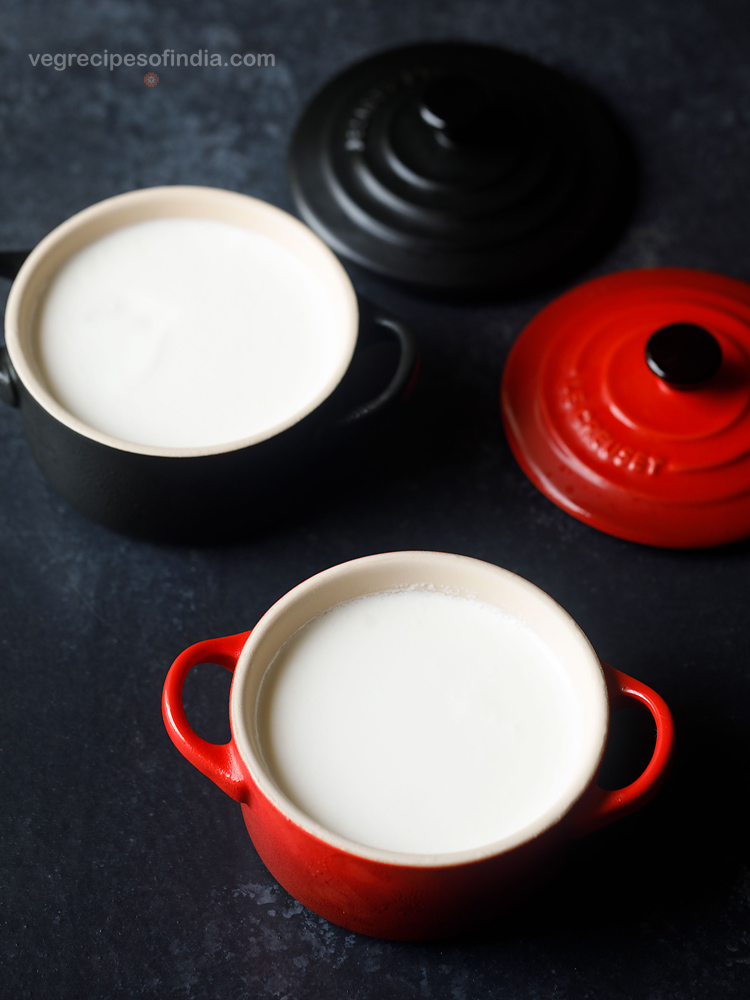 You can use curd to make simple raitas or use it in a variety of dishes or serve it plain with aloo paratha, plain paratha or other stuffed paratha varieties.
Stepwise process of making curd or dahi or yogurt at home
1:.first step is to take a thick bottomed pan and rinse it water.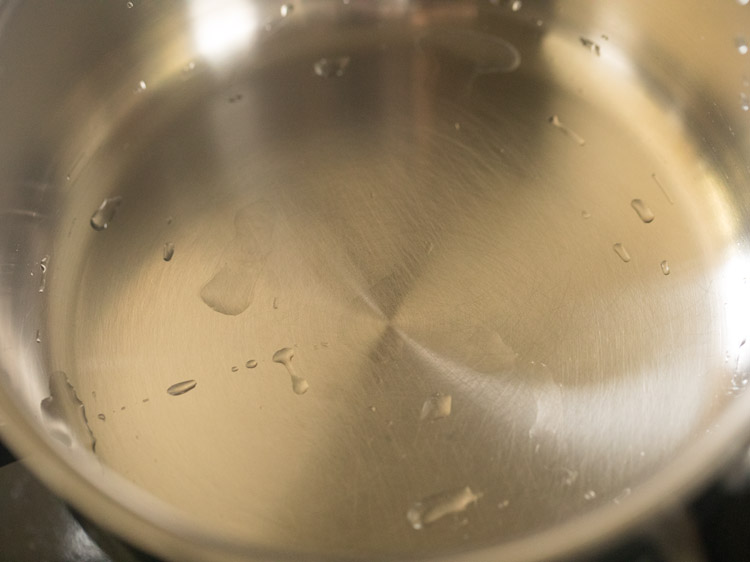 2. Then add ½ litre of milk – about 2 cups milk. Keep the pan on the stove top and begin to heat milk on a low to medium-low flame.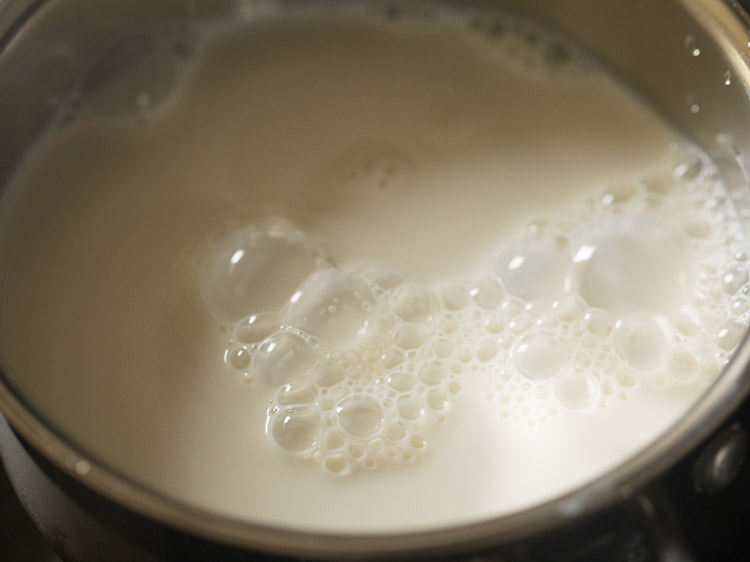 3. When the milk is getting heated, stir once or twice, so that the milk does not get browned from the bottom.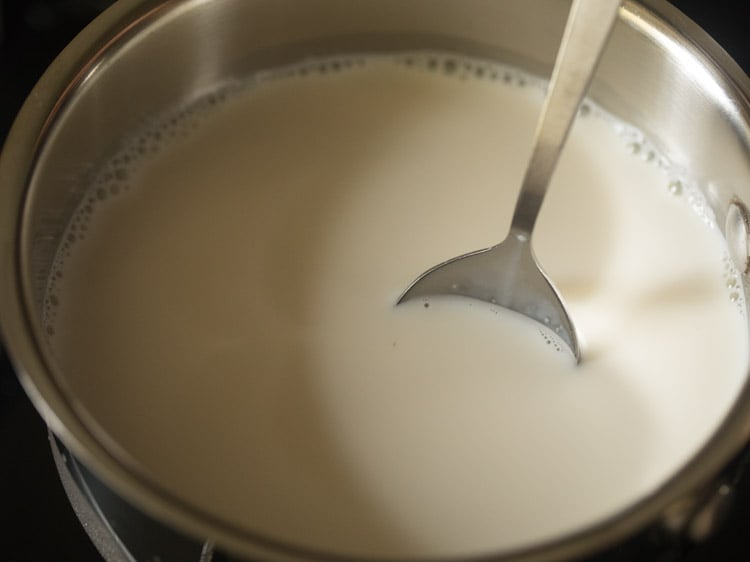 4. Let the milk come to a boil. Milk will froth and bubble when it comes to boil.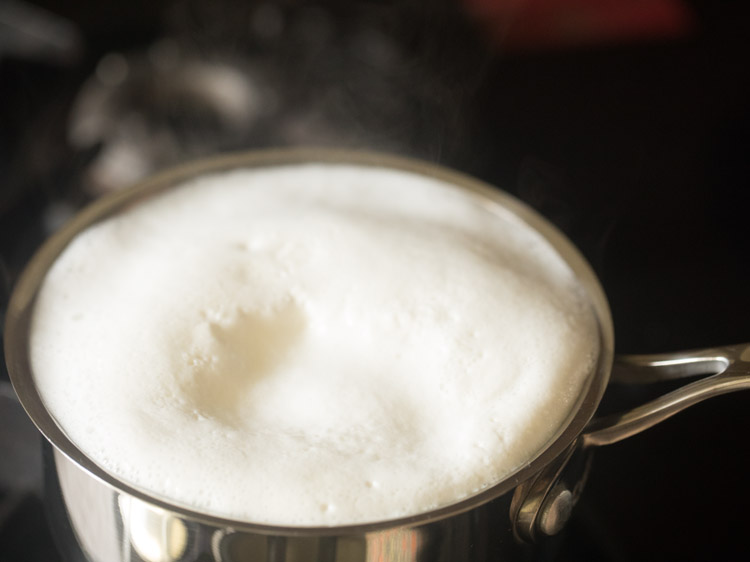 5. You can even heat milk to a temperature between 85 to 96 degrees celsius.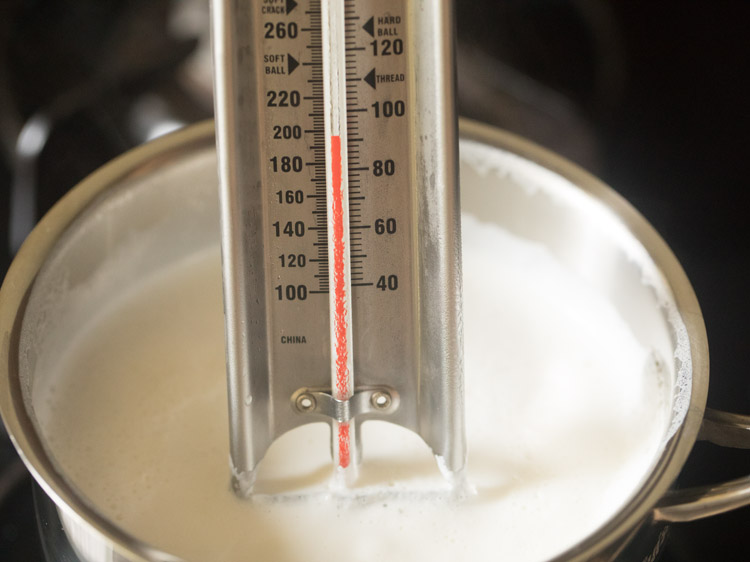 6. Switch off the flame. Remove the pan and keep it aside on the kitchen counter for the milk to cool at room temperature. We just need to the temperature of milk to reduce till the milk becomes warm.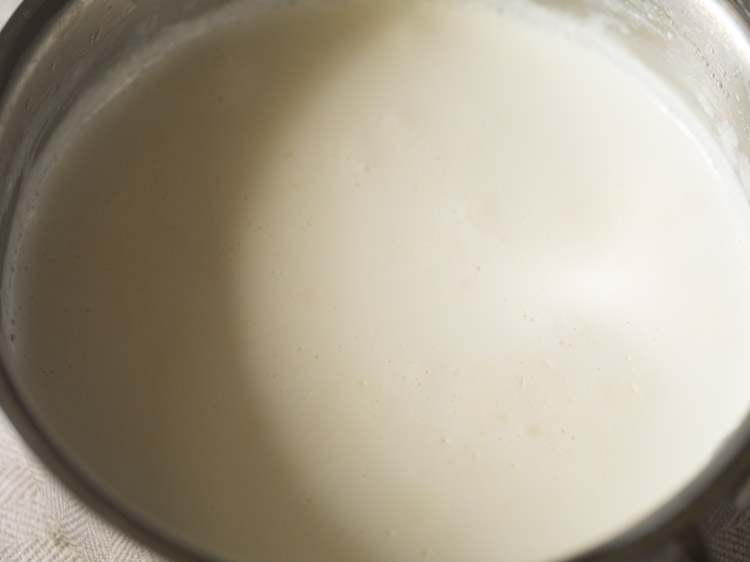 A few ways to check if the milk has become warm
7. You can check if the milk has become warm with your fingers (touch method) or with a thermometer. Dip your little finger in the milk and you should feel warm and not hot. Another way is to touch the pan. When you touch the pan, it should feel warm and not hot.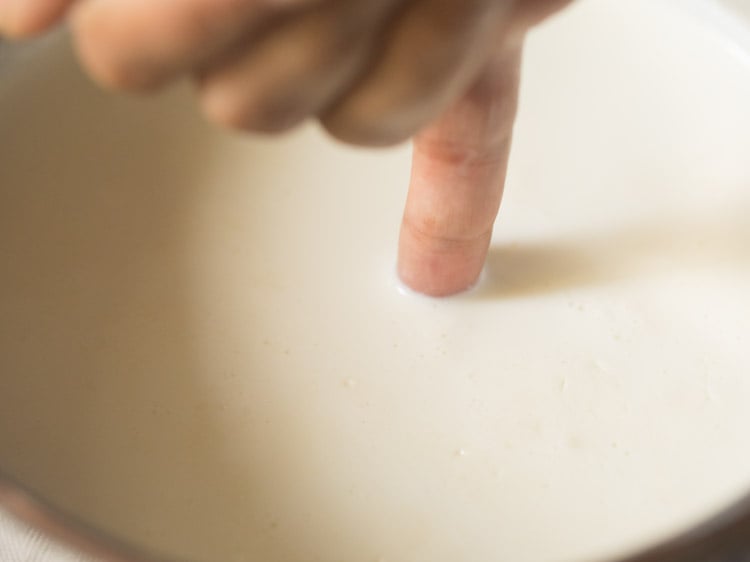 8. You can even use a food thermometer to check the temperature. The temperature of the warm milk should be between 39 to 44 degrees celsius.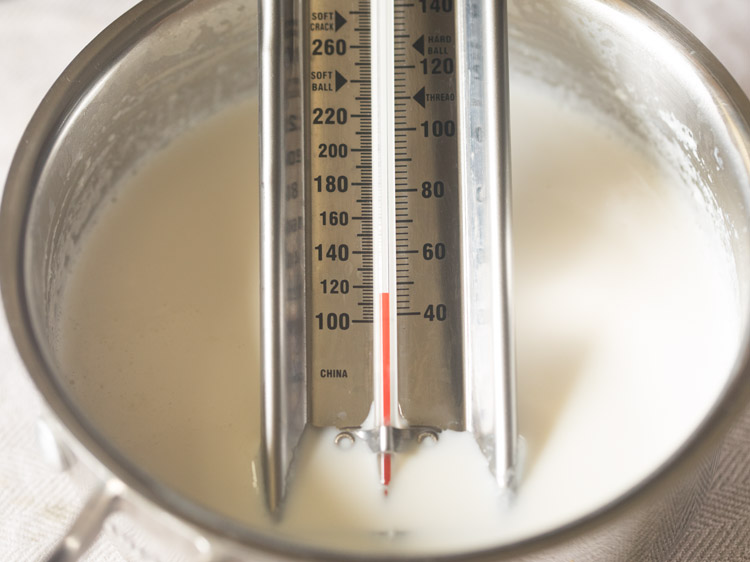 9. Now take 1 to 2 teaspoons of the curd starter and add in the warm milk. In winters you can add 2 teaspoons. Whereas in summers 1 teaspoon works fine.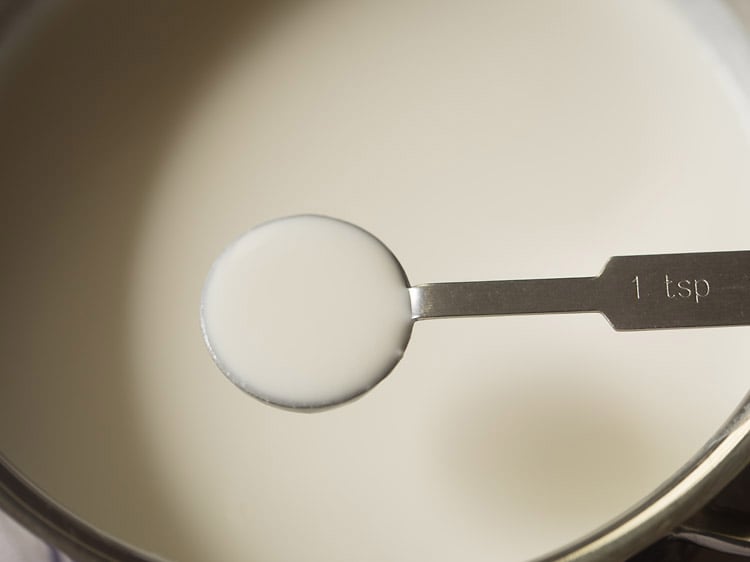 10. With a small wired whisk or a spoon mix very well. A small wired whisk makes the job of mixing the curd starter very well in the milk.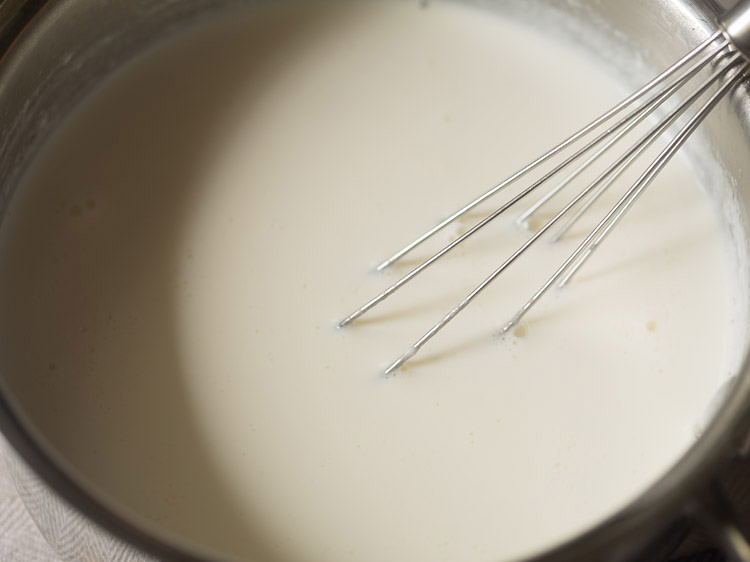 Setting curd
11. Then pour this mixture in a bowl or a pan.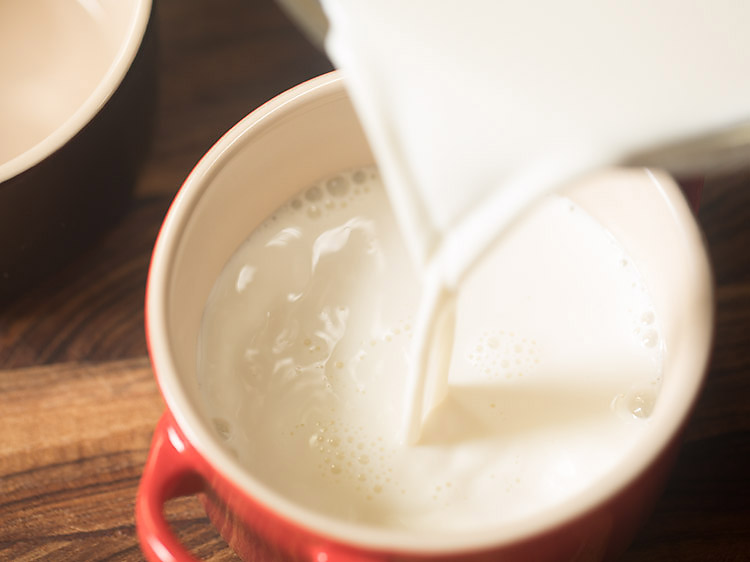 12. You can use terracotta or clay bowls, steel bowls and even glass or ceramic bowls for the curd to set. For less washing work, you can set the curd in the same pan in which the milk was boiled.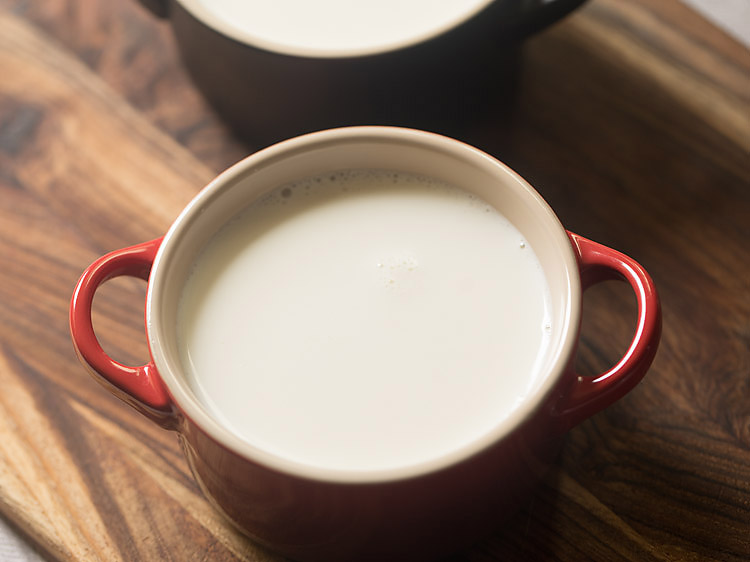 13. Cover the pan or bowl with a lid. Then keep at room temperature for 4 to 5 hours or till the curd is set. You can also keep overnight also. I kept overnight. The time taken for the milk to get converted to curd largely depends on the temperature. In a warm, hot and humid climate, the time taken for the curd to set will be 4 to 7 hours. Whereas in a cool or cold climate, the time taken can be 8 to 12 hours.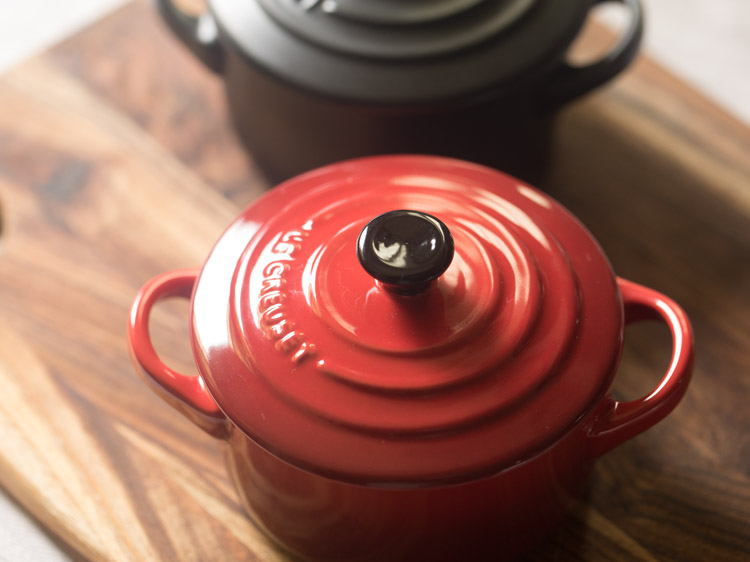 14. Next day you will have a nice Well set homemade curd.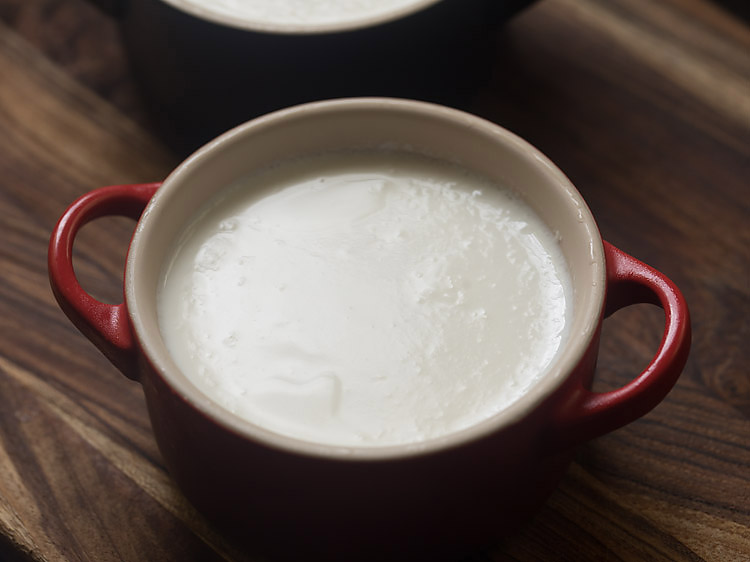 15. You can see in the picture its a properly set thick and creamy curd.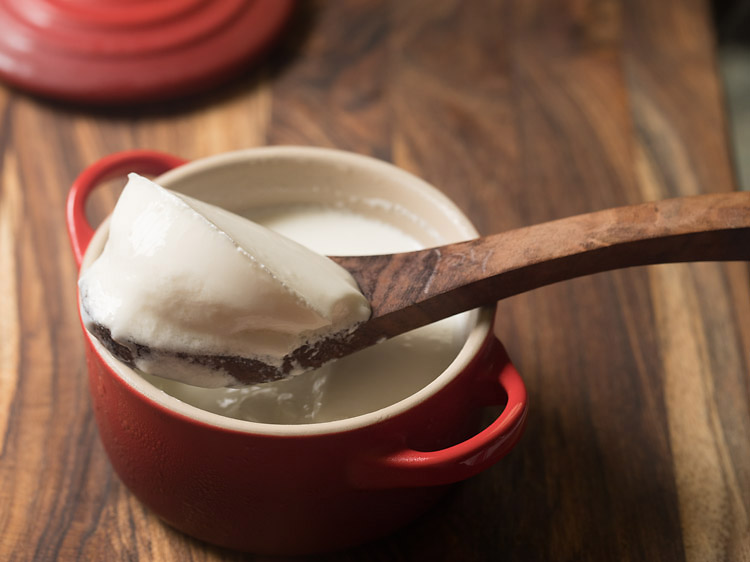 16. Curd or dahi can be had plain or sweetened or can be made into a dessert, drink or any dish of your choice.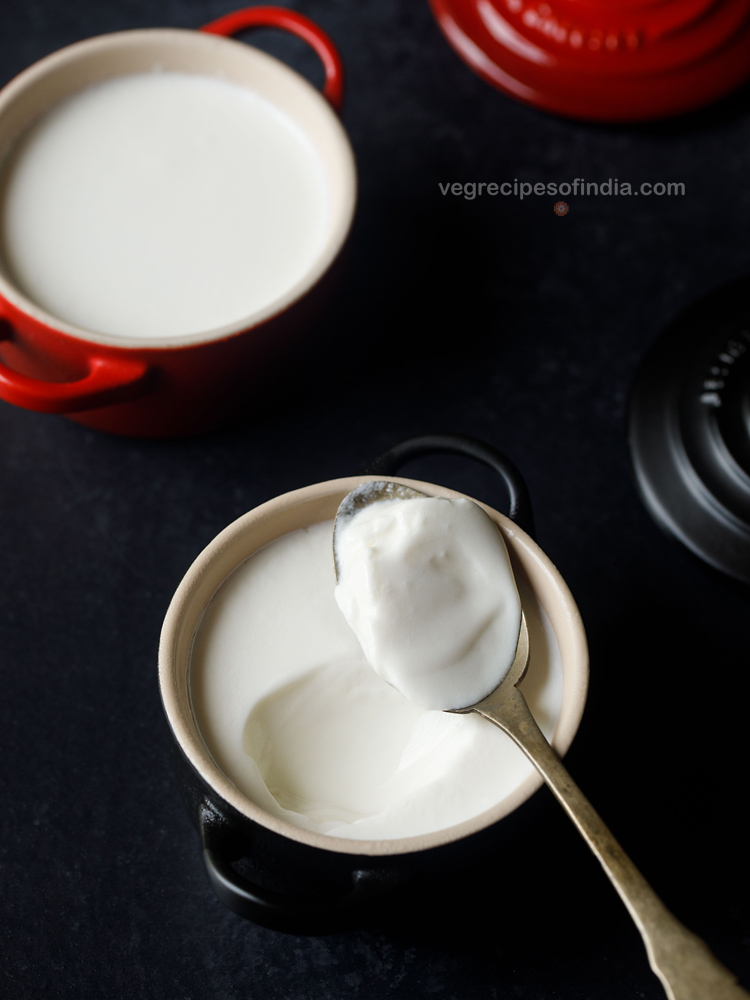 More how to recipes!
If you made this recipe, please be sure to rate it in the recipe card below. Sign Up for my email newsletter or you can follow me on Instagram, Facebook, Youtube, Pinterest or Twitter for more vegetarian inspirations.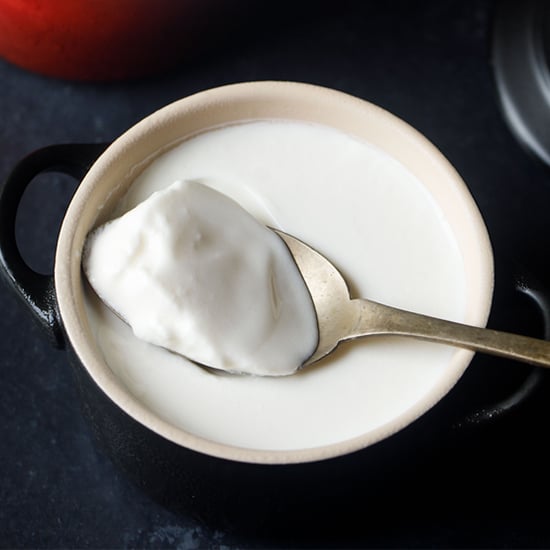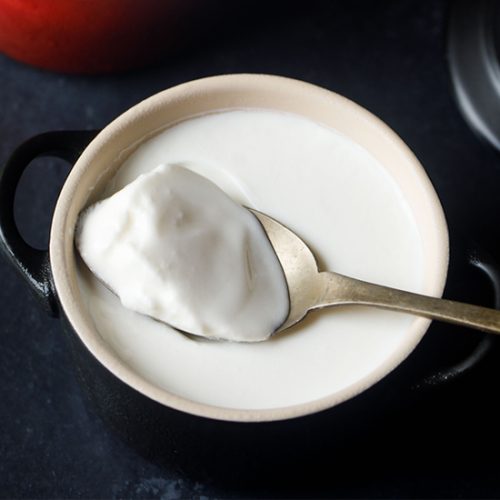 How to make Curd | Homemade Curd Recipe
Simple & easy method to make curd or dahi at home from milk.
---
---
Servings
1
medium size bowl of curd
Ingredients
½

litre of milk

or 500 ml milk

1 to 2

teaspoons

Curd

(dahi or yogurt)
Instructions
Boil the milk first.

Let the milk become warm.

In the same pan that you have boiled the milk, add 1 tsp of curd and mix well.

Cover and keep the pan for 5-6 hours or till the curd has set.
Like our videos? Then do follow and subscribe to us on youtube to get the latest Recipe Video updates.
Tried this recipe?
If you have made the recipe and liked it then do share the recipe link on facebook, twitter & pinterest. For instagram mention @dassanasvegrecipes and tag #dassanasvegrecipes!
All our content & photos are copyright protected. Please do not copy. As a blogger, if you you want to adapt this recipe or make a youtube video, then please write the recipe in your own words and give a clickable link back to the recipe on this url.
Like this Recipe?
Pin it Now to Remember it Later