This easy avocado shake recipe makes the best rich, creamy, and simply delicious milkshake that is perfect to enjoy any time of day. Filled with healthy nutrients, avocados are terrific to customize – as either vegetarian or vegan-friendly treats with your favorite extra goodies.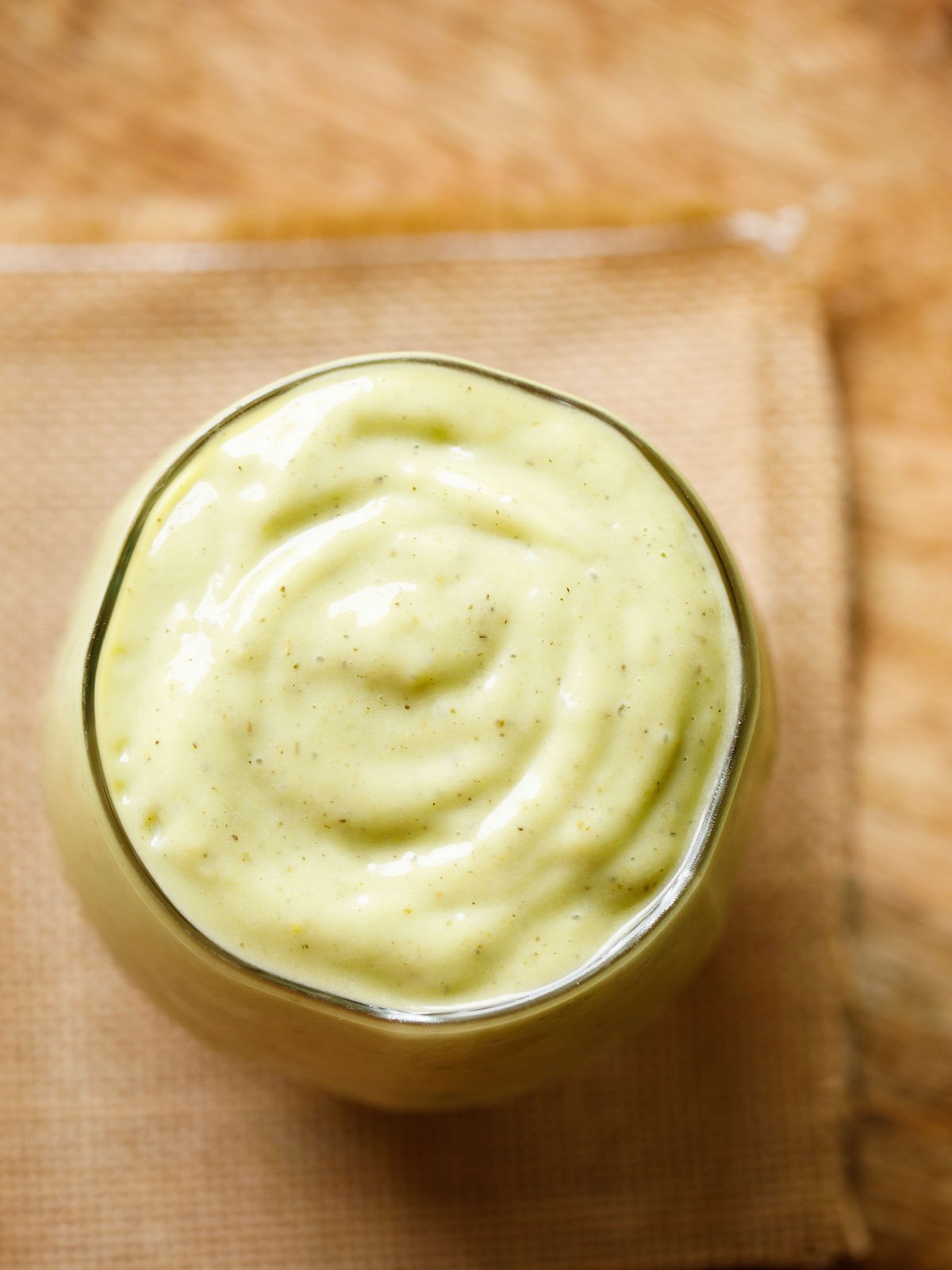 About this Recipe
Avocado is a delicious and versatile fruit that also happens to be incredibly healthy. This buttery fruit is full of good-for-you monounsaturated fats, but with zero cholesterol.
Plus, they are an excellent vegan source of potassium, vitamin K, vitamin B6, vitamin C and vitamin E.
Avocados are perfect for using to make creamy and filling milkshakes as their flesh tends to be rich and buttery.
With just a few additional ingredients you can create a satisfying and absolutely scrumptious drink that's great to enjoy nearly any time of day.
Make one for breakfast to kick off your day with a nutritious boost, or for a hearty afternoon snack. You can even enjoy avocado shake for a sweet and healthier dessert.
Along with this avocado shake recipe, you can use avocados to make homemade Guacamole, which is perfect for this Guacamole Sandwich recipe.
Plain avocado is also yummy for smearing on bread or toast as a healthy replacement for regular dairy-based butter. Or get fancy and try Avocado Toast with a garlic bread twist. If you love salads, then make this creamy Avocado Salad.
Tips for Working with Avocado
Make sure that your avocado is completely ripe before using. Unripe avocados tend to have a bitter taste.
You need to cut the avocado in two parts by slicing fully around the pit.
Don't cut it length wise. The avocado should be sliced from top of the stem to bottom.
After cutting, gently twist and pull apart the two pieces of avocado in opposite directions. Carefully remove the big seed with a spoon or knife.
How to Make Avocado Shake
A tasty, healthy, and terrifically refreshing avocado shake only takes a few minutes to make at home. Follow these simple steps to whip up a batch for breakfast or an afternoon snack:
1. First, set out a high speed blender. Slice and scoop the avocado flesh (from 1 medium to large avocado) into the blender base. Add 1 cup almond milk.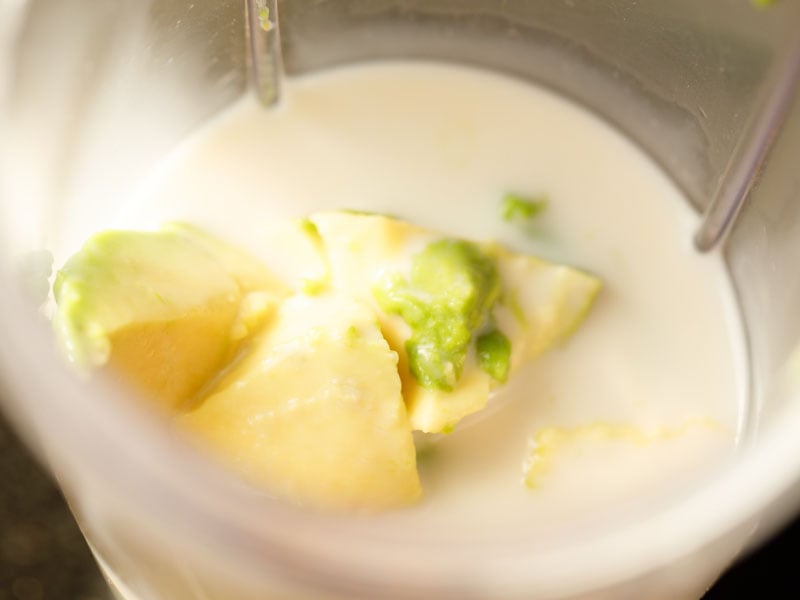 2. Add 3 to 4 tablespoons maple syrup or raw sugar (depending on desired sweetness), 1 teaspoon dried moringa or ½ teaspoon ground moringa (optional) and ½ teaspoon vanilla extract .
TIP 1: Other optional add-ins are 1 tablespoon of cacao nibs or 1 tablespoon of chia seeds.
TIP 2: You can include any sweetener of your choice – coconut sugar, palm sugar or jaggery. I like to add maple syrup as it complements the creaminess and flavor of avocado giving the shake a nutty taste.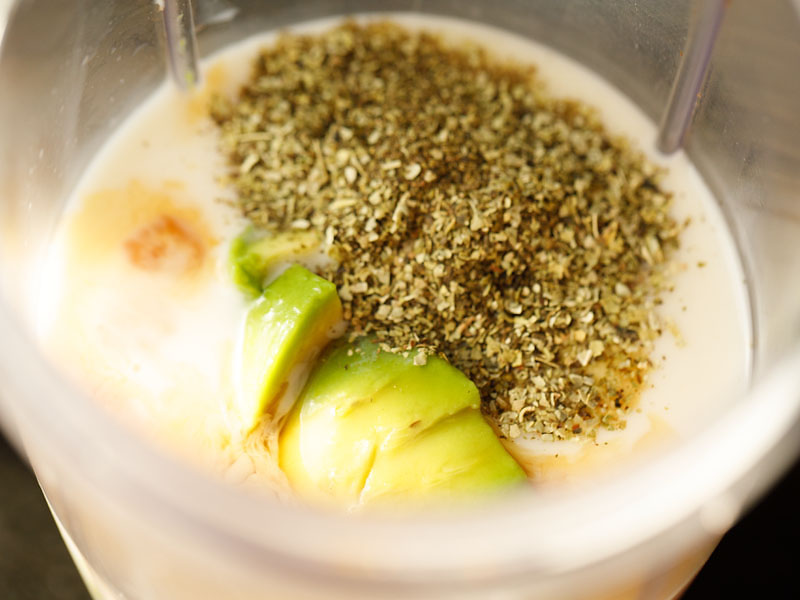 3. Blend on medium speed for a minute or two, until completely blended. If you prefer a flowing thin consistency, add more almond milk.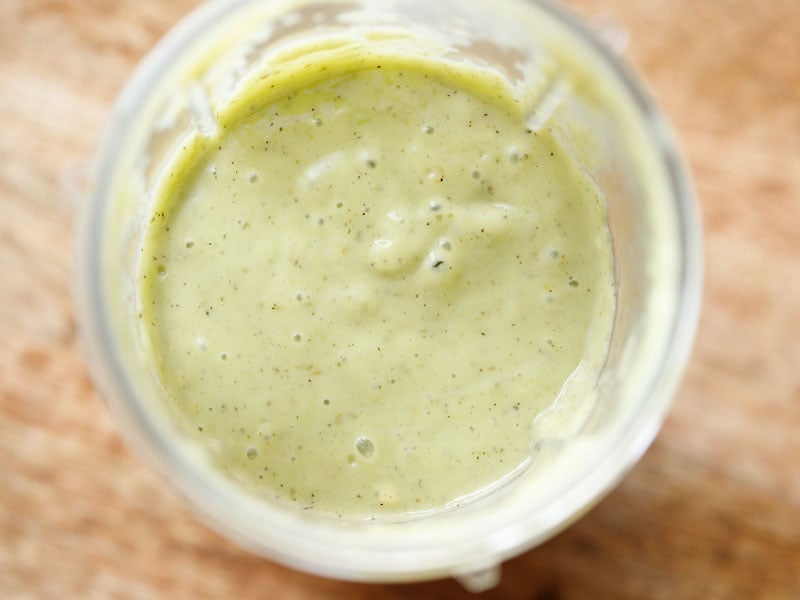 4. Pour the avocado shake in glasses and enjoy immediately.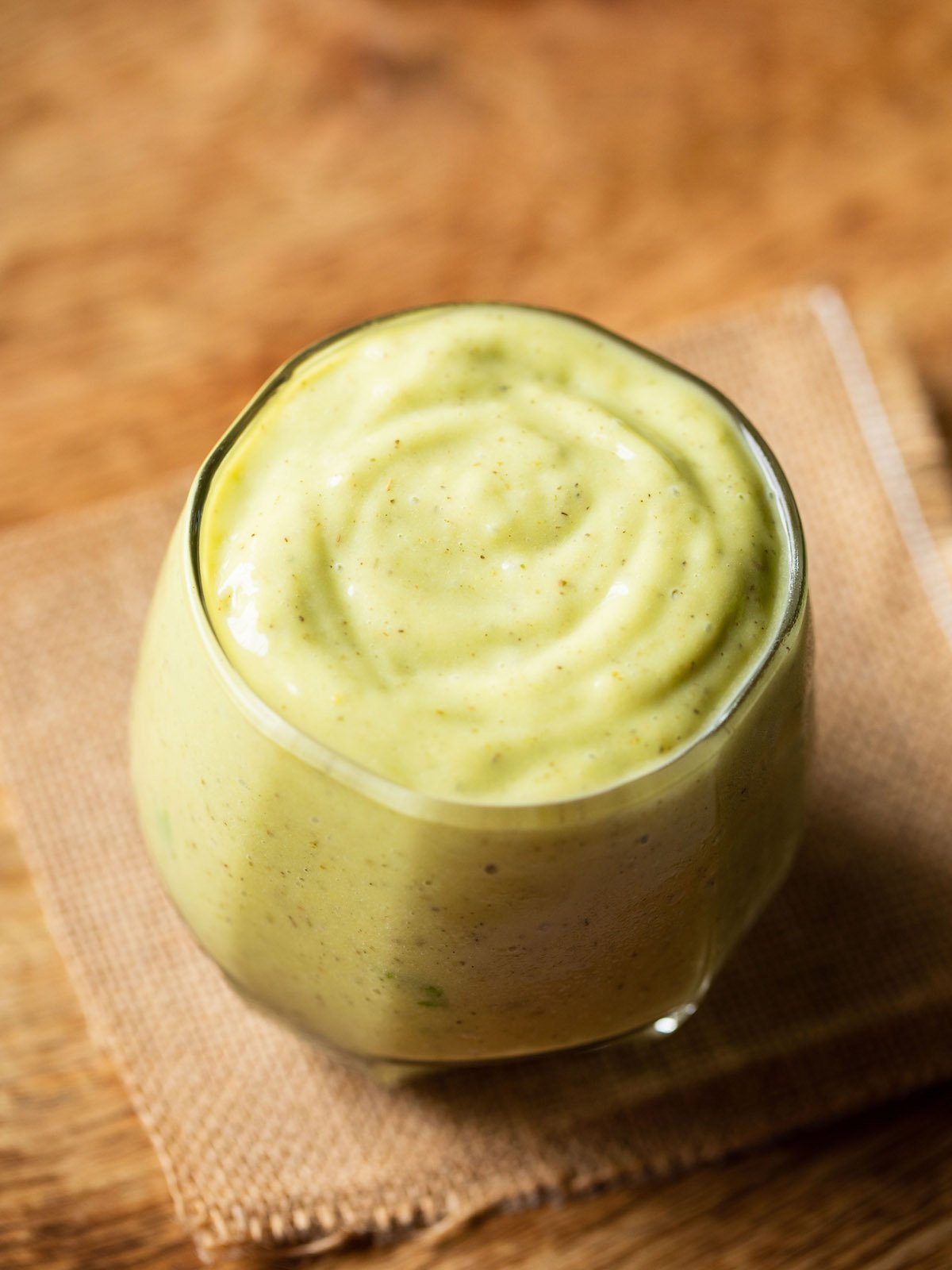 Tips + FAQs
What other add-ins or substitutes can you include in this avocado milkshake recipe?
I like to use dried moringa leaves and occasionally cacao nibs and chia seeds in this avocado milkshake to add a bit of lovely earthiness and great flavor. Feel free to omit any of them or use one or the other, substitute or add other preferred goodies. You can include banana, mango, pineapple or papaya for a tropical avocado milkshake. Or try fresh berries, like strawberries and blueberries, for a deliciously fruity drink. Feel free to also include spinach, nuts, seeds or a protein powder of your choice.
What milk can I use to make avocado milkshakes?
You can use dairy milk, or for a vegan-friendly milkshake choose a plant-based milk. I made this recipe with Almond Milk, which goes well with other tropical fruits mentioned above. But Coconut Milk or cashew milk will work well, too!
How can I make a thicker milkshake?
For a super thick avocado shake, increase the amount of avocado or include frozen fruit or fruits like banana or mangoes. You can even scoop and flash freeze the avocado flesh for one hour before including, if you're making a nice and simple milkshake per my original recipe.
How long will avocado milkshake keep well?
I recommend serving and enjoying right away. Leftovers will not keep very well as avocados begin to brown once it is exposed to air.
Please be sure to rate the recipe in the recipe card or leave a comment below if you have made it. For more vegetarian inspirations, Sign Up for my emails or follow me on Instagram, Youtube, Facebook, Pinterest or Twitter.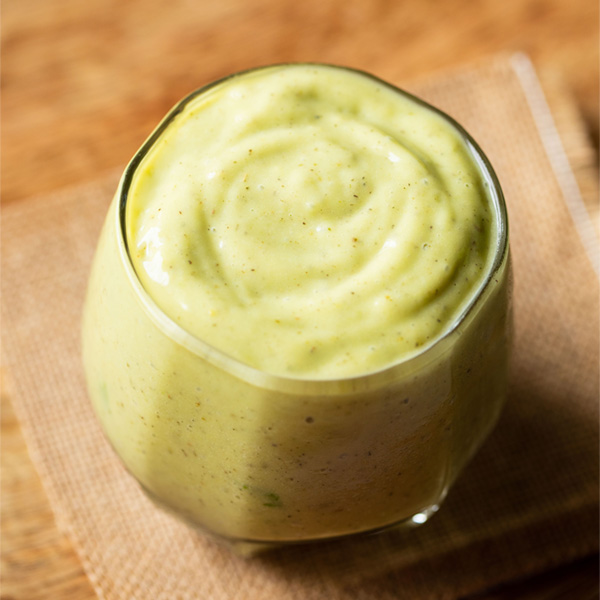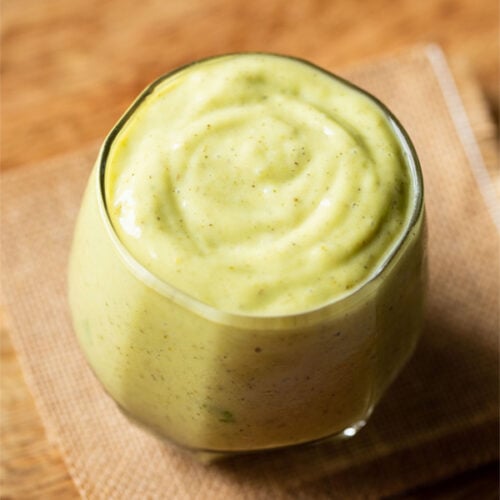 Avocado Shake Recipe
This easy avocado shake recipe makes rich, creamy, filling and simply delicious milkshake that are perfect to enjoy any time of day. The avocado milkshake is filled with healthy nutrients as it is made with almond milk and dried moringa leaves.
1

avocado

medium to large sized (butter fruit or makhanphal)

1

cup

Almond Milk

or lite coconut milk

3 to 4

tablespoons

maple syrup

or 3 to 4 tablespoons preferred sweetener

½

teaspoon

vanilla extract

– optional

1

teaspoon

dried moringa

or ½ teaspoon ground moringa – optional

1

tablespoon

cacao nibs

– optional
Instructions
Slice the avocado and scoop the flesh. Add it to the blender.

Add all the rest of the ingredients.

Blend on medium speed in a blender until smooth.

Pour in glasses and serve immediately.
Notes
Ingredients notes
Almond milk: You can use dairy milk, or for a vegan-friendly milkshake choose a plant-based milk which goes well with fruits. Oats milk, Lite Coconut Milk or cashew milk works well too. To thin out thick canned coconut milk – mix the coconut milk with water in 1:1 proportion or 1:2 proportion respectively.
Make it more healthy:

Other than dried moringa leaves, you can include cacao nibs, chia seeds, spinach, berries, nuts and a protein powder of your choice. You can also include banana, mango, pineapple or papaya for a tropical avocado milkshake.

Flavorings:

Use ground spices like ground cinnamon, cloves, cardamom, ginger or pumpkin spice for that warm flavor.

Sweeteners:

You can omit the sweeteners or add your choice of sweetener – raw sugar, coconut sugar, palm sugar or jaggery. You could also add some dates or figs, but the color of the avocado shake will become dark.
Nutrition Info (Approximate Values)
Nutrition Facts
Avocado Shake Recipe
Amount Per Serving (1 serving)
Calories 269
Calories from Fat 144
% Daily Value*
Fat 16g25%
Sodium 194mg8%
Potassium 591mg17%
Carbohydrates 30g10%
Protein 3g6%
Vitamin A 2817IU56%
Vitamin B1 (Thiamine) 1mg67%
Vitamin B2 (Riboflavin) 1mg59%
Vitamin B3 (Niacin) 2mg10%
Vitamin B6 1mg50%
Vitamin C 14mg17%
Vitamin E 6mg40%
Vitamin K 21µg20%
Calcium 244mg24%
Vitamin B9 (Folate) 81µg20%
Iron 1mg6%
Magnesium 52mg13%
Phosphorus 52mg5%
Zinc 1mg7%
* Percent Daily Values are based on a 2000 calorie diet.
This avocado shake recipe post from the archives (September 2013) has been republished and updated on 20 January 2021.