Collection of 12 vegetarian pumpkin recipes – pumpkin also called as kaddu is one of the veggies that we use in Indian cuisine. While there are many dishes that are made exclusively only with pumpkin, some dishes include pumpkin with other veggies. In this pumpkin recipes collection I have largely shared posts made with yellow-orange pumpkin.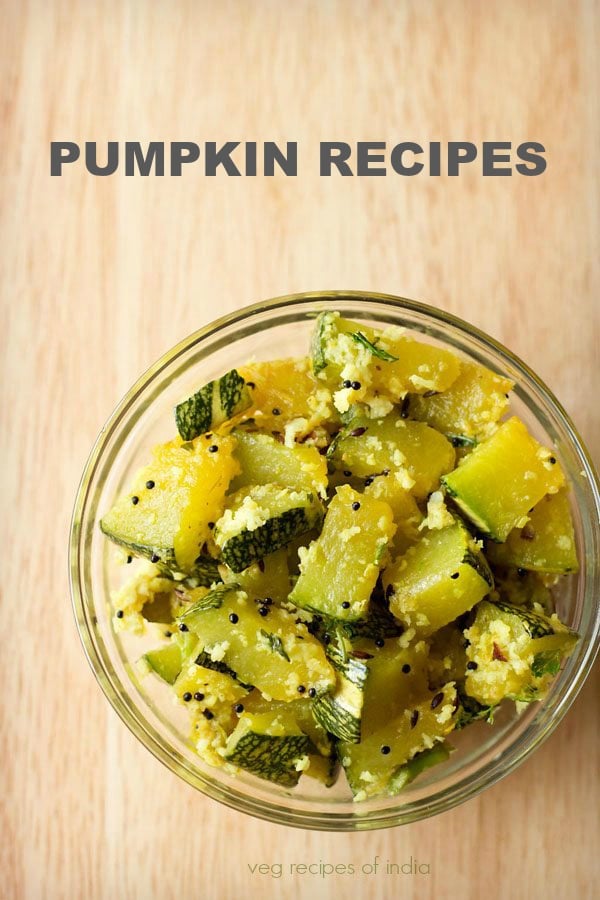 Pumpkin is easily available everywhere. Being rich in vitamin A pumpkin is very good for the eyes. It's also rich in fibre and hence keeps you full for some time. Its also rich in potassium than banana which is good for muscles and maintaining body pressure.
The most difficult part in making any pumpkin dish for me is to peel it or to cut it into small pieces. Unless you buy pre chopped pumpkin pieces from the market. Once you are able to chop the pumpkin, then more than half of the job is done. from a difficult veggie to chop, the pumpkin transforms into a melt in the mouth veggie when cooked.
I will update this collection as I add more pumpkin recipes on the blog.
Collection of 12 vegetarian pumpkin recipes
1. Kaddu ki sabzi – easy and delicious pumpkin recipe that can be made on regular days and also during Navratri or Ekadashi fasting. this kaddu sabzi is a favorite at home. Kaddu ki sabzi is also known as petha sabzi.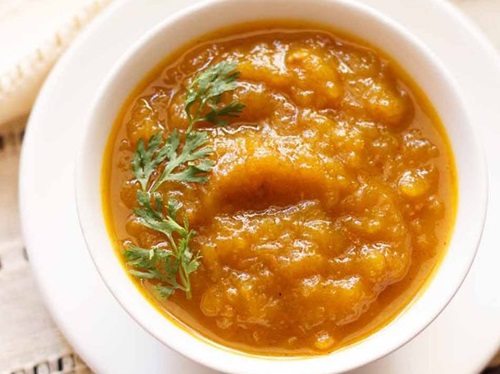 2. Pumpkin bread – this is an easy one-bowl pumpkin bread recipe made from whole wheat flour. My pumpkin bread recipe is adapted from my super popular Banana Bread and I make it pretty often. This is super simple one-bowl recipe that has your regular pantry staples.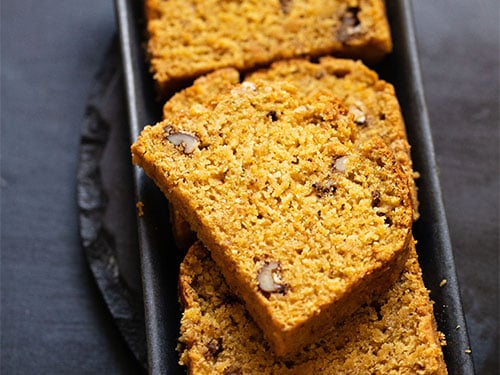 3. Pumpkin soup – This Recipe gives you an easy and tasty homemade pumpkin soup all made in one-pot. The slightly sweet, earthy flavor of the yellow pumpkin, along with added herbs and spices, gives this soup a satisfyingly sweet and savory taste..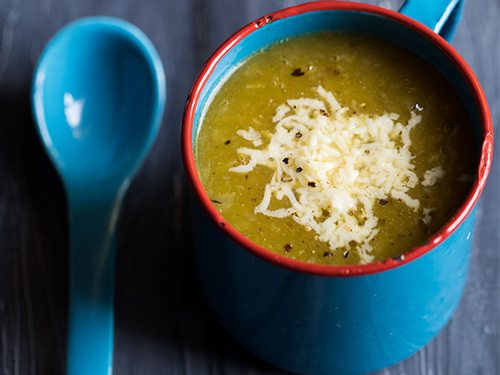 4. Poosanikai sambar – This is a delicious South Indian sambar variety made with yellow pumpkin. Its also called as poosanikai sambar in tamil language. A no onion no garlic and vegan recipe.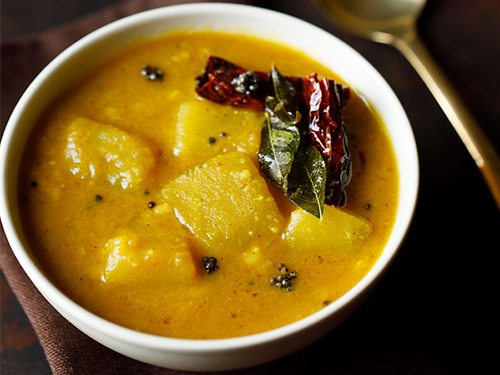 5. Avial recipe – I share a traditional method of making a flavorful avial with mixed vegetables, fresh coconut, curry leaves, coconut oil and curd (yogurt). Serve with steamed rice, sambar, pickle and some papadoms for a hearty and satisfying meal.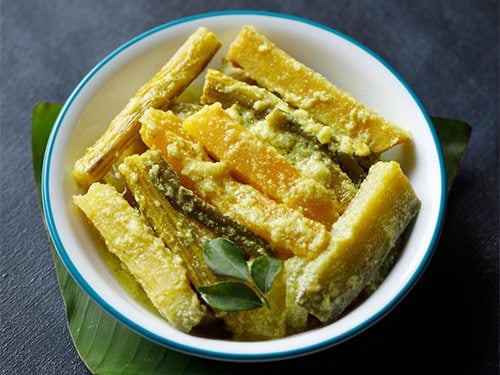 6. Pumpkin erissery – a mild and tempered curry with light sweet tones made with pumpkin, cowpeas (lobia) & coconut. A Kerala traditional dish served during onam sadya. It is one of the essential dishes that is served during onam sadya. This dish is also known as Elisseri in some parts of Kerala.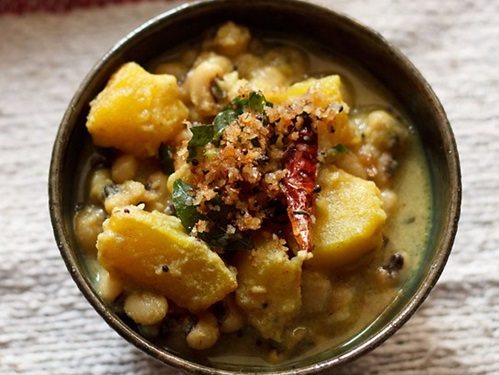 7. Kaddu ka halwa – sweet pudding made with pumpkin along with cardamom, melon seeds and dry fruits. this is a very easy recipe of pumpkin halwa. the whole halwa is made in the pressure cooker, saving time and energy. i have also shared Kashi halwa that is popular in south India and is made with white pumpkin.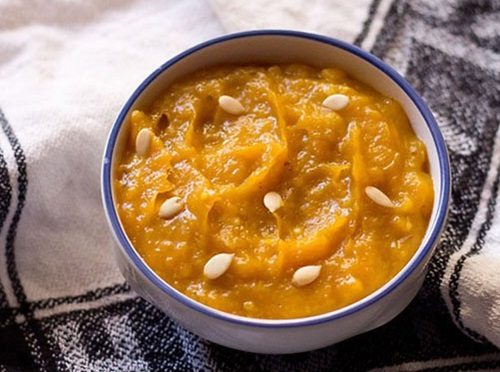 8. Khatta meetha kaddu – this is one of the easiest sabzi recipe that is made with pumpkin. In hindi Khatta means sour and Meetha mean sweet. The sourness coming from dry mango powder (amchur) and the sweetness coming from sugar/jaggery as well as pumpkin.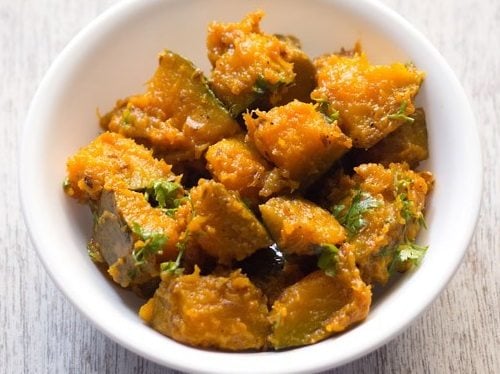 9. Pumpkin kheer – a flavorsome, easy to prepare, traditional Navratri sweet dish made with pumpkin. Easy to prepare, requiring minimal ingredients and so delicious.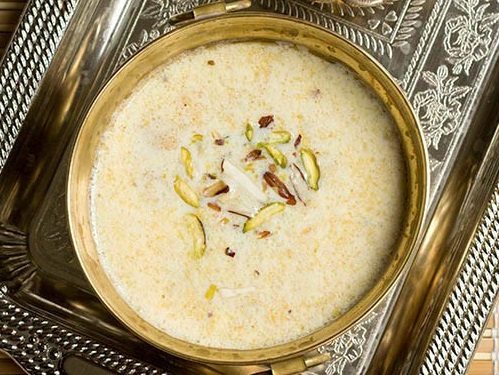 10. Kaddu ka paratha – a quick, healthy and tasty flatbread made from pumpkin, herbs and spices. This is a nutritious recipe as these pumpkin flatbreads are made from whole wheat flour.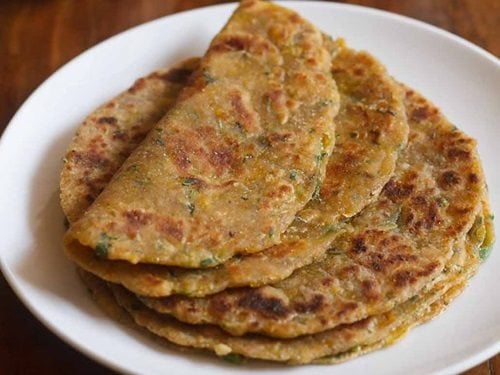 11. Pumpkin bhaji – simple, easy and minimally spiced pumpkin sabzi with coconut. The coconut also adds to the sweetness of the pumpkin in this recipe.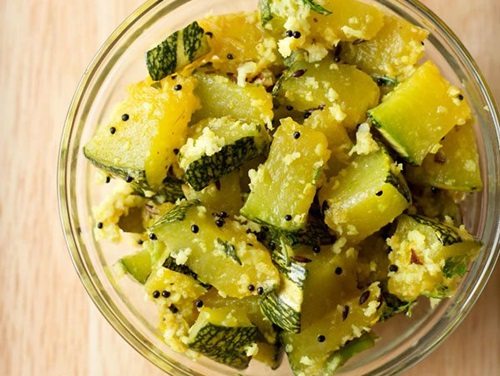 12. Kaddu pakora – pumpkin fritters made for fasting or religious vrat. these kaddu pakoras are very soft from inside and are a tasty snack to have during Navratri fasting.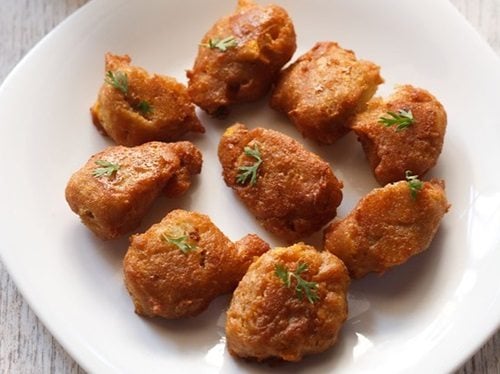 This Pumpkin Recipes Collection from the blog archives first published in June 2017 has been republished and updated on 7th Jun 2022.