Ulundu vadai or uddina vada recipe with step by step photos – crisp and tasty fried black grams donuts shaped fritters.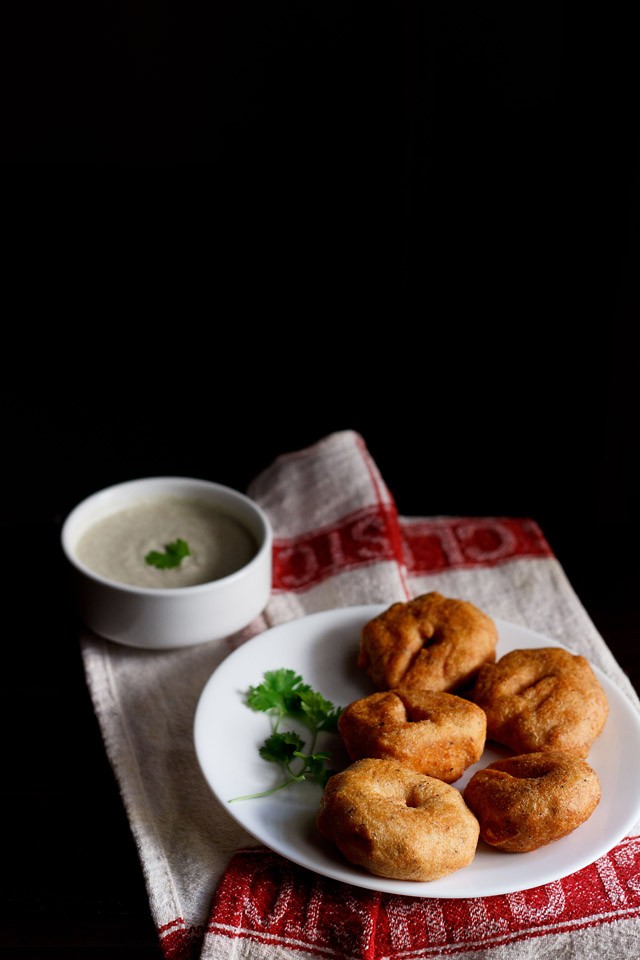 This crisp and tasty vadai made without onions is a special South Indian snack that is made for Bhagwan Ganesha as Naivedyam or Bhog during the Ganesh Chaturthi festival.
These deep fried fritters are a No onion no garlic version. Similar versions of Ulundu vadai is made during Navratri festival in south India and served with coconut chutney and sambar. Both the sambar and coconut chutney are made without adding onions or garlic.
I have only used urad dal (black gram) in making this vadai. When I make them, I always soak the lentils overnight. This give the best results and become porous, soft and spongy when deep fried.
Tips for making Uddina vada
For grinding the batter in a mixie, I do suggest to add a little water as this helps in making the vadai soft. If the batter is too thick the vadai become dense when fried.
A slightly thin batter absorbs a lot of oil. So have a middle ground here. The batter should have the consistency where shaping them is easy and yet they become soft when fried. This only comes through experience and once you get the knack, you will be able to make excellent uddina vadai.
I have ground the soaked and drained lentils in a mixer-grinder and added 2 tbsp water. The spices used are black pepper, cumin and a green chili because we like the taste of a slightly salty and hot green chili bits in a vadai. You can even add fresh chopped coconut pieces, chopped ginger and curry leaves to the batter.
Whenever I make vadai, I always add the batter with a spoon and fry them. I am not so good in making the donut shaped vadai. I always try and give up every time. This time I persisted and managed to make decent dough nut shaped vadas.
You may not get the perfect round donut shape of the vadai as you get in the restaurants. Also if you cannot manage to shape them then just fry them like pakoras.
Just because you are not able to get the perfect shape of vadai, that should not deter you from making this delicious vada and enjoying eating them.
I served ulundu vadai with the simplest no onion no garlic coconut chutney made with only three ingredients.
Ulundu vadai always have to be served hot as they are crisp when hot. Don't serve them when they become cold as the crispness is lost by then. Serve them hot with coconut chutney and sambar.
How to make ulundu vadai or uddina vada
1. Soak the black gram or urad dal overnight or at least for 4-5 hours. Drain the water completely and take all the lentils in a grinder jar.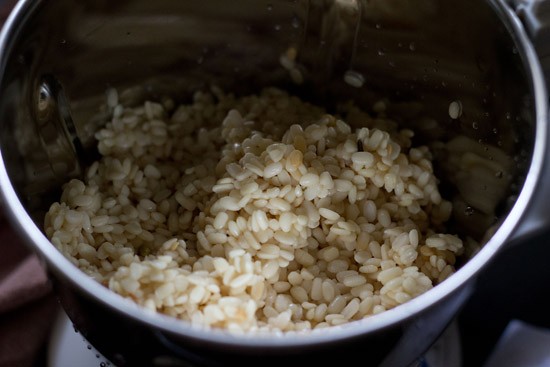 2. Add 3 tablespoons water and grind to a smooth fluffy batter.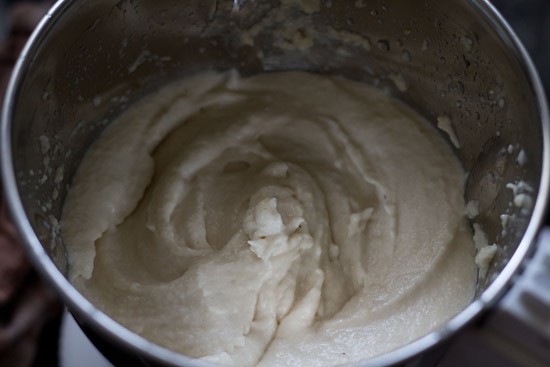 3. Add the black pepper powder, cumin, asafoetida, salt and green chilies to the batter and mix well.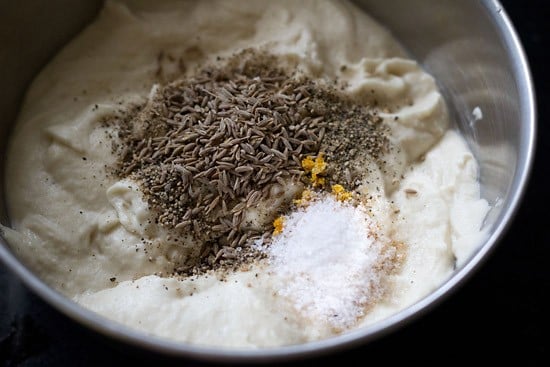 Frying ulundu vadai
4. Wet your palms with water and take some batter in your right palm. With the help of the left hand, shape the batter first and then make a hole in the center with a thumb and gently slid the doughnut shaped vadai into medium hot oil.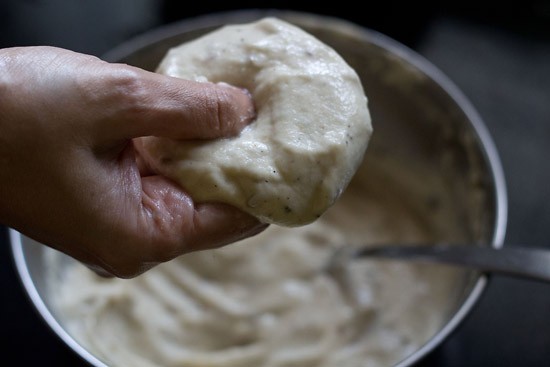 5. Make other vadai this way and then add them to the kadai. You can fry the number of vadai depending on the size of your kadai. Fry them till golden and crisp.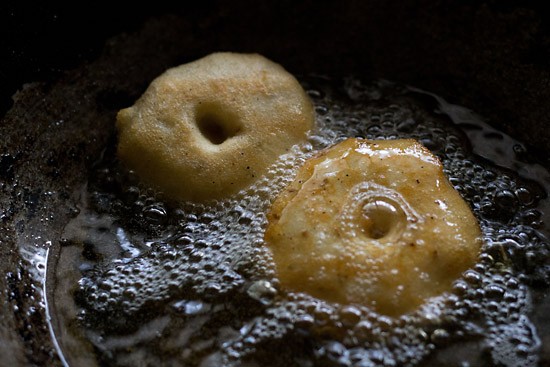 6. Drain them on kitchen paper tissues to remove excess oil.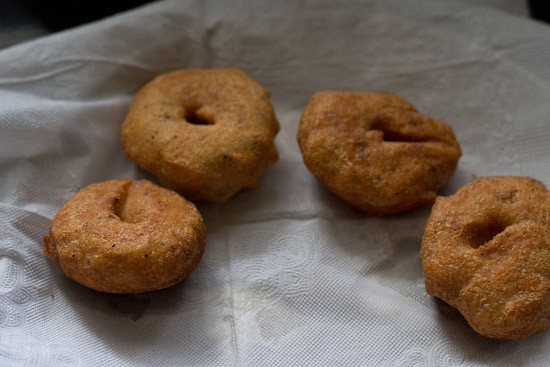 7. Serve Uddina Vada hot with coconut chutney and sambar.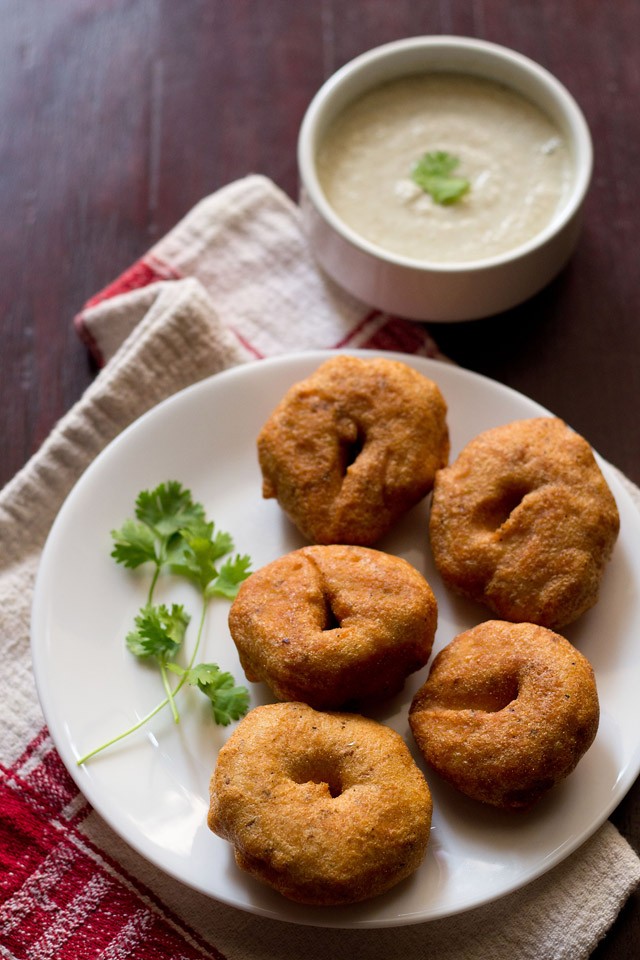 Few more snacks recipes for you!
Please be sure to rate this recipe in the recipe card below if you have made it. For more vegetarian inspirations, Sign Up for my emails or follow me on Instagram, Youtube, Facebook, Pinterest or Twitter.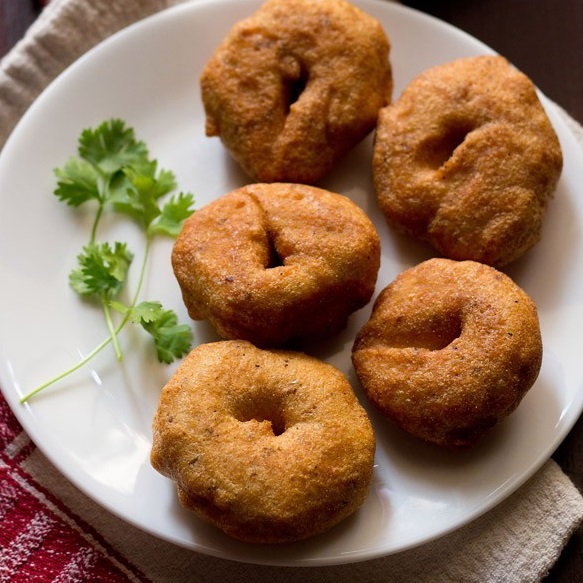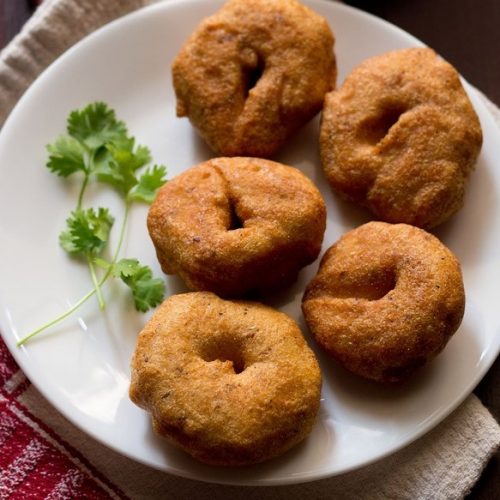 Ulundu Vadai (Uddina Vada)
These Uddina Vada are crisp and tasty fried black grams donuts shaped fritters. A popular South Indian snack.
1

cup

urad dal

(black gram)

¼

teaspoon

crushed black pepper

½

teaspoon

cumin seeds

1

green chili,

chopped

1

pinch

asafoetida

(hing)

2 to 3

tablespoon

water or strained water of the soaked urad dal

salt as required

oil for deep frying
Instructions
soaking lentils
Rinse the urad dal in water for a couple of times.

Soak them in enough water overnight or for atleast 4-5 hours.
making ulundu vadai batter
Drain well and take all the lentils in the grinder jar.

First add 1 tbsp water and grind the lentils for a few minutes.

Switch off the grinder and scrape the sides of the jar with a spatula and add the unground lentils which stick to the sides of the jar inside the jar.

Add 1 tbsp water and stir with the spatula.

Grind again in intervals scraping and stirring the batter a few times.

If you find difficulty in grinding the batter, you can add 1/2 or 1 tbsp water more.

When the batter has become smooth, fluffy and soft, stop grinding.

There should be no grainy texture in the batter. It should feel very smooth on your fingers.

Add the crushed black pepper, cumin, green chilies, asafoetida and salt to the ground batter.

Mix well and keep aside.
frying ulundu vadai
Heat oil in a kadai or pan for deep frying the vadas.

Shape the ulundu vadai as explained in the step by step pic below.

Fry them in medium hot oil till golden and crisp.

Drain them on paper napkins and serve the Uddina Vada hot with coconut chutney and sambar.