Creamy, smoky, spicy-sweet and tangy, this Muhammara Recipe is simply to die for. This Middle Eastern inspired roasted red bell pepper dip is delightful with everything from french fries to raw veggies, pita bread to veggie burgers. Once you make it, I have a feeling you'll want to put it on everything!!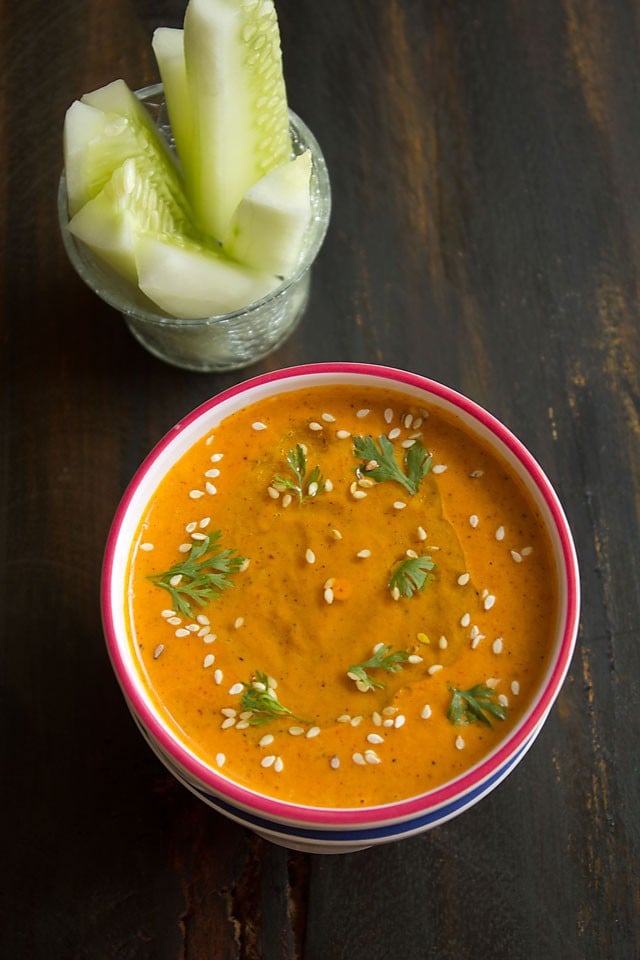 About Muhammara
Traditionally speaking, muhammara (also spelled m'hammara or muhamara) is a slightly spicy roasted red pepper and walnut dip made with breadcrumbs and pomegranate molasses. The name actually translates to "reddened" in Arabic, which speaks to its gorgeous hue.
While the original dish can be traced back to Aleppo, this Syrian mainstay can be found all over the Middle East, all the way from Turkey to Israel. Muhammara tastes rather similar to Spanish romesco sauce, and can be found on just about any mezze platter.
Ever since I saw a recipe of Muhammara on Natalie's blog, I have been dreaming about making it. While I didn't have all the ingredients that Natalie used – namely pomegranate molasses and walnuts – I was able to conjure up my own version of this tasty veg dip.
In my recipe, I swapped in honey for the missing pomegranate molasses and used roasted almonds in place of the traditional walnuts. Fun fact: romesco sauce uses almonds, so this recipe is like a Spanish/Middle Eastern fusion!
You can make your own pomegranate molasses if you ever want to! Just use pomegranate juice and a bit of sugar, then simmer it down until it is syrupy.
Since we have tastebuds that favor bold flavors, I also opted to make it more garlicky and spicier. The resulting dip was heavenly. You should do yourself a favor and make some right now!
It has the charred aroma of roasted peppers, a bright tanginess from lemon juice, and sweetness from the red bell pepper & honey; it is a pure flavor party for your mouth!
Serve this awesome dip with warm Pita or Naan, French Fries, raw veggies, Potato Wedges, Hara Bhara Kabab (or any kebab!), Falafel, Veg Cutlet, or even spread on a Burger. As our American friends might say, "this sauce is BOSS." I'm certain you'll love it!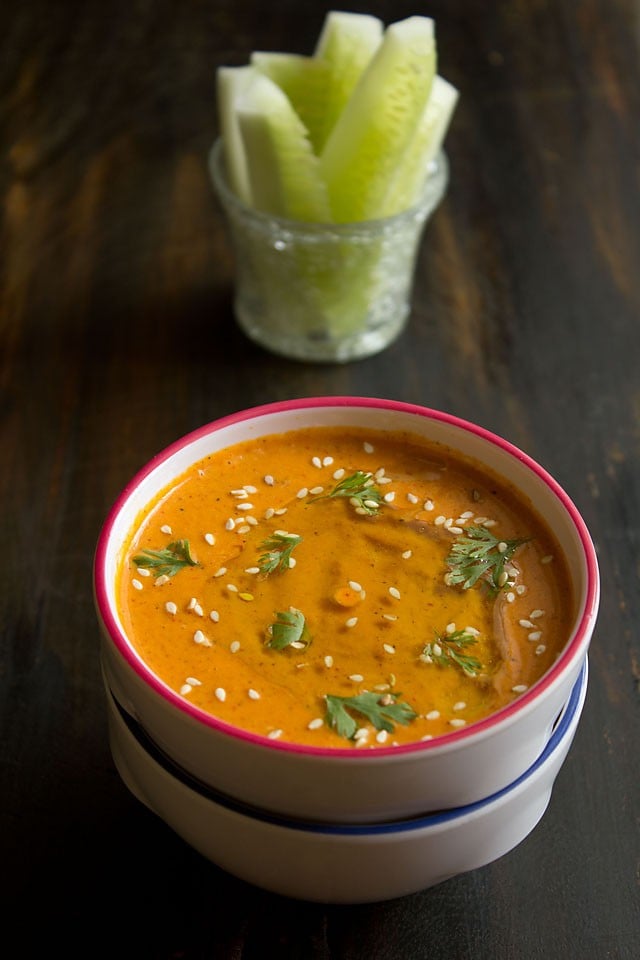 How To Make Muhammara
This simple muhammara recipe can be made in a snap! Here's how it's done:
1. I only had one large red bell pepper, which was the perfect amount for a small bowl of dip.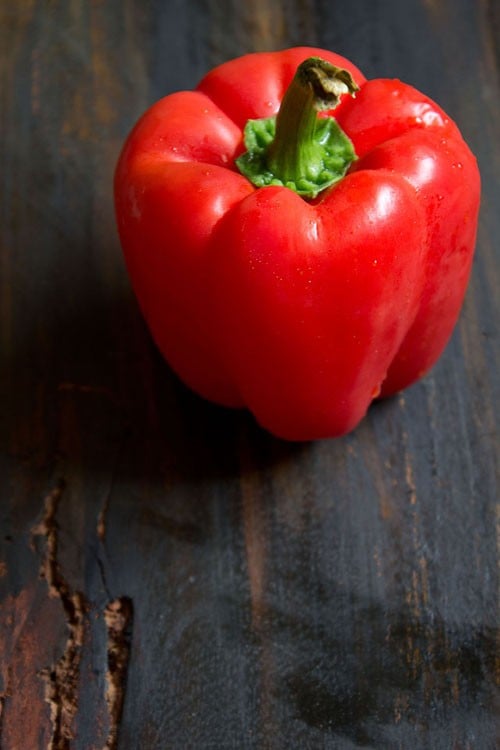 2. Roast the pepper on an open flame (use your gas stovetop or a grill, or even the broiler in the oven.)
This is the same process we use for roasting aubergines when making Baingan Bharta and even baba ganoush.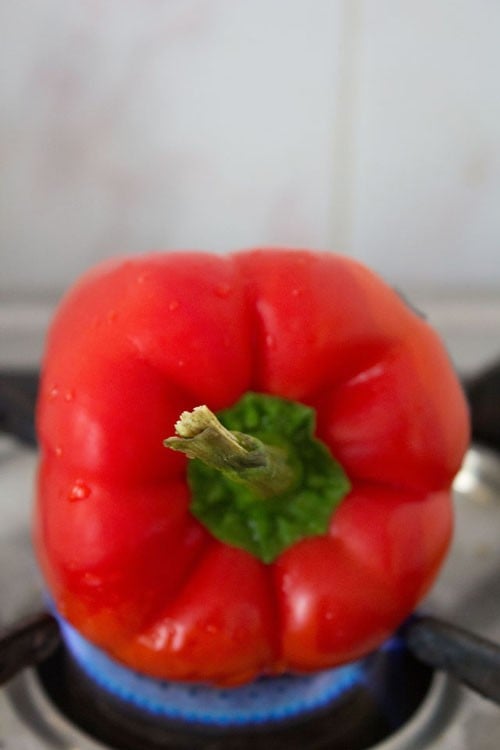 3. You have to completely char the pepper, getting the skin to turn black all over. Keep it in a bowl of water for 5 minutes. When cooled, remove the crispy burnt layer and discard it.
4. You should end up with a peeled soft cooked red pepper.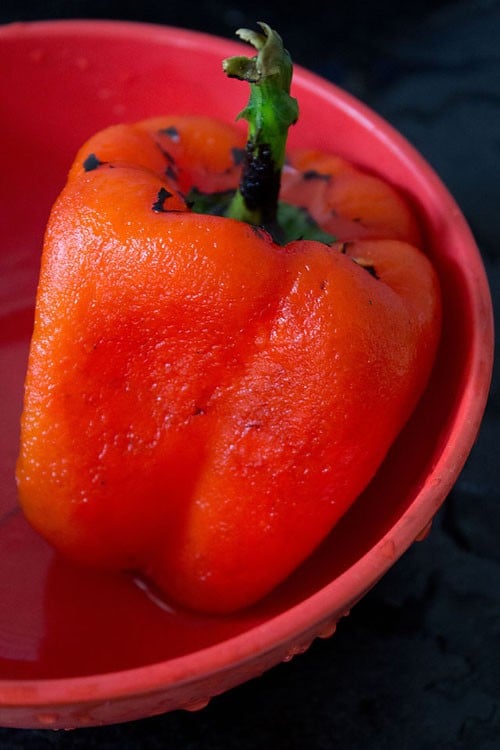 5. Remove the seeds and chop the bell pepper…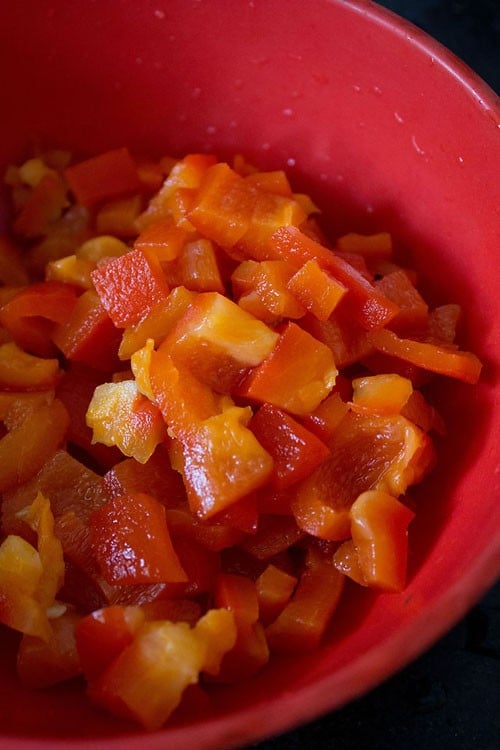 6. And then blend it in a blender or process in a food processor with the following listed ingredients to a fine consistency:
2 to 3 small-sized peeled garlic cloves
¼ cup walnuts or roasted almonds
2 teaspoons lemon juice
1 teaspoon honey or pomegranate molasses or raw sugar
½ teaspoon ground cumin
½ teaspoon ground cinnamon
1 teaspoon paprika or cayenne or red chilli powder
2 to 3 tablespoons extra virgin olive oil
salt and ground black pepper as needed
Transfer the prepared muhammara from the blender in a serving bowl using a spatula or spoon. Add a dash of extra virgin olive oil and sprinkle some sesame seeds and chopped parsley or cilantro (coriander leaves).
That's it! Easy, right? If you have all the ingredients, this dip can be made in a jiffy. Now enjoy!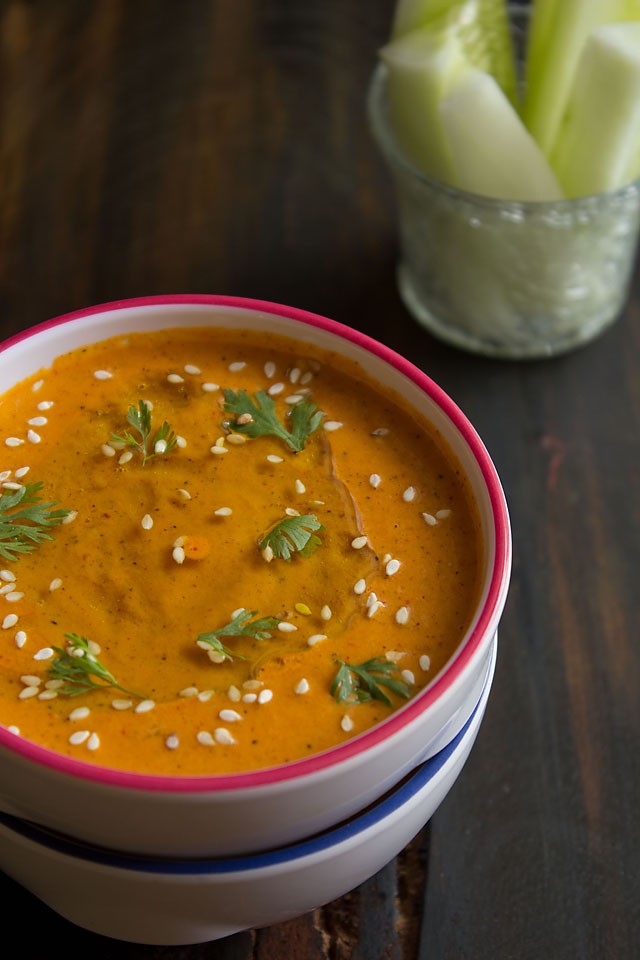 FAQs
Can I use jarred roasted red bell peppers?
You can, though I find the flavor in those peppers rather lacking. Per usual, it is generally best to make things from scratch.
How about green capsicums instead of red?
While you technically *can* make this dip using green bell peppers, the result will not taste the same. Capsicums are picked before they are completely ripe, which results in an earthy, vegetal taste. For the best results, I recommend using red, orange or yellow bell peppers.
Can I make this vegan?
Absolutely! Simply swap the honey for your preferred plant based sweetener. Traditionally, pomegranate molasses is used. You can also substitute sugarcane molasses, date syrup, agave syrup, or cane sugar.
Can it be made ahead of time?
Yes of course. This muhammara dip will keep in an airtight container in the refrigerator for up to 2 to 3 days.
More Dips and Spreads To Try!
Please be sure to rate the recipe in the recipe card or leave a comment below if you have made it. For more vegetarian inspirations, Sign Up for my emails or follow me on Instagram, Youtube, Facebook, Pinterest or Twitter.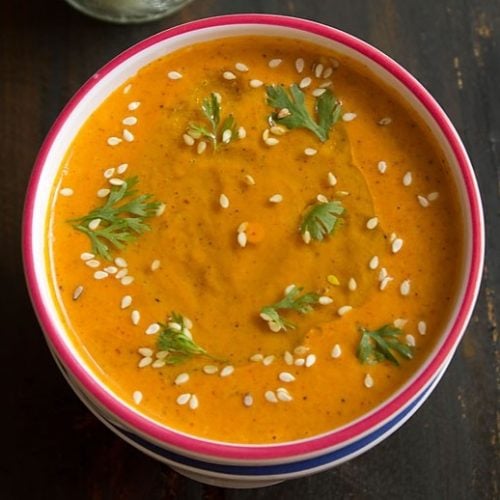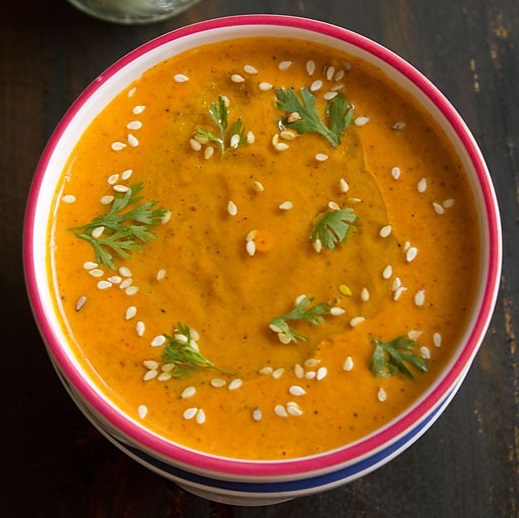 Muhammara Recipe (Homemade Roasted Red Pepper Dip)
This Muhammara Recipe is creamy, smoky, spicy-sweet, tangy and delish. This Middle Eastern inspired roasted red bell pepper dip is delightful as a dip or a spread with many snacks.
Main Ingredients
1

red bell pepper

– large-sized

2 to 3

garlic

– small-sized

¼

cup

walnuts

or roasted almonds

2

teaspoons

lemon juice

1

teaspoon

honey

or pomegranate molasses or cane sugar

½

teaspoon

ground cumin

(cumin powder)

½

teaspoon

ground cinnamon

(cinnamon powder)

1

teaspoon

paprika

or cayenne or red chilli powder

2 to 3

tablespoons

extra virgin olive oil

salt

as required

ground black pepper

as required
For Garnish
1 to 2

teaspoons

white sesame seeds

1

tablespoon

chopped cilantro

(coriander leaves) or parsley for garnish
Instructions
Rinse the bell pepper with water first a few times and then pat dry with a clean kitchen towel.

Roast the bell pepper on a stove-top flame moving it with a pair of tongs till it becomes black and chars evenly all over.

Keep the roasted pepper it in a bowl of water for 5 minutes.

Later remove the charred peel with your fingers or with a paring knife.

Rinse the bell pepper again in water to remove any blackened peels stuck on the pepper. Finely chop the bell pepper.

Add the chopped roasted pepper, garlic, lemon juice, honey, ground spices, extra virgin oil, salt and pepper to a blender or food processor. Blend or process to a fine consistency.

Transfer the muhammara to a serving bowl. Garnish with a dash of olive oil, sesame seeds and chopped parsley or coriander leaves
Notes
The recipe can be scaled up but adjust the lemon juice, spices, seasonings as needed.
You can adjust the honey, lemon juice, paprika or cayenne or chili powder, as per your taste.
The garlic can also be roasted if you prefer.
Instead of roasting the bell pepper on stove-top you can also opt to roast them in the oven.
Nutrition Info (Approximate Values)
Nutrition Facts
Muhammara Recipe (Homemade Roasted Red Pepper Dip)
Amount Per Serving
Calories 174
Calories from Fat 144
% Daily Value*
Fat 16g25%
Sodium 3mg0%
Potassium 156mg4%
Carbohydrates 7g2%
Protein 2g4%
Vitamin A 1311IU26%
Vitamin B1 (Thiamine) 1mg67%
Vitamin B2 (Riboflavin) 1mg59%
Vitamin B3 (Niacin) 1mg5%
Vitamin B6 1mg50%
Vitamin C 55mg67%
Vitamin E 2mg13%
Vitamin K 9µg9%
Calcium 30mg3%
Vitamin B9 (Folate) 30µg8%
Iron 1mg6%
Magnesium 25mg6%
Phosphorus 54mg5%
Zinc 1mg7%
* Percent Daily Values are based on a 2000 calorie diet.
This Muhammara recipe from the archives first published in May 2012 has been republished and updated on 7 May 2022.