cooked rice idli recipe with step by step photos – idli is a comfort food always for us. it makes for our comforting, warm and nutritious breakfast every weekend.
as much as i love idlis, i even love experimenting with the idli batter. i had experimented with these idlis made from cooked rice 7 months back, after reading about these in a cookbook. thereafter i have made idlis with cooked rice many times. a few times i made a multi lentils idlis, soybean idlis and on occasions ragi (finger millet) idlis too.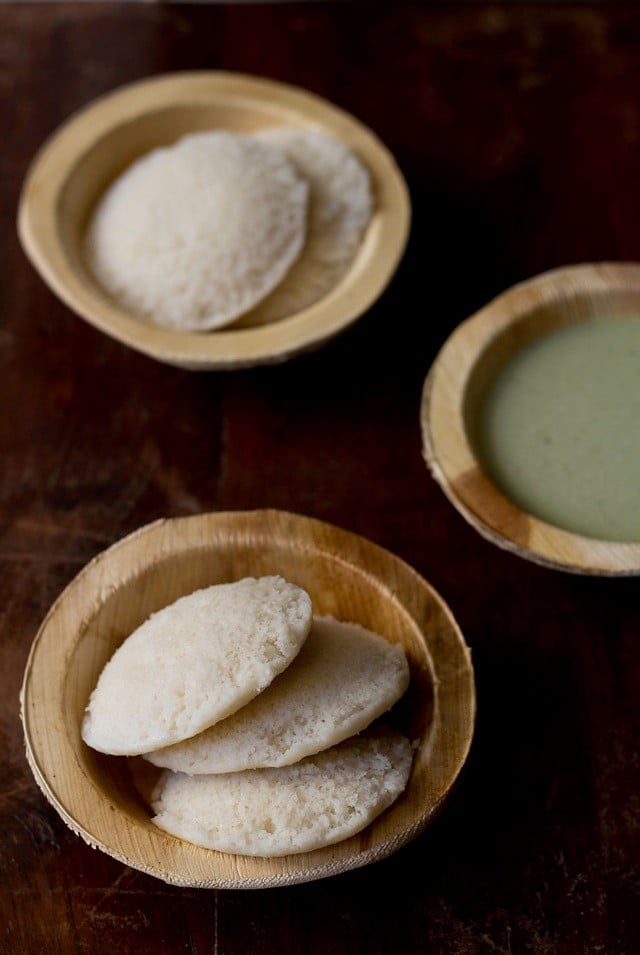 in this idli recipe, along with the cooked rice i have also added idli rava (cream of rice) and urad dal.
the steamed rice makes these idlis ultra soft, fluffy and very light. these idlis are much much softer than the usual idli recipe i follow with cream of rice (idli rava).
i have illustrated picture collages to show the whole method and not exactly a step by step post… as the method is the same as of that making idlis. just the ingredients and their proportions are different and that makes a lot of difference in the texture of the idlis.
this is also a good way to use leftover rice. i also use left over rice to make pakora, kheer and rice cutlets. to make these idlis, use leftover rice which is of the same day. if you know you are going to have some leftover rice, then just soak some urad dal and idli rava for a few hours before you make the batter. you can also use leftover rice a day old which has been refrigerated.
you cannot make dosas with this idli batter. they don't come out well. so just use the whole batter to make idlis. if there is any leftover batter than you can easily make paniyaram from it.
if you are looking for more idli recipes then do check ragi idli, poha idli, masala idli, instant idli and oats idli recipe.
soft idli recipe with cooked rice below: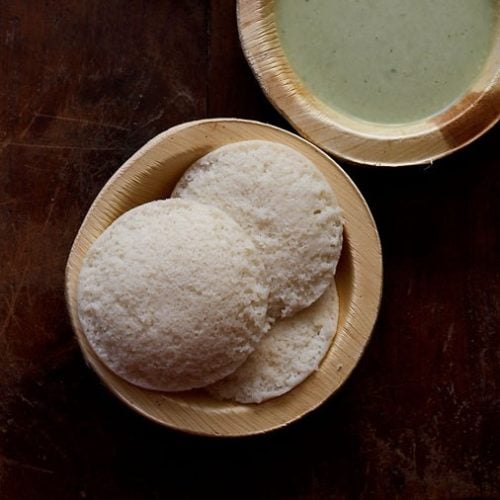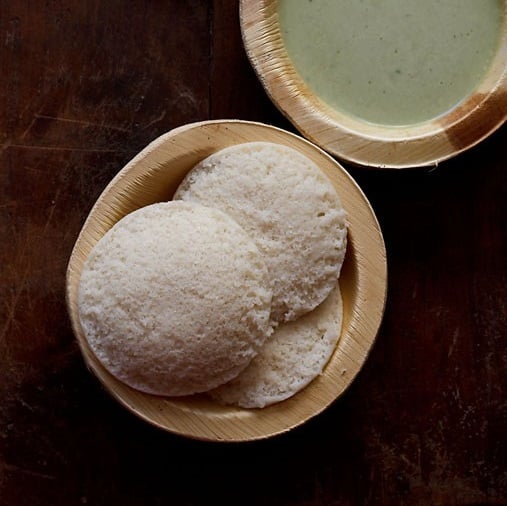 idli recipe with cooked rice - makes 15-18 idlis
idli recipe with cooked rice - ultra soft idlis made with cooked rice.
total time
9
hours
12
minutes
ingredients (1 cup = 250 ml)
1

cup

cooked

or steamed rice

1

cup

idli rava

(cream of rice)

½

cup

urad dal

(split husked black gram)

8 to 10

tablespoon

strained urad dal water for grinding

rock salt as required

oil for greasing the idli moulds
how to make recipe
making idli batter:
soak the urad dal atleast for 3-4 hours or more.

soak the idli rava for 2 hours.

drain the urad dal and reserve some of its strained water.

we will use this water to grind the idli batter.

drain the idli rava very well.

add the drained idli rava, urad dal and cooked rice in your wet grinder or the grinder jar.

first add 2-3 tbsp water and begin to grind.

stop grinding, and then add the remaining 6-7 tbsp during intervals.

the batter should be fluffy, smooth and ground well.

pour the entire batter in a deep pan or bowl.

stir in salt.

cover with a lid and let the idli batter ferment overnight or for 8-9 hours.
making cooked rice idli:
the next day before making the idlis, add 2 to 3 cups water in a steamer or electric cooker or pressure cooker.

switch on the steamer or electric cooker or place the pressure cooker on the fire and let the water come to a boil.

grease the idli moulds with oil.

pour the batter in the idli moulds.

place the idli pan in the steamer, electric cooker or pressure cooker.

cover with their respective lids.

if using pressure cooker, remove the vent weight (whistle) from the lid.

steam for 10-12 minutes or more till a tooth pic inserted in the idlis comes out clean.

serve the cooked rice idlis steaming hot or warm with some coconut chutney or sambar or both.
few steps to make soft idli recipe with cooked rice:
1. get the soaked idli rava, urad dal and cooked rice (i used cooked sona masoori rice) in a grinder jar or in a wet grinder. add water in intervals and grind to a smooth batter.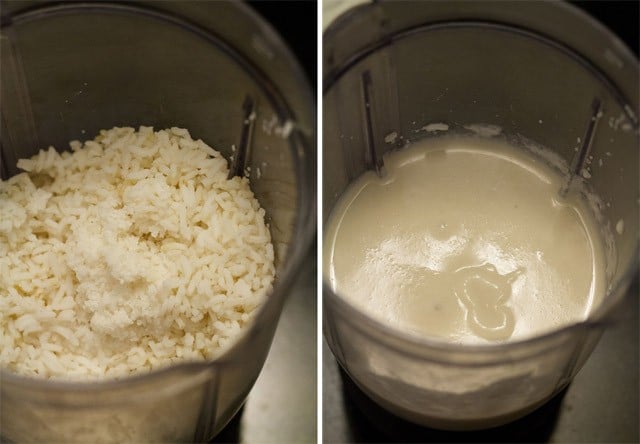 2. pour the batter in a pan and stir in some rock salt. cover and let the batter ferment overnight or for 8-9 hours.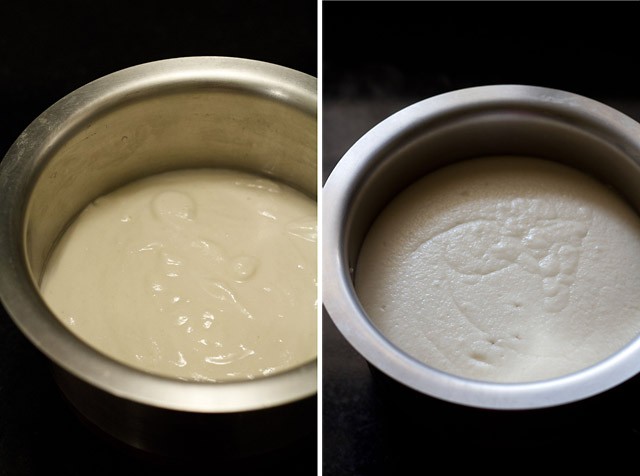 3. grease the idli pans and pour the batter in the moulds. steam the idli for 10-12 minutes in an electric cooker or in an idli steamer.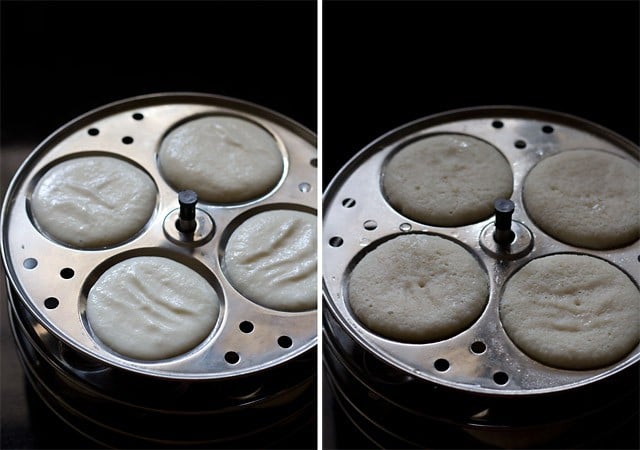 4. when the idlis are steaming, prepare your favorite coconut chutney. serve the idlis steaming hot or warm with coconut chutney and sambar if you have already made it.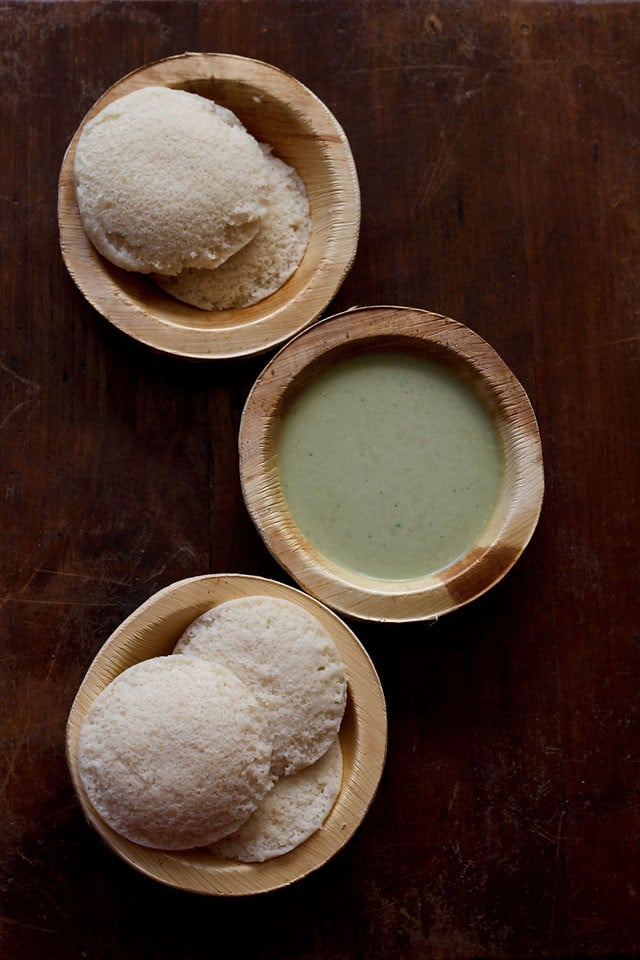 About
i started vegrecipesofindia.com in feb 2009. it is a pure vegetarian blog and shares recipes with step by step photos.

i am passionate about cooking from childhood and learnt cooking from my elders. a home science degree course further enhanced my cooking and baking skills professionally along with an internship in a five star hotel. i am trained both in mainstream indian as well as international cuisines.

all the 1800 recipes posted on blog are tried and tested and made healthy wherever possible. the recipes are detailed and with step by step pictures that will easily help you to make delicious and tasty vegetarian food.