Guacamole is a favorite at home and also our quick breakfast or dinner when I am too tired or busy to make anything else.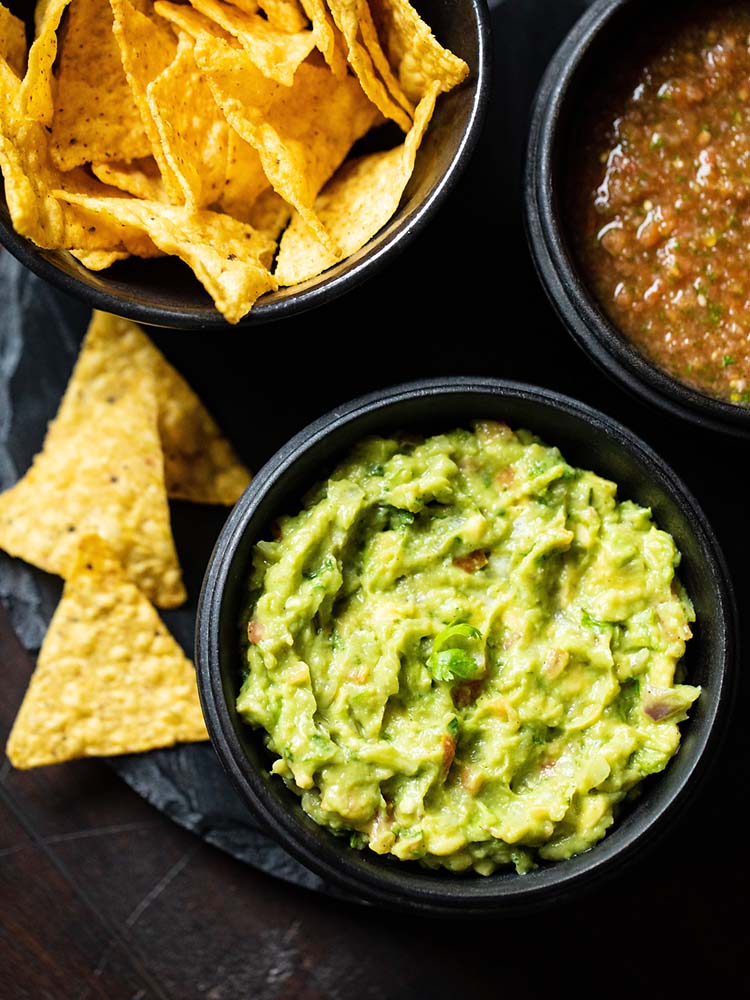 Just making this famous Mexican dip takes 5 minutes and there you serve it – with toast or taco or tortilla. You can even make grilled sandwiches from guacamole.
About this recipe
Decades back when living in Bangalore and Goa, I used to see avocados in the markets but did not know what to do with them. So they would never make it to my vegetable groceries until I was introduced again to this amazing fruit when a friend made the simplest guacamole.
We liked his version of guacamole recipe. From then on I have been experimenting with guacamole and finally, come to this version which we love at home. Much richer and better in taste than my friend's version who introduced us to guacamole.
My guacamole recipe which I have been making for decades now is very easy and has fresh ingredients.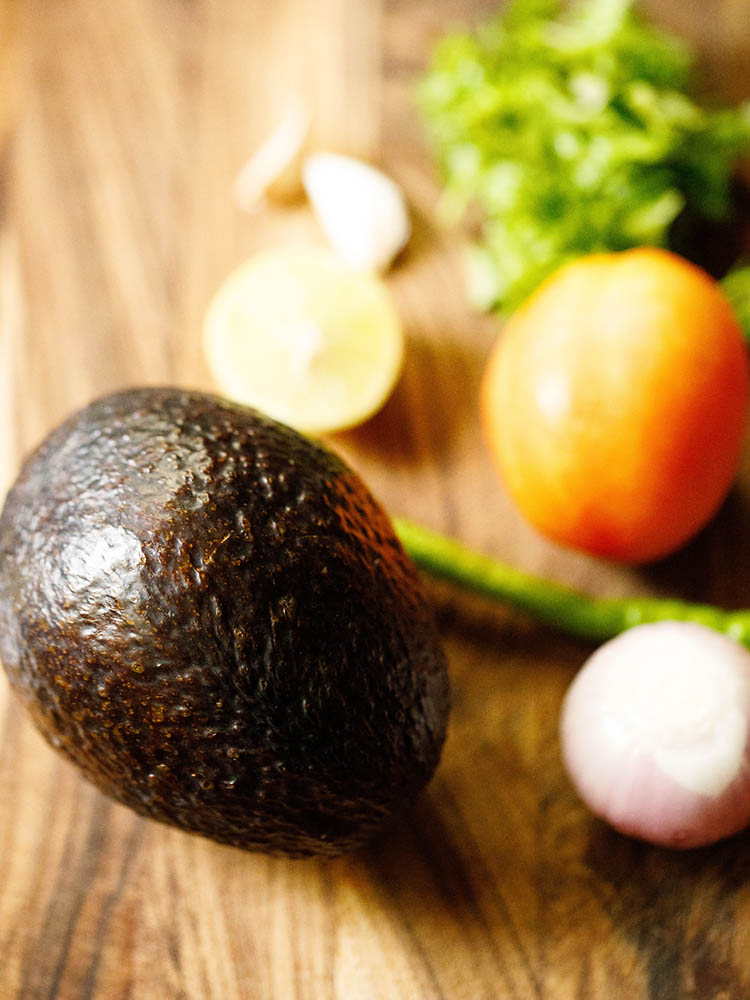 Ingredients you need
To make this best homemade guacamole recipe all you need are ingredients that are easily found in your pantry. You don't need any special ingredients.
Ripe avocado: A well-ripened avocado has a soft creamy buttery pulp. If possible use Hass avocado due to their creamy texture. But do note that Indian avocado also works well.
Onions: For the crunch and slight pungency.
Tomatoes: Ripe tomatoes give a nice tang and crunch. Adding tomatoes are optional.
Garlic: A bit of pungency comes from adding garlic. But adding them is optional. Though personally I prefer garlic in guacamole, but you can skip it.
Serrano peppers (green chilies): The heat and spice in guacamole mainly comes from peppers. For a more spicy taste, you can increase the quantity. You can even add jalapeño pepper.
Lemon juice: The acidic element which really elevates the taste is lemon juice. So do not forget to add it. You can add less or more as per your taste buds.
Extra virgin Olive oil: I always add a dash of olive oil as some fat makes the guacamole only taste better. You can skip olive oil though.
Herbs: I always prefer guacamole with herbs and it tastes so good with cilantro (coriander leaves). I have made guacamole with basil and parsley too, but I prefer cilantro to both these herbs. You can choose your choice of herbs to be added to the guacamole.
Spices: You can use either black pepper or cayenne pepper in the recipe. I prefer freshly crushed black pepper. Sometimes I have even added smoked paprika and it was good.
Is guacamole healthy?
Avocado is the main ingredient in guacamole so obviously it is healthy. Avocado is a superfood.
Avocados are rich in vitamin E, the B group vitamins and vitamin K. They are also high in potassium. They are also rich in fiber. So it is good to include avocados in your diet.
They are good for kids too. When making guacamole for small kids, just skip the chilies and black pepper to avoid the spice & heat.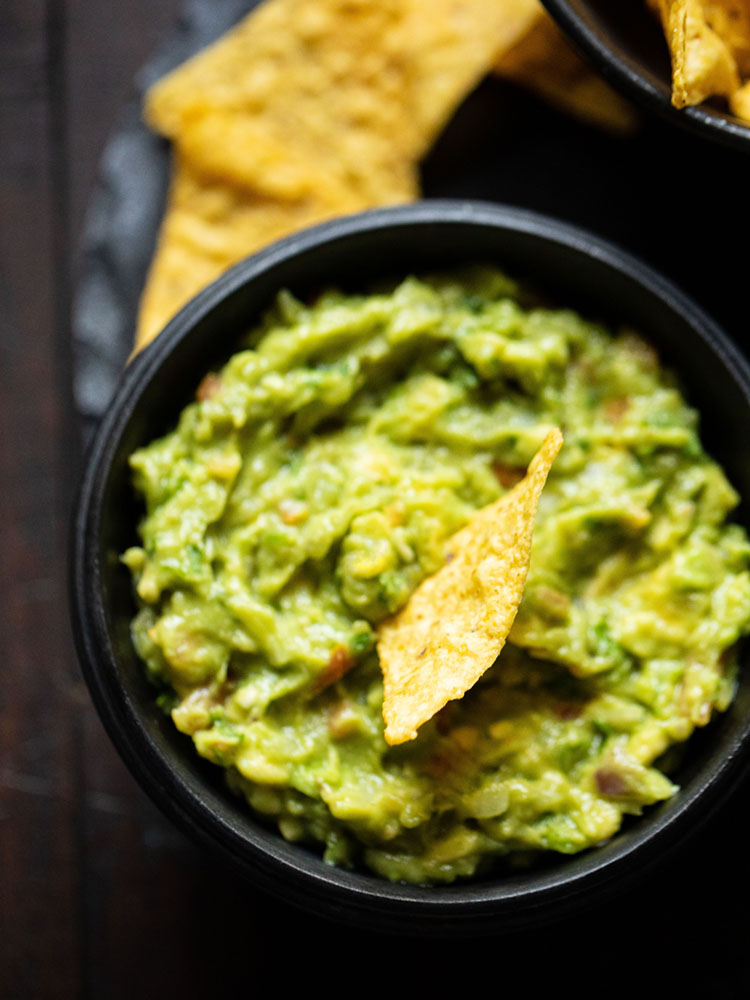 I love avocado and all the recipes that have it. Another favorite of mine is avocado toast. The rich buttery texture of avocado is so good and at times I simply slather it on toasts sprinkled with a bit of black salt and pepper.
How to make guacamole
1. First, finely chop 1 small onion, 1 small tomato, mince or finely chop 1 small clove of garlic, 1 to 2 serrano peppers or jalapeño peppers or green chillies and cilantro (coriander leaves). You will need ¼ cup finely chopped onion, ¼ cup finely chopped tomatoes and 2 tablespoons chopped cilantro (coriander leaves). Garlic is optional and can be skipped.
2. Take all these chopped ingredients in a mixing bowl. Keep aside.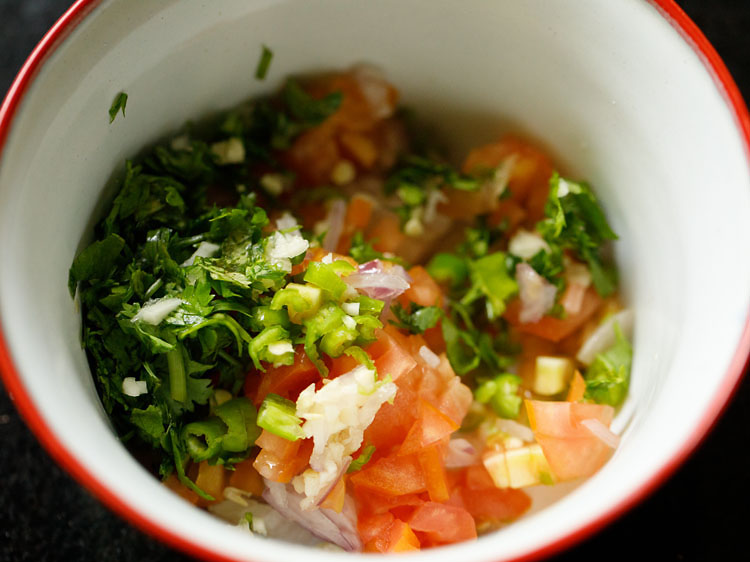 3. Take a ripe avocado and cut it from the center horizontally or vertically into two equal halves. While cutting the avocado from the center keep on rotating the knife in a circle at the center so that you get two halves of the avocado. Note that while cutting you will feel the resistance from the inner seed.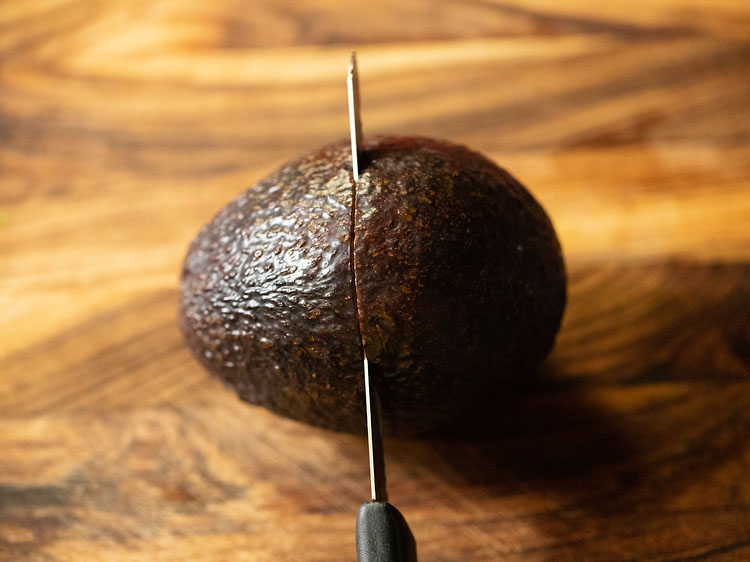 4. So now you have the two avocado halves. Remove the seed with a spoon. Now you can scoop the avocado pulp with a spoon. With a knife you can even cut or slice the avocado directly in the fruit itself but be careful when doing this.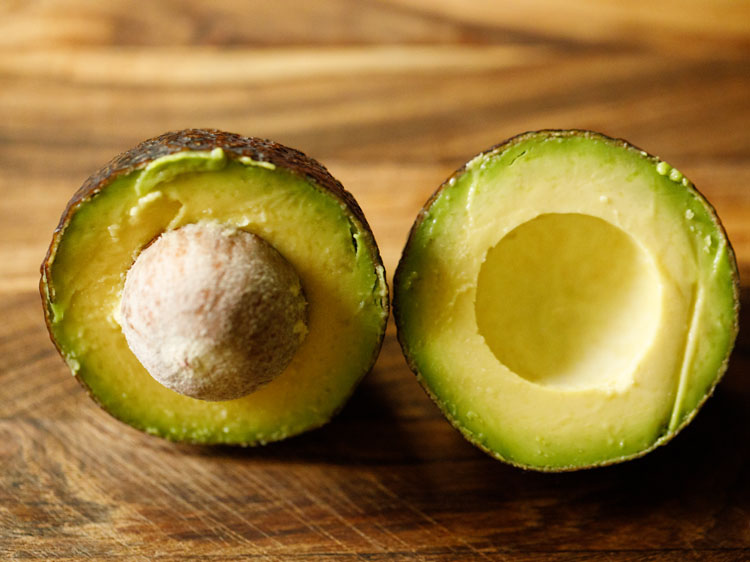 5. I scoop the avocado pulp and then place these on the chopping board. You can even place the scooped avocado pulp directly in the mixing bowl.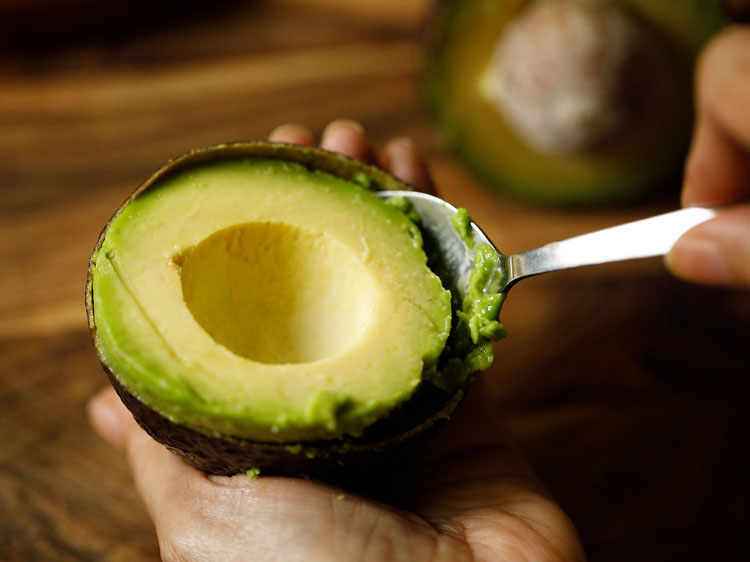 6. Then chop them.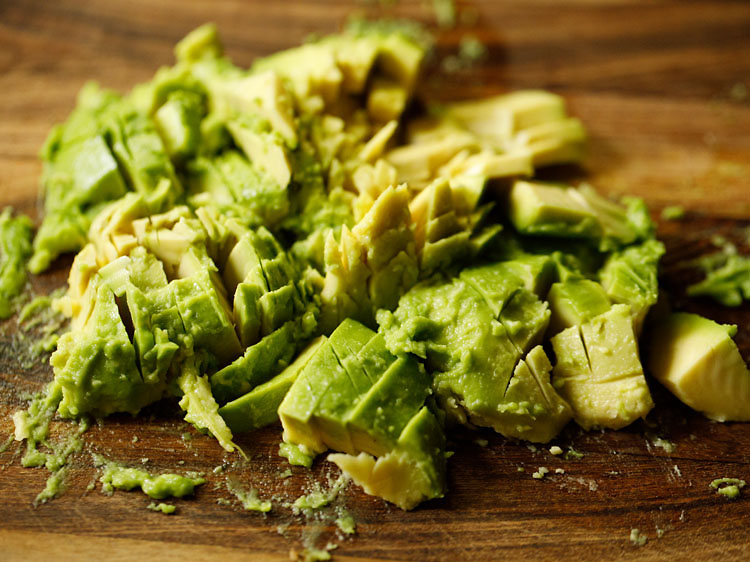 7. Place the chopped avocado in the mixing bowl.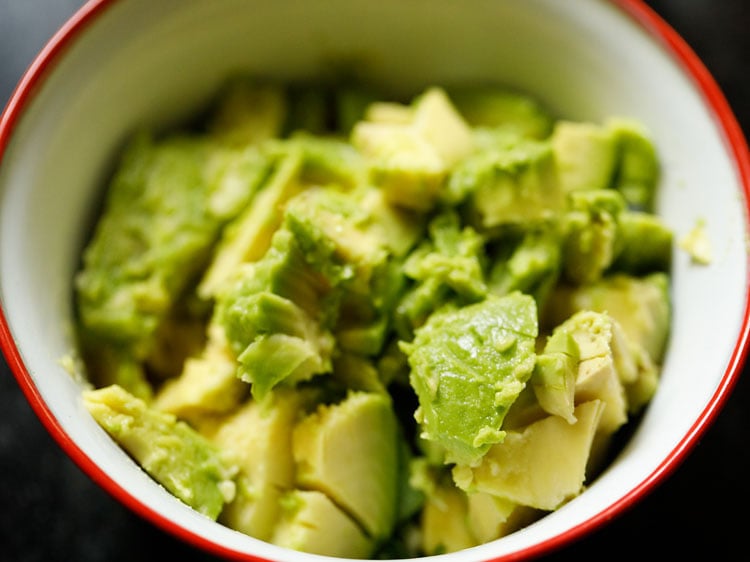 8. Add 2 teaspoons lemon juice or add as required.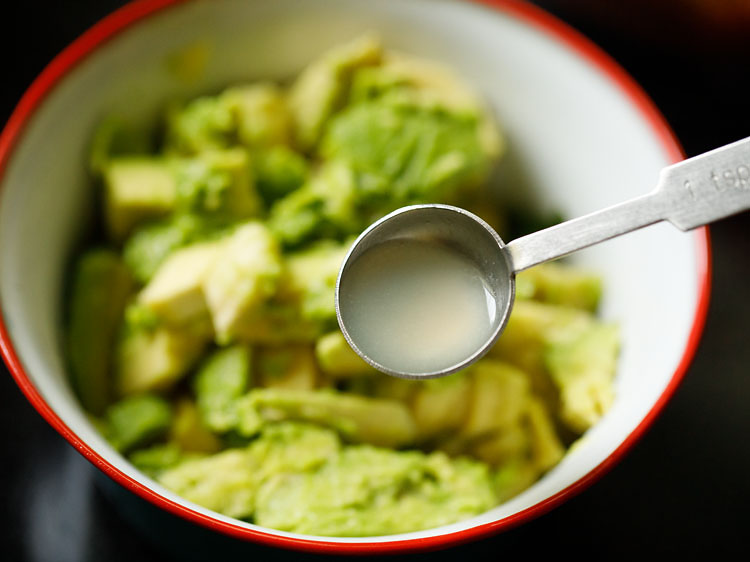 9. Drizzle 2 teaspoons extra virgin olive oil.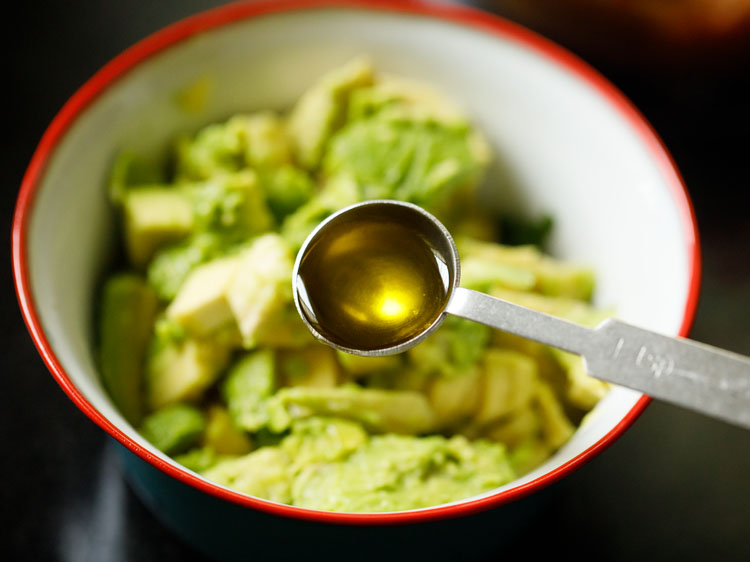 10. Lastly, season with salt as per taste and ¼ teaspoon crushed black pepper or ground black pepper. You can add a dash of cayenne pepper instead of black pepper. You can use kosher salt, crushed sea salt or even black salt. Black salt gives a really good taste with hints of sulfur and the guacamole tastes almost eggy.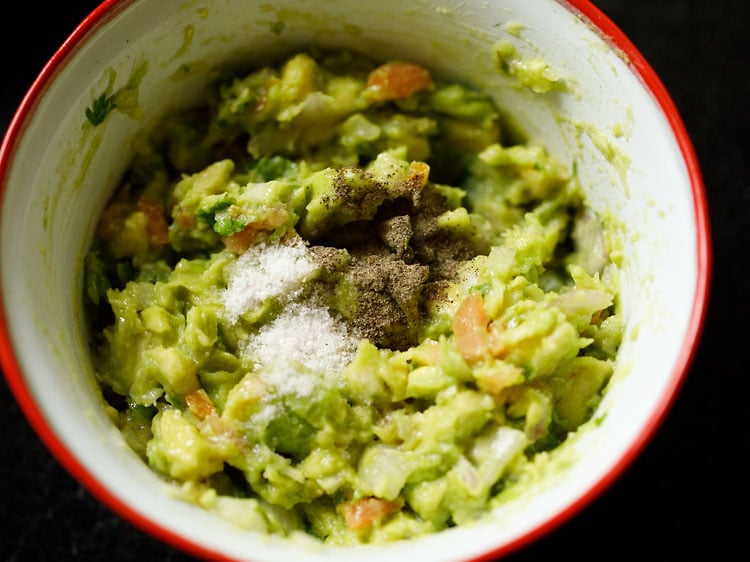 11. Mix very well. Mash the avocado whilst mixing. Check the taste and add more salt, black pepper or lemon juice if required.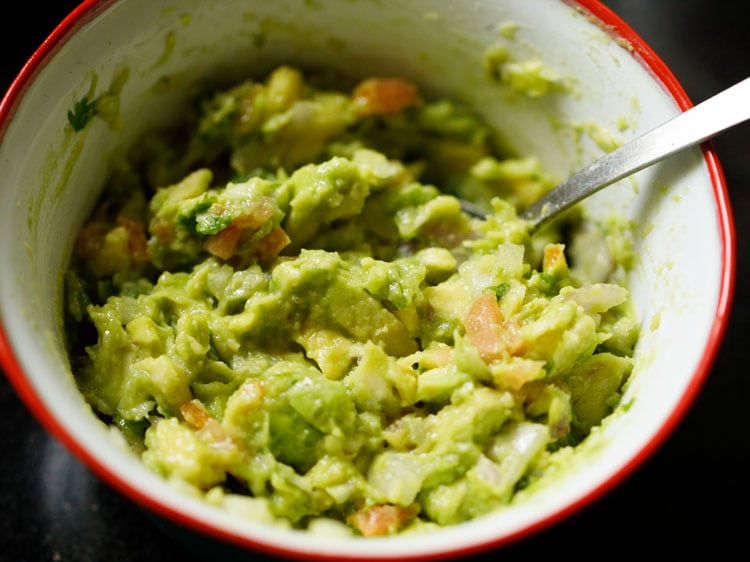 12. Serve this best guacamole with toast, tortilla chips, nachos or as an accompaniment with a burrito or quesadilla. You can garnish with a few coriander leaves while serving.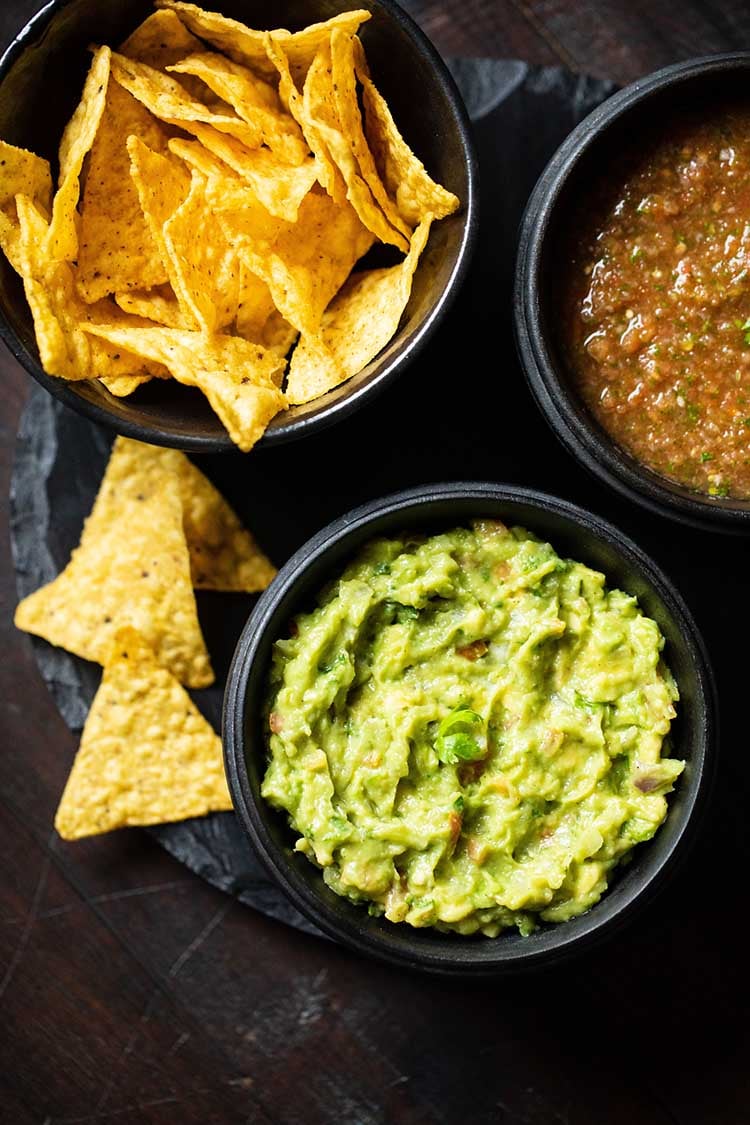 For similar recipes do check
If you made this recipe, please be sure to rate it in the recipe card below. Sign Up for my email newsletter or you can follow me on Instagram, Facebook, Youtube, Pinterest or Twitter for more vegetarian inspirations.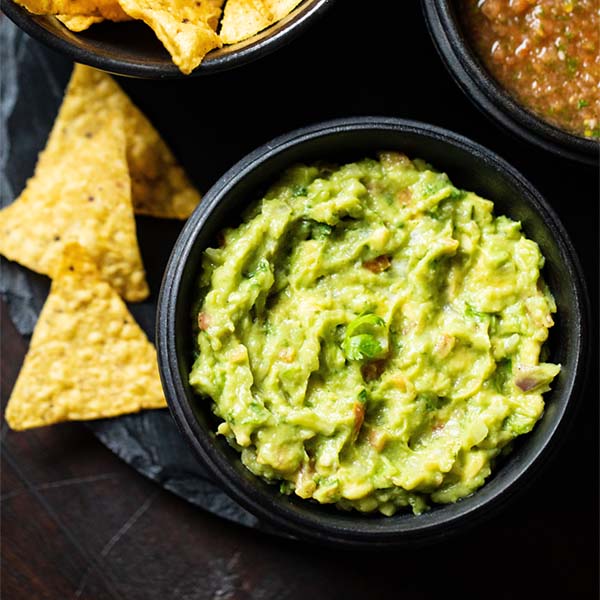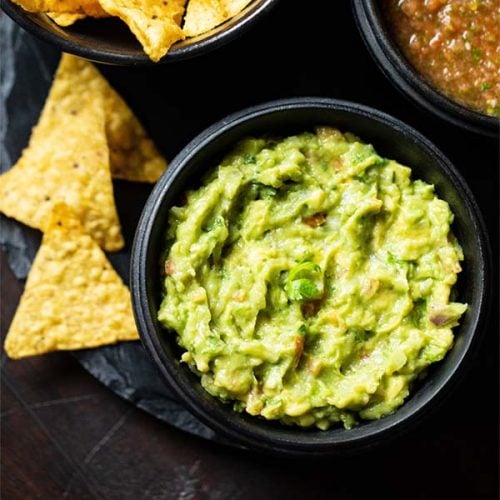 Guacamole Recipe
Learn to make the best guacamole from scratch with easily available fresh ingredients.
---
---
Ingredients
1

avocado

– ripened

¼

cup

finely chopped onions

or 1 small onion

¼

cup

finely chopped tomatoes

or 1 small tomato – optional

½ to 1

teaspoon

finely chopped serrano peppers

or green chillies or jalapeño pepper

1

small

garlic clove

– finely chopped or minced – optional

¼

teaspoon

freshly crushed black pepper

or ground black pepper – add as required

2

tablespoons

chopped cilantro

(coriander leaves)

2

teaspoons

lemon juice

or add as required

2

teaspoons

extra virgin olive oil

salt

as required – can use rock salt, black salt, kosher salt or crushed sea salt

a few coriander leaves

– for garnish, optional
Instructions
Cut the avocado into two equal parts. Remove the ripe pulp with a spoon.

Mix it with the rest of the chopped ingredients, salt, olive oil and lemon juice. Add the seasonings – salt and freshly crushed black pepper. You can even chop the avocado pulp and then mix with the remaining ingredients.

Mash the avocado while mixing.

Serve this best guacamole with toast, tortilla chips, nachos or as an accompaniment with a burrito or quesadilla. You can garnish with a few coriander leaves while serving.
Notes
Tips and variations
Optional ingredients: you can skip tomatoes, garlic and olive oil in the recipe.
Avocado: Always use a ripe avocado. If the avocados are not ripe, then cover with a paper towel or brown paper and place them on the kitchen counter for some days till they ripen.
Some more crunch: you can add 1 small to medium-sized cucumber and 1 small bell pepper.
Substitutions: Instead of cilantro, you can add fresh parsley. If you do not have fresh herbs, then replace with dried parsley or basil.
Cumin: You can even add a bit of ground cumin in the guacamole.
Servings: The recipe serves 2 and can be easily scaled by decreasing or increasing the ingredients.
Ground peppers: You can add black pepper or cayenne pepper. You can even add sweet paprika or smoked paprika.
Salt: Use your favorite salt. I prefer to add rock salt, Himalayan pink salt or rock salt – alone or in combination.
Nutrition Info
Approximate values
Nutrition Facts
Guacamole Recipe
Amount Per Serving
Calories 177
Calories from Fat 135
% Daily Value*
Fat 15g23%
Sodium 591mg26%
Potassium 561mg16%
Carbohydrates 12g4%
Protein 3g6%
Vitamin A 357IU7%
Vitamin B1 (Thiamine) 1mg67%
Vitamin B2 (Riboflavin) 1mg59%
Vitamin B3 (Niacin) 2mg10%
Vitamin B6 1mg50%
Vitamin C 18mg22%
Vitamin E 2mg13%
Vitamin K 24µg23%
Calcium 12mg1%
Vitamin B9 (Folate) 88µg22%
Iron 1mg6%
Magnesium 31mg8%
Phosphorus 58mg6%
Zinc 1mg7%
* Percent Daily Values are based on a 2000 calorie diet.
Like our videos? Then do follow and subscribe to us on youtube to get the latest Recipe Video updates.
Tried this recipe?
If you have made the recipe and liked it then do share the recipe link on facebook, twitter & pinterest. For instagram mention @dassanasvegrecipes and tag #dassanasvegrecipes!
All our content & photos are copyright protected. Please do not copy. As a blogger, if you you want to adapt this recipe or make a youtube video, then please write the recipe in your own words and give a clickable link back to the recipe on this url.
This guacamole recipe post is from the archives (27 January 2012) and has been recently republished on 17 February 2020.