Traditionally a Tamil preparation, 'Sundal' is simple, yet soul stirringly sumptuous. Basically, it is a unique stir-fried dish made with different types of lentils, legumes and even grains. It is a popular dish during Navratri Fasting, Vinayaka Chaturthi and Janmashtami celebrations in South India. This Channa Sundal recipe has white chickpeas, spices, herbs and a good dose of freshly grated coconut. This chickpea dish is vegan and quite healthy too.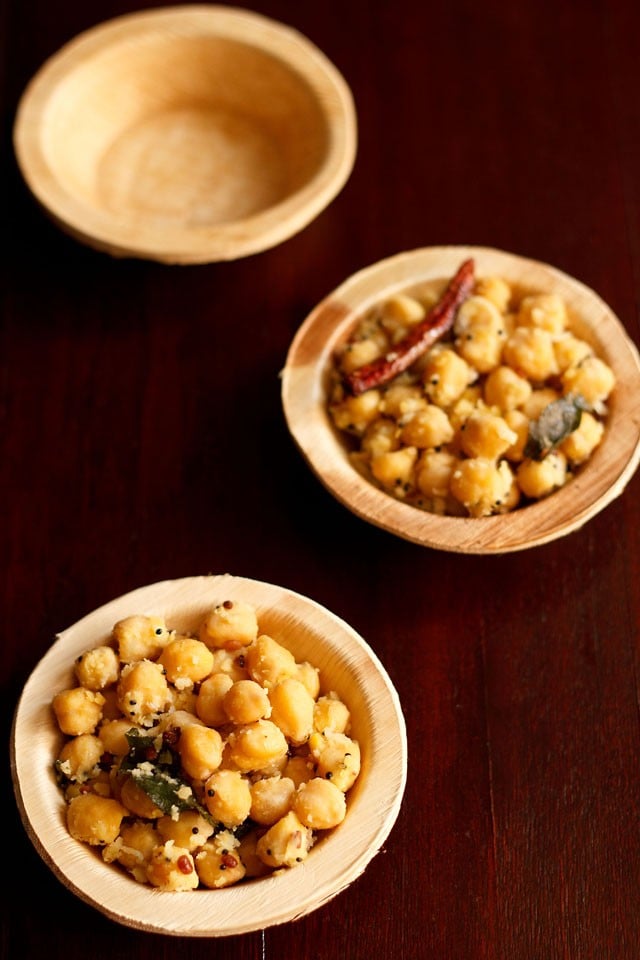 What is Sundal
Sundal is primarily a mildly spiced stir-fried preparation of legumes, lentils or grains and coconut. A special from the cuisine of Tamil Nadu, this is a favorite choice in vrats/fasts during the Navratri season.
Because a traditional sundal recipe has satvik ingredients and no onion and garlic, it is also a preferred dish in other religious festivals.
In fact, it is believed that during the 9 days of Navratri in South India, each day a special sundal is prepared with a specific legume or lentil.
These can range from horse gram, chickpeas and moong beans, Bengal gram (chana dal) and more. Other then these, peanuts, black eyed peas and corn too can be used to make a sundal.
Just like this Channa Sundal made with white chickpeas, here are a few more sundal recipes that are my personal favorite. I feel even you should give them all a try.
About Channa Sundal
This Channa Sundal is one of the easiest stir-fries ever. The only major time required is to soak the chickpeas overnight. Once that is done, you pressure cook the chickpeas till soft, the next day. Then, the dish gets ready literally in the blink of an eye.
The only other ingredients required are mustard seeds, split skinned black gram (urad dal), asafoetida, dried red chilies and curry leaves.
Basically, these become the tempering for the boiled white chickpeas, which is finally finished with some fresh grated coconut. Since the sundal is also free of both onion and garlic, it is a perfect dish for naivedyam (prasad).
Note that using canned chickpeas brings the dish together very quickly. Prep the canned chickpeas by rinsing a few times in water. Make the tempering, add the canned chickpeas. Sauté for a few minutes and finish with coconut.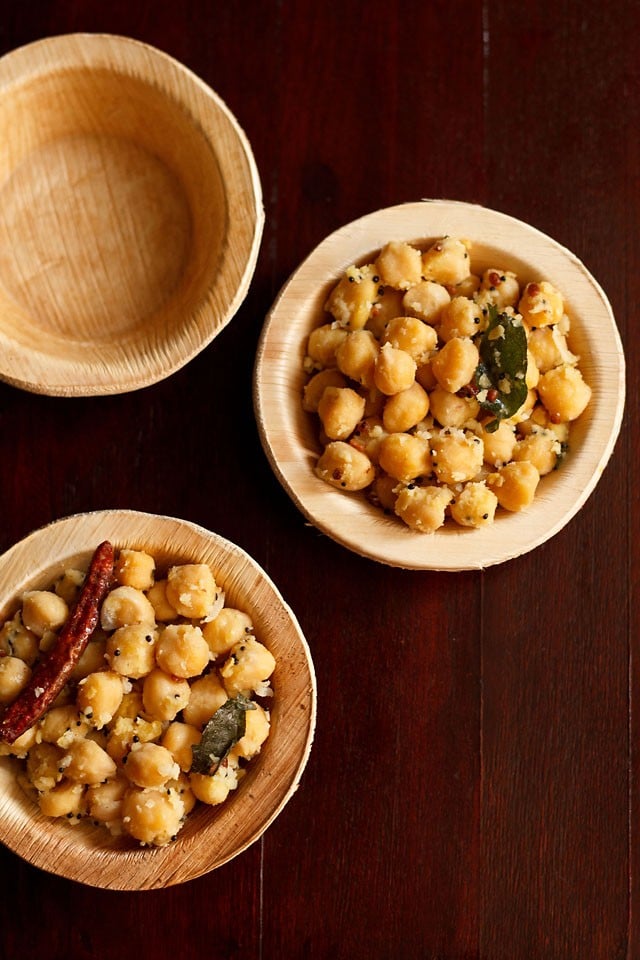 This Channa Sundal is awesome with the aroma and flavor of the ingredients that go in its tempering and the freshness of coconut adds a touch of earthiness in the cooked chickpeas. Because of this, you can even have this preparation on its own, without any accompaniments.
The quantities of this Chickpea Sundal recipe can be increased as per your personal requirements. Since this dish is super easy to make, it can be served as a side dish. It also qualifies as that perfect dish for a nutritious brunch or snack.
Health Benefits of Chickpeas
Known to be a native of the Middle East, chickpeas have been around since a long, long time. It's been about thousands of years since it has been eaten by human beings. When paired with other ingredients, the nutty mouthfeel and grainy texture of chickpeas compliment them well.
A supreme source of plant proteins, chickpeas are thus an apt substitute for meats in a variety of vegetarian and vegan preparations. They are also low in fats, have moderate calories and high in fiber, iron and other minerals, vitamins essential for the human system.
Because of this notable nutritional profile, chickpeas must be regularly included in your everyday diet. More reasons to have chickpeas:
Helps in weight management, keeps appetite in control by aiding fullness.
Great for strengthening muscles, health of bones and the brain.
Aids digestive health by improving bowel movements.
Manages blood sugar levels; thus, reduces chances of heart diseases and diabetes.
Known to reduce the risks of certain cancers.
This legume is versatile, easily available in many forms and is an affordable ingredient.
More Indian Chickpea Recipes To Try!
Please be sure to rate the recipe in the recipe card or leave a comment below if you have made it. For more vegetarian inspirations, Sign Up for my emails or follow me on Instagram, Youtube, Facebook, Pinterest or Twitter.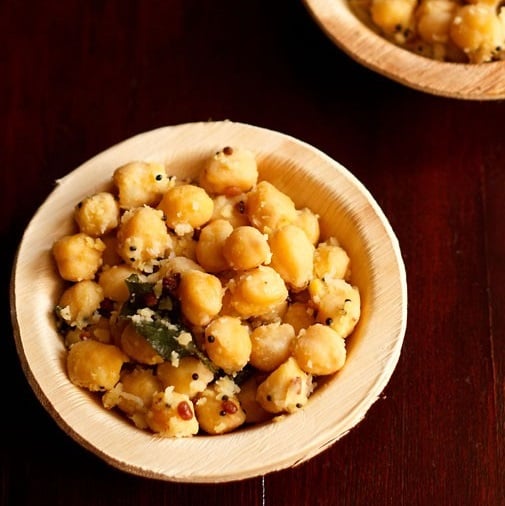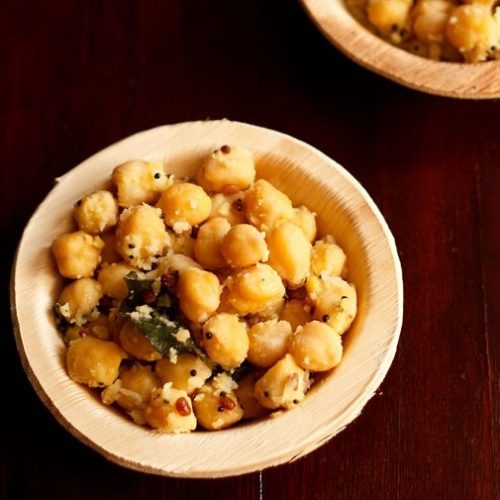 Sundal Recipe | Channa Sundal | Chickpea Sundal
Sundal is a stir-fried dish made with different types of lentils, legumes even grains from the cuisine of Tamil Nadu. This Channa Sundal has white chickpeas, spices and a good dose of freshly grated coconut. This dish is vegan and quite healthy too.
For cooking channa
1

cup

dried white chickpeas

(chole or safed chana)

3 to 4

cups

water

– for pressure cooking
More sundal ingredients
2

tablespoons

oil

1

teaspoon

black mustard seeds

1

teaspoon

urad dal

(spilt skinned black gram)

1

pinch

asafoetida

(hing)

2

dry red chilies

– broken and seeds removed, can swap with 1 to 2 green chillies, chopped

10 to 12

curry leaves

2 to 3

tablespoons

fresh grated coconut

salt

as required
Instructions
Preparation
Rinse and soak the chickpeas overnight in enough water.

Drain the water from the soaked chickpeas and rinse a few times. Pressure cook the soaked chickpeas with 1 teaspoon salt and 3 to 4 cups water till they are tender and softened.

You can cook chickpeas in a stovetop pressure cooker or in an Instant Pot.

For cooking in a stovetop pressure cooker, cook chickpeas for about 12 to 15 minutes on medium heat or more if needed until the chickpeas are tender and soft.

Drain all the water from the cooked chickpeas and set them aside.
Making channa sundal
Heat oil in a pan. add the mustard seeds and urad dal. Heat on a low flame stirring often.

The mustard seeds will crackle and the urad dal will get browned.

They almost take the same time to cook on a low heat.

Immediately, add the curry leaves, red chilies and asafoetida. Fry for 10 to 15 seconds or until the curry leaves look crisp and the red chillies change color.

Now add the cooked chickpeas and salt. Stir and saute for 3 to 4 minutes on a low to medium heat.

Switch off the heat and add the coconut. Stir to combine well.

Serve the Channa Sundal as prashad or naivedyam to the deities.
Notes
A basic sundal recipe can be prepared with various legumes, lentils and grains. Using this recipe as a base you can choose to make sundal with your preferred lentils. Also do check more sundal recipes I have shared earlier in the post above.
When using canned chickpeas the dish comes together very quickly. Rinse the canned chickpeas a few times in water and add to the tempering mixture. Sauté for a few minutes and lastly finish with the coconut.
Instead of dry red chillies, you can use green chilies. Either slit them or add chopped. For a more traditional variation, you can choose to use crushed black pepper or ground black pepper instead of chillies.
For the oil, feel free to use sunflower oil, peanut oil, coconut oil or any neutral flavored oil.
For a gluten-free version of sundal, skip adding asafetida.
Easily halve or double this channa sundal recipe.
Nutrition Info (Approximate Values)
Nutrition Facts
Sundal Recipe | Channa Sundal | Chickpea Sundal
Amount Per Serving
Calories 263
Calories from Fat 99
% Daily Value*
Fat 11g17%
Sodium 167mg7%
Potassium 458mg13%
Carbohydrates 32g11%
Protein 10g20%
Vitamin A 195IU4%
Vitamin B1 (Thiamine) 0.2mg13%
Vitamin B2 (Riboflavin) 0.1mg6%
Vitamin B3 (Niacin) 30mg150%
Vitamin B6 0.3mg15%
Vitamin C 52mg63%
Vitamin E 3mg20%
Vitamin K 5µg5%
Calcium 73mg7%
Vitamin B9 (Folate) 574µg144%
Iron 3mg17%
Magnesium 64mg16%
Phosphorus 193mg19%
Zinc 2mg13%
* Percent Daily Values are based on a 2000 calorie diet.
This Channa Sundal recipe from the archives first published in July 2013 has been republished and updated on 3 July 2022.