Mint juice recipe – well, I don't know what to call this drink…Mint sherbet, mint panna or lemon mint juice.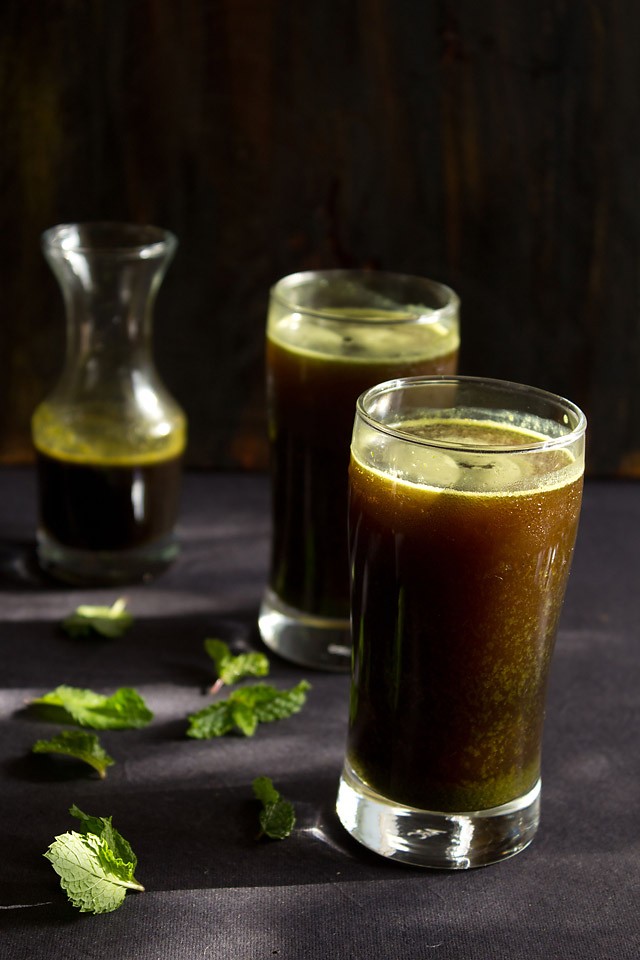 Since the juice is made from the fresh mint leaves, I have decided to call this excellent summer cooler, Mint juice. it is A super cooling drink and you will love it if you love mint.
I have so much of mint growing in my balcony garden. I do make a lot of recipes with mint leaves like Pudina chaas, Watermelon mint juice. I also make Mint tea every day, plus also put a lot of mint in salads and rice dishes.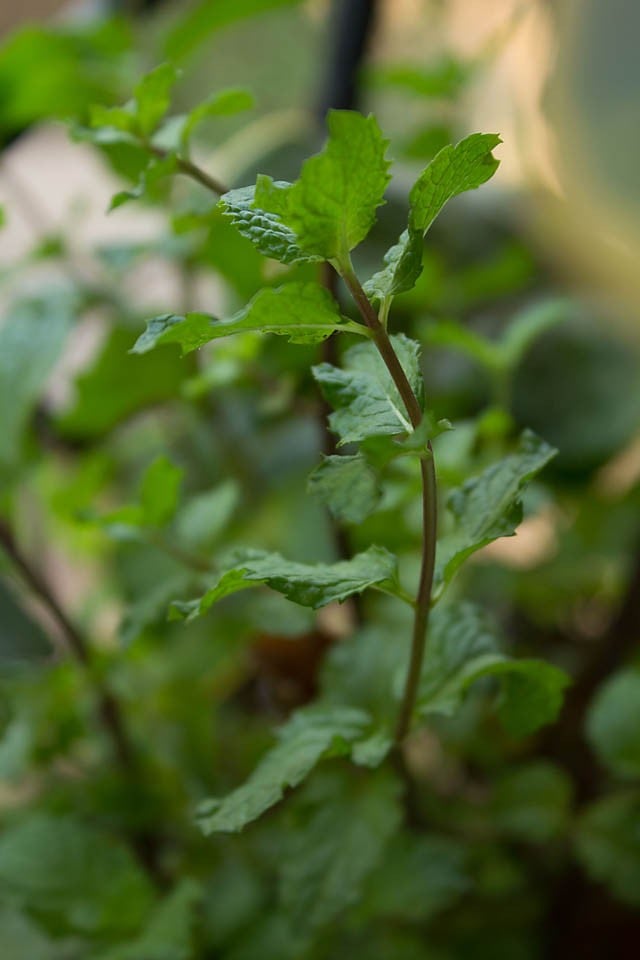 Mint is one herb that grows easily. it is very easy to plant and you don't need special seeds for it.
When you buy mint next time, after taking the leaves, preserve the stems which have roots on it.
In a pot with mud, push the mint stems with the roots inside the soil. Water and wait. Water every day as it is very hot now. After some days you will see small tiny mint leaves appearing from the stems. Soon they will start to flourish.
Whenever you want any mint, just remove the leaves or cut the stem. You don't have to remove the whole plant from the mud like we do for coriander or other herbs. Just cut the required quantity of stem. The plant will continue to grow.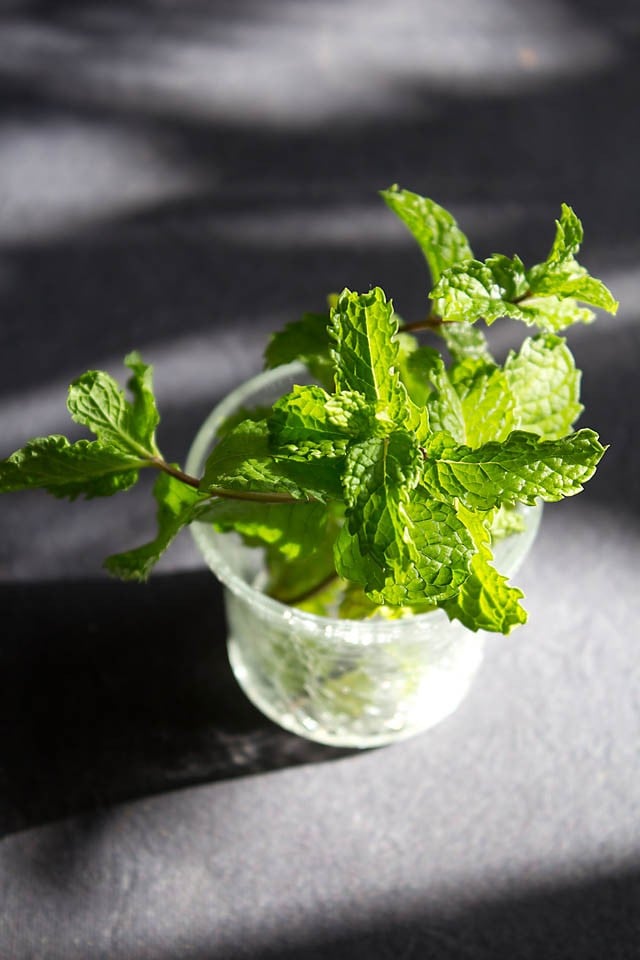 A few health benefits of mint juice
Mint is good for digestion.
It cures morning sickness and nausea.
It also detoxifies the body
Mint is a good source of vitamin C, B complex vitamins and minerals like calcium, phosphorous, zinc and copper.
Mint also has antiseptic and cleansing properties.
This mint juice Also has spice powders like cumin powder which again is good for digestion plus black salt which is again good for digestion. Lemon juice is added to preserve the green color of the mint.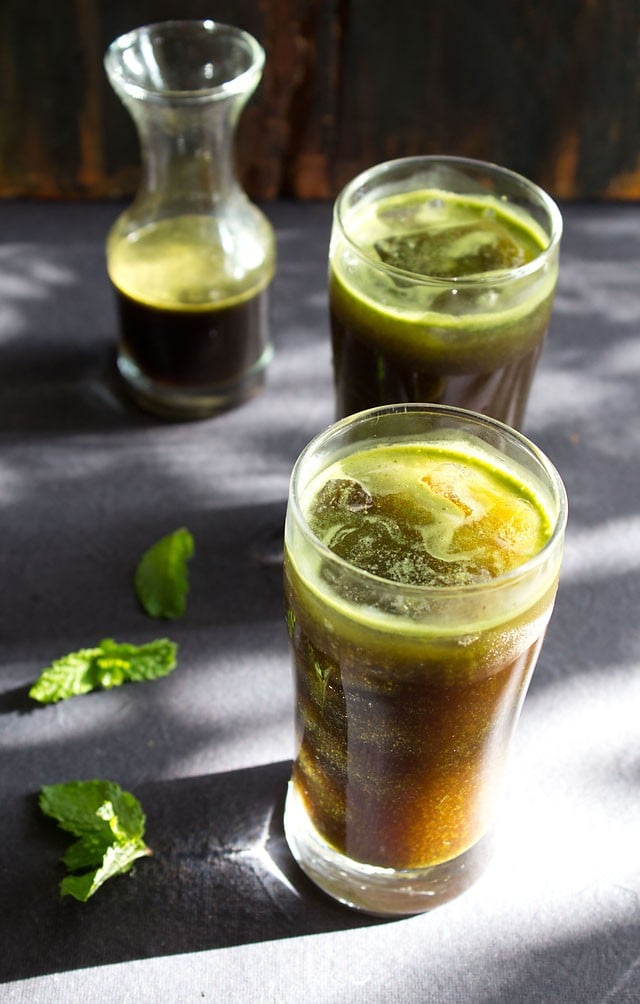 Mint juice is a great detoxification drink If you are on a detox diet.
I have used jaggery to make the mint juice, hence I did not have a beautiful green color. But if you make it with sugar you will have a lovely green color drink.
A simple, healthy and refreshing drink for the summers… Mint juice.
Also since we are talking about mint… Last but not the least… Mint is good for the skin too and will give your skin a lovely glow and radiance 🙂
Few more juice recipes for you !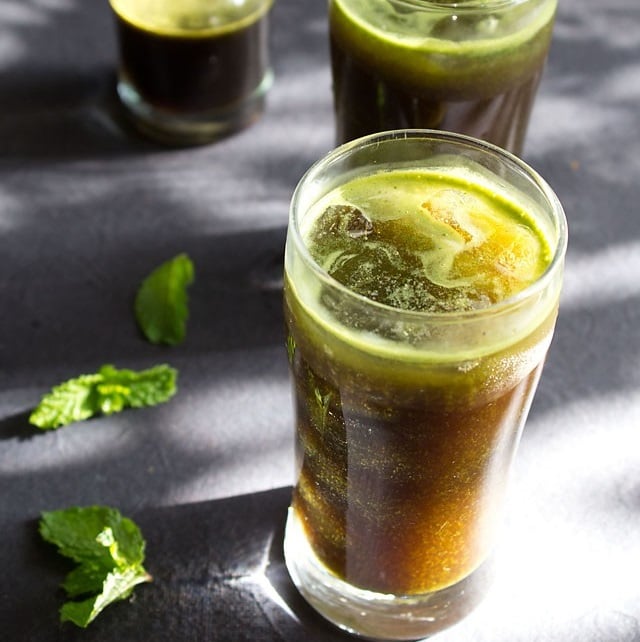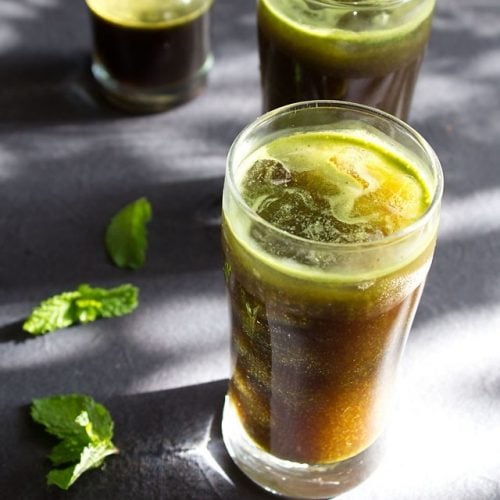 mint juice
Mint lemon juice recipe – healthy and refreshing drink for summers made from fresh mint leaves and lemon.
1.5

cups

mint leaves

(pudina)

9 to 10

tablespoon

powdered jaggery

or sugar

½

cup

water

½

teaspoon

black salt

1

teaspoon

cumin powder

(jeera powder)

3 to 4

teaspoon

lemon juice
Instructions
Remove the mint leaves from the stems. Rinse in water for a couple of times

Add all the ingredients in a blender and blend to a smooth paste.

Strain the whole mixture.

Take 1/4 amount of the strained mint juice. Add 3/4 amount of water. Stir.

Add ice cubes and serve chilled mint juice.
Notes
The sweetness can be adjusted as per your preferences.
You can also add sugar or honey instead of jaggery.
Nutrition Info
(Approximate values)
Nutrition Facts
mint juice
Amount Per Serving
Calories 178
Calories from Fat 9
% Daily Value*
Fat 1g2%
Sodium 398mg17%
Potassium 140mg4%
Carbohydrates 42g14%
Protein 1g2%
Vitamin A 956IU19%
Vitamin B1 (Thiamine) 1mg67%
Vitamin B2 (Riboflavin) 1mg59%
Vitamin B3 (Niacin) 1mg5%
Vitamin B6 1mg50%
Vitamin C 9mg11%
Calcium 74mg7%
Vitamin B9 (Folate) 26µg7%
Iron 2mg11%
Magnesium 20mg5%
Phosphorus 16mg2%
Zinc 1mg7%
* Percent Daily Values are based on a 2000 calorie diet.