The way a glass of water quenches thirst is unparalleled. Not doubting that, even a zilch! But I say you can enhance that simple water, once in a while. And the best way to jazz-up is by turning it into a fruity liquid. This Orange Squash recipe is just that. A non-alcoholic, preserved sweetened orange concentrate that you can use to make refreshing glasses of orange drink at home. Also, a treat for people who love to make things from scratch and are serious DIYers!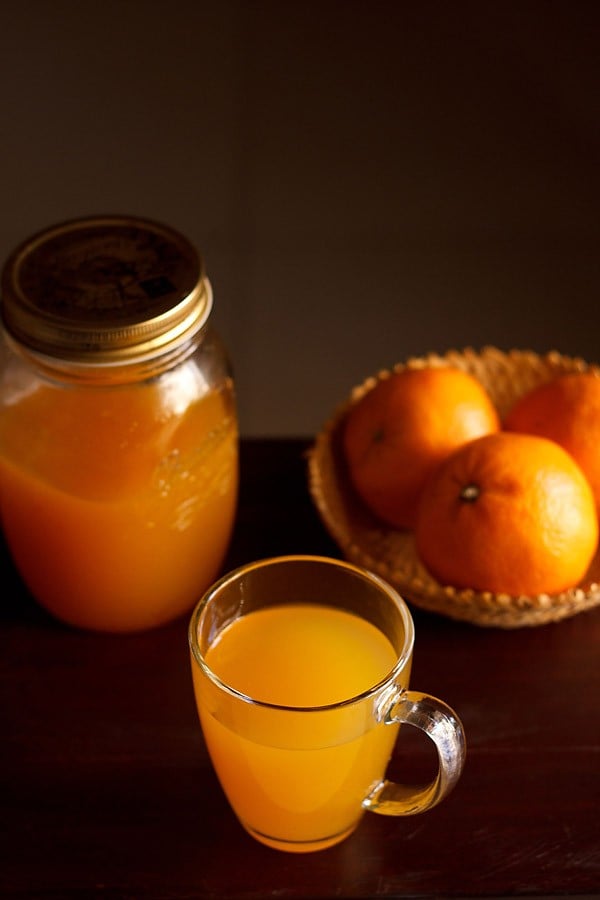 About Squash
Any non-alcoholic concentrated syrup that is used to make beverages is called a 'squash.' A squash is primarily fruity in flavor and made with fruits, water, sugar or any other sugar substitute. Many traditional squashes also have herbal extracts in them. Orange Squash is one of the more popular ones in this category.
With the arrival of summers in India, we all need those beverages that can cool our systems. Yes, chilled water is always the best. But as I mentioned in the beginning, its good to add variety too in life. So, an easy to make, simple yet quite fancy homemade squash will always come handy here.
In addition to this Orange Squash, some of my other top most summer picks include Lemon Squash, Khus Syrup and Sandalwood Syrup. All these are fuss-free, super cooling and best for beating the summer heat.
About Orange Squash Recipe
I worked on this Orange Squash recipe by referring to my cooking school notes. And they helped me immensely.
It is always good to refer to something that you've already done in the past and have been a part of. Makes things simpler and results in better outcomes too.
The variety of hybrid orange I used for this recipe was the 'kinnow' or 'kinnoo' which are locally available mandarins in India.
These tangerines are sweet and juicy. So, about 2.25 kg of these fruits yielded 2.25 liters of Orange Squash. From these juicy mandarins, the juice extracted was a total of approximately 1.25 liters.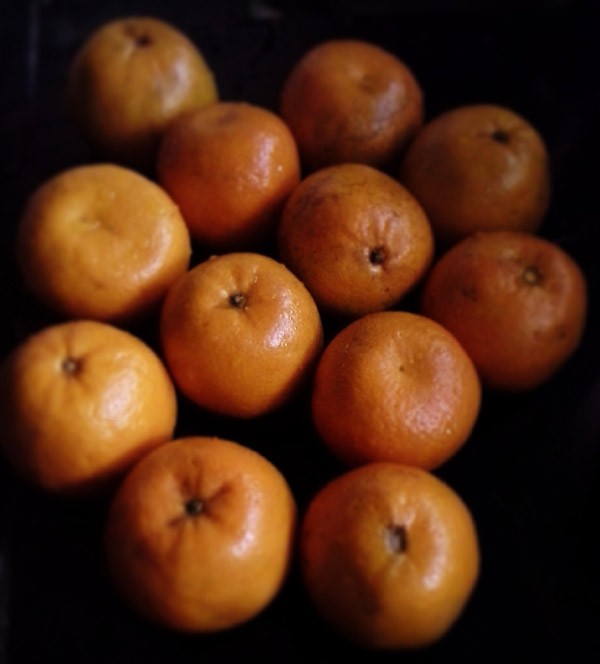 Since I had made a few squashes before without a preservative and all of them did spoil within few days, I decided to add one in this Orange Squash, which is potassium metabisulphite.
You can source it through online portals and it is available in the markets too. It helps the squash to last as long as 4 weeks, may be more than that too.
Though this recipe of Orange Squash is not sugar free, but if the oranges are extremely sweet, you can reduce the quantity of sugar.
I have used unrefined cane sugar. You can also make this squash with evaporated cane sugar or regular refined sugar. The taste might slightly alter.
Since I also love the flavor of saffron and the color that it imparts, I have added it in this Orange Squash too. However, this is completely optional.
When storing, you have to use a good quality glass jar or bottle that does not crack or break during the heating process. Remember to sterilize it properly.
Remember you can use any variety of juicy oranges to make this squash. Only ensure that they are sweet, so that you do not have to add copious amount of sugar in it.
Sterilizing for Storage
Sterilizing the glass jar or bottle that you will be using for storing the Orange Squash is absolutely mandatory. This will also add to a good shelf life of the fruit concentrate.
So, while your sugar solution is cooling in the process of making the squash, you can sterilize the bottles/jars. Follow the steps:
Bring enough water in a large pot to a rolling boil. This water should be sufficient for completely immersing the glass jars or bottles in it.
Next, immerse the heat proof bottle or canning jar in the hot water. Add the lids separately. Make sure to use good quality glass bottles or jars, or else they might have chances or cracking or breaking during this process.
Keep boiling for 8 to 10 minutes more.
Finally, remove the jars/bottles and their lids with the help of clean canning tongs or regular tongs. Keep aside till they completely dry.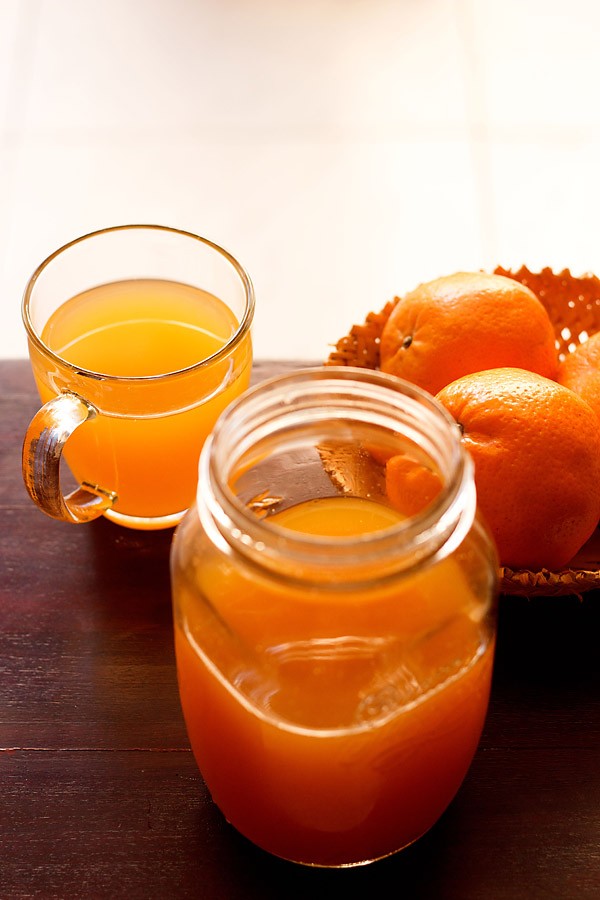 How to make Orange Squash
Make Sugar Syrup
1. Dissolve 1 kilogram of sugar in 1 liter water in a large sauce pan. Add 3 to 4 tablespoons lemon juice.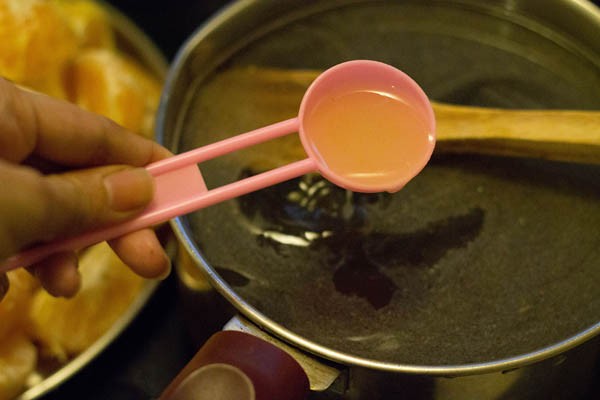 2. Stir and keep the sauce pan on the stove top.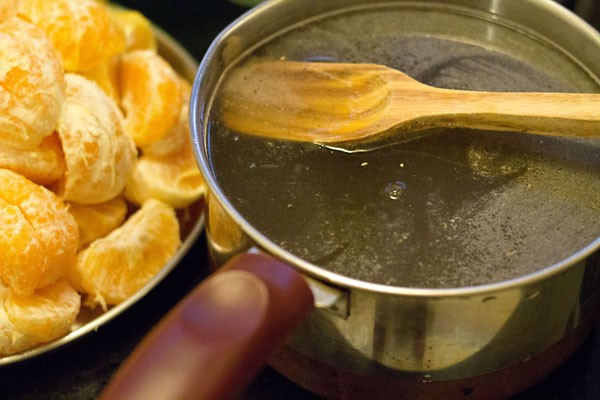 3. Let the mixture come to a boil. Then, simmer for 6 to 7 minutes on low heat. The sugar solution need not have any thread consistency. Just slightly on the thicker side, yet flowing.
When you touch it, you should feel a stickiness. You can see the consistency in the picture.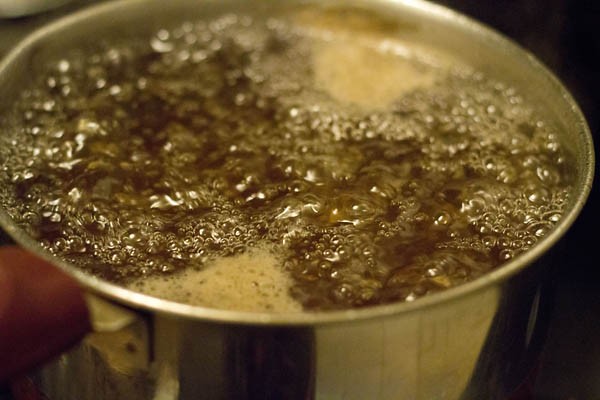 4. Once done, strain the sugar syrup to remove the impurities.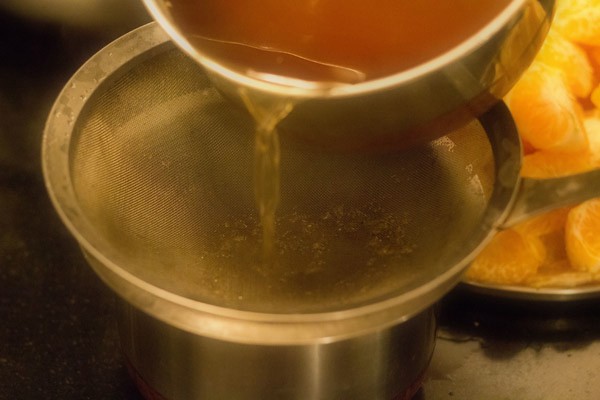 5. Below is the strained dark sugar syrup. The color is dark as I have used unrefined cane sugar. Let the sugar syrup cool to room temperature.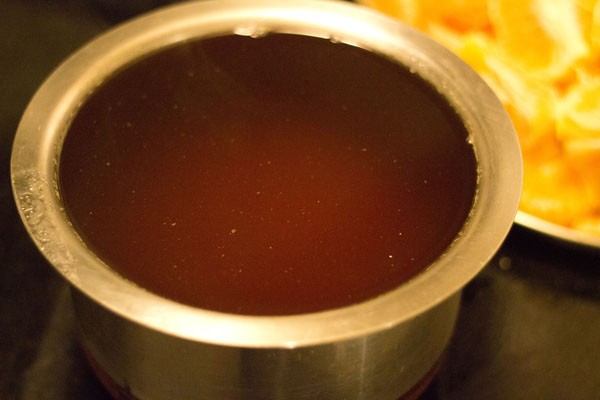 Make Orange Juice
6. Peel 2.25 to 2.50 kg oranges. Roughly chop them, and remove the seeds. Add half of the quantity to the blender (or as required depending on the size of the blender jar) and blend till the oranges are crushed finely.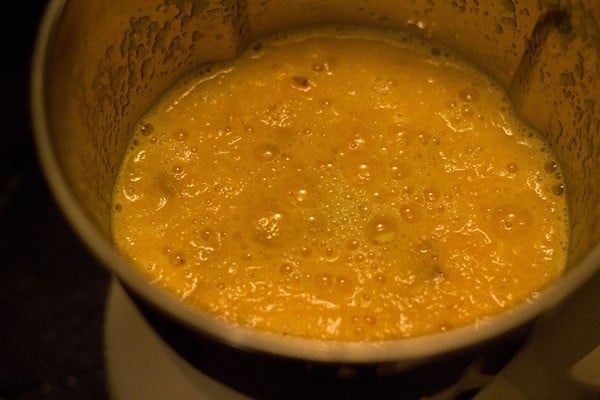 7. Strain the orange juice through a juice strainer.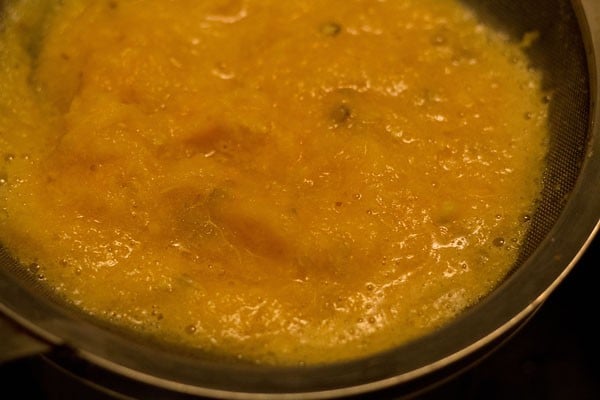 8. With the help of a spoon, press the pulp so that all the juice is strained. This is an important step. You can also use an electric juicer to juice the oranges.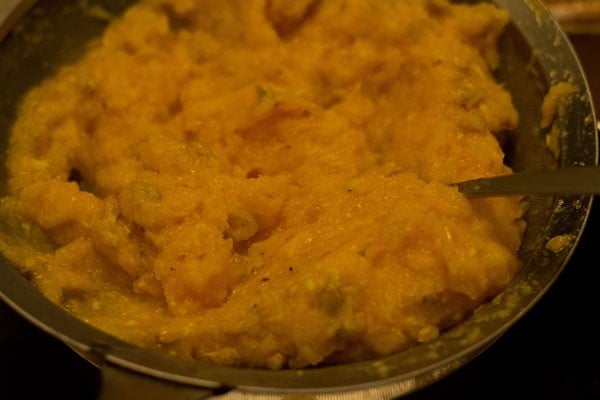 Make Orange Squash
9. Immediately, add the orange juice to the sugar solution. This is done so that the juice does not become bitter.
Work similarly with the second batch of oranges by blending the oranges to make juice and then straining it.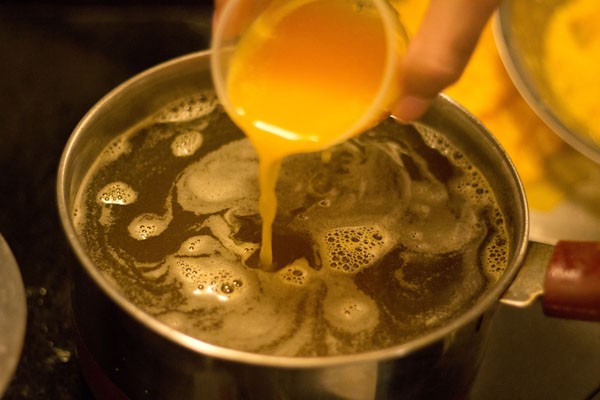 10. Take 2 to 3 tablespoons of the Orange Squash in a small cup or bowl. Add ½ teaspoon potassium metabisulphite and stir till its completely dissolved.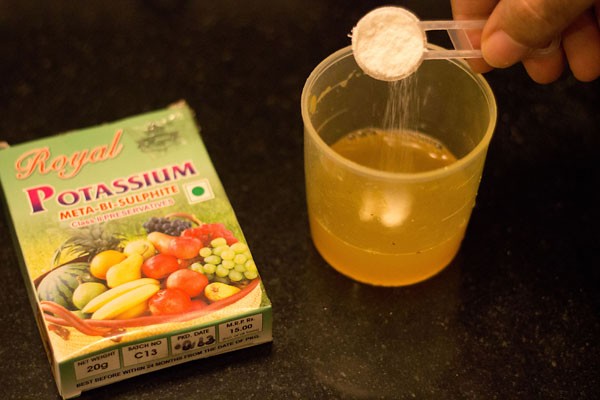 11. Add the preservative solution to the remaining Orange Squash and stir very well.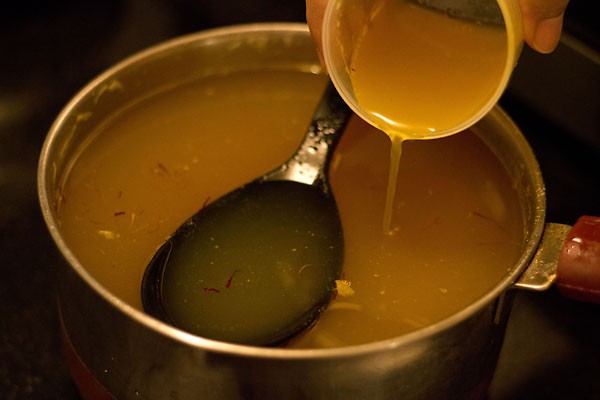 12. Pour the Orange Squash into prepared sterilized jars or bottles till the neck of the jar/bottle.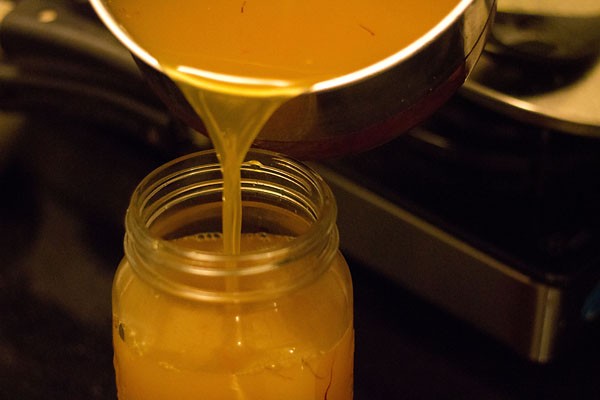 13. Tightly close the jars or bottles and keep the them in the refrigerator for 3 to 4 days or even a week. The flavors become better after some days.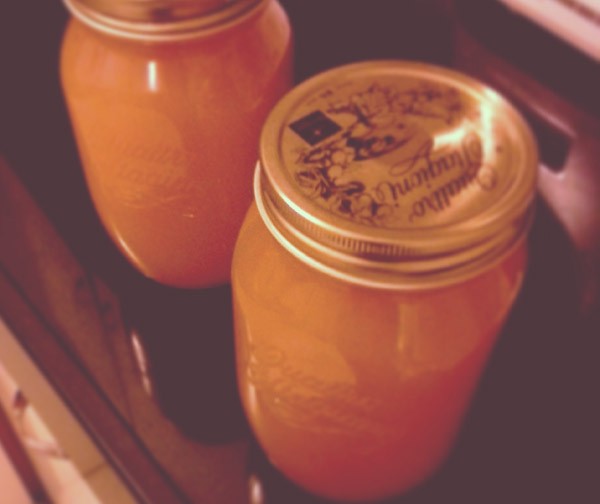 14. For serving, dissolve ¼ part of Orange Squash with ⅔ to ¾ parts of chilled or regular water. You can garnish the orange drink with mint leaves, lemon slices or orange slices. Serve immediately.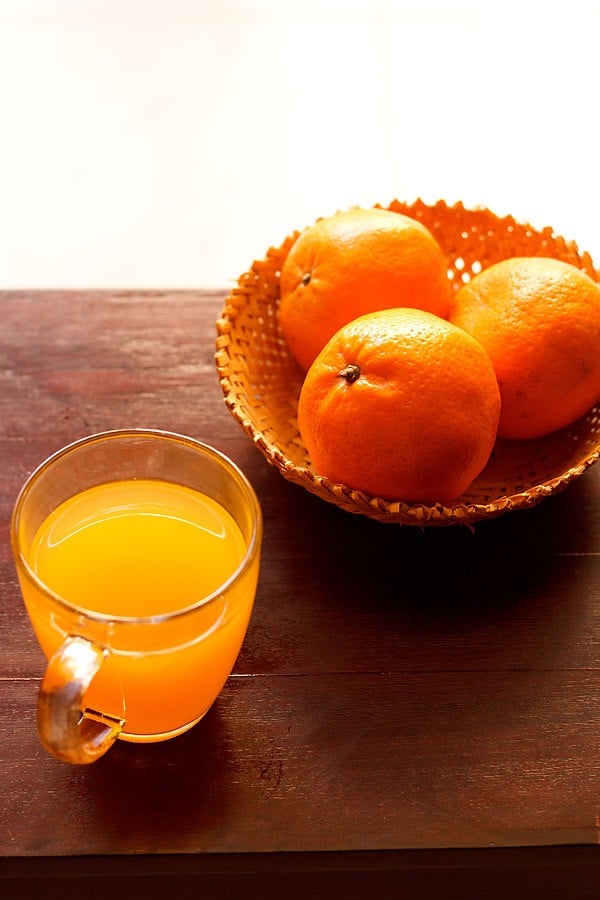 How to make Orange Drink
You can refrigerate after storing the Orange Squash properly in sterilized glass bottles or jars, and use or serve it later after making the orange drink. It makes for a hassle-free, tasty and energizing beverage, whenever you want.
Just give the jar or bottle of Orange Squash a good shake.
For serving, stir ¼ to ⅓ part of squash with ¾ or ⅔ parts of cold or regular water and make your orange drink.
For a cold orange drink, add ice cubes. You can garnish with some fresh mint or lemon slices too.
Enjoy, sip by sip!
More Juice Recipes To Try!
Please be sure to rate the recipe in the recipe card or leave a comment below if you have made it. For more vegetarian inspirations, Sign Up for my emails or follow me on Instagram, Youtube, Facebook, Pinterest or Twitter.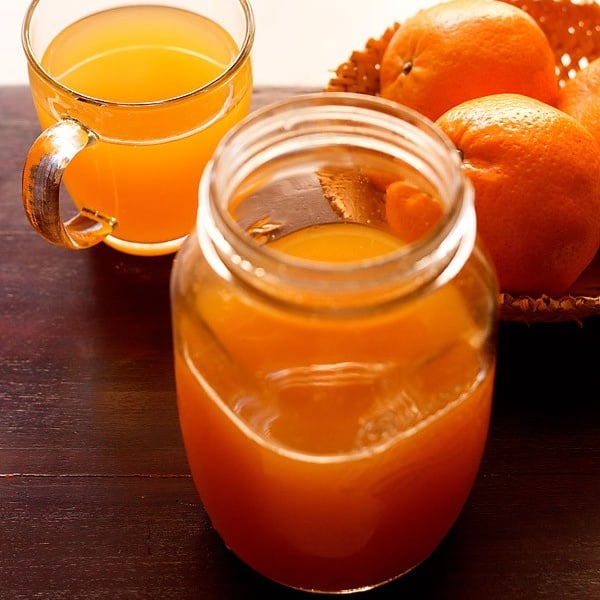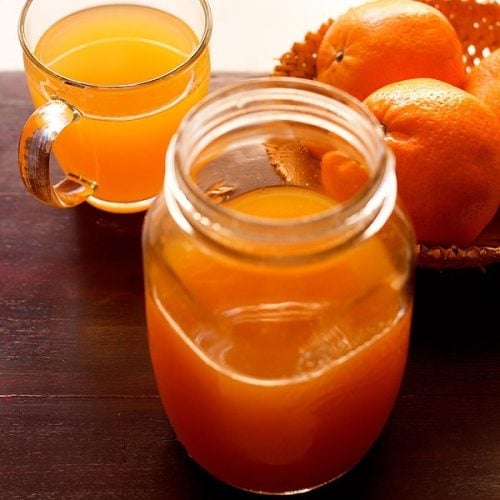 Orange Squash | Orange Drink
Do it yourself homemade Orange Squash recipe made from fresh sweet oranges, lemon juice, sugar and water. A non-alcoholic, preserved sweetened orange concentrate that you can use to make refreshing glasses of orange drink at home.
2.25 to 2.50

kilogram

oranges

– yields 5 to 5.5 cups orange juice

1

kilogram

raw sugar

or regular granulated white sugar

1

litre

water

3 to 4

tablespoons

lemon juice

or ½ teaspoon citric acid

½

teaspoon

potassium metabisulphite

1 to 2

pinches

saffron

(kesar), optional
Instructions
Making sugar syrup
First begin making the sugar syrup.

Dissolve the sugar in water in a large saucepan or pot.

Add lemon juice and stir. Let the sugar solution come to a boil.

Lower the heat and simmer for 4 to 5 minutes till the sugar solution thickens a bit.

You don't need any thread consistency.

Just a slightly thick and sticky flowing sugar solution.

Remove from the pan and let the solution become warm.

Filter the sugar solution to remove the impurities.

Let the sugar solution cool at room temperature.

Crush saffron threads and add them to the warm sugar solution. This is an optional step.
Sterilizing jars
While the sugar solution is cooling, you sterilize the bottles and start making the orange juice.

In a large pot, bring enough water to a boil so that your canning jar or bottle gets completely immersed in it.

Place the glass jar in it and its lid separately in the hot water.

Continue to boil for further 8 to 10 minutes.

With the help of canning tongs or regular clean tongs, remove the jar and the lid and keep aside.
Preparing orange juice
Next, peel and chop the oranges. Remove the seeds.

In a blender, add ⅓ or ½ portion of the oranges or as much as the capacity of your blender is. Blend till the oranges have been crushed finely.

Then strain the orange juice through a juice strainer.

Press the pulp with a spoon so that all the juice is strained away.
Making orange squash
Add the strained orange juice to the sugar syrup and stir to mix well.

We need to add the orange juice immediately, so that it does not become bitter.

Now work again juicing the oranges in batches and then adding them to the sugar syrup.

You can also use an electric juicer to juice the oranges.

Take 2 to 3 tablespoons of the orange squash in a cup or bowl.

Stir in the potassium metabisulphite very well so that it is completely dissolved in the water.

Add this preservative solution to the orange squash. Stir again and mix very well.

Pour the orange squash in the sterilized jars or bottles.

Close tightly with its lid and let is stay for some hours, about 3 to 4 hours outside at room temperature.

Later refrigerate the orange squash jars or bottles.

Let the orange squash sit for some days (about 3 to 4 days or a week) in the fridge and then you serve. The flavors improve after some days.
Making orange drink
Shake the jar or bottle before you use the orange squash.

For one serving, stir ¼ to ⅓ part of the orange squash with ¾ or ⅔ parts of cold water or regular water.

Add ice cubes if required and you can garnish with mint leaves or lemon slices.

Serve the Orange Drink immediately.
Notes
You can use any variety of juicy and sweet tasting oranges to make the orange squash.
If you do not want to add the preservative, then make a small batch of the orange squash by scaling the recipe down. Remember to sterilize the canning glass jars or bottles very well, so that your orange squash is preserved for a longer time. Always refrigerate it.
This Orange Squash recipe post from the blog archives first published on January 2014 has been updated and republished on December 2022.