Mint Tea Recipe – Pudina Chai as it is called in India is light, aromatic and refreshing beverage. My first experience of having Mint Tea was at a friend's house. The Pudina Chai was made by her mother and it was too good.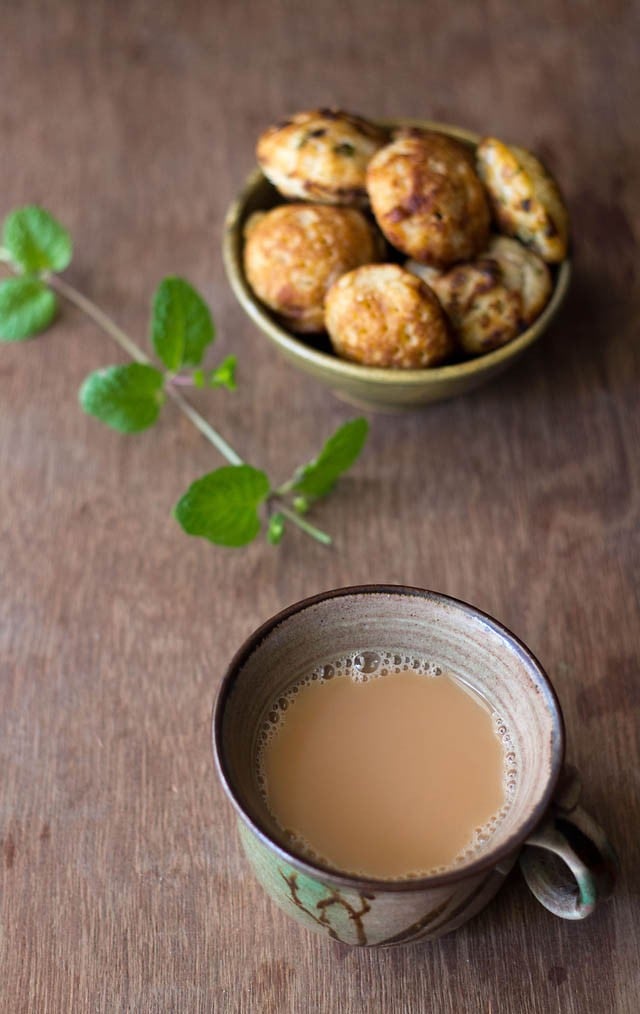 This was the first time I had mint tea and it was so nice, I wanted more….. But I was too shy to ask. Now, most often I make mint tea at home and its easy for me to go for a second cup 🙂
Mint Tea has a lot of health benefits and if you google for it, you will get to read many links mentioning the health benefits of both Mint leaves and Mint Tea.
If you are interested in detoxifying your body then its ideal to plant mint, tulsi, lemon grass etc at your home. So that you can easily use these organic herbs in preparing your every day tea.
In India, many people use mint leaves and tulsi (holy basil) leaves into the tea preparation. However unlike mint leaves, the tulsi leaves are generally not boiled as it is considered holy in Hinduism. You can also add chopped lemon grass pieces, crushed ginger and cardamom powder into the tea.
Serve the mint tea steaming hot plain or with some snacks like pakora, samosa, cutlet, sandwich, or with biscuits.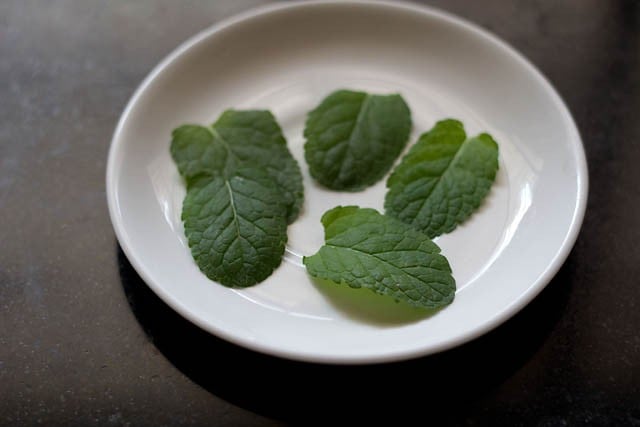 Few More Similar Recipes for you!
If you made this recipe, please be sure to rate it in the recipe card below. Sign Up for my email newsletter or you can follow me on Instagram, Facebook, Youtube, Pinterest or Twitter for more vegetarian inspirations.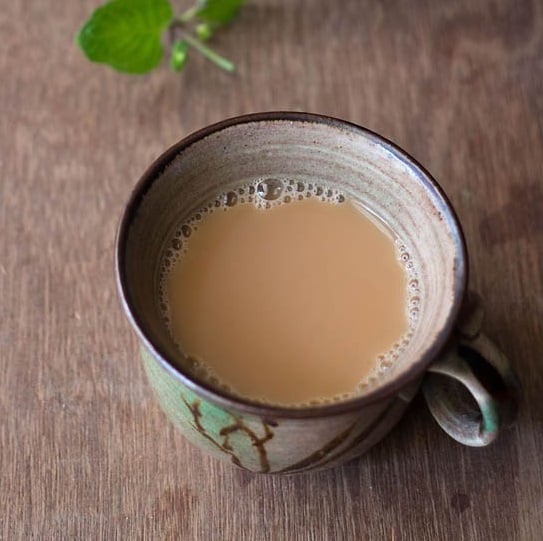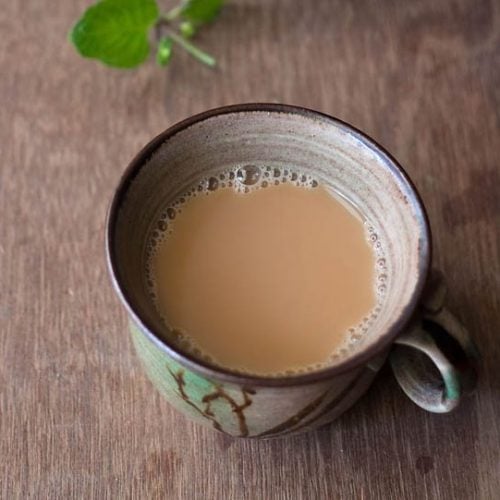 Mint Tea
Pudina Chai as it is called in India is light, aromatic and refreshing beverage
2

tablespoon

fresh mint leaves

(pudina patta)

2

teaspoon

tea leaves

or 2 tea bags

2.5

cups

water

milk

as required

sugar as per taste
Instructions
Wash the mint leaves in water. In a tea pan or tea maker, add water. Add the mint leaves.

Boil the water for 3-4 minutes till the flavors and aroma of the mint starts infusing in the water. The water will start becoming green. Let the quantity of green color in the water increase.

Add the tea leaves. Add sugar. Now add milk and let the tea come to a boil. Your pudina chai is ready and you can serve it.

Serve the mint tea with light tea-time biscuits.

You could also have this mint tea after lunch or dinner as it aids in digestion.

If using tea bags, then put off the burner. In the hot water, dip the tea bags for 2-3 mins. Add sugar and hot milk. Stir and serve.

Adding milk or not is entirely your option. If you add milk, it becomes indian chai. I have not mentioned the quantity of milk as some people prefer less milk and some prefer more milk in their tea. Ditto with sugar as the preference for more or less sugar varies with peoples' tastebuds.

I have had mint tea both without milk and with milk and personally, I like both of them.

Use of honey, jaggery or any other sweetener is also possible. In india though, for the indian chai, generally sugar is used.

If you use milk, then you could use honey. I do not know how jaggery will taste with milk.

But if you are not using milk, then you could use jaggery. I have made tea and added jaggery and again I must say, I liked the jaggery sweetened tea without milk