Bottle gourd recipes – collection of 14 lauki recipes. Lauki also known as bottle gourd or opo squash is used in Indian cuisine in various ways.  Lauki is also called as dudhi (Marathi and Gujarati), ghiya (Hindi) and sorakaya in regional languages.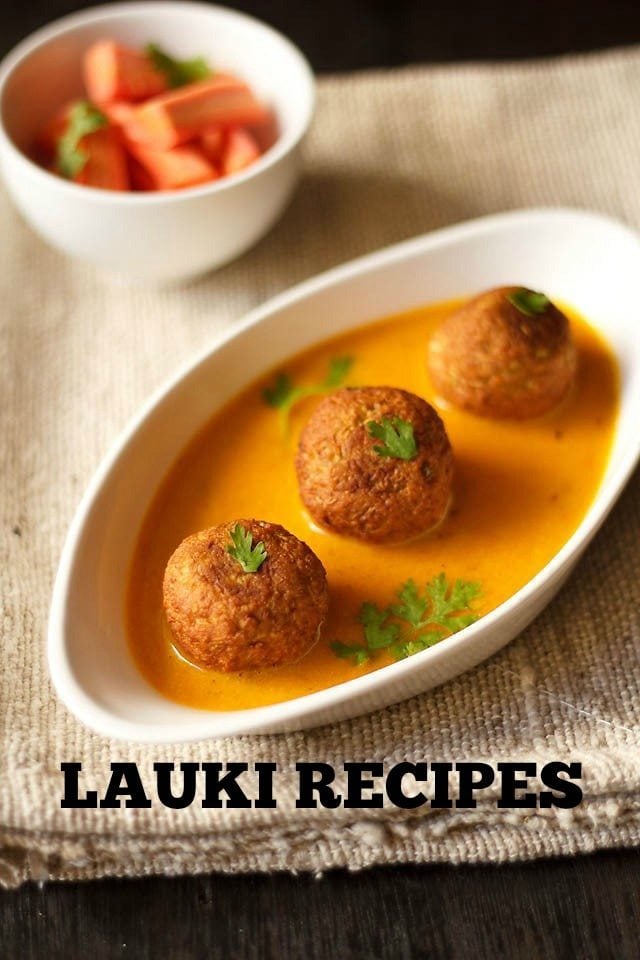 In this collection I have shared the recipes which I make often with bottle gourd and are a regular at my place. Apart from curries and sabzis, there are also a few flat breads and sweet recipes made with lauki in this collection.
Sometimes the lauki has a bitter taste. So whenever you make any recipe with bottle gourd then first taste check a bit. If you find the taste of bottle gourd bitter then discard it. Use fresh and tender lauki for the best taste.
Lauki is very healthy and it's good to include this veggie in your diet. You can also check these Popular veggie recipes collections:
Collection of 12 lauki or bottle gourd recipes:
1. Lauki kofta – a light tomato based curry dunked with koftas made from bottle gourd. the curry is mild spiced and has a good flavor and slight tang due to tomatoes. The koftas along with the curry taste really yummy. Few more popular Kofta varieties posted on the blog are Malai kofta, Cabbage kofta and Kofta recipe.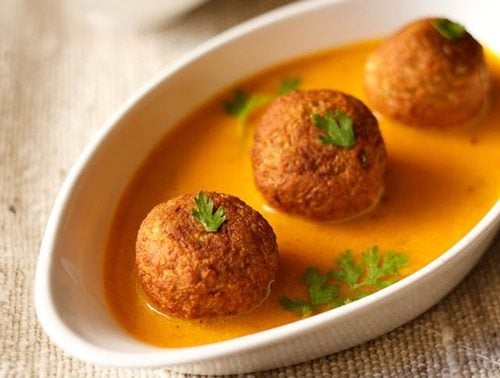 2. Lauki sabzi – It is an easy and slightly spiced version of lauki sabzi. This is a very homely recipe and is the like the food which we cook everyday. Making this lauki sabzi also does not take time and gets done quickly.
The entire lauki sabzi has been cooked in a pressure cooker. You can also cook in a pan or pot.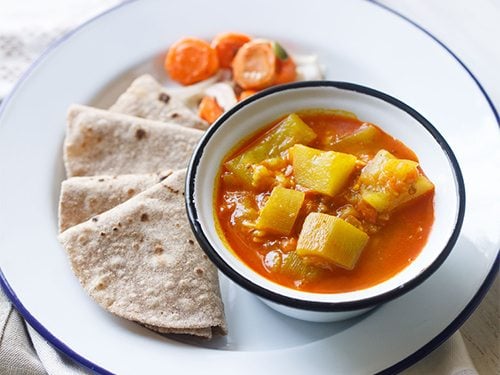 3. Lauki thepla – Nutritious, savory thepla variety made with bottle gourd. Making the theplas is easy and makes for a healthy breakfast or brunch. They remain soft and so go well in tiffin boxes or as picnic food.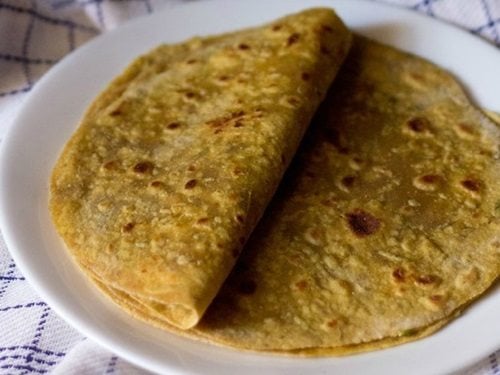 4. Lauki paratha – nutritious whole wheat flat breads made with bottle gourd, green chillies and spices. These lauki parathas can also be packed as tiffin box snack or lunch. The taste of lauki is not felt in the parathas. So good for kids who do not like to eat healthy veggies like lauki.
5. Lauki halwa –  A sweet Indian dessert made with bottle gourd, milk, ghee, sugar and flavored with cardamom and nuts. This method of making halwa with the milk takes a little longer, but is handy when you do not have ready khoya at home.
You can easily make this halwa variant as a sweet dish on any day or during Hindu fasting days like Navratri fast or Ekadashi.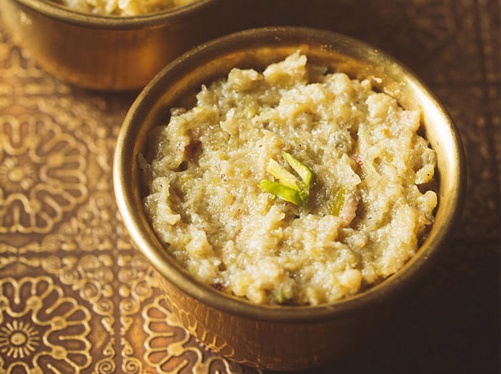 6. Lauki chana dal sabzi – this is a healthy curry recipe made with bottle gourd and bengal gram. I make this regular Punjabi sabzi often at home. This lauki chana dal curry is an easy and quick recipe and goes very well with roti or phulkas.
7. Lauki kheer – the recipe is very simple and even a beginner in cooking can make this kheer. Just make sure to use fresh milk. You can use pre boiled milk or pasteurized milk. Lauki should be tender and should not taste bitter.
This kheer can also be made during fasting or vrat days like Navratri or Ekadashi or Shivratri.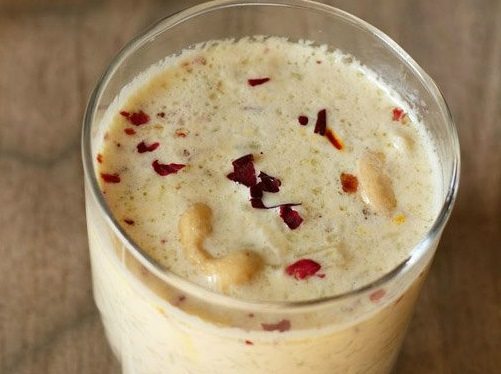 8. Dudhi bhaji – easy Goan recipe of lauki sabzi made with minimal ingredients. This is a simple, home style bhaji or sabzi recipe. The sabzi is mildly spiced with green chilies. Freshly grated coconut gives a nice sweet taste which accompanies the bland taste of lauki very well.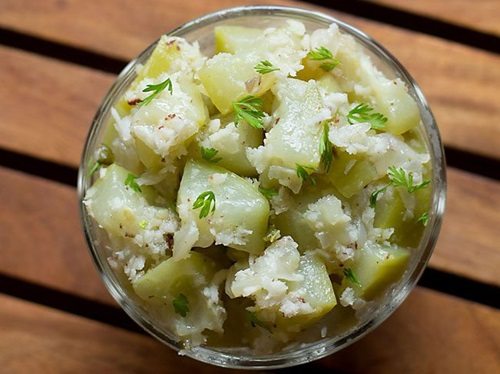 9. Lauki raita – It is an easy, refreshing, savory condiment sauce made with bottle gourd, spices and curd (yogurt). This raita is cooling to the palate and can be served with Pulao, Biryani or any Indian meal.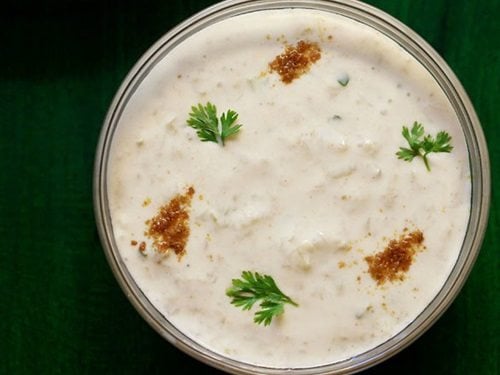 10. Lauki curry – this lauki curry is made with coconut milk and yogurt. So triple cooling for the body. The curry is soothing and very light on the tummy. The recipe is really, really easy to make, flavorful and packed with nutrients too.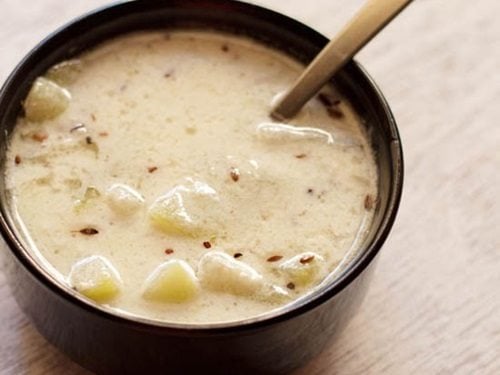 11. Lauki yakhni recipe – fried bottle gourd slices in a light and aromatic yogurt sauce. Lauki yakhni is a dish from Kashmiri pandit cuisine which does not use onion and garlic.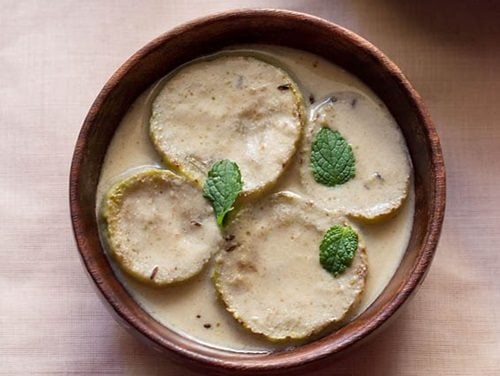 12. Lauki soup – thick, rich, creamy and nutritious soup made with bottle gourd. The bottle gourd soup can be served with bread, rice or as a starter. You could even have it as a brunch or a light night meal. Also you could make the same recipe with zucchini (courgettes).
If you want to check some more healthy and tasty soup recipes then you can check this collection of 29 veg soup recipes.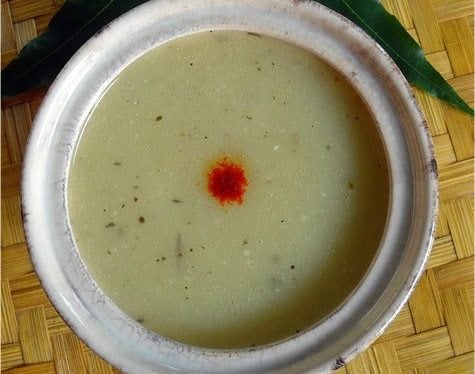 This Bottle Gourd Recipes from the blog archives first published in February 2017 has been republished and updated on 5 Jun 2022.