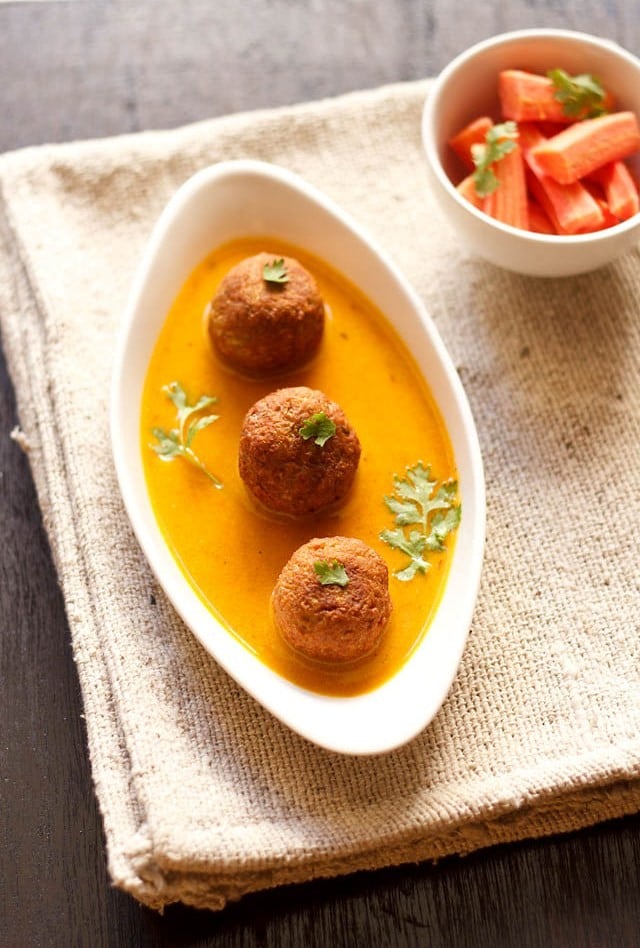 lauki kofta recipe with step by step photos – a light tomato based delicious curry dunked with koftas made from bottle gourd (lauki or ghia or dudhi).
first time i heard about and also had lauki kofta at my in-law's home. i had never heard nor knew that a curry is made from bottle gourd koftas. i knew of malai kofta, cabbage kofta, paneer kofta, aloo kofta, veg kofta but not of this one.
lauki/ghia also known as bottle gourd or opo squash is used to make the fried dumplings and then added to a tangy tomato based gravy. the whole curry is mildy spiced and has a good flavor and slight tang due to tomatoes. the koftas along with the curry taste really yummy.
my first impression on having the curry was – the koftas were yum… they just melted in the mouth. but the curry base tasted to me somewhat like tomato rasam… not exaggerating. this is what i genuinely felt when i had the lauki kofta curry the first time. it was like koftas in tomato rasam. nevertheless i enjoyed having it since i am a rasam fan.
since mil does not add anything to the curry paste made primarily of tomatoes and some onions, ginger, garlic etc… and the tempering of cumin in this tomato based curry was one of the reasons the curry tasted much like tomato rasam.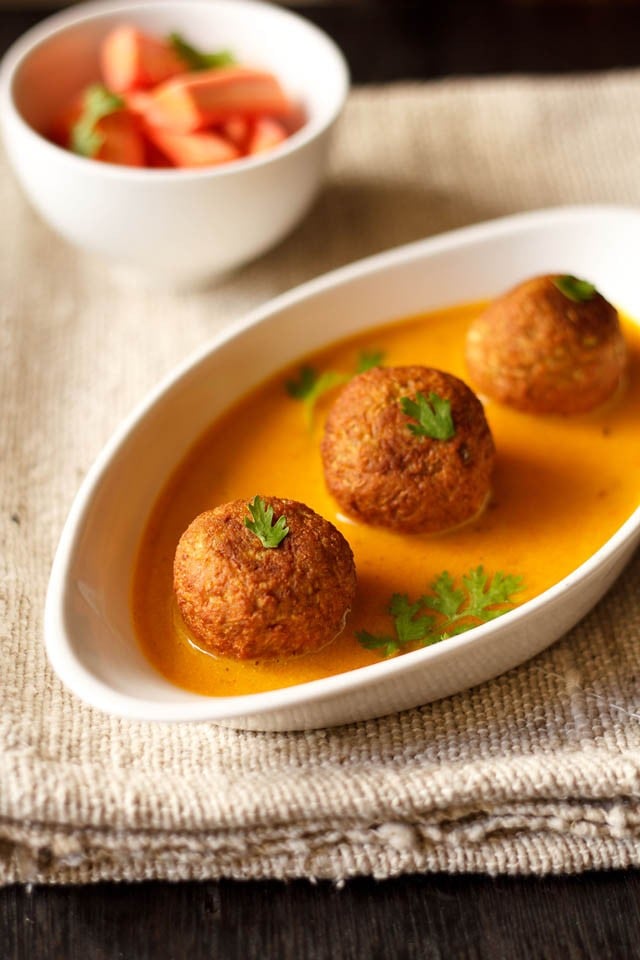 so i improvised upon her recipe and to make the gravy more smooth and creamy, i started adding cashews. cashews not only enhance the taste, but even give a smooth rich consistency to the gravy.
this lauki kofta recipe requires you to do some prep work before hand like making the lauki koftas or pakoras. in this recipe i have made koftas. as a result, they don't absorb much of the gravy. however if you make pakoras/fritters, they do absorb a lot of the curry and swell up and can break also. so its advisable to add them when you serve and not before.
the difference between koftas and pakoras is the consistency of the mixture or batter. the kofta mixture is thicker. whereas the pakora mixture has pouring consistency. you can choose whatever is easier for you to make. pakoras will be much easier to make than shaping and making the koftas.
you can make the kofta or pakoras before hand and refrigerate. then make the curry the next day. the koftas made from this recipe can be added to the gravy safely. they won't break. these koftas are not porous and hence don't absorb much of the curry.
if you are looking for similar recipes then do check aloo paneer kofta, lauki chana dal curry, lauki paratha, lauki kheer and lauki halwa recipe.
lauki kofta recipe details below: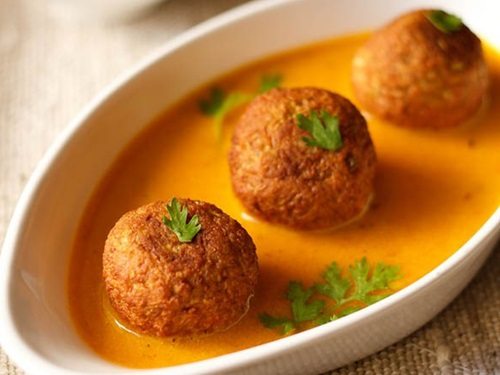 lauki kofta recipe | dudhi kofta recipe
lauki kofta gravy recipe - a light tomato based delicious curry dunked with koftas made from bottle gourd.
ingredients (1 cup = 250 ml)
for making lauki koftas:
2

cups

grated lauki

(ghia or bottle gourd or opo squash or dudhi)

3.5 to 4

tablespoon

besan

(gram flour)

¼

teaspoon

garam masala powder

¼

teaspoon

red chili powder

(lal mirch powder)

1

green chili (hari mirch)

- finely chopped

salt as required

oil for deep or shallow frying the koftas
for making masala paste:
2

large tomatoes

- roughly chopped

1

medium sized onion

- roughly chopped

1

green chili (hari mirch)

- chopped

1

inch

ginger (adrak)

- chopped

4 to 5

garlic (lahsun)

- chopped

2

tablespoon

broken cashews

(kaju)
other ingredients for lauki kofta:
1

teaspoon

cumin

(jeera)

¼ or ½

teaspoon

red chili powder

(lal mirch powder)

¼

teaspoon

turmeric powder

(haldi)

1

teaspoon

coriander powder

(dhania powder)

¼ or ½

teaspoon

garam masala powder

or punjabi garam masala powder

1

cup

water or as required

1.5 or 2

tablespoon

oil

- if using fresh oil

salt as required

sugar as required

(optional)
how to make recipe
making lauki kofta:
rinse and peel the lauki (bottle gourd). grate it.

squeeze the grated lauki and collect the juice in a bowl or mug. keep the juice aside.

mix all the ingredients for making the koftas with the grated lauki except oil.

make small round shaped balls or patties and shallow or deep fry in oil till golden brown. drain on paper tissues.
making lauki kofta gravy:
blend all the ingredients mentioned under "masala paste" with little or no water to a smooth paste.

don't add too much water as then the whole mixture splutters while frying.

remove extra oil from the frying pan in which the koftas were fried. keep about 1.5 or 2 tbsp oil.

heat the oil and first fry the cumin. then add the masala paste.

fry for 8-10 minutes and then add all the spice powders.

stir and continue to fry the masala paste till it starts leaving oil from the sides.

add the juice and about 1 cup water to the paste.

stir and simmer for 10-12 minutes. lastly add the fried lauki kofta.


switch off the fire and let them be in the lauki kofta curry for a few minutes.

garnish with coriander leaves and serve lauki kofta hot with rotis, naan or jeera rice.
stepwise dudhi kofta or lauki kofta curry recipe:
1: rinse, peel and grate the lauki aka bottle gourd aka opo squash. squeeze the grated lauki. however, keep the juice. we will use this juice in the curry.

2: add the besan/gram flour, spice powders, salt.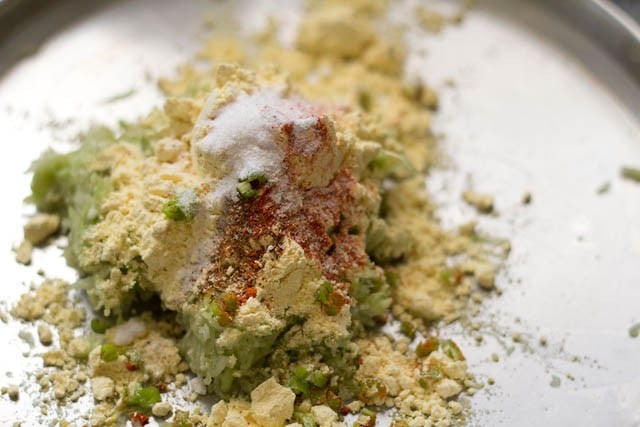 3: mix well and form small sized round or oval balls. if you add water to this mixture, then you will get a batter consistency which will help you in making pakoras. if making pakoras, then just drop spoonfuls of the batter to the oil while frying. add less water to make the batter.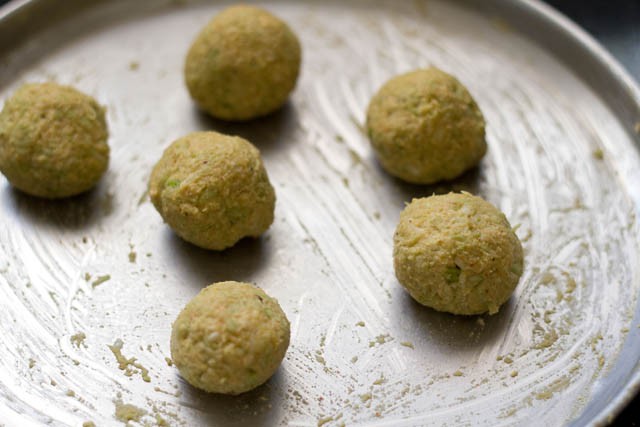 4: heat oil in a kadai or frying pan. you can shallow fry or deep fry. gently place the kofta in the hot oil. i first added one just to make sure if it breaks or does not break.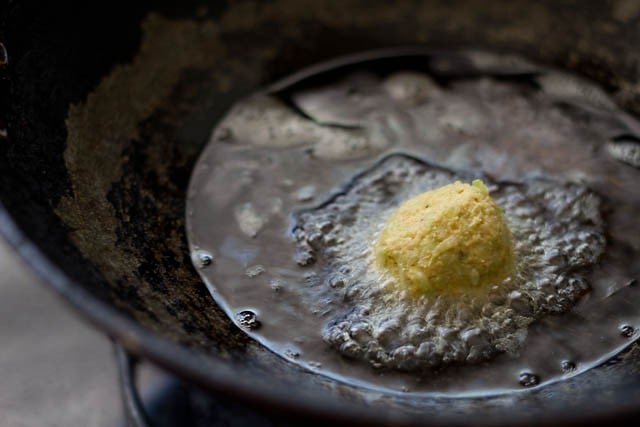 5: fry the koftas in the oil, till they are even golden browned from all sides. the first kofta which i added has already got browned.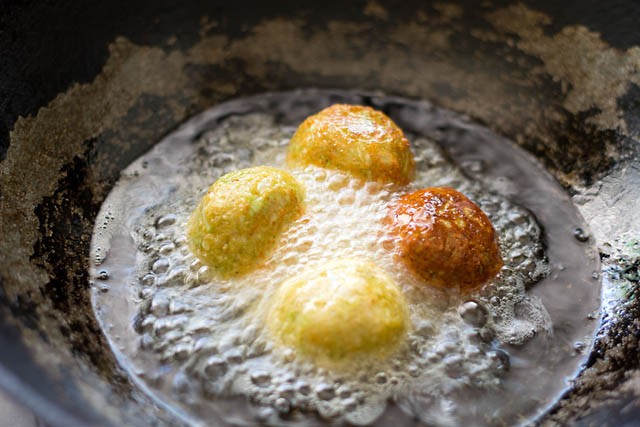 6: drain on tissues so that the extra oil is absorbed.
7: make a smooth paste of tomatoes, onions, green chilies, ginger, garlic and cashews.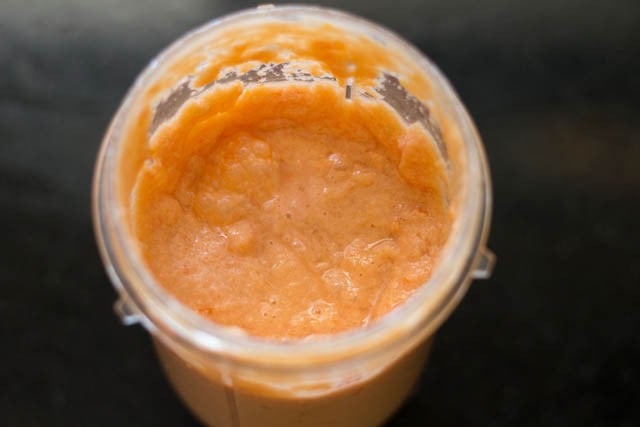 8: remove the extra oil from the same pan in which you fried the koftas. keep around 1.5 or 2 tbsp oil. heat the oil and fry the cumin first. then add the masala paste. be careful as the paste splutters. if there is too much spluttering, then just cover the pan with a lid not covering the pan fully. allow some steam to escape. the spluterring will stop when the mixture thickens. remove the lid. keep stirring the masala at times.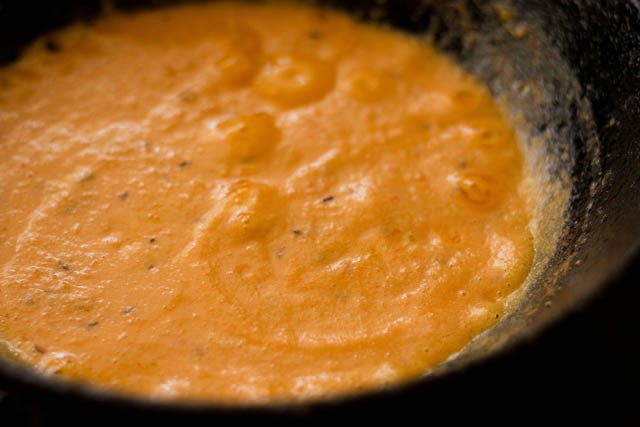 9: when the mixture has thickened, add the all the dry spice powders – turmeric, red chili powder, coriander powder and garam masala powder.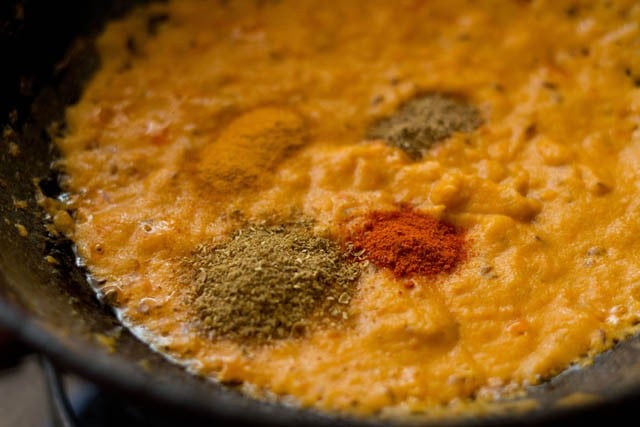 10: stir and let the masala cook for 3-4 minutes more or till the mixture starts to leave oil.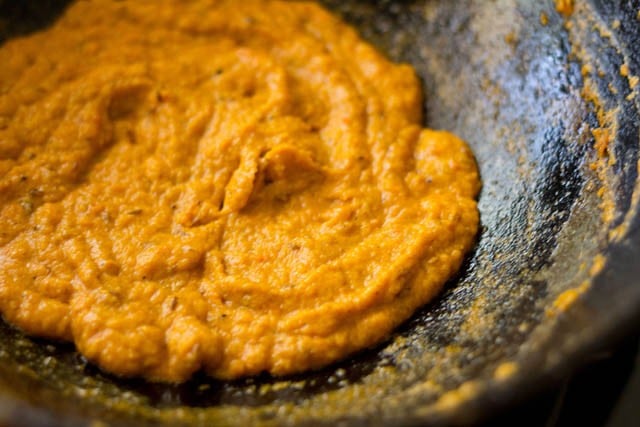 11: add the strained bottle gourd juice. add water. stir. simmer and cook for 10-12 minutes more. don't cover the pan with any lid.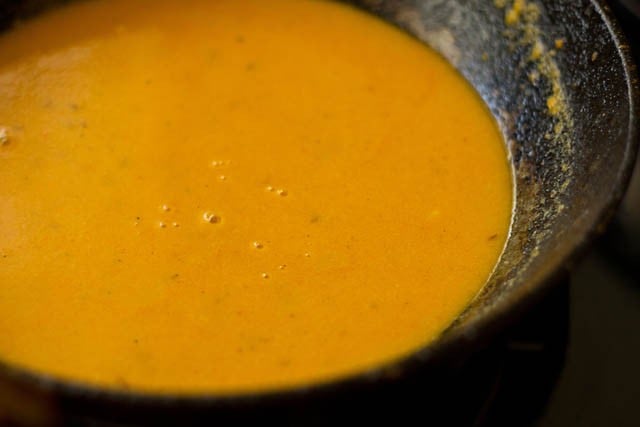 12: lastly add salt and stir. if you like a sweet taste in your curries, you can add sugar too. add the fried lauki kofta. serve the lauki kofta curry with rotis, naan or basmati rice. also goes well with jeera rice.