collection of 24 tasty cauliflower recipes – cauliflower or gobi is widely used in indian cooking.  gobi can be made alone or in combination with other veggies.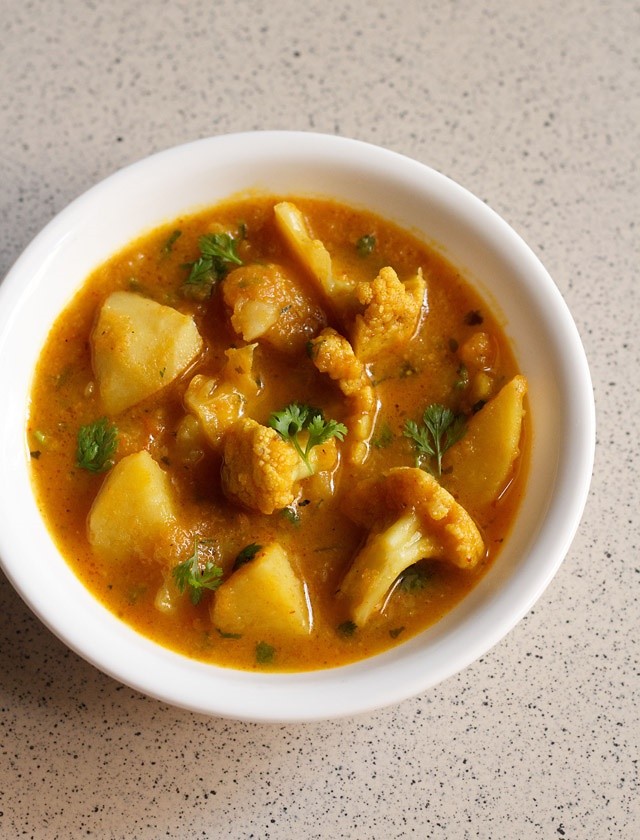 there are many recipes posted on the blog where gobi is used in combination with other veggies. out of these, aloo gobi is very popular, be it the dry version or the curried version.
before using gobi, i generally prefer to blanch the cauliflower in warm or hot water, as sometimes there are small insects in the gobi. secondly i always buy cauliflower which is more whitish in color and has less dark spots.
gobi danthal or the stalks of cauliflower are also used in indian cooking. at home we make gobi ke danthal ki sabzi from these. sharing a collection of 18 gobi recipes from the blog. you can also check these veggie recipes collections:
23 bhindi recipes (lady finger or okra recipes)
25 capsicum recipes (bell pepper or shimla mirch recipes)
19 methi recipes (fenugreek leaves recipes)
24 indian cauliflower recipes:
1. gobi recipe – creamy delicious and lightly spiced gobi masala made restaurant style. this cauliflower curry recipe is easy and simple to make and goes very well with rotis, naan, tandoori rotis or just plain steamed rice.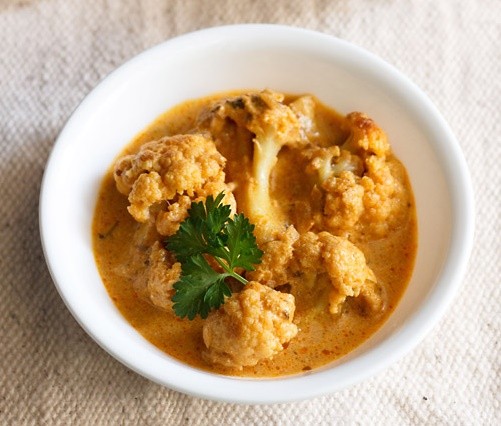 2. gobi manchurian recipe – gobi manchurian is a popular indo chinese recipe and is super delicious and tasty. this recipe is a slightly healthier version of gobi manchurian as for the batter i have used whole wheat flour (atta) and have pan fried the gobi florets.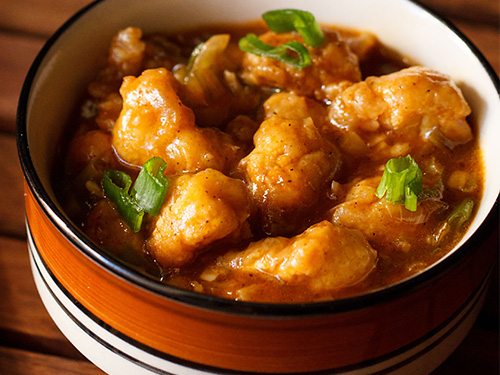 3. aloo gobi recipe – the classic aloo gobi in an onion and tomato based sauce simmered with spices. dhaba style recipe.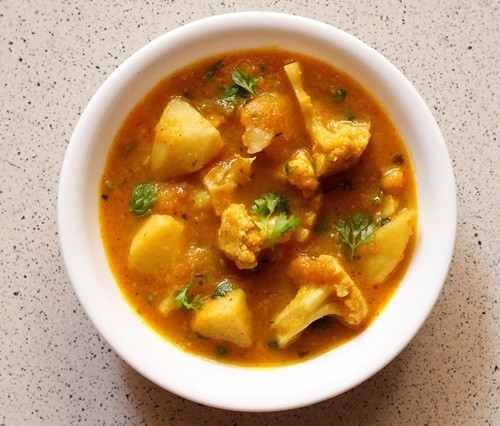 4. dry aloo gobi recipe – a simple and easy recipe for making punjabi cauliflower potato dish. delicious in its simplicity.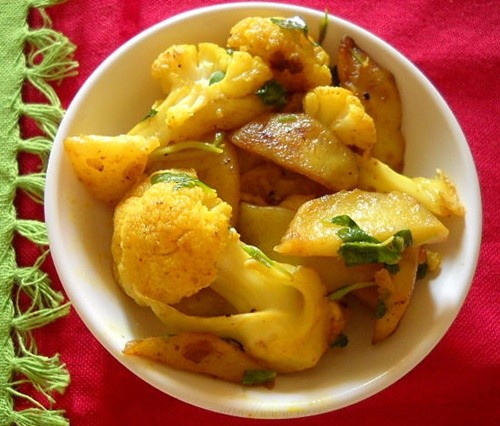 5. gobi manchurian dry – indo chinese recipe of pan fried cauliflower florets coated with a spicy sauce. fairly easy to prepare, this gobi manchurian recipe is not spicy like the restaurant or street versions. if you want, you can add more of the ginger, garlic and green chilies and increase the spice and heat in the dish.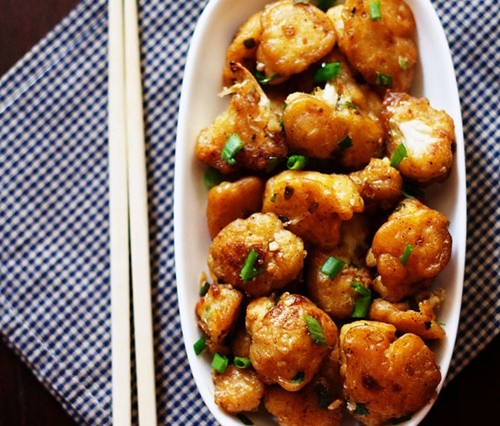 6. gobi 65 – spicy starter snack of fried cauliflower florets. this is a dry version of gobi 65 and does not include sauces like soy sauce or tomato sauce. other popular variation is this aloo 65 and paneer 65 recipe.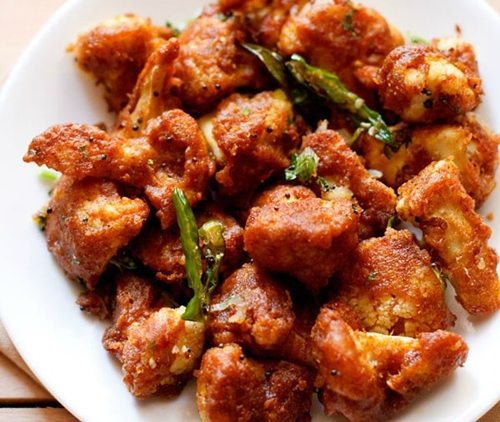 7. cauliflower curry recipe – healthy and delicious cauliflower curry that goes very well with chapatis or parathas. this cauliflower curry is also one of those curry recipes i make at times. sometimes i also add peas or potatoes in it.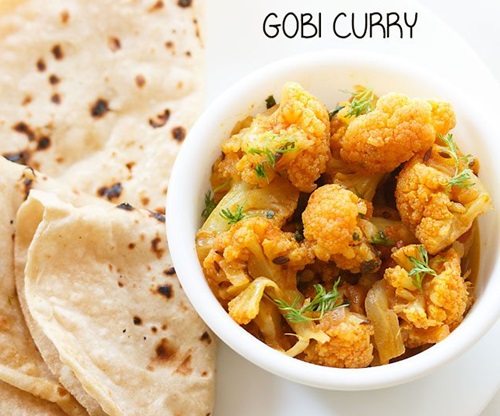 8. aloo gobi matar – lightly spiced curry with cauliflower, peas and potatoes.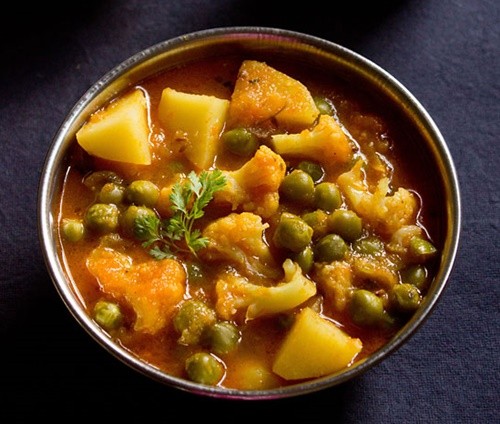 9. gobi matar – dry and lightly spiced cauliflower peas recipe. this dry version of gobi matar goes very well with chapatis, phulkas and even bread. it also goes well as a side veggie dish with dal-rice. also goes well for tiffin box lunch with chapatis.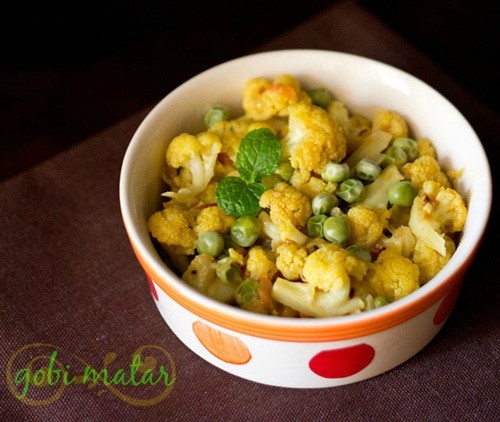 10. gobi paratha – whole wheat flat bread stuffed with spiced grated cauliflower. gobi paratha is often made for breakfast in punjabi homes as well as served in restaurants and punjabi dhabas.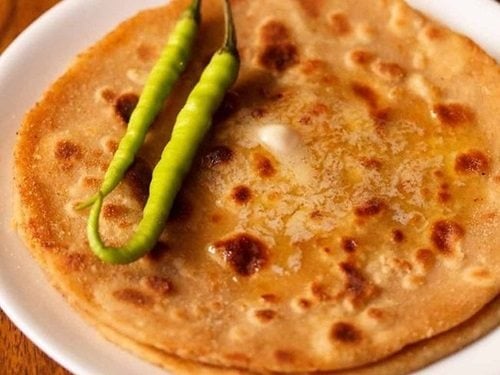 11. cauliflower fry recipe – one of the tastiest cauliflower fry recipe which is easy and inspired from the kerala cuisine.
12. gobi pakora –  crisp fried marinated cauliflower fritters made with gram flour. the basic technique of making veggie pakora is more or less the same. so almost the same procedure is used for aloo pakora, onion pakora or cabbage pakora and so on.
13. aloo gobi recipe – a rich creamy potato cauliflower curry made restaurant style. excellent for special or festive occasions, guests or parties.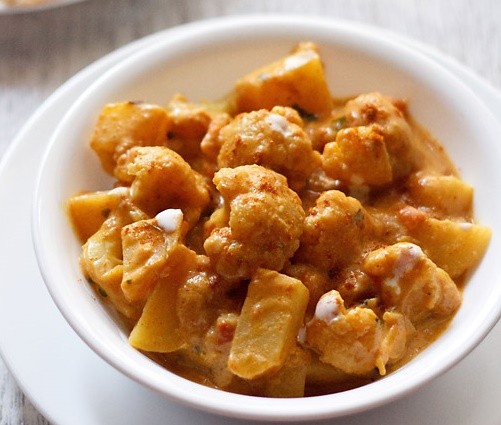 14. aloo phulkopir dalna recipe – delicious curry made with cauliflower and potato. a gem of a dish from the bengali cuisine – spiced with complex flavors and awesome with some luchi or pooris. no onion no garlic recipe.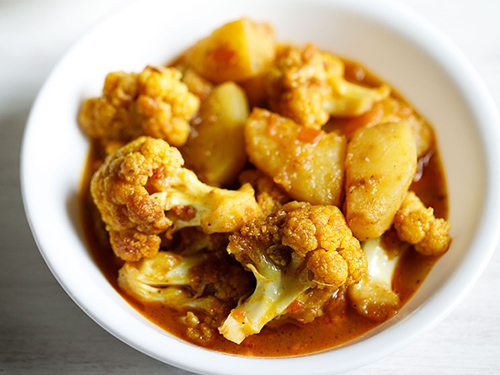 15. aloo gobi methi tuk – dry spiced curry made with sauted potatoes, cauliflower and fresh fenugreek leaves. a delicious recipe from the sindhi cuisine.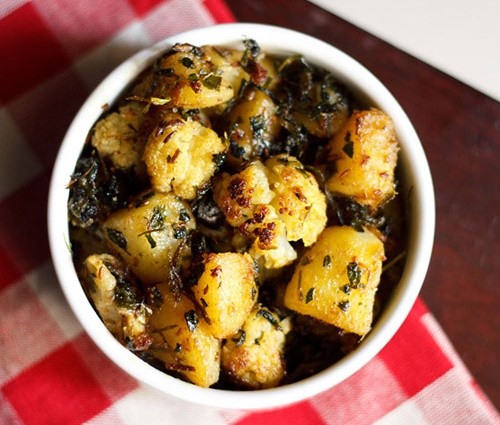 16. tandoori gobi – marinated and grilled cauliflower. excellent snack or starter recipe. this gobi tikka recipe is a spicy version, so if making for kids or folks who do not like spicy food, just cut down half of the red chili powder and garam masala. vegan can use cashew yogurt for marination instead of using dairy yogurt (curd).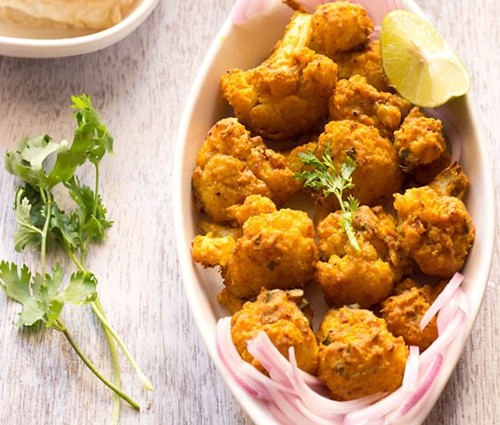 17. baked cauliflower – lightly spiced cauliflower florets baked in the oven. baked cauliflower is healthy and light. plus its a vegan recipe. also as the cauliflower is baked, it has a crunch and a bite to it. it is not soft like the way it is often made in the indian cauliflower sabzis. good as a brunch or a light snack to go with any herb or cheesy dip.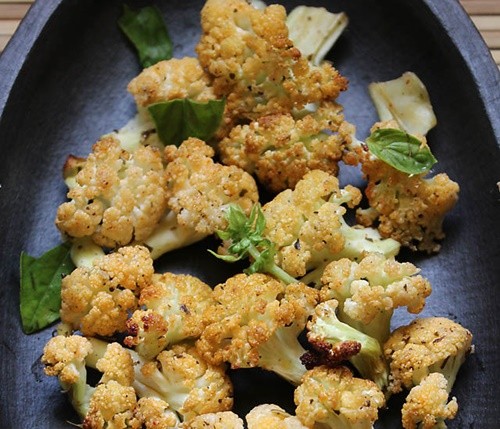 18. gobi gajar shalgam achar – sweet and sour punjabi winter special pickle made with cauliflower, carrots and turnips. what you get in this pickle are crunchy cauliflower, carrots and turnips in a spicy, sweet and tangy base. if you love sweet pickles, you will like this one too. this pickle stays good for about 6 months. if living in a warm, humid or hot climate, then i suggest to keep the pickle in the refrigerator. for more pickle recipes you can check this collection of 14 pickle recipes.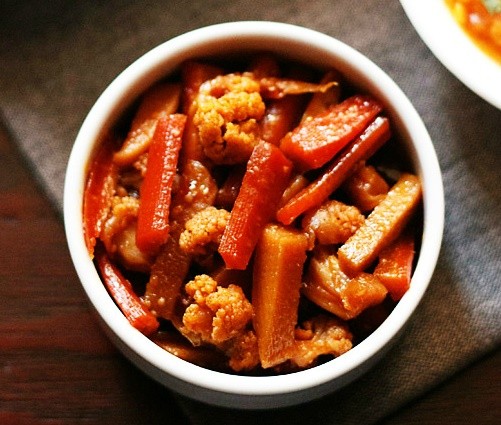 19. gobi ke danthal ki sabzi – punjabi dry spiced curry made from cauliflower stalks and leaves. this gobi danthal dry curry is mildly spiced with the flavors of mustard oil coming through. mustard oil gives the dish its pungent punch in the flavor department.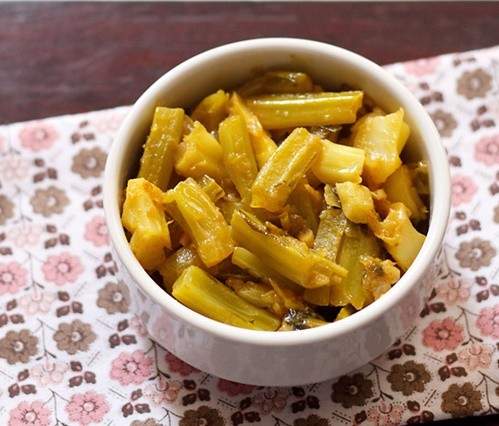 20. aloo gobi paratha – easy to make paratha with a spiced cauliflower and potatoes filling. for more delicious parathas you can check this collection of 34 paratha recipes.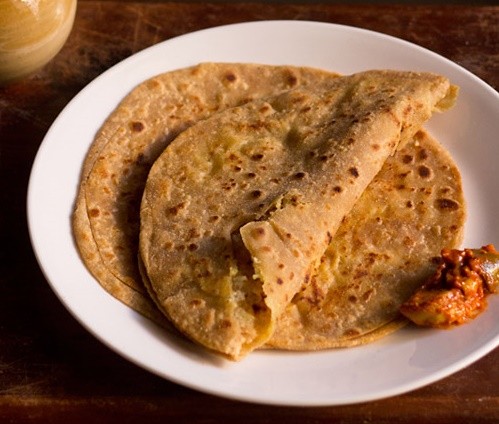 21. gobi biryani – one pot recipe of a dum cooked south indian style cauliflower biryani recipe. this easy biryani is dum cooked but not layered. if you are fond of biryani's then you can check this collection of 27 biryani recipes.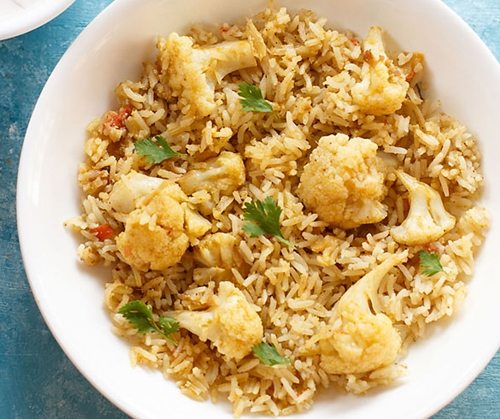 22. flower batata rassa recipe – a tasty coconut based curry made with cauliflower and potatoes. this is such a delicious curry that not only it tastes good with chapatis or pooris, but also equally tastes good with steamed rice.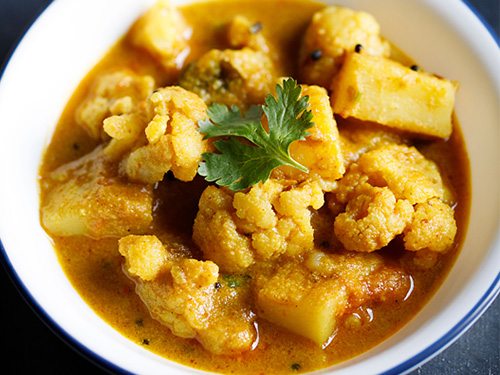 23. cauliflower kurma recipe – this is an absolutely delicious recipe of chettinad cauliflower korma with the flavors of coconut and spices. the curry is creamy, lightly spiced and accompanies pooris, parotta, chapatis, idiyappam, neer dosa, set dosa, appam, peas pulao, steamed rice very well.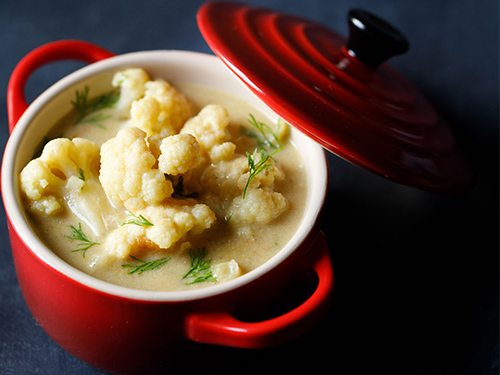 24. aloo phulkopir singara recipe (bengali samosa) – singara also known as shingara is a popular tea time snack from bengal. the stuffing for the vegetarian version of singara is made from potatoes or cauliflower, potatoes and green peas. the taste of singara is completely different and no where close to a punjabi samosa. in singara you will get a hint of sweetness and crunchiness of peanuts along with the earthy taste of cauliflower and potatoes.