Khus Syrup recipe with step by step photos. Here's a fragrant summer cooling drink made from khus or vetiver (vetiveria zizanioides). I take you through the methods of making a homemade Khus Sharbat with the dried roots of this herb – that can be refrigerated for a few months and enjoyed as a cool refreshing drink anytime.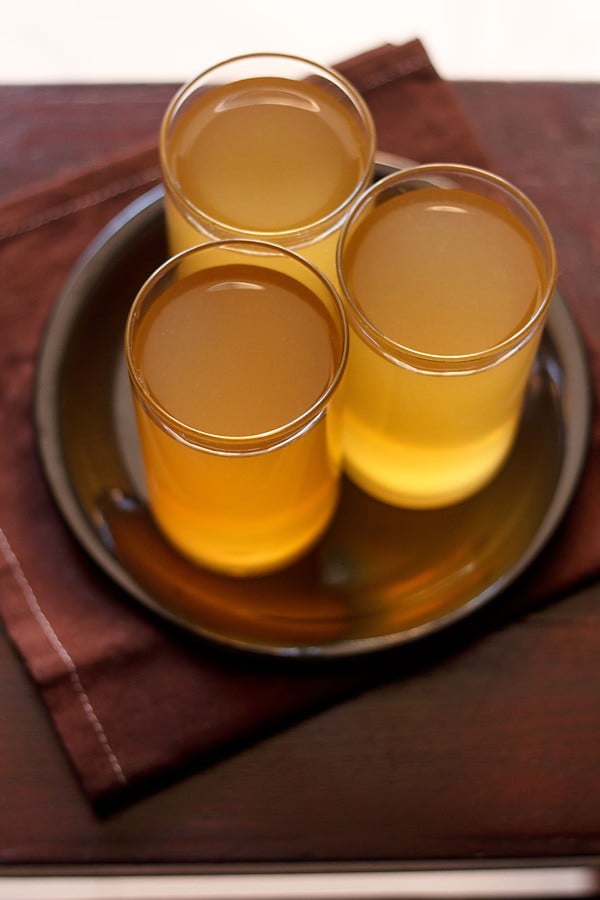 What is Khus
Khus is beautifully fragrant cooling herb. The roots of these perennial grasses have a lovely woody aroma. The aroma is reminiscent of sandalwood. Though not like sandalwood, but in its subtlety like sandalwood.
Many of us get confused between khus and khus khus. Whereas khus is a fragrant grassy plant similar to that of lemon grass and citronella. Khus khus are poppy seeds. Both are different and not related in any way.
Poppy seeds are obtained from the opium poppy plant. Khus is commonly called as vetiver and has medicinal, culinary and perfumery uses.
I have actually had khus sherbets and drinks many times in my childhood. We would buy the ready made syrup and they used to have a dark green color.
I would always wonder why the green color. Is this khus having such a deep green color that it gets transferred even in the syrup? Of course much later I came to know that the green color is not natural but artificial color. After that I never brought khus syrup.
I am into Ayurvedic reading and cooking these days. So I came across some herbs used in Ayurveda that are excellent to heal the doshas (vata, pitta and kapha).
Khus was one of them. I already knew its cooling properties but did not know its other healing attributes (have mentioned the healing benefits below).
So I went to an ayurvedic shop and got the khus and when I saw them, I was amazed. They were dried roots. A whole bunch of dried roots was given to me and all rolled up nicely.
Below a photo of the dried khus roots. Even in its dried form, the khus was wonderfully fragrant.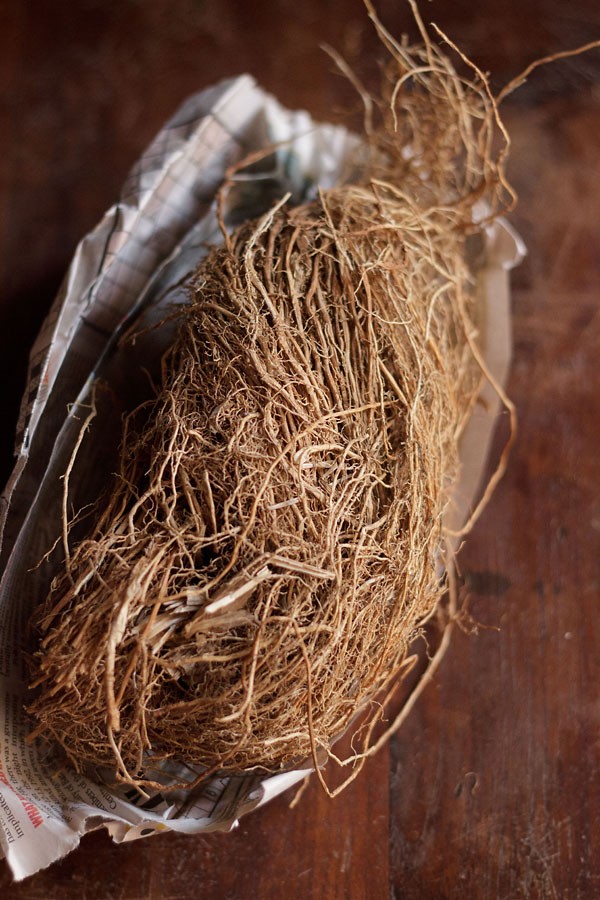 I made this khus syrup more than a week ago and we used to have the fragrant cooling khus sherbet or drink everyday, to keep our systems cool.
Today I again went to the ayurvedic shop and again got a lot of stuff along with khus roots. Sandalwood powder was one of them and I have also shared making homemade Sandalwood Syrup.
I read the method on how to make the syrup in an ayurvedic book and roughly followed it. Changed the proportions to suit with the amount of khus I had.
To make the syrup, I have used organic unrefined cane sugar. I have not used processed or bleached sugar.
You can easily buy organic unrefined cane sugar or raw sugar in the organic section in super stores. You can buy the khus roots in an ayurvedic shop.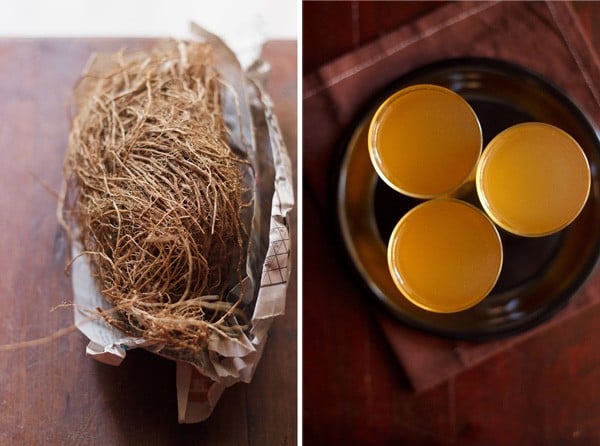 The process of cleaning and chopping the khus roots takes a bit of effort initially. But later its easy to prepare the syrup.
I used 60 gms of khus roots and the whole recipe yielded 1 litre of khus syrup. refrigerate and use the syrup within 15 to 20 days as no preservative is added. This khus syrup recipe is also without any artificial green color.
Actually having such healing and cooling syrups are much much better than having processed aerated soft drinks. Another good option to keep yourself cool is to have buttermilk based drinks like Chaas.
Khus Benefits
1. Relieves thirst and burning sensations.
2. Purifies and invigorates the blood, skin and genitourinary tract.
3. Strengthens the digestive fire and calms both vomiting and diarrhea.
4. Incense or essential oil of khus, cools the mind and improves concentration. It also calms the nervous system.
5. Khus is also used to treat boils, fever, skin rashes due to heat or aggravated Pitta. (source book – "Ayurveda for Women" by Dr Robert Svoboda.)
How to make Khus Sharbat
1. First separate the dried khus roots slightly if you can. Rinse the khus roots very well in running water.
There might be mud particles or tiny stones on the roots. So rinse them very well. Drain the water.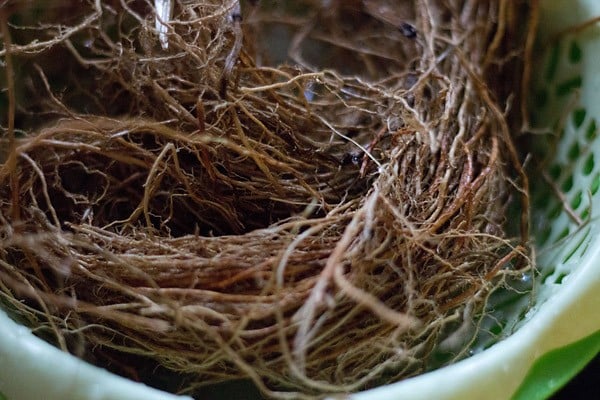 2. Now chop the khus roots with clean kitchen scissors.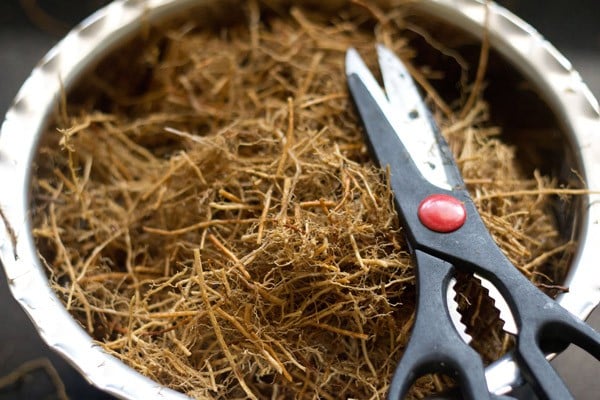 3. Soak the roots in water for about 8 to 9 hours or overnight at room temperature.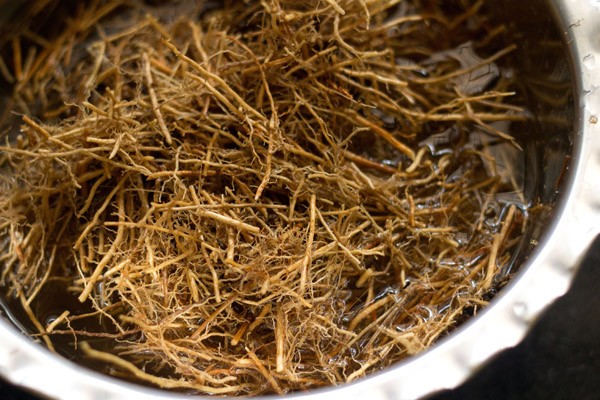 Make Khus Syrup
4. After 8 hours, strain this solution of the soaked khus and water and collect the filtrate solution or extract in a bowl or pan.
Squeeze the chopped soaked roots so that all the water is drained. Then discard the khus roots.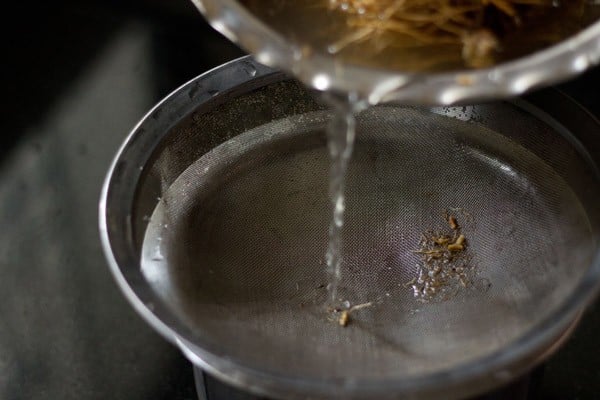 5. Add sugar to this khus extract and stir well.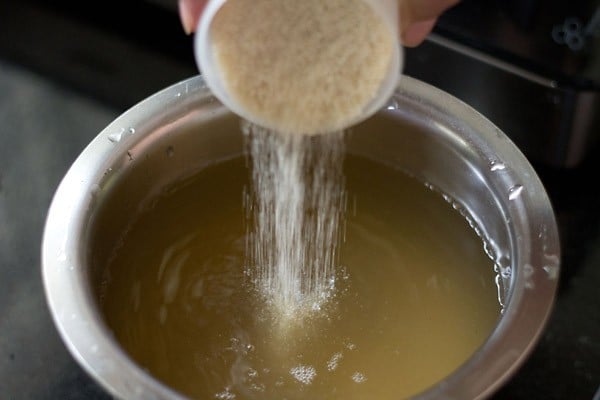 6. Keep this strained extract solution on the stove top. Stir so that the sugar gets dissolved. Let the solution come to a boil. Once it comes to a boil, let the boiling continue for about 5 to 6 minutes.
The syrup has to be sticky to touch but not of any thread consistency. If you want, you can make a ½ thread syrup also. But I did not.
Just a slightly thick and sticky syrup was fine with me. However a ½ thread syrup will have a longer shelf life.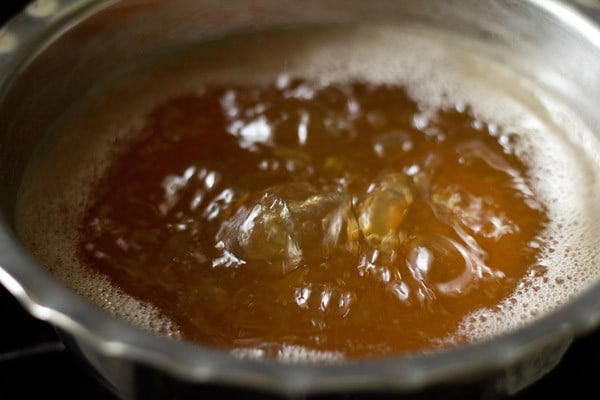 7. Now strain the hot khus syrup directly in a clean canning glass jar or bottle. We are straining it again to remove the sugar impurities. Close the lid of the jar immediately.
Let the khus syrup cool. Once the jar or bottle has cooled, keep the khus syrup in the refrigerator.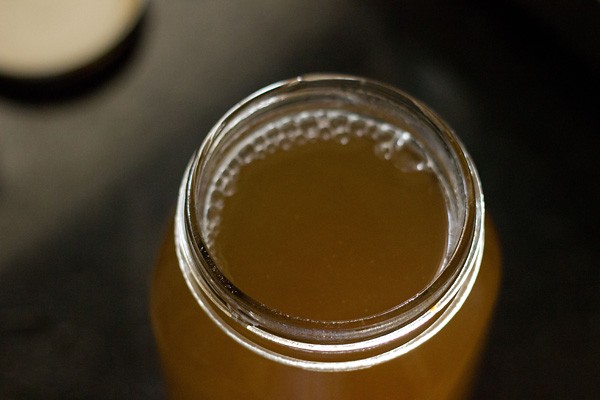 8. While serving khus syrup depending upon your taste, you can dissolve ¼ or ⅓ part of the syrup with plain water or chilled water. Stir very well and serve the khus sherbet immediately.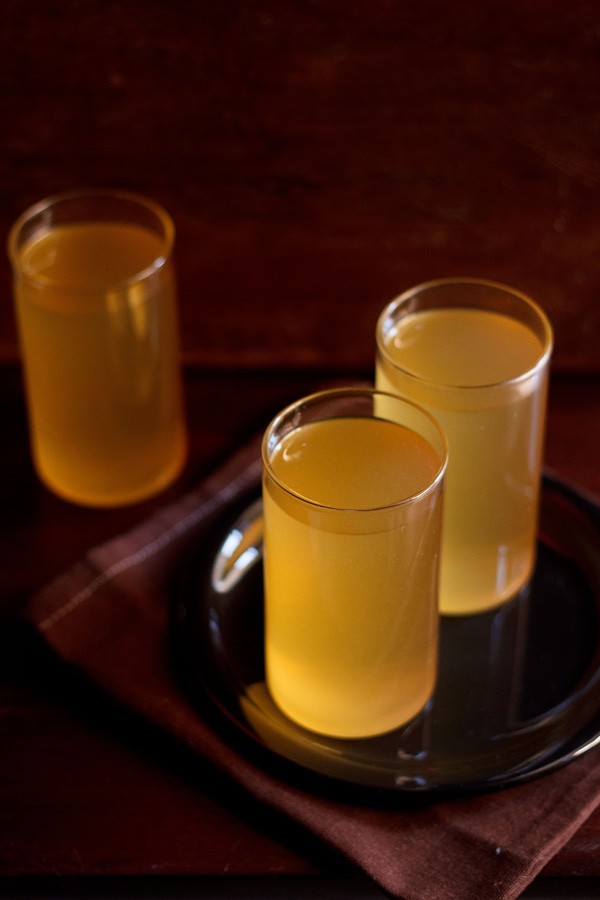 If you are looking for more beverages then do check:
Please be sure to rate the recipe in the recipe card or leave a comment below if you have made it. For more vegetarian inspirations, Sign Up for my emails or follow me on Instagram, Youtube, Facebook, Pinterest or Twitter.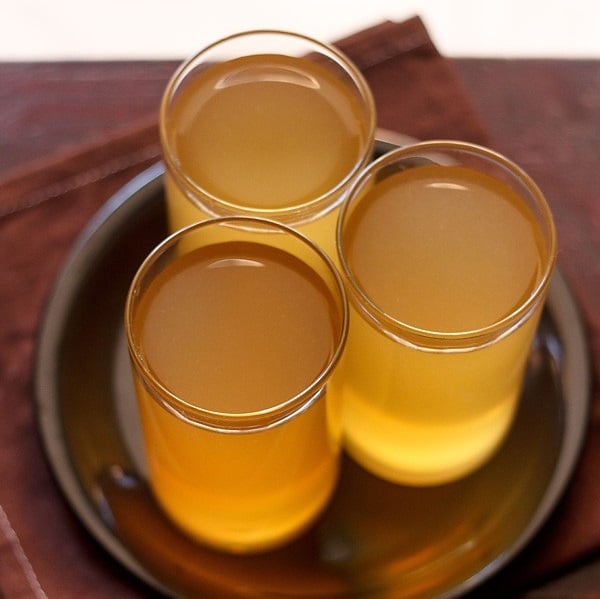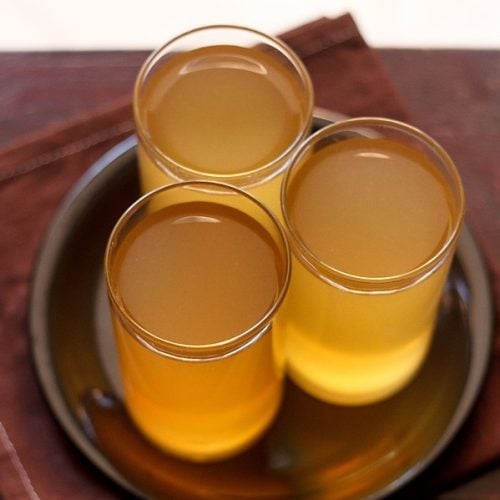 Khus Syrup | Khus Sharbat Recipe
Khus Syrup or Khus Sharbat is a cooling and fragrant summer drink made from dried khus grass roots or vetiver. This homemade recipe does not contain any synthetic colors and preservatives.
60 to 70

grams

khus roots

or vetiver (ramacham in malayalam)

5

cups

water

or about 1 litre water

4

cups

raw sugar

– 600 grams, can add white sugar instead
Instructions
Preparation
First separate the roots if you can.

Rinse the roots very well in water to remove any mud or tiny stone particles.

Chop the roots with the kitchen scissor. Soak for 8 hours in water or overnight.

Strain through a juice strainer and collect the extract.
Making khus syrup
Add sugar to the extract and stir.

Keep the khus extract on the stovetop and keep on stirring so that the sugar dissolves.

Once the solution starts boiling, continue cooking for some more minutes. The syrup has to be sticky or can be of ½ thread consistency.

Filter the hot syrup directly in a clean glass jar or you can filter in a bowl or pan and then pour the syrup in a clean sterilized jar or bottle.

Immediately cover tightly with the lid and let it cool at room temperature.

Once cooled, refrigerate the khus syrup.

Dissolve ¼ or ⅓ part of the khus syrup with water (at room temperature or cold) and your khus sharbat or drink is ready.
Notes
The recipe can be scaled down to make a small portion of the syrup.
Dried khus roots can be sourced from an Ayurvedic store or online. 
This Khus Syrup recipe post from the archives, first published in May 2014 has been updated and republished on November 2022.