Of the many ways that mangoes can be used to prepare so many Indian dishes, this Raw Mango Chutney is one of the easiest, quickest and delish ones. The unique thing about this Green Mango Chutney is the addition of coconut in the recipe. Its sour, spiced, tangy and will absolutely make the simplest meal, a firecracker!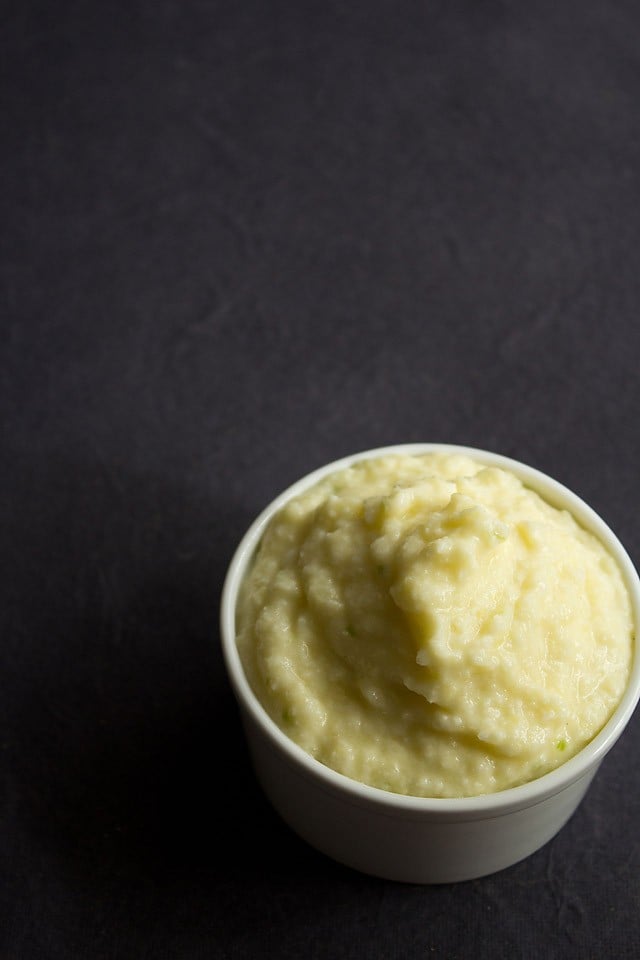 About This Raw Mango Chutney
This Green Mango Chutney one of the choicest ones from my mother's recipe books and I've literally grown on it. I love it, not just because its my mom's recipe, but also because it is easy to make, quite hassle-free and still tastes yummy.
Just a few ingredients, about four to five steps in the method and voila! You've got a scintillating and sumptuous chutney ready in minutes. Basically, you just have to blitz together chopped raw mangoes, grated/desiccated coconut, green chilies, garlic and salt, till you get a smooth chutney.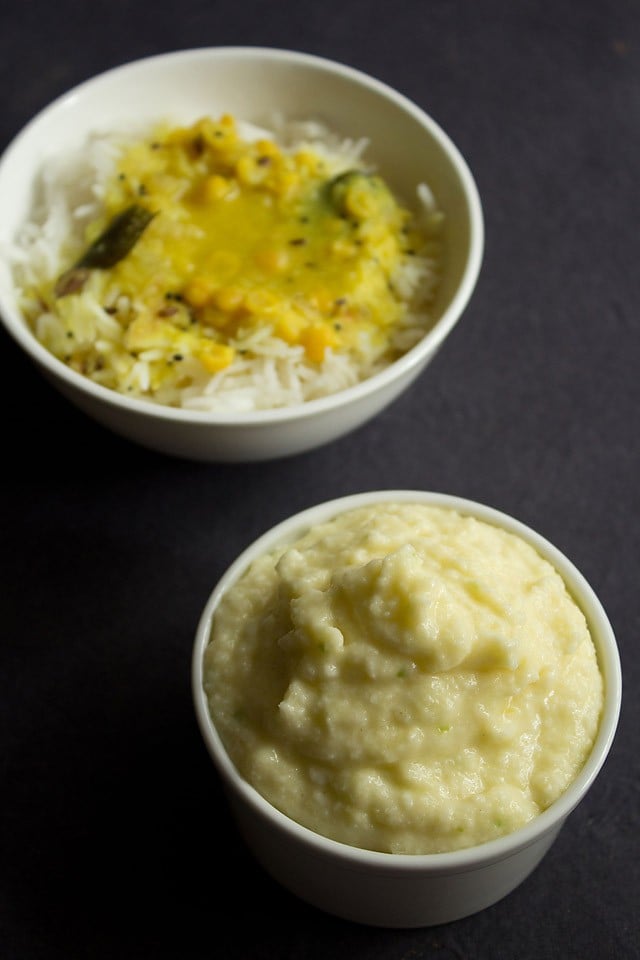 I first made this recipe, after coming back from our trip to Coimbatore in Tamil Nadu, decades back. I had kept some unripe mangoes in the refrigerator which were intact and were not spoilt till we returned. So, I just decided to pick them up and turn them into this gorgeous Raw Mango Chutney.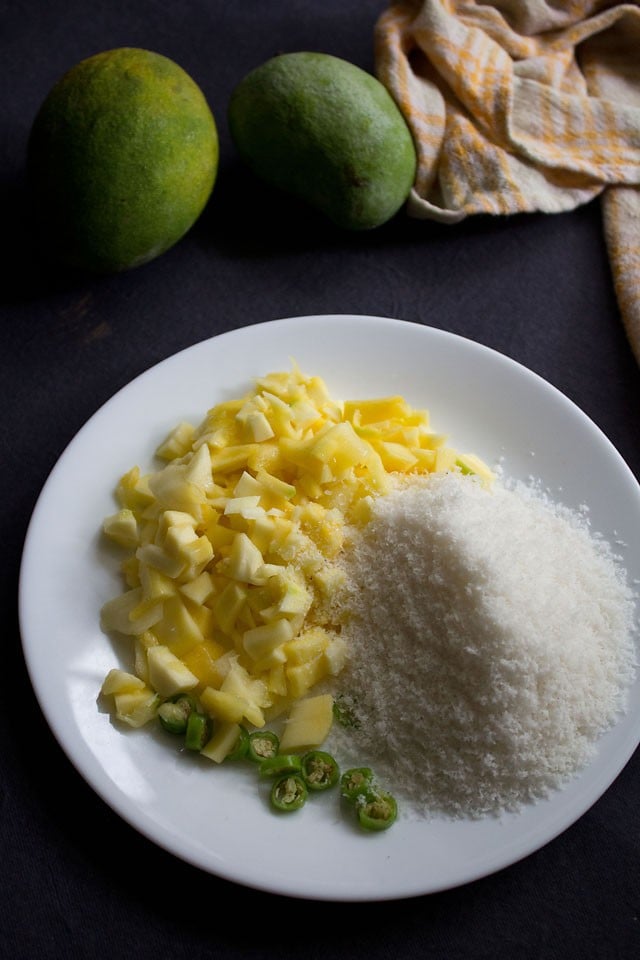 Since the recipe uses green mangoes, this chutney is quite tart unlike the Bengali style Mango Chutney with a consistently distinct sweet taste. This chutney typical to Bengal also has other spice powders and the famous 'Panch Phoron' (Bengali 5 spice mix).
We usually savor this Green Mango Chutney with dal-rice or rice kanji/pej (savory rice porridge). Since the predominant flavor in this chutney is sour, you can also team it up with dals or any other dishes that are a little sweet in nature.
Raw Mango Uses
Just like a ripe mango, which is known to impart a luscious sweet flavor to any dish it becomes a part of, a raw mango is also quite diverse and has many culinary uses.
First and the foremost, you can have it just by itself as a tangy summer snack. Just rinse and cut the green mango into thick wedges, sprinkle some red chili powder or cayenne powder and salt on it and enjoy.
Then, you can of course make this amazingly simple and quick Raw Mango Chutney and savor it with your meals. Other ways you can use green mangoes are in refreshing salsas, comforting salads, sweet and sour pickles, cooling beverages, robust dals and curries and even fruit leathers like 'aam papad.'
Green Mango Side Effects
As much as raw mangoes are beneficial for the health and in the culinary field to make a variety of preparations like this Green Mango Chutney, you still have to be careful in consuming it because it has aftereffects too. Just like a coin having two sides!
These are some of the problems that you might fact if you eat unripe mangoes in excess – indigestion, abdominal pain, dysentery and throat irritation.
So, ensure that you are restricting yourself at a small portion of raw mango a day. Drinking of cold water directly after the consumption of raw mango is also prohibited, as this might lead to more irritation.
Expert Tips
Two types of coconut that you can use for this chutney are – fresh and desiccated. There's going to be a slight change in flavor with the desiccated coconut. It still is going to be good.
For a fierier and more pungent chutney, add 1 to 2 dried red chilies or add more of the green chillies.
Skipping the coconut in this Green Mango Chutney is not a good idea. It adds a nutty flavor in the chutney and balances the sourness of the raw mangoes as well.
In case you want the chutney to be even thicker, add all the more less water while grinding.
You may skip the garlic in the chutney. This is if you don't like the taste or want to make a satvik version.
More Chutney Recipes To Try!
Please be sure to rate the recipe in the recipe card or leave a comment below if you have made it. For more vegetarian inspirations, Sign Up for my emails or follow me on Instagram, Youtube, Facebook, Pinterest or Twitter.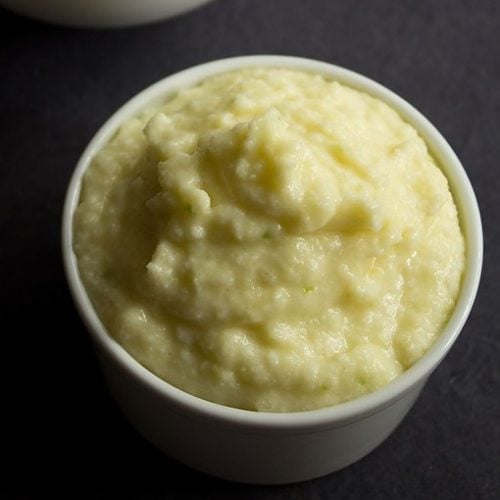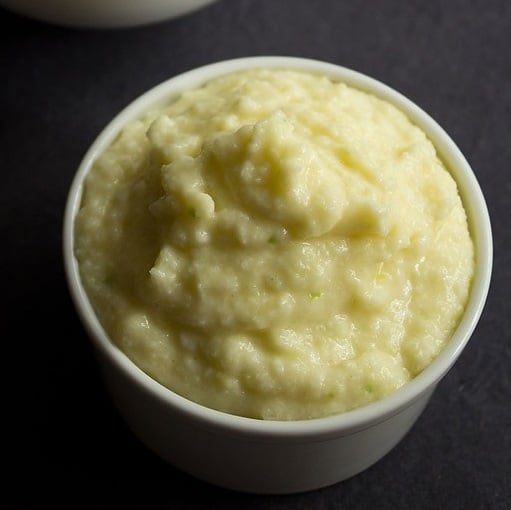 Raw Mango Chutney | Green Mango Chutney
This Raw Mango Chutney is one of the easiest chutney condiment made with coconut, unripe sour mangoes, green chillies and garlic. Its sour, spicy, pungent and will absolutely perk up your meals.
2

mangoes

small-sized or 1 medium-sized, raw, unripe and green mangoes – peeled and chopped

⅓

cup

desiccated coconut

or ½ cup fresh grated coconut

1 to 2

green chilies

– chopped or 1 teaspoon chopped green chillies

1 to 2

garlic cloves

small to medium, optional

salt

as required

¼

cup

water

or as required for grinding chutney ingredients
Instructions
Rinse the mangoes well. Then, dry them with a kitchen towel.

Peel and chop them into small pieces. Remove and discard the stones.

In a blender or grinder, add the chopped mangoes, coconut, garlic, green chillies and salt as required.

Grind all the ingredients with water to a smooth and fine consistency. Add water as needed while grinding.

Transfer to a serving bowl.

Serve Green Mango Chutney with Indian meals or with savory rice porridge.
Notes
Do not skip on the coconut in the recipe.
Use mangoes that are sour and unripe.
Add water as needed. The consistency of the chutney can be from thick to medium consistency. For a thicker raw mango chutney add lesser amount of water.
For a spicy green mango chutney increase the number of chillies. Swap green chillies with red chillies for a smoky pungent chutney.
Note that the approximate nutrition info is for the entire mango chutney.
Nutrition Info (Approximate Values)
Nutrition Facts
Raw Mango Chutney | Green Mango Chutney
Amount Per Serving
Calories 826
Calories from Fat 504
% Daily Value*
Fat 56g86%
Sodium 2511mg109%
Potassium 1170mg33%
Carbohydrates 86g29%
Protein 9g18%
Vitamin A 4480IU90%
Vitamin B1 (Thiamine) 1mg67%
Vitamin B2 (Riboflavin) 1mg59%
Vitamin B3 (Niacin) 3mg15%
Vitamin B6 1mg50%
Vitamin C 158mg192%
Vitamin E 4mg27%
Vitamin K 18µg17%
Calcium 75mg8%
Vitamin B9 (Folate) 186µg47%
Iron 4mg22%
Magnesium 119mg30%
Phosphorus 238mg24%
Zinc 2mg13%
* Percent Daily Values are based on a 2000 calorie diet.
This Raw Mango Chutney recipe from the blog archives first published in July 2012 has been updated and republished on Jun 2022.