Panch phoron recipe with step by step pics. Panch phoran or Panch masala or Padkaune masala or Panch phutana is a blend of 5 aromatic spices. This 5 spice mixture is one of the essential spice blends used in Bengali cuisine. There are many Bengali recipes in which panch phoron is used.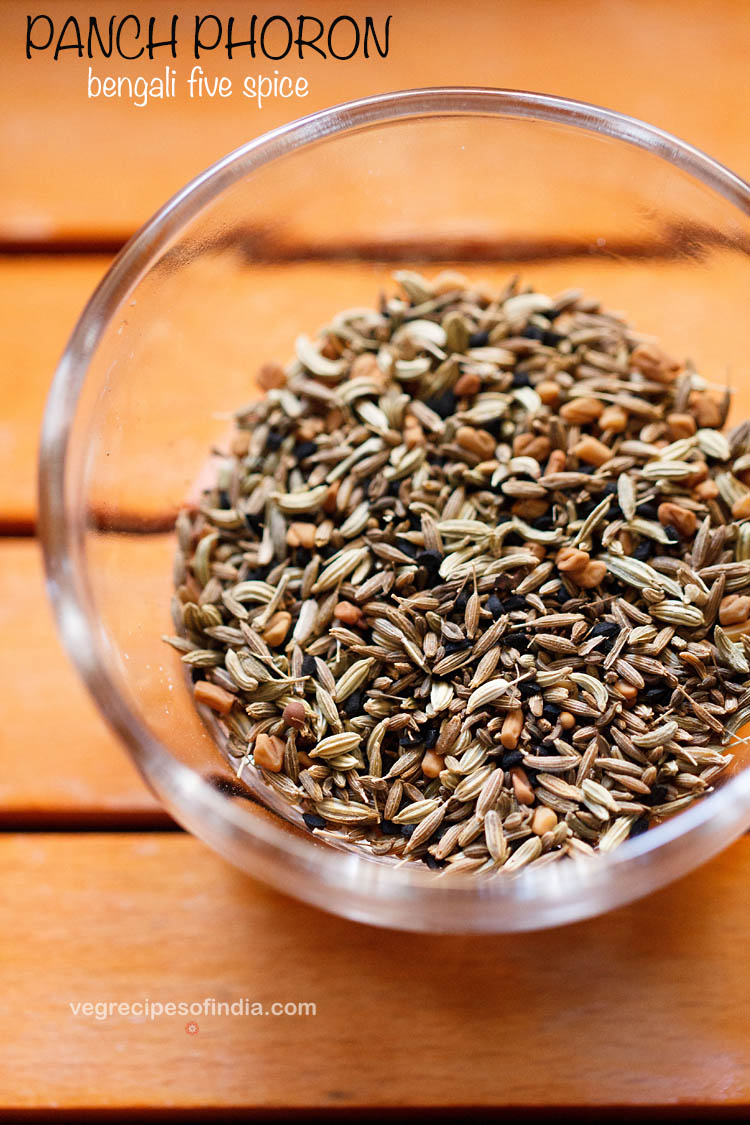 This five spice blend look pretty colorful and attractive. all the five spices are aromatic seeds and thus this gives the final dish a lovely aroma when panch phoron is used. In Bengali language 'panch' means five and 'phoron' means tempering. so the five aromatic spices are fried in oil till they splutter or pop. This technique of tempering spices in oil is also known as tadka or chaunk or vaghar in hindi language. The frying of these spices releases strong aroma and flavors in the oil.
Unlike, garam masala where the spices are powdered, in panch phoran, the spices are not powdered but used whole. Of course, Garam masala makes use of different spices than the ones used in panch phoron.
You could easily make your own panch phoron at home using these five spices – cumin seeds, nigella seeds, fennel seeds, wild celery seeds and fenugreek seeds.
Usually for panch phoran recipe, you will find that equal quantities of these five spices need to be mixed. but in a few Bengali recipe books which I have, the authors have mentioned a slight different ratio for the fenugreek seeds. I think thats because fenugreek seeds are bitter and thats why they have included less proportion of fenugreek seeds. I also add less fenugreek seeds in the panch phoron spice blend due to their bitterness. You can add the same proportion or slightly less as per your needs.
You can easily scale up or down the recipe and make a small batch or a large batch. I keep panch phoron in the fridge so that the spices remains flavorful and aromatic for a long time. You can also keep the panch phoron in an airtight jar in a cool dry place.
Few more similar recipes you may like are:
If you made this recipe, please be sure to rate it in the recipe card below. Sign Up for my email newsletter or you can follow me on Instagram, Facebook, Youtube, Pinterest or Twitter for more vegetarian inspirations.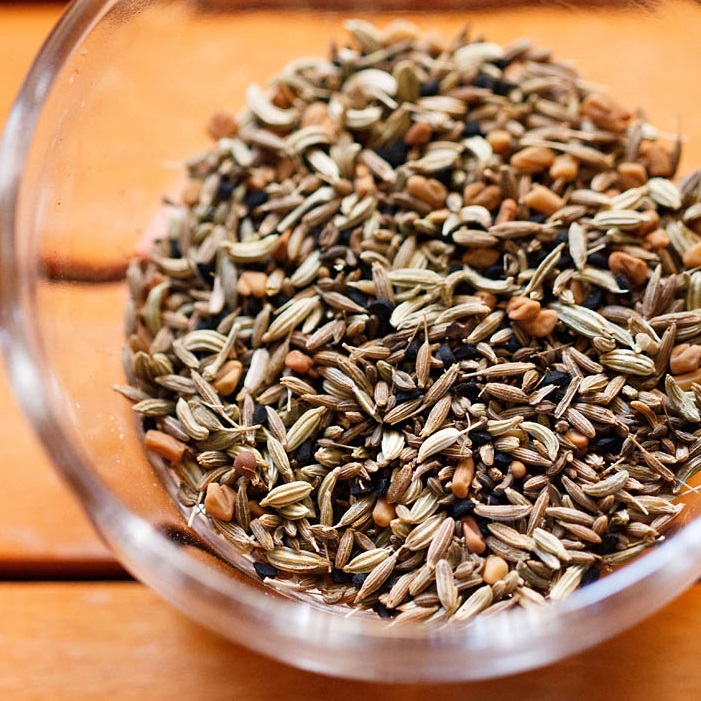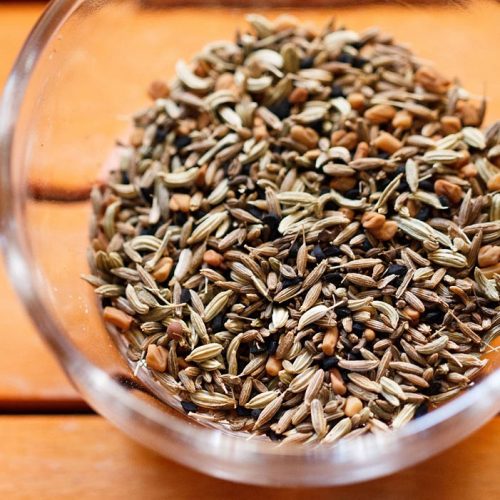 Panch Phoron
Panch phoron or panch phoran or panch masala is a blend of 5 aromatic spices used in the Bengali cuisine. 
---
---
Ingredients
2

tablespoons

cumin seeds

2

tablespoons

nigella seeds

(kalonji)

2

tablespoons

wild celery seeds

(radhuni) or mustard seeds (rai)

2

tablespoons

fennel seeds

(saunf, mouri)

1

tablespoon

fenugreek seeds

(methi dana)
Instructions
Mix all the spices in a bowl or directly in a small glass jar.

Tightly seal the jar. Store the panch phoron in a cool, dry place.

Shake the jar before each use to make sure the spices are evenly distributed.

Use the spices as required in the recipe. Usually panch phoron is tempered or fried in oil to release their flavors and then the other ingredients are added.
Like our videos? Then do follow and subscribe to us on youtube to get the latest Recipe Video updates.
Tried this recipe?
If you have made the recipe and liked it then do share the recipe link on facebook, twitter & pinterest. For instagram mention @dassanasvegrecipes and tag #dassanasvegrecipes!
All our content & photos are copyright protected. Please do not copy. As a blogger, if you you want to adapt this recipe or make a youtube video, then please write the recipe in your own words and give a clickable link back to the recipe on this url.
Like this Recipe?
Pin it Now to Remember it Later
The five spices that are used for panch phoran are
1: cumin seeds (jeera):
– cumin seeds have a strong earthy aroma and a faint bitterness. When you roast or fry them its flavors and aroma become more distinct and its presence is felt very clearly in any dish where cumin seeds is one of the main ingredient or spice used.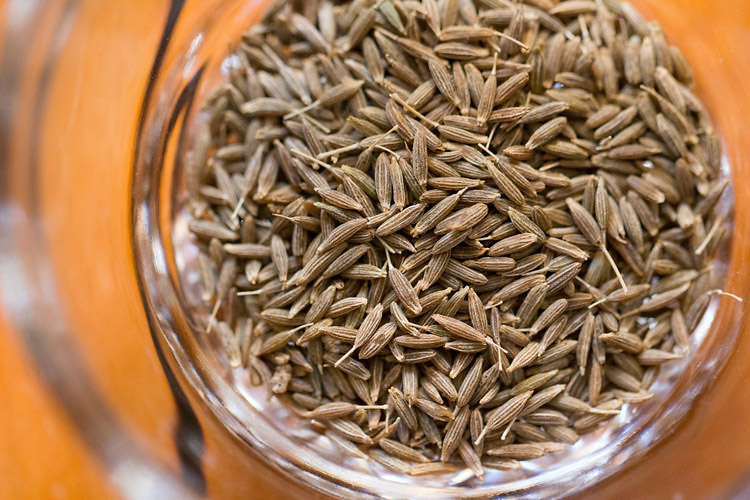 2: nigella seeds (kalonji):
Nigella seeds have a warm onion like aroma and slight sweet bitter taste. When these tiny black seeds are roasted or fried in oil, the aroma that wafts in the air is very distinct and piquant. Nigella seeds alone can be used while tempering in many recipes.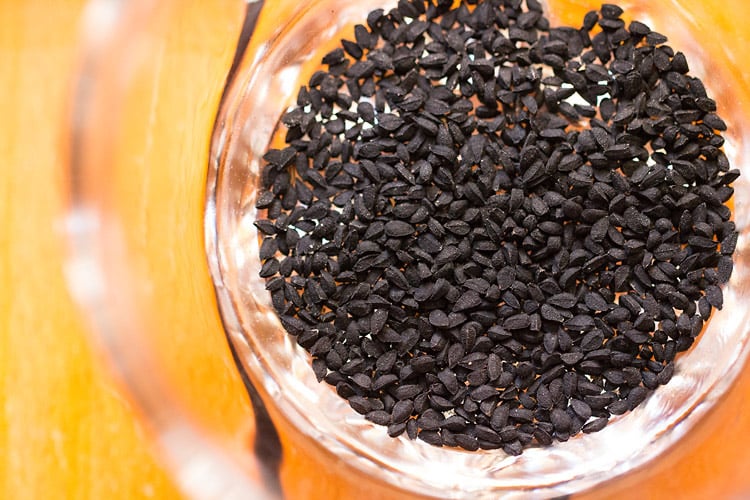 3: wild celery seeds (radhuni):
The Bengali name for wild celery seeds is radhuni. Its easily available in bengal, but not so easily available in other parts of India. But now due to online stores, one can get these seeds from bengal to the state or city where one lives. These aromatic seeds have a strong flavor. These small seeds do resemble carom seeds or ajwain, but they are very different both in color as well as taste and aroma from carom seeds. Radhuni has a pungent taste and is smaller in size with a dark brown color. You can compare both the pics of wild celery seeds and carom seeds (pic is below) and can easily see the difference in size, color and texture.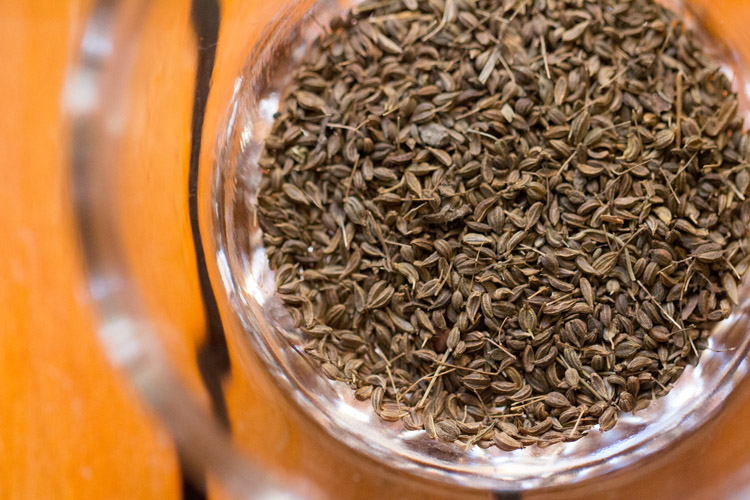 4: fennel seeds (saunf)
Saunf or fennel seeds is one of the seeds that is used as a digestive and a mouth freshener after having lunch or dinner. These greenish colored seeds have a floral fragrance and a sweetish taste. In any recipe that you add fennel seeds, it does leave its mark. The dish will have the aroma as well as the sweetish presence felt in it.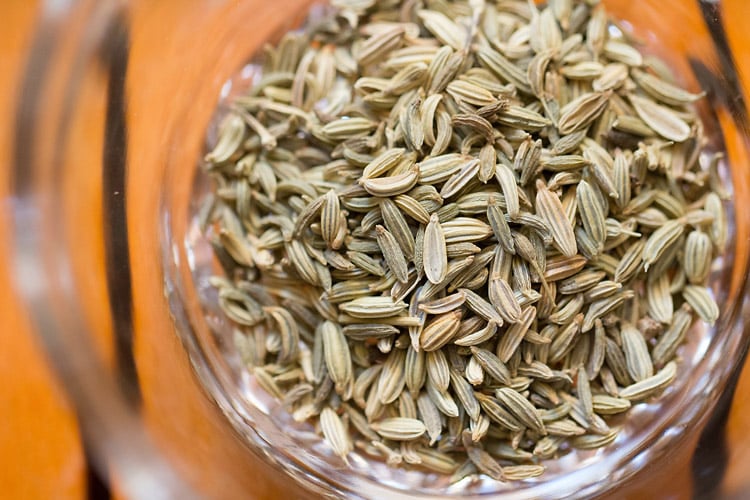 5: fenugreek seeds (methi )
Small and yet potent with bitter taste are aromatic fenugreek seeds. Fenugreek seeds also have many health benefits. While adding in any dish, just add a pinch so that the dish does not become bitter. Too much of fenugreek seeds can make the dish taste bitter. Methi seeds are used extensively in pickling.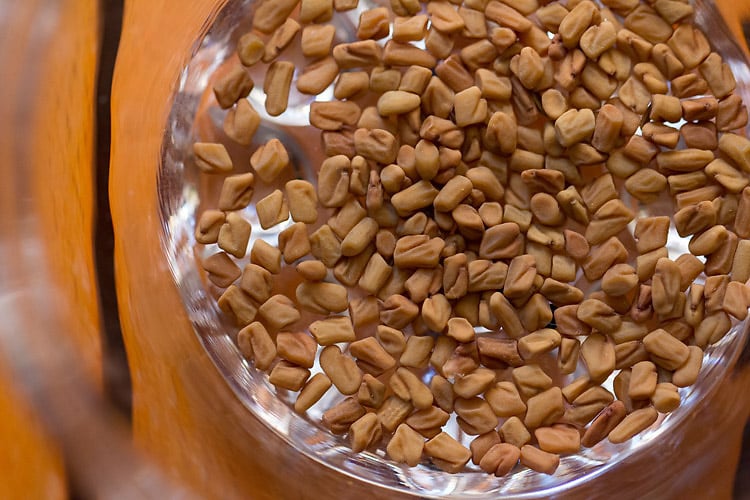 Substitution for wild celery seeds (radhuni)
Wild celery seeds are not easily available everywhere. So there are two substitutions for it. The best substitution is mustard seeds. But if you do not have mustard seeds, then you can use carom seeds.
1: mustard seeds (rai or sarson): 
Mustard seeds have a nutty flavor when fried in oil. The pungency of raw mustard gives away to a crisp and nutty tasting seed when fried. Mustard seeds are used extensively in Indian cuisine. These tiny black or brown seeds are also used for tempering as well as pickling. Coarsely ground yellow mustard seed is also used often in many Indian pickles.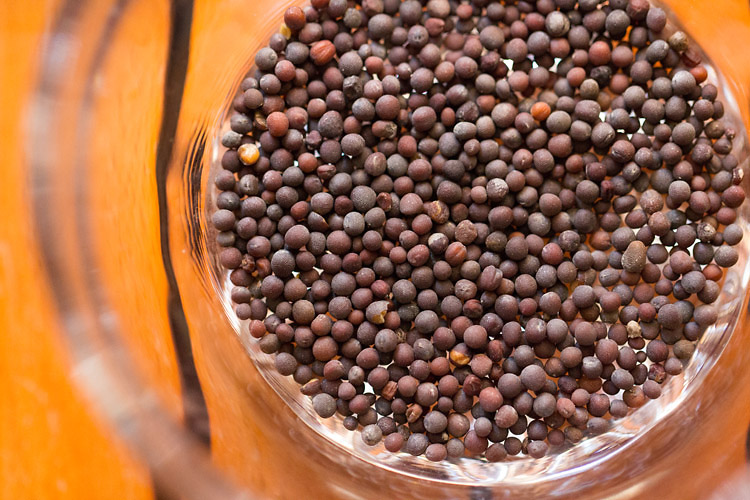 2: carom seeds (ajwain)
Carom seeds have a light brown color with a thyme like aroma. It has a strong and sharp taste. If used in any dish, you will find the distinctive aroma from these tiny seeds in that dish. Ajwain is used in cuisine in many ways. Since it helps in digestion it is used in recipes like pakoda, samosa, ajwain paratha. Marination for paneer tikka also has ajwain as one of its ingredients.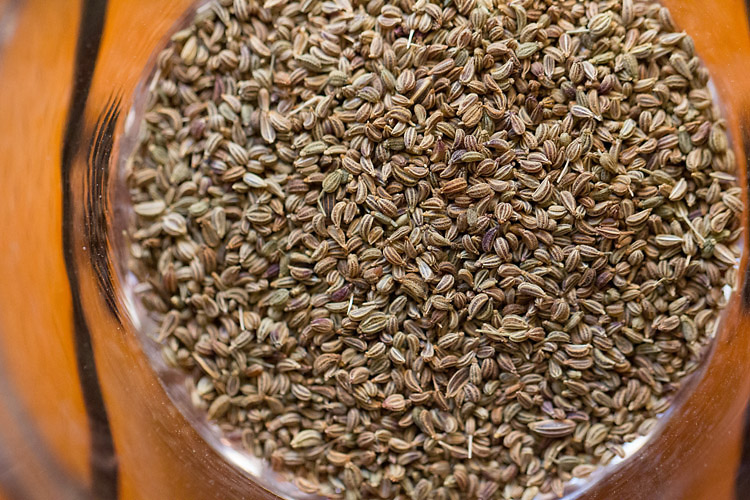 Making panch phoron
Take 2 tablespoons each of all the seeds except fenugreek seeds in a bowl. Add 1 tablespoon fenugreek seeds. Mix well. Panch phoron is ready. Store panch phoron in a small airtight jar in a cool dry place or in the fridge. use the spices as required in the recipe. Usually panch phoron is tempered or fried in oil to release their flavors and then the other ingredients are added. shake the jar before each use to make sure the spices are evenly distributed.