Collection of 12 fried rice varieties. there are variety of fried rice recipes that are made in the Indo Chinese cuisine as well in international cuisine. Each fried rice tastes different depending on the ingredients and spices-herbs added. The Indian Chinese variety of vegetarian fried rice used a mix of veggies like cabbage, carrots, capsicum, spring onions etc.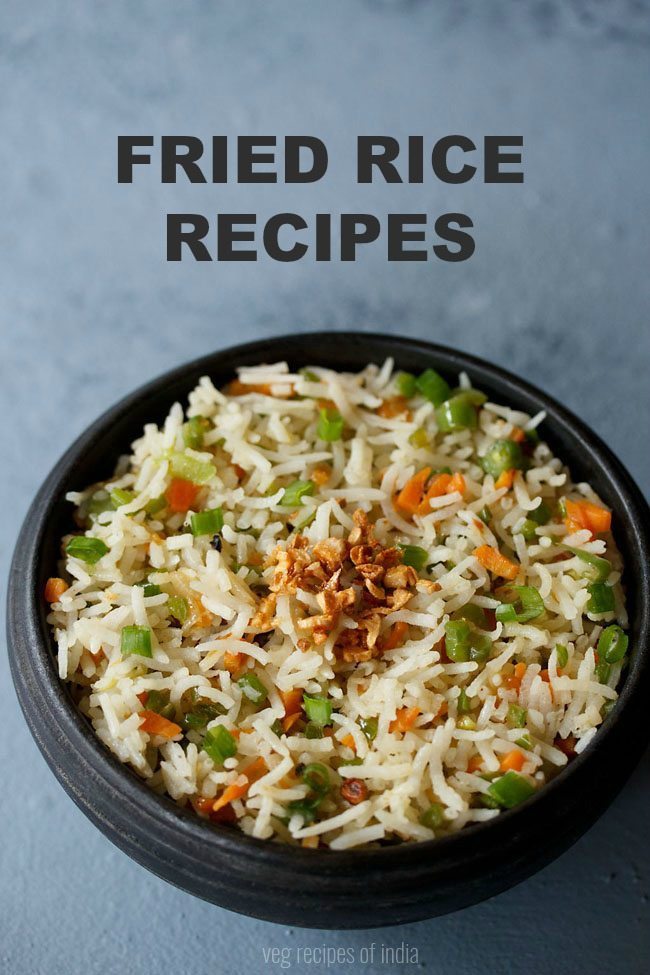 While making any kind of fried rice, the rice grains are cooked till al dente (just cooked with a slight bite). You can choose to cook them al dente or cook them more as per your preferences. You can even use leftover rice for making any of the recipes listed in this collection. Just reduce or increase the amount of the other ingredients proportionately. 1 cup of raw long grained rice or basmati rice yields 3 to 3.5 cups of cooked rice. So you can adjust the ingredients accordingly.
Tips for making Indo Chinese fried rice varieties
For most of the Indo Chinese recipes, its important to chop the veggies finely. You can either use a good knife or use a food processor. Food processor or food chopper is easier. Lately, I have started using a food chopper to chop the veggies finely.
For most rice based recipes, you need to Steam the rice and let it cool completely. Also the rice has to be cooked al dente, meaning just about cooked.
Its best to use celery in recipes where it is asked for. Because celery adds a good flavor in the Indo Chinese recipes. if you do not have celery at home, then you can replace with coriander leaves or cilantro. However the flavors which coriander will impart will surely be different.
Stir frying on high flame also imparts a unique and smoky flavor and taste to the dish, but lot of handwork is required.
Just prep everything and keep near your work space.
Its always best to use a wok or a pan with handles as when the heat becomes too high, you just lift the pan from the fire and then again keep it back while stir frying the ingredients by shaking the pan.
For soy sauce, use naturally fermented soy sauce. I always add naturally fermented soy sauce as it imparts a typical fermented flavor and taste to the final dish.
For a smoky flavor do try using asian sesame oil (toasted sesame oil).
The amount of sauces and spices can be altered as per your taste buds.
Rice vinegar or sweet rice wine or mirin also give a very good flavor to the rice.
Collection of 12 fried rice varieties
1. Veg fried rice – aromatic, flavorful and delicious vegetable fried rice recipe. One of the popular street foods in India. you can serve veg fried rice with any Indo Chinese gravy dish like veg manchurian or paneer manchurian or gobi manchurian.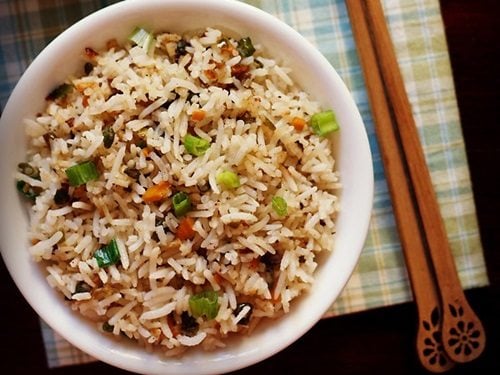 2. Schezwan fried rice – spicy and tasty Indo Chinese recipe of stir fried vegetables and rice in schezwan sauce. If you crave for something spicy for lunch or dinner, then schezwan fried rice is really a very good option.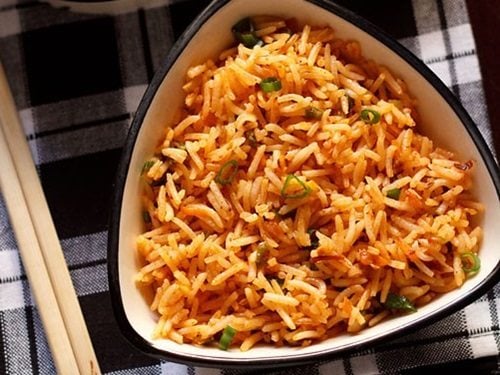 3. Paneer fried rice – this recipe of paneer fried rice is similar to the preparation of veg fried rice. Just that it has a homely taste, is mild, not spicy and thus kid friendly. this paneer fried rice goes well in the tiffin box. Instead of paneer you can also use tofu. You can serve paneer fried rice with a side side veggie salad or raita.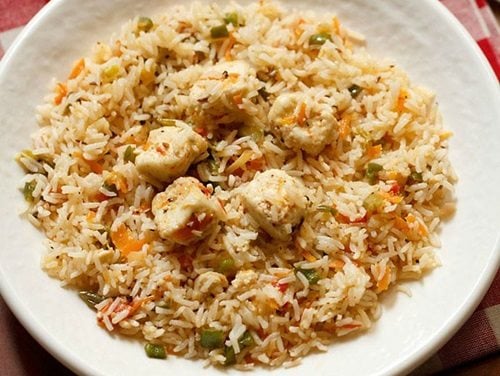 4. Mushroom fried rice – a delicious Indo Chinese recipe of fried rice with mushrooms. Easy to cook and too good to taste.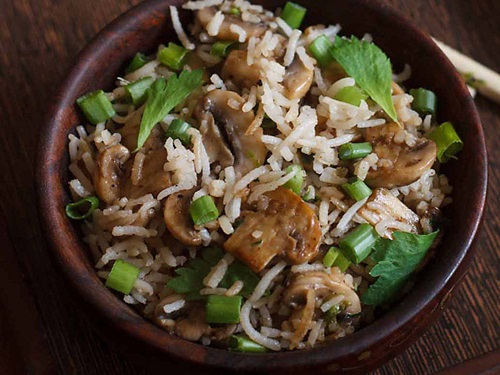 5. Singapore fried rice – one of the fusion rice varieties from the Indo Chinese cuisine is singapore fried rice. This veg fried rice recipe has got nothing to do with singapore. Its a spicy rice variety that is a part of the menu of many Indo Chinese restaurants and even street food stalls in India.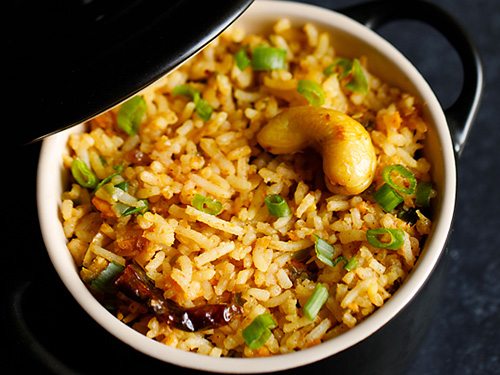 6. Sweet corn fried rice – homely, easy and delicious fried rice made with sweet corn, spring onions and herbs+spices. You can serve this sweet corn fried plain or with a side gravy dish like veg manchurian or veg balls in hot garlic sauce or chilly mushroom. You can also pack this as tiffin box lunch.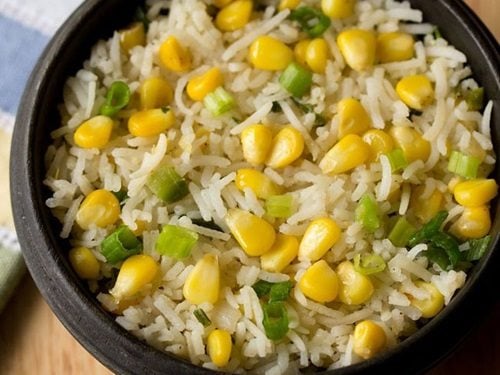 7. Pineapple fried rice – simple and delicious lightly spiced fried rice made with fresh pineapple. Its best to use fresh pineapple for this recipe. Though you can use canned ones too.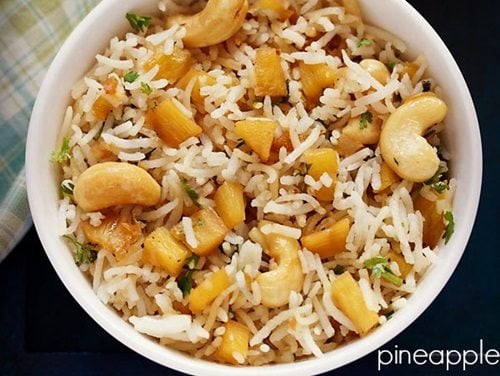 8. Cabbage fried rice – Indian style fried rice made with cabbage, onions, tomatoes and spices. the dish is not spicy and the sweetness of the cabbage compliments the aroma of the spices as well the basmati rice.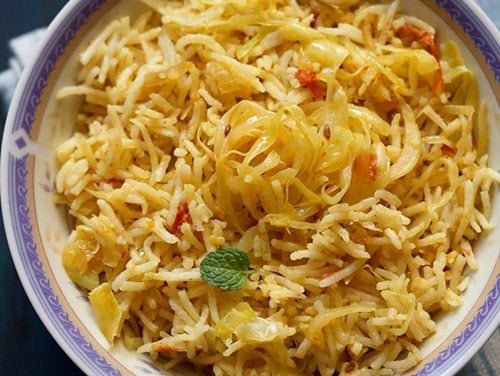 9. Burnt garlic fried rice – Indo Chinese recipe of burnt garlic fried rice. One of the popular variety of veg fried rice available in the Chinese restaurants and stalls in India.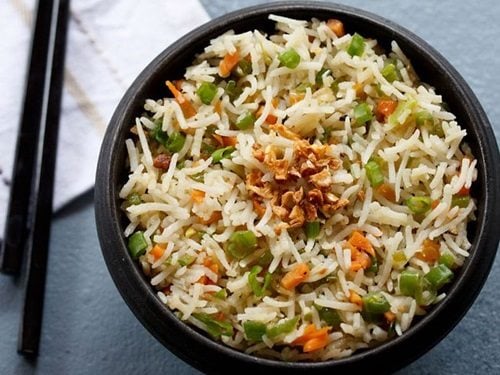 10. Masala fried rice – an Indian version of the popular veg fried rice. Veggies of your choice can be added in the recipe. you can make masala fried rice for lunch box or tiffin. The rice and veggies can be steamed night before and refrigerated. Then in the morning you just sauté and mix everything.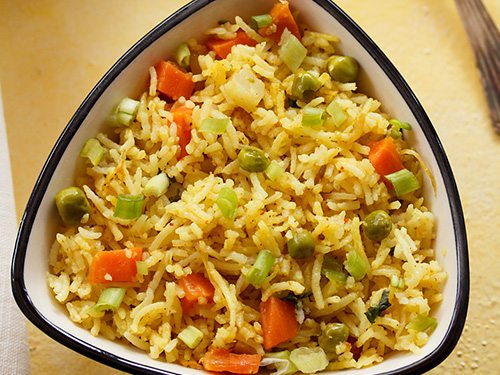 11. Spanish fried rice – this easy to make delicious spanish fried rice is one of our favorite recipe. Its simple like the Portuguese tomato rice, but more flavorful and little spicy, and the method of cooking the rice is also different. This flavorful and spicy spanish rice recipe is also known as arroz Mexicana.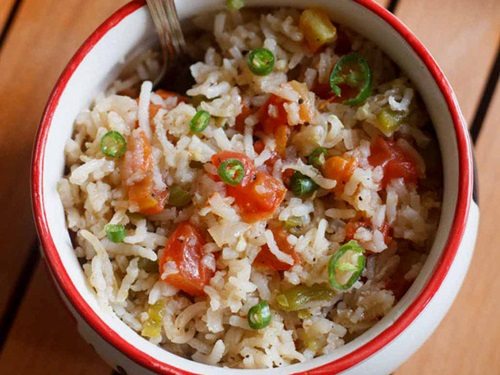 12. Corn schezwan fried rice – spicy schezwan rice recipe made with corn and capsicum. in the recipe sweet corn is added, thereby giving light sweet hints while having the spicy rice.