Here's a recipe for a dreamy, creamy, pretty in pink dessert that might look extremely hard to prepare because of its avant garde looks, but is nowhere close to difficult in reality – the 3-ingredient Strawberry Mousse. Egg-free, quick and super delish, this Strawberry Mousse recipe is one of the best ways you can use up those fresh strawberries of the season. Better, stock up some strawberries for later, as the flavors of this mousse will make you want to make it again and again!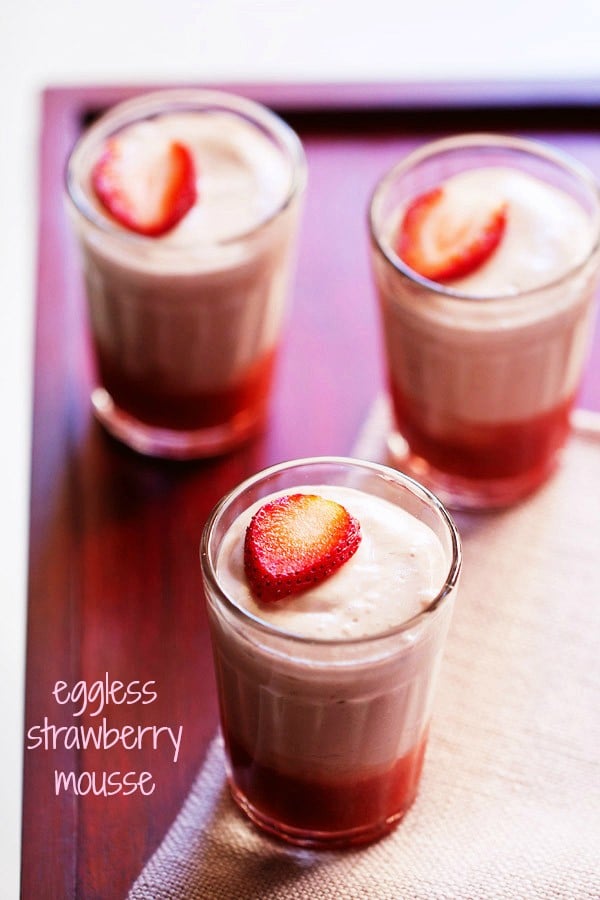 About Strawberry Mousse
Usually, I end up making cakes, muffins and desserts once or twice a week at home. This base formula of a mousse, which I keep experimenting with by adding different fruits is my go-to recipe. This Strawberry Mousse recipe is one of those many tried and tested versions.
I came across this particular mousse recipe a few years back in one of the cookbooks. It has stuck with me till today and I have been making variations with it.
Other than this Strawberry Mousse, I have also used the same recipe for these delicious Mango Mousse, Chocolate Mousse and the unique Banana Mousse too.
All you need for this Strawberry Mousse recipe is fresh strawberries, fresh cream and sugar. Just process these as the recipe calls for and enjoy a smooth, decadent dessert done within minutes. The only time that you'll have to wait for is for the mousse to chill and set completely.
Why this Strawberry Mousse is a winner recipe?
Because it is no cook, really easy to make, eggless and naturally vegetarian. This Strawberry Mousse recipe also doesn't have any sign of agar agar or gelatin in it. Still the result is a beautifully set mousse ready without any extra efforts.
This egg-free mousse made with strawberries makes for the perfect sweet ending to any meal, whether Indian, western or just otherwise too.
You can easily double the recipe to make it for more people. It surely will be the show stopper at your house parties!
How to make Strawberry Mousse
Preparation
1. Rinse, hull and chop 250 grams (or about 9 ounces) fresh strawberries. Add them to a blender along with sugar.
I added about 4 tablespoons sugar. But the amount of sugar to be added depends how tart the strawberries are. So, adjust accordingly.
Note that the mousse can also be made with frozen strawberries. Thaw them for 15 to 20 minutes or until they soften slightly. Later blend with the sugar.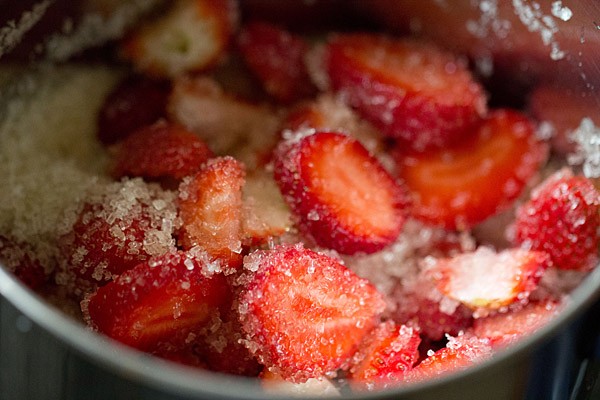 2. Blend to a smooth and fine puree. Make sure that there are no strawberry chunks left.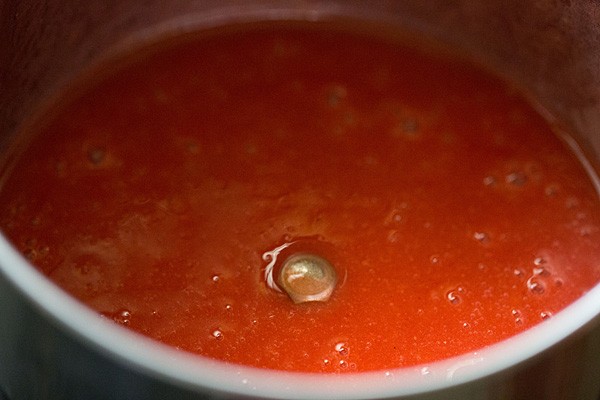 3. Pour 1 tablespoon of the strawberry puree in shot glasses or bowls. I added the puree in 4 glasses.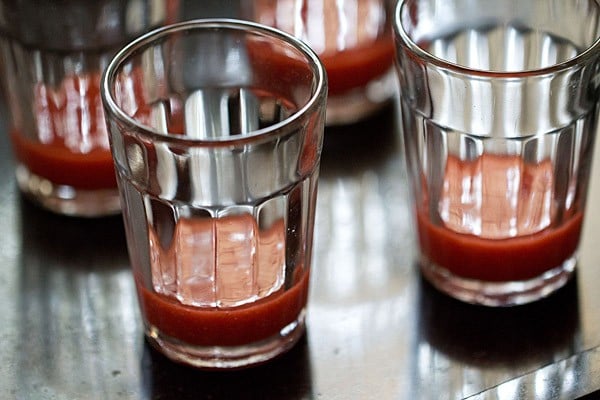 Make Strawberry Mousse
4. Add 200 ml chilled cream to the puree in the blender. Here, I used 25% fat cream. You can use 25% to 35% or even 36% to 50% fat cream – which is basically whipping cream or heavy cream.
5. Pulse 5 to 7 times till the cream is well blended with the strawberry puree. After you pulse once or twice, do check the taste and add more sugar if needed. Then, continue to pulse.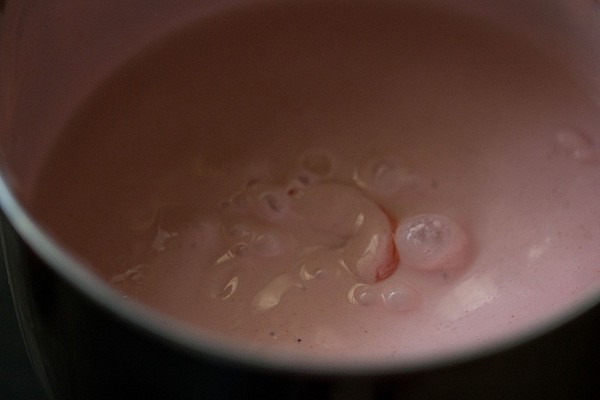 6. Spoon the mousse in the shot glasses or bowls.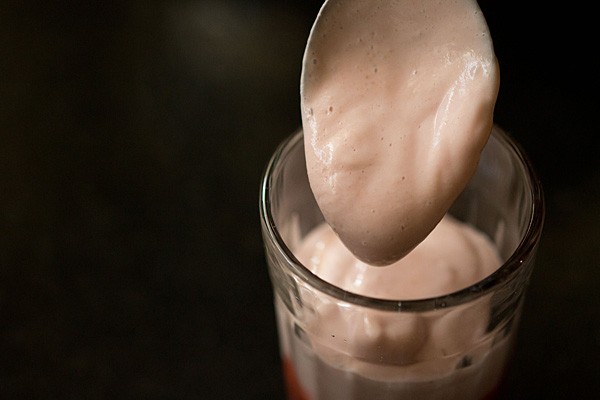 7. Cover and refrigerate for 4 to 5 hours or till well set.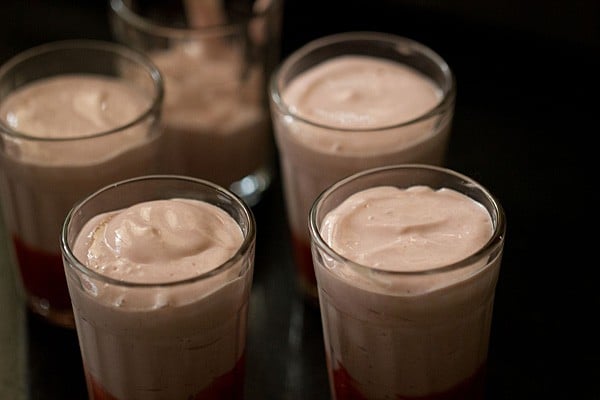 8. Garnish the set Strawberry Mousse with strawberry slices and serve chilled.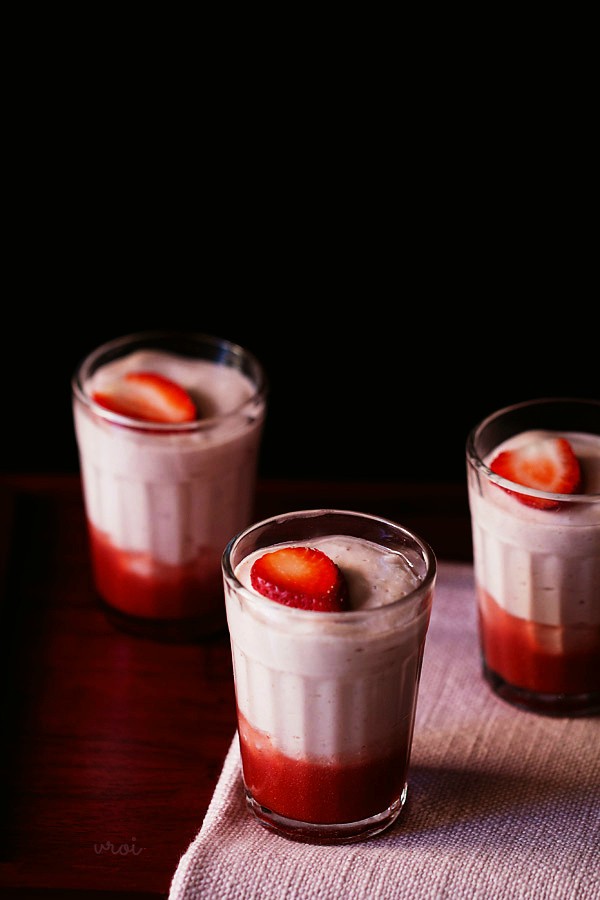 Expert Tips
I use the light cream (with 25% fat) for this recipe. If you have whipping cream or 35% to 50% fat cream, you can use them as well.
Make variations of this recipe with other fruits like bananas, mangoes, apples and blueberries. However, do not use citrus fruits or melon.
This Strawberry Mousse can be served plain. You can also top it with fresh strawberry slices, some whipped cream, grated chocolate or fresh mint leaves.
FAQs
My mixture got spoilt after adding the cream. What could be the reason?
Before adding the cream, smell it. It should have a fresh, milky aroma to it. If it smells even faintly sour, don't use it.
What toppings can I use for this Strawberry Mousse?
You can add toppings like fresh strawberry slices, grated chocolate, fresh mint leaves, marshmallows or even whipped cream.
If I want to use hung curd in place of fresh cream in this recipe, can I do that?
Yes. However, the taste will alter if you use hung curd and the mousse will have more sourness to it. Adjust the sweetener accordingly when using hung curd and strawberries together.
Can I use milk instead of cream?
No, you cannot use milk as it will not give it a mousse like consistency.
More Strawberry Recipes To Try!
Please be sure to rate the recipe in the recipe card or leave a comment below if you have made it. For more veetarian inspirations, Sign Up for my emails or follow me on Instagram, Youtube, Facebook, Pinterest or Twitter.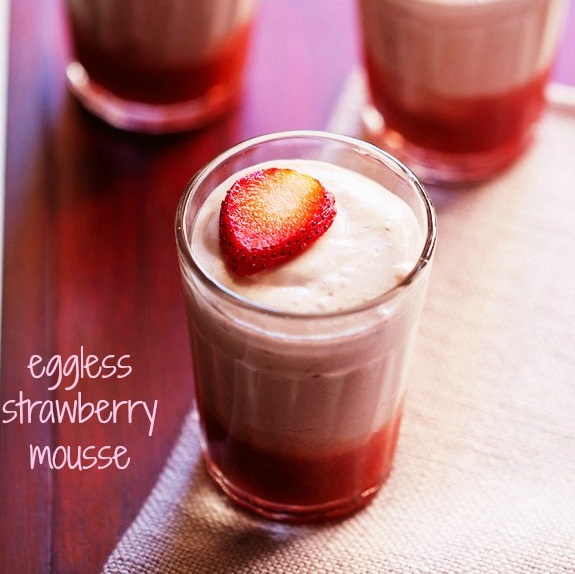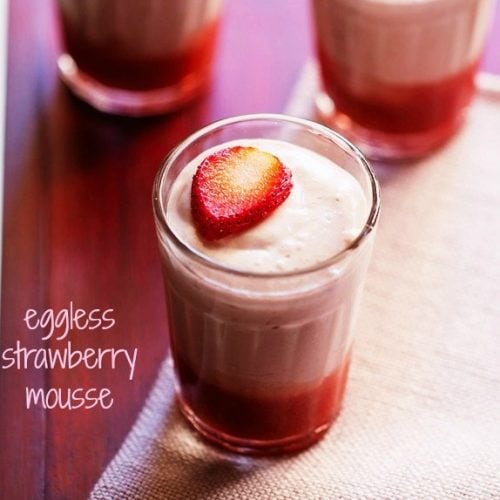 Strawberry Mousse Recipe
A no-cook Strawberry Mousse recipe made with only three ingredients – strawberry, cream and sugar. The recipe is egg free, quick, super delish and makes for a gorgeous looking dessert.
250

grams

strawberry

or 9 ounces

200

ml

cream

– light cream with 25% to 35% fat or whipping cream with 36% to 50% fat

4

tablespoons

sugar

or add as required
Instructions
Rinse, hull and chop the strawberries. Add them to a blender along with sugar.

Blend to a fine and smooth puree without any strawberry chunks.

Pour 1 tablespoon of the puree in each of the shot glasses or bowls.

Add chilled cream to the strawberry puree in the blender.

Pulse 5 to 7 times till the cream is well blended with the strawberry puree.

Spoon the mousse in the shot glasses or bowls.

Cover and refrigerate for 4 to 5 hours or till well set.

Serve the Strawberry Mousse chilled and garnished with strawberry slices or grated chocolate.
Notes
It is better to use sweet tasting strawberries, so that you can add less sugar.
You can also use frozen strawberries to make this dessert.
Make sure the cream is fresh and not rancid.
You may have to add more sugar, if you use heavy cream with 40% to 50% fat.
Recipe can be scaled easily to make for more servings.
Nutrition Info (Approximate Values)
Nutrition Facts
Strawberry Mousse Recipe
Amount Per Serving
Calories 285
Calories from Fat 189
% Daily Value*
Fat 21g32%
Cholesterol 74mg25%
Sodium 24mg1%
Potassium 197mg6%
Carbohydrates 24g8%
Protein 2g4%
Vitamin A 685IU14%
Vitamin B1 (Thiamine) 1mg67%
Vitamin B2 (Riboflavin) 1mg59%
Vitamin B3 (Niacin) 1mg5%
Vitamin B6 1mg50%
Vitamin B12 1µg17%
Vitamin C 49mg59%
Vitamin D 1µg7%
Vitamin E 1mg7%
Vitamin K 4µg4%
Calcium 61mg6%
Vitamin B9 (Folate) 23µg6%
Iron 1mg6%
Magnesium 16mg4%
Phosphorus 61mg6%
Zinc 1mg7%
* Percent Daily Values are based on a 2000 calorie diet.
This Strawberry Mousse recipe from the archives first published on February 2015 has been republished and updated in January 2023.