Garlic Chutney or Lahsun ki Chatni with stepwise photos. This is a spicy red chutney that is added to many chaat recipes and snacks. This Red Garlic Chutney is made with just 3 ingredients – dry red chilies, garlic and salt. I usually make this chutney when I make chaat snacks like Sev Puri, Bhel Puri, Ragda Patties, Papdi Chaat, Dahi Puri, at home.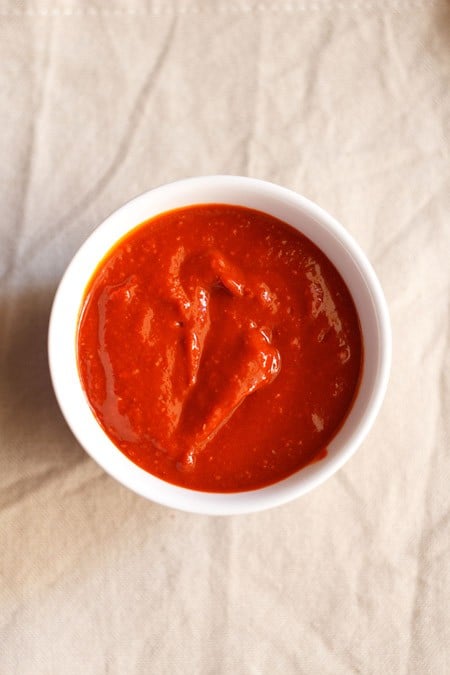 Not only this Lahsun ki Chutney is easy to make but also versatile. You can add it to spice up a lot of your chaat snacks like. And you can also use a bit of this chutney in veggie wraps or as a side condiment dip with pakoras or Veg Momos. Mostly Indians know about Chaat, but if you are wondering what is Chaat, let me explain it to you.
So let's chat about Chaat
Our very own category of savory snacks served on street side stalls all over India is 'chaat.' Chaats for an Indian is not just a mélange of almost all flavors (sweet, sour, salty, spicy, tangy), but more than that. It is an emotion!
Of the many theories relating to the origin of the word 'chaat,' one of the most popular one is that the literal meaning is 'to lick.' Quite true, because once you have a plate or a 'dona' (a traditional Indian bowl made of leaves) of chaat, you can't help but to lick your fingers till its's over.
Travel through the length and breadth of India, and you will notice that there's a bounty of chaats here. Every region with its city has a version of its own. Each, not less than the other in terms of ingredients used, taste, texture and presentation.
In addition to this, some of the other chaat specialties that have won the hearts of not just Indians, but westerners too include Aloo Tikki Chaat, Dahi Vada, Pani Puri, Samosa Chaat, Dahi Papdi Chaat, etc.
With a riot of colors, burst of flavor profiles, umaminess, beautiful textures and more; a chaat can rightly be termed as a 'feast' in itself.
There are three chutneys that are added to all the chaat snacks mentioned below. When I plan to make chaat, then I make these three chutneys a day before and refrigerate them.
Green Chutney made with mint and coriander leaves and is piquant, herby and spiced. This green chutney keeps well for 2 to 3 days when refrigerated.
Tamarind Chutney, also called Imli Chutney which is sweet and tangy and keeps well for about 3 weeks to a month in the refrigerator.
And this Red Garlic Chutney that is spicy, smoky and pungent. It keeps well for 4 to 5 days in the fridge.
About Garlic Chutney
This particular red chaat chutney is only made with raw garlic, dry red chillies, salt and water. It is spicy, pungent and earthy.
Garlic add a lot of flavor and pairs nicely with the red chillies. I always prepare this red chutney with Kashmiri red chilies as they give a good deep red color and are not very pungent or hot.
If you do not get Kashmiri red chilies, then use a variety of dry red chilies which are less hot. If not using the lesser hot chilies, then depending upon the heat in the chilies, reduce the amount. To make the chutney less hot, you can also deseed them.
To balance the pungent flavors, you could add a bit of lemon juice. Lemon juice will bring some bright flavors and some tangy taste to the chutney.
Here I make a small batch of this recipe, but feel free to increase the proportions of the ingredients to make for more quantities. You can always refrigerate this Lahsun ki Chatni in an air-tight container for about a 4 to 5 days.
How to make Garlic Chutney
1. Remove the crowns first and break or tear 12 to 14 Kashmiri red chilies. Deseed them. Rinse the red chillies in water once or twice.
Then in a bowl, soak the Kashmiri red chilies in hot water for about 30 mins. The water just needs to cover them. Cover bowl with a lid and keep aside.
You can opt to not soak the chillies. But soaking softens them and they are easily ground to a fine paste.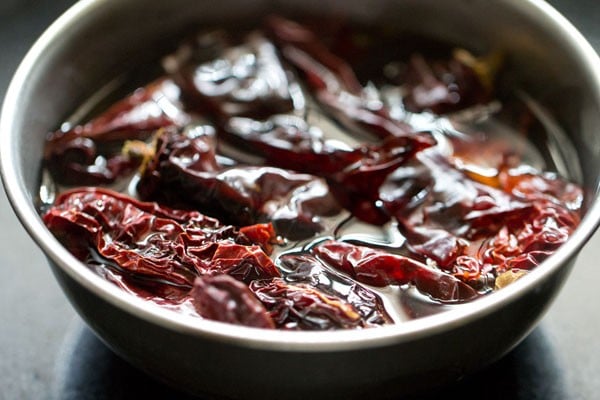 2. Drain the water. Transfer the soaked red chilies and add them in a grinder jar or blender.
Also add 9 to 10 medium sized peeled garlic cloves (roughly chopped) and salt as per taste.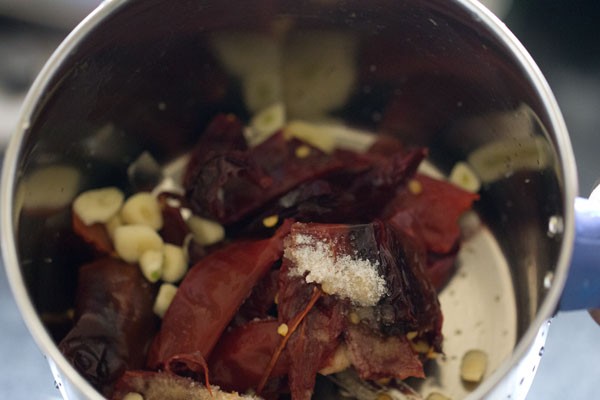 3. Adding ¼ to ⅓ cup water, grind everything to a fine and smooth consistency. The consistency of the chutney should be more towards thicker side or of medium consistency.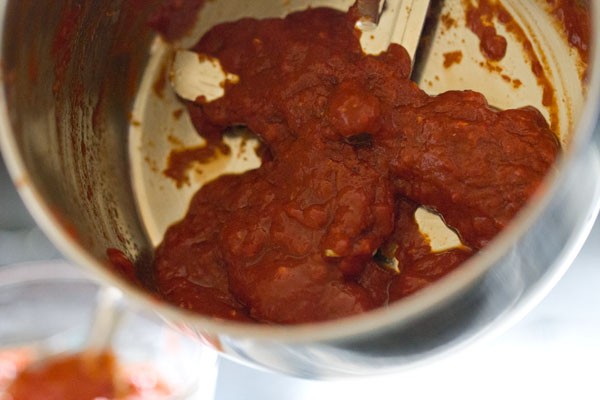 4. Transfer the Garlic Chutney in a small jar or bowl or an air-tight container. Cover with an air-tight lid and refrigerate. It keeps well for 4 to 5 days when refrigerated.
Add this chutney sparingly to your chaat snacks unless you want to make a very spicy tasting snack.
Usually, when preparing chaat snacks, only a tiny amount of the Red Garlic Chutney is added together with the other two green and sweet chutneys.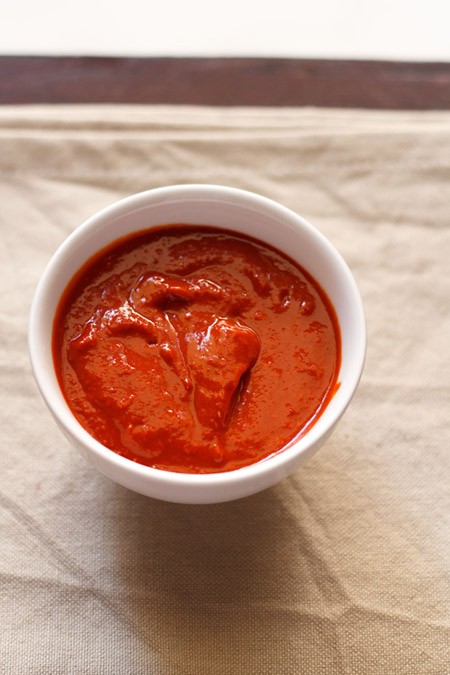 More Chatni Recipes To Try!
Please be sure to rate the recipe in the recipe card or leave a comment below if you have made it. For more vegetarian inspirations, Sign Up for my emails or follow me on Instagram, Youtube, Facebook, Pinterest or Twitter.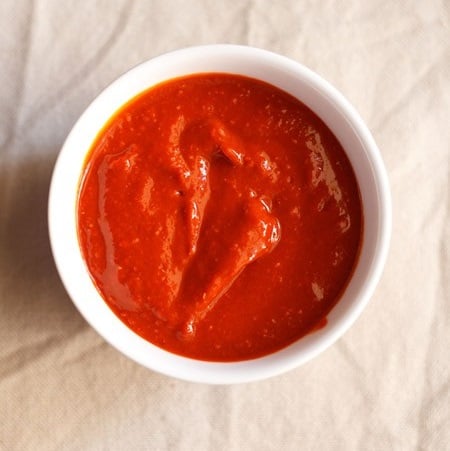 Garlic Chutney | Lahsun Ki Chatni (For Chaat)
Spicy, pungent, hot Red Garlic Chutney for chaat snacks, made with just three ingredients – dry red chilies, garlic and salt. This Lahsun Ki Chatni is versatile and can be added to chaat like sev puri, ragda patties, dahi puri, bhel puri and even to wraps, sandwiches or with pakoras (fritters). Just a little is enough to spice up the dish.
12 to 14

dry kashmiri red chilies

¾ to 1

cup

water

– for soaking red chilies

9 to 10

garlic cloves

medium-sized, (lahsun)

salt

as required

¼ to ⅓

cup

water

or as required for grinding or blending
Instructions
Remove the crowns from the red chillies. Break or tear them and deseed them. Rinse them once or twice in water.

In a bowl, soak the red chilies in hot water for about 30 mins. The water just needs to cover them.

Peel and roughly chop the garlic.

Drain the water and set the soaked red chilies aside.

Adding very little water grind both the red chilies, garlic and salt in a chutney grinder or blender till smooth and fine.

The consistency of the chutney should be more towards thicker side or of medium consistency.

Transfer the red chutney in a small jar or bowl. Cover with an air-tight lid and refrigerate. This chutney keeps well for 4 to 5 days in the refrigerator.

When preparing chaat snacks, just add a tiny amount of the Garlic Chutney while topping the chaat with other the two chutneys – green chutney and tamarind chutney.
Notes
Try to make this chutney with Kashmiri red chillies as it does not become overly spicy or pungent and has a nice red color. 
You can though make it with other varieties of low to medium hot dried red chillies. But adjust the number of chillies depending on how spicy you want the chutney to be.
The aroma and flavor of garlic is distinctly felt in this Lahsun ki Chatni. If you are averse to this, then I suggest to lightly sauté the garlic in a bit of oil first before blending them. 
To bring some tang and balance the pungent flavors, you could add about ¼ teaspoon of lemon juice while blending the ingredients.
Nutrition Info (Approximate Values)
Nutrition Facts
Garlic Chutney | Lahsun Ki Chatni (For Chaat)
Amount Per Serving
Calories 256
Calories from Fat 27
% Daily Value*
Fat 3g5%
Sodium 1228mg53%
Potassium 1847mg53%
Carbohydrates 57g19%
Protein 12g24%
Vitamin A 5143IU103%
Vitamin B1 (Thiamine) 0.4mg27%
Vitamin B2 (Riboflavin) 0.5mg29%
Vitamin B3 (Niacin) 7mg35%
Vitamin B6 3mg150%
Vitamin C 784mg950%
Vitamin E 4mg27%
Vitamin K 76µg72%
Calcium 132mg13%
Vitamin B9 (Folate) 125µg31%
Iron 6mg33%
Magnesium 133mg33%
Phosphorus 274mg27%
Zinc 2mg13%
* Percent Daily Values are based on a 2000 calorie diet.
This Lahsun ki Chatni from the archives first published in May 2014 has been updated and republished on December 2022.